One of the most popular ways to refresh and energize your skin is with a coffee sugar scrub recipe. Using coffee grounds for cellulite is a great way to detox your skin. Add in the natural scrubbing power of sugar and this body scrub can detox and exfoliate at the same time.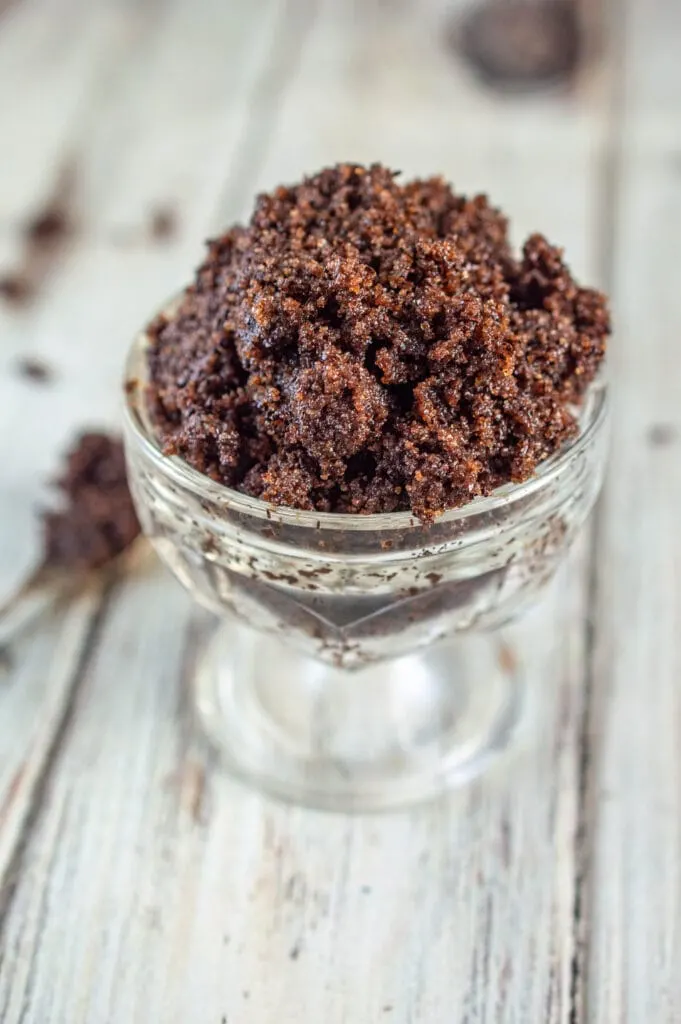 Using Coffee Sugar Scrubs
I first fell in love with the power of coffee sugar scrubs when I tried some store-bought body scrubs. Among the best is Shea Moisture Coffee Scrub.
It's made of natural ingredients, but the price tag might not be something that you want to spend. (It's really not THAT much money for something so pure, but if you can make it for less with ingredients at home, why not?)
My skin feels so soft and fresh after using a coffee sugar scrub. I have to admit, it's a bit addicting. So I'm trying to incorporate using these scrubs more often.
However my exfoliating coffee grounds soap is less messy!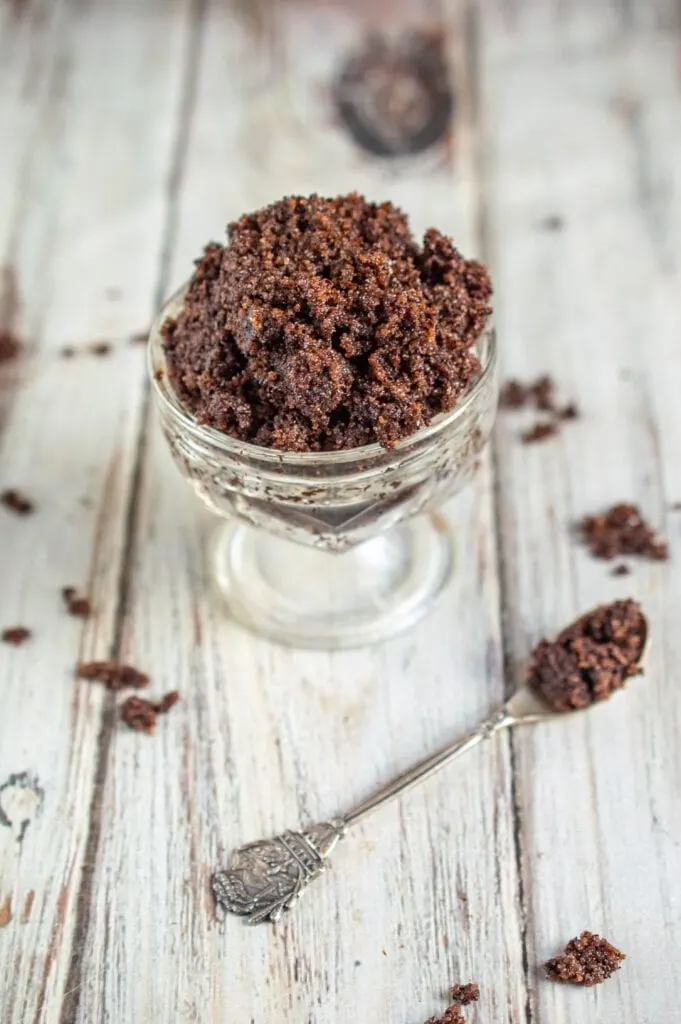 The energizing smell of coffee is a bonus benefit, too! If you love the smell of coffee aroma in the air, check out my homemade coffee smell air freshener recipe.
Coffee Sugar Scrub Benefits
The ingredients is this recipe are all natural. And all safe to eat or drink.
Yet that doesn't mean that they aren't super powerful for rejuvenating your skin!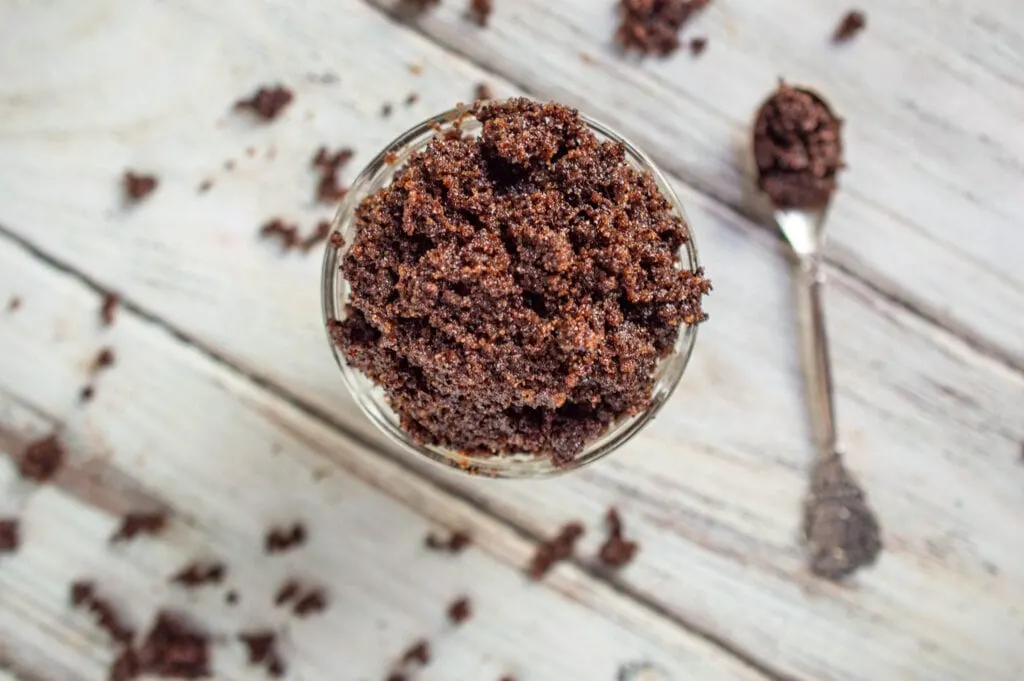 Here's why these coffee sugar scrub ingredients are beneficial to your skin:
Sugar: Using sugar crystals works as a natural exfoliant. The rough crystals are just gentle enough to not tear up your skin (as long as it's mixed with an oil), but powerful enough to remove dead layers of skin.
Coffee: This natural ingredient is excellent at getting rid of cellulite. There's something about the caffeine in coffee that penetrates the skin, works in cellulite cells, and helps to detox the fat cells and make them shrink in size.
Cocoa Powder: Just like chocolate bars, cocoa powder is packed with surprising anti-oxidants that are nourishing to your brain and body.
Olive Oil (or Coconut Oil): These oils add a layer of moisturizing and protection for your skin. Coconut oil lotion is actually a great moisturizer on its own. Adding a bit to the body scrub leaves a layer of moisturizing on your skin afterwards. Plus, the oils help lubricate the exfoliants, such as sugar and coffee grinds, so that they don't tear up your skin. P.S. This is the coconut oil brand that I use and love.
You might also be interested in my relaxing lavender sugar scrub soap bars.
DIY Coffee Sugar Scrub Recipe
If you want to save some money, it's easy to make your own coffee sugar scrub. After all, these are ingredients that are probably already in your kitchen pantry at home!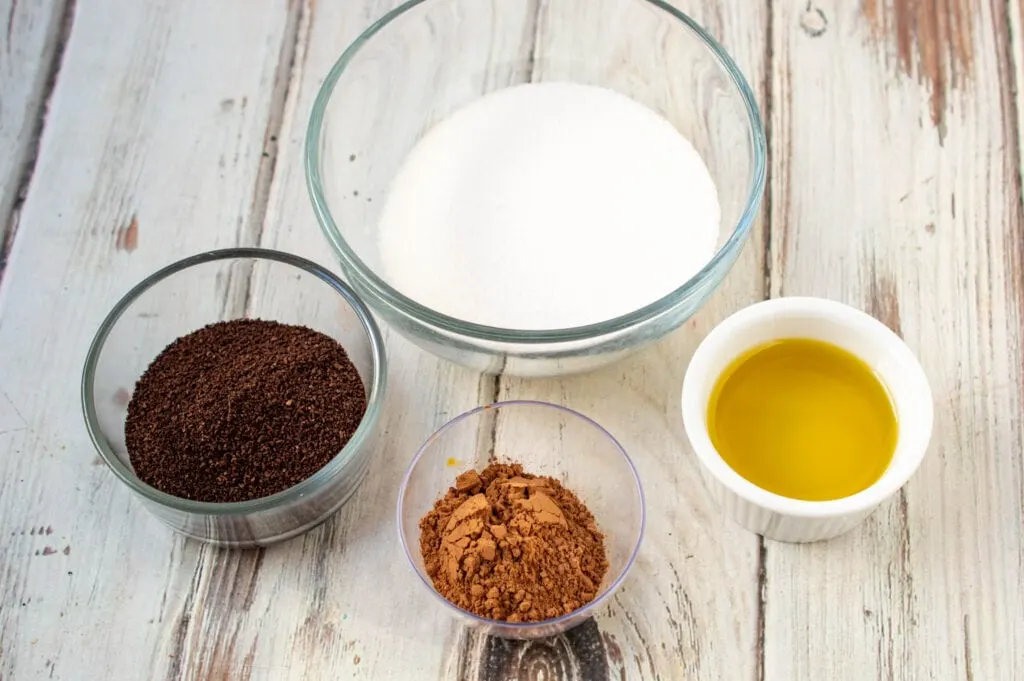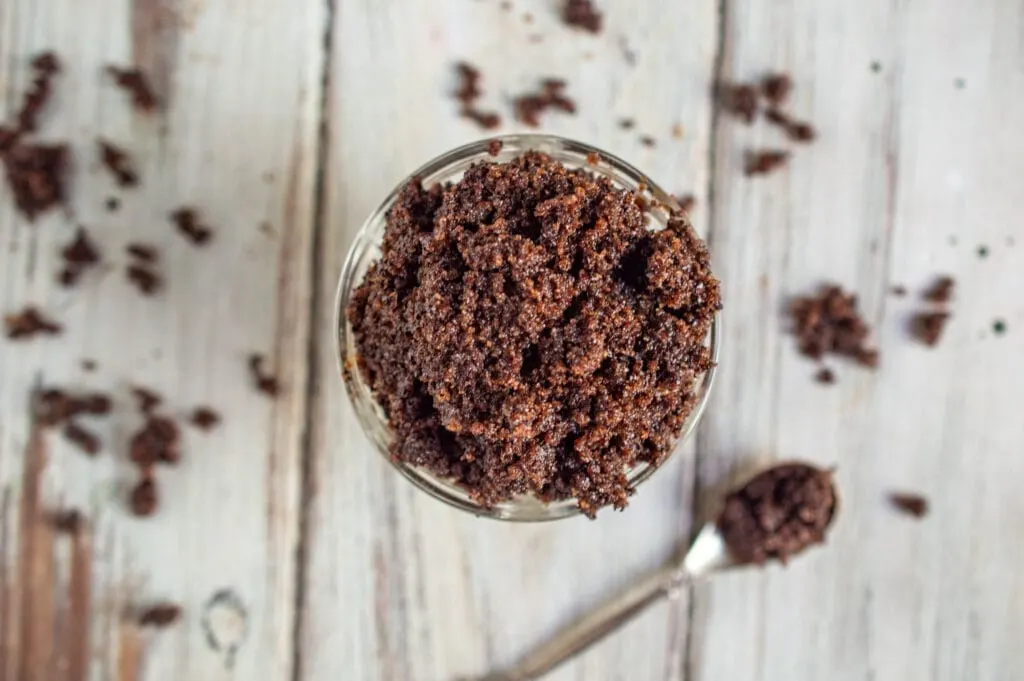 Print out the recipe card below to keep on hand when you want to take care of your skin. It's perfect for a pampering shower or mini spa day at home!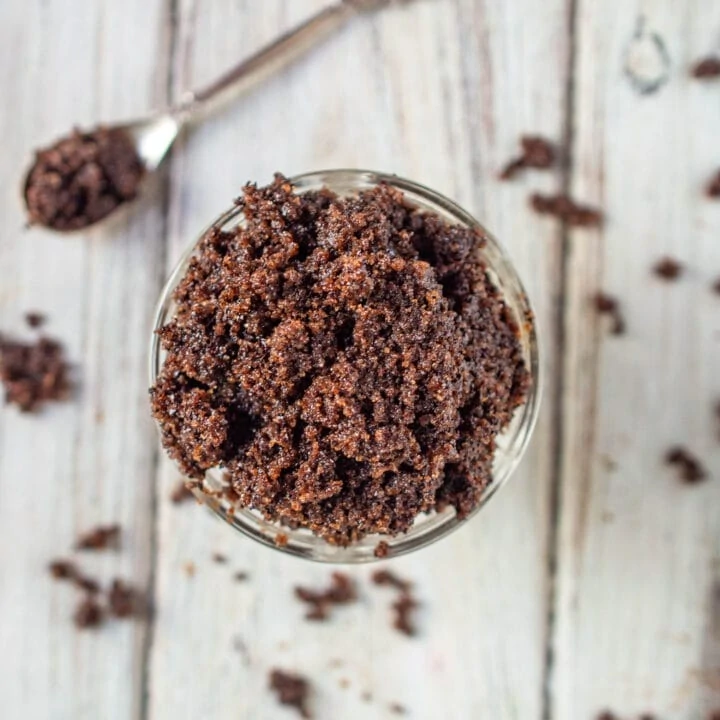 Coffee Sugar Scrub Recipe
Make a natural body scrub using food based ingredients.
Materials
1 cup white sugar
⅓ cup ground coffee
2 tablespoons cocoa powder
¼ cup olive oil (or coconut oil, liquified)
Few drops of water, if needed
Instructions
Combine all of the ingredients in a bowl.
Mix well until you have reached a wet sand consistency.
Add a few drops of water at a time, if needed, and mix until desired consistency is reached.
Notes
To Use: Take a tablespoon or so of the scrub in your hands, add a few drops of water, and scrub desired body part.

Rinse afterwards.
Recommended Products
As an Amazon Associate I earn from qualifying purchases. I earn from other affiliate programs, as well.
And be sure to Pin it to save for later, too!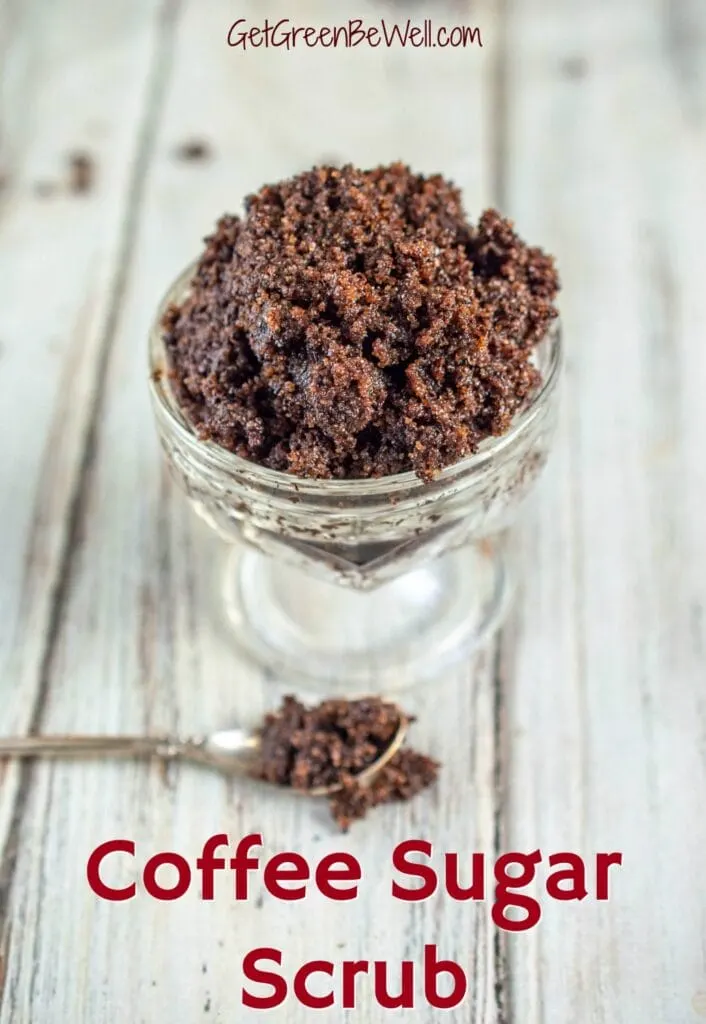 More DIY Beauty Products
It is super easy to make your own natural beauty products.
Here's some more recipes.
These solid lotion bars are easy to make and perfect for travel!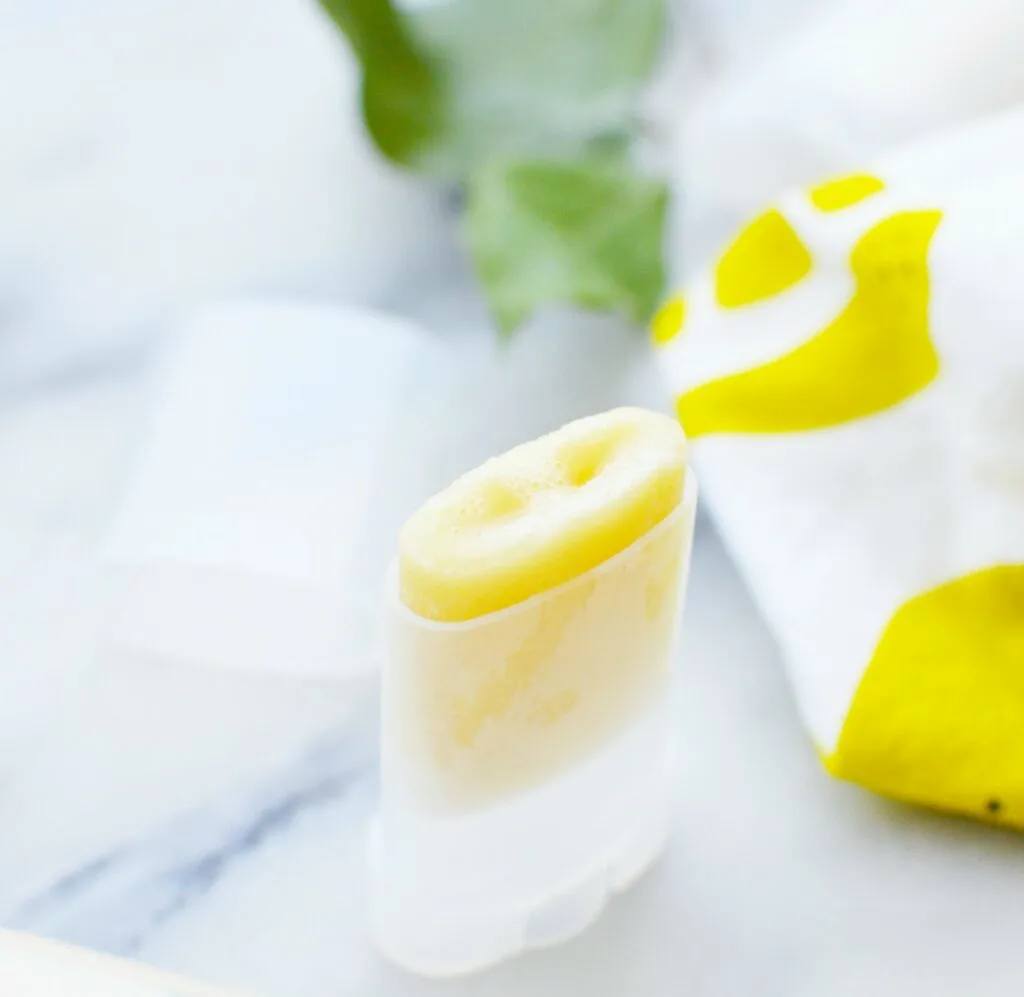 This soothing skin balm that can soothe irritated and wind burn skin easily using all natural ingredients.
Make your own eye cream with this DIY anti-aging eye balm recipe.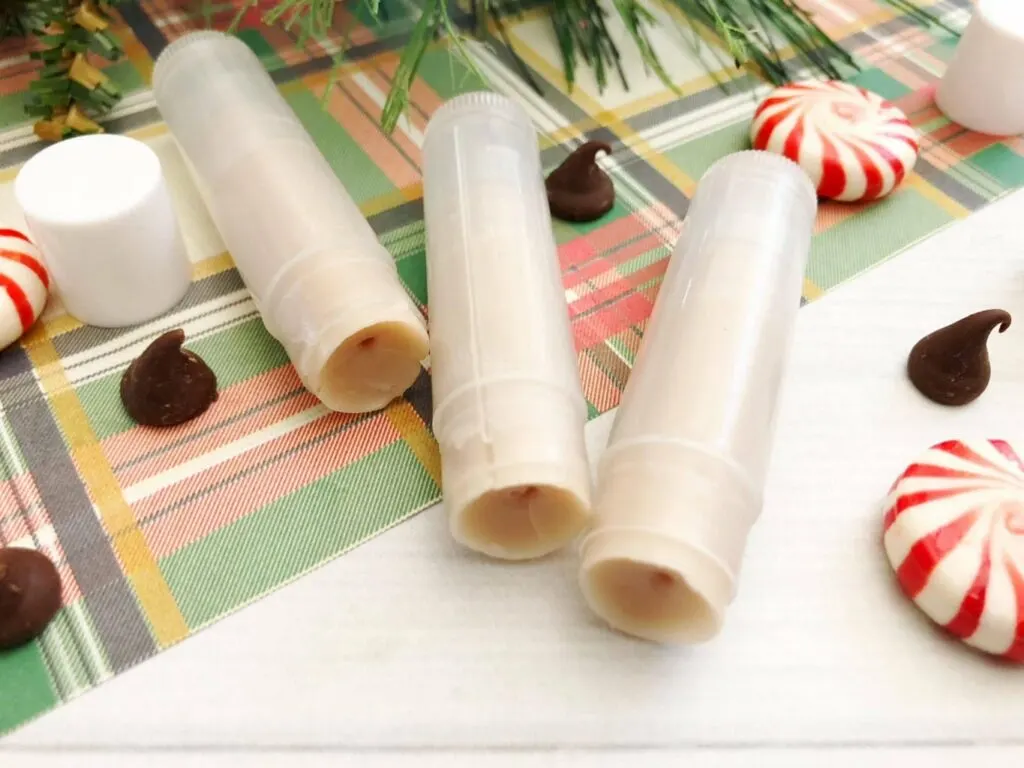 Our homemade chocolate mint lip balm not only is super easy to make, but it tastes delicious, too!
And this is my favorite facial oil cleanser to buy to get rid of hormonal cystic acne.