This homemade dusting spray helps to ease the never-ending chore of dusting your home. And it only uses two ingredients and water (plus an optional third ingredient, if you'd like!)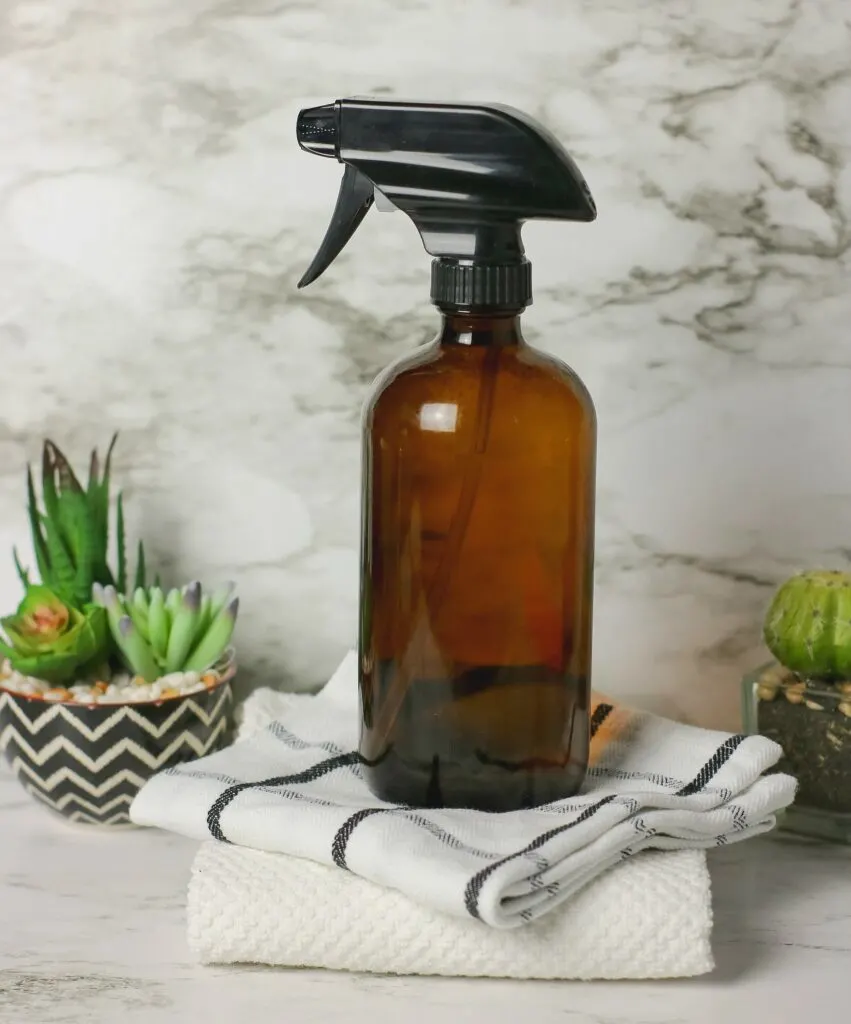 We all got to dust. But the products you buy on a store's shelves could have nasty chemicals you don't want in your indoor air. Like this common dusting and cleaning spray which gets an F from the Environmental Working Group (EWG).
This DIY dusting spray has natural (and cheap) ingredients for healthier cleaning that also saves you time.
Why Do I Need a Dusting Spray?
Have you ever dusted, only to find the dust flying through the room or landing back on the surface an hour later?
THAT's why you need a dusting spray!
Sure, you can dust without a dusting spray. It just might not be as effective, since static from dry dusting can cause the particles to not be grabbed by your duster. (And don't think that pre-made dusting cloths are the answer. Unscented Pledge Dust and Allergen Dry Cloths received a D score by the EWG for their ingredients.)
Oil and water in the dusting spray helps to trap the dust, allergens, pollen and nasty stuff that can be in dust. The spray lands on the dust and doesn't allow it to fly away as you are wiping the surface.
Since the area sprayed will be slightly damp (also known as wet dusting or damp dusting), it's also easier to come in and sweep up the dust with a reusable microfiber cloth (which are the best for trapping dust) and whisk it away.
Best Ingredients for A Dusting Spray
The simple ingredients used in a DIY dusting spray can probably be found in your pantry right now. Making this spray really can be cheap and easy.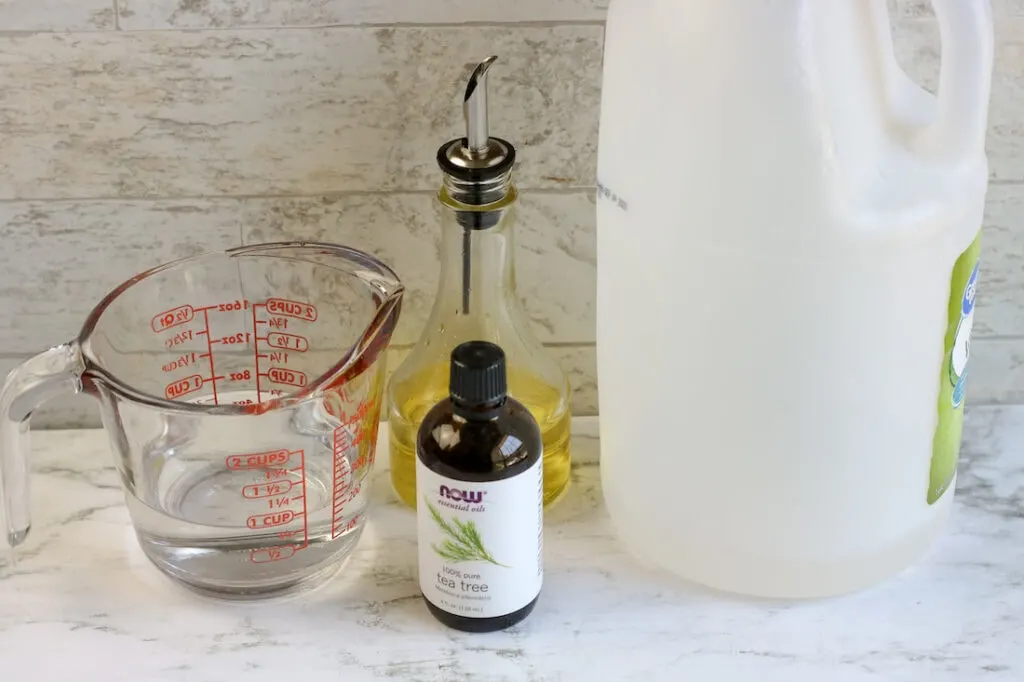 Vinegar
White distilled vinegar is a great (and inexpensive) solution to get rid of dust. Because the vinegar cuts through grease and grime, it can also help to naturally lift off more dust. Plus, vinegar adds disinfecting benefits to the surface that you sprayed it on.
However, I don't really like using vinegar on wood or delicate furniture if you don't need to. Vinegar can be drying. So while one or two deep cleaning sessions during the year might not be problematic, weekly or daily cleaning with vinegar on wood could cause some harm.
If you're concerned about drying out wood, use our beeswax furniture polish to add back moisture.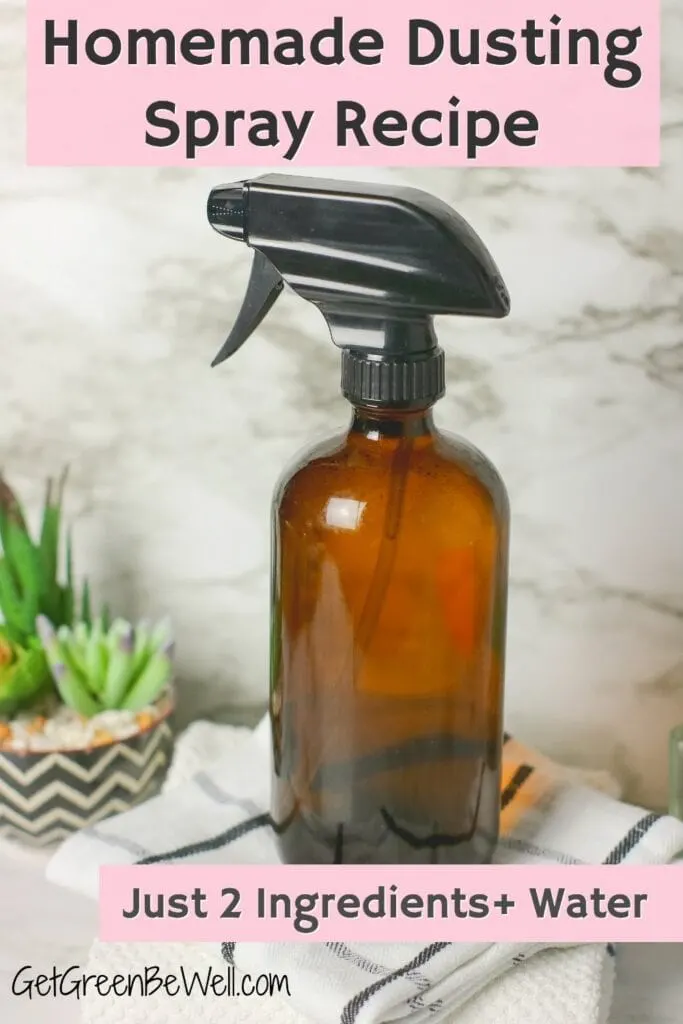 Olive Oil
This pantry staple is a surprising ingredient for better dusting. The oils help to naturally shine and protect the surfaces you are cleaning. This is great if you are dusting wood! And the olive oil is just heavy enough to trap the dust so that you can remove it easier.
Essential Oils
While an optional ingredient, essential oils can help boost the cleaning power of a DIY dusting spray. Essential oils such as lemon, grapefruit and orange can cut through grease and improve cleaning.
Tea tree oil is also anti-bacterial and anti-fungal. Plus, the scent lingers afterwards for aromatherapy benefits.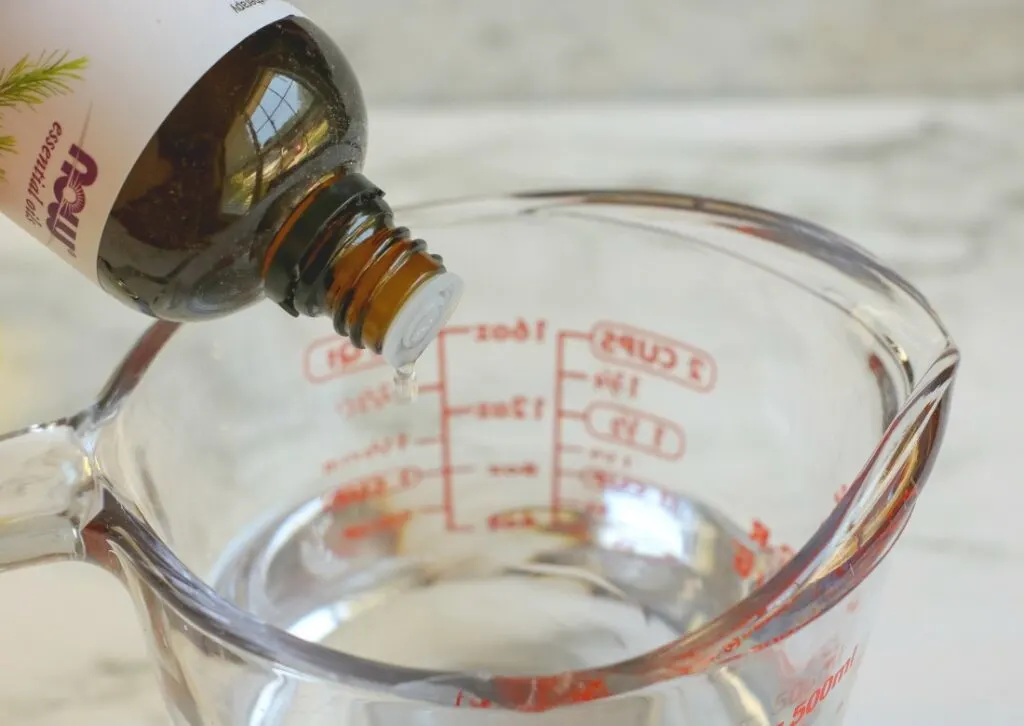 Water
Yep, plain tap water is fine for this recipe. However, water can start to grow bacteria in products such as this, so using distilled water will prevent that from happening as quickly. The vinegar will slow that down, too, but you'd definitely only want to make as much as you can use in a day or two.
So, don't make this and leave it on your shelf for a year before you finally get around to dusting (hey, no judgment, I feel the same way about dusting!).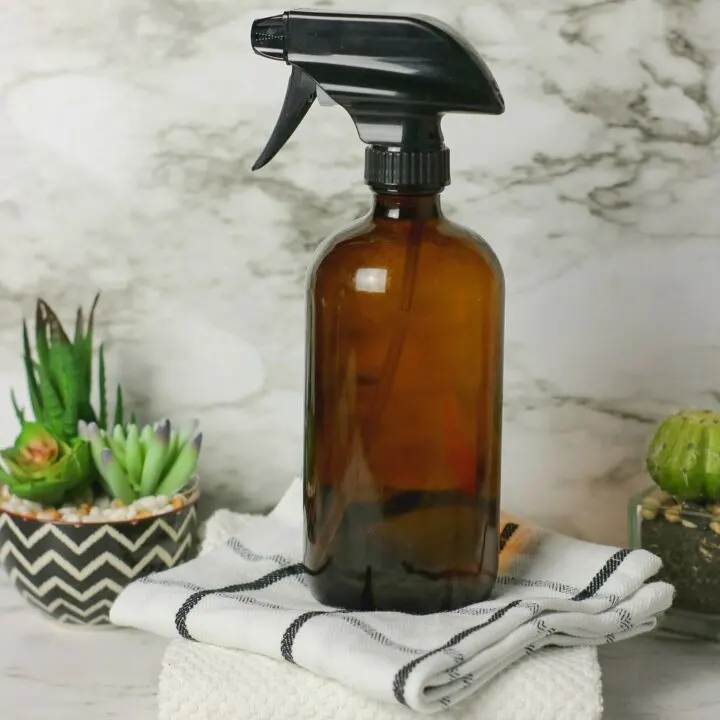 Homemade Dusting Spray
DIY dusting spray with natural ingredients such as olive oil and vinegar for healthier cleaning.
Materials
1 cup water (preferably distilled)
1/2 cup white vinegar
2 teaspoons olive oil
10-15 drops essential oil
Instructions
Add all ingredients to a spray bottle. Use a funnel to pour into the bottle if needed.
Put the top back on the spray bottle and secure.
Shake to combine.
Spray where needed, and wipe off with a microfiber cloth.
Always shake before using.
Notes
Distilled water prevents bacterial growth from happening as quickly. If you don't have distilled water, you can boil and cool the water to remove impurities, too. You may just use normal tap water, but be sure to use the mixture soon after making the dusting spray.
Use the spray within 3 days to prevent bacterial growth.
Lightly spray the surface - it just needs to be dampened, not wet.
Fractionated coconut oil (stays liquid and not solid) can be substituted for olive oil.
Always shake the bottle before spraying, as oil and water can separate.
Be sure to check out all of our easy and simple green cleaning recipes!