I can't stand the smell of most shaving cream. Who wants that artificial fragrance lingering on their skin for hours? Not me! I made it my mission to find the best shaving cream for sensitive skin with a preference towards unscented. (I tested both women's and men's, because I don't care who it is marketed towards, I just want the best-working one).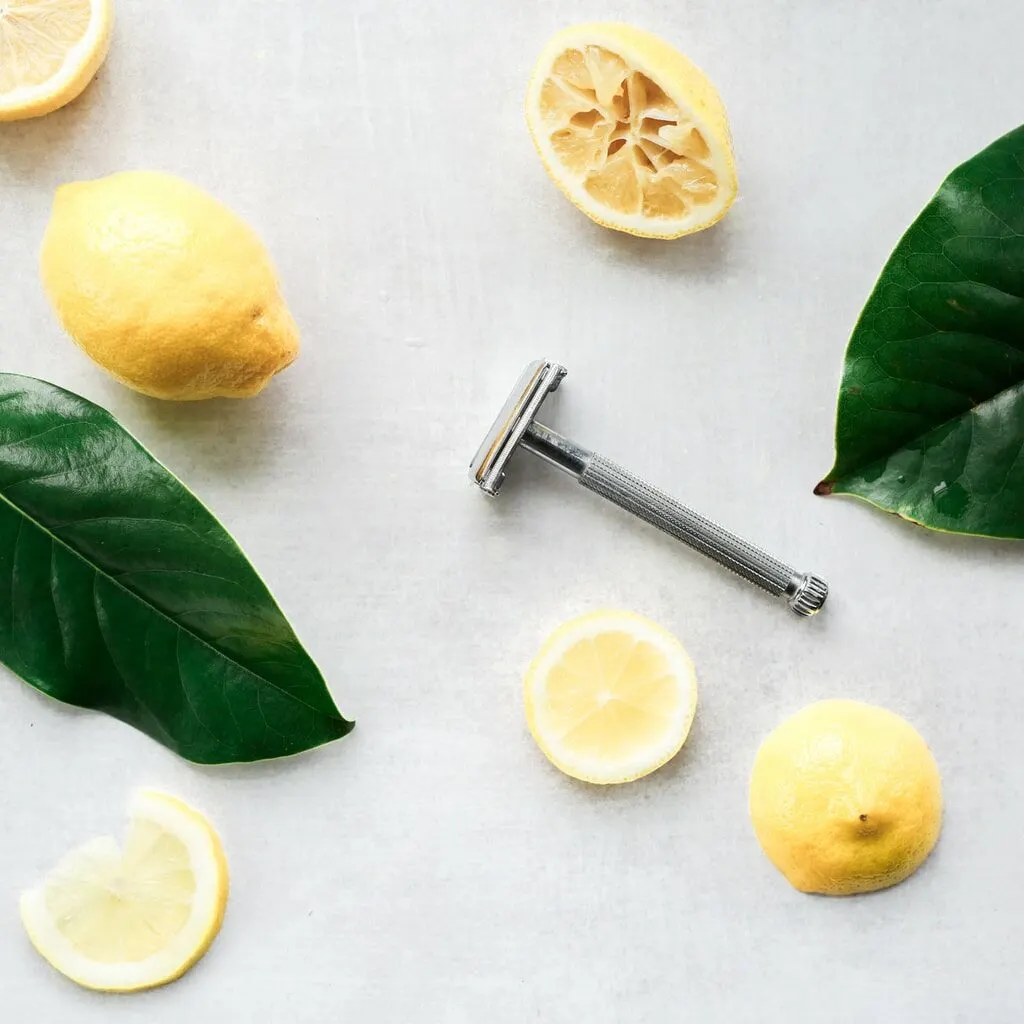 How did I choose which natural shaving creams to try? First, they had to be unscented or have fragrance only with natural ingredients.
Then, I looked for non-aerosol shaving creams. These just have less potential chemicals, because they are not aerosolized. And, being eco-conscious and zero waste minded, I like how you can make sure to get every last drop out of bottles of shaving cream. Where aerosol bottles tend to leave product inside and you can't get it out.
I have personally tested all of these non-toxic shaving creams over the past couple years. I was surprised to find that there were a few I really hated. And a couple that stood out among the rest. Really, not all natural shaving creams are created equal!
✅ In a hurry? This is my favorite non-toxic shaving cream, and the one I'd buy again!

(Bonus: It's the least expensive, too!)
Kiss My Face Shaving Cream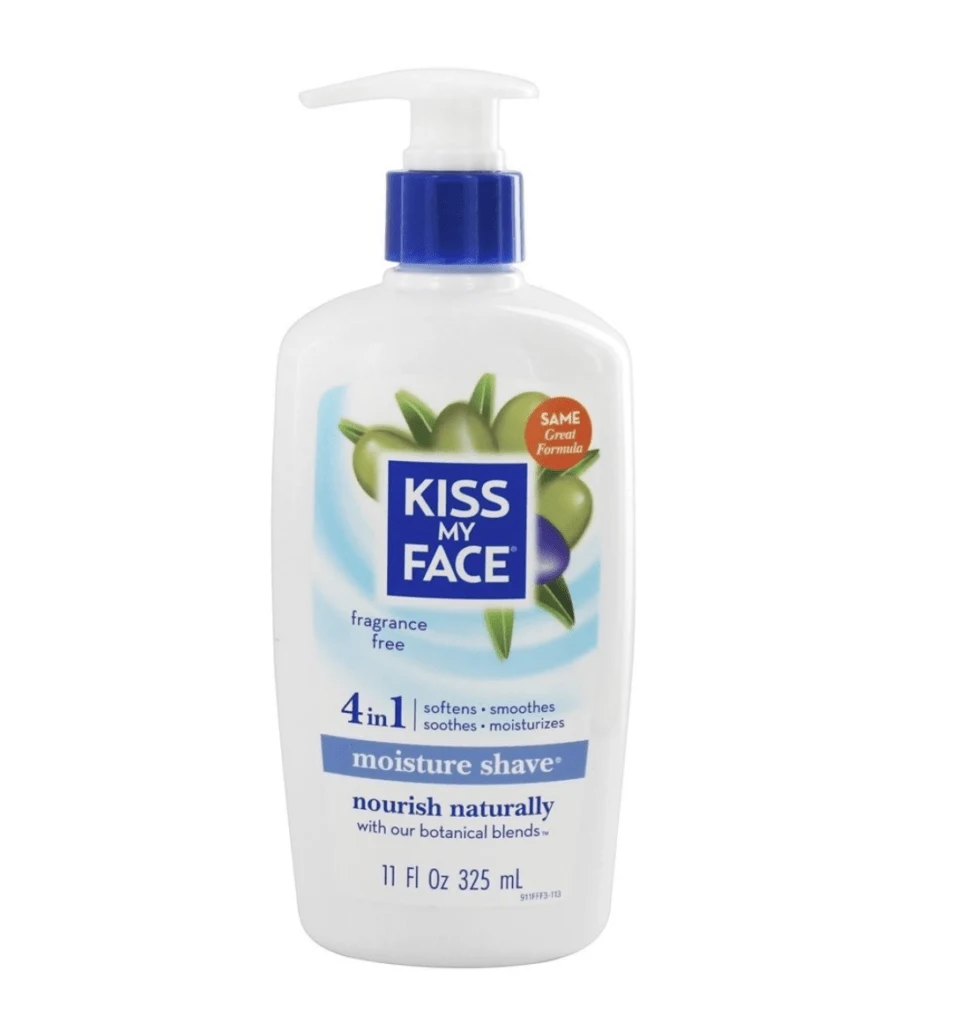 Perhaps my favorite unscented shaving cream. I've been using this for years, and the only reason that I started using other brands was to review them (and because Kiss My Face Unscented Shaving Cream was out of stock online for such a long time I had to get something else).
P.S. If you see Kiss My Face Shaving Cream, get it! I've had such a hard time buying it, even from their own website. I don't know why, but I've learned that you buy it when you can!
The Unscented Shaving Cream has no fragrance that gives me a headache or makes me run from the bathroom. I like that the Kiss My Face shaving creams come in either a larger pump form or a smaller tube. I personally use the non-aerosol pump because I turn the bottle over and get every last drop out long after it can't be pumped anymore.
Kiss My Face Moisture Shave does come in a variety of fragrances (browse them all). I tried the Key Lime one and liked it, but preferred the unscented one.
EOS Shave Cream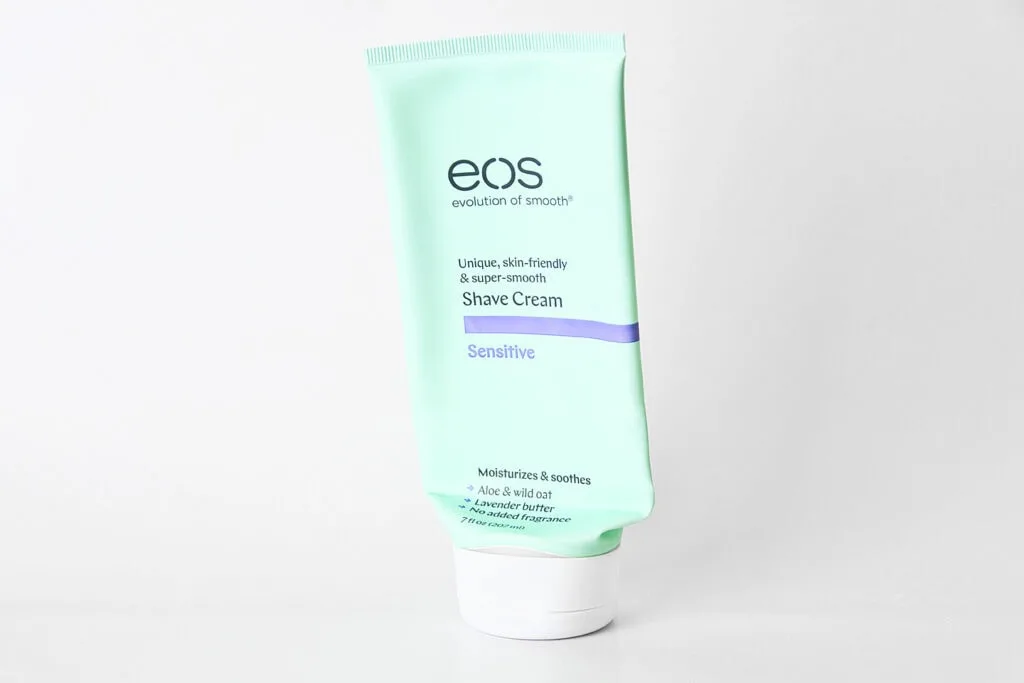 EOS Shaving Cream for Sensitive Skin is one of my favorite unscented shaving creams. I wasn't expecting to like this one as much as I did. I honestly only bought it for a review. It was thick to apply, but easy to remove.
Made for sensitive skin, I didn't feel that it had much of a fragrance, but it's definitely not totally unscented. The lavender butter does add a bit of a scent (this shave cream never states that it is unscented, just no added fragrance). The Aloe Vera and Wild Oat is soothing. I'd buy this again.
I'll admit, the ingredients aren't the most natural compared to all the other brands on this list. But the combination of effectiveness and price point, and comparing this shaving cream to traditional shave creams, makes this a smarter swap.
P.S. The packaging has changed since I tried it. And there are plenty of other fragrances to browse if you like scented shaving cream.
Alba Botanica Shaving Cream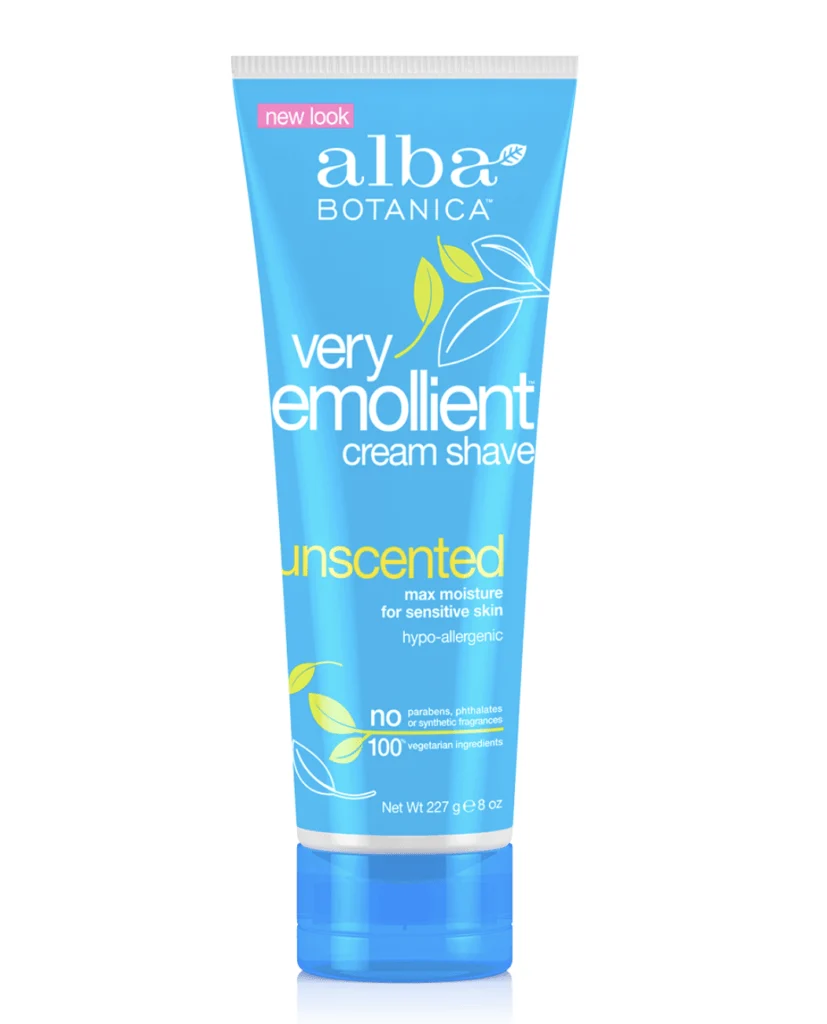 Okay, I liked and despised Alba Botanic Shaving Cream at the same time. The ultra-thick gel was luxurious and left my skin deeply moisturized after shaving. I didn't even apply lotion after shaving my legs with it. And the unscented shaving cream really didn't have much of a fragrance. However, the thick cream was way too thick and wouldn't rinse off of the razor. I spent too much time and water waiting for it to rinse away. I won't be buying this one again.
If you don't mind a scent, I'd suggest the fun Coconut and Lime Shave Cream (they do have other scents, too).
Giovanni Moisturizing Sensitive Skin Shaving Cream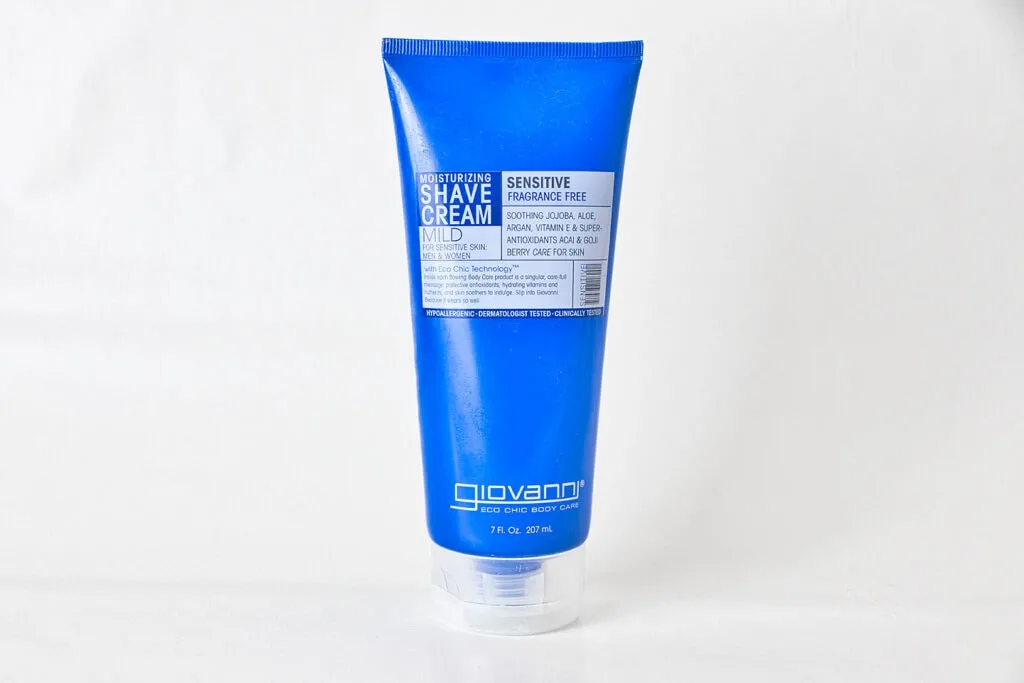 Another one of my favorites is Giovanni Moisturizing Shave Cream. This unscented shaving cream truly is unscented. Making it perfect for both men and women. Packed with jojoba oils, Aloe Vera, rosehips, argan oil and antioxidants like açaí and goji berry, there is a lot of natural goodness in this cream.
If you don't mind fragrance, try GIOVANNI's Invigorating Tea Tree and Mint scent.
Andalou Naturals Men's Shave Cream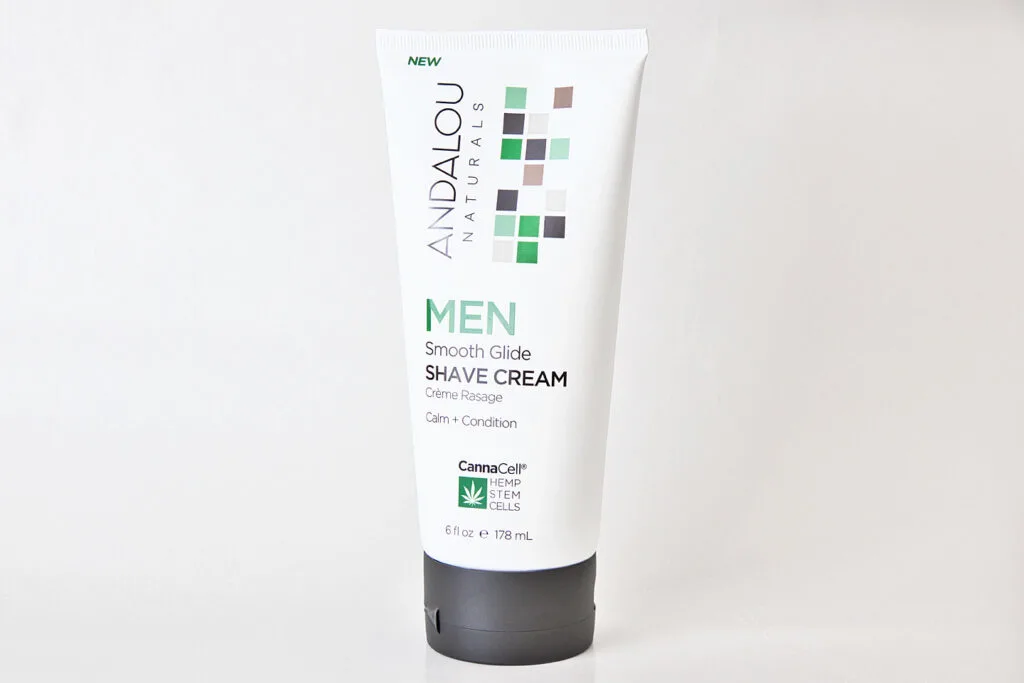 I really don't mind using men's shaving cream if it's what works best. And this one actually worked pretty well. It was thick enough to stay on your skin, and moisturized well.
Organic hemp seed oil is one of the key ingredients in Andalou Naturals Men's Shave Cream. They use a proprietary CannaCell technology which has natural antioxidants derived from hemp stem cells. Andalou Naturals is known for using bioactive stem cells for better skin care. I love their products and have seem them actually work – in fact, their probiotic moisturizer is the one I love and use today.
Geared towards men, the scent definitely is manly. It was a bit too strong for my taste, but I don't know if it's because it was a fragrance I didn't care for, or if it was just too heavy.
Cliff's Original Shave Oil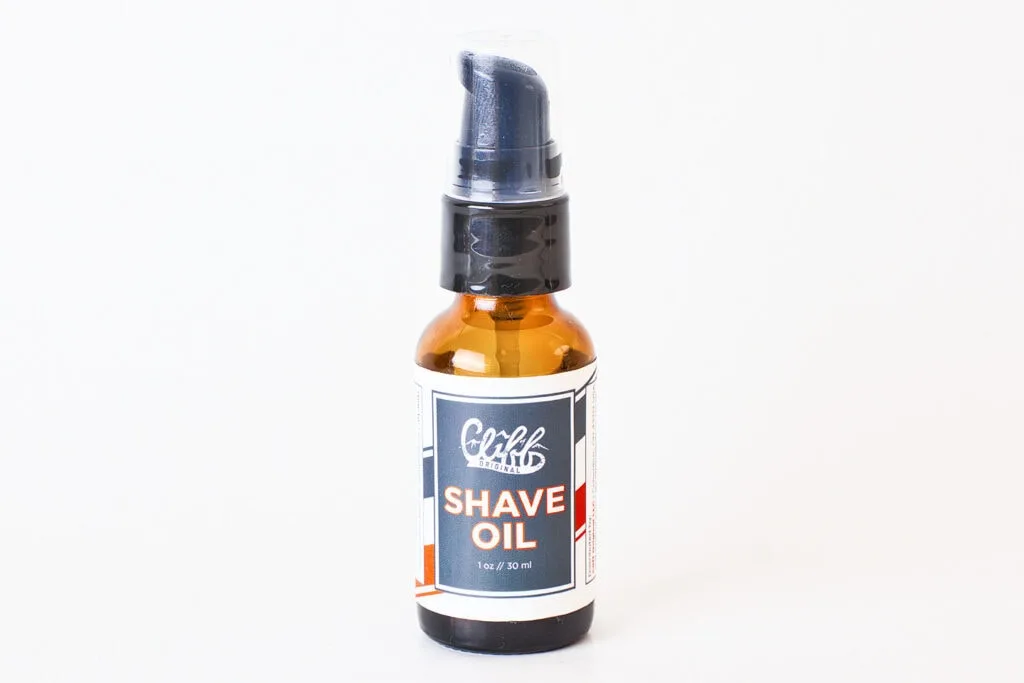 Another surprising shave cream that's actually a shave oil. I got a trial size of this at an event. After talking to the owner, I was really impressed with his commitment towards natural ingredients and making small batch beauty products. And he promised me that even though the brand tends to gear towards men, his wife uses this shave oil on her legs and loves it.
You know what? I used Cliff's Original Shave Oil on my legs and loved it, too! It's so easy to use. My only complaint is that it's hard to see where you've applied the oil and shaved, versus where the oil remains, when you're in the shower. But that's going to be the case with shave oils.
NOW Solutions Shave Cream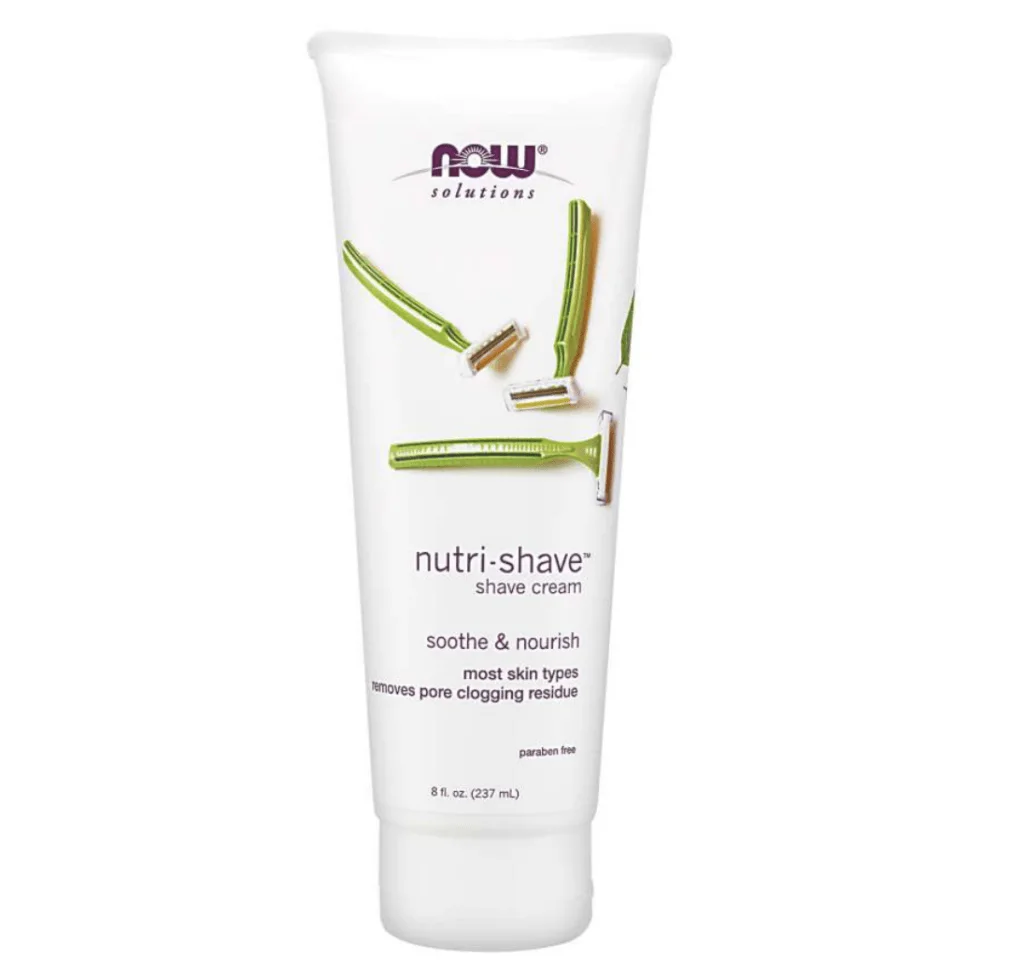 I won't be buying NOW Solutions Shaving Cream again. It's one of those that I found when searching for reviews of non-toxic shaving creams. I like some of NOW Solutions products, but not this one.
Aloe Vera Gel is the number one ingredient, along with natural ingredients such as coconut oil and hyaluronic acid.
The shaving cream is more like a liquid. It runs out of the tube with a consistency like Milk of Magnesia. And the scent is a very weird bubble-gum like fragrance that I hate.
---
Check out my shopping guides for Best Non-Toxic Feminine Protection and Best Lead Free Lipsticks.