This super easy DIY will show you how to make scented vinegar for cleaning.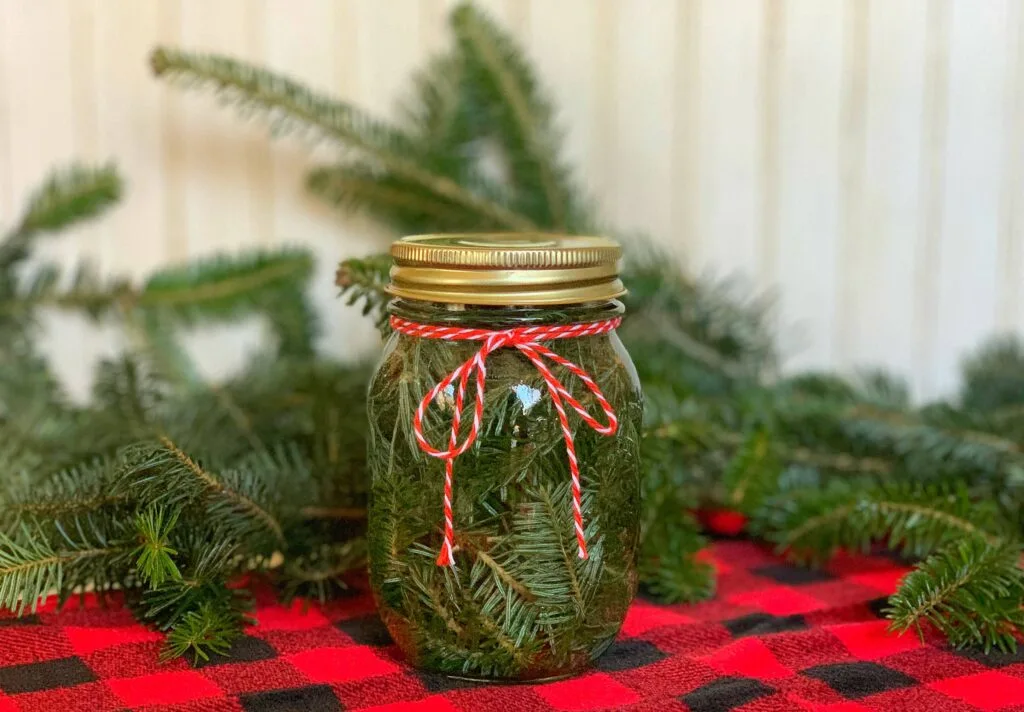 After I clean the kitchen or bathroom with vinegar, my husband will come home hours later and ask why the house smells like vinegar. Does this ever happen to you? I mean, I love using cheap vinegar as an effective green cleaning solution. But that smell lingers for so long that I have to be careful when and where I use it to clean!
Which is why I was so intrigued by making homemade scented vinegar. This DIY project literally takes just a minute or two.
I had high hopes that creating scented vinegar would end all of my green cleaning woes. But to be honest, I'm not sure how scented vinegar is any better than normal vinegar. In fact, I think it might have smelled worse!
But to be fair, I need to try out some more scented vinegar fragrances before I swear off this green cleaning hack. So in the meantime, I'll share the easy details of how to make infused vinegar that should smell good.
What is Scented Vinegar For Cleaning?
Scented vinegar could also be called infused vinegar. They are essentially the same thing. Both are made from white distilled vinegar that you can find in the food aisle at grocery stores. If you're wondering what kind of vinegar to clean with, white distilled vinegar ranks among the best.
Vinegar can be infused with fragrant ingredients to reduce or mask the smell of white distilled vinegar.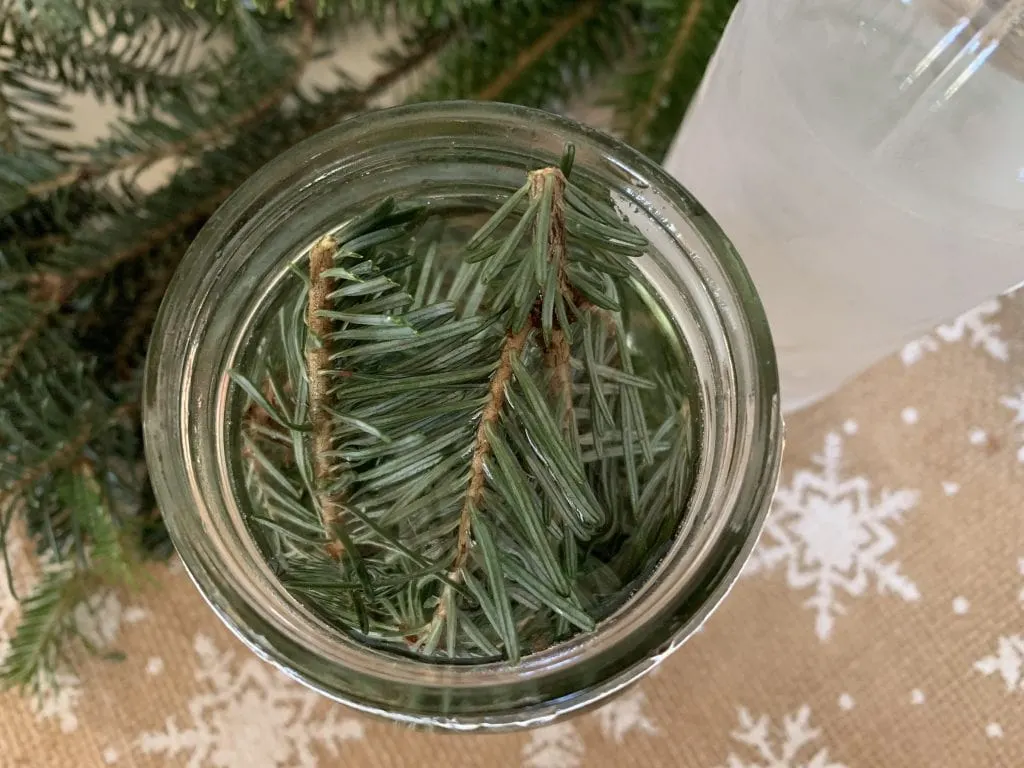 By infusing vinegar for cleaning, you can still get the powerful natural cleaning properties of inexpensive vinegar. But you won't have to feel like you've got to air out your house afterwards to get rid of the vinegar smell.
Scented vinegar is often called cleaning vinegar, as well. Many brands sell a cleaning vinegar that is made to smell good.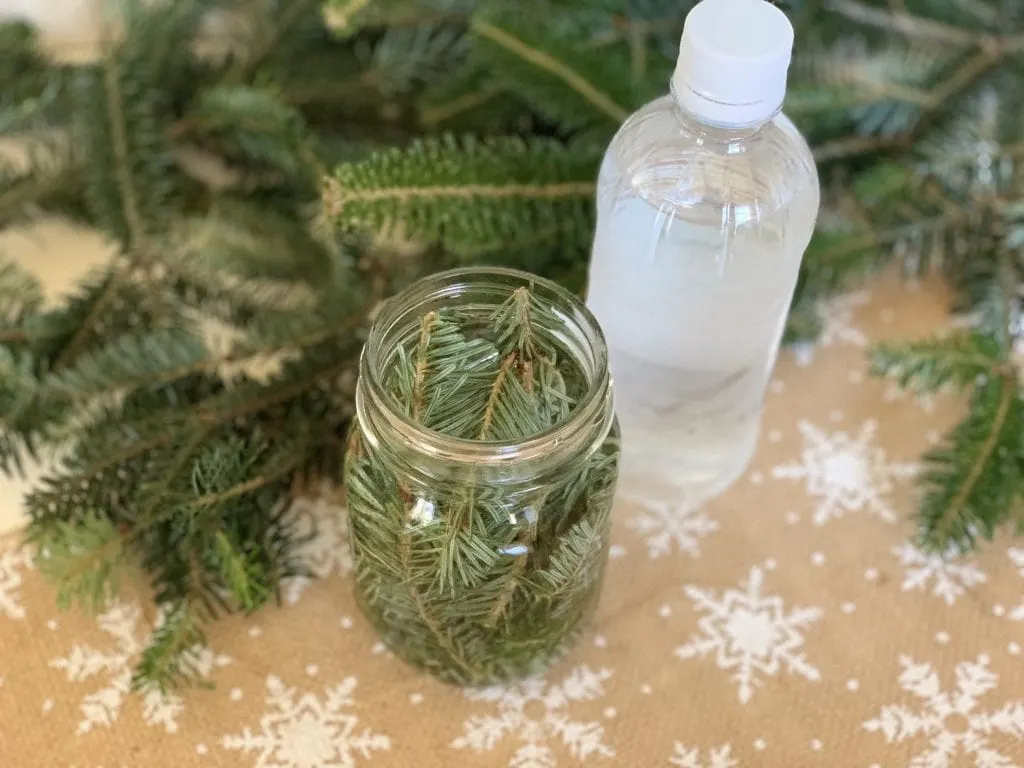 Cleaning vinegar may or may not have the same acidity as normal white distilled vinegar. The acidity level of the white distilled vinegar that you buy at the grocery store for cooking is 5%, but a cleaning vinegar could have the same acidity or less, typically 2-3% acidity.
A lower acidity level in cleaning vinegar means that the product might be a little more gentle on surfaces that are cleaned. However, it also means that there would be less of a smell of vinegar because there is likely less vinegar in the solution. It is essentially watered down.
What Can You Add to Vinegar to Make it Smell Better?
This is one of the most popular questions when it comes to green cleaning and natural DIY cleaners.
Many people love the cheap price of vinegar and the ease of finding the cleaning ingredient in any store. But when it comes to that sharp vinegar smell, that's where a lot of people draw the line.
You can add just about anything to vinegar to make it smell better. But there are a few ingredients that have natural fragrances that are powerful enough to effectively get rid of that harsh vinegar smell.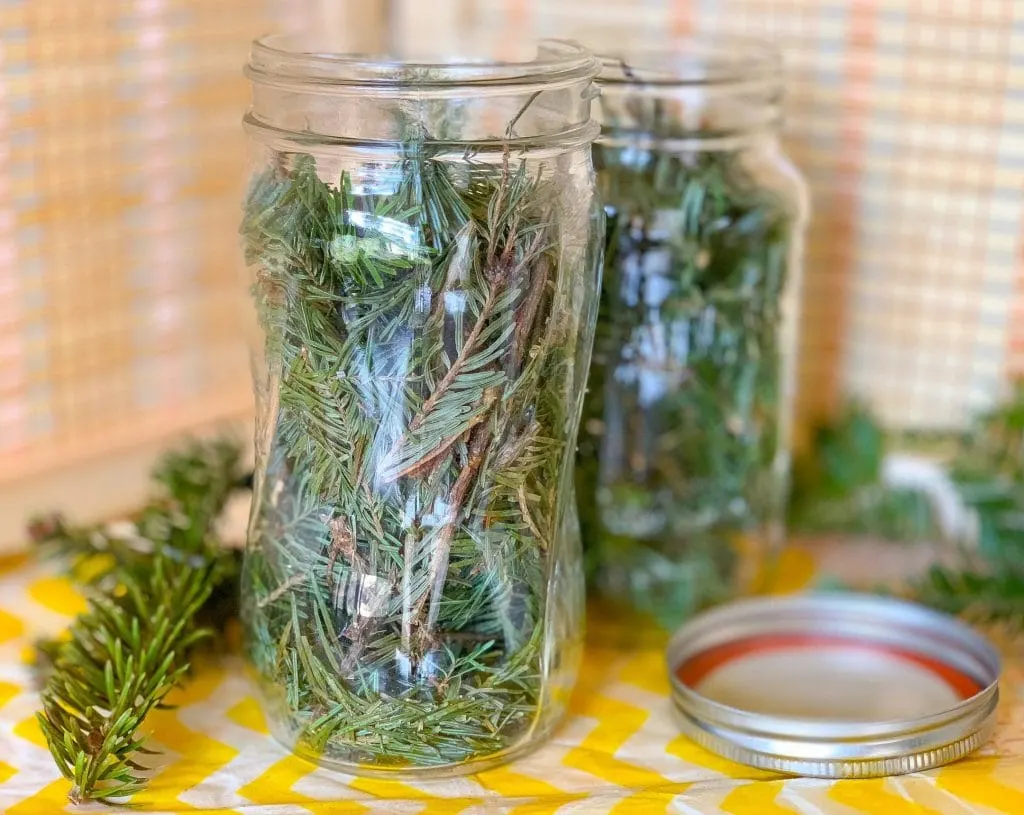 What you'll want to add to vinegar are natural ingredients with strong essential oils in them. These are ingredients that are full of fragrance on their own. Some examples are:
Pine
Orange
Lemon
Other Citrus
Cloves
Cinnamon Sticks
Rosemary
Sage
Mint
Basil
Steeping vinegar with any of these ingredients will help the scent become strong in the cleaning vinegar solution. The longer you allow the vinegar to infuse with the fragrant ingredients, the less vinegar smell you will notice.
Does Infused Vinegar Get Rid of the Smell?
I infused normal white distilled vinegar with pine branches to create a cleaning vinegar.
Did it ged rid of the vinegar smell?
No.
In fact, I think it made the vinegar smell worse.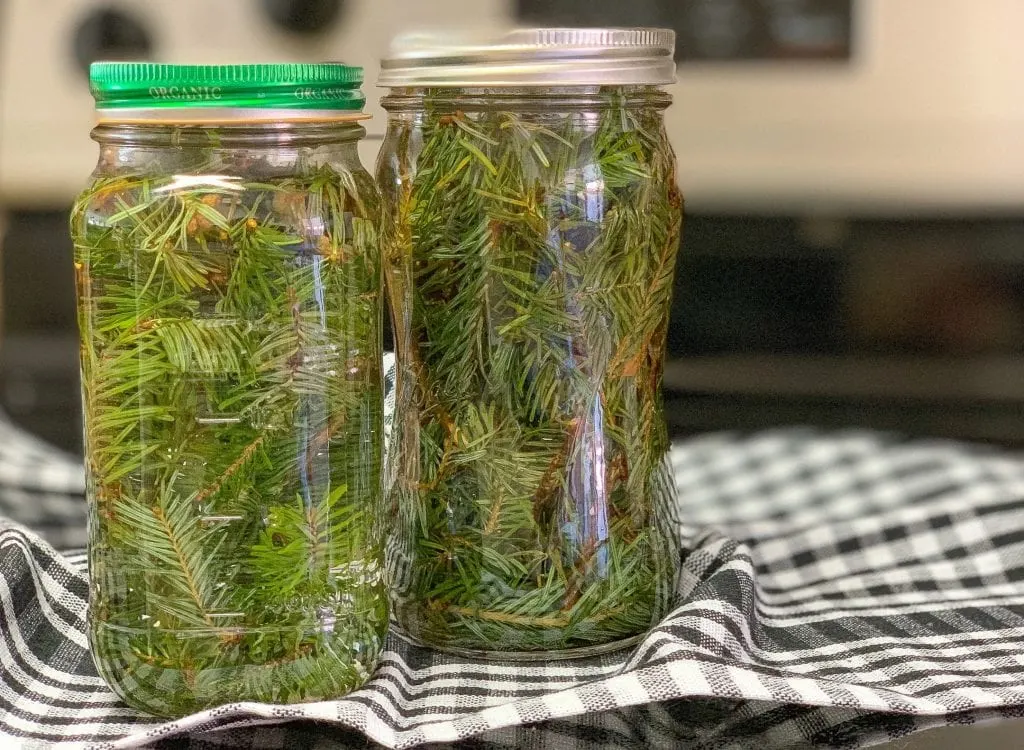 I'd rather have the vinegar smell compared to the pine scented vinegar that smelled like rotten food with a pine overtone. Seriously.
I need to try out other fragrance combinations. But I just don't see why you would want scented vinegar.
How to Make Scented Vinegar for Cleaning
The process to make scented vinegar couldn't be easier.
Seriously, this DIY project is so simple anyone can do it!
Choose a glass container to make the scented vinegar in. Consider using a canning jar, repurposed food jars (such as a spaghetti sauce jar), etc. Wash and dry the jars before using.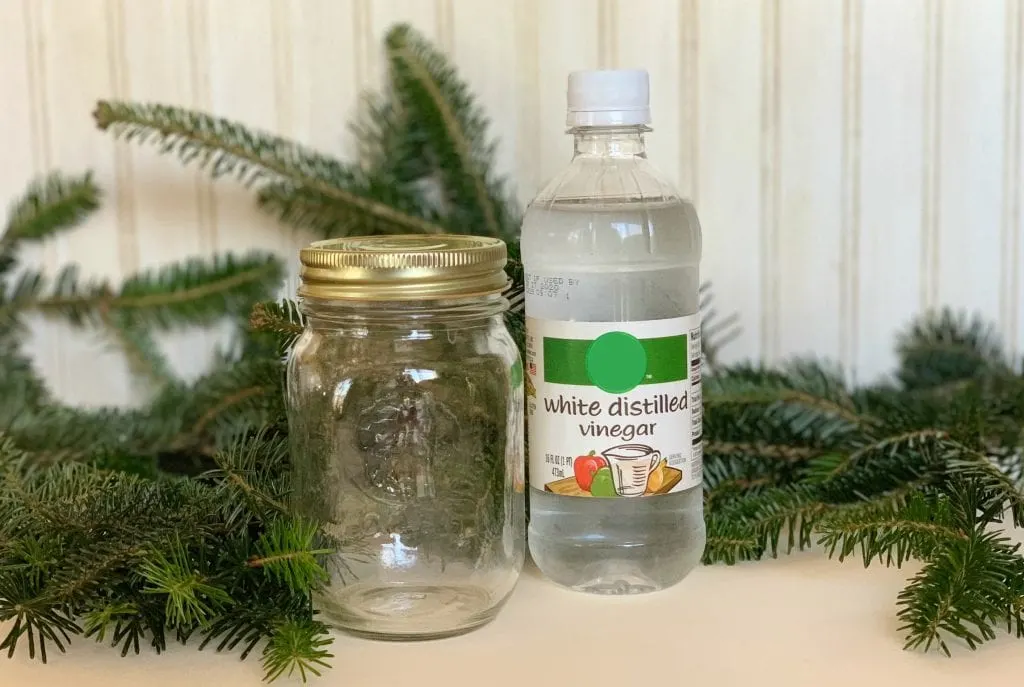 Add in the fragrant natural ingredients that you'd like to make scented vinegar with. The more you add, the stronger the scent will be.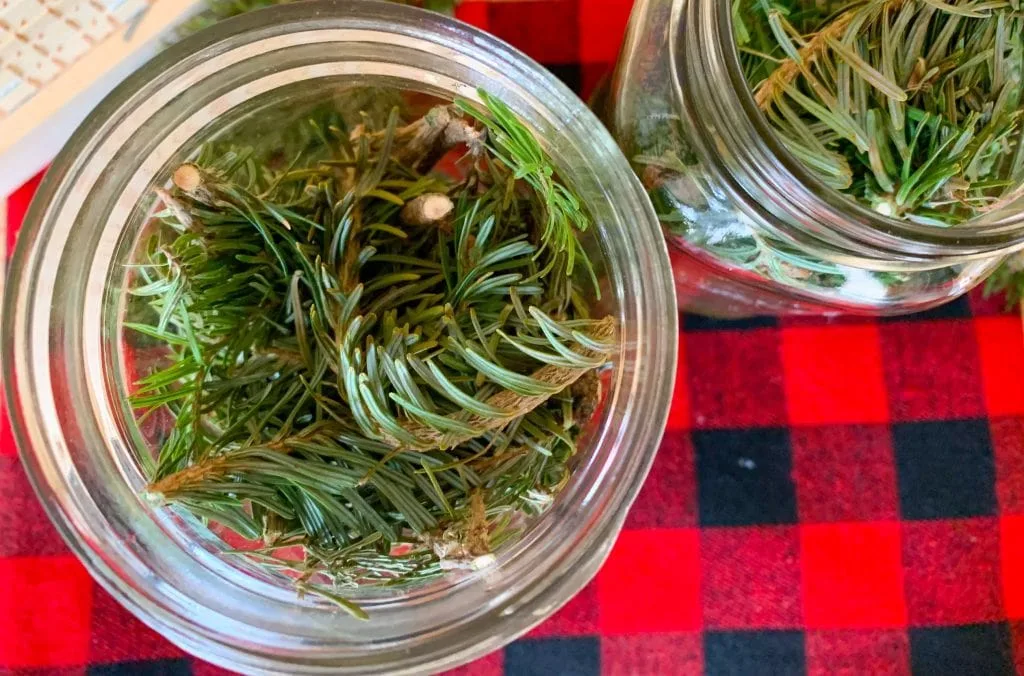 Fill the container with white distilled vinegar. The amount you use will depend on the size of your container. Leave a little room at the top.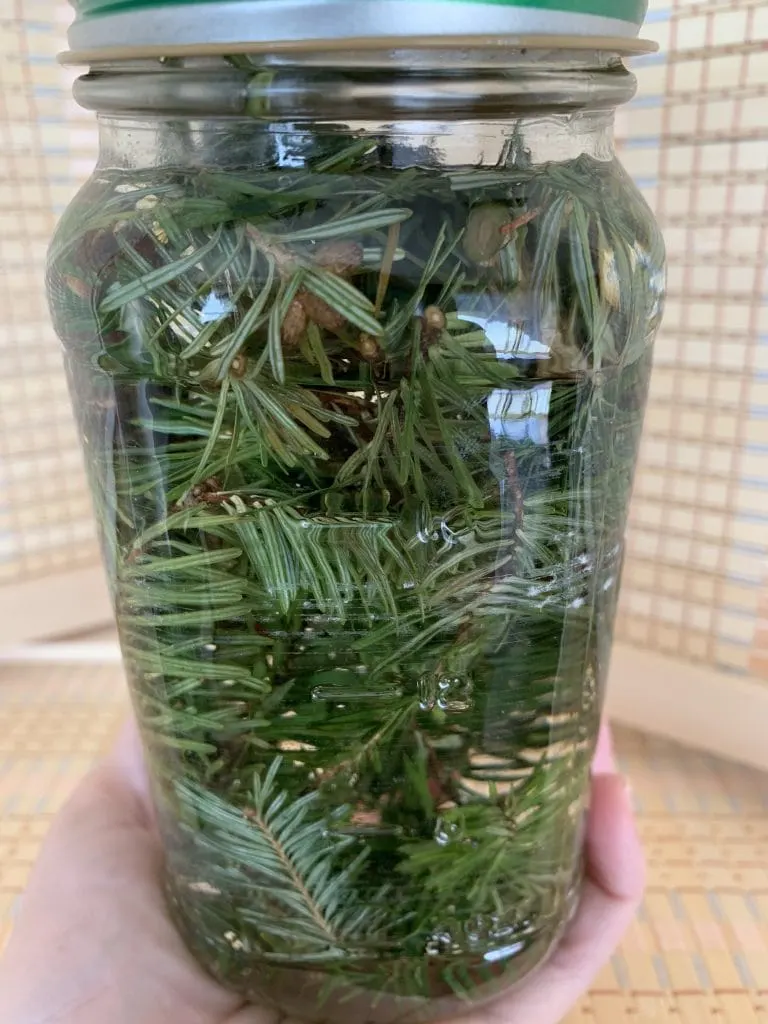 Place the lid on top and seal tightly. You don't want it to accidentally leak!
Put the scented vinegar in a cool, dark location.
Wait 2-3 weeks for the vinegar to steep and become infused vinegar.
Strain the vinegar to remove the added ingredients. Pour into a glass spray bottle or a plastic spray bottle that can handle acidic cleaners.
Pine Scented Vinegar
While there are so many ways to infuse vinegar, I personally tried pine scented vinegar.
I used branches off of a Christmas tree to create bottles of scented vinegar. Not only was I able to repurpose the branches, but the pine scent is a classic smell for cleaning products.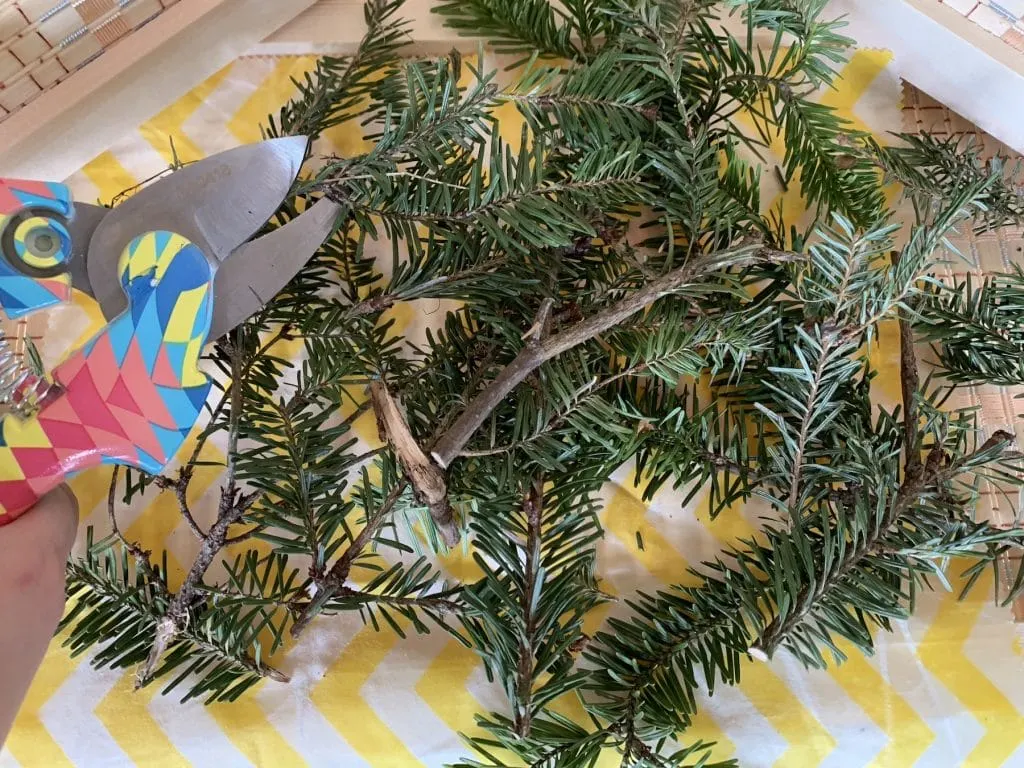 Pine scented vinegar can be made any time of the year. Simply go into your backyard or a forest to gather pine branches off of a tree or those that have dropped to the ground. There are a variety of different pine trees. Choose whichever kind is available to you.
Best Tips for Making Scented Vinegar That Smells Good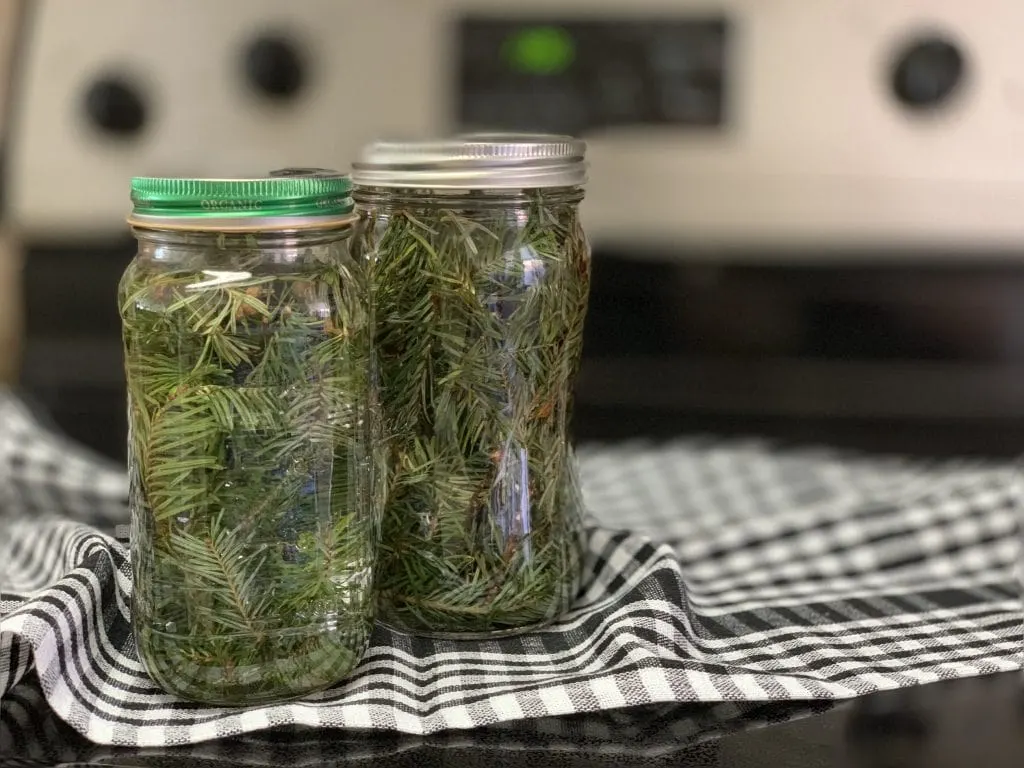 Making an infused scented vinegar couldn't be easier. But these helpful tips will allow you to customize the infused vinegar to what you have on hand and according to your cleaning needs.
Use produce or herbs that are about to go bad. Or use the clippings off of a plant or tree (such as a Christmas tree). Scented vinegars are the perfect sustainable green cleaning product because you can use up natural ingredients to make something great.
Dilute the vinegar to reduce the acidity of the cleaning vinegar. Add half white distilled vinegar and half water to the container before steeping. This will result in a scented vinegar that is weaker in acidity.
Compost the fragrant ingredients after they are steeped in the vinegar.
Essential oils can also be added to the steeping vinegar if you'd like. It is not as cheap of a process for scenting vinegar, but you might like the unique fragrances that you can create.
Heating the vinegar before steeping can result in a much shorter wait time. Heat the white distilled vinegar until just before boiling. Hint: You can tell when it's just before boiling when there are tiny little "fish eye" bubbles on the bottom of the pan. Do not use an aluminum pan to heat vinegar because the acidity will ruin the pan. Only use stainless steel or glass (including microwaving in a glass bowl).
The longer you let the vinegar steep, the more powerful the scent will be.
How Do You Use Scented Vinegar for Cleaning?
Cleaning vinegar can be used just like any other vinegar in green cleaning. (Want more green cleaning ideas? Follow my Green Cleaning Pinterest board for hundreds of ideas.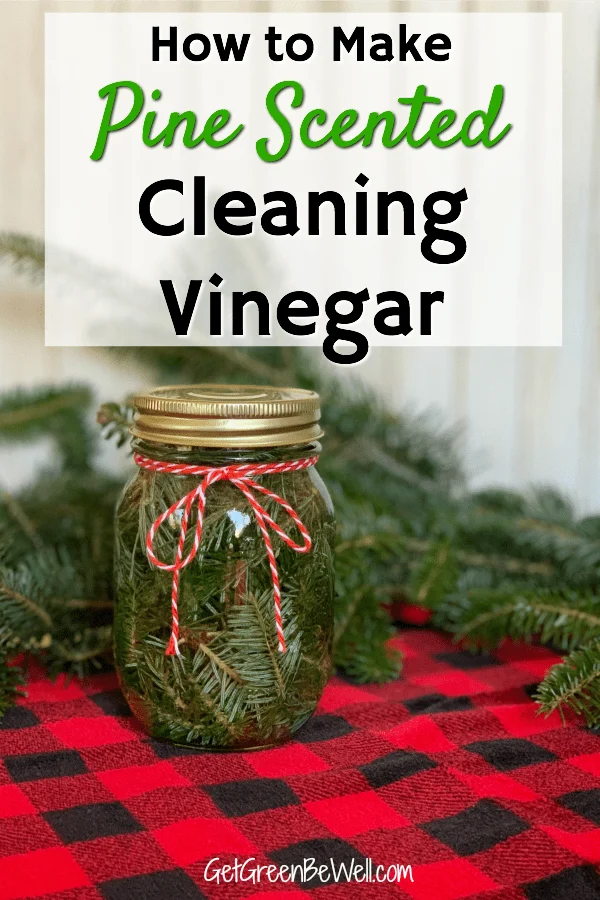 Substituting scented cleaning vinegar in place of normal vinegar will add a bit of aromatherapy and natural fragrance to your home while cleaning.
A scented cleaning vinegar can be used straight, without any other ingredients. Vinegar doesn't need to be added with a lot of other green cleaning ingredients to be effective. Consider using the scented cleaning vinegar to wipe down countertops or clean the toilet with vinegar.
DIY Video on How to Make Pine Scented Vinegar for Cleaning
Here's the easy way to make pine scented vinegar. I'll show you the steps. There's even a recipe for Peppermint Pine Scented Vinegar.