Farm to table is becoming more common for food, but have you ever stopped to think about farm to fabric? The sheets that you sleep on for a third of your life should be just as nontoxic as the food that you put in your body. Which is why I was thrilled to find these organic cotton sheets from Alterra Pure. The nontoxic percale bedding is the perfect addition to a healthy bedroom that promotes better sleep and healthier living.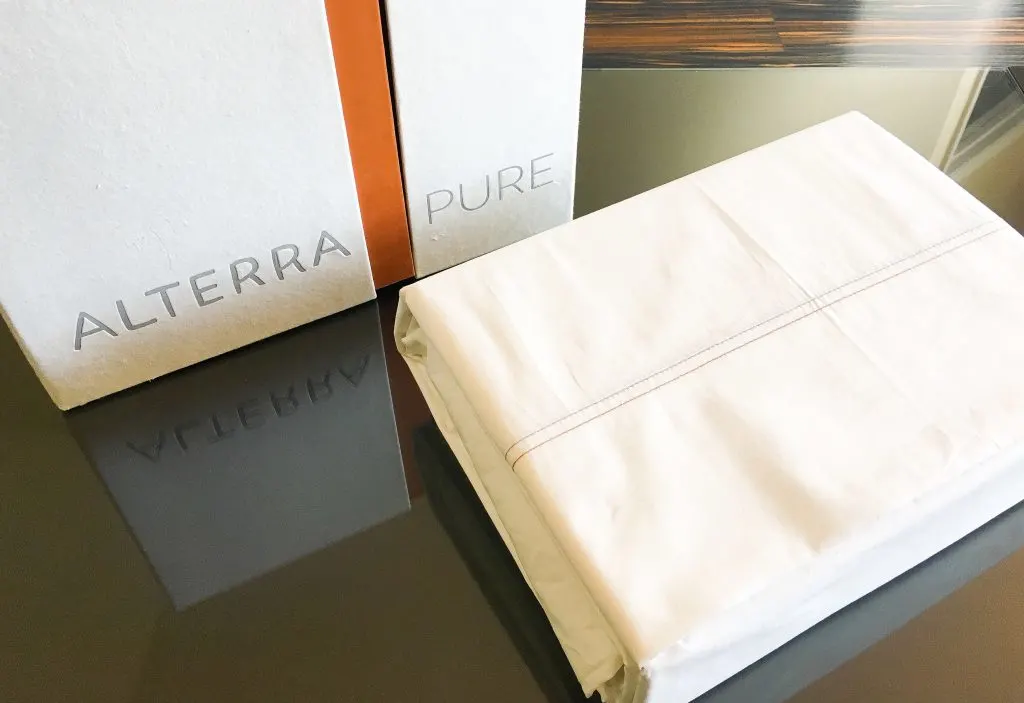 Organic Cotton Sheets
Alterra Pure is a new company that offers 100% GOTS certified organic cotton sheet sets, pillow cases and duvet covers. I was sent a set to review, and am thrilled with the quality of these organic sheets.
First, the presentation of the organic sheets set is amazing. These are the type of sheets that you want to give as a gift (wedding registry, new home, Christmas present, etc.) because you will look like a superstar. Or you want someone to give them to you as a gift. Check out the video below to see how beautiful the presentation is:

The percale cotton sheets are a little stiffer than many home store sheets. They have a substantial feel to the fabric. And that makes them great at being heirloom sheets that will last for years and years.
The secret, according to Alterra Pure, is to wash and dry the sheets twice before using. That is how the hotels do it. We took their advice and it did work! The first wash softens the sheets a little, but it was the second wash and dry that really relaxed the cotton.
I love the attention to detail with the colored stitching. These are minimalistic sheets that organically blend in to your existing home environment and can last for years, no matter what decor changes you may have.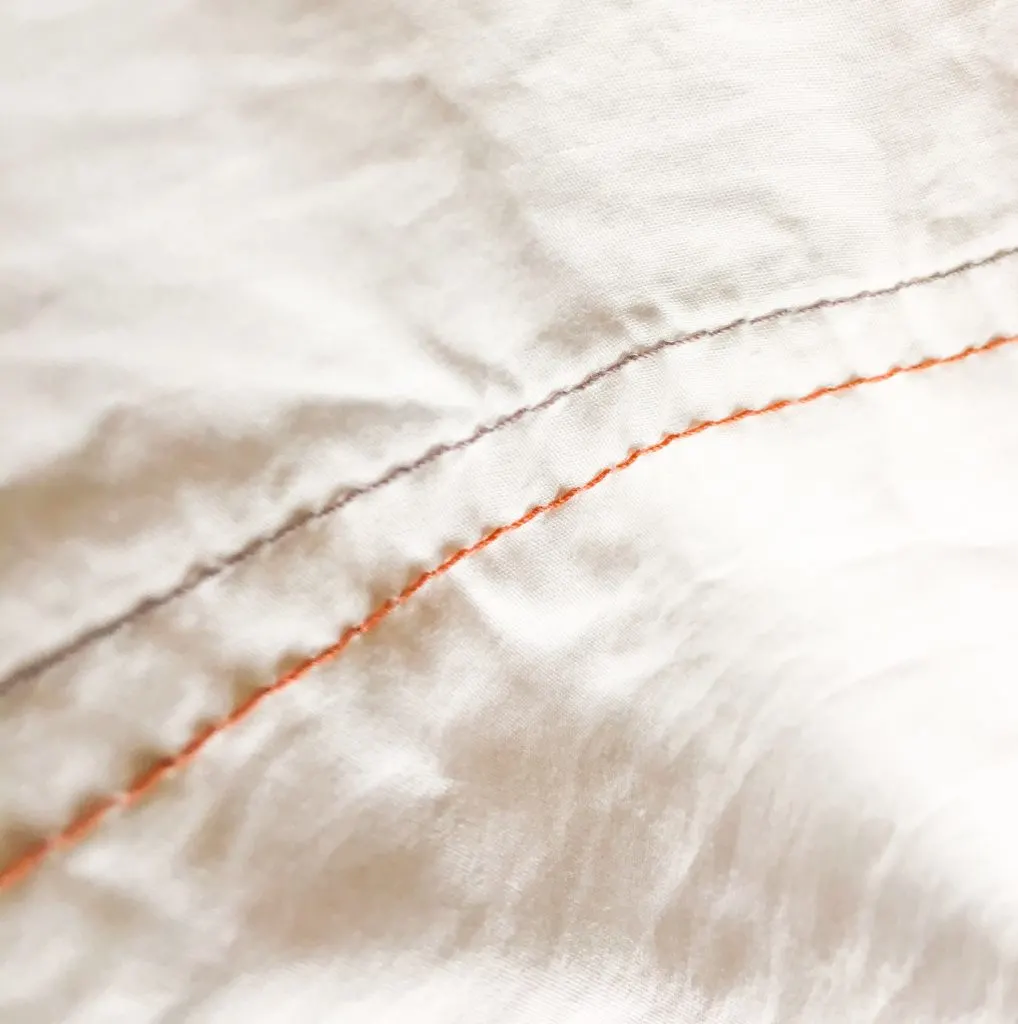 Buying from Alterra Pure means more than just non-toxic sheets for you. So much more…. (we'll get to that in a minute).
Did you know that organic cotton sheets means that the fiber for the sheets are Non-GMO, too?
Plus, they're pesticide free.
These are sheets that you can feel good about sleeping on. Not just because they feel like you're sleeping in a fancy hotel bed (percale sheets will make you feel that way!), but also because there are no potentially toxic finishes or colors that are applied to the organic sheets.
Related Posts:
Farm to Fabric
Being able to trace the transparency of textiles turns out to be just as important as tracing your food from farm to table. Just because a company says their sheets use organic cotton doesn't mean that the bedding is completely nontoxic.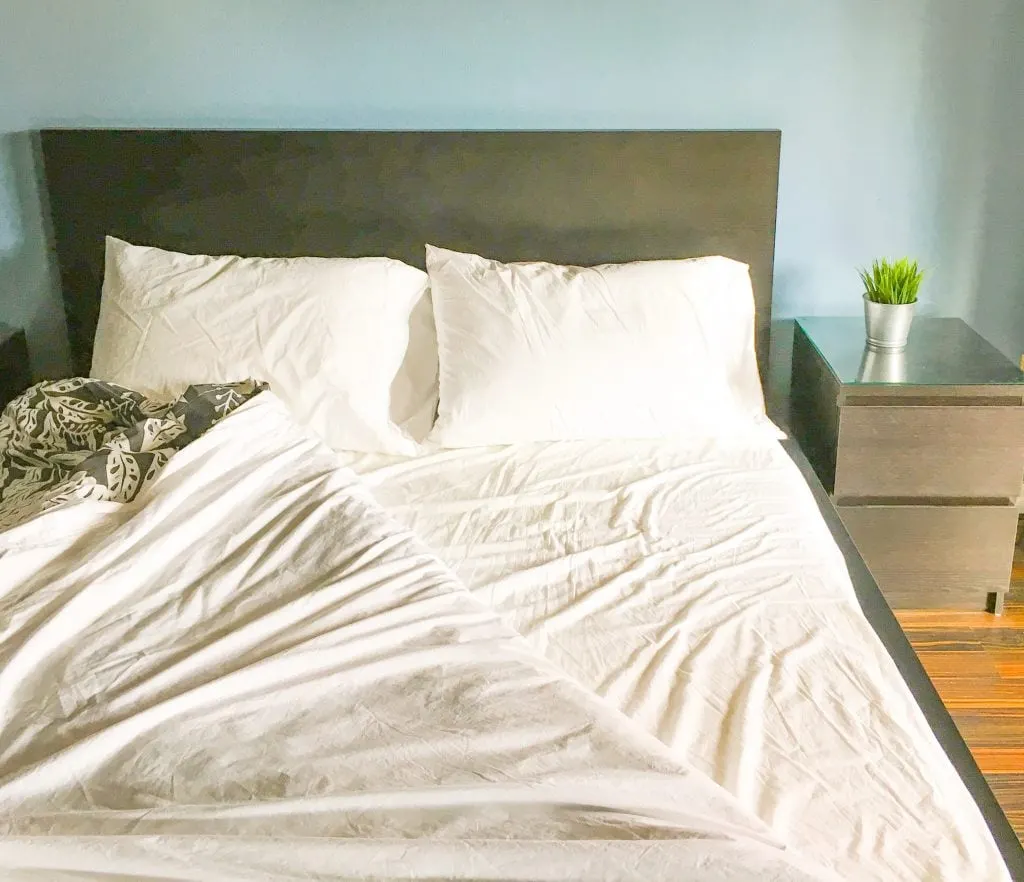 Here's the deal.
Organic cotton sheets can be made from cotton grown organically. Which means no toxic chemicals used to grow the material. But that's just one part of the entire process.
Using organic cotton is great, but not if the company then uses toxic colors and finishes to finish off the sheets. And if the organic cotton is grown in a way that degrades the environment, then that's not ideal, either!
Alterra Pure
Alterra Pure is introducing farm to fabric transparency for the bedding industry. Through organic verification and fair trade partnerships with farm co-ops, Alterra Pure is committed to environmental sustainability and social sustainability.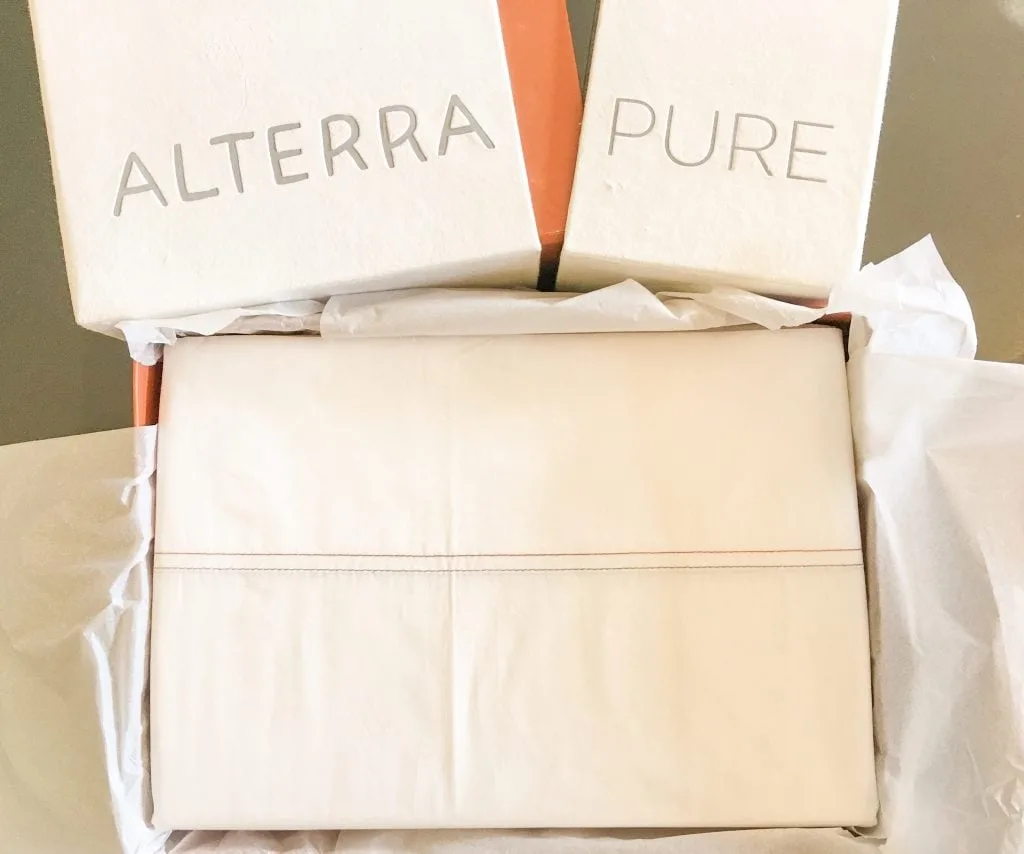 In fact, Alterra Pure says they are Beyond Organic and Beyond Fair Trade.
Among the pretty impressive social and environmental initiatives that you are supporting when buying organic sheets through Alterra Pure are:
LEED-certified production facility
All water used is recovered through the production process, it's then recycled and reused. No waste water ever leaves the factory!
Every detail is transparent, from elimination of toxic chemicals to verifying certifications of materials
Working in a Fair Trade way with villages, farms and facilities in Odisha, India.
Alterra Pure funds projects that will benefit the villages that grow the organic cotton. You can see how your purchase has helped with a specific project.
Zero-impact production techniques
Non-irrigation techniques: The regenerative cotton farms use only rain water.
All finishing products exceed global standards for being biodegradable and sustainable.
Also impressive is that Alterra Pure was created by founders who have worked in the traditional textile industry before. They worked with big brands such as Patagonia, West Elm, Adidas and Gruppo Tecnica. They saw a problem in the textile industry, and they wanted to fix it.
Pin and Share! Add this Pin to your Pinterest Boards to remember great products to add to your healthy home.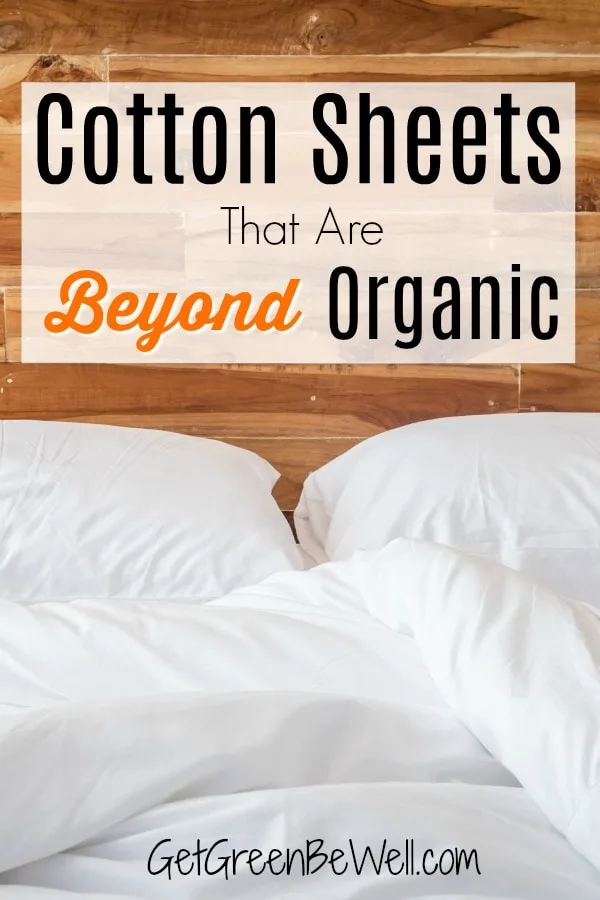 Have you stopped to think about the sheets that you sleep on every single night of your life? It's time to make sure they are as healthy as they can be for better sleep!