I have always used stainless steel pots and pans. It has been the safest cookware that I've found where I don't have to worry about chemical exposures coming from non-stick pots and pans. But recently, I started looking into nonstick ceramic cookware and wondering is the coating safe?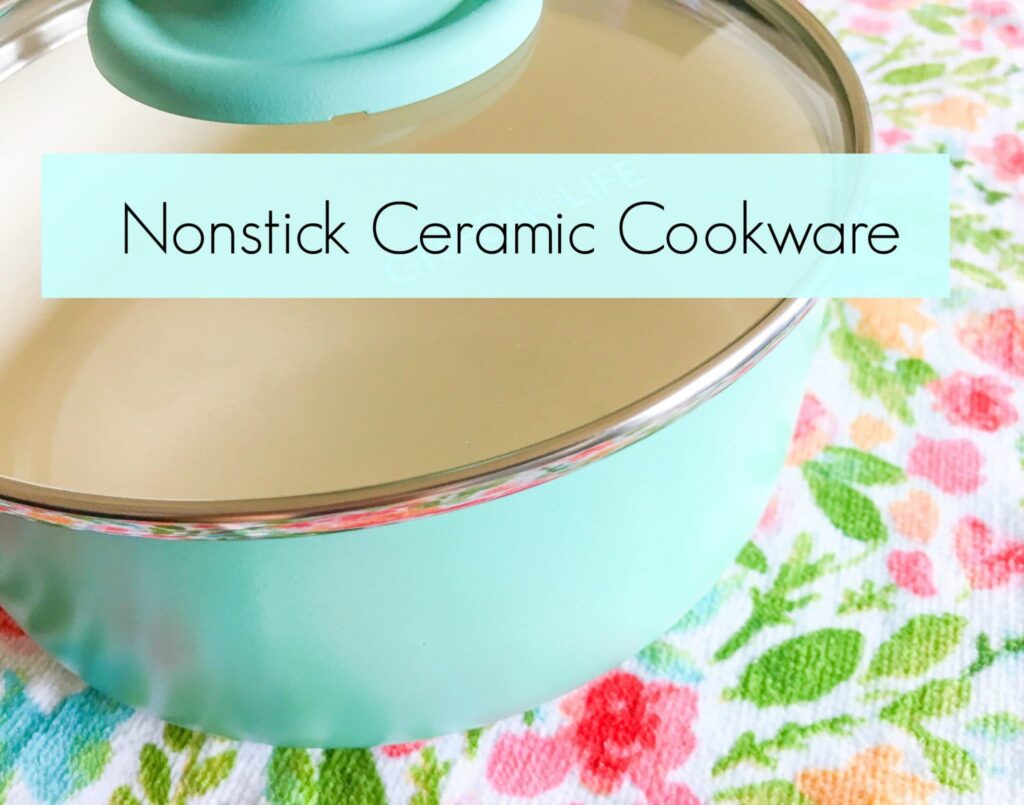 Why would I wonder if cooking with a pan was harmful to my health? Because non stick pans have previously gotten a bad rap for health and safety reasons. Yet many home cooks love the ease and convenience of nonstick cookware.
Which is why I suddenly found myself falling in love with a turquoise set of nonstick ceramic cookware and wondering whether or not it was safe.
The Problem With Nonstick Cookware
Traditional non-stick cookware often uses Dupont's Teflon™ coating. This is the nonstick cookware that you are used to seeing in the kitchen aisles of every major store. When you look for non stick cookware, this is probably what you are going to find first.
What is wrong with nonstick cookware?
Teflon is made with a synthetic chemical called PFOA, which stands for perfluorooctanoic acid. Let's just call it PFOA, okay?
PFOA is then used to make polytetrafluoroethylene, also known as PTFE. These are the two chemicals that are causing so much concern and questions when using nonstick cookware and wondering if non stick cookware is safe.
There are have been reports of birds dying when exposed to fumes coming from using Teflon-coated pans in the home.
The American Cancer Society also warns of possible flu-like symptoms when using non-stick cookware at high heat.
Indeed, you might have noticed yourself that when you use a non-stick pot or pan, there is an odor. It's usually more common with brand new pots and pans, but that doesn't mean that it can't happen with older nonstick pots and pans.
Those fumes are chemicals off gassing from the non-stick coating. And no one should be breathing in a synthetic chemical concoction.
PFOA in Nonstick Cookware
While nonstick cookware continues to get a bad rap because of the chemical PFOA, it actually isn't even a problem in today's world anymore.
PFOA was mandated by the government to be removed from use by 2015. The entire chemical industry was told to stop producing and using it. DuPont actually removed use of PFOA much earlier, completing elimination by the year 2013.
So worrying about PFOA in new nonstick cookware isn't even an issue anymore.
The problems for PFOA exposure would be in older non stick cookware sets made before 2013 or 2015, depending on the manufacturer of the non-stick coating.
Is Non-Stick Cookware Safe to Use?
So, if there is no more PFOA in nonstick cookware anymore, then does that mean that all non-stick cookware is safe?
It's the million dollar question. And it's one that, quite honestly, scientists and researchers still haven't determined definitively.
If you are looking for research that proves once and for all that traditional non-stick cookware is harmful to your health, then you'll be disappointed. Because it's almost impossible to test how any one of the many chemicals that are in non-stick coatings can impact your health during normal daily use in combination with all of the other chemical exposures you have every single day.
Here is the common sense, though. Non-stick coatings have to be made from something. They are not natural on their own in nature. And PFOA and PTFE are just two of many chemicals that can be used to make non-stick coatings.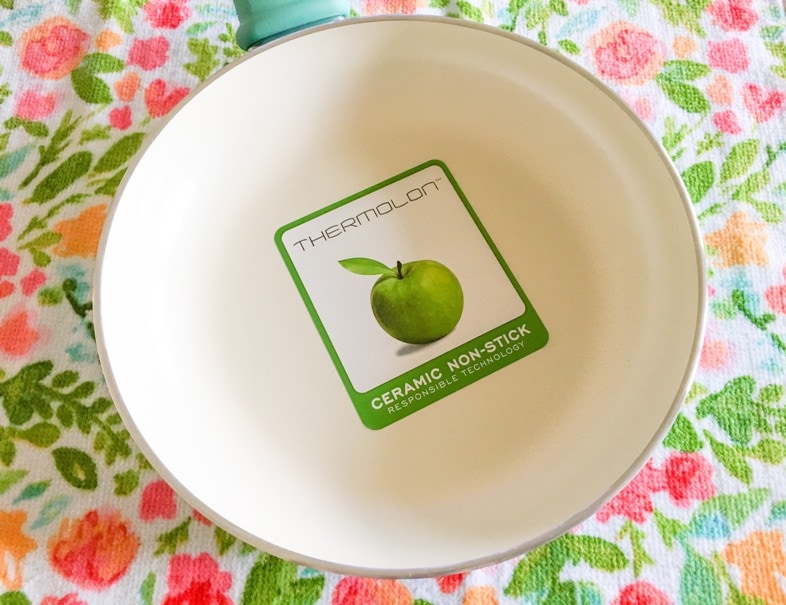 And if the chemicals used to make the non-stick coating are being released into the air or into your food in any way, that's likely not a good thing.
Just because PFOA is not being used anymore doesn't mean that another type of chemical that might be causing health problems isn't being used. Because PFOA is banned, but not PTFE. So PTFE can still be used, it's just that another chemical is being used to make it, not PFOA.
After all, many companies started promoting that BPA wasn't used in their plastics anymore. The substitute was BPS, which it turns out might be more toxic than BPA.
So just because one type of chemical that has been talked about in the news isn't used doesn't mean that other nasty chemicals aren't being used. It's just that no one is aware of their possible health problems, yet.
Related Posts:
Is Nonstick Ceramic Cookware Safe?
This was my question when I found this super cute turquoise nonstick ceramic cookware set.


I've heard so much about ceramic nonstick cookware being a more healthy alternative to traditional non-stick cookware. I started doing research, seeing what I could find about the health and safety of non stick ceramic cookware.
And to check out any greenwashing claims. Especially from the companies that I was considering: GreenPan and GreenLife.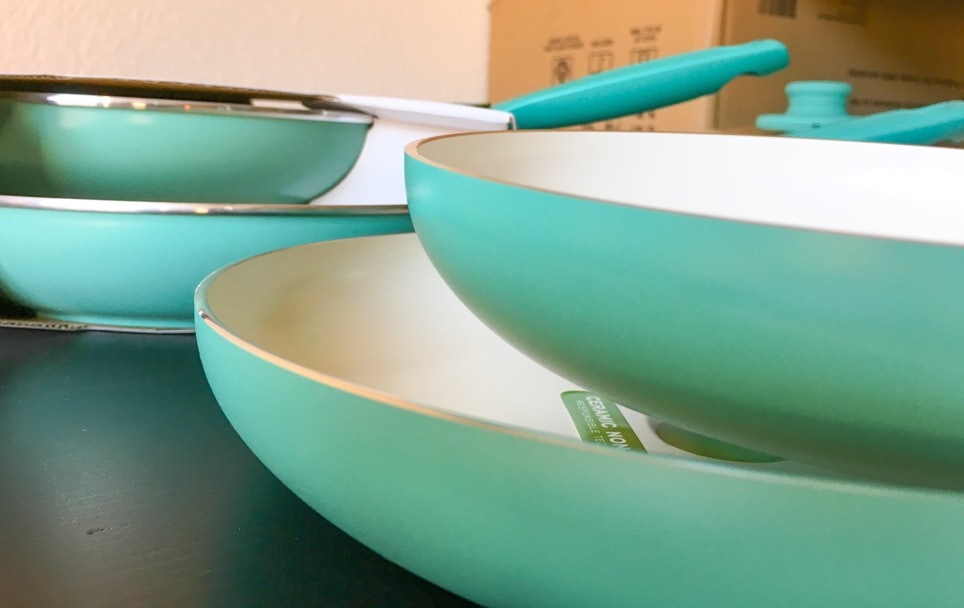 My research hasn't found any problems with nonstick ceramic cookware yet.
But I do take that with a grain of salt. Because the non-stick ceramic coating has to be made with something and adhered with something.
That's not to say that they aren't healthy. I haven't found any problematic health claims yet. But I'm always skeptical about everything.
Greenpan and Green Life Ceramic Cookware
The pots and pans that I started looking at were from GreenPan and GreenLife. After putting all of my stuff in storage to RV across America, I don't have access to my normal pots and pans. I'm in a rental home now that has horrific pots and pans included. So I needed to get nontoxic pots and pans fast.
Honestly, I'm not looking for heirloom quality pots and pans to last for decades. I'm looking for a nontoxic ceramic cookware set that is good to use for a few years. And this set in bright, colorful colors made me happy. I wanted to add it to my kitchen for a pop of cheerful color.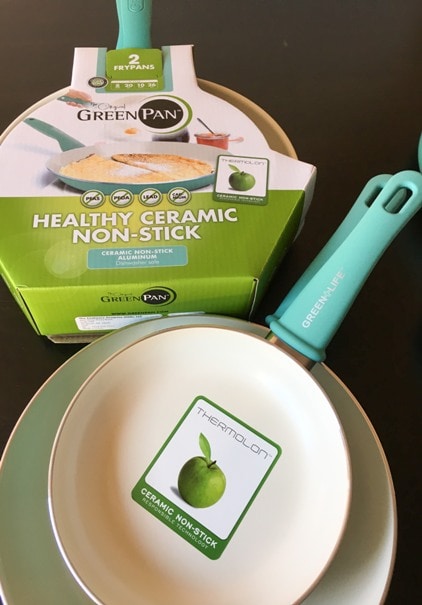 If I was looking for a major investment, I believe that Xtrema ceramic pots and pans might be the best option overall for serious chefs based on reviews. But they are pricey!
Originally, I bought the two pack of GreenPan turquoise nonstick ceramic pans. When I discovered that the cost of two GreenPan fry pans was almost half the price of a 16-piece set of GreenLife pots and fry pans, I returned my GreenPan purchase and ordered the 16 piece set.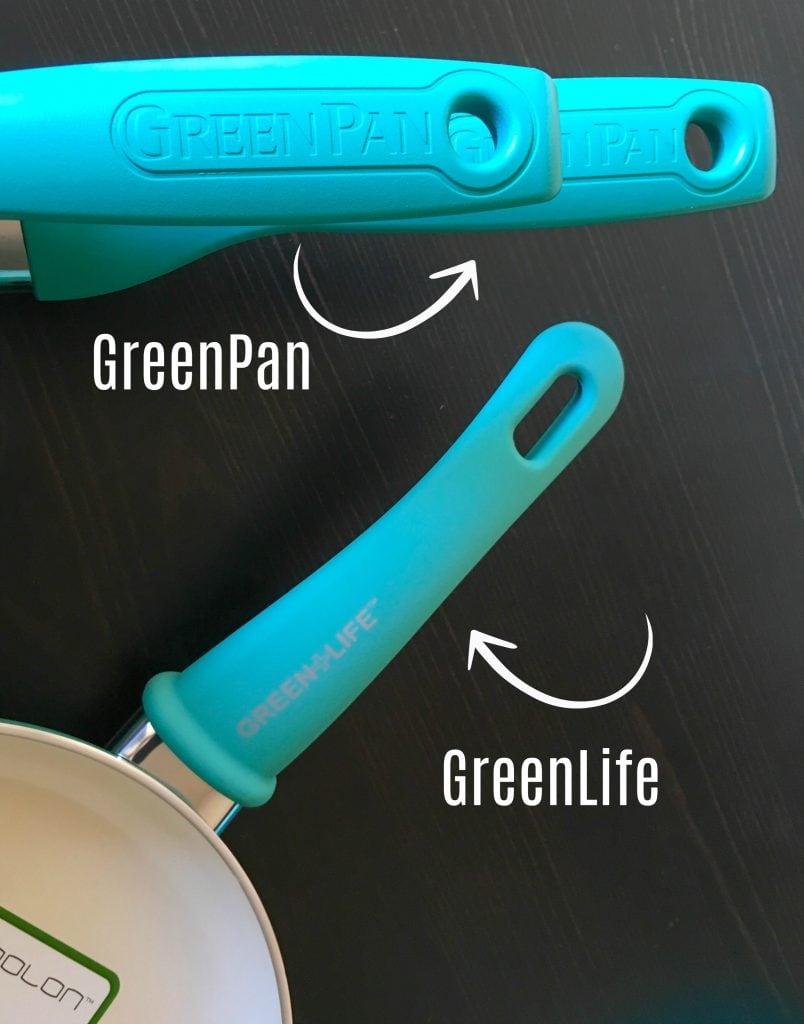 Both GreenPan and GreenLife seem to be made from the same business, The Cookware Company. They both are located at the same address, using the same ceramic non-stick cookware technology. GreenLife seems to be a little less expensive than the Original GreenPan products. For my turquoise set, the colors are almost exactly the same with both companies.
Both the GreenPan and GreenLife nonstick ceramic cookware pots and pans say:
Use Thermolon™, which is the very first ceramic coating ever invented.
Thermolon uses a sand derivative to create the non-stick coating.
The coating is sprayed on without any glues or additives and then cured in the oven.
No PFOA, PFAS, Lead or Cadmium is used.
Overheating the pots and pans won't lead to chipping or cracking of the non stick coating.
GreenLife Non-stick Ceramic Cookware Set Review
I bought the 16 piece GreenLife non stick ceramic cookware set and have used it for a while.
Let me say, I have NEVER used a nonstick pot or pan before. So this is completely new to me!
I'm amazed at how food just slips off of the pots and pans! No wonder why people love non-stick cookware! LOL!


I cook with electric heat. So I've never used these pots and pans on a gas range. I do know that my previous stainless steel pots and pans were fine on an electric range for over a decade. When I brought a couple pieces of pots and pans in the RV to use on our gas range, they got really damaged from the high heat exposure on the sides and handles.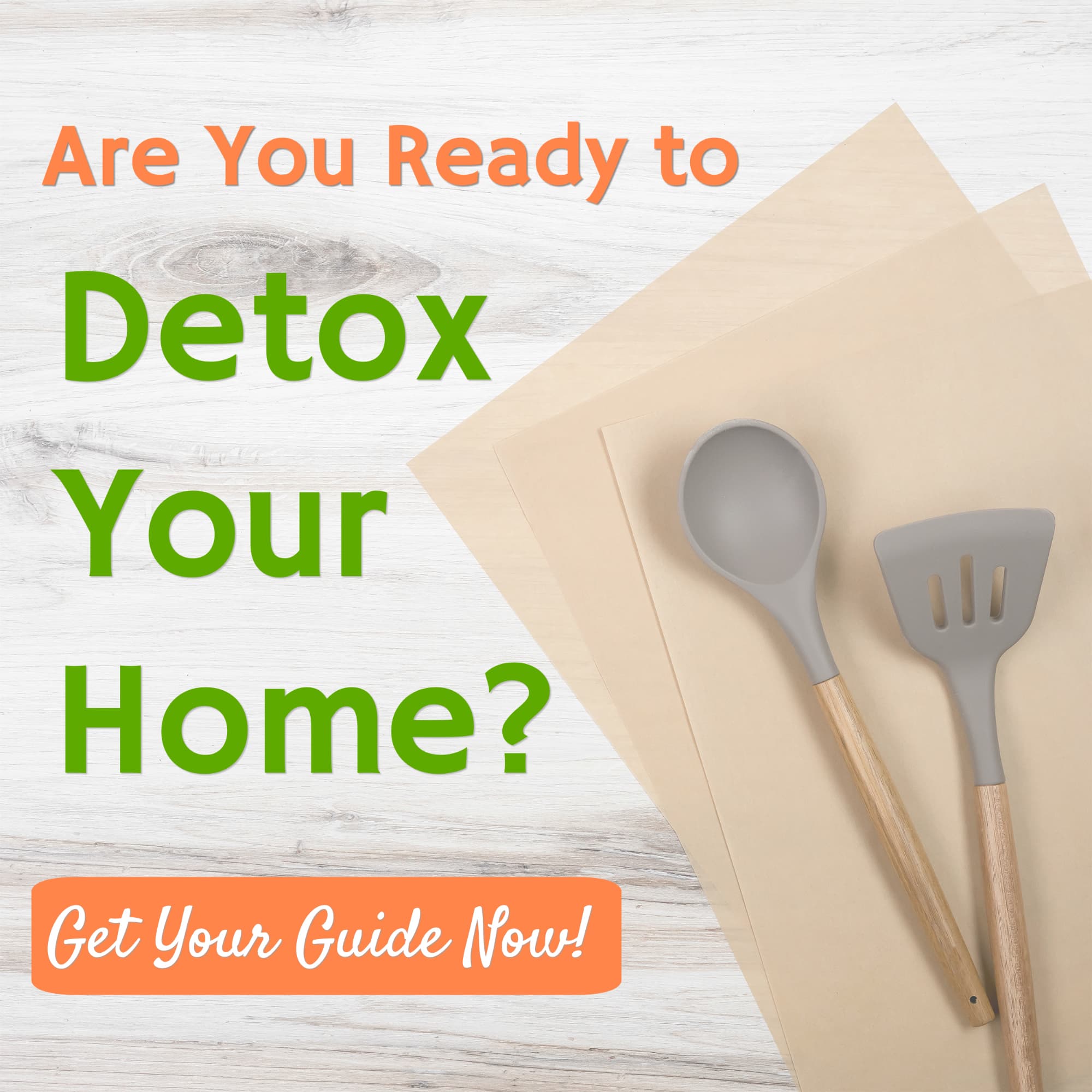 So using nonstick ceramic cookware on a gas range will be different than using nonstick cookware on an electric range.
We didn't notice any smell off gassing from using the GreenLife pans for the first time.