I have always used stainless steel pots and pans. It has been the safest cookware that I've found where I don't have to worry about chemical exposures coming from non-stick pots and pans. But recently, I started looking into nonstick ceramic cookware and wondering is the coating safe?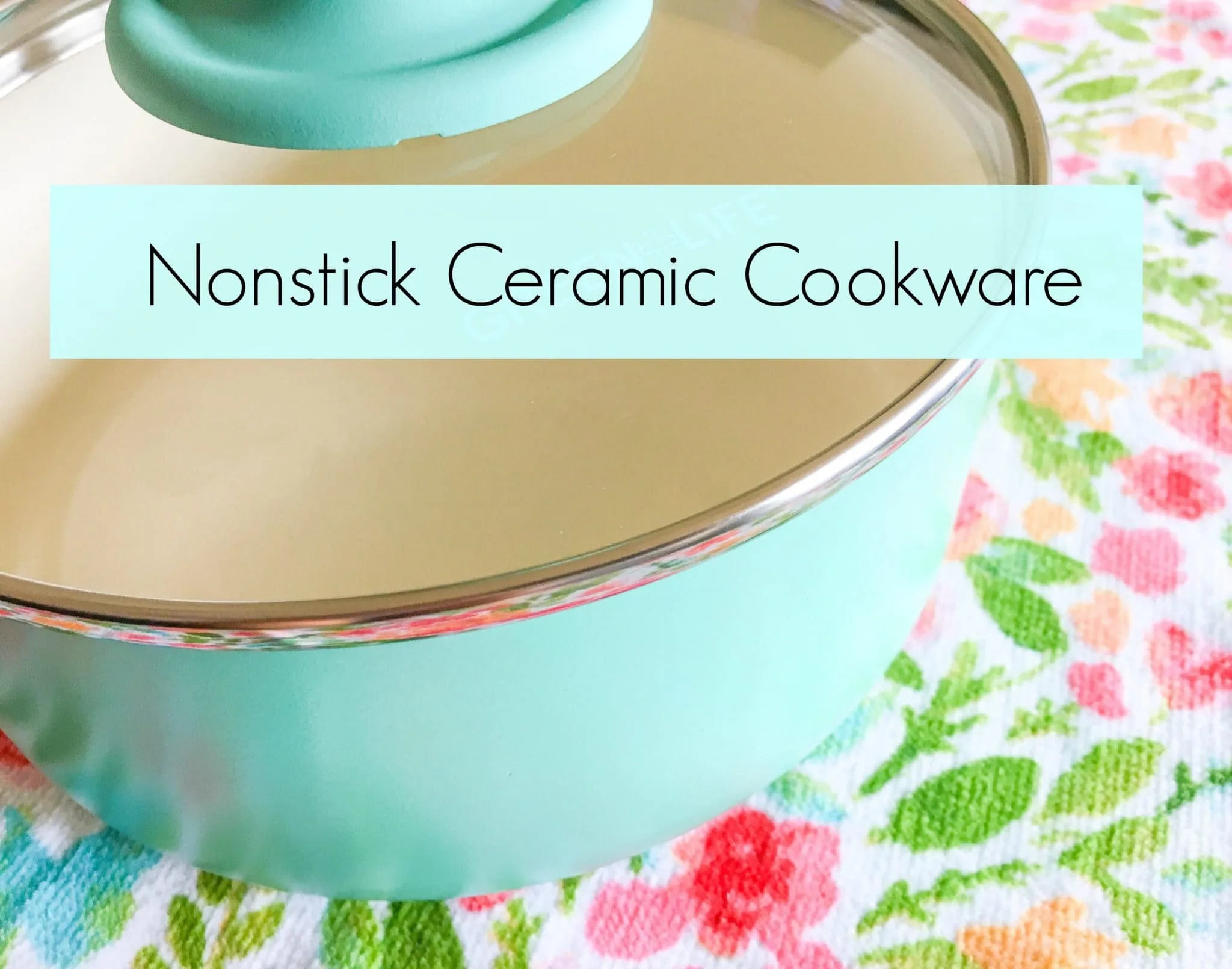 Why would I wonder if cooking with a pan was harmful to my health?
Because non stick pans have previously gotten a bad rap for health and safety reasons. Yet many home cooks love the ease and convenience of nonstick cookware.
Which is why I suddenly found myself falling in love with a turquoise set of nonstick ceramic cookware and wondering whether or not it was safe.
I have also tried Caraway Non Stick Ceramic cookware and bakeware, so be sure to see my review.
The Problem With Nonstick Cookware
Traditional non-stick cookware often uses Dupont's Teflon™ coating. This is the nonstick cookware that you are used to seeing in the kitchen aisles of every major store. When you look for non stick cookware, this is probably what you are going to find first.
What is wrong with nonstick cookware?
Teflon is made with a synthetic chemical called PFOA, which stands for perfluorooctanoic acid. Let's just call it PFOA, okay?
PFOA is then used to make polytetrafluoroethylene, also known as PTFE. Both of these chemicals are part of a group known as Perfluorinated Substances (PFASs). These are the two chemicals that are causing so much concern and questions when using nonstick cookware and wondering if non stick cookware is safe.
There are have been reports of birds dying when exposed to fumes coming from using Teflon-coated pans in the home.
The American Cancer Society also warns of possible flu-like symptoms when using non-stick cookware at high heat.
And the Environmental Protection Agency (EPA) has linked PFASs to health problems such as cancer, hormone problems, kidney damage, liver problems, thyroid problems, increased cholesterol and more.
Indeed, you might have noticed yourself that when you use a non-stick pot or pan, there is an odor. It's usually more common with brand new pots and pans, but that doesn't mean that it can't happen with older nonstick pots and pans.
Those fumes are chemicals off gassing from the non-stick coating. And no one should be breathing in a synthetic chemical concoction.
PFAS (Per- and Polyfluoroalkyl Substances) accumulates in your body and can stay around for a while. Which means your levels can keep rising even if you are not exposed to a lot of PFAS at one time. Simply because you keep adding PFAS with every exposure and your body is not flushing them out.
PFOA in Nonstick Cookware
While nonstick cookware continues to get a bad rap because of the chemical PFOA, it actually isn't even a problem in today's world anymore.
PFOA was mandated by the government to be removed from use by 2015. The entire chemical industry was told to stop producing and using it. DuPont actually removed use of PFOA much earlier, completing elimination by the year 2013.
So worrying about PFOA in new nonstick cookware isn't even an issue anymore.
The problems for PFOA exposure would be in older non stick cookware sets made before 2013 or 2015, depending on the manufacturer of the non-stick coating.
Is Non-Stick Cookware Safe to Use?
So, if there is no more PFOA in nonstick cookware anymore, then does that mean that all non-stick cookware is safe?
It's the million dollar question. And it's one that, quite honestly, scientists and researchers still haven't determined definitively.
If you are looking for research that proves once and for all that traditional non-stick cookware is harmful to your health, then you'll be disappointed. Because it's almost impossible to test how any one of the many chemicals that are in non-stick coatings can impact your health during normal daily use. Especially in combination with all of the other chemical exposures you have every single day.
Here is the common sense, though. Non-stick coatings have to be made from something. They are not natural on their own in nature.
And PFOA and PTFE are just two of many chemicals that can be used to make non-stick coatings.
And if the chemicals used to make the non-stick coating are being released into the air or into your food in any way, that's likely not a good thing.
Just because PFOA is not being used anymore doesn't mean that another type of chemical that might be causing health problems isn't being used. Because PFOA is banned, but not PTFE.
After all, many companies started promoting that BPA wasn't used in their plastics anymore. The substitute was BPS, which it turns out might be more toxic than BPA.
So just because one type of chemical that has been talked about in the news isn't used doesn't mean that other nasty chemicals aren't being used. It's just that no one is aware of their possible health problems. Yet.
Related Posts: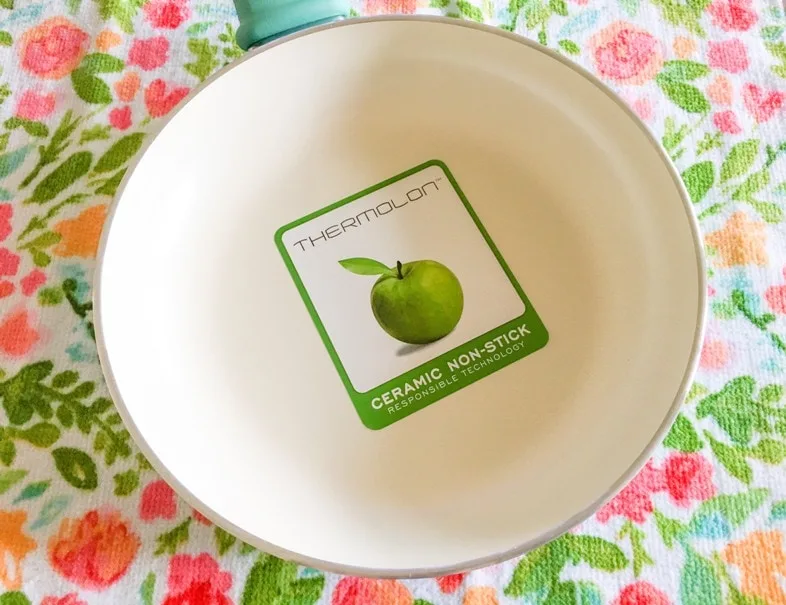 Is Nonstick Ceramic Cookware Safe?
This was my question when I found a cute turquoise nonstick ceramic cookware set.
I've heard so much about ceramic nonstick cookware being a more healthy alternative to traditional non-stick cookware.
I started doing research, seeing what I could find about the health and safety of non stick ceramic cookware. And to check out any greenwashing claims.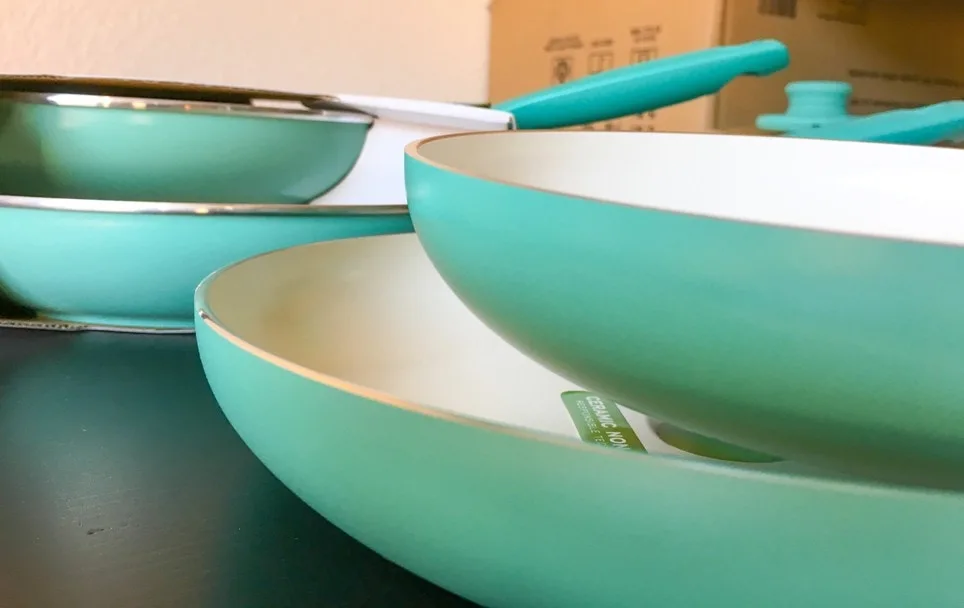 My research hasn't found any problems with nonstick ceramic cookware yet.
But I do take that with a grain of salt. Because the non-stick ceramic coating has to be made with something and adhered with something.
That's not to say that they aren't healthy. I haven't found any problematic health claims yet. But I'm always skeptical about everything.
Greenpan and Green Life Ceramic Cookware
To try out ceramic cookware, I bought both Greenpan and Green Life pots and pans.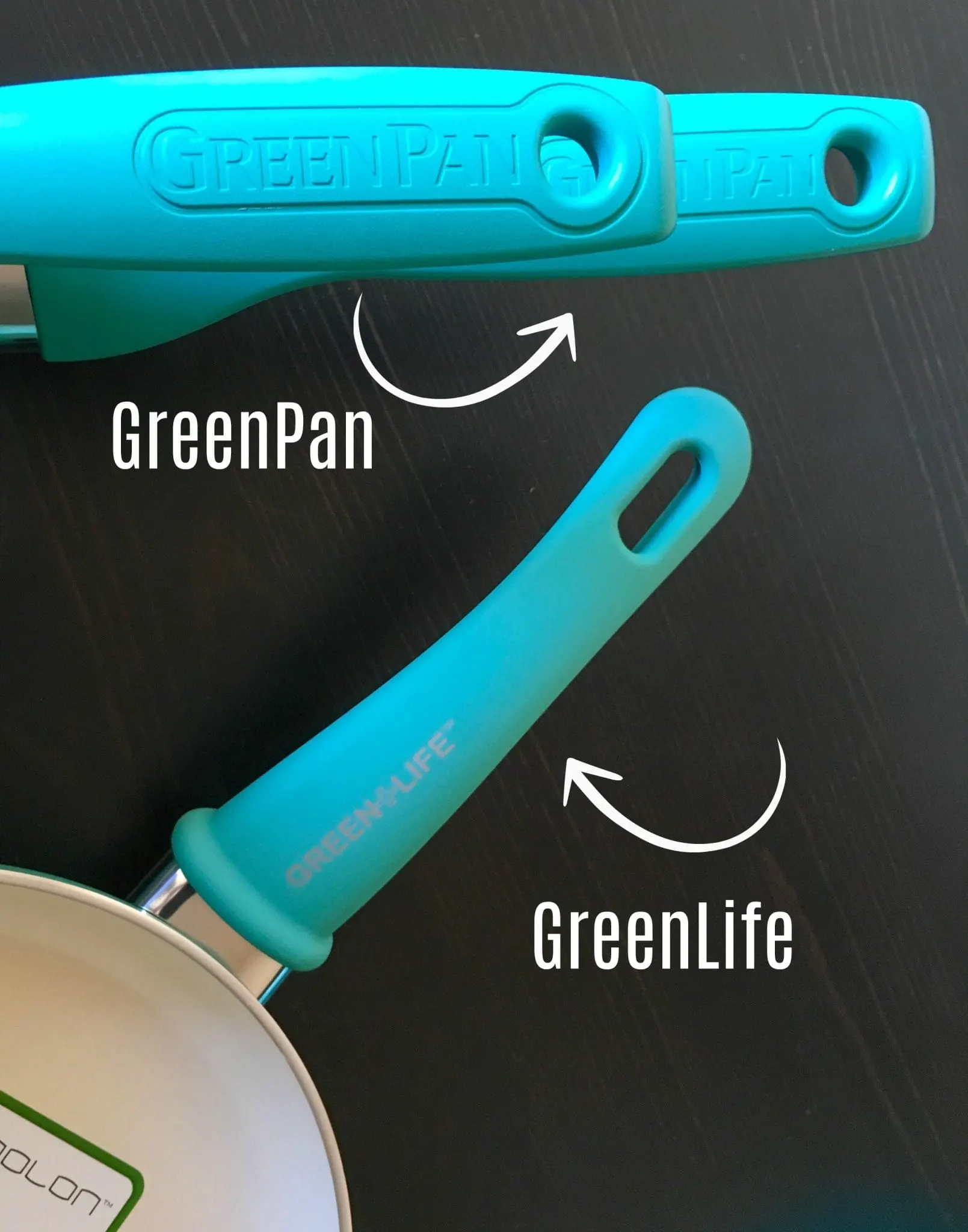 If I was looking for a major investment, I believe that Xtrema ceramic pots and pans might be the best option overall for serious chefs based on reviews. But they are pricey! And I just wanted to try out ceramic cookware to see if I would like it.
GreenLife was less expensive than GreenPan. But they both came in the same colors. And at the time that I bought them, GreenLife and GreenPan had the same information on each of their websites. So I returned the GreenPan pots before I tried them out.
In 2021, both the GreenPan and GreenLife nonstick ceramic cookware pots and pans say:
The coating is sprayed onto the pan without plastics or glues
No PFOA, PFAS, Lead or Cadmium is used.
In 2021, GreenPan states:
Use Thermolon™, which is the very first ceramic coating ever invented.
Thermolon uses a sand derivative (Silicon – not to be confused with silicone) to create the non-stick coating.
"Won't release toxic fumes, even if you accidentally overheat your pan"
GreenLife Non-stick Ceramic Cookware Set Review
I bought the 16 piece GreenLife non stick ceramic cookware set and used it for a year.
Before I happily got rid of it. Here's why.
Let me say, I have NEVER used a nonstick pot or pan before. So the ceramic coated pans were completely new to me!
I was amazed at how food just slips off of the pots and pans! No wonder why people love non-stick cookware! LOL!
I cook with electric heat. So I've never used these pots and pans on a gas range. I do know that my previous stainless steel pots and pans were fine on an electric range for over a decade. When I brought a couple pieces of pots and pans in the RV to use on our gas range, they got really damaged from the high heat exposure on the sides and handles.
So using nonstick ceramic cookware on a gas range will be different than using nonstick cookware on an electric range, maybe.
We didn't notice any smell off gassing from using the GreenLife pans for the first time. In fact, we were pretty darn happy with them.
But after a couple months, we started noticing something really strange.
Every time we cooked in our GreenLife pans, our air purifier would go crazy. I have an AIRDOCTOR Air Purifier. It has a VOC sensor that automatically adjust the air purification depending on what's going on in the house.
When the air is relatively low in VOCs, the air purifier would be green and run silently. But as VOC levels increase in the air, the AIRDOCTOR changes color and speeds up the fan, which becomes very loud.
We had an open concept kitchen and living room. And EVERY TIME we used our GreenLife pans, the air purifier would go crazy and start purifying in its highest strength. The lights would become red and the fan would be so loud that it was hard to hear the TV over it. And the air purifier would remain that way for up to an hour after cooking.
While I realize that it could be a variety of things increasing the VOC levels while cooking, we did try all kinds of cooking, from pan frying to just heating up liquids in the ceramic coated cookware. And every time the air purifier went crazy.
However, I gave a few of the pots that I wasn't using to my mom. She also has an AirDoctor Air Purifier and an open concept kitchen. Yet her air purifier does NOT go off when she uses the pans to boil water.
What I can say for sure is that the GreenLife pans had a chipped coating not too long after we started using them. While I tried to use the plastic utensils included in my GreenLife cookware set as much as possible (even though they were shredding and melting after a while), my husband would sometimes use metal cooking utensils. So that's a reason they could chip, for sure.
And we put our cookware in the dishwasher, too. Because I don't have time to pamper pots and pans.
We also soon found that food stuck onto the ceramic coated pans very easily. Frying onions would leave a black residue that was extremely hard to get off. And over time I realized that baked-on food was just not coming off very well.
What Pots Am I Using Now?
I don't want to mess with modern coatings. I just like good old-fashioned cookware materials.
I found 360 Cookware and am so happy with the quality of these stainless steel pots, pans and bakeware. They are super thick and heirloom quality. And they are handcrafted in the USA.
The 360 Cookware is also awesome because it uses vapor technology to help keep nutrients in your food and use less oil to cook. While you can use the pots and pans like normal, if you use the lids to create a vapor seal, you'll be surprised at how little water and oil you need to get deliciously cooked foods!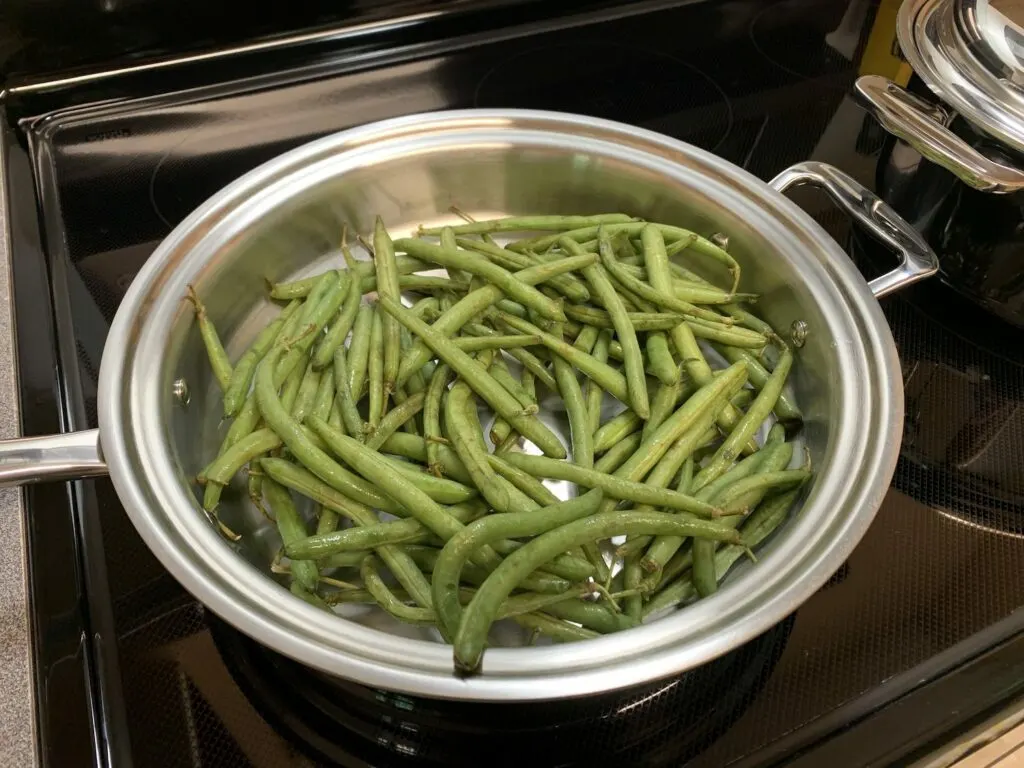 For instance, I cooked the most tender green beans with no water! Yep, no boiling at all!
I also found Smithey Ironware recently.
This hand forged ironware is made in America. And I love the heirloom quality.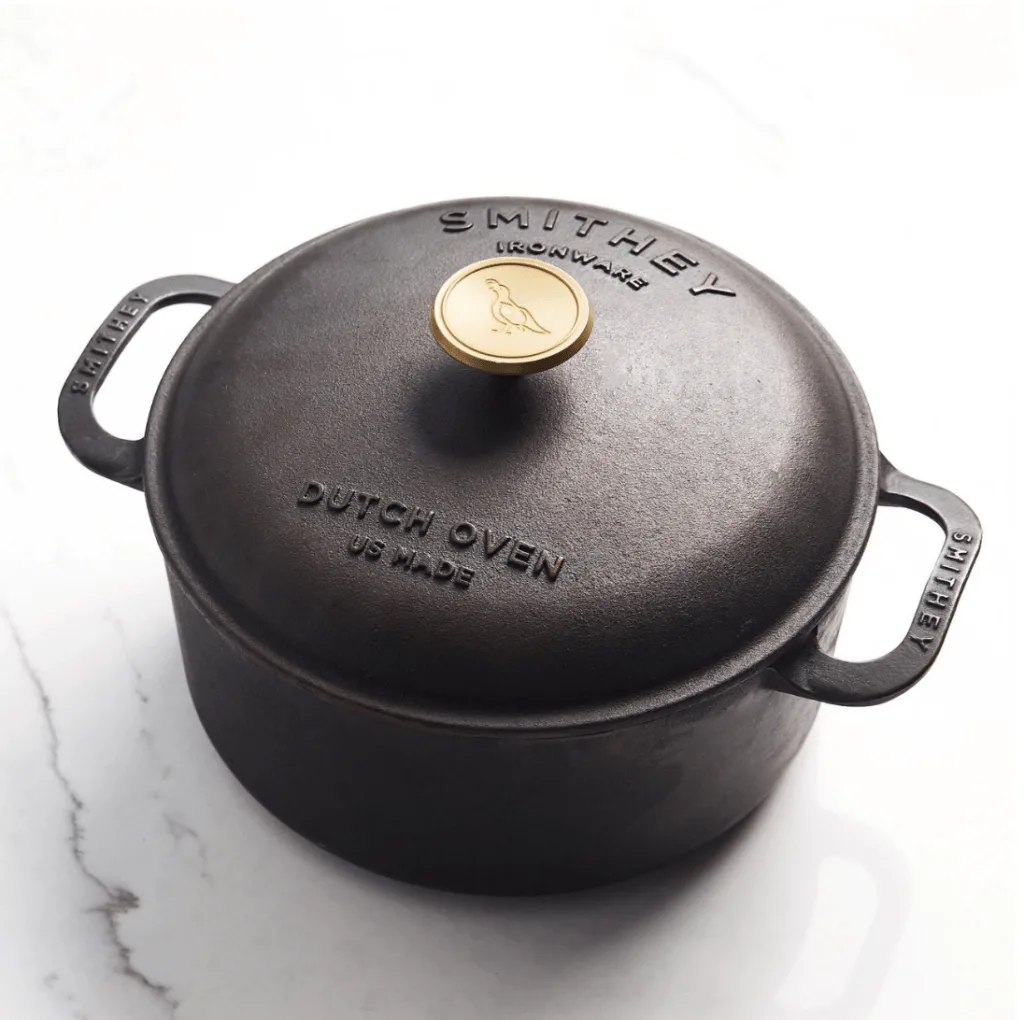 I got a Dutch Oven Roaster from Smithey Ironware and have to say I was surprised at how well I can cook in it without having to scrub away baked on food. Their polished interior is naturally non stick and beautiful.
The pots and pans are gorgeous. And it makes me happy that this piece will last for generations.