Plastic Free Food Storage Containers are easier to find – and use – than you might think! If you are searching for food storage containers without plastic, either because of health or environmental reasons, then you are in luck!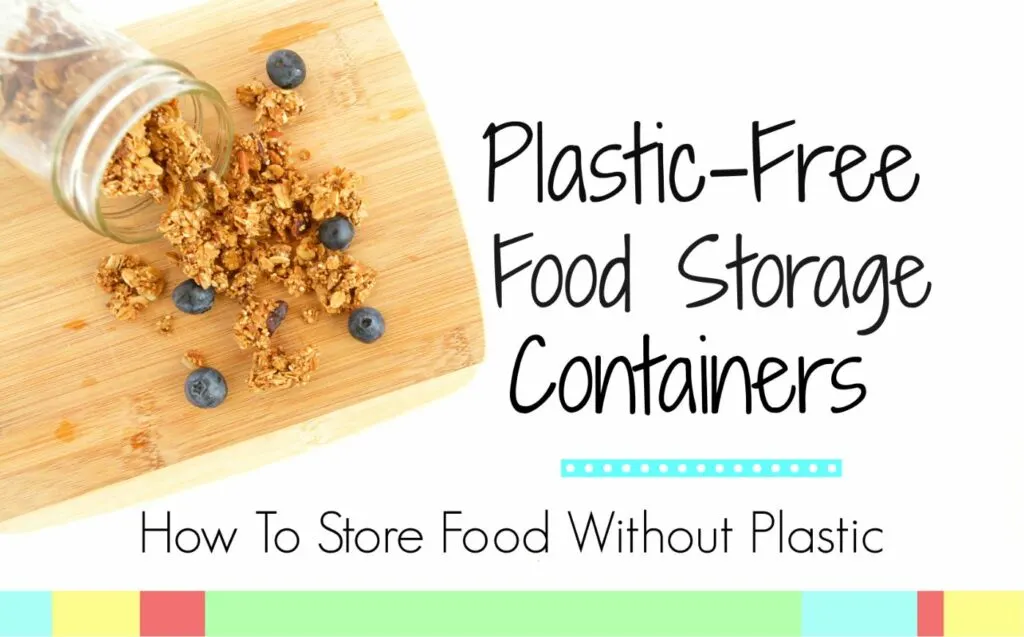 There is so much to choose from! And plastic free food storage containers can save you money.
Why would you want food storage containers without plastic? Here are some of the most popular reasons:
To prevent exposure to potential toxins in plastics leaching into your family's food. Including hormone disrupting Bisphenol-A (BPA) and Bisphenol-S (BPS).
To buy quality products that last longer than just a few months, saving you money in the long run.
To reduce your environmental impact, since plastic is made from oil. Add on the fact that we use enough plastic each year to circle the earth four times, and you'll start to see why plastic is not eco-friendly unless you recycle what you use.
You want cool stuff. Let's face it, the typical plastic food storage container is a bit blah. Use something with style that will be a conversation starter at lunch.
Plastic Free Food Storage Containers go way beyond using glass for storing food. There are all kinds of unique and practical options that really work.
Whether you are replacing plastic bowls and takeout containers, or trying to stop using plastic baggies for sandwiches and chips, there are a variety of ways to store food without plastic.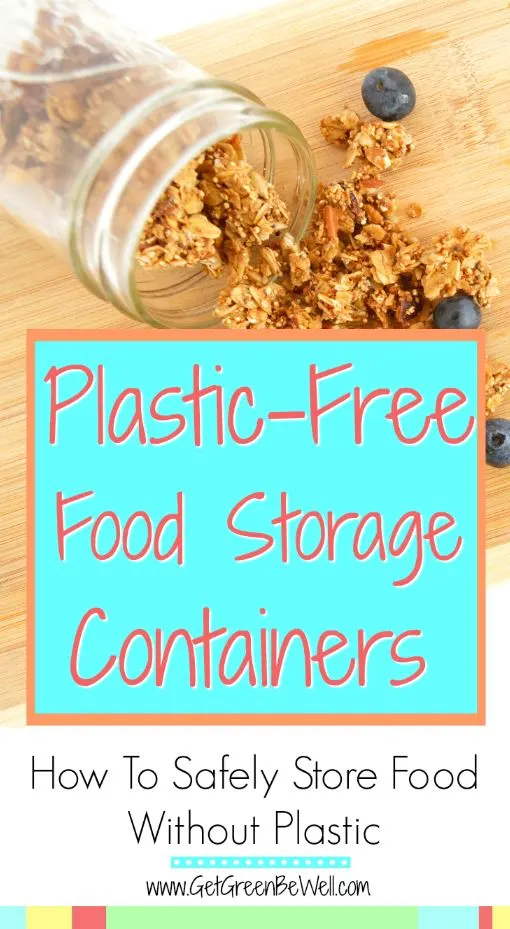 Some (not all) of these food storage containers have plastic in their seals, lids, etc. I'm not as much of a stickler about plastic when it's in a part of the food storage container that the food doesn't really touch.
For instance, the lid of a container, when the food is stored on the bottom of the container without touching the lid. You might have different concerns, so be sure to look at all of the available plastic free food storage container options below.
Here are some of my favorites:
Stainless Steel
Stainless Steel is the mac-daddy of plastic-free food storage containers. It doesn't break like glass and is super durable, holding up well to the dishwasher, being thrown in your purse, or even your kid's lunchboxes every day at school.
For lunch and small servings of leftovers, I have my favorite stainless steel lunch containers.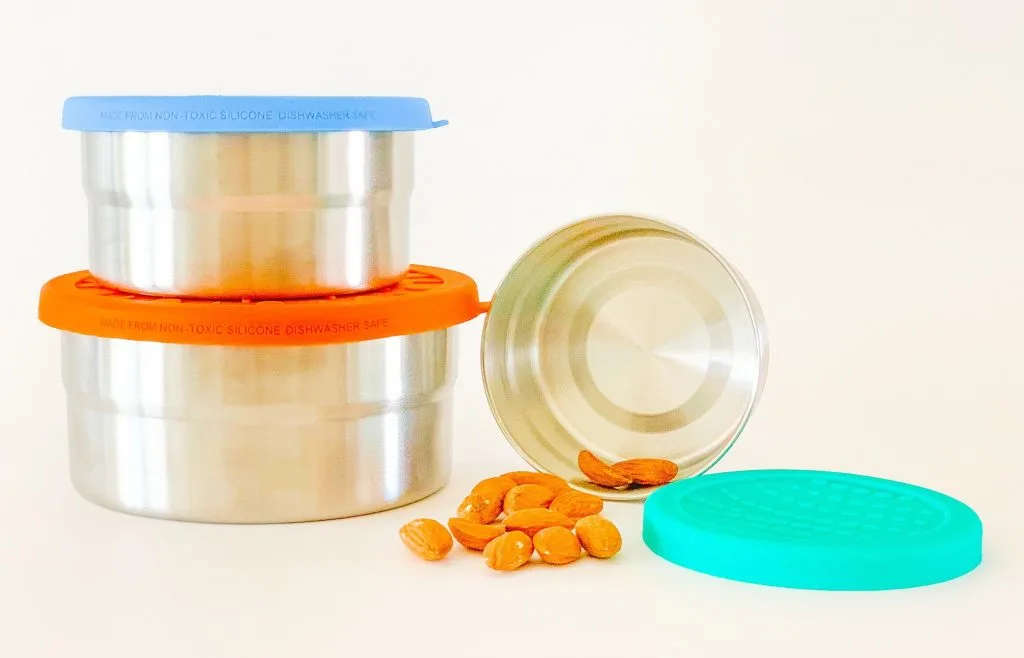 But for larger pantry storage, you'll need containers that are bigger.
I use stainless steel food storage containers like this 4 piece stainless steel canister set. The solid metal large canisters are ideal for storing foods such as flour, tea, coffee, cereal, grits, oatmeal, cookies, nuts, crackers and more.
I have used stainless steel storage containers almost identical to these for flour and sugar for over a decade. I've never had a problem with freshness. And I love the way that they look classic on a kitchen countertop or in the refrigerator or pantry.
Glass
Glass is another wonderful plastic-free food storage container idea. It is fragile and can break, so it's best to use this option for adults, and for storage primarily within your home, not on the go.
I use Pyrex glass containers and have for over a decade. I love these glass food storage containers – especially the rectangular ones that are flat and stack really nicely in the fridge and freezer. My favorites are the ones that I buy at Target with seasonal colors (every season they seem to have new ones), but there are plenty of colors to choose from on Amazon right now.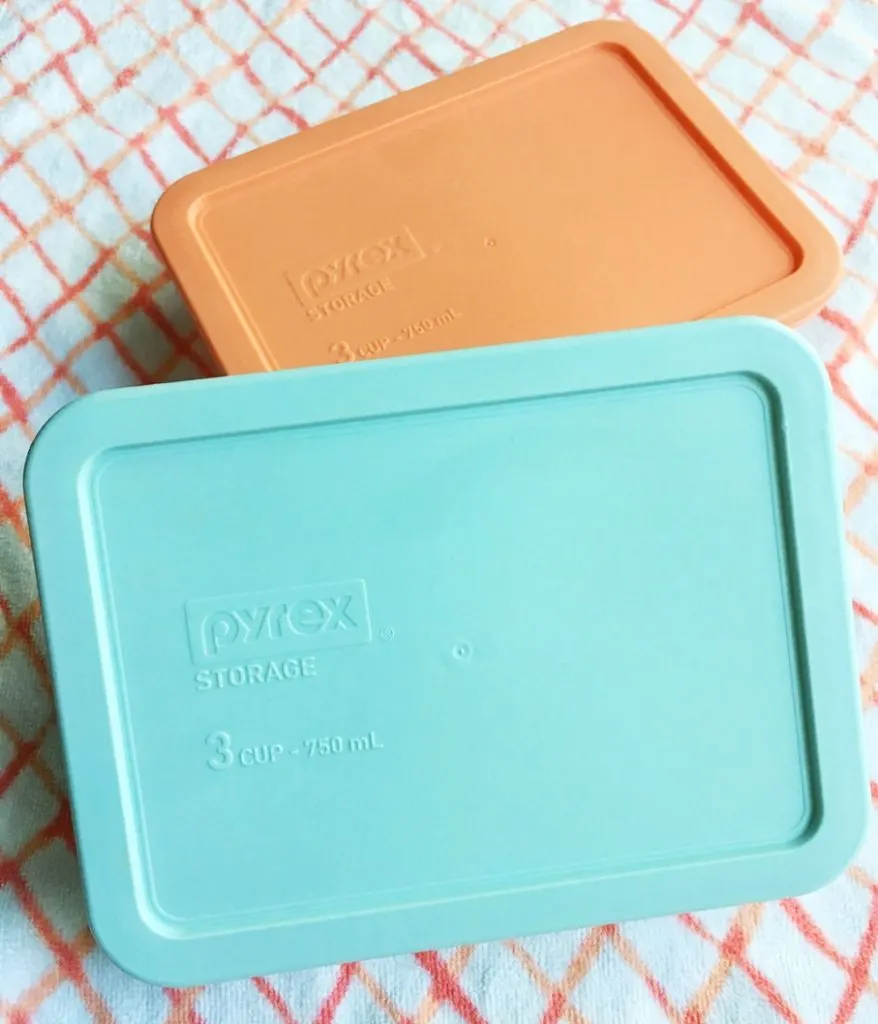 Keep in mind, the color choices are from the BPA-free plastic lids. As I said, I don't stress about the lids when I know that the food won't be in contact with them.
When it comes to reheating anything in the containers, I always remove the lid and use a silicone cover, paper towel or any of these other plastic wrap alternatives for storing and heating food that is not in contact with the food.
I'm loving these glass and bamboo food storage containers, too. More for bulk and pantry food storage – such as flour, pasta, cookies and more – the bamboo lids do have a suction seal that will keep them on tightly.
Concerned about plastic lids? You can buy silicone lids, which will cover glass bowls and other plastic free food storage containers. Though silicone feels like plastic, it does not have hormone disrupting chemicals or any of the potentially toxic chemicals found in some plastic items.
I do have one of these silicone lids (I bought mine from the Container Store – at a price much higher than what you'll find on Amazon!) and it works great. You'd be surprised at the suction seal that it creates.
Obviously you don't pick up food storage containers with the lid because it's not guaranteed to be that strong (although I have done it sometimes….). But if you're looking for creating an air-tight seal on existing containers, these work great.
Let's not forget Mason Jars, too. Perhaps the original on-the-go glass food storage container, these farmhouse chic plastic-free food storage containers add style and functionality to your lunch bag.
I love these mason jar chalkboard sticker labels so that you always know what you're storing inside! And they make the glass jars super cute, too!
Beeswax Wraps
Beeswax food wraps sound a little weird, but they are a natural and healthy alternative to plastic wrap (they are just one of the many plastic wrap alternatives that I suggest).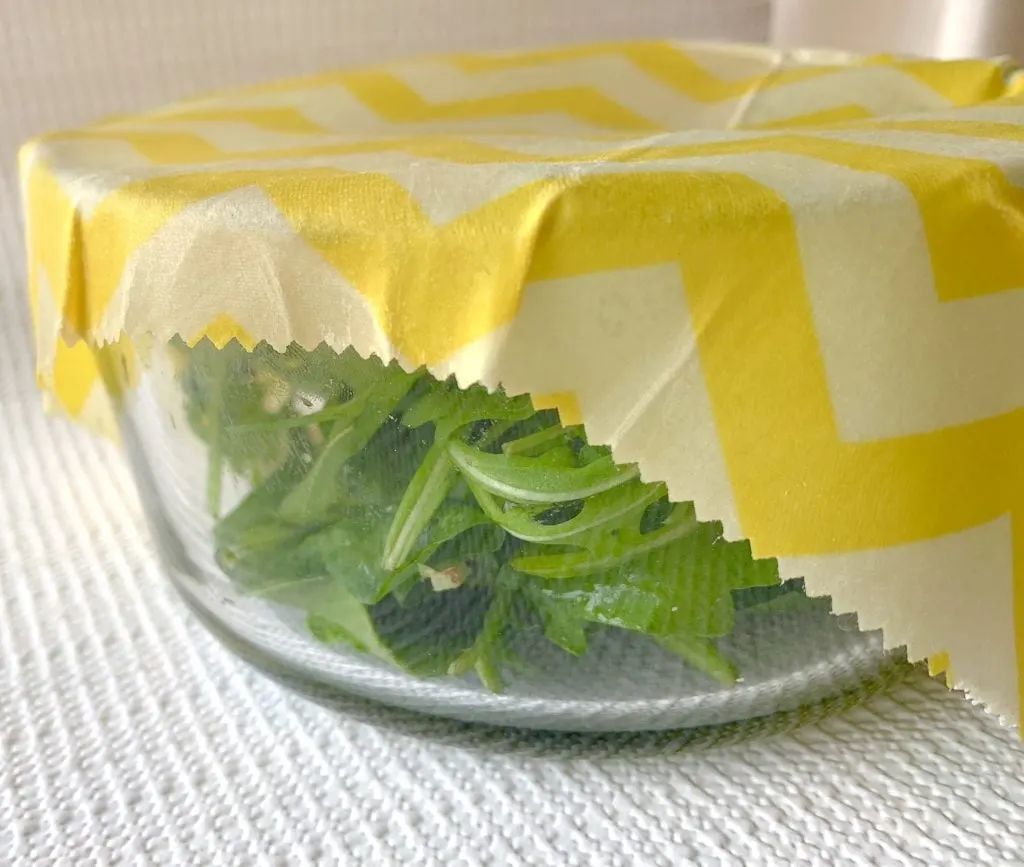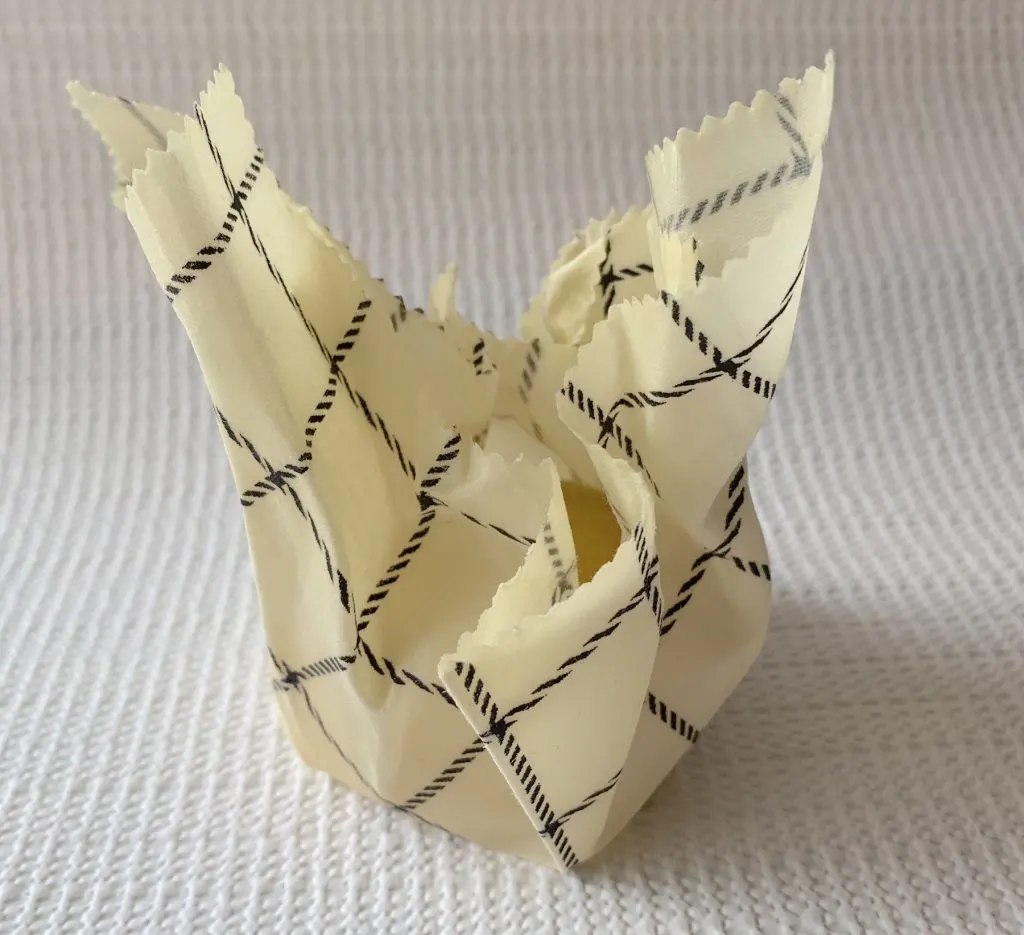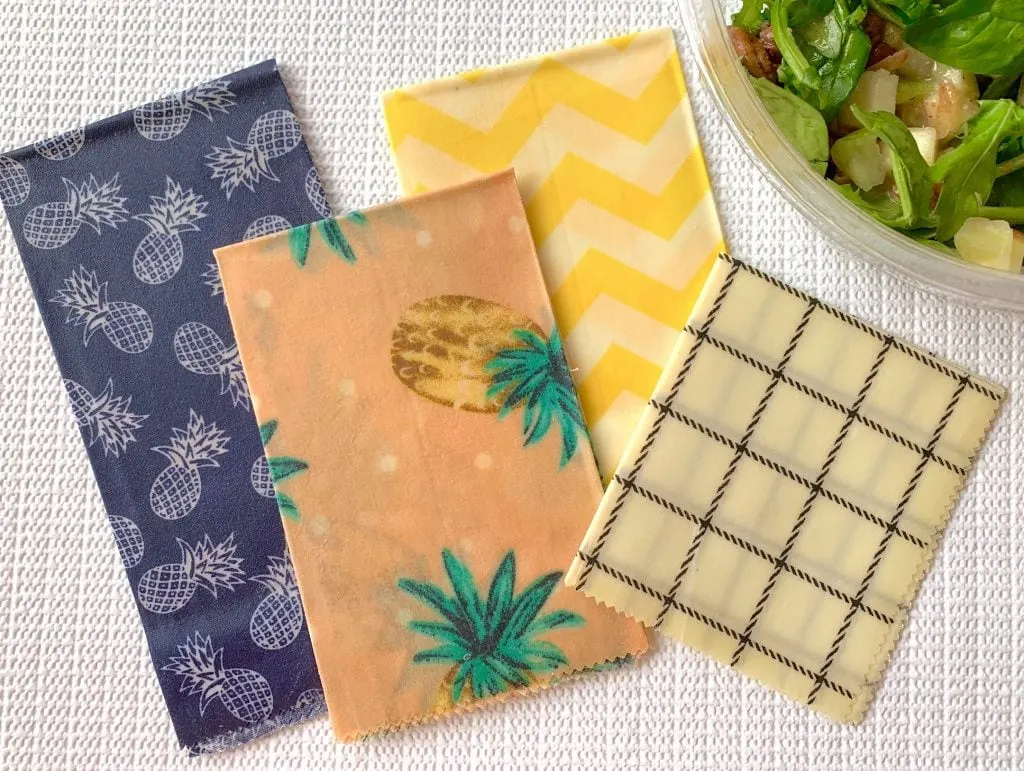 Plastic wrap can have all kinds of chemicals in it to stay flexible, none of which you want in your body. But how would the nasty chemicals get in your body?
Food is in direct contact with plastic wrap, so chemicals can leach in, especially when the plastic wrap is heated or touches very fatty foods, such as meat.
Beeswax wraps are made with cotton, beeswax, jojoba oil and tree resin. Obviously all natural ingredients.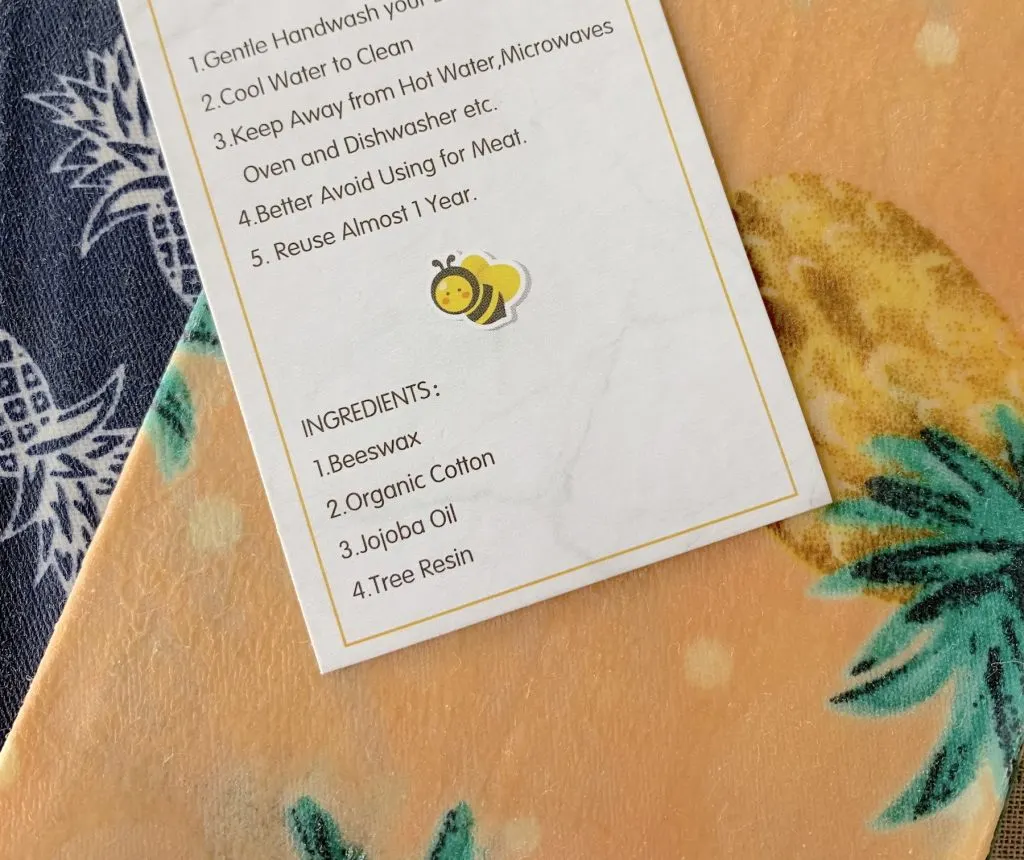 These wraps can last up to a year with proper care. You can find great ones on Amazon such as these from BeCosy, but there are also a lot of small businesses selling them on Etsy, too.
Paper Food Wrap
Paper, really??
Um, yeah. If it's good enough for butchers, it is clearly a good plastic-free food storage idea. But not all of them are going to be equal.
When choosing butcher paper, opt for the unbleached varieties to eliminate toxin exposure. This FDA Approved food grade paper is unwaxed, uncoated, unbleached and even stands in for gift wrapping in a pinch 😉
Seriously, it's the perfect all around food storage paper and you can even microwave it and freeze it.
Think about using this food paper for wrapping sandwiches, wrapping cuts of meat, wrapping up veggies, etc. So be sure to stock up on a roll.
Waxed Paper Food Storage
Waxed paper is also an option. Try this Non-GMO, soy-free unbleached natural wax paper. Yes, seriously, did you know that waxed papers could have GMOs or soy? I didn't! But I'm glad I found this one now!
Surprisingly, you can use this natural waxed paper in the microwave and even compost it after using!
If you like the thought of using paper, consider waxed paper bags, too.
What Kind of Tape to Use to Seal Butcher Paper or Waxed Paper?
Whatever you wrap up in paper, you are probably going to need to use some freezer tape.
You will want to keep the paper secure and keep the food in the paper food storage. While also keeping frost bite and moisture out.
Masking tape and clear adhesive tape don't really work well at freezing temperatures.
Just keep that in mind so that your paper wrapping doesn't come undone and food loses freshness.
Silicone Reusable Food Bags
Love plastic storage bags, but wish you didn't have to throw them out? Then you will want silicone reusable food bags that store just like the traditional plastic zip top bags, but are more sustainable.
These leak-free food storage bags are ideal for storing liquids and "wet" foods.
Check out my video review of my Stasher bag, along with other great zero waste options.
Label them with a dry-erase marker so that you always know what's inside.
Silicone food bags are made with BPA-free plastic that is meant to be reused over and over again. These bags can go in the dishwasher, microwave, and freezer. They contain no PVC, no petroleum and no latex.
These Stasher bags come in a variety of colors and prints. They are great for multipurpose storage for cosmetics, art supplies and toiletries, too.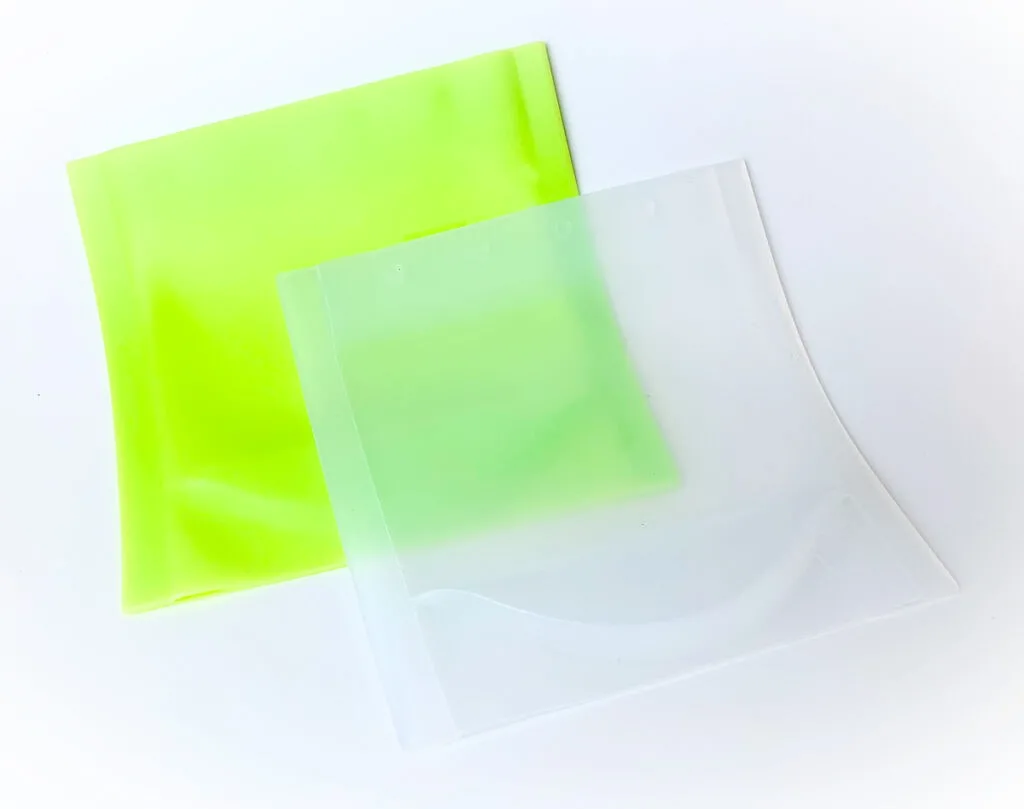 I like these GoSili silicone reusable bags, too. The bags snap together on top, which makes these ideal for cereal, cookies, chips, or a sandwich.
Aluminum Foil Food Storage
Yep, you don't have to get really fancy to have effective, plastic-free food storage!
A simple roll of aluminum foil will work to preserve freshness and easily works in both the freezer and oven. Just please, DO NOT microwave it unless you want to see fireworks in your kitchen!!! (How do I know? It's been done in my family!)
Aluminum foil is recyclable, too, which is a win-win for the environment. And it can often be used more than once, or even wiped clean to reuse again, which is another bonus.
Cloth Bags and Sacks for Food Storage
I love the idea of using cute colored bags as food storage for chips, crackers and other snacks to store food without as much plastic.
Notice that I said, as much.
Because while these food storage bags are reusable and eco-friendly, most food storage bags do contain a lining applied to the fabric to make it water resistant.
These cloth food storage bags for sandwiches and snacks do not have any PVC, lead, BPA, phthalates or heavy metals. And you can clean them in the dishwasher. But they are lined with a polyester lining, in case you are trying to avoid all non-natural materials that might touch your food and think you're just getting fabric.
Or, gather large items such as coffee beans, produce, onions, etc. in big cotton bags made for food storage.
Pin It to Save for Later!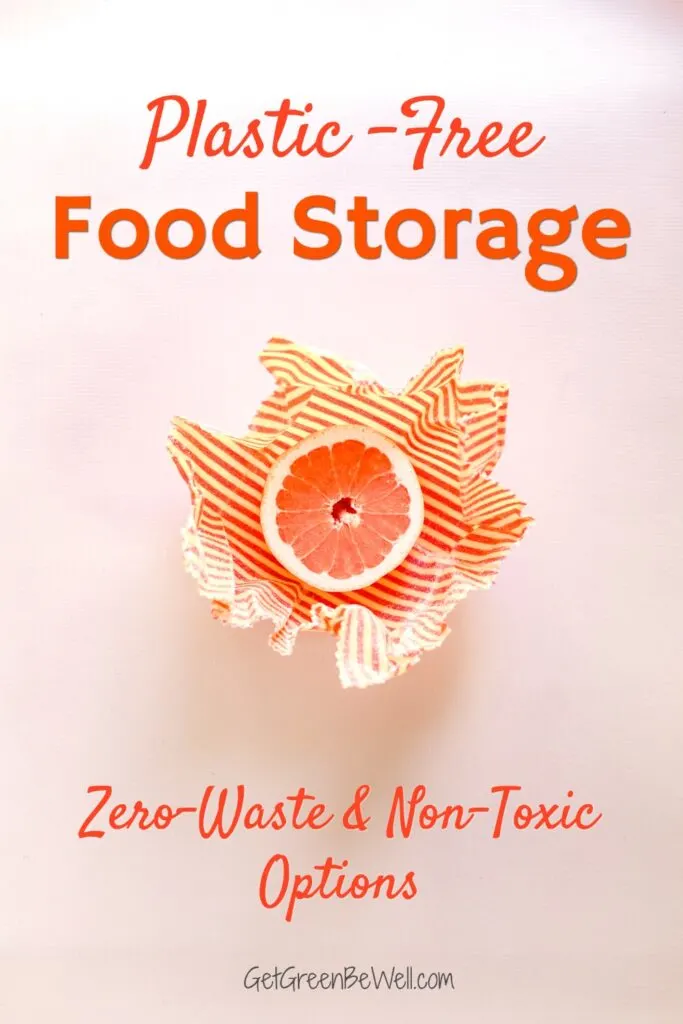 More Nontoxic Food Storage and Cooking Ideas
There are so many ways to store and cook food without worrying about chemicals.
Be sure that you see our best stainless steel lunch containers choices and our best stainless steel snack containers top picks.
There are plenty of ways to store food without using plastic wrap. These plastic wrap alternatives are another great way to store food without using plastic.
Cooking foods can be just as challenging. See our Nonstick Ceramic Cookware article for more information on what's safe to cook with.