If you're looking for small stainless steel containers perfect for kids and snacking, there are a few great options to choose from! I love bringing these travel friendly stainless steel snack containers in my purse, backpack or diaper bag to always have healthy food available when hunger hits. Not only do these containers let you bring the food you love, you'll also save tons of money by not having to buy snacks when away from home.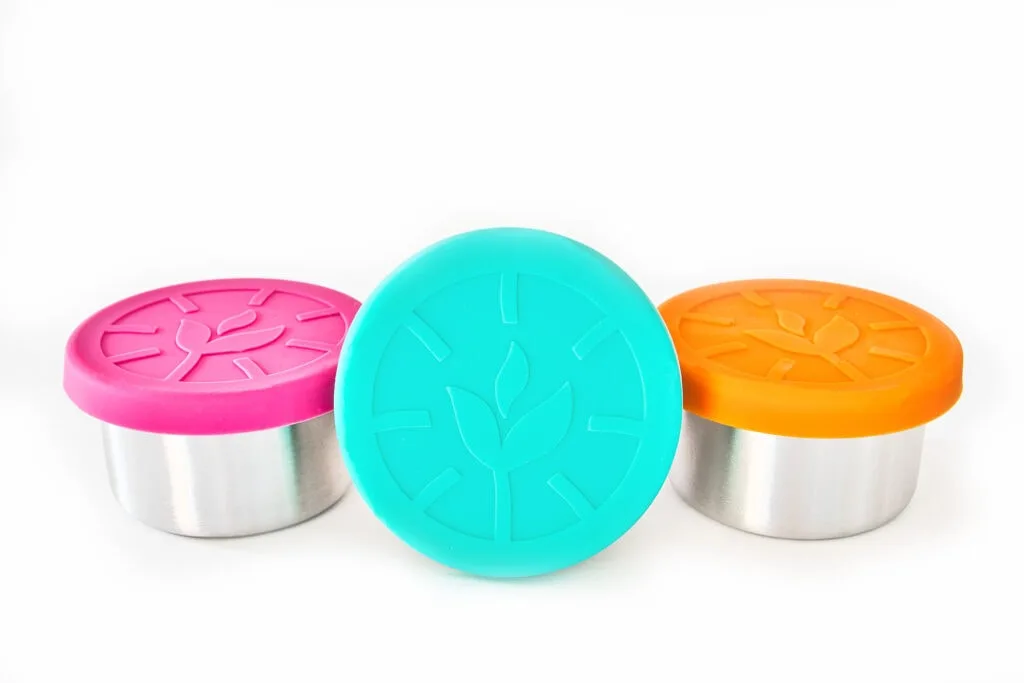 These non-toxic, reusable containers are also ideal for portion control. If you're trying to create more smart snacking in your life (rather than eating a whole bag of chips), these reusable snack containers are ideal for you, too!
Small Stainless Steel Containers for Snack Portion Control
Perhaps you know your toddler will eat an entire bag of goldfish crackers if they are in your bag. Or you know that if you sit down to a big bowl of guacamole, then you'll polish the whole thing off.
It's true. When we see lots of food in front of us, we tend to eat it all!
It's easy to bring a bag of trail mix with you to work or in the car pool lane and think you'll only have a handful of snacks when you're hungry. Then you realize that you have unintentionally eaten half of the bag.
Yeah, I hear you.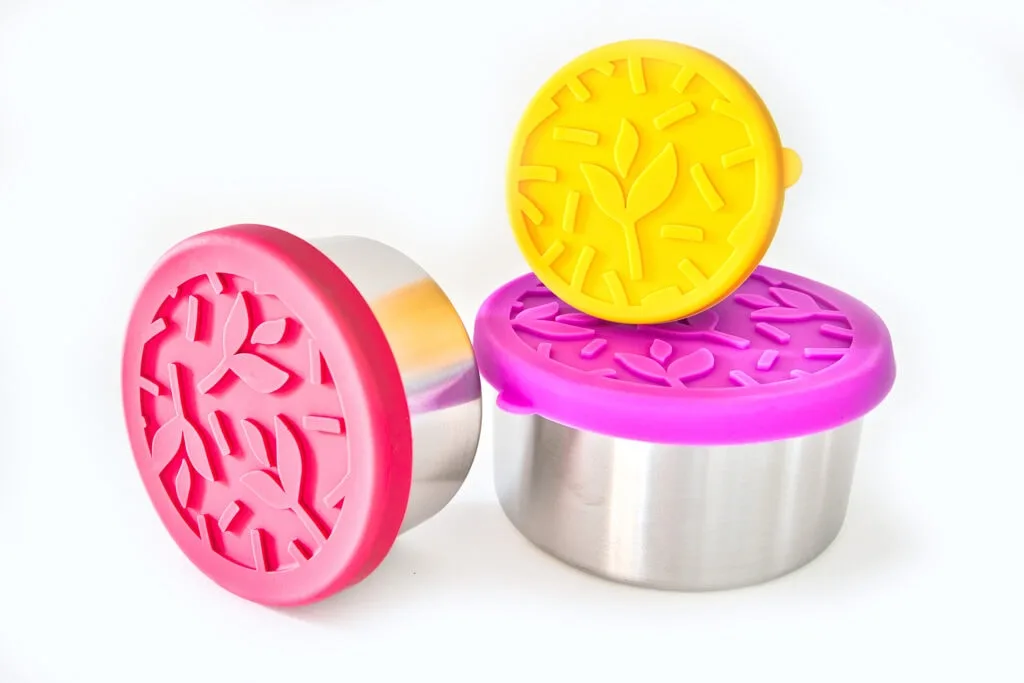 I do it all the time, too. Unless I portion out smart servings ahead of time!
It is so easy to create smart snack size portions before you get hungry. And then there is no regrets.
What I love about these small stainless steel containers with lids is that you can create a week's worth of snacks all at once. Just portion out chips, cookies, nuts or fruit. Then keep the snack containers on the counter or in the refrigerator to grab on the go.
Why Stainless Steel is Better
Stainless steel snack containers are important because they are made from a non-toxic material. Stainless steel isn't known to leach out any chemicals, and it's reusable (which saves you loads of money).
What's wrong with other options?
Plastic containers can get scratched and worn with wear. Sure, they might be cheap at the beginning, but if you have to keep replacing them, the costs add up. Plastic containers with scratches or dents, and those exposed to high heat (such as a dishwasher), could potentially allow materials used in the plastic (BPA is just one of them) to come out in the food stored inside.
Plastic baggies are quick and easy, but the costs add up quickly. Plus, you're just throwing things away every day when you don't need to. Think of how many plastic zip top bags must be piled up in landfills and floating in oceans around the world.
Glass is great, but you can't throw it in a backpack or toss it in your child's lunchbox without worry.
Pin it to Save this Shopping Guide!

Best Stainless Steel Snack Containers
Which makes these stainless steel snack containers best bets for toddlers, kids and adults alike.
Toss them in a gym bag, a backpack, your purse or a desk drawer. They are great for travel, too.
Stock up on a few of these small stainless steel snack containers so that you have plenty for everyone that you are taking care of. It's so nice to have a week's worth of snack containers available. Rather than having to wash them every night.
Watch my video featuring all of these snack containers below at the end of the article.
LunchBots Stainless Steel Snack Container with Leakproof Screw Top Lid
These colorful snack containers are 4 ounces, which holds a handful of chips, pretzels or fresh fruit.
The brightly colored lid makes it easy to see and creates a leak proof seal. We like that it is a screw on lid.
With a 1/2 cup of capacity – it's also perfect to add in your lunchbox for guacamole, salsa or hummus for dipping veggies.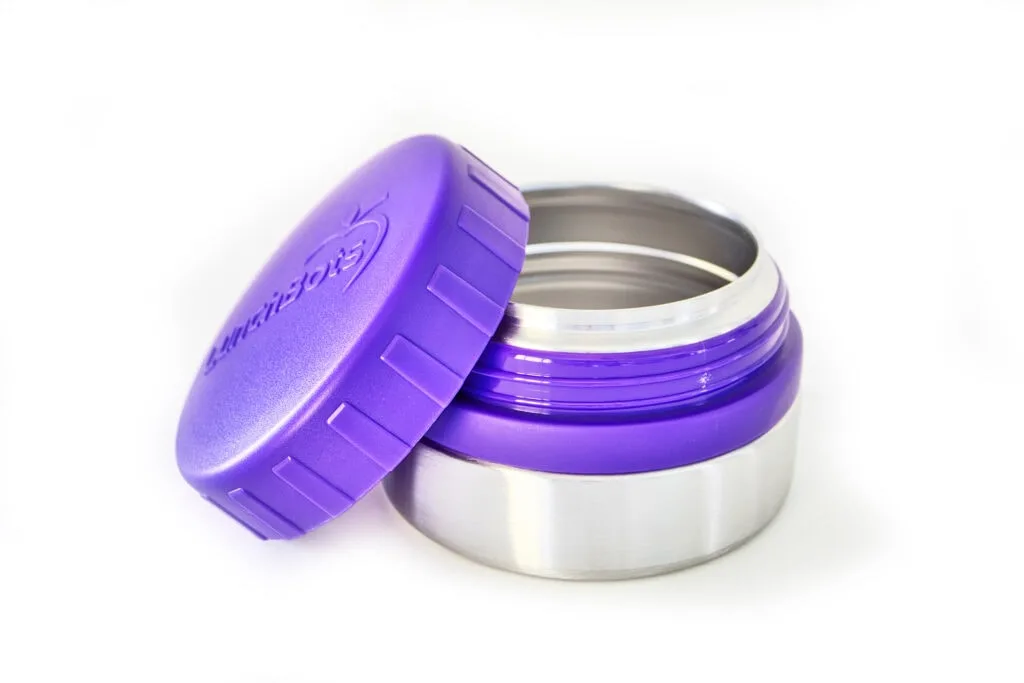 Small Stainless Steel Mini Food Containers
At just 2.5 ounces, these really small containers easily hold snack size portions of nuts, candies and more. Or use them for salad dressing, raisins, or salad toppings.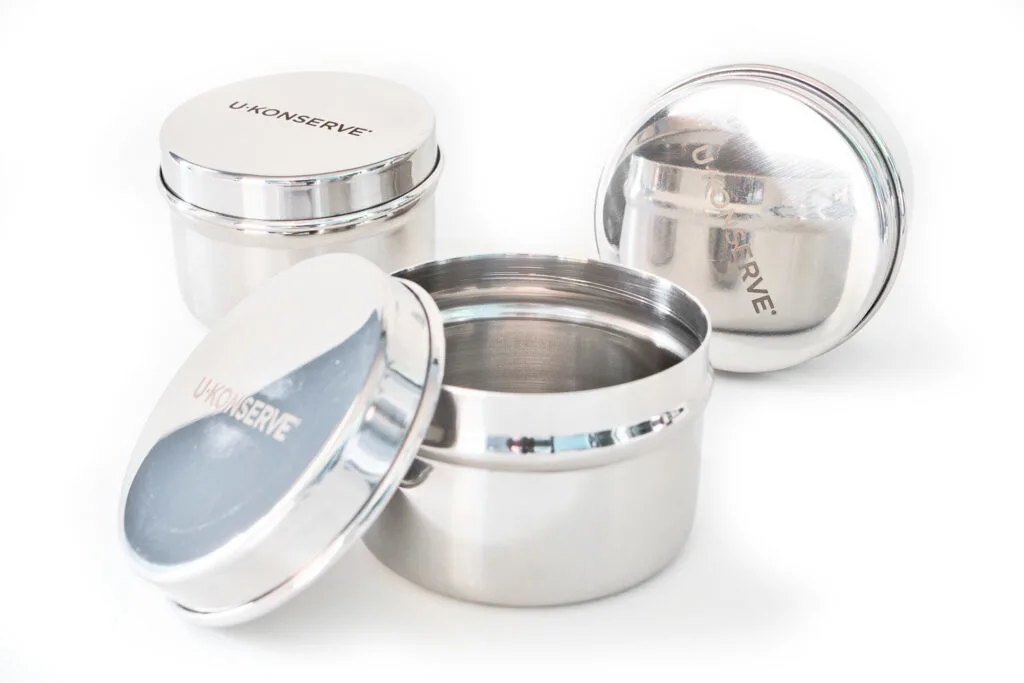 Completely stainless steel, the small travel food containers go in the dishwasher with no worries for easy clean up.
Munchkin Stainless Steel Snack Catcher
Perfect for small hands, the handles on this Munchkin stainless steel snack catcher are great for kids. The container comes in two colors.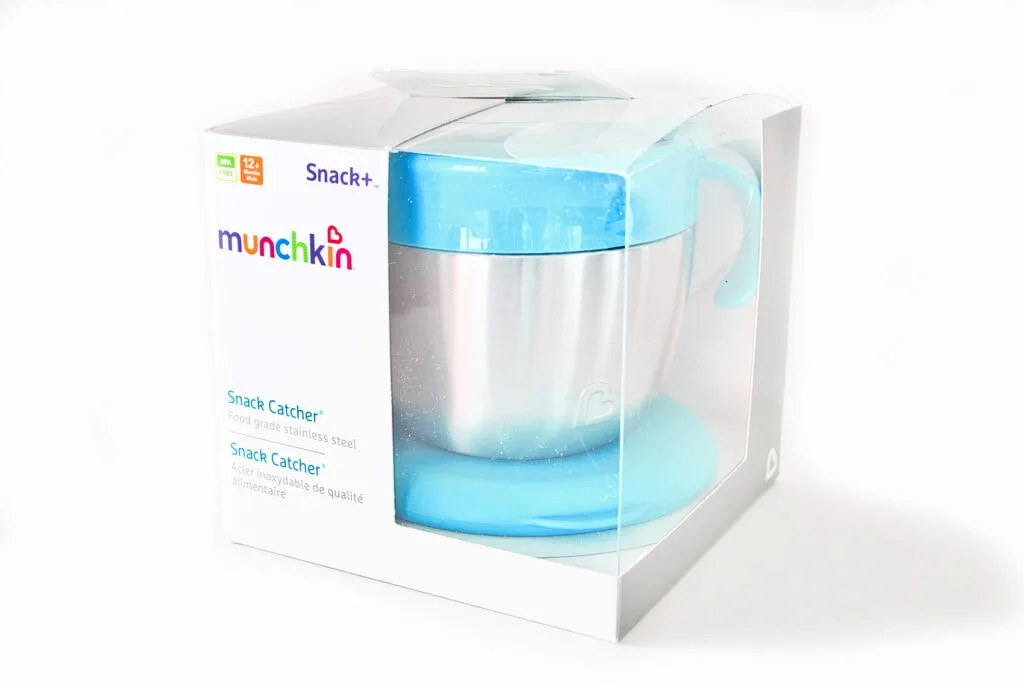 With soft flaps on the lid to keep food from spilling out, it's a great toddler snack cup to let children feed themselves.
The 9 ounce size means that a toddler's hand can reach inside the cup and get snack food without spilling snacks all over the place.
This small stainless steel container with lid is the best for babies and toddlers that throw things around and dump their snack containers. While all of the other travel food containers on this list have screw off lids that would easily dump their contents out, this Munchkin stainless steel snack cup will keep food inside, saving you money and frustration for trying to feed children while traveling or at home.
Nesting Stainless Steel Snack Containers with Silicone Lids
With three different sizes ranging from 5 ounces to 12 ounces, this stainless steel set is a bargain, since you get three products for one price.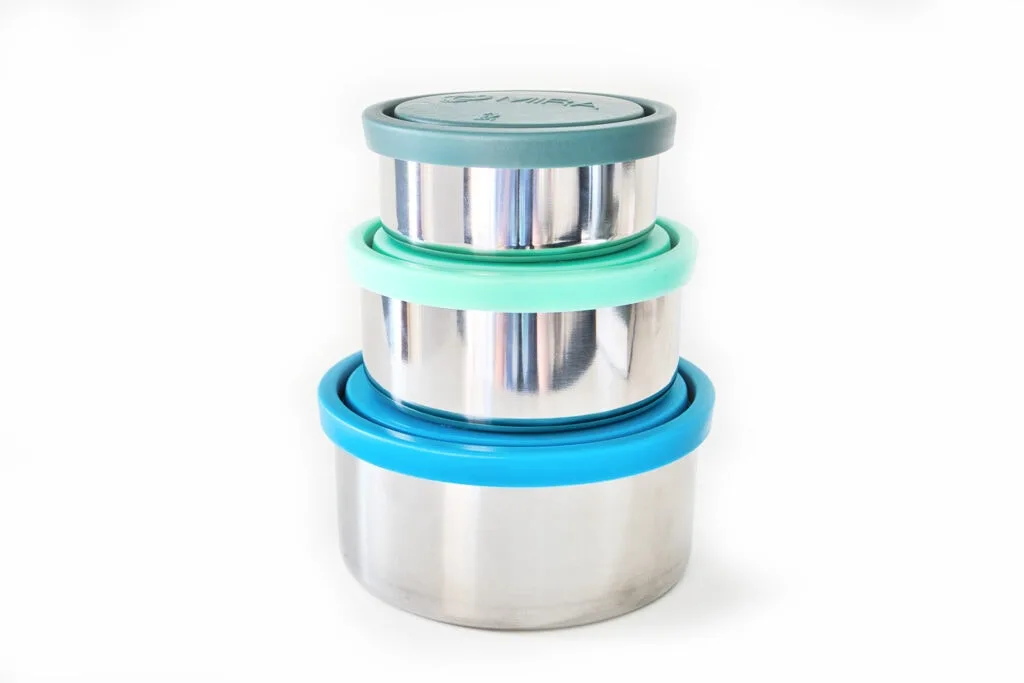 You can get one container perfect for lunch, and a couple more for snacks.
We love that these nesting containers save room in your cabinets by stacking together.
The colorful silicone lids have no PVC, lead, phthalates or BPA.
Taava
This company has a couple different options when it comes to small stainless steel containers.
They have a nesting bowls set, too. Taava's is just slightly smaller than other stainless steel nesting bowl sets, such as MIRA's above or EcoLunchBox's Blue Water Bentos. So it might work better for you if you are using them primarily for snacks.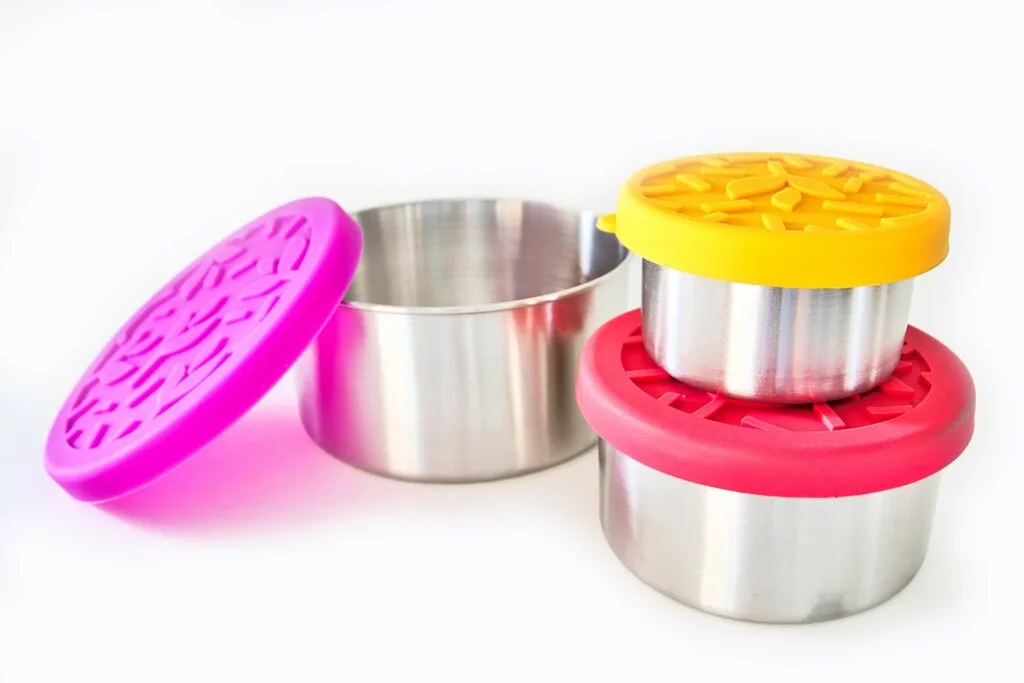 Taava also has the most adorable stainless steel dip containers. I love the colors and these mini containers are super small!
These would be ideal for dips, dressings, or small candies, such as chocolate covered almonds.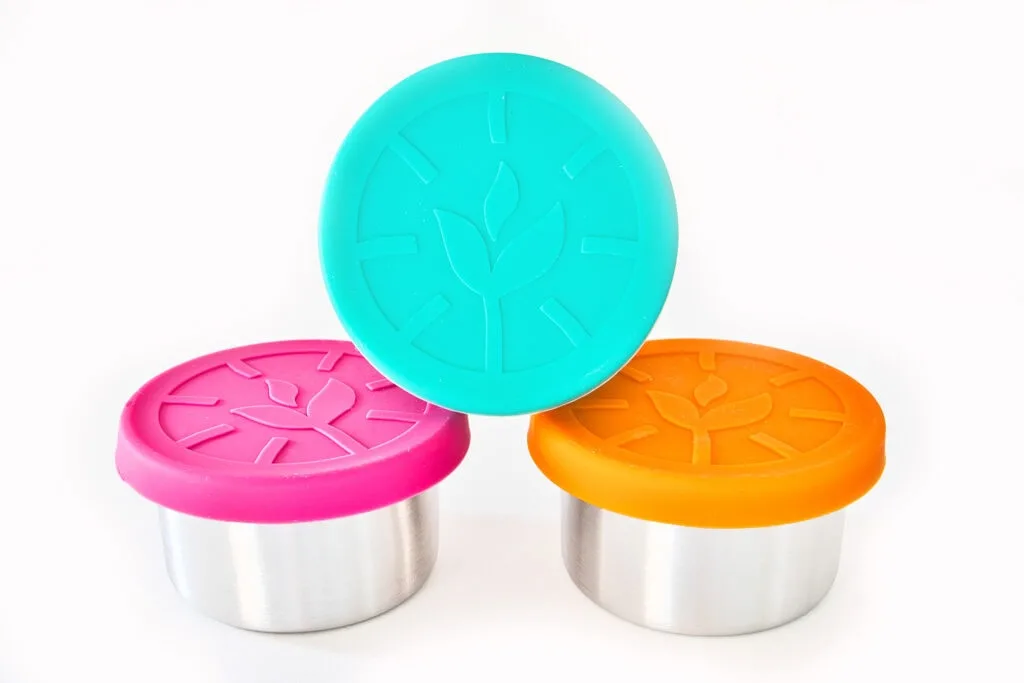 Watch the video review here:
More Stainless Steel Reusable Items
We love using stainless steel containers and bottles. They last forever, are easy to clean, and are strong. Many are leakproof and air tight, too.
While these stainless steel snack containers are perfect for smaller foods and snack portion control, there are lots of great stainless steel lunch containers that hold more food, including sandwiches, salads and soups.
Water bottles are another thing that I prefer to be stainless steel. Especially the ones that are vacuum sealed and will keep drinks cold or hot for hours or even an entire day. These are the best wide mouth water bottles. Many of them are on our list of the best water bottles for Disney.