Can paint seal in VOCs from off gassing into your indoor air from walls, cabinets, furniture, flooring, etc? If you could have healthier air inside your home with just the stroke of a paint brush, wouldn't it be great? My AFM Safecoat review puts the idea of creating a healthier home using specific paints to the test.
As much as you might try to only bring in healthy home décor and furniture into your home, you might be shocked to know that VOCs offgas from so many common items in your home. Every day things such as:
Cabinetry
Flooring
Paints
Stains
Varnishes
Among the biggest offenders of off gassing VOCs is anything made with a wood veneer. Think cabinets, flooring, furniture, shelving and other pieces of home décor that look like real wood, but aren't made with real wood.
Not sure how to tell if you have fake wood veneer or real wood products? If you didn't experience sticker shock when buying it, chances are probably good that you have a wood veneer.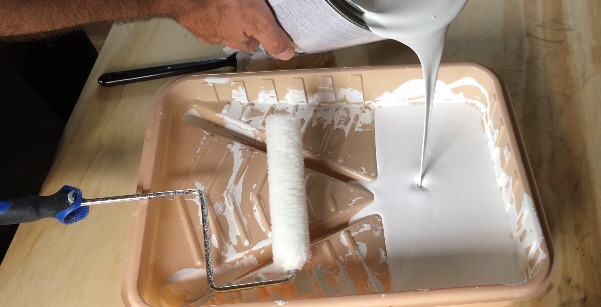 Another common offender for offgassing VOCs is paint (or products that you put on like paint). A lot of home interior paints are now low- or no-VOC, however oil-based products, primers, varnishes, stains, sealers and more can contain high doses of VOCs.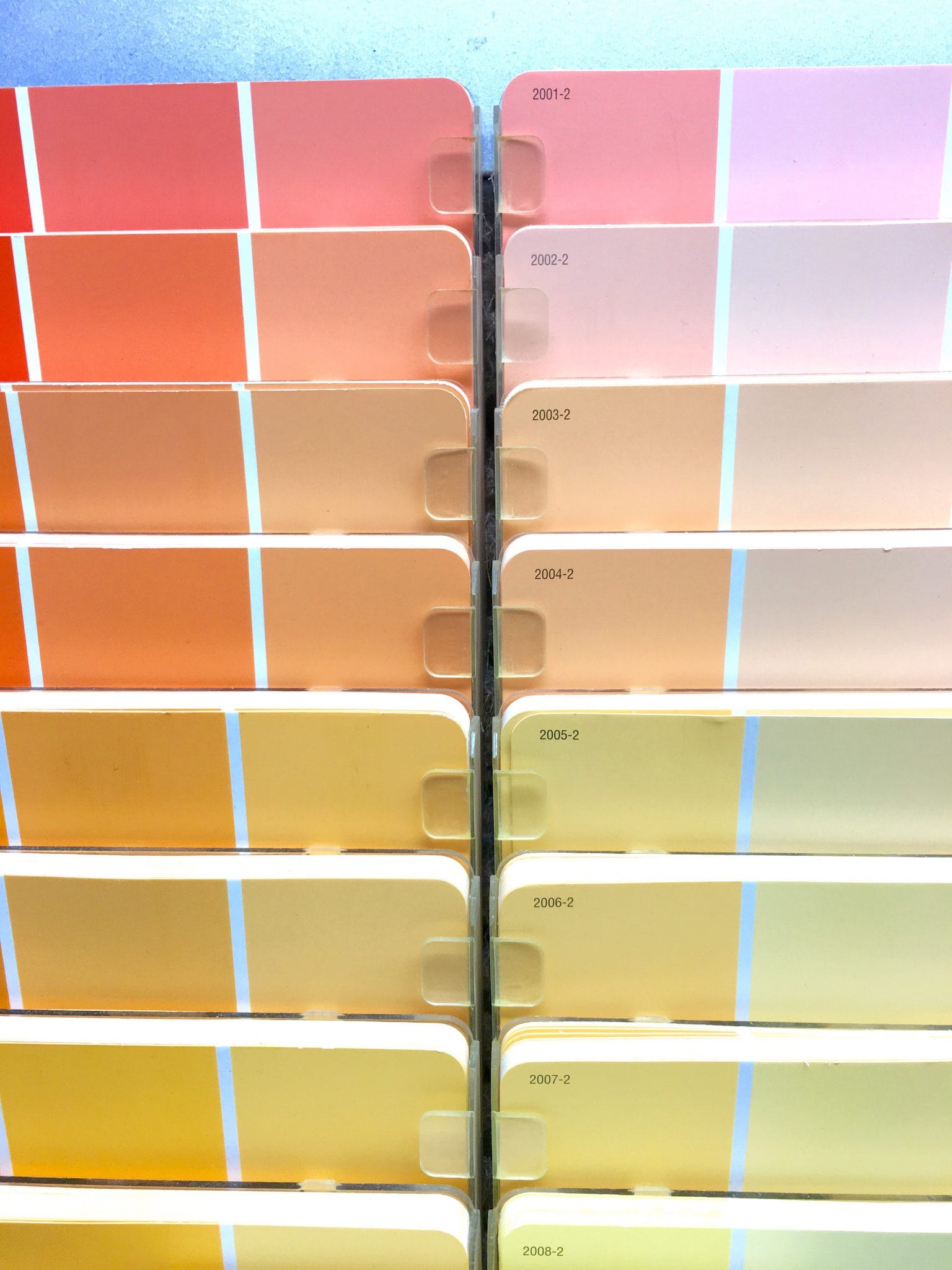 So, chances are you've got a VOC problem in your home. Which can contribute to sick building syndrome, which can cause all kinds of different health problems.
If you want a quick fix, AFM Safecoat offers a variety of more than 30 sealers, paints, primers, stains, fishes and more. All promise to help to seal in VOCs in the walls, flooring, cabinets, furniture, or other home décor. The products have been on the market for more than 40 years, developed with the help of environmental medicine physicians. In fact, doctors often recommend AFM Safecoat for chemically sensitive patients.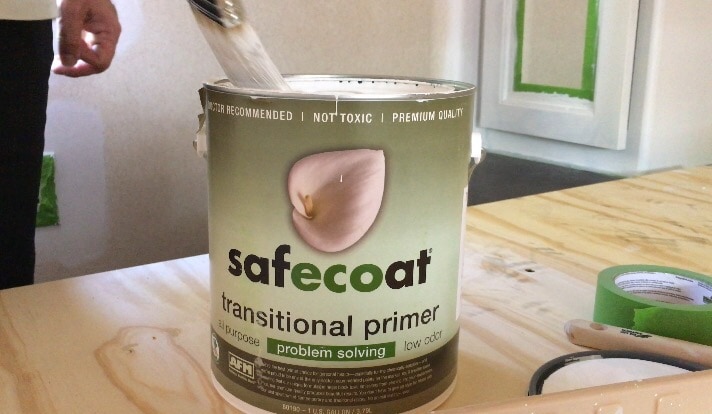 Which makes this AFM Safecoat review so hard to write. I want to personally love this product. I really do. It's just the smell that's so hard to deal with.
I have always been so careful to only buy no-VOC paints (Even when Home Depot required that I buy a six-pack of no-VOC Behr gallon-sized paints directly from the manufacturer, have it shipped to my home, and then bring in the paint to be tinted in-store. This was back in 2006. Oh, how times have changed for the better!). I avoid wood veneers at all costs. When we were designing our new home to build in NC, I OBSESSED about 1/10% points of formaldehyde emissions from the products.
However, my best laid plans went instantly awry.
The dream of building a green and healthy home quickly ended when builders got too greedy and were going to charge a ridiculous amount in a booming housing market. A sudden and quick need to get my husband out of his job for medical reasons meant we made a snap decision to travel the U.S. in an RV while we tried to regroup and figure out what to do.
We bought a new RV, started traveling, and it became a health nightmare instantly with all of the health problems and risks that we suddenly found in our new home.
So four weeks into our RVing trip, I was sitting at the kitchen table that doubles as a bed desperately trying to find my options for getting rid of VOCs in my new tiny home. And I found AFM Safecoat products.
After being wowed by RV renovations that always involved lots of paint, we decided to try out AFM Safecoat Transitional Primer and Safecoat Safe Seal. I was sent products to review to try in our RV.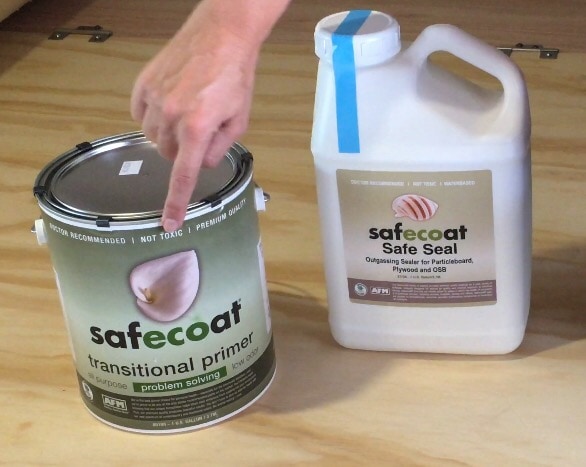 Before deciding to try AFM Safecoat products, I read a LOT of reviews. Well, actually the ones that I could find. There's not too many online reviews. The common theme in every review – whether positive or negative – was the smell of the products and the fact that the Safecoat Safe Seal was very watery.
I would whole heartedly agree with those statements.
My biggest challenge with AFM Safecoat Transitional Primer was the smell. The primer is non-toxic, so I was optimistically cautious about how much the primer would smell. Other people talked about needing someone else to paint their homes using the AFM Safecoat products if they were chemically sensitive. I completely agree.
I do have chemical sensitivities. I can't handle strong smells of any sort. Especially chemical smells.
To put things in perspective, I can kind of tolerate applying a no-VOC paint. But only with tons of air flow and airing out the place as I'm painting – and then leaving the property for a day afterwards.
My husband usually does any of the painting that needs to be done in our home. God Bless Him.
So after we opened the AFM Safecoat Transitional Primer, the smell pretty much alerted me to the fact that he'd have to be painting with it. The spec sheet for the product does state "If you are chemically sensitive, always test for personal tolerance." My husband isn't what we'd call "chemically sensitive," yet he was complaining about how much it smelled. Still, we pressed on……..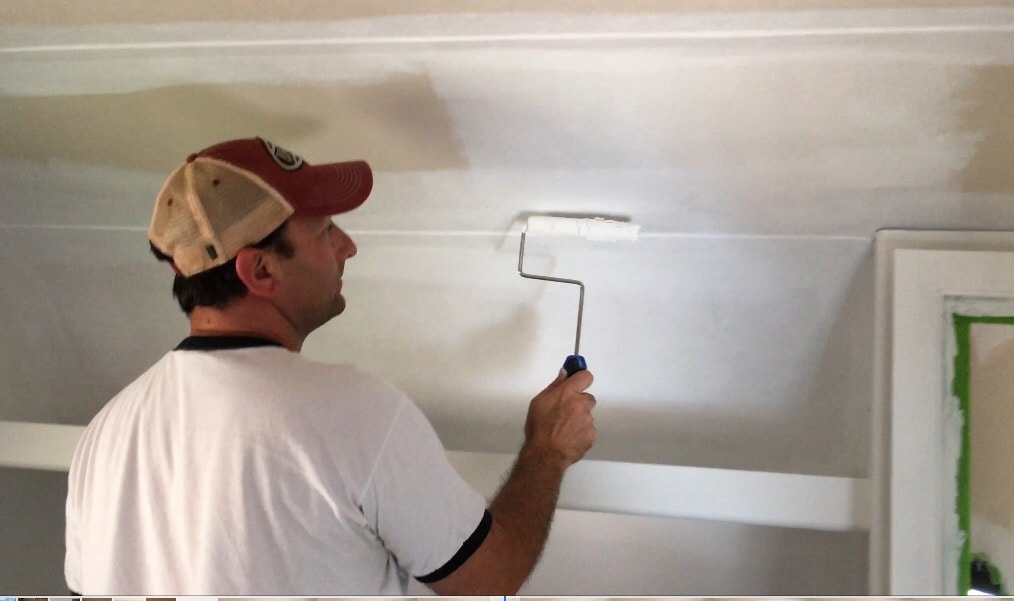 He painted the bedroom with AFM Safecoat Transitional Primer, then we topped with a different brand of no-VOC paint. A no-VOC paint from a different brand could technically have other chemicals and emissions. I do not know if this brand did or did not.
My husband got sick from painting with the products. Usually he can handle some small amounts of painting. But painting the tiny bedroom was enough to make him really sick. In all honestly, it could be the lack of ventilation with painting a tiny room compared to a large room.
BUT, we had both windows open, two fans blowing air out of the windows, and the air conditioning running. All windows and doors throughout the trailer were left open, with the air conditioning running non-stop all day. The weather was not too hot or humid. About seventy degrees with low humidity. We used all of these ventilation procedures for several days afterwards and the smell lingered.
When we went to paint the bathroom of our RV, my husband did not want to use the AFM Safecoat Primer simply because he got so sick the first time. I couldn't argue.
We also tried out the AFM Safecoat Safe Seal. It has a very watery consistency. It goes on clear, and we thought we'd use it to seal all of the veneer cabinetry in our RV. After using it to coat the plywood that our mattress sits on in the bedroom, we decided against trying to coat any of the cabinets.
Trying to brush on the watery-like substance was challenging, plus it dried about as quickly as it was put on.
I did test my air quality index inside my RV after painting, but I have no reference points from before the primer and sealers were applied. So I honestly don't know if the VOC levels or the formaldehyde levels dropped or not.
There was so much cabinetry and laminate flooring inside my RV, that by painting only the bedroom, I don't know how much good I did to drop the VOC levels with the primers and sealers. However, knowing how much my husband suffered while painting, there is no way that I could have asked him to continue.
In addition, we had to live elsewhere for several days while the paint odor disappeared.  And there was no way I was going to pay someone to paint for me.
AFM Safecoat Transitional Primer and AFM Safecoat Safe Seal IS an easy solution for most people to use to reduce their VOC exposure, but it's just the smell that's so hard to deal with.
I personally believe that the products do work. I don't have any test results myself, but there are independent tests available to show that formaldehyde emissions have been reduced by 90%.
The AFM Safecoat products that I used truly did work great. The primer bonded great and provided great coverage. The Safe Seal dried clear and evenly.
With a variety of products, there are plenty of AFM products to seal just about everything in your house or building site.
AFM products are probably going to be most used by people with chemical sensitivities. People with chemical sensitivities might think that since the products are non-toxic, they'll be able to apply them. Some people might. Others might not. The issue is so prevalent that AFM Safecoat addresses it online.
If you are sensitive to smells, you might need to have someone else paint the room, building, product, etc. You might need to leave the house until the smell disappears.
Samples are available online. Trying out the products beforehand would be wise.
As a chemically sensitive person trying to find an easy solution to creating a healthier home, I would suggest AFM Safecoat products. Yet make plans for someone else to apply it.