Looking for a flame retardant free car seat? Flame retardants are thought to possibly cause health problems – especially exposure to young children. Which is why finding a non toxic car seat without flame retardants is so important for wellness.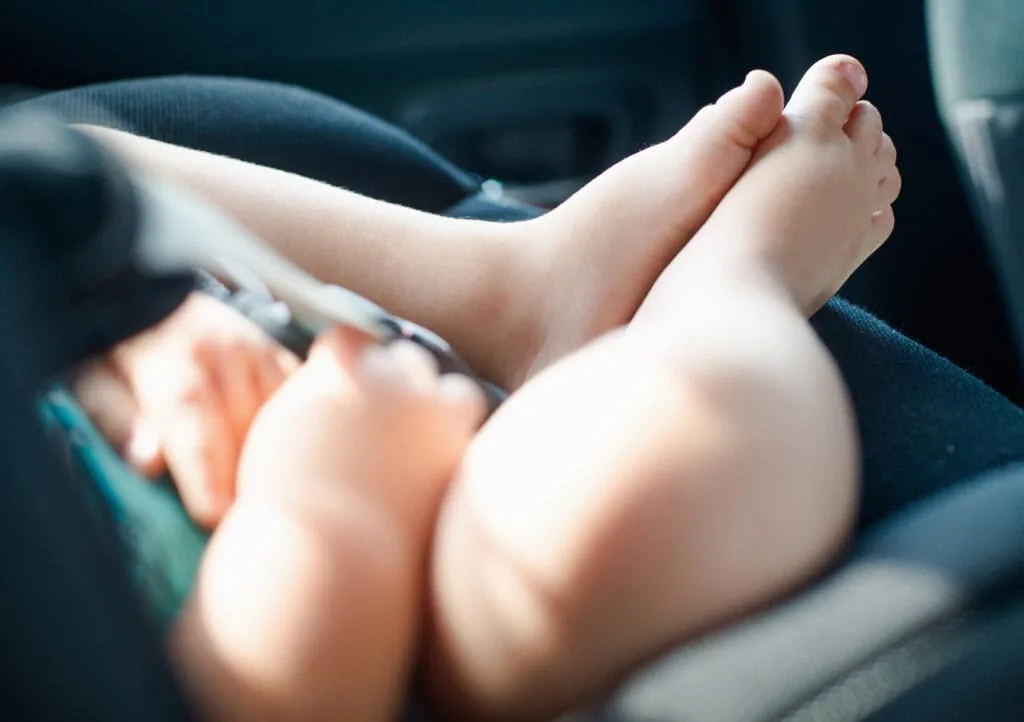 How to Find Car Seats without Flame Retardants
The Ecology Center, also known as Healthy Stuff Lab, has released a new study on toxic chemicals in children's car seats. They have been compiling a list of flame retardant free car seats for many years now.
Each year the number of car seats without flame retardants increases. Which is a good thing for parents.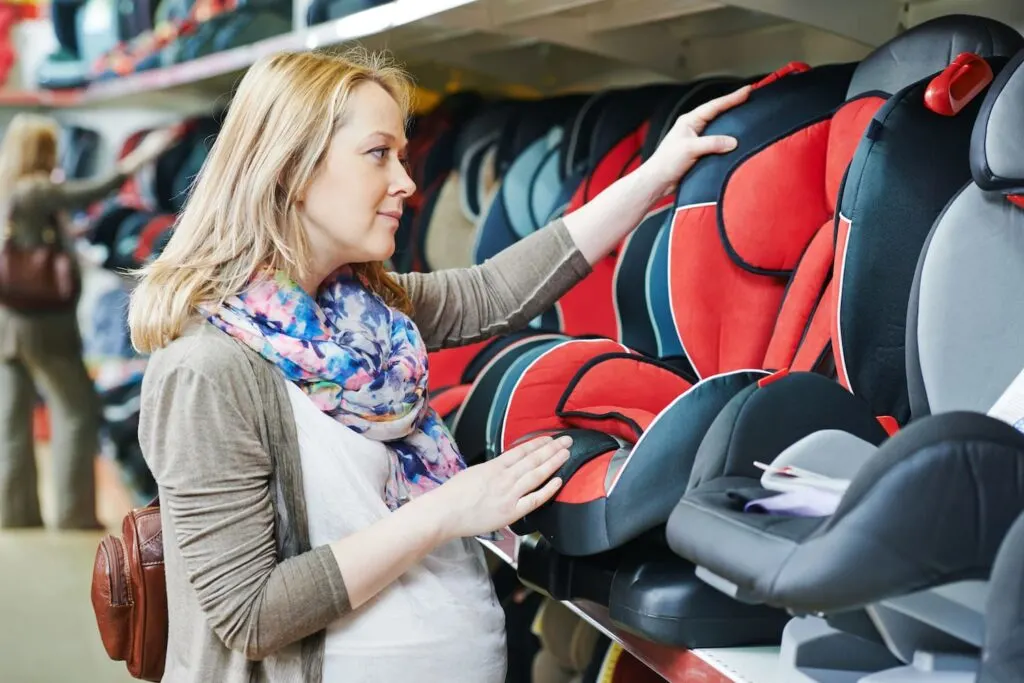 In 2017, there was just one model of car seat – from UPPAbaby – made without flame retardants.
Now there are 40 car seat models from 8 different companies made without toxic flame retardant chemicals BUT still meeting federal flammability standards.
The list of nontoxic car seats is created by a combination of Ecology Center independent testing and a comprehensive review of manufacturer claims.
Dangers of Toxic Flame Retardants
While babies and children might not ingest the flame retardants directly off of the materials, off gassing is a concern with the materials so close to their respiratory systems.
Car seats are exposed to UV rays from the sun and high temperatures as cars warm up in the sun. Heat and UV rays help to accelerate chemicals releasing from any product, including car seats and booster seats. Flame retardants are already something that easily release into the air that you breathe over time. That's why there is concern with them being in upholstered furniture and bedding, too. So combining chemical flame retardants that off gas easily, along with high temperatures that accelerate the off gassing, and higher risk with babies and young children, is not a good combination.
There are different types of chemical fire retardants:
Halogenated (also called Brominated and Chlorinated) Considered among the most toxic and they don't disappear easily from the environment
Non-Halogenated (Phosphate and Nitrogen based) These are less toxic than halogenated, but still warrants some concern.
"Car seats with added flame retardants put babies and young children in close contact with chemical additives, some of which are known to be carcinogens, hormone disruptors, and developmental toxicants," explains Gillian Miller, Senior Scientist at the Ecology Center. "Babies are especially vulnerable to chemical-laden dust from products like car seats since their systems are still developing."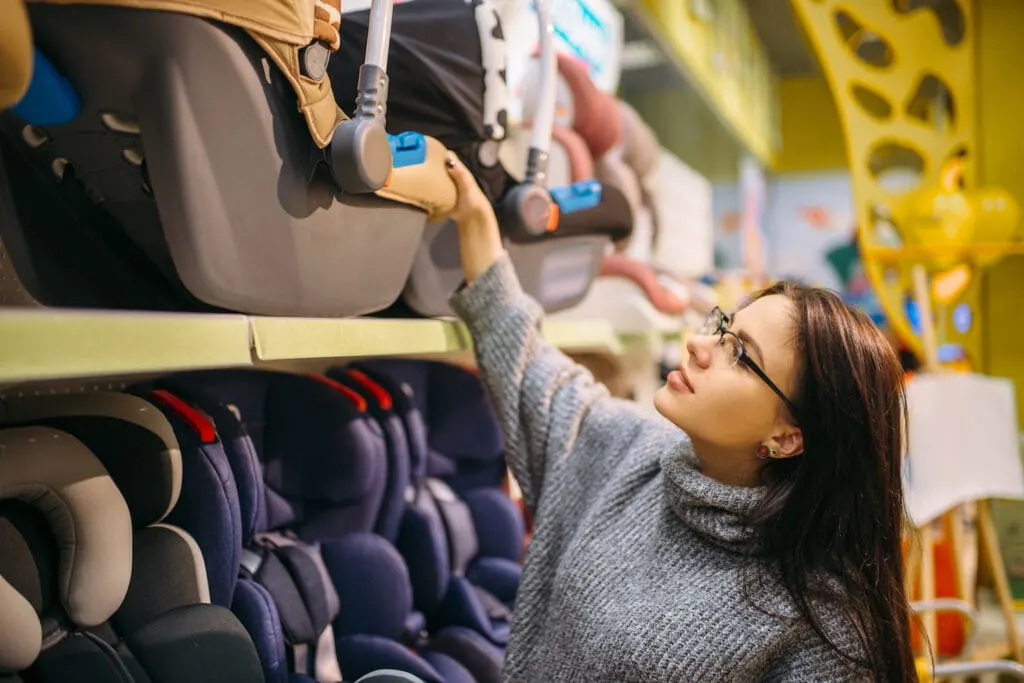 Children's car seats have to comply with the flammability standards meant to apply to vehicle interiors, not children's products, according to The Ecology Center.
The National Highway Traffic Safety Administration Test Procedures for Evaluating Flammability of Interior Materials (FMVSS 302) address fire safety in vehicle interiors. The requirements for car seats began in 1981. The USFA estimates 20 children 0-5 years old die in passenger vehicle fires each year.
Automakers and the car seat industry often, but not always, meet these NHTSA standards by using chemical flame retardants.
Another Thing to Avoid: PFOAs and PFCs
In addition to flame retardants, you will want to avoid Perfluorinated chemicals, known as PFCs or PFOAs.
These chemicals are made to help fabric repel stains, grease and water. You might have heard about PFOAs and PFCs before because they are in non-stick cookware, too.
Babies, toddlers and children WILL get their car seats disgusting, with poop, food, drinks, etc. There is nothing about perfluorinated chemicals that is going to help you avoid properly cleaning a car seat to remove the bacteria and grossness of diaper accidents, rotting foods and spoiled drinks. Repelling chemicals help the items not to stain the fabrics, but you still need to sanitize!
(P.S. There are so many amazing testimonials about using Branch Basics to clean the worst stains – including diaper blowouts – from car seat covers. You definitely want to get the stuff to keep your car seat clean.)
Flame Retardants Without Chemicals
These 7 companies that have flame retardant free car seats (according to the 2022 report) have developed children's car seats that meet flammability standards through material and design choices; not with added chemicals. How?
With innovative design techniques, such as using fiber blends with wool (including merino wool), which is naturally fire retardant. Wool fibers are hard to ignite with flames.
Another way to have an effective flame retardant without chemicals is changing the weave patterns in the fabric so that it has less air. Air is a source that fuels a fire. So the less air, the slower a fabric would ignite and burn.
"This new list of products proves that flame retardant-free car seats are now the gold standard and best practice," stated Jeff Gearhart, research director at the Ecology Center. "Manufacturers who continue to produce seats with toxic flame retardants are going to be seen as dinosaurs."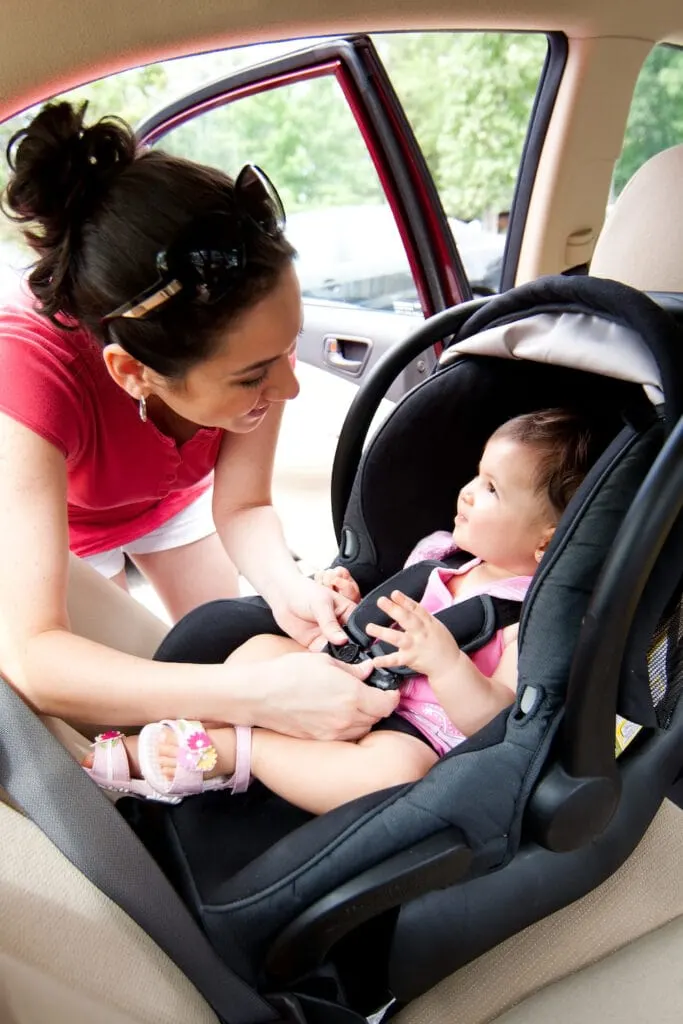 *While avoiding chemicals is always preferable, there is NO REASON to not use a proper car seat for a child. Even if it might have chemical flame retardants. Safety is always most important. This new report reminds parents that car seats are critical safety devices and that parents should ALWAYS properly install and use a car seat for babies and children regardless of its chemical composition.
Flame Retardant Free Car Seats
There are a variety of non toxic car seats available, including:
Infant
Convertible car seat without flame retardants
Convertible All-in-One
Booster seat without flame retardants
The best flame retardant free car seats, according to the Ecology Center/Healthy Stuff Lab study are:
Britax
SafeWash B Safe Gen 2 Infant
SafeWash Emblem Convertible
Romer Evolva 123 Convertible (Sold in EU)
Chicco
ClearTex KeyFit 35 Infant
Clek
Mammoth Liing Infant
Railroad Liing Infant
Graco
Extend Convertible (Sold in EU)
Maxi-Cosi
PureCosi Romi Convertible (the least expensive car set on this list)
PureCosi Mico 30 Infant
PureCosi Pria Max All-in-One Convertible
Nuna
UPPAbaby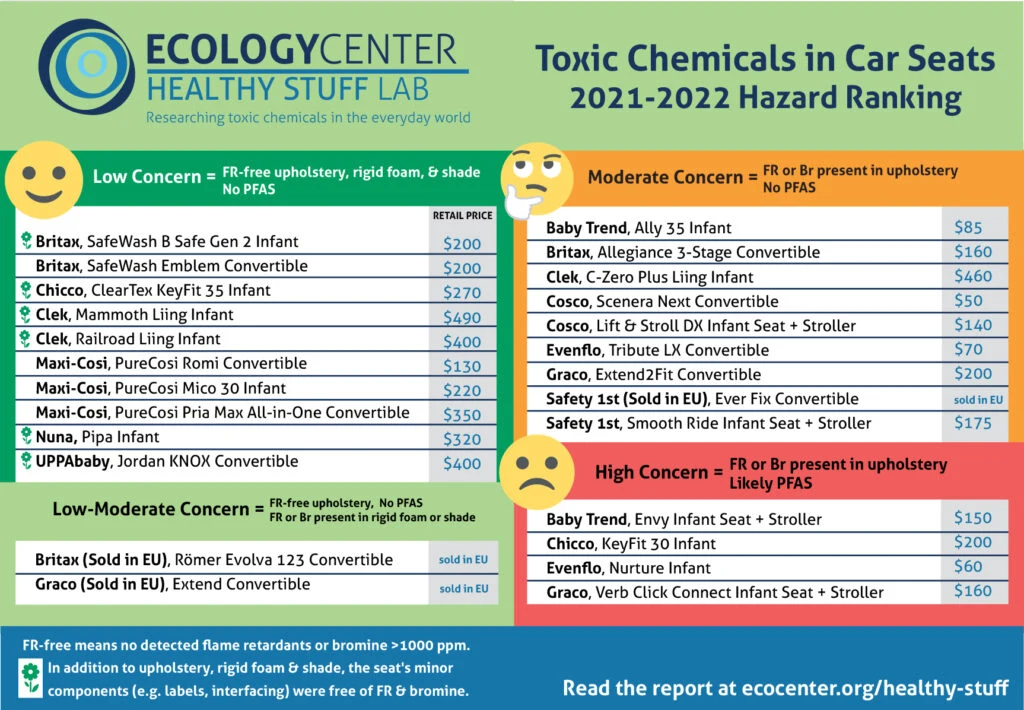 For even more information on this study about flame retardant free car seats, visit The Ecology Center's findings.