All white kitchens are clean, classic and oh so stylish! There is something timeless and elegant about an all-white kitchen. You might be dreaming of a kitchen redo right now, but wondering…. How can you create a white kitchen when you've got brown cabinets?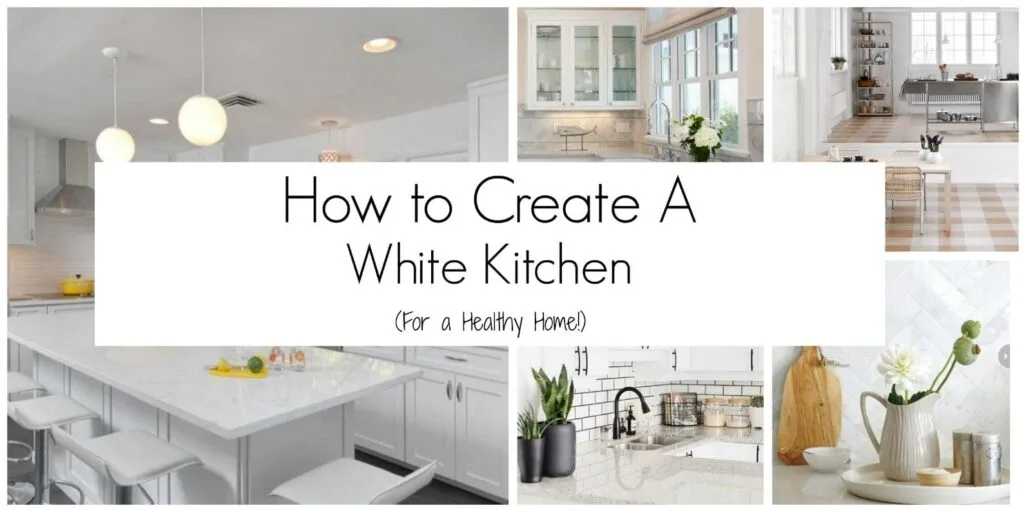 It might seem like a daunting task – and one that's too expensive – but you can create an all white kitchen for a healthy home without mortgaging your life away.
Creating a white kitchen doesn't mean that you have to use toxic materials that are going to give your family headaches, allergies, or other health problems from the off gassing fumes typically found in home renovation projects. There are lots of alternatives to DIY a white kitchen using non-toxic adhesives, non-toxic paints and super stylish accessories.
So, read on for tips on how to create a white kitchen. Ideas are in this order:
How to Paint White Kitchen Cabinets
How to Get a White Backsplash
White Countertops
White Kitchen Flooring
First, some Pinspiration. You are following me on Pinterest, right?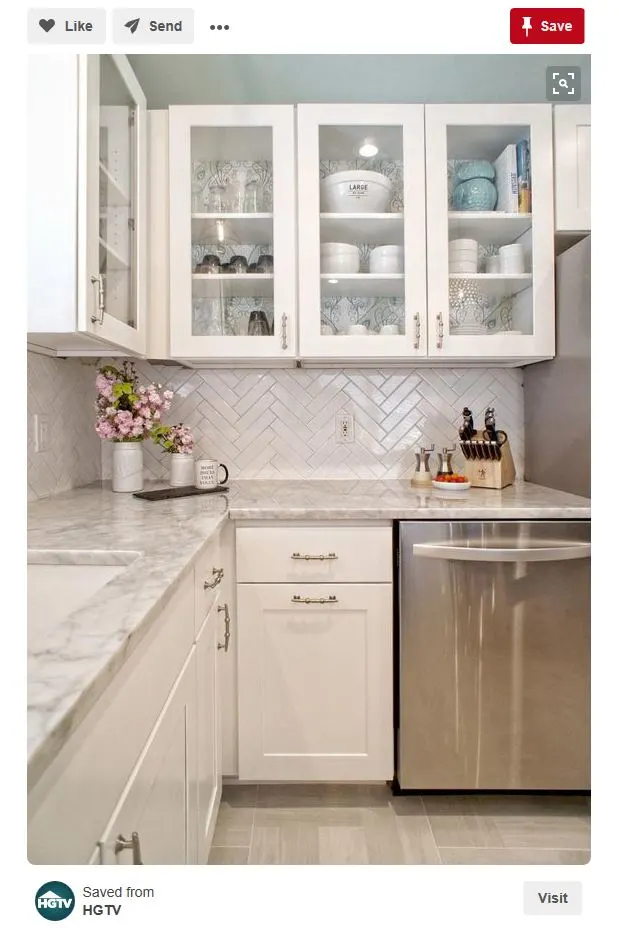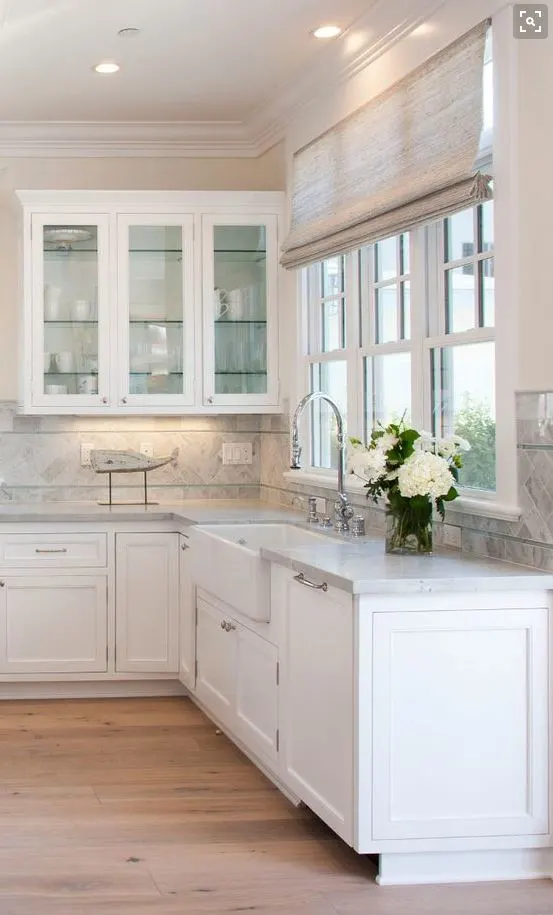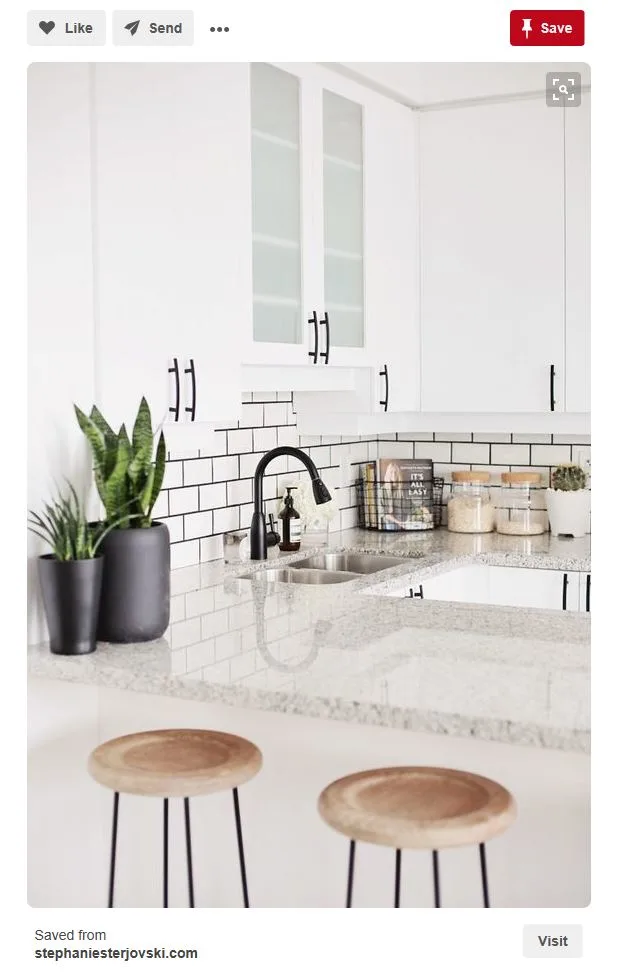 Here's How to Start Creating a White Kitchen:
How to Paint White Kitchen Cabinets
Let's just assume you're redoing your existing cabinets, and not installing new ones. Because trying to find non-toxic cabinetry is a whole other conversation too long for this post!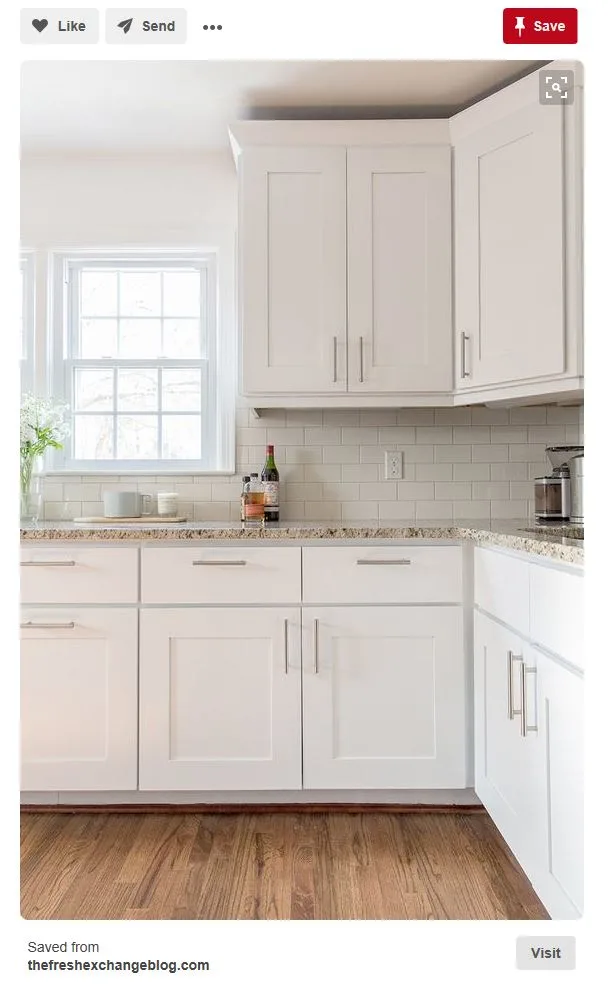 Pinspiration from The Fresh Exchange
If your cabinets need a refresh – whether a fresh coat of paint or a complete change of color, the first step in a healthy home is to NOT use any primers or paints with toxic chemicals.
Wait, what?!? How the heck are you supposed to do that, you may ask?
A beautiful kitchen doesn't have to involve toxic fumes or headaches for the entire family as the paint off gases.
Instead, choose a non-toxic water based primer that actually works. Yes, it actually works!
AFM SafeCoat, Transitional Primer is a good bet. The ultra low VOC formula is free of the nasty chemicals that you'll likely find in most primers when you shop at a big home improvement store. It's got NO formaldehyde, ammonia, acetone, heavy metals or other carcinogens often found in primers and paints. Bonus – it seals toxic coatings underneath and stops off gassing of whatever cabinet material or paint you might have used previously. (I tried AFM SafeCoat on my own walls, here's the results.)
So slather those cabinets with some non-toxic primer. Get your white kitchen groove on…… And then let's talk paint.
Painting cabinets has the same pitfalls as priming the cabinets to paint them white. You want to choose a non-toxic white paint that is free of as many chemicals as possible.
(Of course, with a nice paint that won't chip the first time you open the cabinet door, right?!?)
It can be done!
Non-toxic paints such as Mythic and AFM SafeCoat and ECOS are really great at providing great coverage without the toxins coming off into your home for weeks and years afterwards.
In fact – and this is SOOO cool – ECOS has a Interior Atmosphere Purifying Paint that actually removes toxins from your air coming from other parts of your house. I mean, how awesome is that technology???
How To Get a White Backsplash
Okay, so cabinets are done, right?
And if you've taken the time to paint the cabinets, you've likely painted your kitchen walls white, too.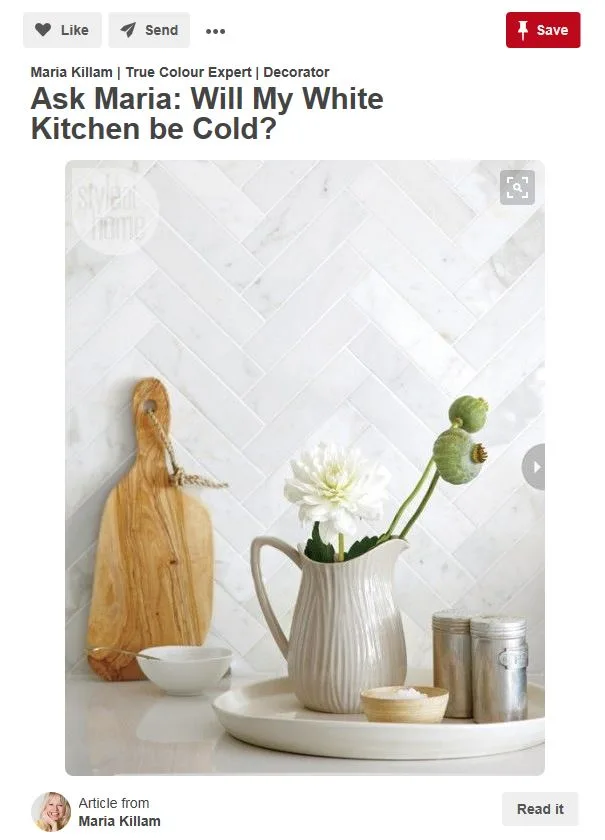 Pinspiration from Maria Killam.
So now let's concentrate on the backsplash area. There are a few options for a white backsplash. You can simply paint the backsplash wall white and you're done. Hang white framed pictures and decorative plates – or choose pops of color to really make your white kitchen your own.
Or, you can add decorative tiles or stone in white shades. This is where the budget increases and things get a little more time consuming.
Going to a home improvement store in the city where you live will give you tons of options for white backsplash tiles, whether it's white subway tiles, white ceramic tiles, white glass tiles, old-fashioned tin ceiling panels painted white and used as backsplash tiles, or more.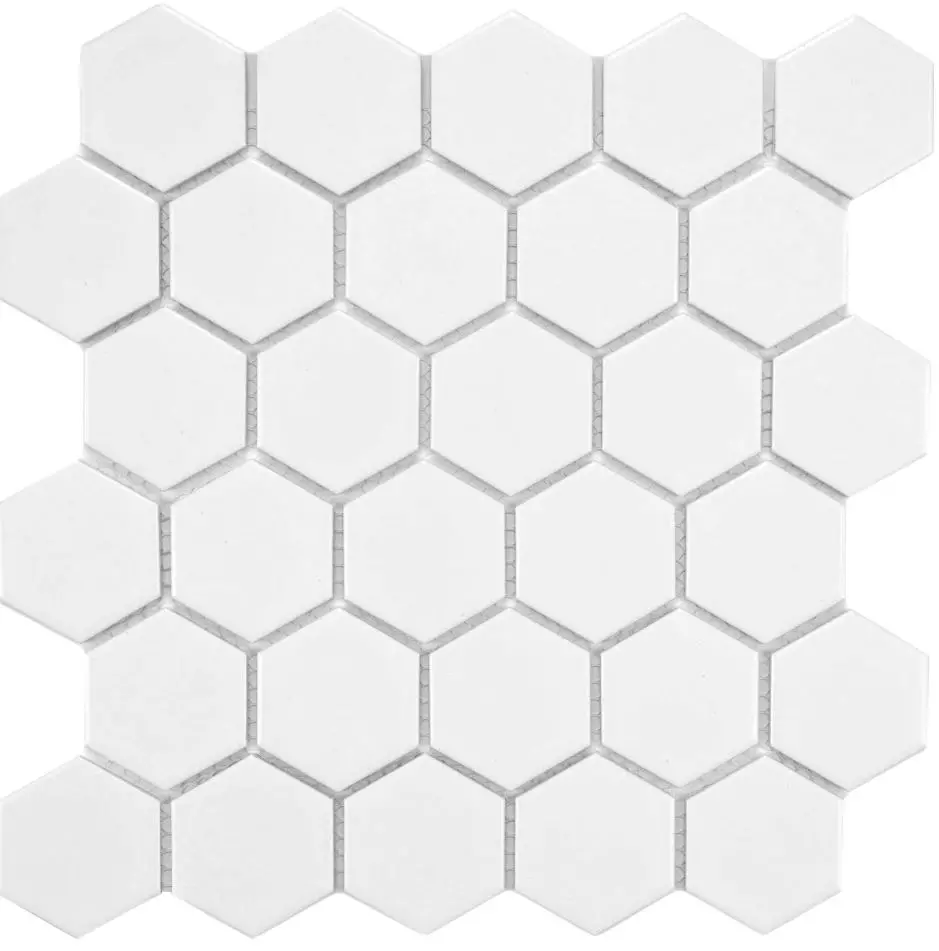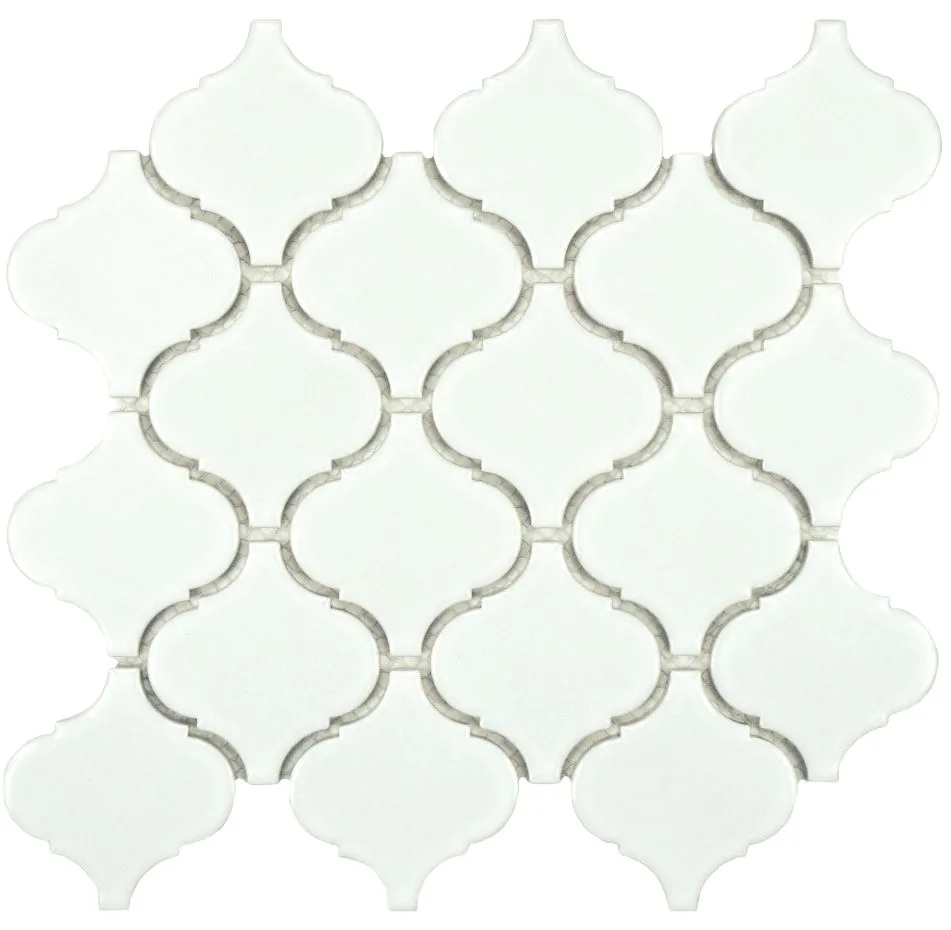 These white kitchen tiles – and many more options – are surprisingly found on Wayfair.com.
In general, the tiles themselves aren't going to cause a health problem in your home. For a healthy home, you can save money and buy white tiles or backsplash items at a major home improvement store or your neighborhood tiling store.
However….
It's the adhesives and sealants that will bring the toxins and odors into your home. That's what you DON'T want.
So before you start on your home DIY project or hire a contractor to do it, make sure that you pick out a non-toxic sealer, grout, adhesive, etc. And do not depend on your contractor (unless they are really green minded) to tell you whether the materials that they are using are definitely safe. People will tell you anything to get your business. Unless the person has made a living doing non-toxic installs, they likely will not understand the chemical compounds and risks associated with toxins found in adhesives, sealers, grout, and other masonry products.
Again, there are plenty of non-toxic alternatives. Browsing the products on Green Building Supply will show you that you don't have to give up the dreams of a white kitchen if you're concerned about toxic remodeling issues.
White Countertops
Okay, so this is a little more complicated. If you don't already have a white or grey countertop, then you're going to have to bring in some help.
There are kits that let you paint your countertops white. You can imagine how many chemicals that might take to get paint to stick to a countertop permanently. In fact the reviews of these products are so bad regarding the smell that there is no way you should consider painting your countertop if you're chemically sensitive. Generally, they don't encourage a white painted countertop, anyway, because so much dust and debris can fall into the paint when you're doing this DIY.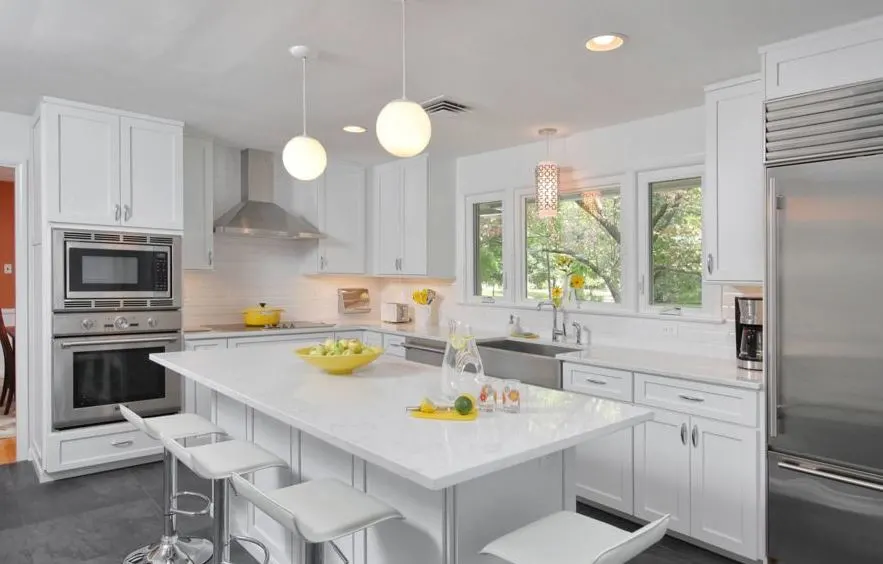 This Pinspiration is from Homedit.com.
So replacing your countertops for an all white kitchen would be the option. There are many alternatives – but choosing a quartz, stone or concrete countertop is the best solution for a healthy home. Laminate is made of lots of chemicals that might not necessarily smell, but could off gas for years into your home.
Did you know that IKEA sells quartz countertops? And that they are reportedly Caesarstone quartz?
Again, if you're choosing a non-toxic solid quartz or stone for your countertops, don't let the adhesives, sealers, grout and other materials used to install the countertop bring more toxins into your family's home. Green Building Supply has some great products that have been vetted to be as least toxic as possible.
Pin it and Share!

White Kitchen Flooring
Your flooring doesn't have to be all white in a white kitchen. Bamboo or wood flooring, or colored tiles, certainly work in a white kitchen. However, if you're thinking of getting white flooring, make sure it's non-toxic flooring.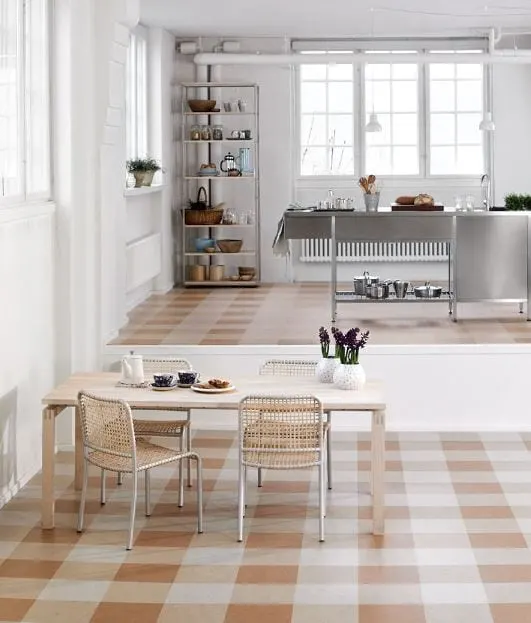 Photo inspiration from Pipohome.com.
Lots of flooring can off-gas chemicals for years. And that's just the flooring material itself, such as vinyl or laminate. Add in the use of toxic sealants and adhesives and you've got an unhealthy situation.
I surprisingly found that Forbo Marmoleum is among the least toxic flooring, most affordable and easiest to install. Who knew?
White tile is also surprisingly non-toxic – as long as you use ultra low- or no-VOC adhesives. Again, see Green Building Supply or the sources above for healthier options.