I might not have spent the time to review 360 Cookware if it wasn't for their stainless steel slow cookers without a non-stick coating. Once I started investigating the appliances and learning more about the products Made in the USA, I realized that these pots, pans and bakeware should be part of your non-toxic kitchen.
There are many reasons that I recommend 360 Cookware. Some of the biggest benefits are:
Non-toxic Cooking
Stainless Steel Clad Cookware
Made in the USA
Slow Cookers without a Non-Stick Coating
Vapor Cooking Technology
Waterless Cooking
Uses Less Oil and Less Water
Heirloom Quality
Lifetime Warranty
Get 25% off anything from 360 Cookware! Use my referral link + Code getgreenbewell20
I was sent two different types of cookware to review. I've used them for several weeks. Some recipes I tried failed as I was learning how to use the pots and pans. Other recipes were so easy that it made cooking a breeze.
I'm already making a list of other items to add to my kitchen now that I've used the products and am very happy with them.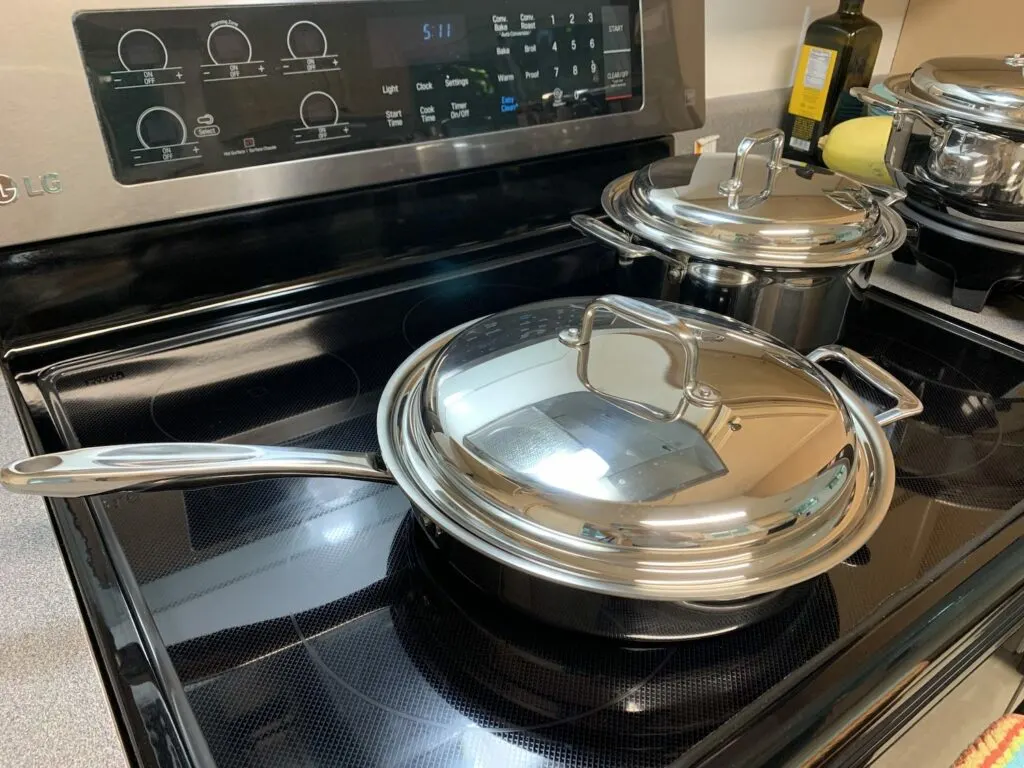 In addition to cookware, you might be interested in the company's collection of stainless steel flatware Made in the USA.
What Is Vapor Cooking?
Vapor cooking technology combines the power of steam cooking along with releasing natural moisture content in foods to create healthier cooking using no oil and no water.
A vapor seal is formed when you use the specially-designed domed lids of 360 Cookware. Moisture builds up in the pots and the food heats up. Once steam starts to escape the pot, a quick turn of the lid will create a vapor lock and keep the steam inside the pot where it recirculates and cooks food evenly.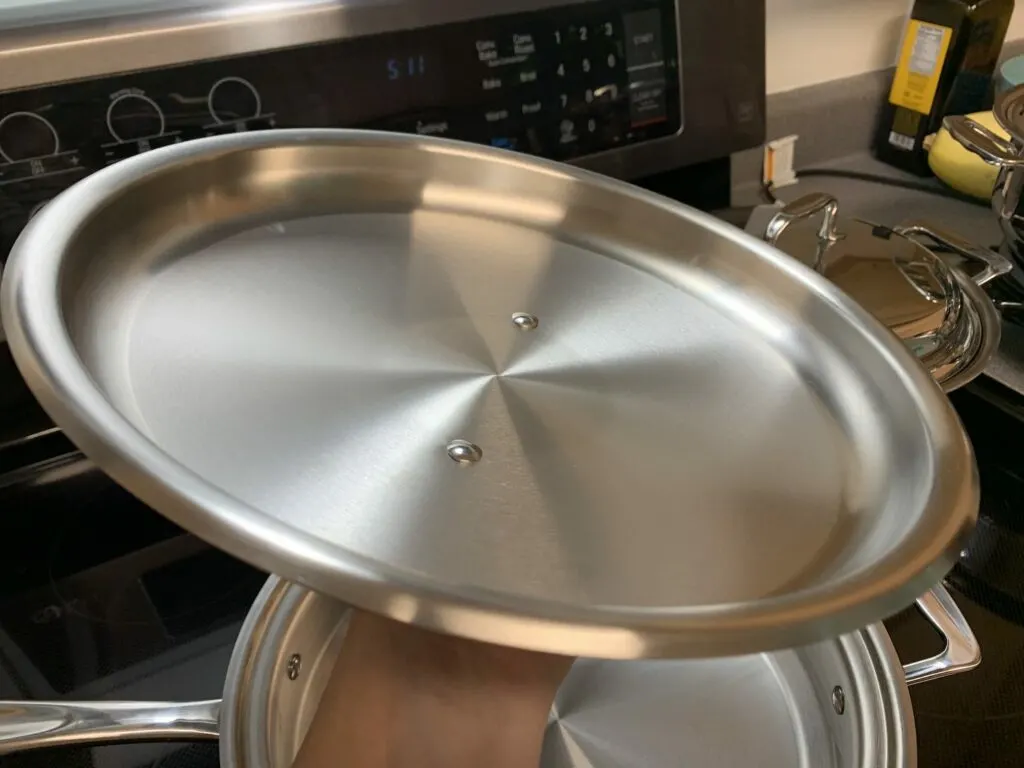 Do I Have to Use Vapor Cooking with These Pots?
No, you don't have to use vapor cooking with 360 Cookware. The pots, pans and bakeware can be used just like any traditional item. The vapor cooking technique is only used if you use a lid on your pots, spin the lid to create a vapor seal, and don't pick it up while cooking.
If you pick up the lid at any time, the vapor cooking will stop.
Here are the many reasons I enjoy cooking with 360 Cookware:
Non-Toxic Slow Cooker
Can I tell you how long I tried finding a slow cooker without a non-stick coating? I thought they didn't exist!
For two decades I've not been able to eat any food prepared in conventional slow cookers. I react to foods cooked with those non-stick coatings. However, I was finally able to make a pot roast for the first time in 20 years with my 360 Cookware Slow Cooker!
And, it was easier than I expected!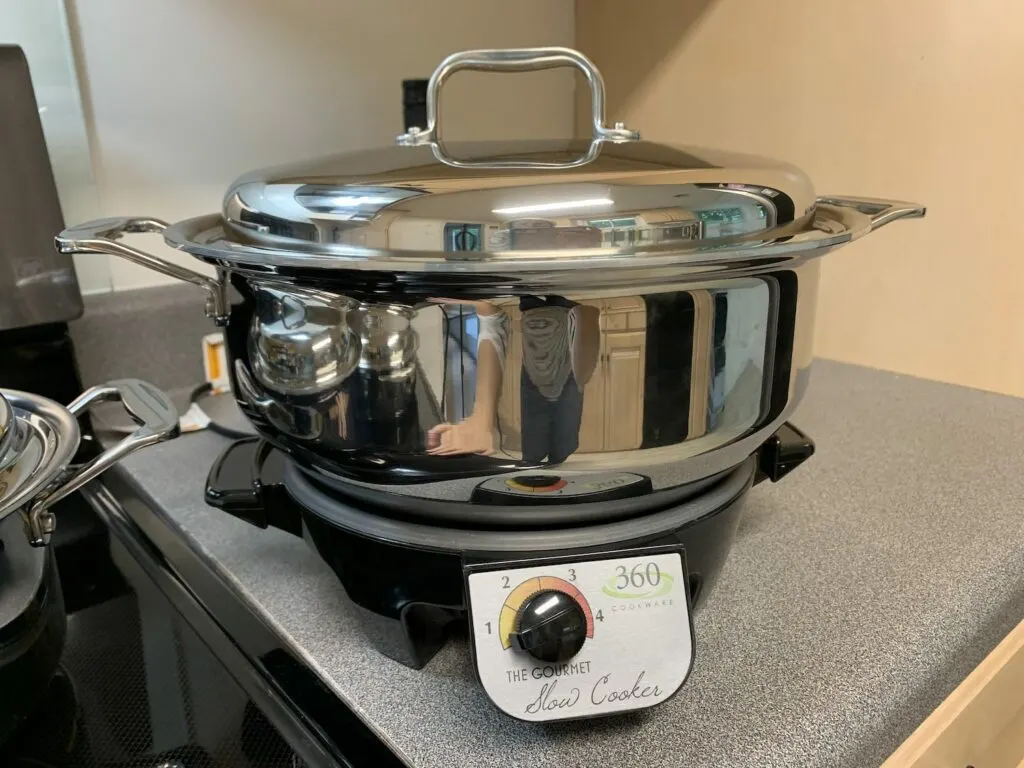 I put a 3-pound roast from Butcher Box in the slow cooker pot, added 1 sliced onion, and just turned it on. That was it. No other ingredients.
The roast came out amazingly tender and moist and flavorful. With LOTS of yummy pan drippings. I literally couldn't believe the roast tasted so good and it was so easy to make!
Zero Toxic Chemicals
If you are looking for non-toxic cookware, 360 Cookware is a safe choice. The company uses zero toxic chemicals in the products they sell. And that means they have a healthier factory for their workers, too.
360 Cookware is made with a cooking surface of T-304 Surgical Grade Stainless Steel, 18/8.
The outer layer is T-400 series stainless steel. This material has a lower nickel content and high carbon steel content to interact on induction cook tops.
Aluminum is found in the core, which is perfect for heat conduction and even heating. As all layers are bonded together, you do not have to worry about your food being in contact with aluminum.
Watch my video review of using 360 Cookware:
Non-Stick Coating Without Chemicals
Yes, this cookware is stainless steel. However, it has a non-porous surface created by dry sanding. No chemicals, such as PTFE, are used. However, you have the benefit of foods not sticking to your products!
Uses Less Oil
Even though there is no non-stick coating on 360 Cookware, you can use less oil when cooking. Or none at all.
In fact, you can cook meats and chicken with no oil. You just need to get the pan hot enough to begin with, and then it will act as non-stick cookware.
Many of the recipes and cooking guides will have you do a "water droplet test." This is a way to see if your pan is hot enough to cook without sticking.
All you need to do is drop a few drops of water on the pan. If it dances around like mercury, it's hot enough. If it steams, then the pan is not hot enough.
You will only require oil with your cookware when baking on the stovetop, frying eggs or searing fish. Everything else can be made without oil.
If you do like using oil, you definitely can! Just use about half the amount you would normally use to begin with until you figure out the ratio that works for you.
Don't Lose Nutrients
Boiling vegetables or fruits in a pot of water and then pouring the water down the drain simply throws away valuable nutrients. Stop wasting the vitamins and minerals you want from your produce and keep them instead.
If you are using less water, then the nutrients won't be thrown away. The food actually will cook in its own juices.
It seems kind of silly that we would boil out vitamins and minerals and just throw them away, right? How is this still a common practice with cooking in the 21st century?
I cooked a pound of fresh green beans in my 3.5-quart sauté pan using the Vapor Cooking technology. My green beans were tender to the touch and delicious in just 8 minutes. I didn't use any extra water other than a quick rinse to get off dirt from the farm!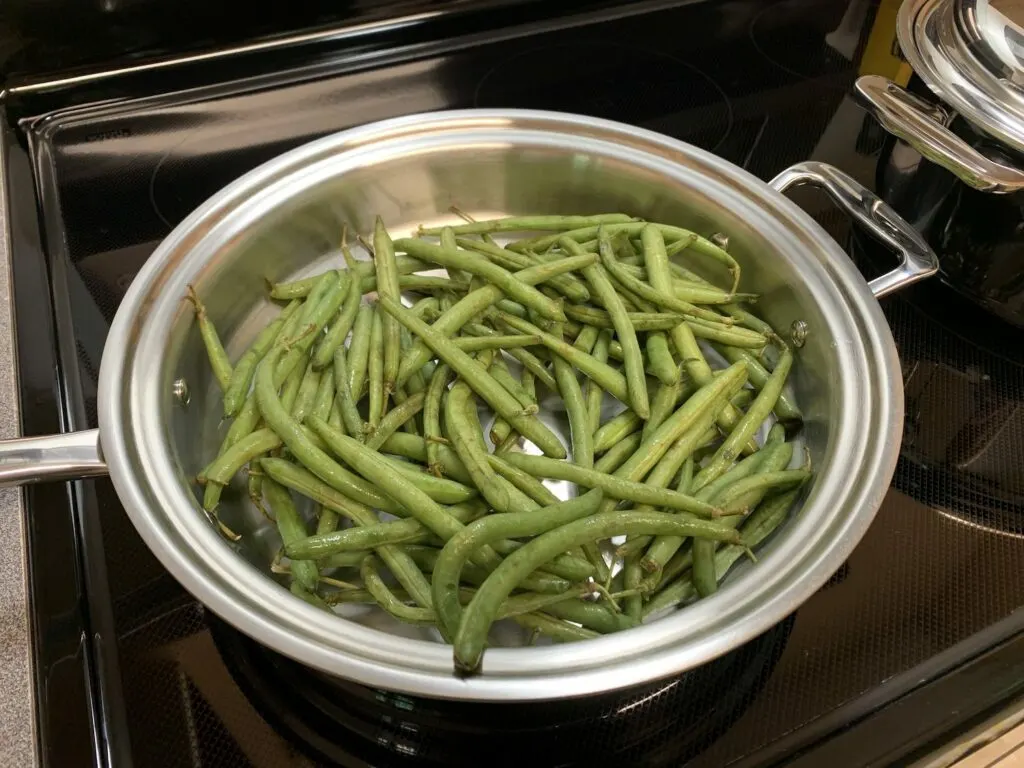 Even Heating
Vapor technology creates even heating for the meals you are making. Which means each bite will be the same temperature and consistency. No need to worry about hot spots on a pan.
No Confusing Buttons, Settings or Scary Depressurization
I like that 360 Cookware uses vapor cooking to prepare foods in a unique way, yet you don't have to worry about technology to do it!
I've tried InstantPot for a different way of cooking foods and didn't like it at all. Quite honestly, the whole pressurization thing freaked me out. And then trying to figure out settings was more hassle than it was worth.
That's not to say that vapor cooking is the same as pressure cooking. It's not. Pressure cooking takes less time.
But I feel like I can cook in a shorter amount of time compared to traditional cooking methods, in a way that uses less oil and water, and not have to worry about lots of gadgets and settings.
Related Posts:
Uses Less Water
If you are facing water restrictions or a water shortage, you will be happy to know you can cook all of your favorite items with limited water supplies.
The Vapor Technology of 360 Cookware releases water naturally occurring in foods and has it recirculate in the pots. Which means you don't need to fill a pot with lots of water to boil vegetables or steam vegetables. You just need a quick rinse of water for the produce and you are ready to cook.
You can actually hard boil eggs without boiling them in a 360 Cookware pot. It's amazing, but true!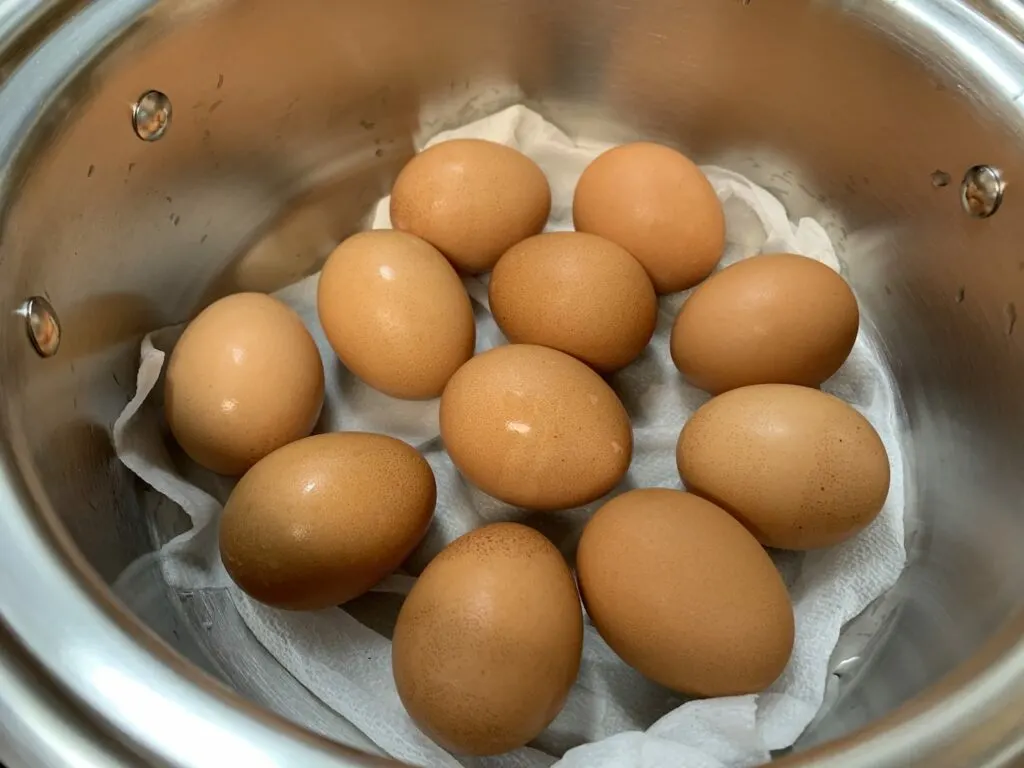 I didn't actually perfect the hard boiled eggs recipe yet (I think my pot is too big), but I did manage to get them to poach quite nicely using Vapor Cooking.
Don't Need An Oven
Many recipes can be adapted to use with vapor cooking technology. Which means you can make cakes and baked goods on the stovetop.
This is perfect if you are in an apartment or tiny home without an oven. Or if you are RVing and don't have an oven.
Save Space
If you love having a slow cooker but hate how much room they take up, then you'll love 360 Cookware Slow Cookers.
The pans can be used on the stovetop as well as on their slow cooker base. Which means you don't need separate stock pots and a slow cooker.
Made in the USA
If you are looking for American made pots and pans, this is the company to choose. Their products are made in Wisconsin. Actually manufactured in the USA!
Lifetime Warranty
While a lot of companies might promise warranties, the 360 Cookware Lifetime Warranty really goes above and beyond.
According to the company, "This is the last cookware you'll ever have to buy." They stand behind their promise.
As part of their Lifetime Warranty:
If your 360 Cookware is damaged or destroyed by fire, abuse, accident, theft, or natural disaster, all original purchases may be replaced at 50% of the retail price at the time of replacement. A police/fire report, or a letter explaining the accident, must be submitted.
Heirloom Quality Pots and Pans
If you're tired of throwing out pots and pans that have coatings that chip off or are made of cheap materials that don't last long, then you want items that are intended to last for decades.
Are you going to pay more for heirloom cookware that will last for generations? Yes, you are. But they are investment pieces that can be passed down for years on end.
Imagine being able to pass down the cookie sheet you make chocolate chip cookies on with your granddaughter? Or you lasagna pan that makes your son's favorite birthday dish every year?
When items are meant to last, they might cost a little more upfront. However, they generally end up costing less over time because you don't have to replace them as frequently.
Heirs to the cookware just have to provide a copy of the original purchase to continue to get the Lifetime Warranty.
These would be great gifts for a minimalist or zero-waste gifts! The cookware wouldn't have to be replaced!
Get 25% off anything from 360 Cookware! Use my referral link + Code getgreenbewell20
Every Size Imaginable
I had a very hard time narrowing down which pots and pans to choose from 360 Cookware. And you will, too. From cooking sets to individual bakeware pieces or fry pans in every size, there's something for everyone.
Energy Savings
The efficient pots, pans and bakeware use a lower heat setting, usually Medium. By not needing a higher heating setting, you'll be saving some money on energy costs.
Non-Toxic Induction Compatible Cookware
Yep, 360 Cookware can be used with induction cooking. The aluminum core, surrounded by stainless steel, can be used with induction cooktops.
Oven Safe
If you want to use your cookware in the oven, it's safe up to 500 degrees Fahrenheit.
Stainless Steel Lids
The specially designed domed stainless steel lids are what helps keep water vapor circulating in the pot for vapor cooking.
It's also nice to have a metal lid not made from glass so you don't have to worry about breaking it.
Eco-Friendly Manufacturing
Zero EPA Permits were required to build the Green Manufacturing facility in 2004 in West Bend, Wisconsin. That's a big deal!
Workers are treated to healthier working conditions, with natural light coming into the facility through floor to ceiling windows, and no volatile organic compounds (VOC's) used.
The facility is an EPA Green Power Partner from using 100% wind energy. Reverse osmosis is used to filter water discharge and reduce consumption, along with a closed-loop internal air filtering process.
Drawbacks
Not everything is perfect. And there are a few things about 360 Cookware that caused some frustration.
The cookware is thicker and heavier than some other products. I don't find that it's too heavy (not like cast iron!). But if you have a hard time picking up lightweight pots and pans, then this brand isn't for you.
Adjusting recipes to vapor cooking takes some getting used to. But then again, you'd have trial and error with adjusting recipes for any new type of cooking.
Yes, the cost is higher than many brands. However, you are getting high quality cookware made from non-toxic materials crafted in the USA. (Keep in mind you can save 25% by using my coupon code getgreenbewell20)