If you are looking for non toxic rugs, you will be thrilled to know that there are so many to choose from! With so many colors, patterns, and sizes, it's easy to choose chemical free rugs for your home.
Rugs are notorious for off gassing chemicals used in their manufacturing. These brands use only natural, non-toxic materials for low or no-VOC exposure.
Please keep in mind that choosing a rug because it is eco-friendly or ethical does not make it non-toxic. While many eco-friendly rugs are made with materials that are better for both you and the environment, a variety of available options just recycle potentially problematic materials.
For a cheat sheet of what to avoid in conventional area rugs, see our list down below. But if you already know that you are ready to buy (or browse) non toxic area rugs, check out these brands that I recommend.
I've included when samples of these natural rugs are available, as well as how much they cost.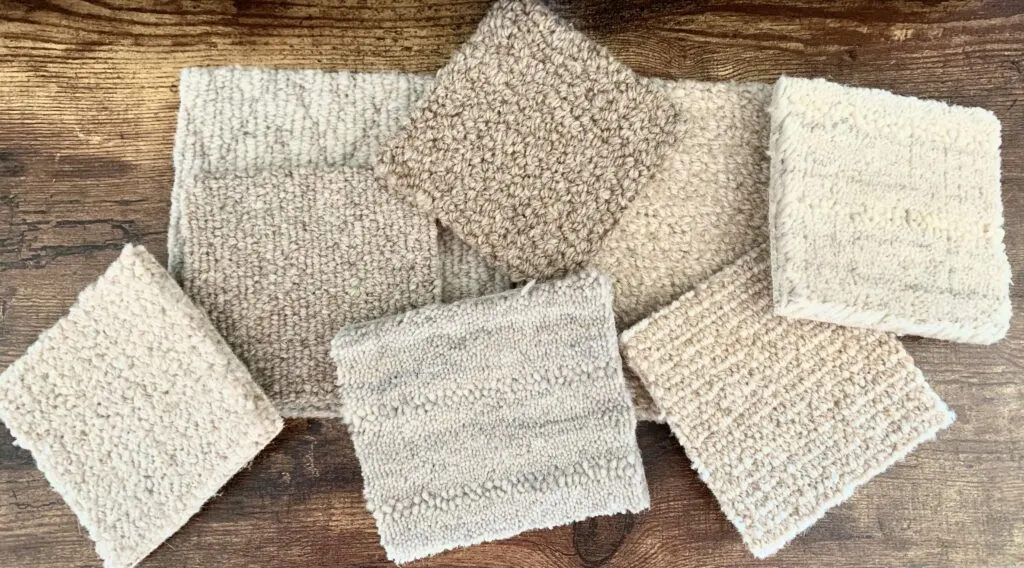 Here are some quick shopping guides to help you narrow down your choices:
Organic Non Toxic Rugs: Hook and Loom, Rawganique, Under the Nile, Willaby
Washable Rugs: Under the Nile, Rawganique, Lorena Canals, Hook and Loom, Willaby
Non Toxic Rugs for Babies and Kids: Under the Nile, Lorena Canals, Hook and Loom, Willaby
LOOMY
LOOMY rugs are made sustainably, ethically and with natural materials that will biodegrade for a closed-loop cycle (which means no landfill waste).
I love the patterns and colors of LOOMY rugs, which are made with low-impact dyes and no harmful chemicals. These are stylish designer rugs with personality.
There are collections of rugs, including:
Natural materials
Plant-based rugs
Pet Friendly Rugs
Vegan rugs
Upcycled rugs
It's easy to decide which rug you like best with LOOMY's Home Swatch Box. Try out three carpet samples in your home to make sure you love the color and style.
Lorena Canals
Lorena Canals is one of my favorite natural rugs because of their patterns and colors. This brand is one of the best for kids!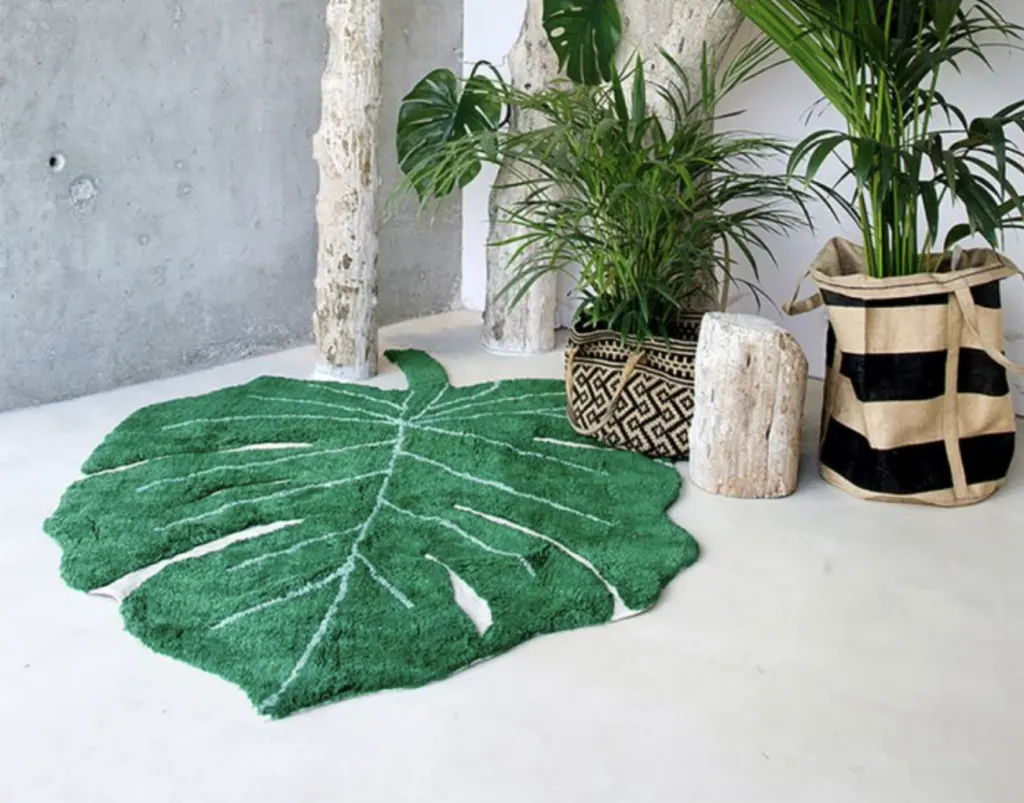 Their machine washable rugs are great for babies, kids and pets. Or if you need to wash rugs frequently to eliminate dust mites. There are washable wool rugs and washable carpet rugs.
These naturally dyed rugs come in a variety of shapes and sizes. This is the only brand I know of with shapes such a rocket ships, clouds, hearts and plant leaves.
Happily, you can buy Lorena Canals rugs on Amazon.
Every rug is woven by hand and is 100% natural.
Hook and Loom
Hook and Loom is very transparent with all of their materials used. If you have a question, they are happy to answer all the details. Their 30-day return policy makes it easy to try their rugs and decide if you like them.
For their wool rugs, undyed wool that has been untreated with any chemicals is used. So you don't have to worry about moth-proofing chemical finishes. There are a variety of natural color wool rugs to choose from, more than you would think is possible!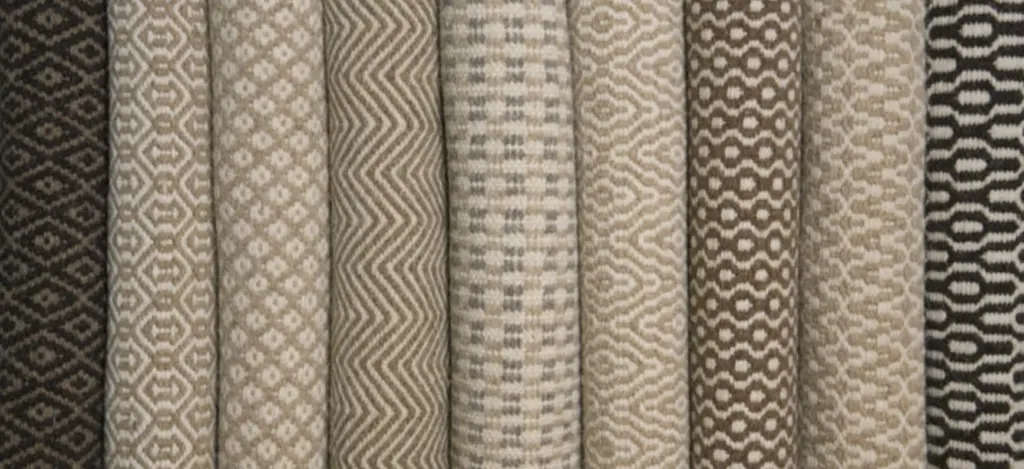 Their cotton rugs are made with colored yarns from recycled textile fibers. No additional dyes are used.
No pesticides, flame retardants, repellants, or detergents are used. The rugs do not have backings, as latex is not used. They do offer a non-skid natural rubber rug pad to use with their rugs.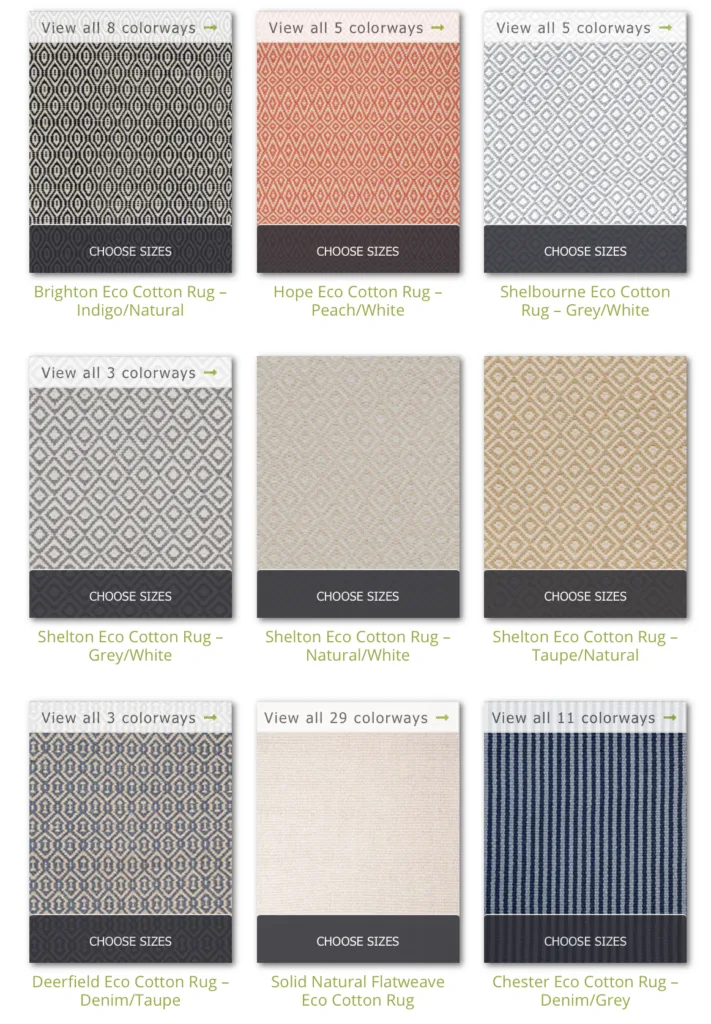 The Playroom Organics collection offers the softest and safest rugs for kids and babies to play on. These non-toxic rugs are 100% GOTS Certified Organic Cotton.
Samples are available for $5.
The Flatweave Eco Cotton Rugs can be washed in a washing machine.
Earth Weave
Earth Weave makes 100% natural fiber area rugs that are Made in the USA in Georgia. They are truly eco-friendly by being completely biodegradable.
Their rugs use either raw natural colored wool or organic dyes. Their wool rugs have no stain or fire retardants or mothproofing chemicals. No synthetic dyes are used, either.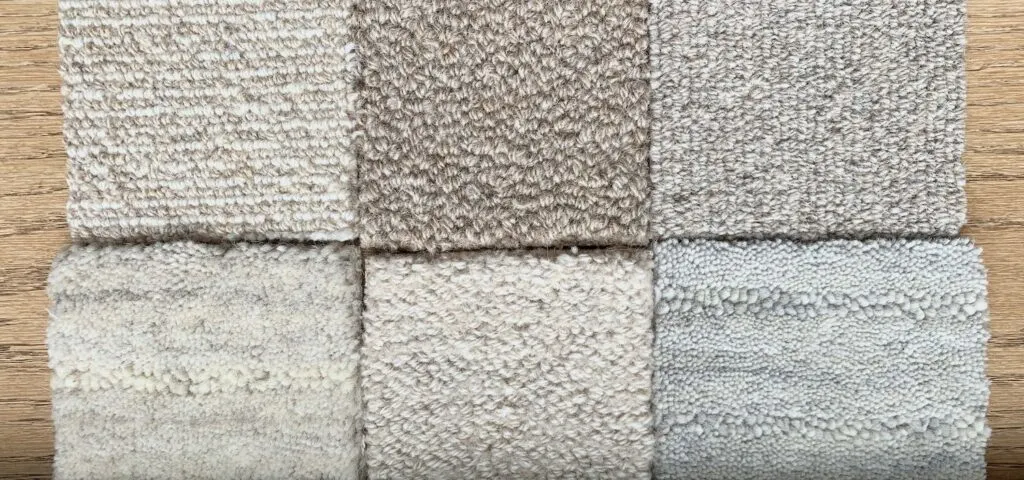 Earth Weave rugs are made of pure wool fibers, with two backings made from hemp, cotton and jute. A non-toxic, natural rubber adhesive is used.
These area rugs are smaller versions of their wall-to-wall carpet, which means that you can make custom sizes. You will need to order through a dealer (rather than directly through the company).
Carpet samples are available through the following online eco-friendly design centers:
Rawganique
Rawganique has toxic free rugs made from hemp and cotton.
All of their rugs are 100% natural, organic, sustainable and biodegradable. A variety of colors is available.
No chemicals are used in Rawganique rugs. Which means they have no formaldehyde, bleach, dyes, heavy metals, PVC, PFAS or dioxin.
Under the Nile
Known for its organic cotton items for babies and kids, Under the Nile is using its clothing fabric scraps to weave washable organic cotton rugs.
The hand-loomed rugs are perfect for kids and babies to crawl on. The 4′ X 6′ area rugs are made in a variety of colors, so they are great for adults in any room of the house, too.
No flame retardants, chemical finishing, or bleach is used on the fabric. No fragrance, azo dyes or formaldehyde are used on their fibers. Only low-impact, metal-free dyes are used for coloring.
Willaby
Willaby is the perfect place to buy non-toxic nursery rugs in soft pastel colors (and matching baby accessories and toys).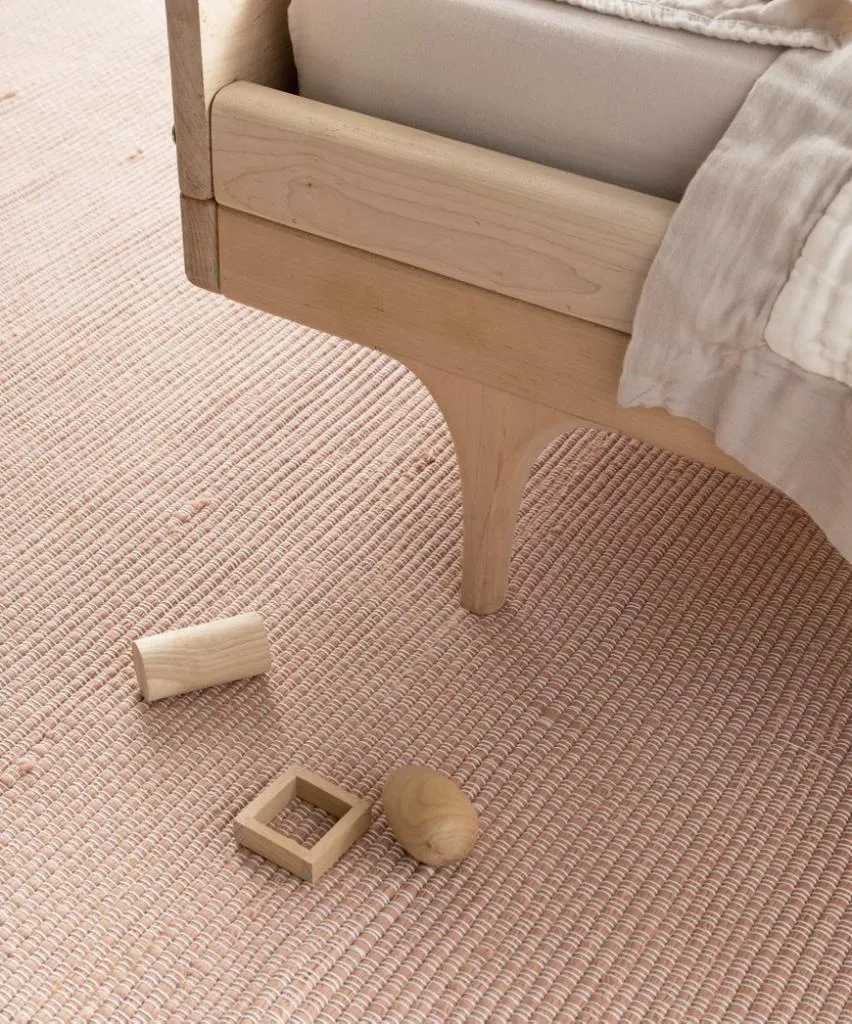 These completely 100% GOTS-certified organic cotton gauze rugs are machine washable. Made by hand by Amish weavers in Ohio, no electricity is used in the production of these beautiful rugs and there is no waste of materials.
The organic cotton gauze used has no azo dyes, flame retardants, formaldehyde or chemicals. Non-toxic dyes are used.
Rug swatch samples are $2.
Safavieh
There are a lot of carpets made by Safavieh, which is available on Amazon.
There are some safe, non-toxic options that are a great price point. Choose their natural material rugs such as jute, cotton and sisal.
Many of their natural fiber rugs do have backings, so be sure to get one without a backing, such as this 5′ X 8′ jute area rug (which I've seen for less than $150).
Nature's Carpet
Now available in some area rug sizes, Nature's Carpet uses 100% undyed wool from New Zealand and Europe.
No moth-proofing chemicals are used. There are no dyes used. The colors come from variations in the wool.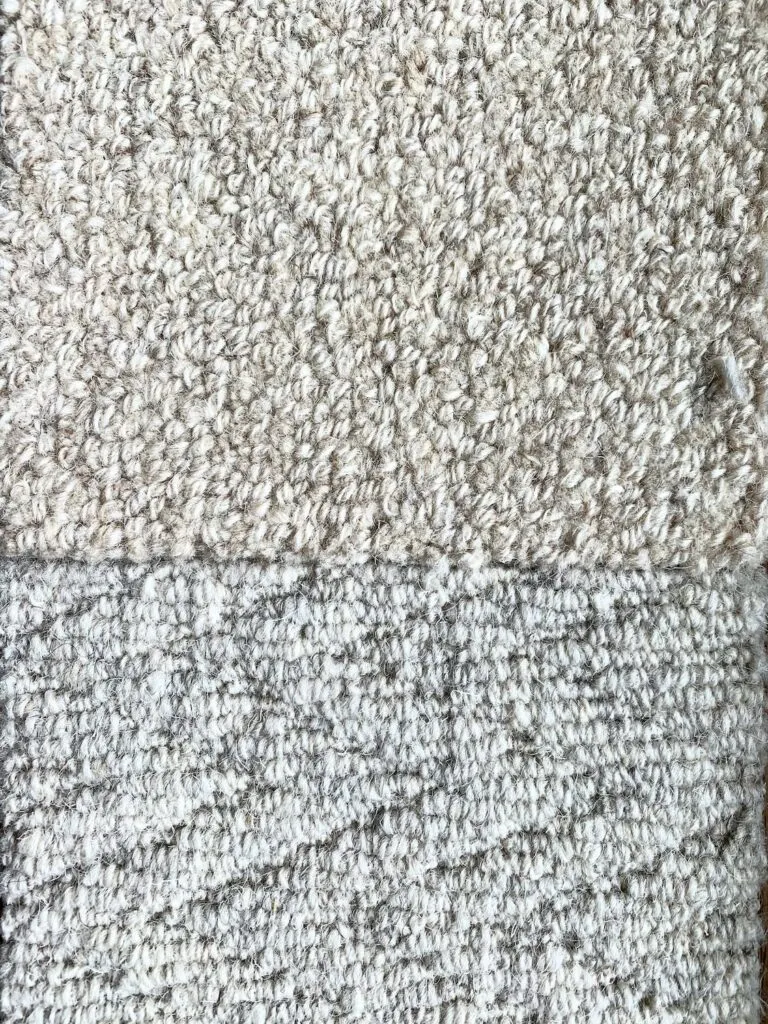 Natural jute backing and a natural rubber adhesive are used.
Made in Australia, these carpets can be bought online in America through Organic and Healthy (free samples); The Green Design Center ($3.50 samples) or Green Building Supply ($6.95 samples).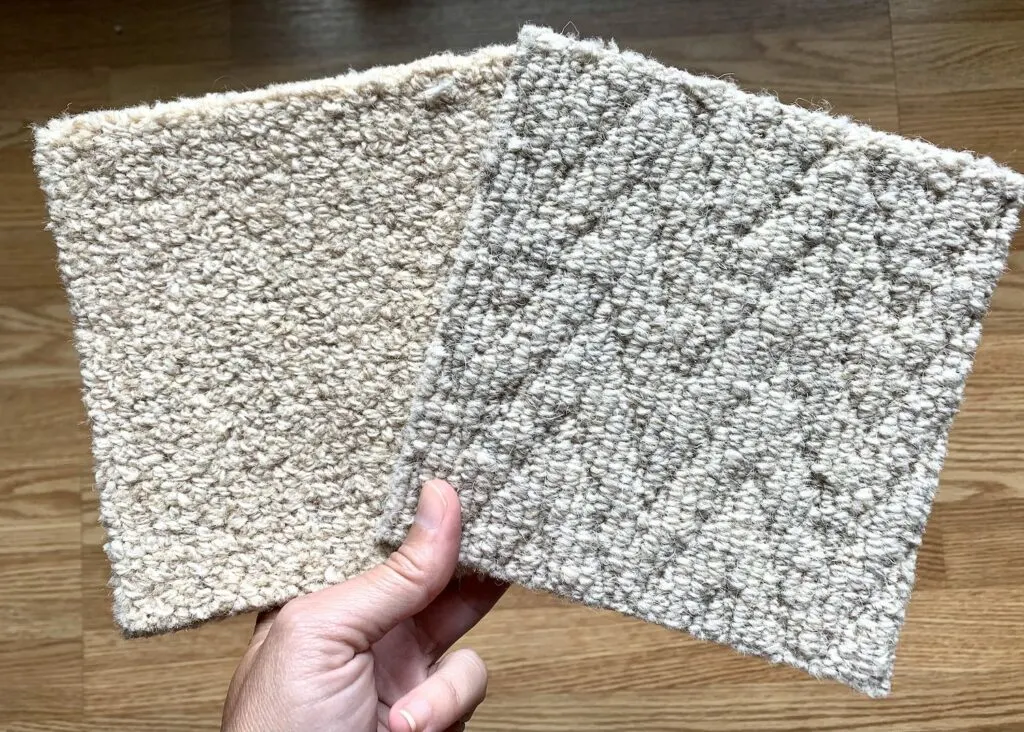 Cali Bamboo
Cali Bamboo has been well known for its bamboo and cork flooring and other green building supplies. They have recently started their Tapestri line of area rugs.
The rugs are made from eco-friendly materials such as jute, wool, bamboo and upcycled denim and cotton. For those worried about synthetic dyes, keep in mind that most denim is chemically treated and you might want to choose another rug material.
Loloi Rugs
These rugs use either wool or wool and jute combinations of fibers. No adhesives are used. Coloring is derived from vegetable dyes.
Find Loloi Rugs through Urban Natural Home, which sells the brand to consumers.
Rug samples are available ($4), and you can book an appointment in their Bloomfield, New Jersey showroom to see products.
Design Materials, Inc. (DMI)
Rugs made from jute, seagrass, sisal or coir are completely biodegradable, created from natural and renewable resources.
DMI specializes in these types of rugs made with woven natural plant fibers. These area rugs have no dyes, chemical treatments or pesticides.
You can order their rugs through The Green Design Center. Samples are available for $3.50.
Organic Weave
The price point of Organic Weave is probably out of the realm of many readers (their samples cost as much as some full size rugs from the other companies on this list). But they do have a serious commitment to sustainability.
In fact, Organic Weave is a GOTS Certified organic rug company that is GoodWeave certified, an international organization to end child labor in the textile industry; and uses GOTS approved non toxic synthetic latex.
All natural dyes are used in their wool or cotton rugs. No flame retardants or moth treatments are used. Natural latex is used for wool rug backing.
EcoFiber Custom Rugs
This company uses only plant-based dyes, such as flowers, roots and tree bark, to vibrantly color their floor coverings.
Only organic fibers such as wool, silk, hemp, nettle and cactus are used. Artisans then spin and weave the fibers using traditional methods by hand, without the use of electricity.
EcoFiber is a member of Goodweave and the Sustainable Furnishings Council. To order, you need to work with a designer.
Merida
Merida rugs are made in America in Fall River, Massachusetts using heirloom looms and machines.
Only plant and animal fibers that can grow in less than 5 years are used in their rugs. No synthetic or oil-based fibers are used in their products. Wool is sourced from New Zealand or Great Britain where they have strict and enforced regulations regarding animal treatment
Non-toxic dyes and backing are used for the colorful and classic rugs. Each rug is custom made, so it is easy to customize sizes.
These area rugs are available by contacting Merida and setting up a consultation, along with sample requests.
What About IKEA, Pottery Barn or Amazon?
Finding non-toxic rugs takes a little bit of effort, which is why it is nice to recommend brands so that you can order a rug with confidence.
There are a lot of questions to ask a company about their rugs, and everyone's tolerance of chemicals is different, regardless of whether you are chemically sensitive or just trying to be mindful of what you bring into your home.
Natural area rugs that are budget friendly can be found at larger stores such as IKEA, Pottery Barn, West Elm or Amazon. You just need to be very mindful of the materials used in each type of rug, and what chemicals you are personally trying to avoid.
IKEA natural fiber rugs are great choices, especially since the company has made such a commitment to eliminating harmful materials in their products. (You might want to buy in-store, though, rather than online. Here's why.)
I personally bought my wool rug for my living room from Pottery Barn. I was able to ask a variety of questions from their customer service department about chemicals used and possible moth-proofing pesticides that could have been applied.
Thickness of the rug was very important to me. I didn't want a thin rug, which I found with so many of the zero VOC rugs I was looking at. I am very happy with my wool area rug, which I was able to save money on using a Pottery Barn sale.
What to Avoid in Area Rugs
Rugs can have a lot of hidden chemicals and problems that you might not realize before bringing them into your home. When shopping for chemical free area rugs, keep these tips in mind:
Avoid synthetic materials such as polypropylene and nylon, which are made of plastics.
Natural materials, such as cotton and wool, can be treated with chemicals, such as toxic dyes, flame retardants or pesticides. Make sure that the natural fibers are untreated.
The backing used in area rugs so that they do not slip can often be synthetic rubber. Look for rugs with no backing or only using natural materials as backing.
Many colors are made with toxic dyes that could contain heavy metals. Dyed wool rugs must be treated with especially harsh chemicals to absorb colors. Of particular concern are AZO dyes, which could be potential carcinogens. Choose companies that use non-toxic dyes or vegetable-sourced colorings.
Glues and adhesives used in the backings are often made with formaldehyde and other chemicals. Natural latex is a safer adhesive in rugs.
Pesticides and fungicides are commonly used in fibers for rugs. Especially chemicals for moth-proofing wool.
Flame retardant chemicals are another source of exposure in traditional area rugs. While wool is naturally fire resistant, plastic fibers generally need to be coated with a fire retardant to make them safer.
Stain resistant and water repellant coatings are made from chemicals such as PFCs. Avoid these coatings.
For the chemically sensitive, many conventional rugs can cause problems because of the off gassing smell. However, lack of any bad smell does not make a rug non-toxic.
If you are only doing a sniff-test to see if you can tolerate a rug in your home, you could be unintentionally exposing yourself to other chemicals that are off-gassing with no odor.
Choosing a low VOC rug is similar to choosing low VOC flooring. Here is my shopping guide for non-toxic flooring.