It's ironic, right? You put clothes and towels and sheets into a washing machine to get CLEAN. But what happens if you're washing machine is the reason your stuff is coming out DIRTY? It's a real problem – and one that's not visible to the naked eye. That's why you need to know how to clean your washing machine.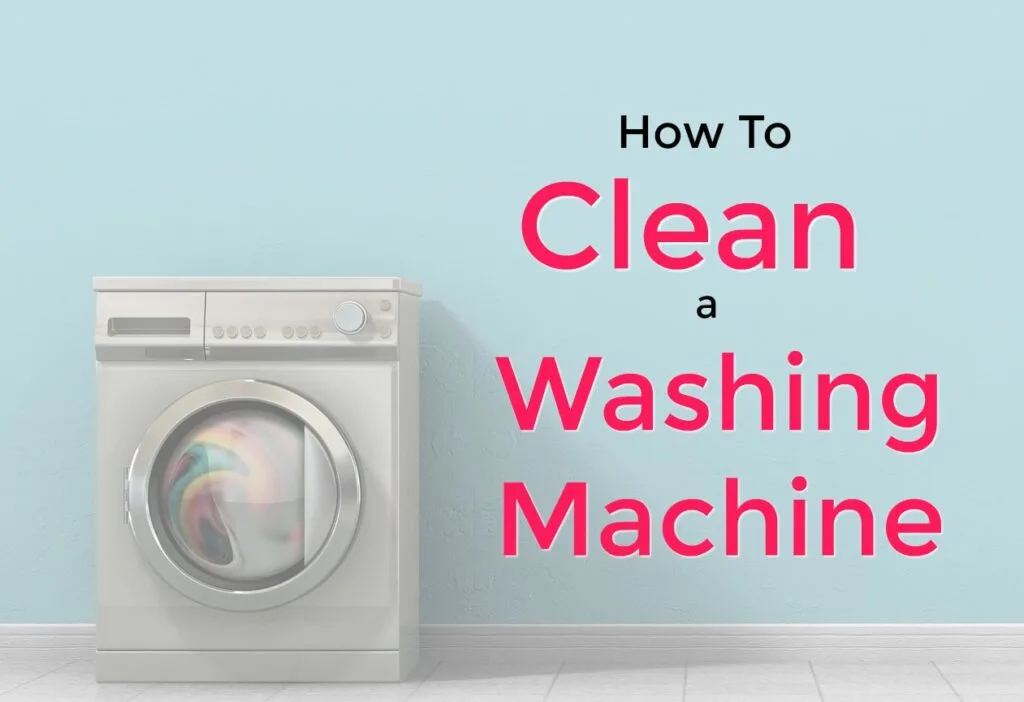 Do Washing Machines Get Dirty?
Yes!
We ask a lot from this appliance. We put in:
dirty washcloths
hand towels full of grime
underwear
sweaty socks
cloth diapers
pet bedding
gym clothes
and more yucky stuff
Yet, somehow, we expect a washing machine to never get dirty. Doesn't make sense, right?
While it seems logical that a washing machine that cleans clothes should be able to wash itself, it just might not happen.
Charles Gerba, a professor of microbiology at the University of Arizona, said in an ABC News interview that a load of underwear will deposit 100 million E. Coli in the wash water of a washing machine.
That's because the average pair of underwear has a tenth of a gram of poop, according to Gerba.
Kind of grosses you out, right?
How to Tell If Your Washing Machine is Dirty
It's time to pamper your washing machine if:
The washing machine smells bad
Your clothing or towels smell moldy
You never use extremely hot water (140-150 degrees)
Debris could possibly be clogging up in the washing machine
You have hard water and hard water deposits
You've been doing some REALLY nasty laundry (think baby diapers, nasty pet bedding, etc.)
How to Clean Your Washing Machine
The good news is that it is super easy, cheap and effective to clean your washing machine.
7 steps to clean your washing machine
1. Fill your washing machine with just water – no clothes or towels. Put your washing machine on the biggest load possible, at the hottest water possible, for the longest time possible. This makes sure that you are cleaning all parts of your washing machine for as long as possible.
2. Choose either white distilled vinegar* or hydrogen peroxide bleach to clean with. Vinegar works great. (Confused about what vinegar to use? These helpful hints will help you choose what kind of vinegar to clean with.) If you prefer bleach, a hydrogen peroxide bleach is a more natural cleaner than bleach made with chlorine, yet works just as well.
*You can add 1/2 cup baking soda with the vinegar if you'd like for extra cleaning power.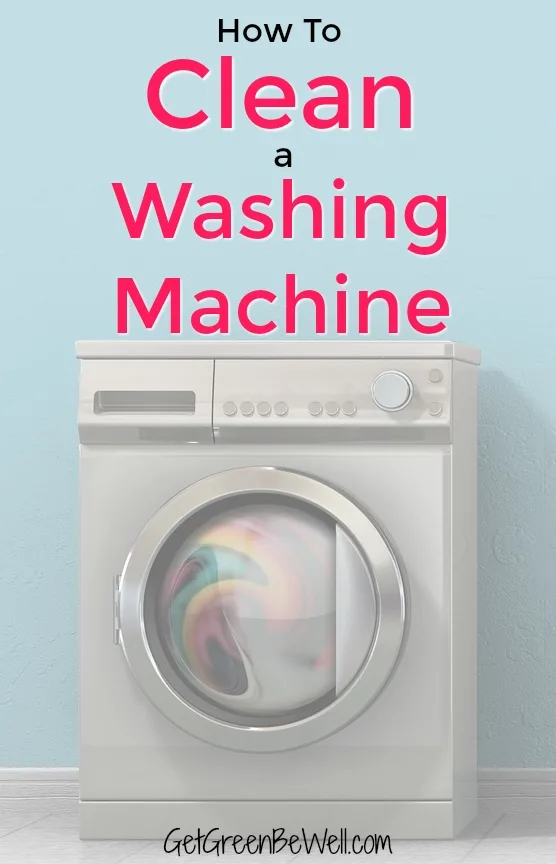 3. Add 4 cups of either vinegar or bleach into the water as the washing machine tub is filling. This doesn't have to be an exact amount, you just want plenty in there to clean the washing machine tub. So don't stress about measuring precisely.
4. After the washing machine tub is filled, let it agitate for one minute, then pause the wash cycle. What you want is for the hot water and either vinegar or bleach to sit in the washing machine for a while. This will slowly kills the bacteria and germs, and the hot water will have a chance to loosen sediment.
5. After about an hour (there's no need to wait any longer if the water has cooled), start the wash cycle again. Let it go through the entire normal wash cycle.
6. Wipe down the inside of the washing machine after the first load is done. Using an old microfiber cloth or disposable sponge, wipe the washing machine drum. Wipe down the agitator, making sure to get all parts. Wipe the door, the rim of the wash drum etc. If there are removable parts, such as a fabric softener cup, remove them and wipe them down. Wipe down the dirt and soap residue that can build up underneath the lid. Any dirt or debris that you can see to easily wipe away, do it!
(An old toothbrush can help with this process. So can cotton swabs for small areas. I wouldn't use any reusable item that you'll then need to put back in the washing machine to wash. Doesn't make sense, right?)
7. Run another super hot, super big, super long load again. This second load will wash away any remnants of debris from wiping anything down. It's also another step in disinfecting again. Be sure to let this load sit for about an hour, as well, before starting the wash cycle.
Related Posts:
How to Keep Your Washing Machine Clean
Thankfully, cleaning a washing machine is easy. It is also relatively hands-off (compared to having to load a dishwasher or run the vacuum cleaner).
As your first line of defense, keep the washing machine door open after loads. Leave it open until the washing machine has dried out completely. This will help increase air flow and decrease the likelihood of mold and mildew buildup. (If you've got kids or pets that would get inside the open washing machine, though, be sure to prevent them from accessing the machine until you close the lid.)
Don't use more laundry detergent than necessary. (This laundry detergent is my favorite to buy, but I also love making this DIY laundry detergent for sensitive skin.) Extra detergent can lead to the buildup of soap scum.
Use hot water (140 degrees or more) at least once a month.
Periodically wipe down your washing machine after a load of clothing. This can be as simple as using a wet microfiber cloth and wiping down the drum, as well as the agitator, fabric softener cup, door, etc.
Front loading washing machines have been known to develop a smell. My aunt has a front loading washing machine and hates the smell that develops. (I don't have a front loader – just an old-fashioned top loading machine – because front loaders seem to be more problems than they're worth to me.) To prevent the smell, be sure to wipe down the door and the rubber gasket seal after every load.
Some new washing machines have a tub-cleaning cycle. Use it in-between deep cleaning.
Products to Clean Your Washing Machine
Using vinegar and baking soda with hot water is about as easy and as natural as it gets.
Some people like to buy a product for less muss and fuss. I get it. So these are some washing machine cleaners that are as simple as tossing the product in the washing machine. The cleaners I would recommend are Sport Suds, Oh Yuk Washing Machine Cleaner, and PurTru Washing Machine Cleaner.
Another product we recommend is My Green Fills Laundry Machine Cleaner.