I'll admit, my first knowledge of elderflowers came from cocktails made with St. Germain. And while I still love the floral elderberry liquer, I've come to realize all of the amazing benefits of elderflowers (beyond a great cocktail)! What I didn't know was how easy it was to forage elderflowers, dry them and use them for recipes at home.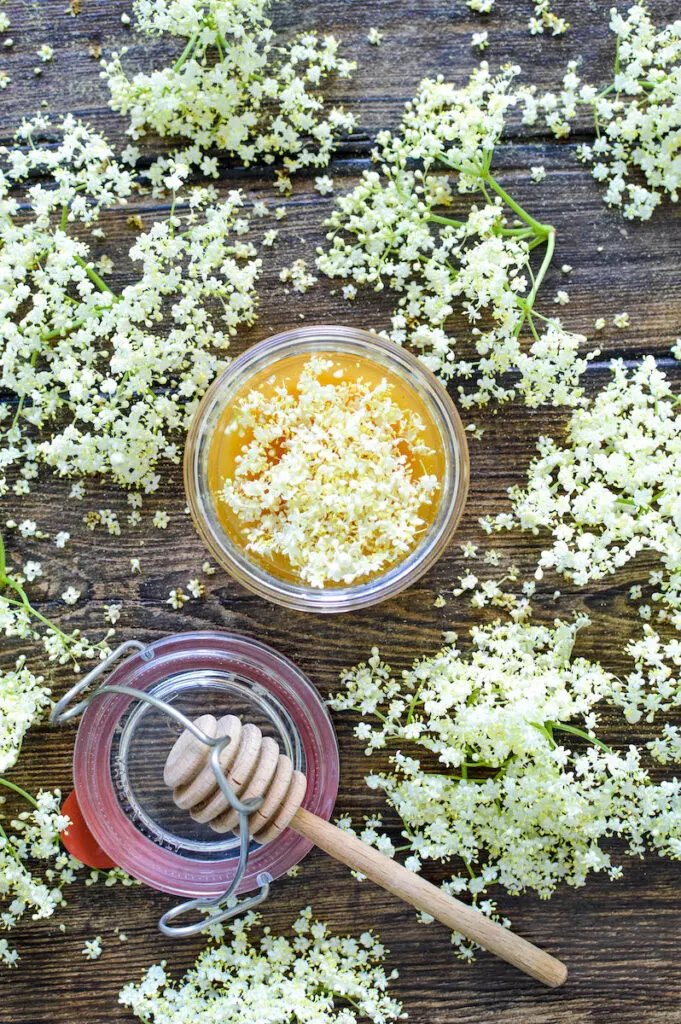 What Are Elderflowers?
Okay, if you're like me, you didn't even realize elderflowers were a thing. Or you believed they looked deep purple (because elderberry syrup is very dark and purple).
But, elderflowers are actually the most delicate, beautiful wildflower that you might not have noticed! The flowers develop before the small, dark berries that are often used in jams, juices and therapeutic liquids. Check out my DIY Elderberry tonic recipe that uses the berries.
Elderflowers have creamy white blooms that are flat, with hundreds of very small, five-petal flowers with long, yellow stamens. The honey-scented flowers can often be found in wild areas and natural habitats. They bloom from May to June.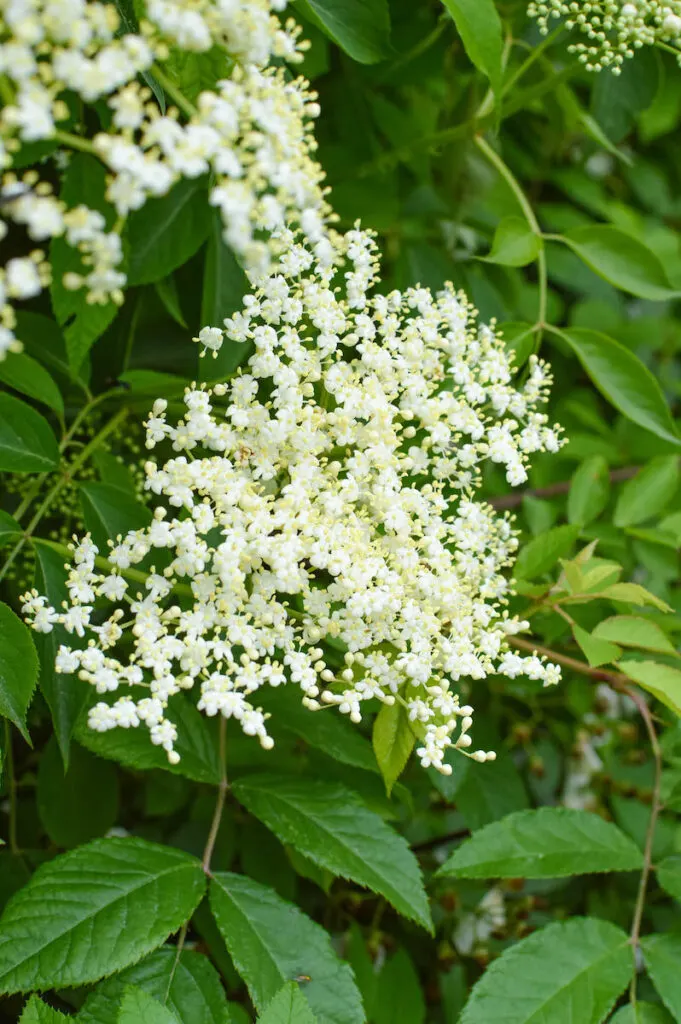 The plant is either a large, bushy shrub or a small tree that can grow up to 18 feet tall.
The flowers scientific name is Sambucus Nigra. Which makes sense why a popular version of elderberry liquid is called Sambucol.
What Do Elderflowers Taste Like?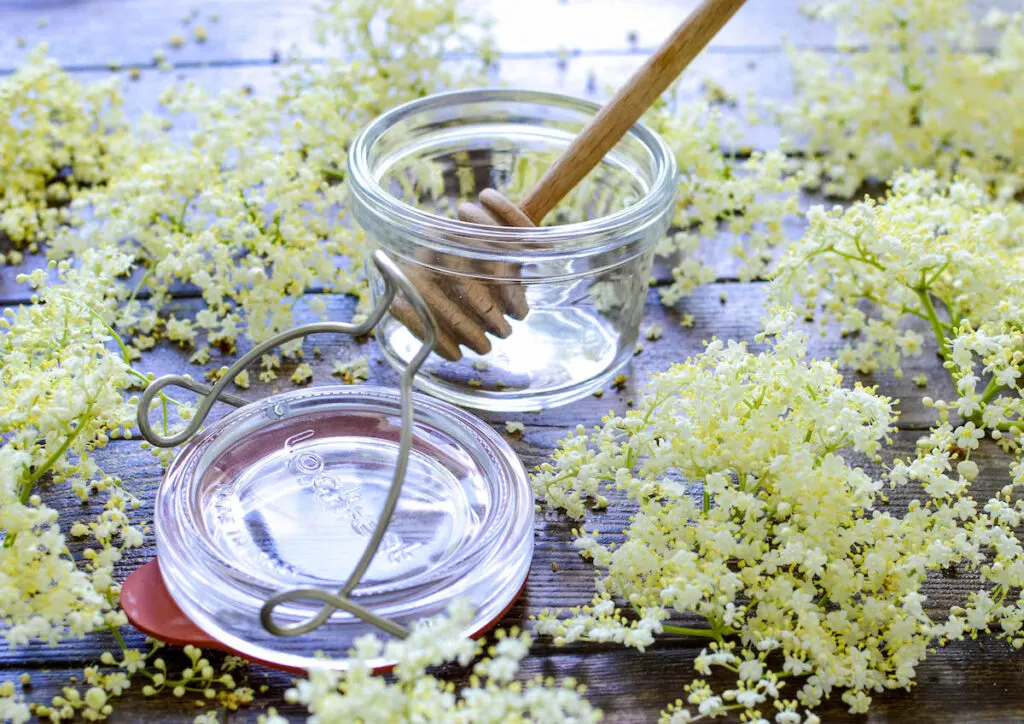 Why would you want to eat these edible flowers? Because their delicate, floral taste makes a variety of foods and drinks taste better – from elderberry liquers (such as St. Germain's) to floral honey (see our easy recipe below).
Elderflower Foraging Tips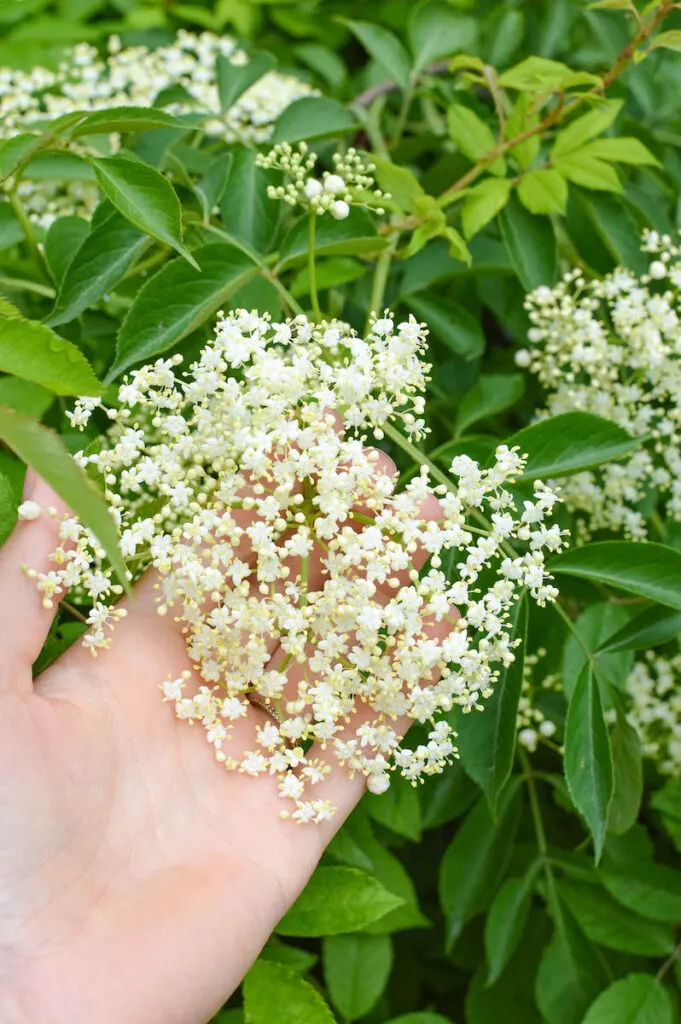 Source shrubs and flowers that are away from main roads and that aren't sprayed with herbicides or pesticides. That keeps the flowers as natural as possible.
Also, don't pick flowers close to the ground. Other animals, such as foxes or dogs, could urinate on the flowers.
Forage early in the morning, before the bees and insects collect the beneficial pollen in the flowers. Cutting flowers early in the morning also keeps them fresher a little longer and doesn't stress the plant as much.
Aim for collecting the flowers when most of the buds have opened. However, if you know there is a big rain coming up, clip them before the rain batters them and they start to break down.
Practice responsible foraging by only taking some of the flower umbels from each plant. And clip close to the flowerhead, without taking too much stalk. After all, you'll likely want to make sure the same exact plants on your property or in the wild are able to also produce the elderberries themselves.
If the elderflowers smell like pee, that means they are past their prime. Don't pick them.
Collect the flowers by gently placing them in a large bag until you bring them home. (Using a mesh bag allows the flowers to naturally start drying, with moisture and dew able to escape through the mesh.)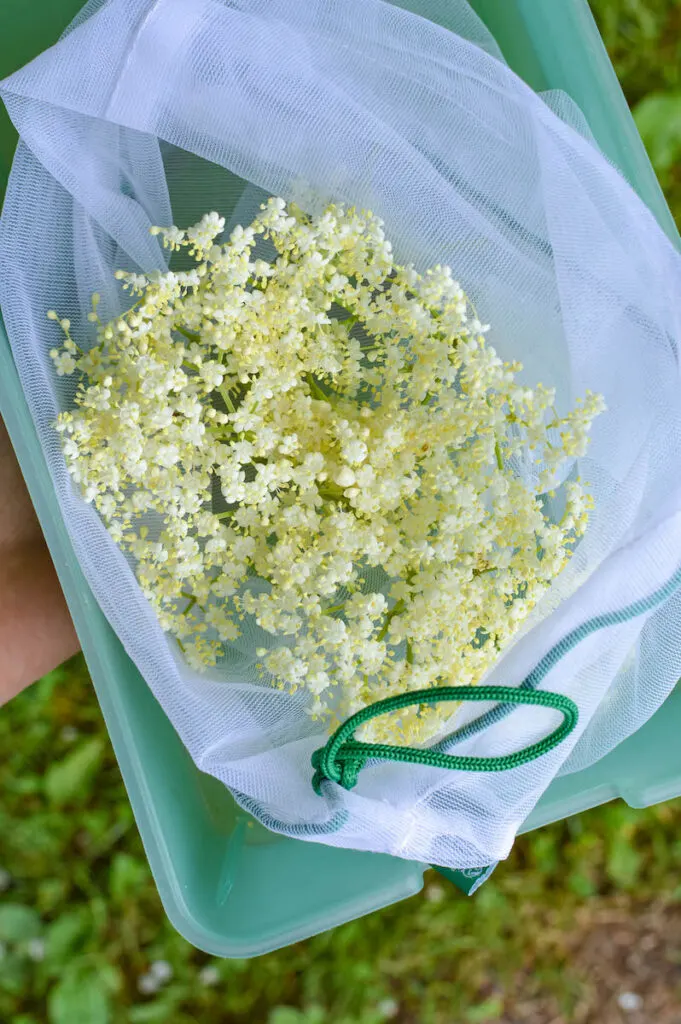 How to Dry Elderflowers
Clip off the long part of the stems as they can slow down the drying process.
We do not rinse or wash the flowers off to help keep as much of the beneficial pollen and natural yeasts on as possible.
Lay the flowers on wire racks over a large baking tray (or use one of these fun flower net dryers) until they are fully dry. At the beginning, the trays are kept outside in the shade for a few hours. This allows time for bugs to fly or crawl away, and then we move them inside to a cool, dry, dark location for them to dry out the rest of the way.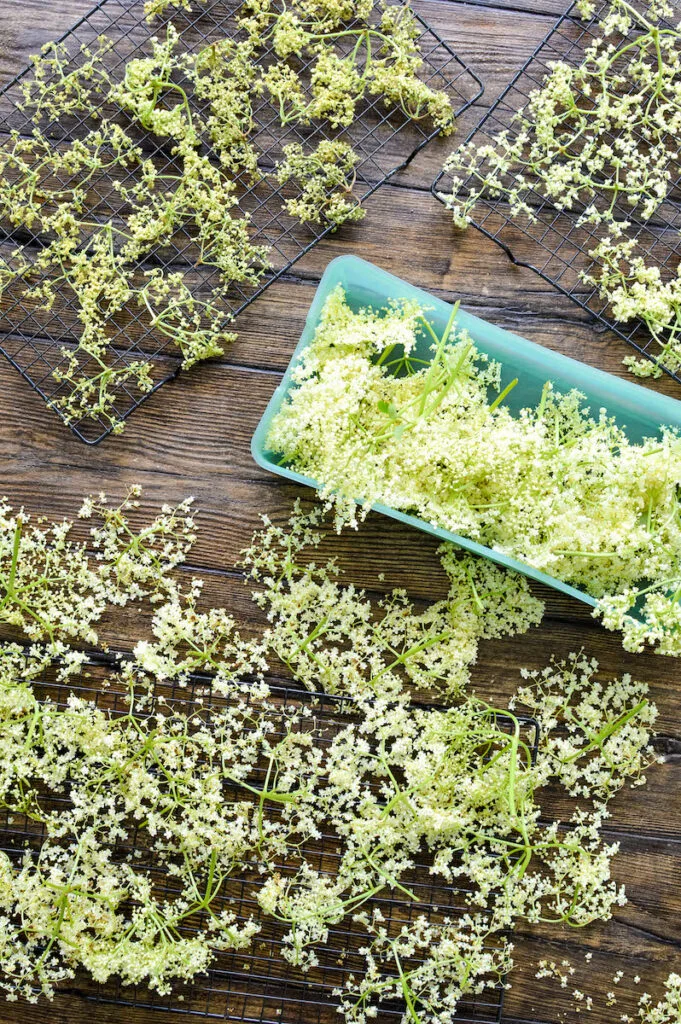 Storing Dried Elderflowers
When fully dry, the flowers will be slightly darker in color and should fall right off the stems when brushed by your fingers.
Be careful to keep as much of the stems out as possible as they can be toxic.
Store the completely dried flowers in an airtight container in the dark or freezer.
How to Make Elderflower Honey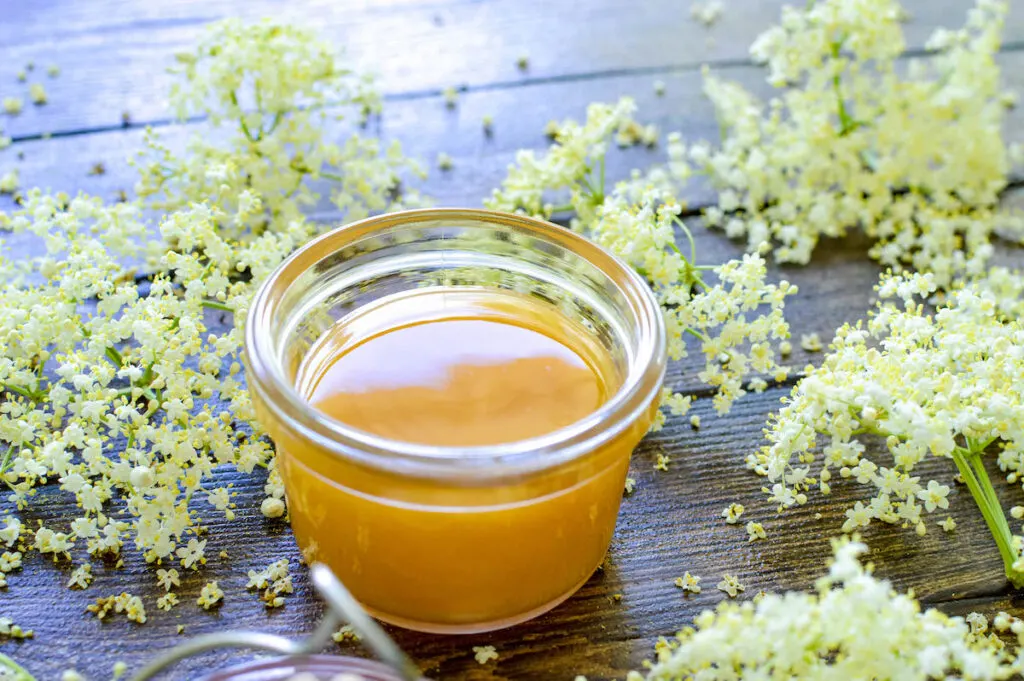 To get the benefits of elderflowers, it's easy to make an elderflower honey. And it's super easy.
Mix roughly ½ cup of raw honey with ¼ cup fresh or dried elder flowers.
Store in a cool, dark place and flip the jar about every day for two weeks so the flowers will move around in the honey (without making a bunch of spoons dirty).
The flowers can be sifted out or left in, as they are edible.
Fresh flower honey will last about 2 weeks on the counter. Dried flower honey will last about 2 months on the counter.
Interested in more foraging ideas? Here's how to harvest and dry yarrow (and why you want it in your natural remedies first aid kit).