Concerned about viruses and germs? Most people are. Which is why hand sanitizer is hard to find on shelves right now. So stop going to multiple stores looking for the cleaner when you can use this DIY hand sanitizer recipe.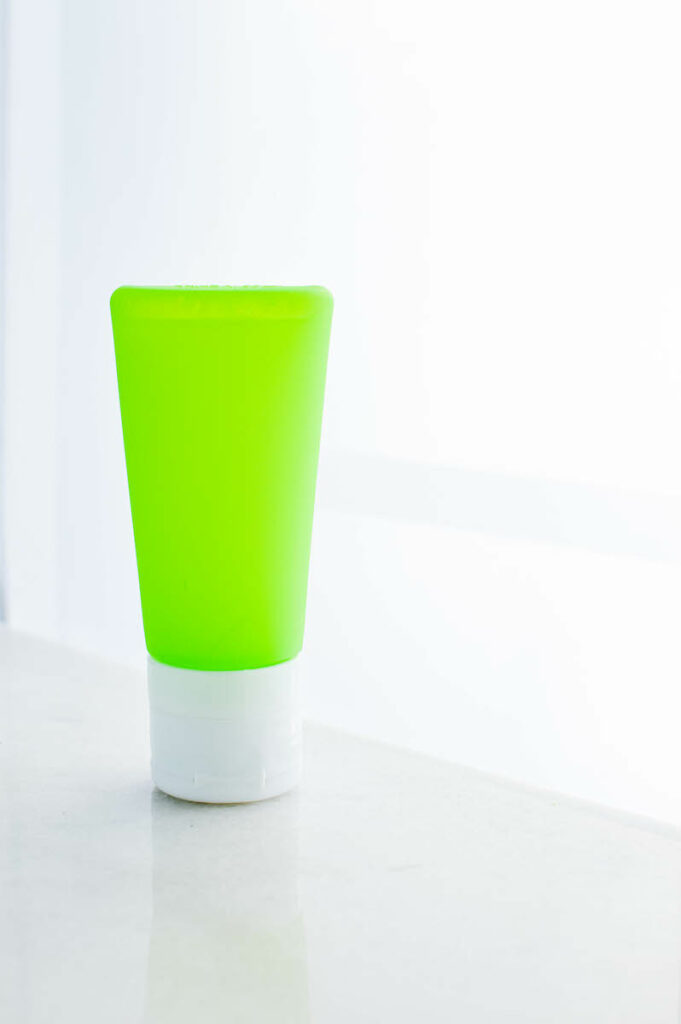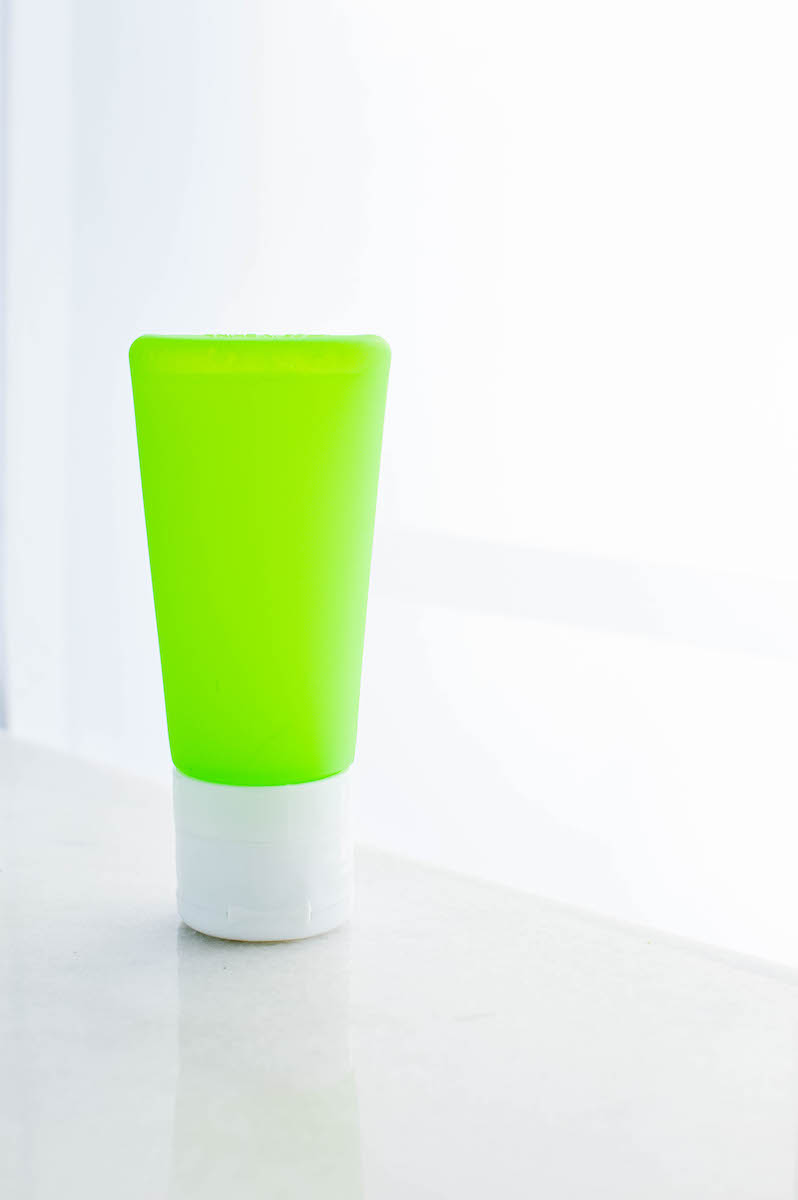 ***Read This! I am not a doctor or medical professional to give medical advice stating that this recipe will kill germs for sure. I have always believed washing your hands is the only way to truly kill viruses. And the CDC agrees. But sometimes life happens and you can't get to soap and water. While this recipe calls for a very strong alcohol of 90% or more, I cannot guarantee that the final preparation will result in 70% alcohol that the CDC recommends. For peace of mind, use a hand sanitizer when needed, but always wash your hands with soap and water when given the option.
Killing Viruses on Your Hands
The Centers for Disease Control (CDC) has always recommended washing your hands with soap and water as the NUMBER ONE way to kill germs. It is always the best option.
But sometimes you aren't near soap and water and you want to disinfect your hands. Like if you're traveling. Or maybe you want an extra layer of protection after washing your hands (isn't necessary, but it could ease your fears).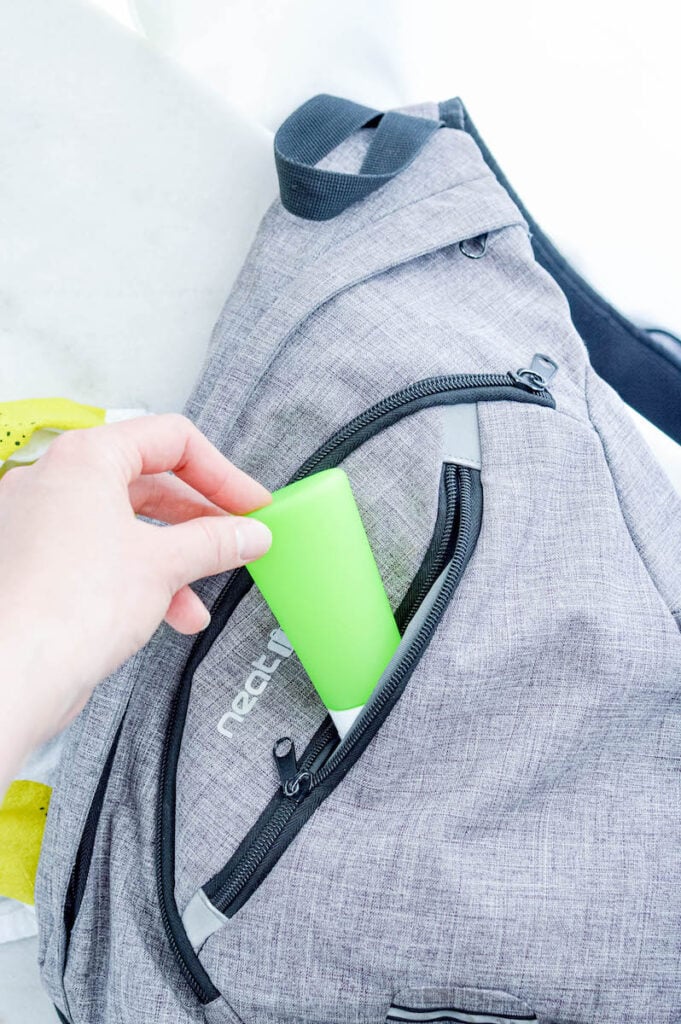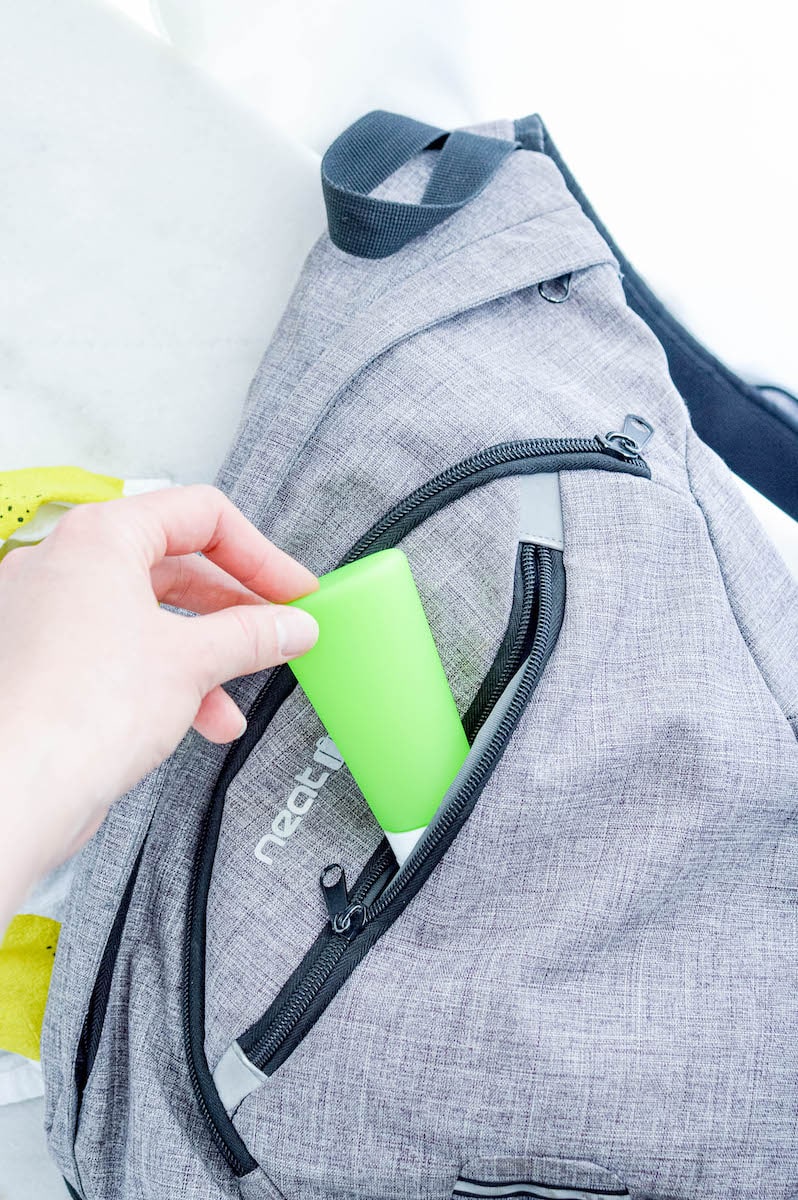 Then you'll want to make your own hand sanitizer using natural ingredients.
Right now, making your own homemade hand sanitizer is probably the only way to get some, unless you already have bottles at home.
Moisturize Your Hands
Using hand sanitizer, which is mostly alcohol, can be very drying to your hands. When your skin is dry, it easily cracks. And then germs and viruses and bacteria can enter.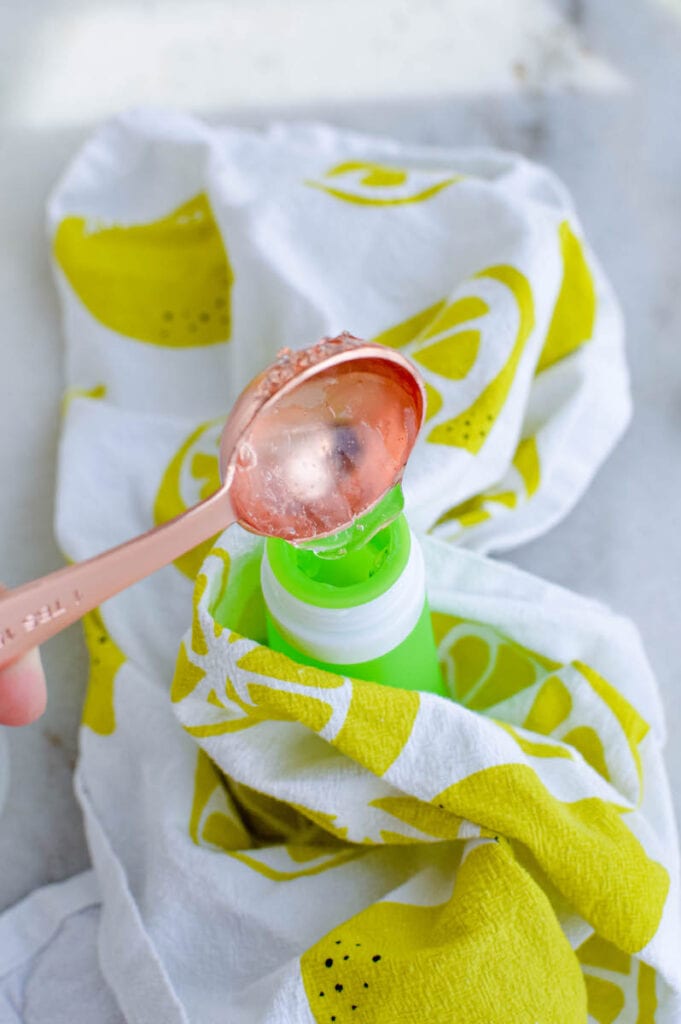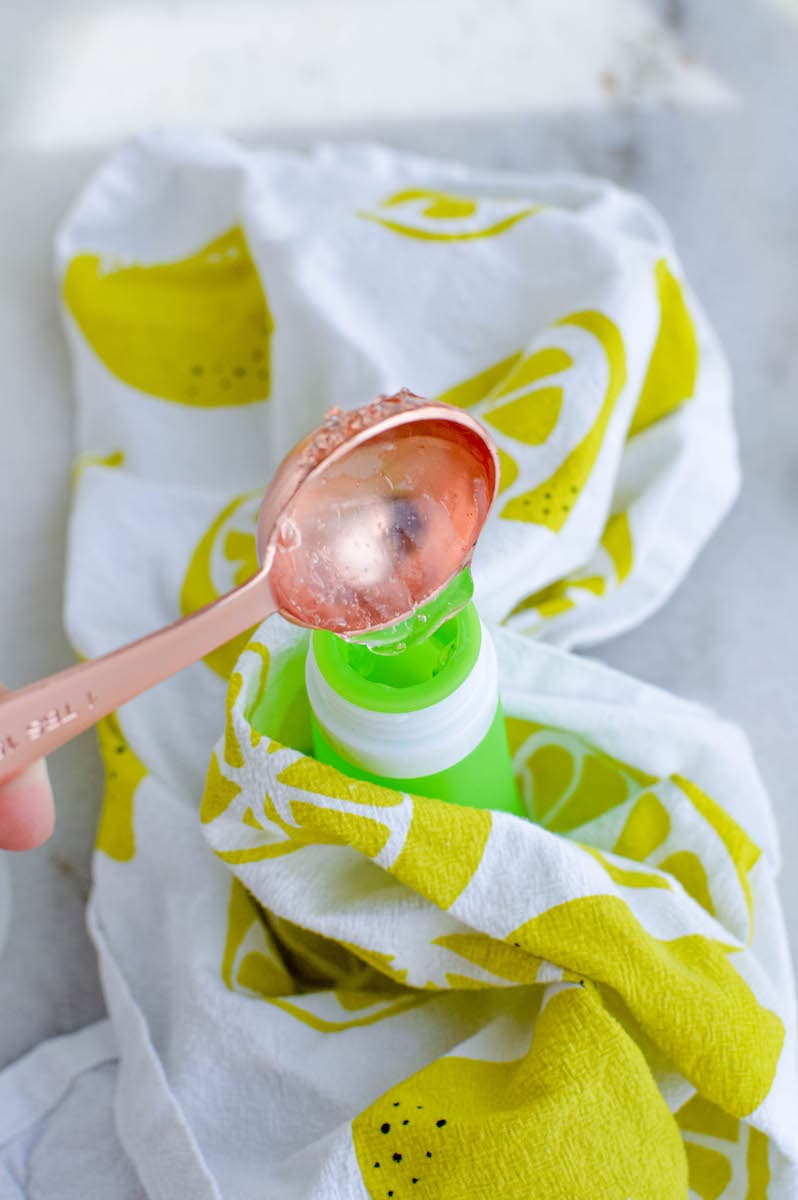 This hand sanitizer uses aloe vera gel, which is moisturizing. However, if you are using the product a lot, you'll want to supplement with an additional moisturizer.
Consider this Wonder Balm with antibacterial and antiseptic properties which will also help to keep problems at bay, while soothing your skin. Or this natural tea tree oil balm which will also soothe your skin and add another layer of defense.
Or use our DIY recipe for a soothing winter skin balm.
Hand Sanitizer Recipe with Alcohol and Essential Oils
This easy and very simple hand sanitizer recipe uses only three ingredients.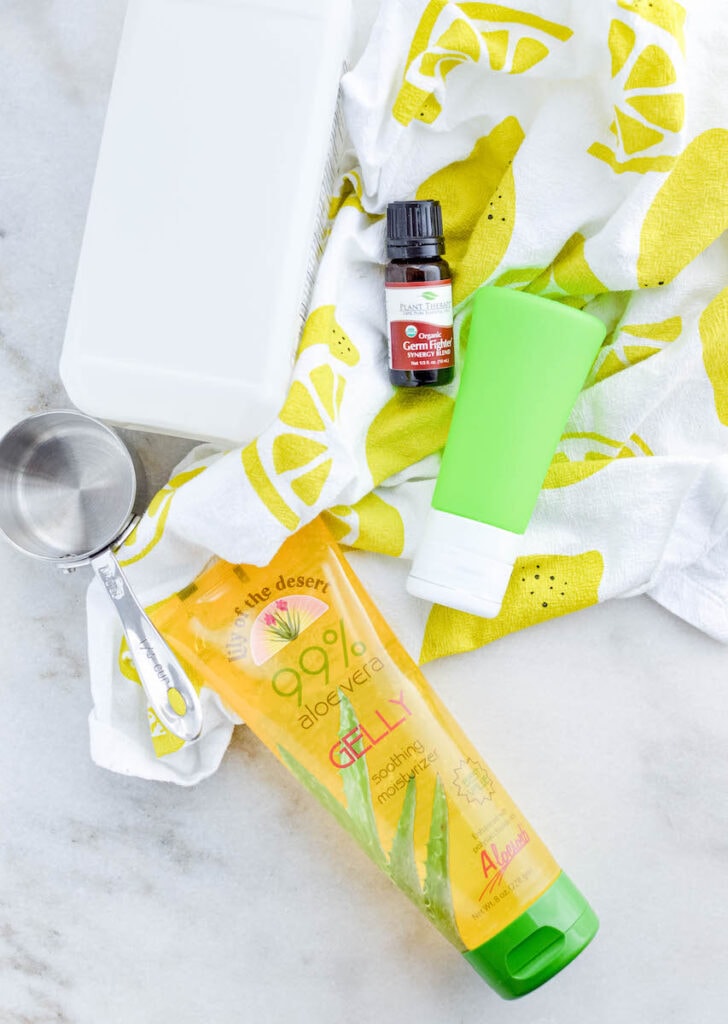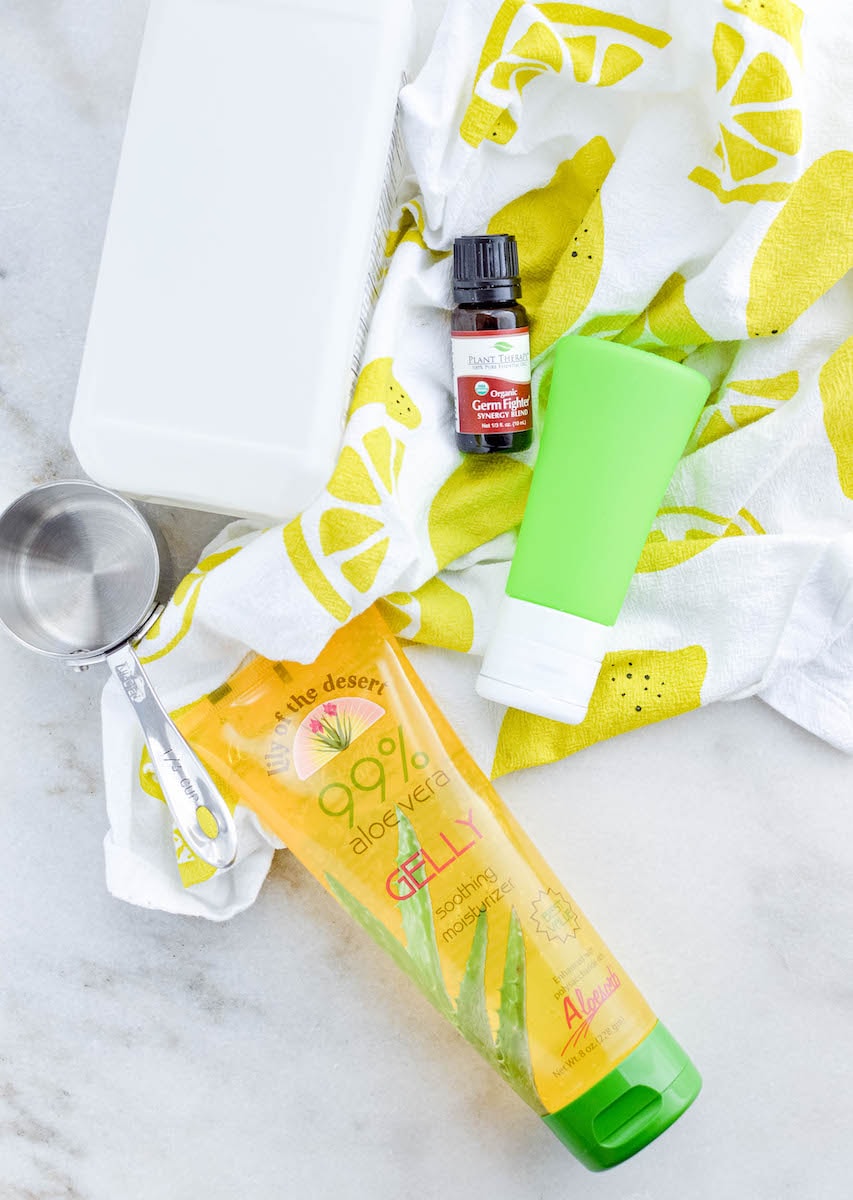 It can also be made in about 1-2 minutes. So it's quick and easy to put together for your emergency response kit.
PLUS, if you have all of the ingredients, you can make multiple bottles of the liquid so that you have a constant supply.
Or be nice and gift some to an elderly neighbor, your friends and family, and anyone who needs some hand cleaner.
Ingredients
25 drops of a germ fighting essential oil (such as Plant Therapy's Germ Fighter, Thieves, or Edens Garden's Guardian)
¼ cup of Isopropyl Alcohol, at least 60%
3 Tbsp. Aloe Vera Gel
Supplies
Storage bottle or travel tube (we used a 3 oz travel tube so that it was easy to bring on the go)
For a keychain hand sanitizer bottle, use these bottles
Directions
Simply add the three ingredients to the travel tube or small spray bottle and shake well.
If you would like it a little thicker you can add a little more aloe gel and shake again, adjust to your preference.
We felt that 25 drops was the perfect amount to help add the extra protection and not to be overwhelmed by the essential oil blend. However, you may adjust to your needs.
Use as needed, store in a cool dark place.
More Ways to Stay Safe During Cold and Flu Season
In addition to killing germs, consider taking a supplement that could support your immune system. Our DIY elderberry tonic recipe is perfect for winter time.
Prevent germ exposure at home, when someone else is sick, with these ways to kill viruses.
Try this amazing wellnesss foot soak that could boost your immune system, too.
If you are suffering from a cold, these sinus congestion relief bath salts are great for adding to your bathing routine.