Non-toxic and natural ways to clean and sanitize toys for baby and kids using vinegar, soap, hydrogen peroxide and other simple cleaning routines.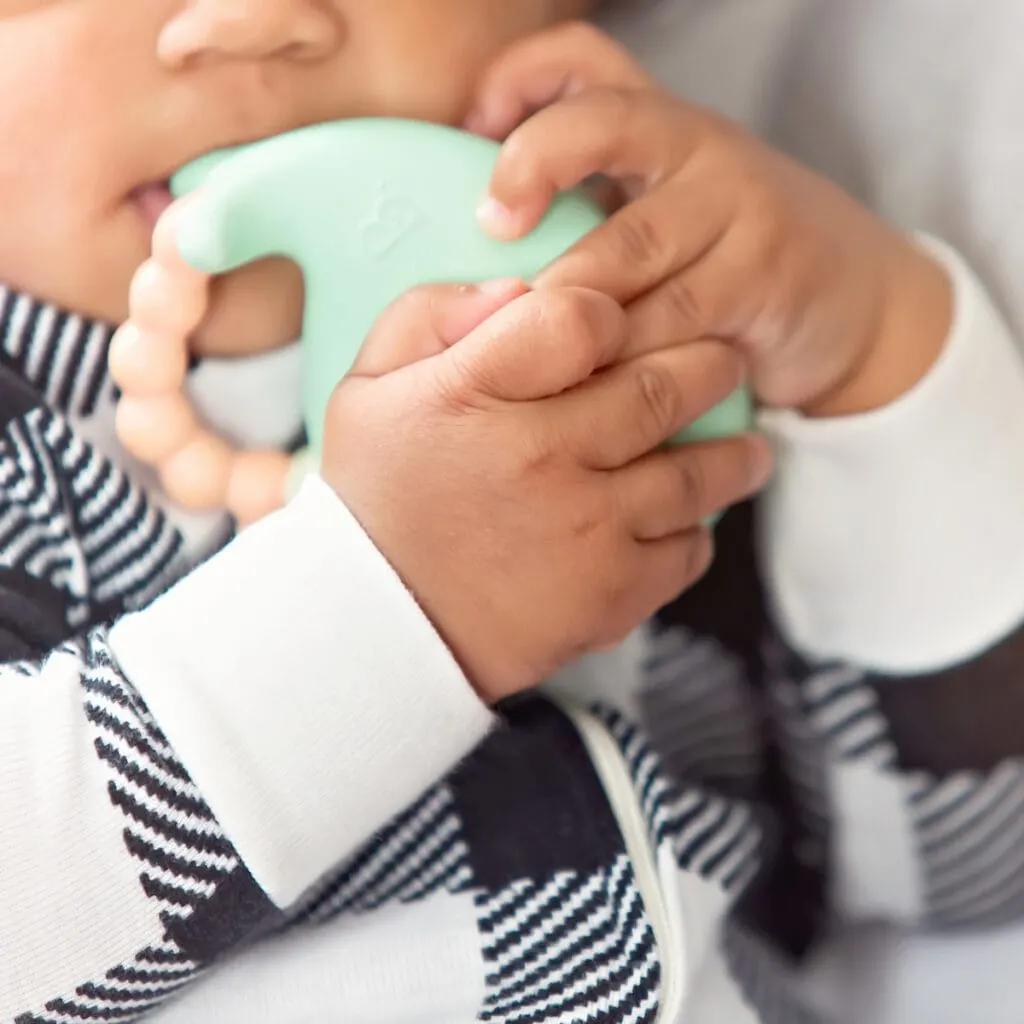 If you have kids at home, you have toys. Since your kids play with those toys day in and day out, it's essential to keep them clean and sanitized. Especially baby toys that are constantly being put in their mouth.
These are 11 non-toxic ways to clean and disinfect baby toys and kids toys. From baby toys that can't be washed to fabric toys and kids toys with batteries.
If your kids drool on it, put it in their mouth, sleep with it or hold it with their tiny little dirty hands, here's how to clean it!
1. Wash by Hand
Washing your child's toys by hand is a great way to get them clean. Make sure to use warm water and a gentle soap to clean your child's toys. Branch Basics is an effective non-toxic cleaner perfect for children's toys.
Most hard toys can be washed by hand in the sink, including wooden toys. Clean the toys using dish soap and warm water, then allow them to air dry.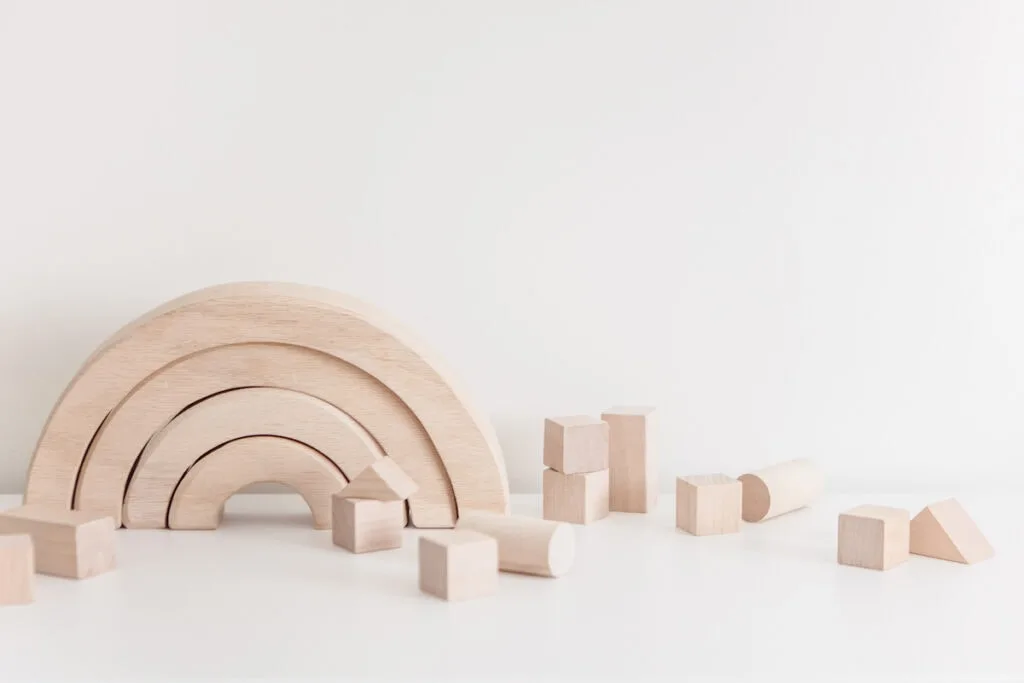 If washing wooden toys in the sink, dry the toys immediately after washing to prevent damage to the wood. This is a process very similar to washing wooden spoons.
2. Use Your Dishwasher
Cut down on the cleaning time by making use of your kitchen's dishwasher. The dishwasher detergent and hot water will help clean and sanitize the toys.
There are a variety of toys you can easily wash in the dishwasher to make cleaning those toys so much easier, such as hard plastic blocks. This is a judgment call on your part, since it's impossible to say what toys are dishwasher safe and which ones are not without looking at them.
ONLY put toys in the top rack of the dishwasher to prevent melting. And use the lowest setting possible while also sanitizing.
Do NOT put plush toys, wooden toys, or toys with battery operated components in the dishwasher.
3. Clean in the Washing Machine
Another quick and easy way to keep your kid's toys clean is to wash them in the washing machine. Most plush toys are machine washable, but it's a good idea to check the toy's care label for special instructions. Wash the toys on the gentle cycle and allow them to air dry.
When washing one or two plush toys in the washing machine, consider placing the toys in a pillow case or mesh laundry bag to protect the toys while they're washing. Put the toys inside the bag, then knot the top to keep the toys from falling out in the wash.
You can also place the toys (inside the bag) in the dryer to dry the toys without risking damage to the plush toys and their components.
4. Hand Wash Plush Toys
If your child's plush toys can't be washed in the washing machine because they are too delicate or you are worried about it falling apart, you may need to hand wash them instead.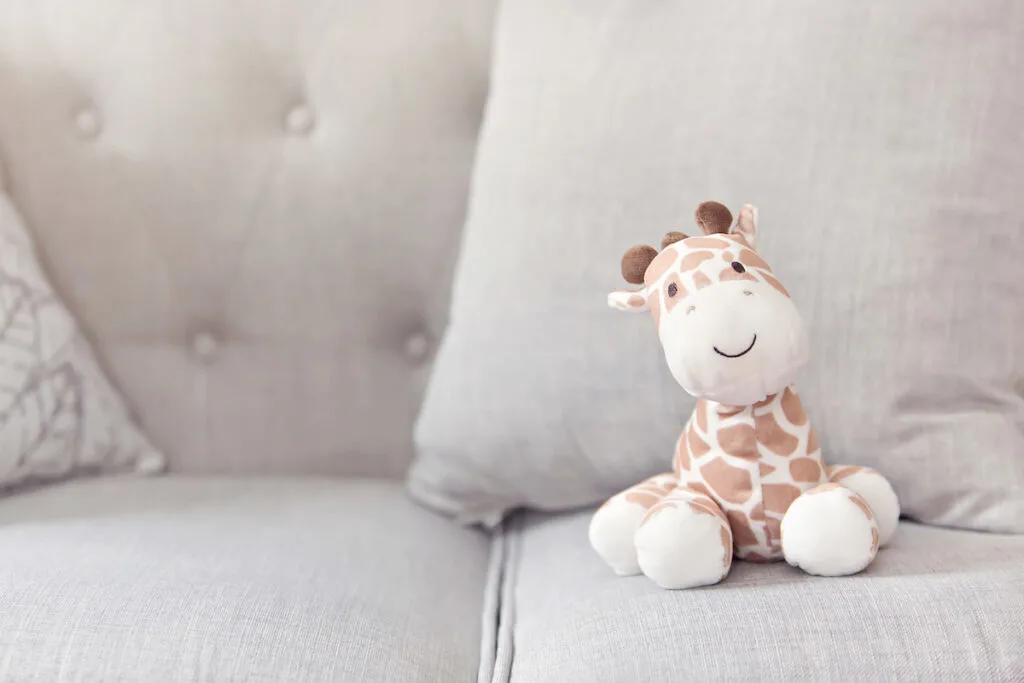 When handwashing plush toys, use a gentle laundry detergent to spot clean the toys. Dip a cloth in the detergent and rub it over the soiled area. Use a clean, damp cloth to clean the soap off the toy, then allow it to air dry.
5. Dry with a Hair Dryer
Got crumbs and dirt in tiny little crevices of a toy? Use a hair dryer to blow them away.
Is your child crying because they want their favorite toy back right after it's come out of the wash? Speed up the drying time by using your hair dryer to dry the plush toy.
Set the hair dryer to low heat and low speed and begin blowing the warm air on the wet toy. When the toy begins to dry, you can turn up the heat and speed to medium until the toy is completely dry.
6. Sanitize with Bleach
If you're worried about your child's toys spreading germs, washing them in bleach is a great way to sanitize them. Just be sure to choose a non-chlorine bleach, such as this hydrogen-peroxide bleach.
Fill your kitchen sink with a half cup of bleach per gallon of water, then place the toys in the sink to soak.
Allow the toys to soak for around five minutes, rinse the bleach from the toys, and allow them to air dry.
7. Natural Cleaning with Vinegar
For a more natural way to sanitize your kids' toys, try vinegar. Vinegar is an all-natural disinfectant, making it perfect for cleaning kid's toys. Here's the best types of vinegar to use for cleaning.
Fill your sink with equal parts vinegar and water, then place the toys in to soak. Allow them to soak in the mixture for 15 minutes, then drain the water and rinse the toys.
Let them to air dry before giving them back to your kids to play.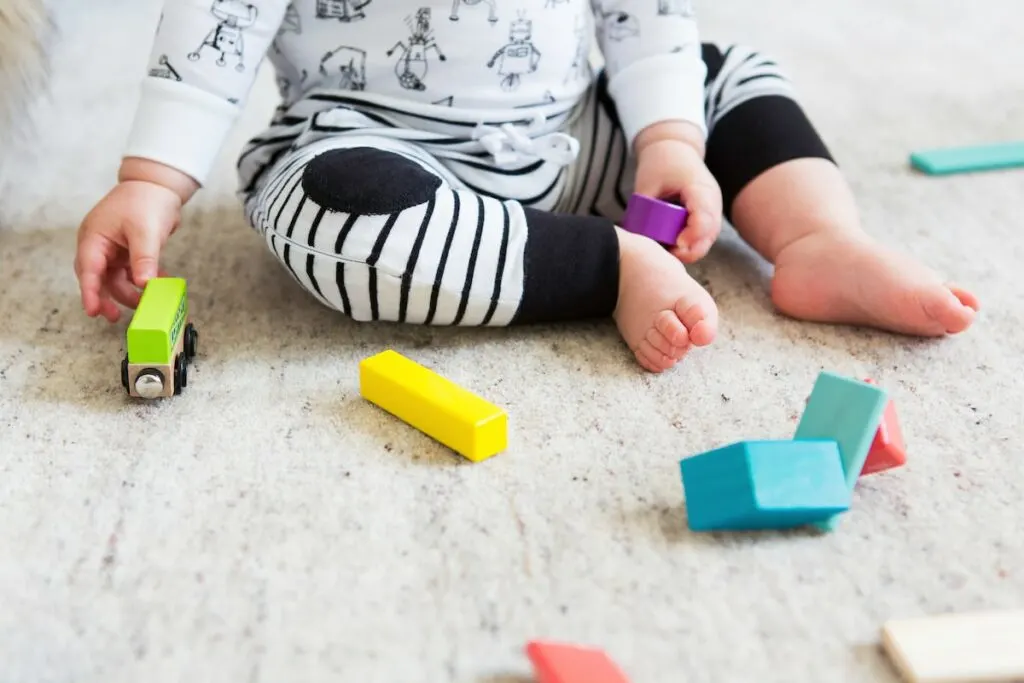 8. Steam Clean
Another simple way to sanitize your child's toys is to steam clean them. You can use a handheld garment steamer to steam clean your child's plush toys without putting them in the washing machine. I bought this inexpensive steam cleaner and love it!
Steam cleaning is great because it kills germs AND kills dust mites, which are allergens. Soft toys are one of the surprising places where dust mites hide. Removing the allergens might help your child's allergies.
9. Surface Clean Electronic Toys
Since electronic toys and toys with battery operated components can't be submerged in water, you'll need to surface clean those toys on a regular basis.
Use a natural disinfectant wipe or spray to clean the surface of the toys, paying special attention to areas that are visibly dirty or messy.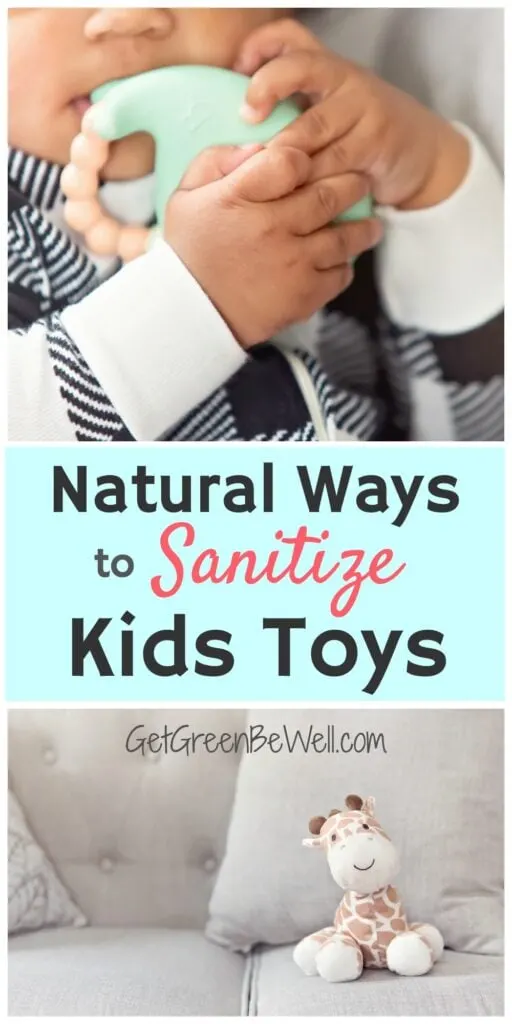 10. Scrub Outdoor Toys
Outdoor toys can quickly get dirty and germy if they aren't properly cleaned. The best way to get those dirty outdoor toys clean is to take them to the driveway and scrub them with hot, soapy water.
An easier solution for larger toys is to use a gentle pressure washer in combination with soap.
Use the garden hose to rinse the toys, then place them in a sunny spot to air dry.
11. UV Light
Some small toys, especially baby toys, can fit in a UV sanitizing box.
These small countertop boxes can clean baby bottles and toys, along with other household items such as toothbrushes, with ultraviolet light and no other chemicals.
More Cleaning Tips
If you want to kill germs throughout your home, here's how to kill viruses in your home.
Kids can help with cleaning tasks! Here's 10 cleaning chores kid can help with.
If you've been washing lots of soiled baby diapers and sheets or muddy kids clothes, be sure to clean your washing machine every now and then to get the full cleaning power of your appliance.