If you're looking for an all natural wooden toys similar to Lincoln Log sets, you've got to check out the vintage Lincoln Logs type of toys from Roy Toy.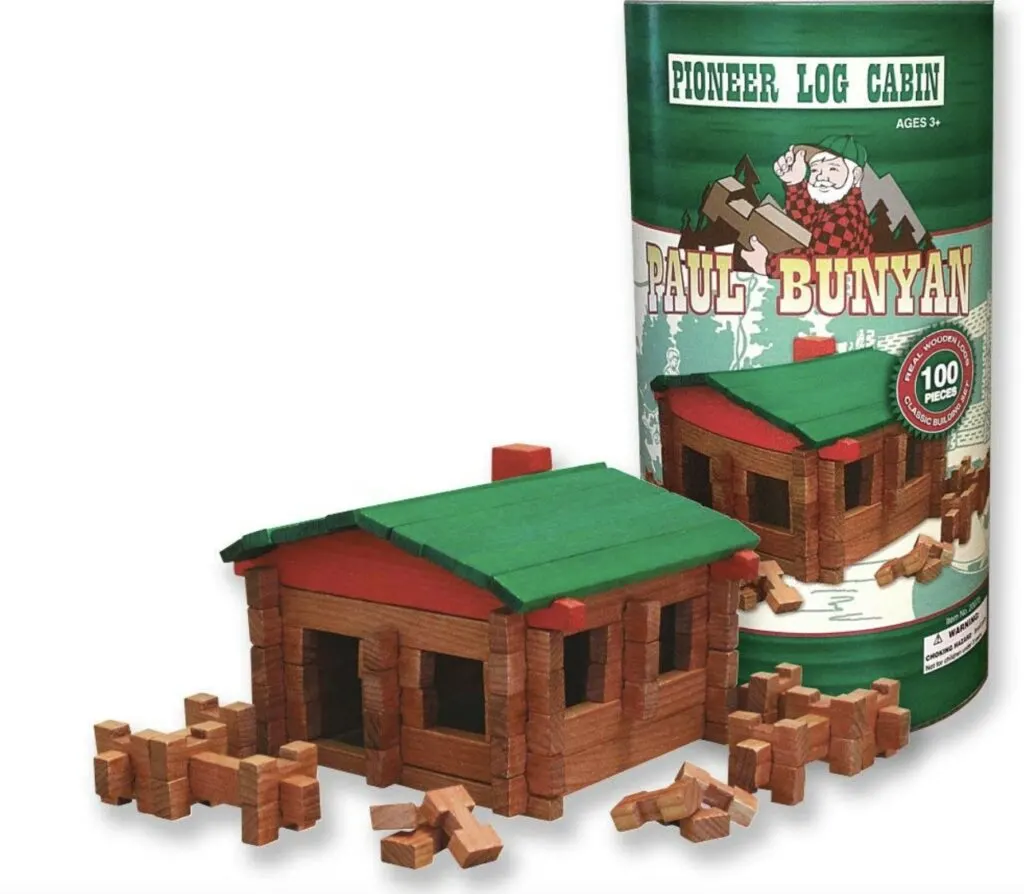 Like Lincoln Logs Toys – But Family Owned Company!
Roy Toy was started in the 1930s, was closed in the 1960s, and was reopened in the 1990s by a grandson who wanted his grandfather's legacy to live on.
Yes, these wooden toy building sets are reminiscent of toys that we generally call Lincoln Logs toys. But Lincoln Log sets are a name brand of one company. These all natural wooden toys provide the same hours of creative play without toxic chemicals or ingredients used.
Roy Toy sells some of the most amazing wooden toy building sets! These vintage wooden toys harken back to the pioneer days of wooden cabins and farms with silos.
Roy Toy's products are very reminiscent of K'NEX's Lincoln Logs toys with one major difference – Roy Toys are manufactured in the U.S.A.
K'NEX's Lincoln Logs are manufactured in China.
Who Invented Lincoln Logs?
So, you may be wondering which came first – Roy Toy or the Lincoln Logs now manufactured by K'NEX.
Well, the truth is, neither one of the companies was the first to sell wooden log building sets.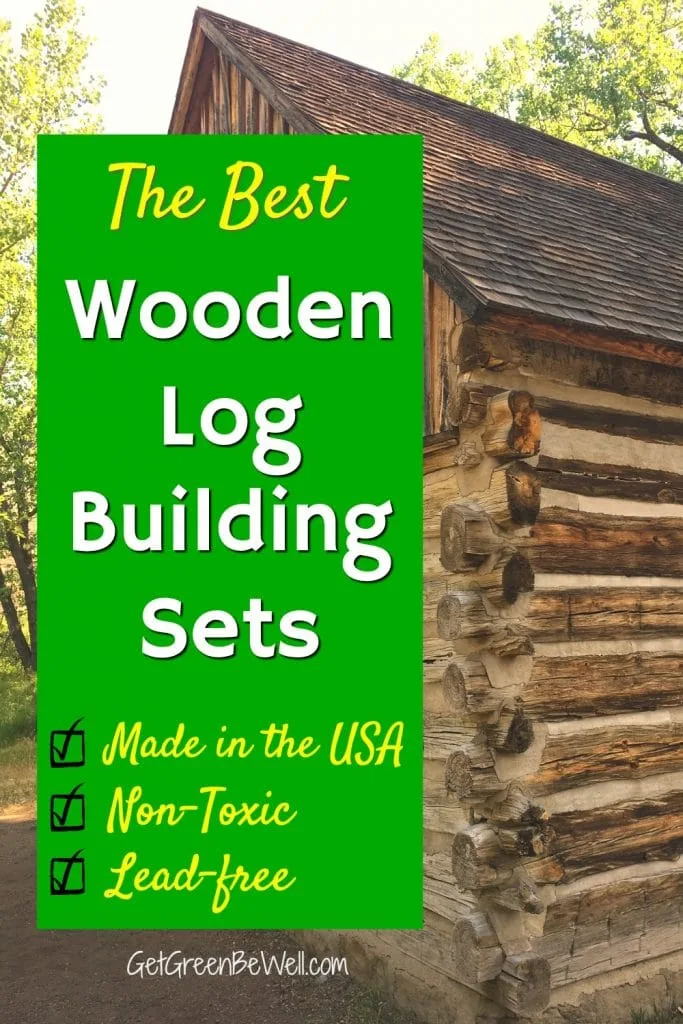 As far back as the 1860s, wooden log cabin toys were sold.
However, it was the son of one very famous architect -John Lloyd Wright who was the son of Frank Lloyd Wright – that made Lincoln Logs what they are known as today.
Wright developed the concept for Lincoln Logs toys in 1916. He would go on to patent his version which was named after President Abraham Lincoln's log cabin.
His Lincoln Logs would go on to be marketed to wealthy Americans interested in the education benefits of toys. In 1943, Wright sold his company to Playskool which made the brand "Lincoln Logs" a household name. (They are even a major focal point of the popular Toy Story Land at Walt Disney World.)
K'NEX now manufactures Lincoln Logs under license from Hasbro. Playskool is a subsidiary of Hasbro.
However, it is obvious that many different companies have been creating wooden log building sets for over a century. It's just that Lincoln Logs toys have become the most well-known name.
All Natural Log Building Sets

Roy Toys are made with with hand cut pine logs (over 99% of which come from sustainably harvested wood) that have been stained only with a food safe non-toxic dye (the dye is allergen-free and contains no proteins from crustaceans, eggs, fish, milk, peanuts, soy, tree nuts or wheat).
The Earth Friendly Toy line that is also offered by Roy Toy is all natural and simply sanded to a finish, with no dyes at all.
Think all of this goodness in a child's toy that is like Lincoln Log sets has to come at a steep price? You'd be surprised!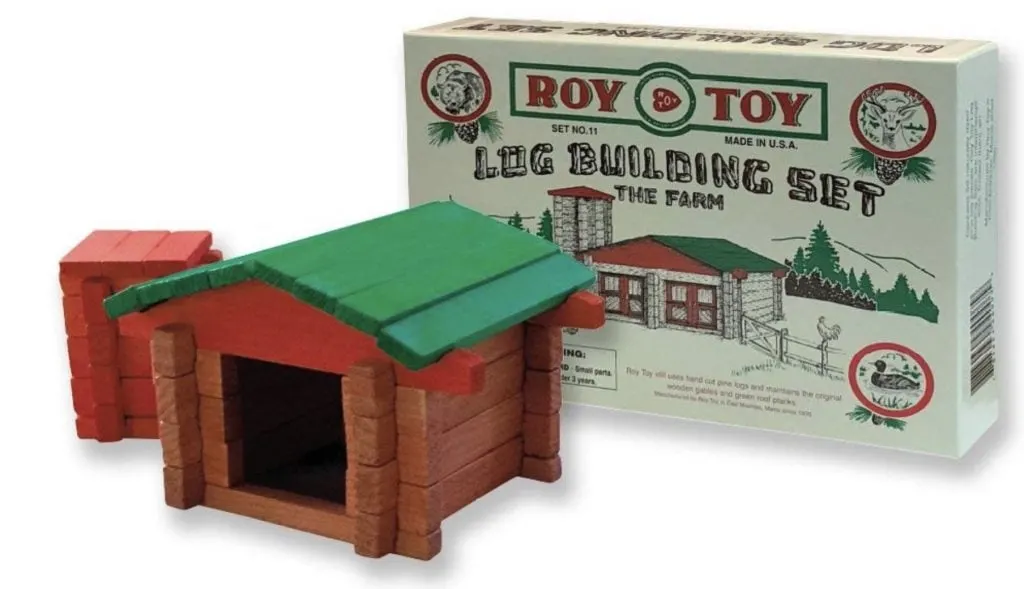 If You're Searching For Lincoln Logs Walmart or Lincoln Logs Amazon
When you're searching to buy Lincoln Logs online at Walmart or Amazon, be sure to stop and look at Roy Toy wooden log building sets on the same websites.
You'll find the wooden log sets easily available on both sites.
Larger sets are still really affordable, too.
You might find that you like these modern day Roy Toy sets, which look like vintage Lincoln Logs, more than the brand you were seeking.
If you're looking for a lead free wooden toy that will stimulate a child's imagination, the natural toys from Roy Toy are simply great. (P.S. These lead test kits will test for lead in all sorts of items at home.)
Of course, if you have the time and patience, you can always make your own Lincoln Logs using natural materials and stains and dyes that you are comfortable with. Check out these instructions on how to make Lincoln Logs:
Get Green: Roy Toys are made in the U.S., supporting a third generation family owned business. The toys are not manufactured in China and then shipped to the U.S.
Roy Toy uses over 99% sustainably harvested wood, not wood illegally cut down from rainforests which damages eco-systems and residents' way of life.
Be Well: Children put everything in their mouth! With these lead-free, non-toxic toys, you can rest easy knowing that there are no hidden chemical hazards.