S'mores are a classic campfire and summertime favorite. What's not so classic, though, is the chemical-filled ingredients that are usually used these days to make those treats that kids (and adults, too!) devour. No need to say goodbye to ooey, gooey chocolate and marshmallow treats. Just try out these natural  ingredients instead for s'mores without guilt (okay, not as much guilt…)!
Marshmallows It's not a s'more unless you have a melted marshmallow. Can marshmallows be healthier? Well, kind of. The classic Kraft marshmallows contain corn syrup, modified food starch, artificial flavor, tetrasodium pyrophosphate and artificial color.
Why not choose something made with ingredients you know and aren't afraid of, instead?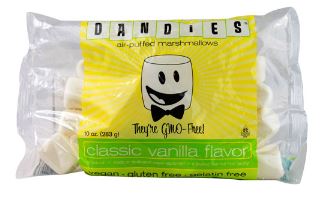 Our favorites are Dandies marshmallows. We don't notice any different taste (well, maybe they taste better and not as artificial!) and they're great for melting. These marshmallows are Non-GMO certified (the corn syrup in other traditional marshmallows is almost for certain not non-gmo), and made from tapioca syrup, sugar, natural vanilla and more.  We buy them at Vitacost because they are really hard to find in online stores or grocery stores. (Use our affiliate link and you'll score a great deal! Sign up with Ebates first and get even more savings and a gift card!)
Other healthy marshmallows are Elyon Marshmallows, also available at Vitacost.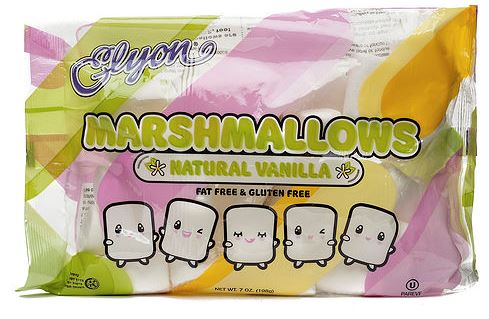 Or try your hand at making your own marshmallows, so you can control the ingredients. Try out this recipe from Wellness Mama that contains – surprisingly – probiotics.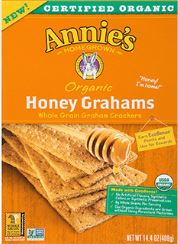 Graham Crackers/ Cookies The classic s'mores is sandwiched in between two graham crackers. Nabisco Honey Maid Honey Graham Crackers contain artificial flavor. Why not try some of these choices for healthy graham crackers?
Annie's Homegrown Organic Honey Grahams are both certified organic and Non-GMO. Again, we order non-perishable products off of Vitacost because they're cheaper, but these are usually readily available in stores such as Target and Publix.
Gluten-free graham crackers are available for s'mores. Try out Pamela's Products Gluten-Free Honey Grahams for ingredients that you can pronounce.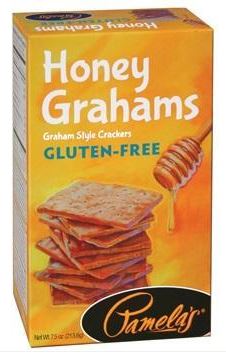 You could also try making your own graham crackers, too, with a recipe using all natural ingredients or this mock recipe from Pamela's Products.
Or, mix things up a bit and add those marshmallows and chocolate in between two chocolate chip cookies for a different s'mores flavor.
Chocolate There are so many different types of organic chocolate bars available that it's hard to pick just one.
We're currently enjoying Pacari chocolates, especially the sea salt flavor.
The classic Hershey bar is not organic, but the Hershey company owns an organic chocolate company, DAGOBA. Other ideas are Green and Black's, which is available in Target and other mass retailers, as well as Alter Eco and Equal Exchange.
Why not try some gourmet chocolate candy options, too? Use a Justin's organic Milk Chocolate Peanut Butter Cup or Heavenly Organics Chocolate Mint Honey Patties.
Peanut Butter It's a fun idea to spread some peanut butter, hazelnut butter, or almond butter on the graham cracker first before adding the marshmallow and chocolate. There are plenty of delicious all natural spreads, including many organic store varieties. Santa Cruz makes a selection of organic and Non-GMO certified peanut butters.

Don't have a campfire to make s'mores? Try our award-winning S'mores popcorn recipe featuring Quinn Popcorn instead!