If you have ever binge watched Property Brothers on HGTV, then you know how the twin brothers can make any room look spectacular with smart and stylish furniture. Did you know that the Property Brothers have their own line of furniture? It was a surprise to me, too. Especially when I found Scott Living furniture so easy to buy online.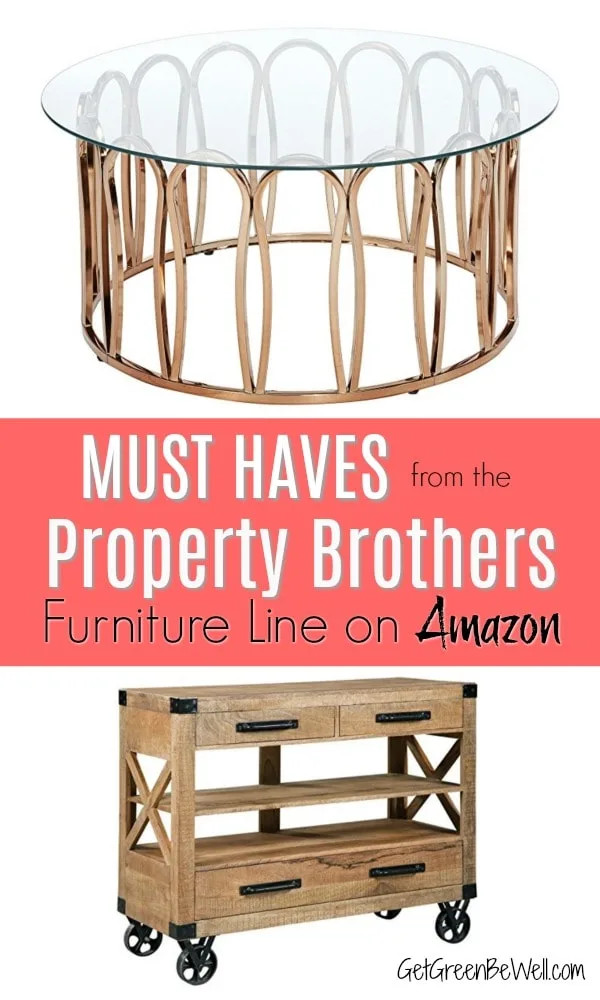 Scott Living Furniture Line
While Drew and Jonathan Scott are often simply known as the Property Brothers due to their uber-popular HGTV television series, the famous duo has been hard at work making a different name for themselves.
Scott Living is their company which is cranking out a wide array of furniture for the home, home decor products, hardware, etc.
Seriously, these brothers have everything from outdoor patio furniture to bathroom vanities to custom drapery and frames.
While I was definitely surprised to see Scott Living items for sale on Wayfair, Lowe's, and Michael's, I was even MORE surprised when I found Scott Living furniture and home decor on Amazon.
Yes, Amazon.
So get comfy on your well worn couch that you're dreaming of replacing and start scrolling for some fresh home design inspiration from the Property Brothers.
You don't even have to go through their infamous 7-week renovation process to get the home of your dreams with these gorgeous furniture finds!
How I Choose My Furniture
As a certified WELL AP, I'm always very cautious about the products I bring into any living or working space. Yes, that includes furniture, too.
My emphasis is first and foremost to create a home with as many natural or allergy-friendly materials as possible. As someone with allergies, I know firsthand how anything in your home can cause a reaction, even if you don't think it should.
That is why, with ANY furniture bought ANYWHERE, I always try to abide by these guidelines:
No MDF used
No wood veneers
Prefer no varnishes or finishes on wood
Super picky about upholstered furniture
My Best Picks from Scott Living on Amazon
With my personal furniture values in mind, here is what I would personally be excited about buying from the Scott Living collection on Amazon. There's some really unique finds here!
Made with metal and glass, this would be a smart addition to your living room. Stylish, modern and minimalist, I could see this coffee table in any of the Property Brothers' homes. The color and pattern make me swoon over this coffee table.
Made with metal and mango wood, this rustic accent table is the epitome of farmhouse decor. Use it in the living room, an entry way, a bedroom or even as a cute bar cart.
With three drawers you can easily hide clutter when guests come by. Display precious mementos on the open shelves every day.
The simple dining room table is minimalism at its finest. It combines just glass and metal to create a modern piece of furniture for an airy feel. Consider a beautiful rug underneath to really up the wow factor.
Consider using this stylish dining room table as a spacious desk, too, in your home office. It offers plenty of space with a sleek design.
It is safe to say that you probably haven't seen a dining room table like this one before. Ever.
With a hand crank on a heavy metal base, this dining room table is a conversation piece. Everyone will be asking where you got it! I can totally see the table being the star of the show in someone's dining room on Property Brothers.
Don't be scared of its hard edge design. If you like industrial design, then this dining room table is obviously perfect for you.
However, if you are scared of the modern industrial look, consider softening it with upholstered chairs, a rug underneath, and tabletop decor (think wooden placemats, solid white ceramic plates and bowls, a glass vase filled with flowers, etc.).
More Non-Toxic Furniture Ideas
Check out our tips on what you need to know before getting inexpensive furniture with IKEA online ordering.