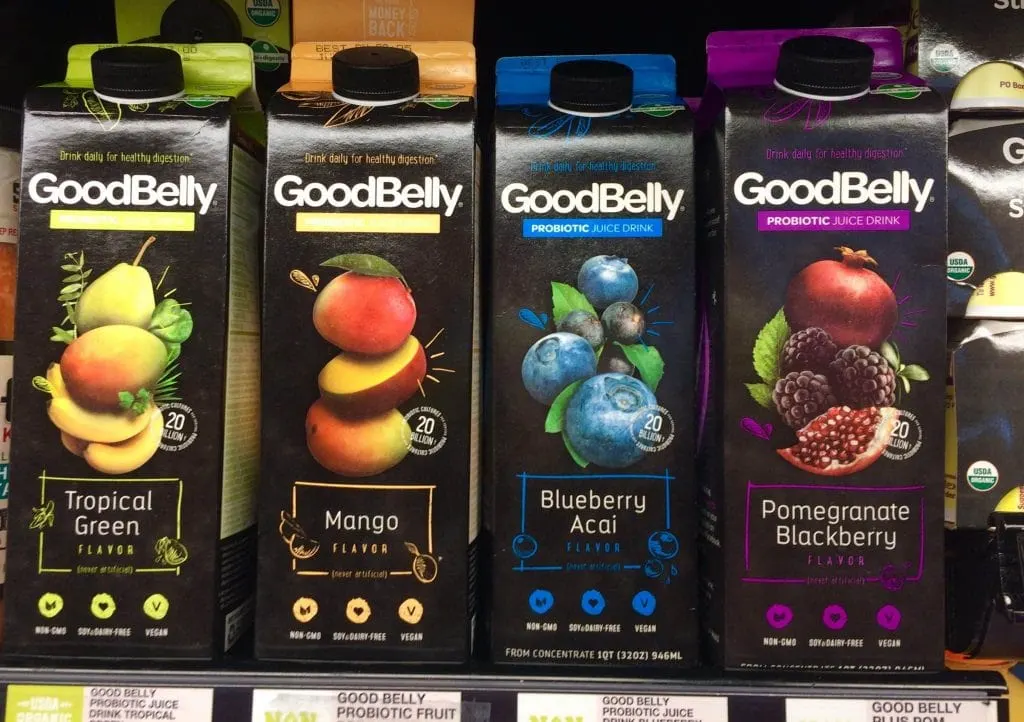 Probiotics are important for a healthy immune system, as more and more research is suggesting. Probiotics are in yogurt, we all know, but what if you don't like yogurt? What if you don't consume dairy? Then what?
With GoodBelly you can drink your way to better gut health, with their probiotics-infused juice drinks and oatmilk shots. And yes, they ARE good! GoodBelly beverages are dairy-free, soy-free and vegan. Probiotics – specifically Lactobacillus 229v – are in each juice-based or oatmilk-based beverages.
Surprisingly, these organic and Non-GMO beverages pack a powerful probiotic punch for your daily needs. From 20-50 billion live and active probiotic cultures in each serving. That's a pretty hefty serving of probiotics!
Why do you need BILLIONS of probiotics? Because they're naturally occurring in your gut, and it takes a whole lot of them to keep your body healthy. If you're having irregularity, digestive upset, have just used antibiotics or just think that you've got a sluggish digestive tract, you might want to try using probiotics. After all, did you know that 70% of your immune system in is your digestive tract? Why not make your gut happy and feed it with the cultures that it needs most!
Probiotics can make such a great improvement in your gut health that week-long courses of using the cultures are often recommended to see if it makes a difference with no medication. Signing up for the GoodBelly 12 Day Belly Reboot online not only gives you a coupon for the product, but also access to an app that can track your dietary choices and how they make you feel, hints and tips for good digestive health, as well as recipes using GoodBelly beverages. Don't think that the probiotic beverages did anything for you? You can get your money back!
I admit, when I start using probiotics regularly, I almost always drop a pound or two and my stomach is flatter. Perhaps it's because of less inflammation in my gut with the probiotic use. This is my personal experience, and I'm interested to know if it's the same for you, too?
How do they taste, though? That's really what it all comes down to. GoodBelly sent me coupons to try out three of their products for free. Watch my YouTube video below to see my reaction to the first taste of GoodBelly's Cranberry Watermelon juice drink, Strawberry PlusShot, and Vanilla Chamomile SuperShot.
Now, I have to admit, after tasting the Cranberry Watermelon Juice Drink for the first time, I instantly thought that it would be a great mixer for a cocktail. That's the kind of fruity, awesome taste that it has. So we mixed it with tequila and orange juice, and it was delicious! The next day, I was browsing the GoodBelly blog perusing recipes. Turns out, the folks at GoodBelly had the same idea! Using almost the exact same ingredients as we did, GoodBelly posted a Cranberry Watermelon Margarita recipe. Now, we both agree – probiotics might not live in alcoholic environments and this probably isn't the smartest way to increase your gut digestive health. If you're going to be making cocktails anyway, though, why not use GoodBelly's organic, Non-GMO, probiotic juice drinks as a mixer, instead! (FYI – We think the Pomegranate Blackberry Juice Drink would pair nicely with gin…..just sayin')
Juice Drinks come in seven flavors, including Blueberry Acai, Mango, Pomegranate Blackberry, Tropical Green, Coconut Water, Tropical Orange and Cranberry Watermelon.
PlusShots combine fruit juices and oatmilk made from cultured oat for a concentrated, quick drink of probiotics PLUS added calcium and vitamins, including 100% of the RDA of Vitamin C, Riboflavin, Vitamin B6, Vitamin B12, Biotin and Pantothenic Acid. Flavors include Strawberry, Blueberry Acai, Mango and Pomegranate Blackberry. The StraightShot has no added sugar.
The SuperShot has 50 billion probiotic cultures, perfect for after antibiotic use or when you're really feeling run down and want to greatly increase the number of probiotics in your body. There are no added vitamins or calcium to these. Flavors include Vanilla Chamomile and Lemon Ginger.