Dust mites are microscopic creatures that live in nearly everyone's home – in dust and, often, in bedding. Dust mites feed off of microscopic bits of sloughed off human skin – most often found in bedding – as well as on pet dander.
Dust mites can cause health problems, such as indoor allergies, skin problems and even asthma. While they sound (and look) gross, they can be controlled. You just got to know how to kill them and keep them dead. Here's five ways how: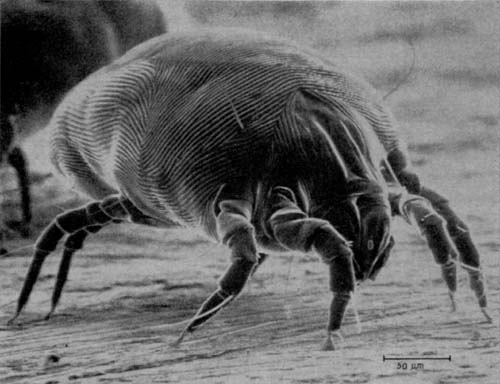 1. Wash your bedding in HOT water at least once a week. Hot water kills dust mites, so skip the cool water wash to conserve energy.
2. Keep the humidity level in your house below 60%, the lower the better. Low humidity creates an environment in which dust mites can't live.
3. Wash stuffed toys – both children's and pets – in hot water and dry out properly. Dust mites thrive in fabric where moisture is present, such as doggie drool and toys that are put in children's mouths.
4. Dust often. Dust mites thrive in dust – hence the name. Dust often and get rid of their home.
5. Vacuum frequently. Dust mites also live in the fabric fibers of carpeting, so if you have carpeting, vacuum at least once a week to get rid of them.