Have you seen a bottle of EcoSmart weed and grass killer on the shelves at a garden center such as Home Depot or Lowes? You might have stood there wondering "Does this organic weed killer really work?"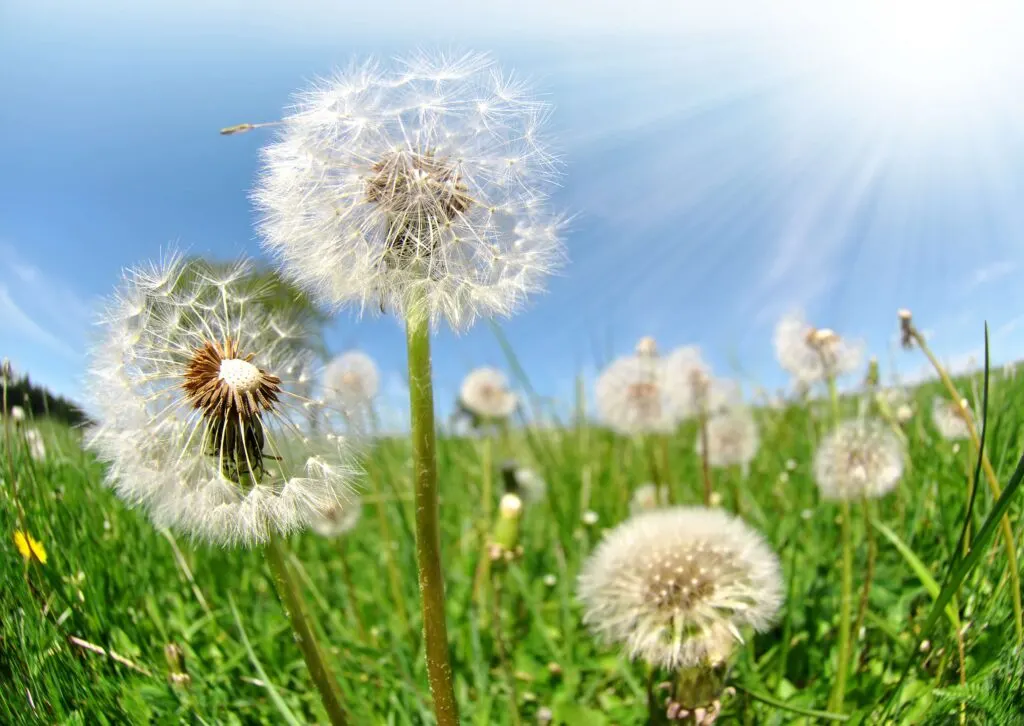 When you're trying to decide on what products to use to kill weeds or get rid of grass in the garden, it's always tough to know what to use. You want to use a safe and least toxic weed killer when possible. But you also want it to work.
After all, spraying the yard several times to kill weeds and grass isn't your idea of a good time. Mine, neither.
EcoSmart Weed And Grass Killer Products
EcoSmart labels itself as The Safe Pesticide Brand because most of their products are insecticides. In fact, EcoSmart Weed and Grass Killer is one of only two products in their entire product line that isn't intended to kill insects.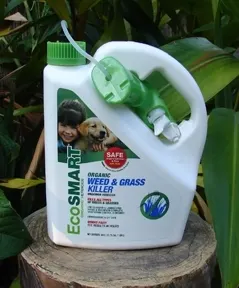 EcoSmart Weed and Grass Killer comes in either 24 ounces or 64 ounces. The smaller size is ideal for spot treatments. The larger size is perfect for patios, driveways, the yard, etc.
The thick, milky white substance is designed to totally kill vegetation. EcoSmart Weed and Grass Killer says that it uses plant based oils in order to kill weeds.
I wanted to put it to the test for an honest review.
EcoSmart Weed and Grass Killer Review
I did have some success using the EcoSmart Weed and Grass Killer. However, I don't plan on buying it again for several reasons.
I recommend my DIY weed killer which works better than EcoSmart, in my opinion.
EcoSmart Weed and Grass Killer Ingredients
The reason EcoSmart Weed and Grass Killer is among the least toxic weed killers is because it uses all natural ingredients.
Among those ingredients are essential plant oils that have been shown to kill vegetation when concentrated, kill bugs, etc.
In 2022, the essential oil used is rosemary oil. When I tried EcoSmart, the essential oil used was clove. This review is based on the previous version.
One of those oils is clove oil. And it's probably the reason why I don't like using this weed killer.
This weed and grass killer SMELLS!!! It doesn't necessarily smell bad. It is a smell of clove, which I think smells more like cinnamon. It would seem to make sense around Christmas time, when the scent of cloves and cinnamon are in the air.
However, the Christmas-y smell doesn't really fit in the heat of summer.
The heavy, distinct odor lingers for days and is overpowering. And the smell just won't disappear. I treated our rock driveway for weeds and the scent lingered for days.
Overpowering Smell Even Though It's Natural
I couldn't even store the bottle in my garage after using it because the odor is so intense. After having to fiddle with the spray nozzle to get the spray to come out, my hands smelled like cloves and it wouldn't wash away.
Maybe it is just my imagination, but it seems like I got a sore throat and headache after spraying the stuff because the odor was so strong.
Limited Success with Killing Weeds
EcoSmart Weed and Grass Killer does work, but I only had success on weeds that were spreading and close to the ground, like clover.
It did not work well on vertical weeds that are more stick-like, such as thistle. Therefore, only about half of the weeds that I sprayed were killed.
Effective Natural Way to Kill Weeds
After comparing the costs and effectiveness of EcoSmart Weed and Grass Killer and using vinegar, I would suggest just sticking with white distilled vinegar to kill weeds.
Vinegar works the exact same way, with a lot less expense. Whether you use household white distilled vinegar or the industrial horticultural vinegar (here's an explanation on the different types of vinegar), you can kill surface weeds. Using household vinegar will cost much less. Using a horticultural vinegar will probably cost a little more than EcoSmart Weed and Grass Killer.
Of course, if you hate the smell of vinegar, then EcoSmart Weed and Grass Killer might be better for you. Especially if you love the scent of cloves!