When you're trying to avoid germs and viruses, a proper handwashing procedure can really help you stay healthy and well.
Why?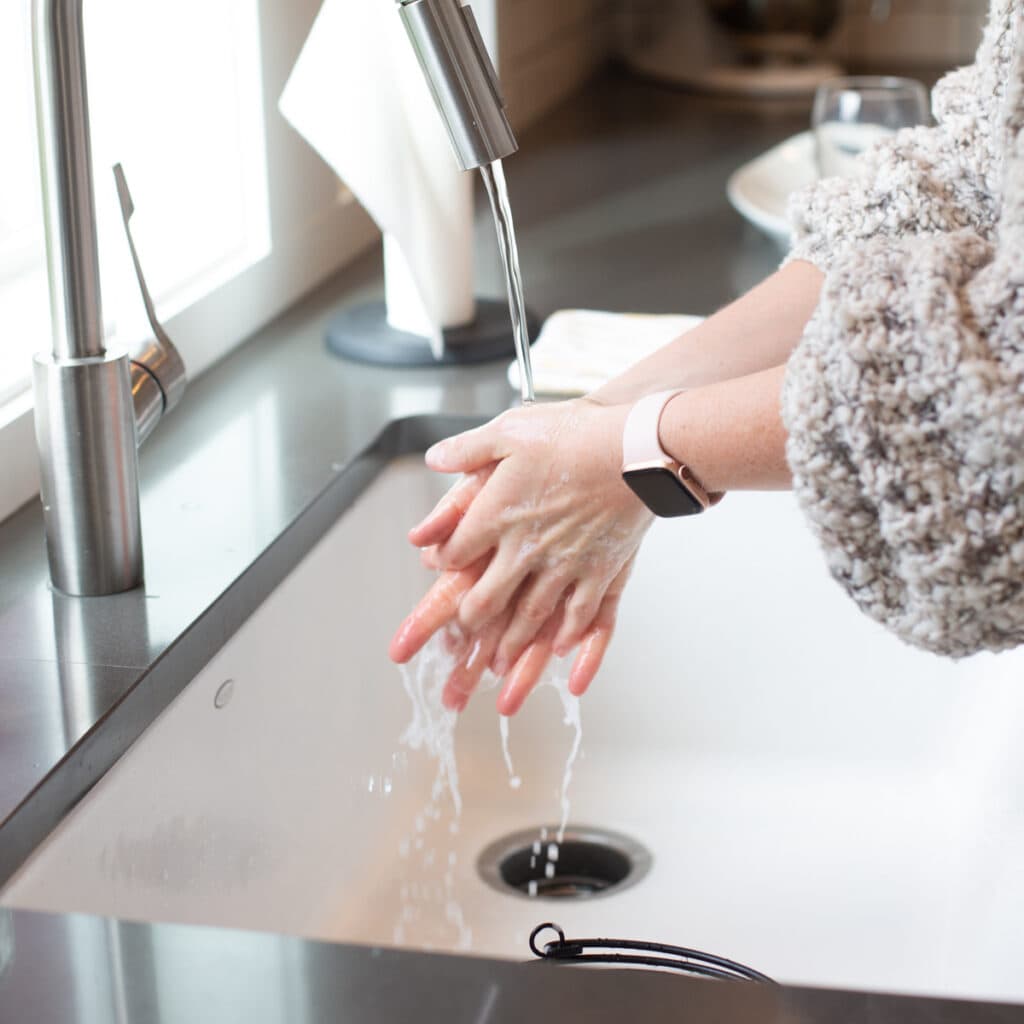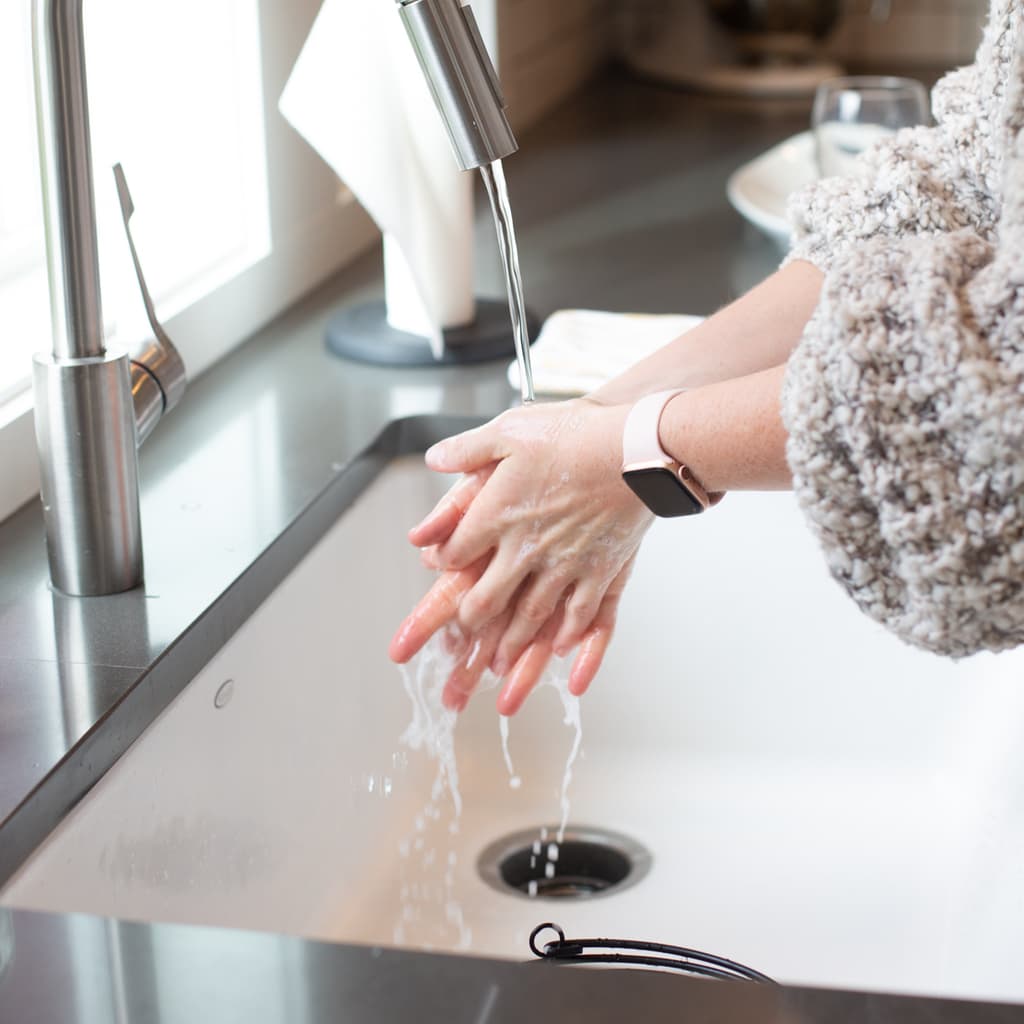 Because your hands are one of the fastest ways for germs to spread. Viruses and germs get onto your hands from touching common surfaces such as handrails, door knobs, shopping carts and pens.
Then, if you unknowingly touch your nose, your eyes or your mouth, the germs can infect you.
Or, if you prepare or eat food with germs on your hands, you can infect yourself that way, too.
So, to avoid germs, you want to get rid of them before they have a chance to do you harm! Here's some more ways to kill viruses at home.
CDC Handwashing Guidelines
By far, the Centers for Disease Control (CDC) has always had the best guidelines for the proper hand washing procedure. They are the gold standard when it comes to teaching you how to effectively wash your hands to prevent germs.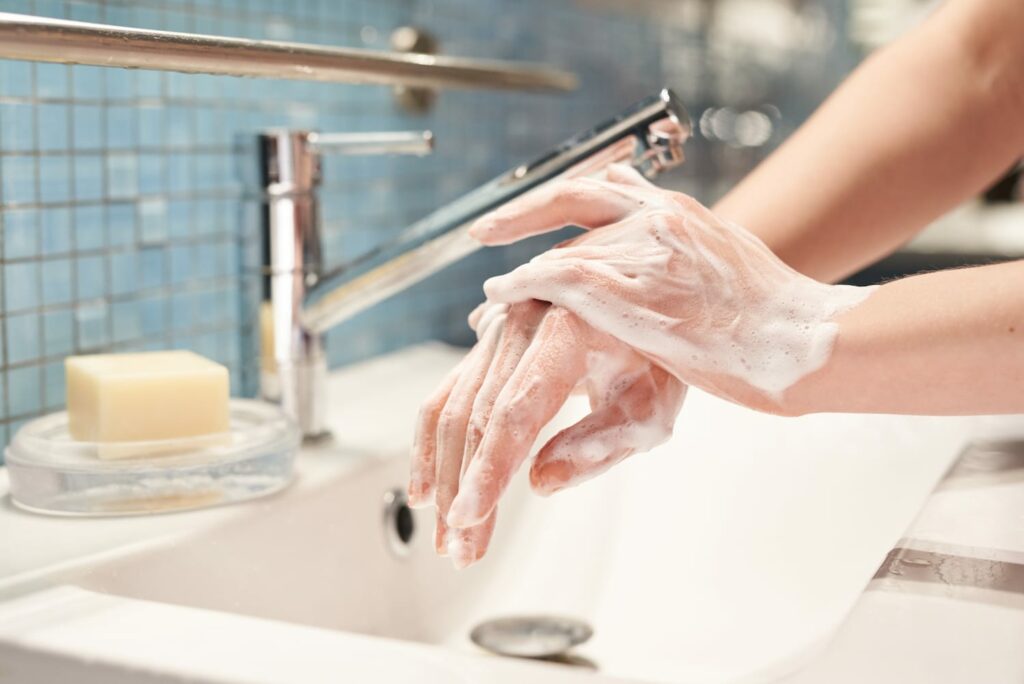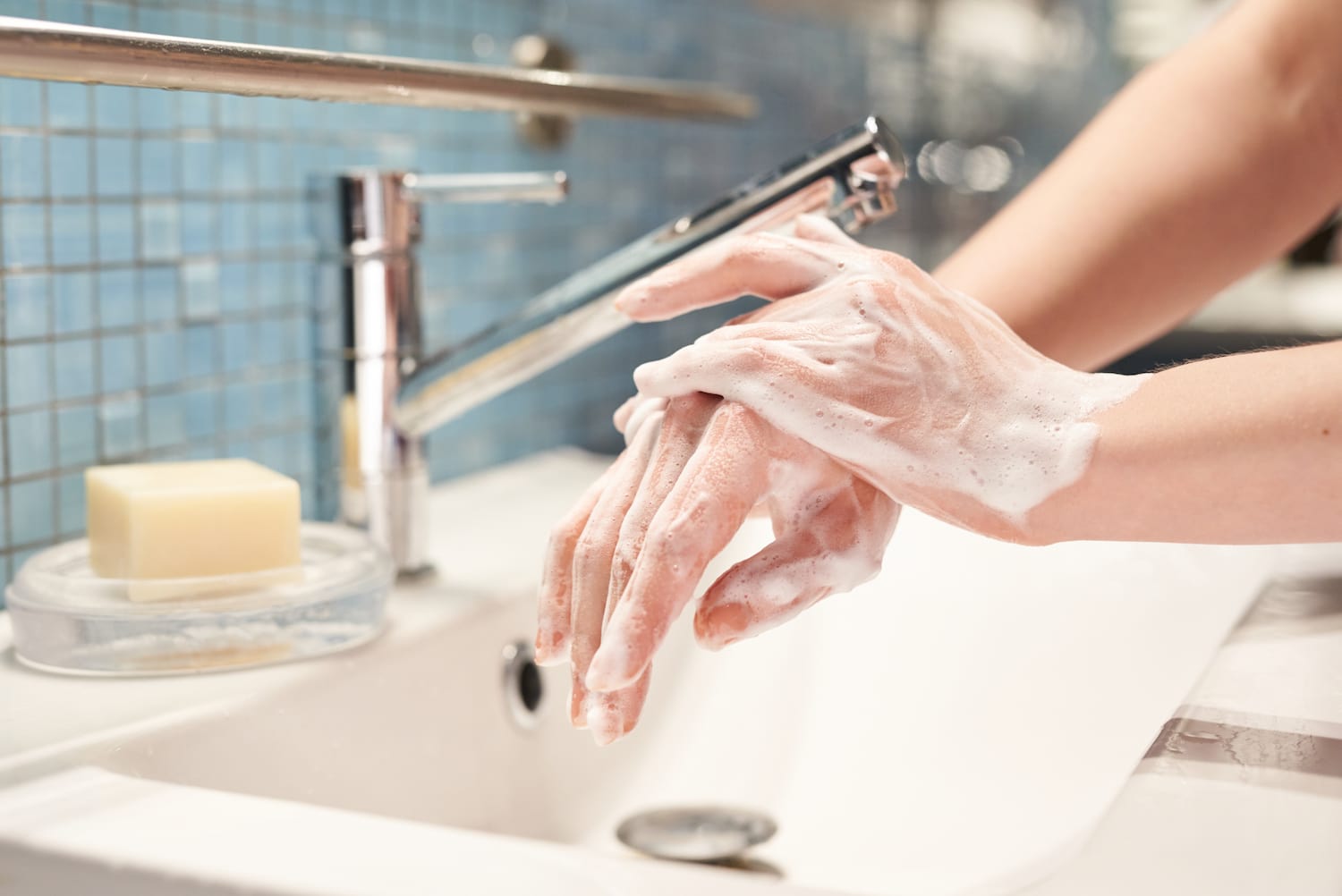 Here are the CDC handwashing guidelines, as seen on the CDC website:
Follow these five steps every time.
Wet your hands with clean, running water (warm or cold), turn off the tap, and apply soap.
Lather your hands by rubbing them together with the soap. Lather the backs of your hands, between your fingers, and under your nails.
Scrub your hands for at least 20 seconds. Need a timer? Hum the "Happy Birthday" song from beginning to end twice.
Rinse your hands well under clean, running water.
Dry your hands using a clean towel or air dry them.
How Many Seconds Should I Wash My Hands?
To wash your hands correctly, you've got to do more than squirt soap on your palms, hurriedly rinse it off and be on your way.
Nope, you've got to spend a *few* more seconds than that. But not by much.
The CDC suggests hand washing for at least 20 seconds. Which most people aren't doing. (Have you ever watched people in a public bathroom squirt hand soap on their fingers, rinse off without even rubbing their hands together, and then walk out the bathroom grabbing the door handle? Yep, that's the issue.)
Canada suggests washing for 15 seconds, but let us ere on the side of caution, eh?
While most people aren't going to start a stopwatch to see when 20 seconds is up, you probably would hum a song in your head to tell time. Here's some songs to hum that are about 20 seconds long:
Happy Birthday (do it twice)
ABC song
Twinkle, Twinkle Little Star (twice)
Row, Row, Row Your Boat (twice)
Final Jeopardy theme song
Chorus to Dolly Parton's "Jolene" song
Queen's "We will rock you" chorus (hum it three times)
Prince's "Raspberry Beret" chorus
Culture Club's "Karma Chameleon" chorus
What Kind of Soap Should I Use?
A lot of the action of removing germs, microbes and viruses from hands actually comes from the friction and rubbing, according to the CDC.
And they have found no evidence that for the general public (not healthcare workers), that using antibacterial soaps is better than using plain soap.
According to the CDC:
As a result, FDA issued a final rule in September 2016 that 19 ingredients in common "antibacterial" soaps, including triclosan, were no more effective than non-antibacterial soap and water and thus these products are no longer able to be marketed to the general public. This rule does not affect hand sanitizers, wipes, or antibacterial products used in healthcare settings.
What does this mean for you?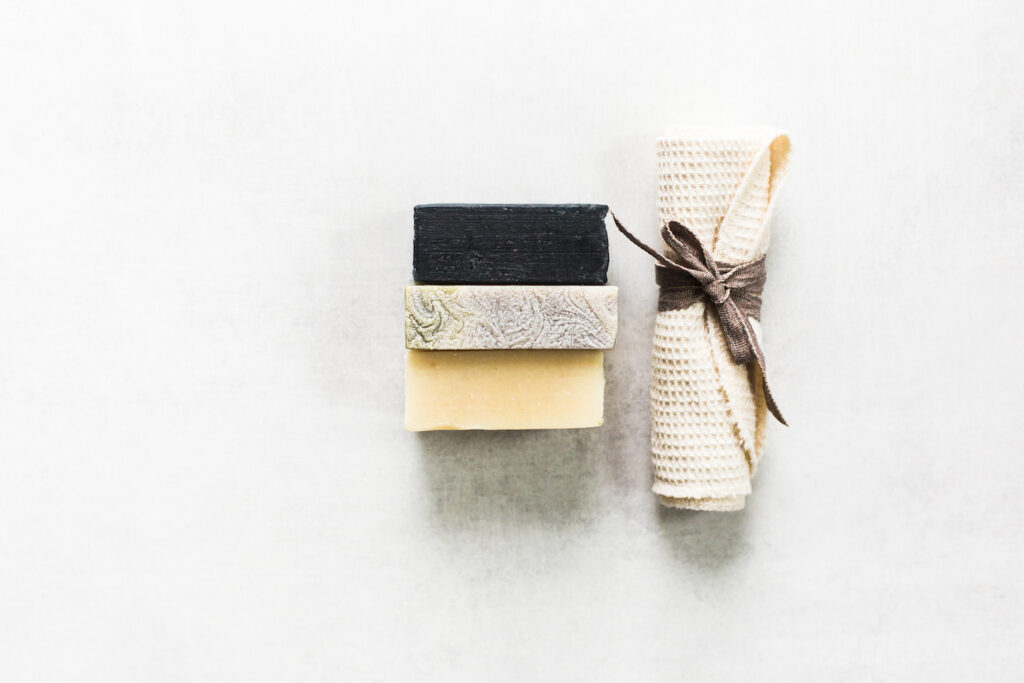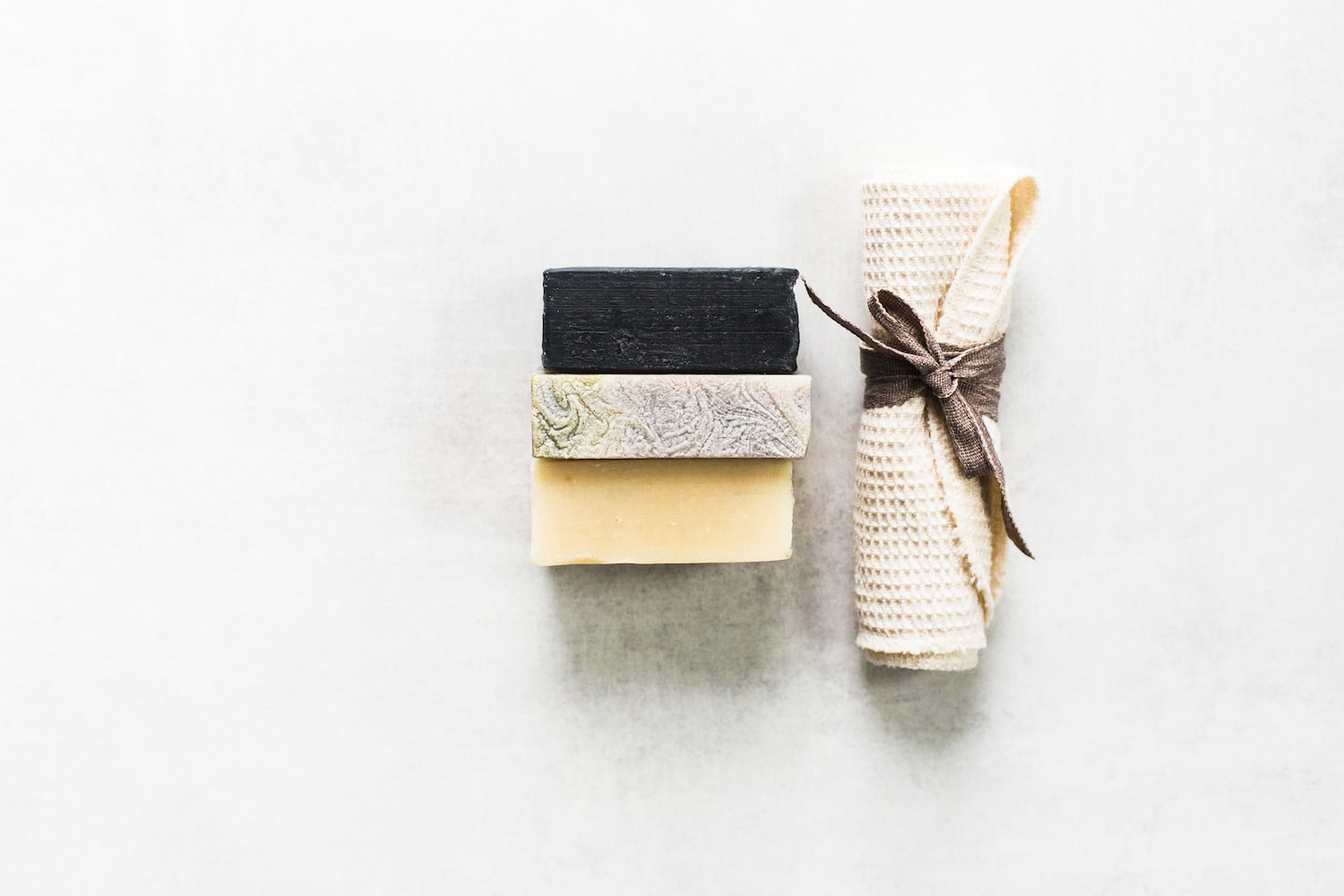 It means that you can choose whatever soap in the hand soap aisle that you like. I personally choose ones made with natural ingredients that are soothing. Not harsh chemicals. Our list of soaps without triclosan gives you a good idea of the ones that I like to use.
I personally have tried and like the following:
Branch Basics (cleaning concentrate that also makes a foaming hand soap)
Avalon Organics
Seventh Generation
ECOS
When Should I Wash My Hands?
It's a smart idea to wash your hands any time you have been out of the house or around others that have been sick. Here's some examples of when to be sure to wash your hands:
After going to the grocery store
After touching ATM buttons
Using a pen or electronic key pad at the bank, grocery store, doctor's office, etc.
After using the toilet
Before, during, and after preparing food
Before eating food
After touching a public door handle
After handling money
Before and after caring for someone at home who is sick
Before and after treating a cut or wound
After changing diapers or cleaning up a child who has used the toilet
After blowing your nose, coughing, or sneezing
When you use shopping carts, even if you wiped down the handle with a cleansing wipe beforehand
After touching an animal, animal feed, or animal waste
After handling pet food or pet treats
When you've touched garbage or garbage cans
After using a gas pump
After sitting at a public table in a restaurant, office, etc.
Immediately following using a restaurant menu (such as after your order is placed), before any food is served
Sometimes it's not so easy to find a place to wash your hands with soap and water. For instance, after pumping gas, you might not want to go inside to use their bathroom. That's when hand sanitizers are effective, but you should still wash your hands as soon as possible afterwards. Try making this easy DIY hand sanitizer.
Does the Temperature of the Water Matter?
Most of us think that we need warm or hot water to correctly wash our hands.
According to the CDC, we actually don't.
They state that the temperature of the water doesn't affect removing the microbes on the skin. (See more about scientific discussion of hand washing temperatures.)
However, you do want to be comfortable when washing your hands, otherwise you might not do it. For instance, washing your hands in cold water on a cold day just isn't enjoyable. Even if it does help save the environment by not using more energy.
Personally, I hate washing my hands in cold water because it makes me feel cold. Yet super hot water dries out my hands. I guess it's up to you to decide what temperature to use. As long as you continue to wash your hands!
Pin This to Save for Later or Help Others!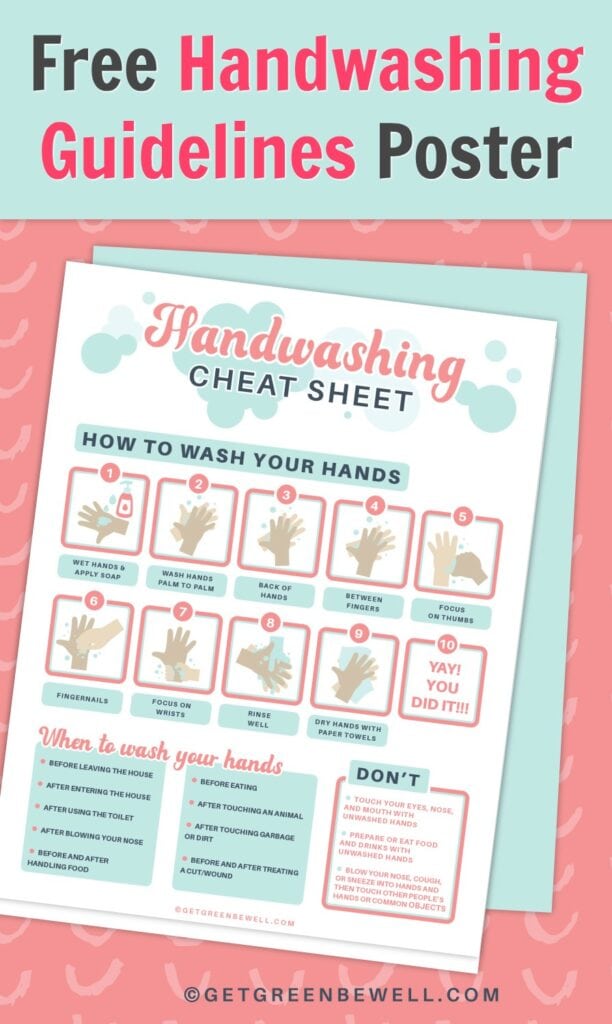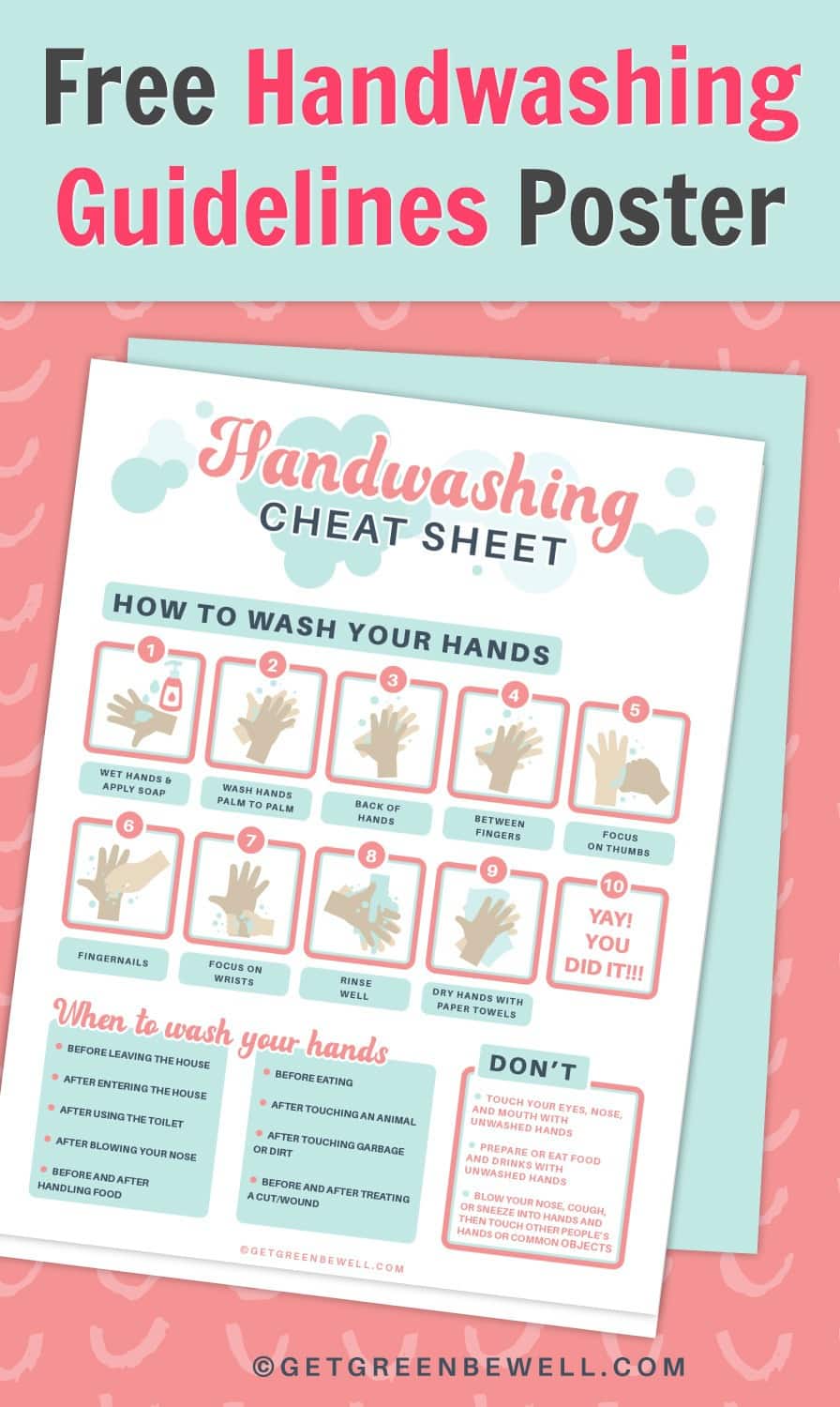 Free Handwashing Poster
If your kids are learning how to wash their hands, it's easier to remember the correct order when you have a visual aid. And this poster is perfect to add to their bathroom.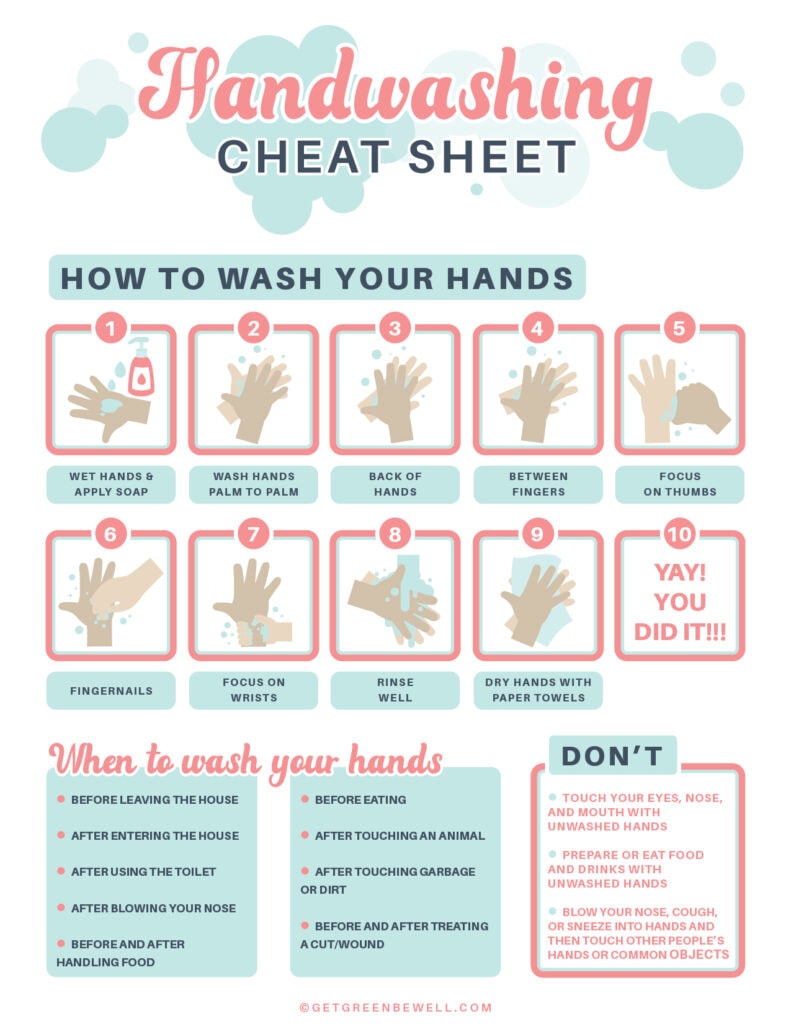 Let's face it. It's not just kids, though! Everyone could use a reminder of the best procedure to wash their hands. Since so few people know how.
Print out this hand washing poster and put it in your bathrooms as a reminder to get rid of germs. It's also perfect for daycares, preschools, the office bathroom, etc.