I am thrilled to announce that I am now a certified WELL AP Consultant. You might not now what the WELL program is. Or what the big deal is to be a certified WELL AP. That's why I want you to keep reading, because I am so excited about how this new program helps me to create healthy workplaces, healthy buildings and healthy homes.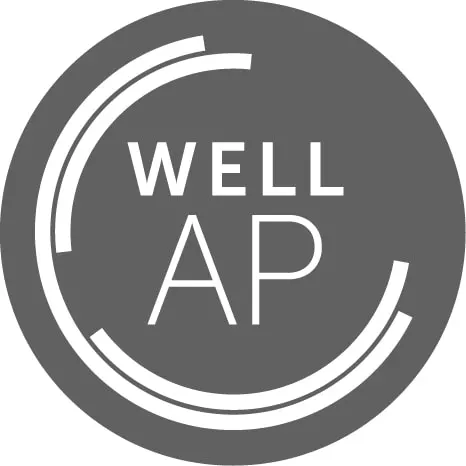 What is WELL?
This was my question, too. I had been a wellness consultant for years before I learned about the WELL Building Standard certification from my LEED-certified architect husband.
My husband came home one day after being in a CEU class and was excited to tell me about a new wellness certification through Green Business Certification, Inc. (GBCI), the same company that does LEED certifications. Needless to say, I instantly knew in my heart that I was going to become a WELL AP.
After all, my childhood of major illnesses could have been contributed to where I lived. And I never want another child or family to go through what I did.
Here's the easiest way I would describe the WELL Building Standard: Creating buildings that protect and promote good health.
It's all about partnering good design and construction with health and wellness-based interventions.
The WELL Building Standard handbook encourages more buildings to be built "to support human health, well-being, and comfort" and to "encourage healthy, more active lifestyles and reducing occupant exposure to harmful chemicals and pollutants."
Yes, that's what WELL comes down to. Regardless of the type of building that is WELL certified or where it is, they all have one thing in common – a commitment to helping you improve your wellness and well-being simply by living and working in them.
The handbook for the WELL Building Standard explains:
The WELL Building Standard….reinvents the built environment around its occupants, transforming the places we live, work and learn into systems intended to promote and improve human health and well-being.
In an era where healthcare has traditionally been more about treating illnesses rather than preventing them, The WELL Building Standard is a refreshing change. The guidelines set for certification are meant to nurture healthy habits and healthy exposures so that building occupants reduce their chances for negative health impacts from a built environment.
The WELL Building Standard was created after seven years of research with physicians, scientists and industry professionals. The Mayo Clinic, Clinton Global Initiative, International Living Future Institute, and the U.S. Green Building Council are among the resources for the design standards for WELL certification.
How Does WELL Certification Help Me?
It's interesting to see a fancy plaque on the entrance of a building promoting its certifications.
But what does it matter to you and your daily life?
That's why WELL Building Standard is different. If a building has received Silver, Gold or Platinum Certification, then you know that the owners and management cares about your health while inside the building.
Whether you are living or work in the building, or just visiting, you can be assured that your health was a focus during the construction and design of the building. It's a holistic approach based on 7 key concepts for your well-being in these areas:
Air
Water
Light
Nourishment
Comfort
Fitness
Mind
So here's what that means for you and your family:
Cafeterias with healthier food options
Filtered air to remove toxins and mold
Water than has been filtered to remove toxins and impurities
Appropriate lighting for ease in working and happier mood
Access to the outdoors and nature scenes
Living and working spaces without upsetting noise pollution
Stress reduction techniques and management
and many, many more wellness initiatives.
The WELL Building Standard is currently only available for certification for commercial and institutional buildings, multifamily residences, retail, restaurants, sports facilities, convention centers, schools and healthcare facilities. There is not a WELL certification for individual homes, unlike LEED certification.
However, the core of my mission always will be how to help you create a healthier home for your entire family. I'll take the wisdom and guidance from being a WELL AP to show you how to use the guidelines in your own house to create a healthy home. Look for references to the WELL Certified standards in posts that I write about creating a healthy home.
What Does a WELL AP Consultant Do?
A WELL AP is a certified professional that is a wellness advocate for new design or remodels of existing buildings.
The WELL Consultant works with architects, engineers, developers and managers to choose nontoxic products for the project. A WELL AP is a wellness consultant that can help with sourcing materials, documenting inspections and measurements, as well as interpreting WELL design standards for WELL certification and recertification.
My Bio on the WELLCertified.com site: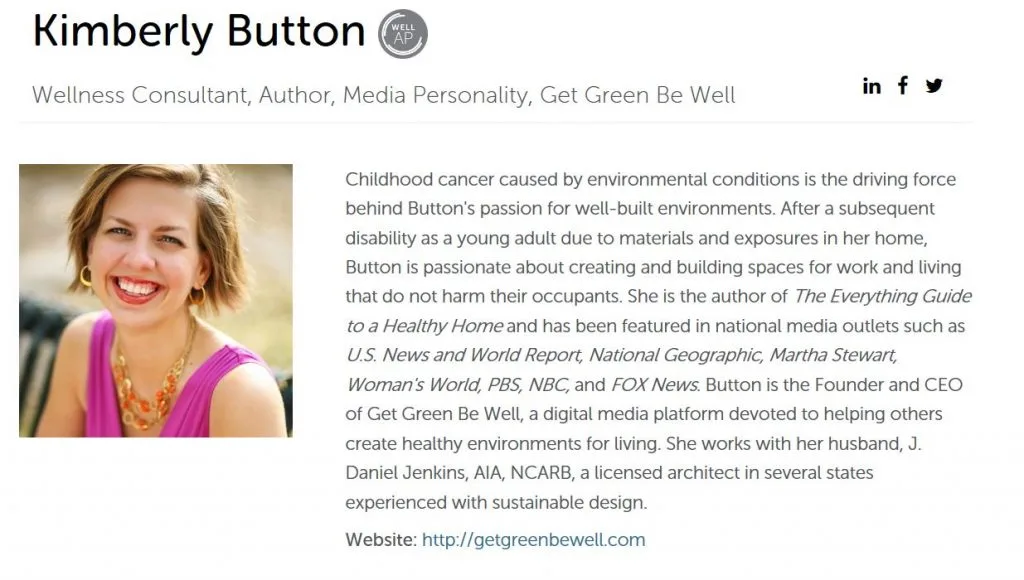 What is the Difference Between LEED and WELL?
WELL Certified buildings are different than LEED certified buildings. LEED focuses on energy savings and sustainable, environmental design. Aspects of LEED certification can have health benefits, but it is not the main focus of the certification.
WELL is designed to work with the LEED Green Building Rating System. There are aspects of both certifications that overlap. However, achieving one certification does not mean that the building would automatically qualify for the other certification.