These natural DIY Christmas Tree Bath Fizzies are perfect for homemade gifts. Or escape the holiday frenzy and use them in a hot bath!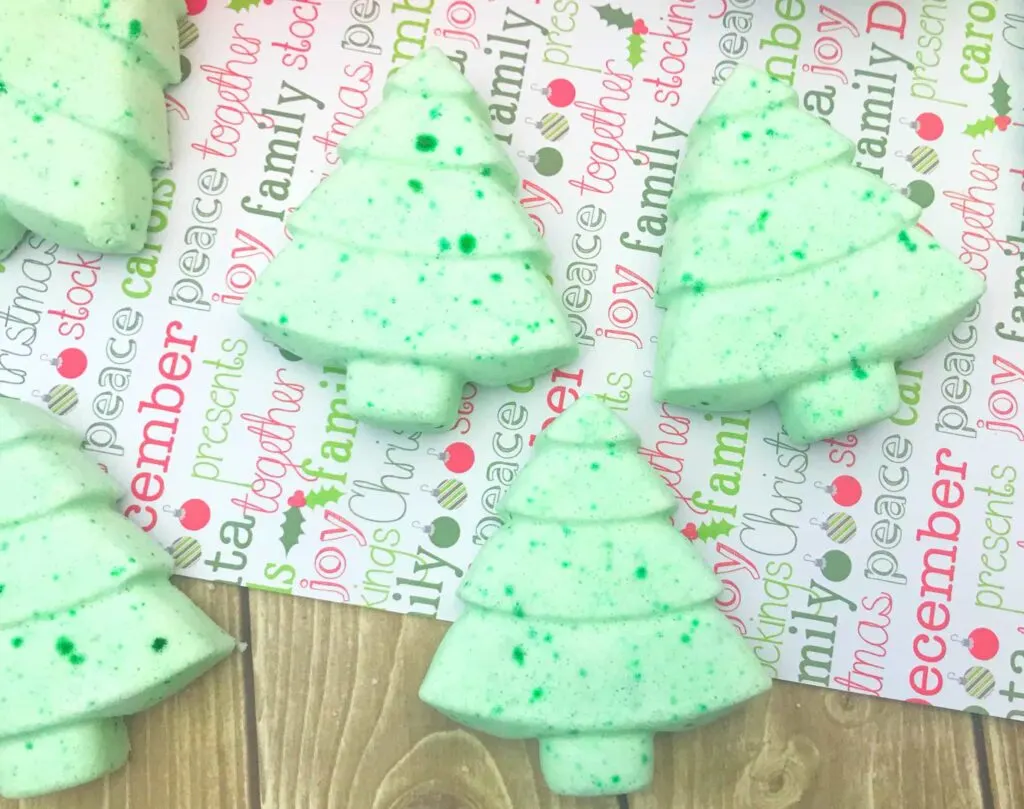 You need a little pampering in your life. And those that you love need a little more self-care, too. So why not make these super easy DIY Christmas tree bath fizzies to give as gifts or to indulge yourself?
Homemade Gifts: Christmas Tree Bath Fizzies
Around holiday time, some of the most loved gifts are homemade. But we're not all talented at making crafts and gifts.
Which is why these simple DIY Christmas Tree Bath Fizzies are among the easiest gifts you can make.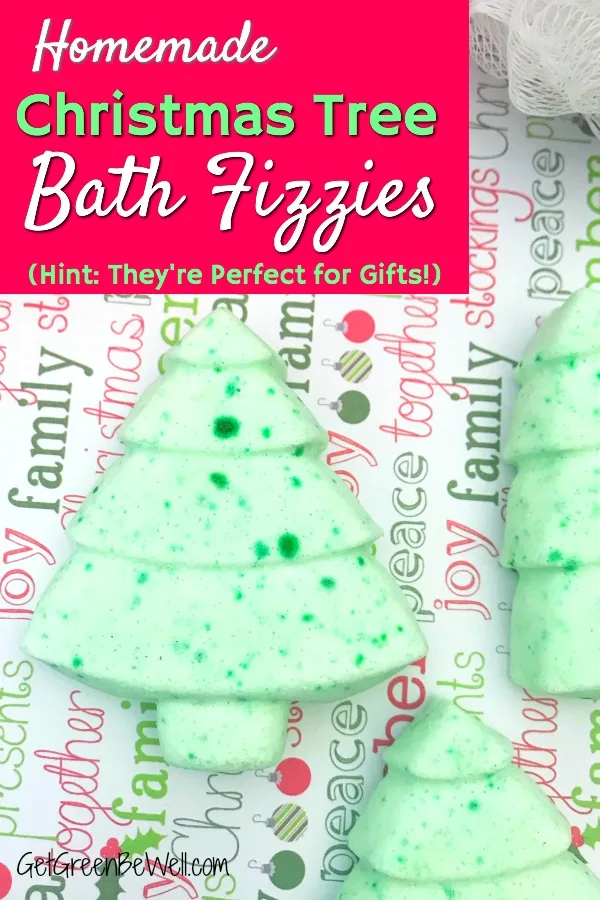 Seriously. Just mix a few ingredients together. And you're done!
And they will mean so much to your friends and family, too.
Using only natural and food safe ingredients, the Christmas Tree Bath Fizzies (also known as bath bombs, too) are perfect for everyone on your list.
To gift the bath bombs, package them in a canning jar or other keepsake container.
You might also like these silky bath fizzies with dried flowers to give, too.
Natural Coloring With Plant Based Dyes
This bath fizzies recipe uses food coloring to make the Christmas trees green (of course, you can either omit the food coloring for white trees, or use a different color instead).
Did you know there is natural food coloring? Yep, you can get great colors without artificial dyes!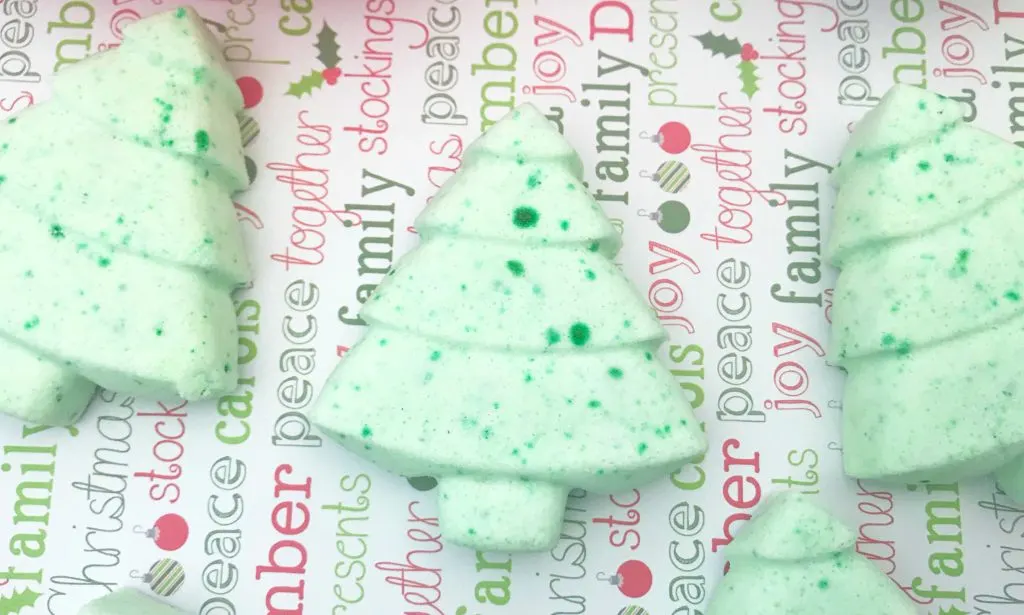 While traditional food coloring is intended to be consumed, and is food-safe, some people want to avoid chemicals even in food coloring.
If you want truly botanical colors, which colors made from plants, then this natural green food coloring is for you.
However, traditional green food coloring that you might be using in Christmas cookies right now will work just fine, too. Especially since you are not ingesting this product, it's only dissolved in water you are soaking in.
Also consider natural mica colors for natural coloring of homemade beauty products.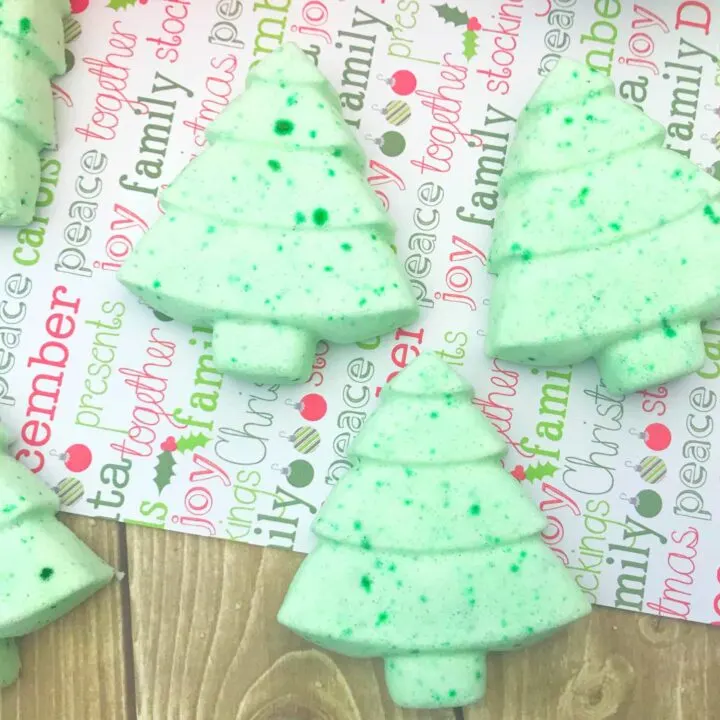 Natural Christmas Tree Bath Fizzies
Total Time:
1 day
30 minutes
Materials
1 cup baking soda
1/2 cup citric acid
1 tbsp. coconut oil
Water
Green food coloring
Tools
Silicone Christmas Tree mold
Instructions
Combine the baking soda, citric acid and coconut oil together in a bowl.
Next, you'll add in water a little bit at a time. Just a little! In fact, if you want to use a spray bottle or eye dropper, that would be great. You just need a little bit of water and combine everything using your hands. You'll want it to be slightly dense but not soaked.
Add several drops of green food coloring, depending on how green you want the Christmas trees to look. You can use your hand to thoroughly mix the coloring in, but you'll probably have green stained hands. Better to use a spoon to mix.
Spoon the mixture into the Christmas Tree molds. Fill each mold about halfway. Use your fingers to press down to pack in the mixture.
Add the remaining mixture on top of the packed down tree molds. Again, press down the mixture to pack in down in the molds.
Set the Christmas Tree bath fizzies in a cool or dry spot for 24 hours to allow them to set.
Use 1-2 Christmas Tree bath bombs in a warm bath.
Recommended Products
As an Amazon Associate I earn from qualifying purchases. I earn from other affiliate programs, as well.
More DIY Natural Beauty Recipes
Love how easy this DIY Christmas Tree Bath Fizzies recipe is? Then you'll love some of our other natural beauty recipes, too: