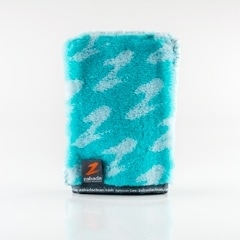 When I first heard about Zabada Clean, I was skeptical, I admit.
It's a product that promises great cleaning, using only water. Surely there had to be some sort of chemicals involved, I thought. (I was anticipating Microban.)
I grilled the company about their products and was promised that there are no chemicals added to Zabada at all. So of course I had to try it out.
I was surprised.
This brightly colored cleaning mitt and accompanying product line can effectively clean and beautify your home using NO chemicals. Seriously. No additional cleaners, either, no matter how green and eco-friendly they are.
That's impressive.
How do they do it?? It's old-fashioned common sense meets modern technology.
The Austrian-based company has engineered a microfiber cloth that is deeper and thicker than most microfiber cleaning cloths, meaning it can grab hold of nasty stuff on surfaces throughout the house and remove them with just water.
The super-human feat is made possible with fibers that are cut 100 times finer than a human hair. Imagine all of those tiny, tiny little fibers clinging on to germs and bacteria and filth you can't even see. Then whisking them away with just a swipe of your hand.
What does this mean for you?? It means no more buying cleaning products, or even having to make them yourself. It's a cleaning system that simply gets tossed in your washing machine and you don't have to worry about it. It lasts 2-3 years with washings. Imagine the savings – and savings on time – without having to worry about buying and storing cleaning products.
Zabada Clean in the Bathroom
I tried out the Bathroom care products from Zabada. They sent me a bathroom glove, a bathroom marvel which dries and shines surfaces, a bamboo towel, two lens cloths, and a laundry bag.
The first place I went was the shower. The grimy mess that builds up on the walls was the best place to put Zabada to the test. I wiped down the tiles and was surprised to find they were shiny and clean, without any residue remaining, when I was done.
I did the same to the bathroom counter surfaces, and was impressed when I saw shiny, grime-free countertops left behind.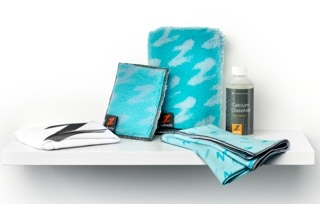 If you're looking for a simple cleaning system and really don't want to have to use any more cleaning products, Zabada would be a great choice for you. It's easy to store, especially if space is at a premium, which means you regain some under counter storage without needing bottles of cleaning supplies.
Different systems have been created for the kitchen, bathroom, and general living areas, with some additional accessories to easily clean the floors and windows.
Whether you're looking for minimalism, or just lazy with cleaning, Zabada Clean could be the answer for you!