Want to reduce stress and potentially improve your health with one ridiculously EASY thing to buy? I KNOW you do! That is why these large wall murals are the answer!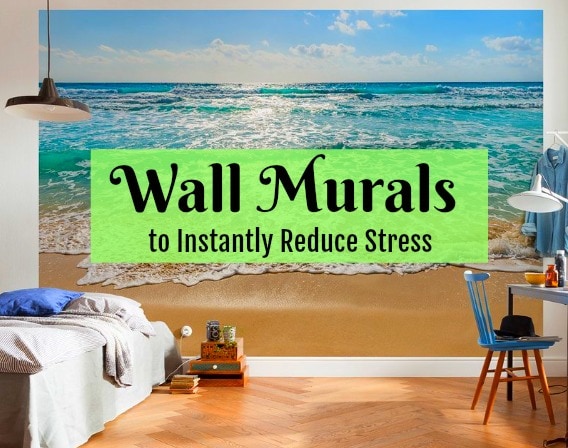 Nature is oh, so important to reducing our stress levels and, in turn, receiving positive health benefits. As a WELL AP, I know the scientific research and data showing how nature is necessary for human health. Biophilia – which is humans innate need to connect with nature – is at the core of WELL design standards. I think it's also just common sense, too.
Want to stare at a plaster wall all day or see an image of trees, a beautiful beach, or wildflowers?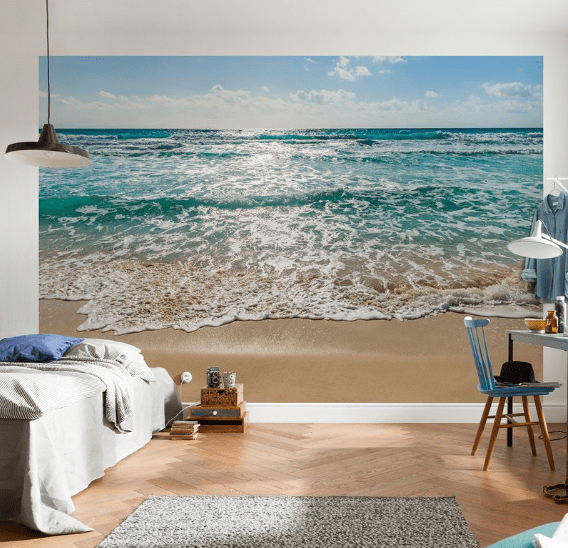 Seaside Wall Mural / Photo: Wayfair
Come on, you know the correct answer to that one!
If you are currently stuck in a not-so-nice housing or work situation, where you dream of a window with beautiful outside views but are actually stuck staring at a brick wall or alley-way, then large wall murals are for you!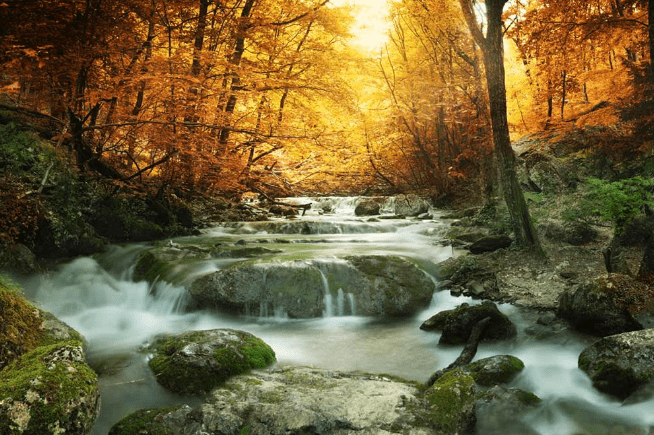 River in Golden Forest / Photo: Amazon
The best part? They can be way less than $100! It's a lot of bang for your buck with these design elements.
A can of paint can cost near $40. And you're just looking at one color. A wall mural gives you an entire window to the world for a just a few dollars more.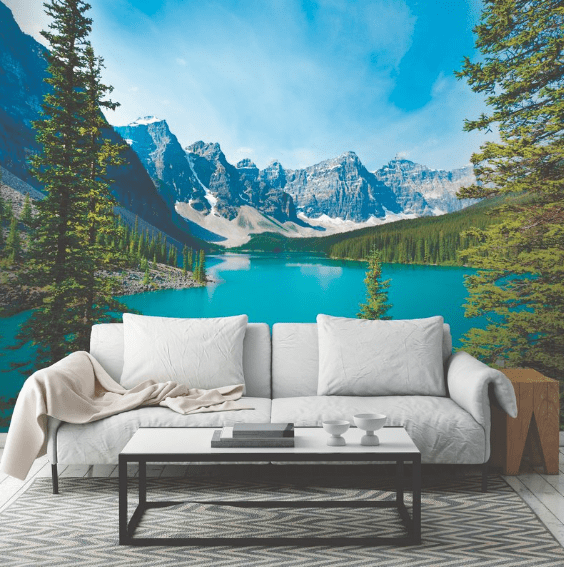 Lake Moraine Wall Mural / Photo: Wayfair
Pay attention to how you feel looking at these wall murals. Do you feel more relaxed? Do you feel hopeful or inspired to start traveling? Are you smiling to yourself? Have you – for just one minute – forgotten about the stress of your day and your living conditions and have transported yourself to a beautiful piece of the world?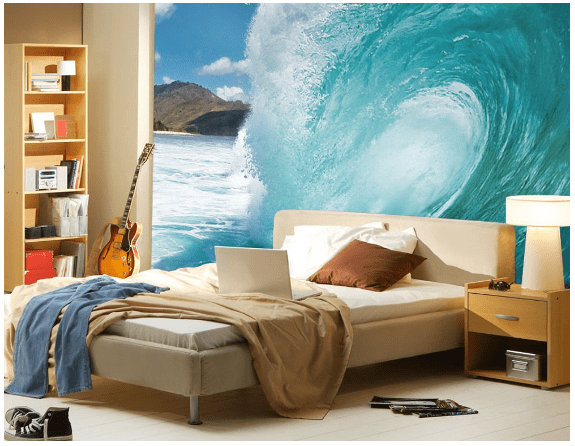 Blue Wave Wall Mural / Photo: Amazon
This wall mural contains NO VOCs, is made with organic pigments, and FSC Certified paper
These are all GOOD things. And they can be good for YOU, too! There are beautiful and easy solutions to start living a happy life.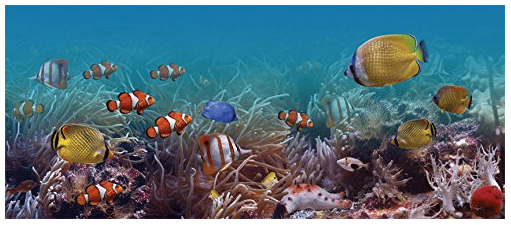 Coral Reef Wall Mural / Photo: Amazon
This wall mural is made with organic pigments and water-based adhesive
Wall Murals are Perfect For:
Renters
Apartment dwellers
Condos
Urban housing
Kids playrooms
Bedrooms
Living rooms
Office spaces
Cubicles

Horseshoe Bend Wall Mural / Photo: Wayfair
What Are Wall Murals?
Large wall murals are no different than a gorgeous photograph that you hang on the wall. Only in this case, they take up the ENTIRE wall – or a major portion of it.
They make you feel like you are actually walking into the nature scene itself, as if it's your backyard.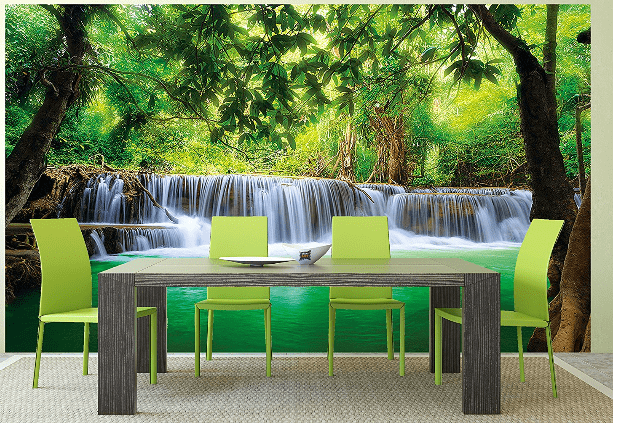 Exotic waterfalls wall mural / Photo: Amazon
Wall murals come in all shapes and scenes. There is literally something for ANYONE. I focus on nature, because there are so many studies proving that it can help you feel happier. There are modern art prints, cartoon characters, abstract designs, quotes….anything you can think of. Check out all of these affordable wall mural options.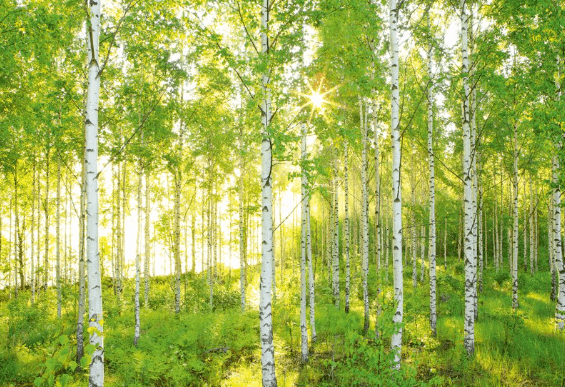 Trees Mural / Photo: Wayfair
Think of large wall murals a bit like wallpaper – but don't be scared! They're only on one wall, like an accent piece.


How To "Create" A Fake Window
You might not have many windows in your home or office. You *could* hire a contractor and architect to come in, tear down some walls, create a mess for a long time, and be footing a hefty large bill for the new window.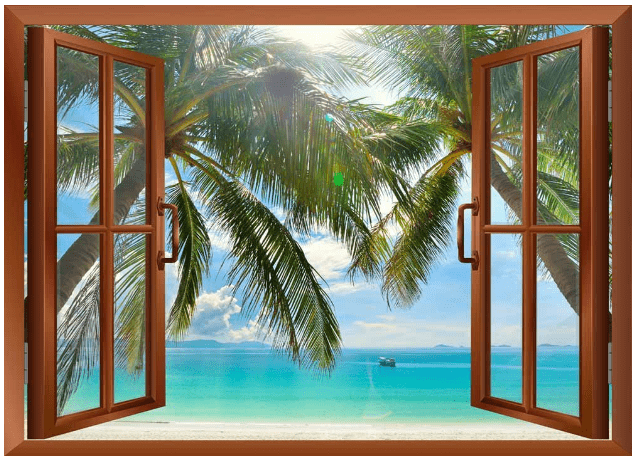 Tropical Window Wall Mural 3′ X 4′ / Photo: Amazon
Or you could get a wall mural with a stunning scene to create a fake window for much less hassle and FAR less money!!!
Here are some great options that will make you think you've got a window overlooking paradise: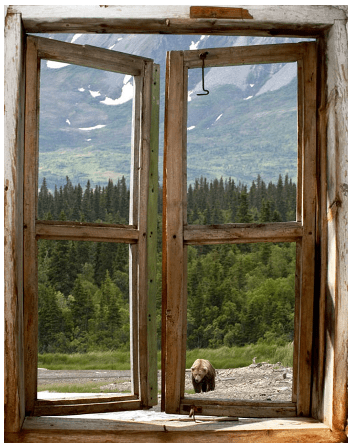 Window onto Forest with Bear / Photo: Amazon
This wall mural contains NO VOCs, is made with organic pigments, and FSC Certified paper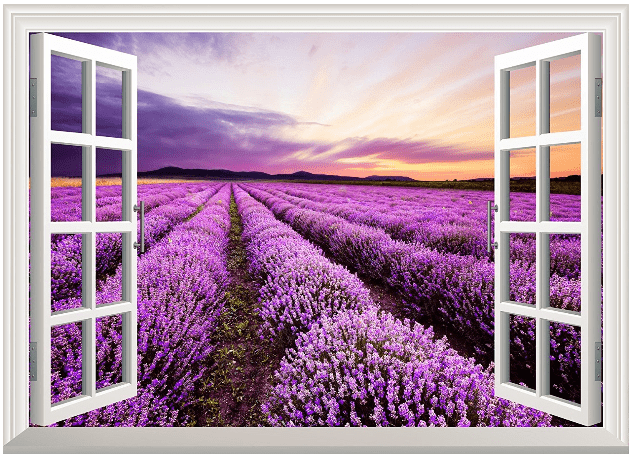 Window overlooking lavender fields / Photo: Amazon

How to Apply a Wall Mural
Many of the wall murals come with adhesive or a stick-and-peel application.
For the stick-and-peel wall murals, all you have to do is remove the liner and apply to the wall. Of course, you need to make sure it is applied straight, so it would help to have another person assisting you with the application.
Other wall murals come with an adhesive, just like a wallpaper adhesive. When applying a wall mural, make sure you are using a non-toxic adhesive.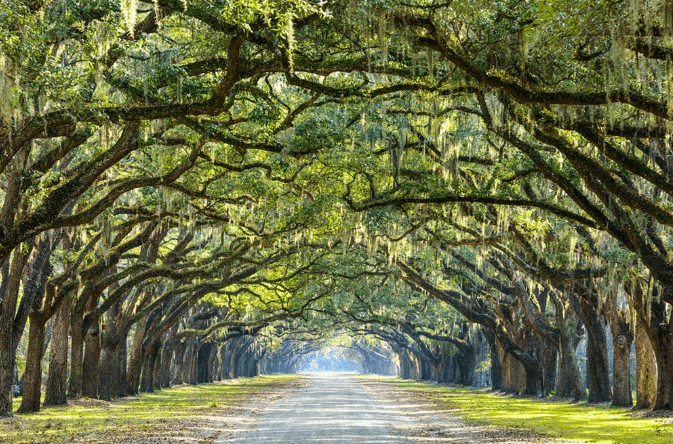 Arched Trees Forest Walkway / Photo: Amazon
One caveat: Some of these wall murals could contain PVC, which is a chemical that can off-gas into your home. If you notice a smell like plastic, that could be a warning flag. Other people don't worry as much about small amounts of potential chemicals compared to the need to just reduce stress and feel happy. So it's up to you and your tolerance levels.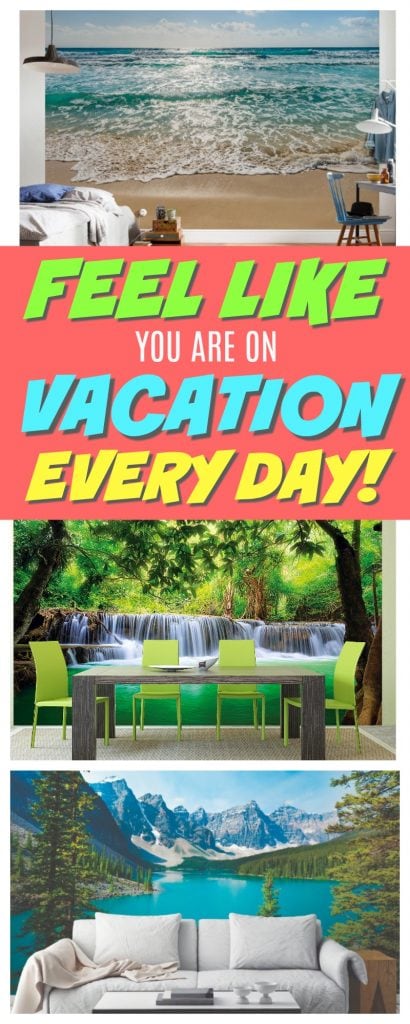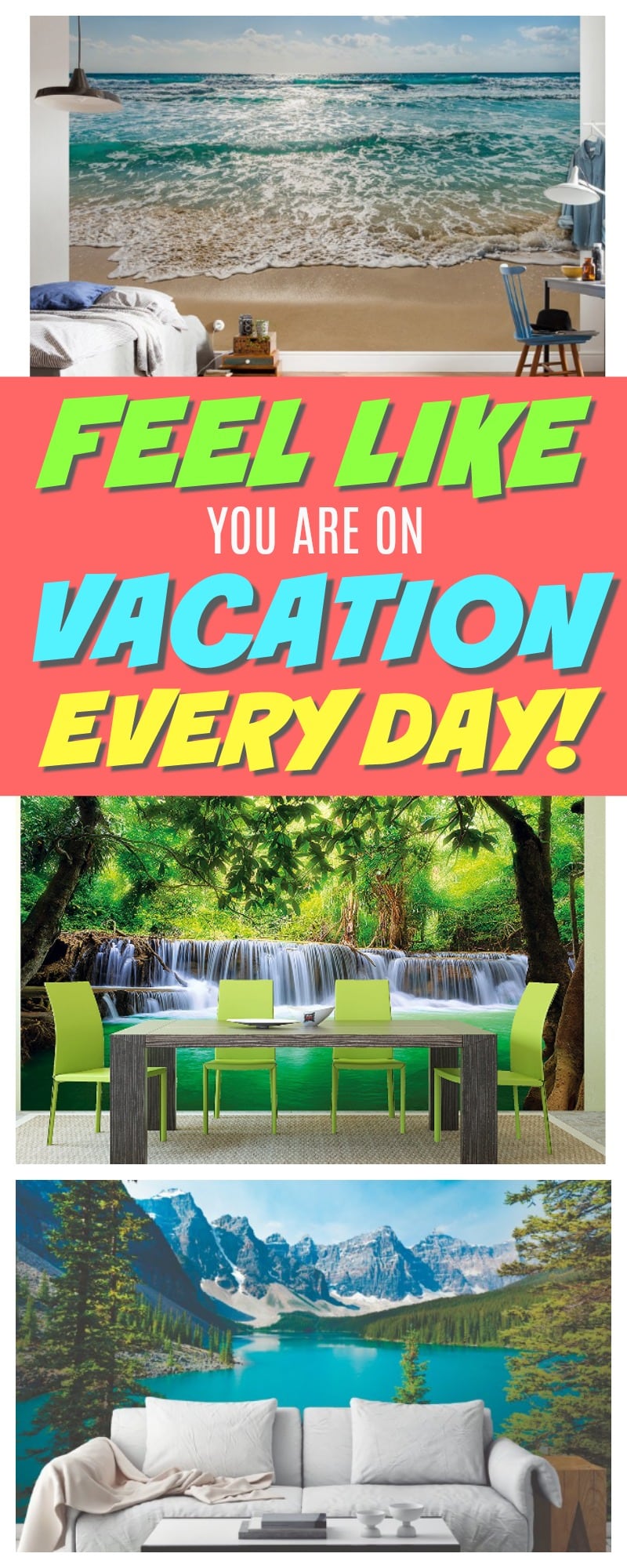 Are Wall Murals Removable?
Most of the wall murals claim to be removable. Wall murals put up with a wallpaper adhesive would need to be removed just like wallpaper.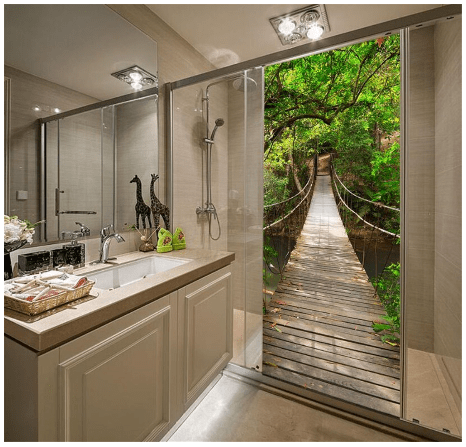 Vertical Wall Mural Forest Bridge / Photo: Amazon
Wall murals using the peel and stick backing often state they are removable. So do lots of those sticky-backed hooks that go on walls, and I never have any luck with those, either. Maybe you do.
The Ultimate Stress Relief Wall Mural
On a tour of the Minuteman Missile National Historic Site, we were able to go into a decommissioned missile launch facility. This is where the men and women who were on call 24/7 for three decades lived while working their shifts. (By the way, there are STILL lots of active missile sites underground in South Dakota.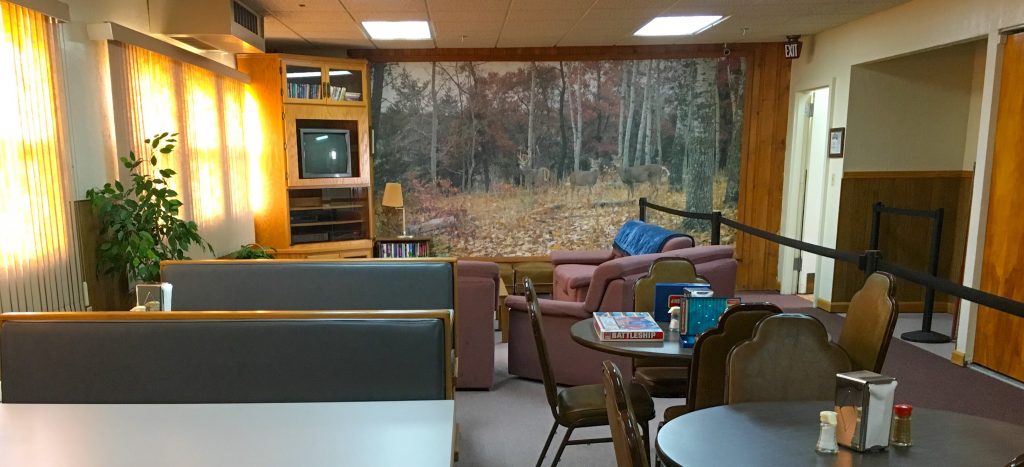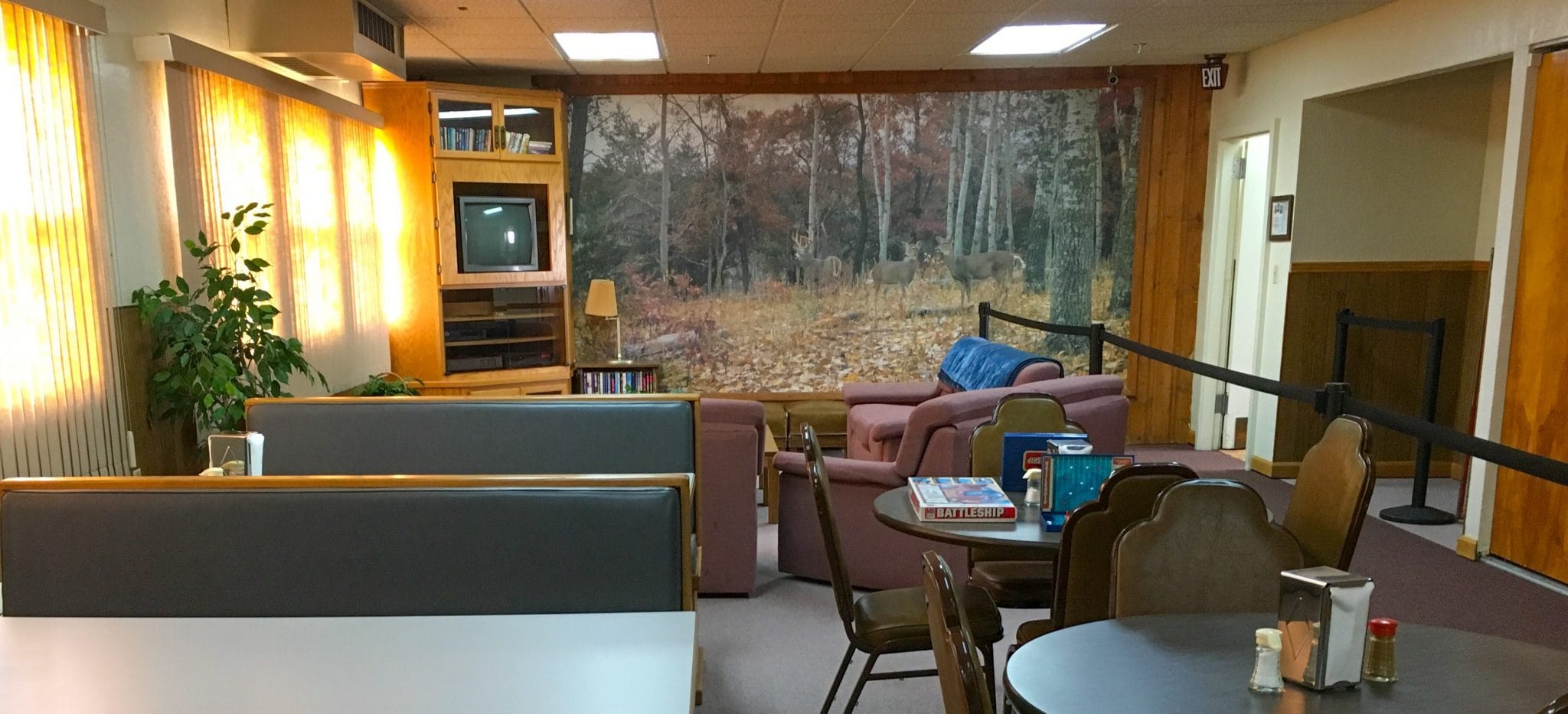 Their job – should they ever have had to do it – was to launch a missile that would have nearly destroyed the world. There would have been no recovering from the nuclear missiles that they would be have been launching. It was a high stress environment, for sure. Imagine our surprise when we walked into the staff's break room and found that one of the few pieces of décor they had was a nature scene wall mural at the back of the room (complete with deer).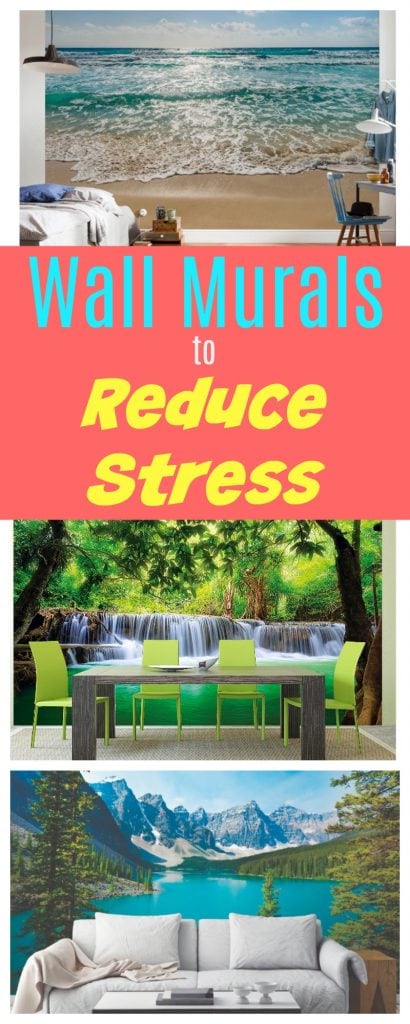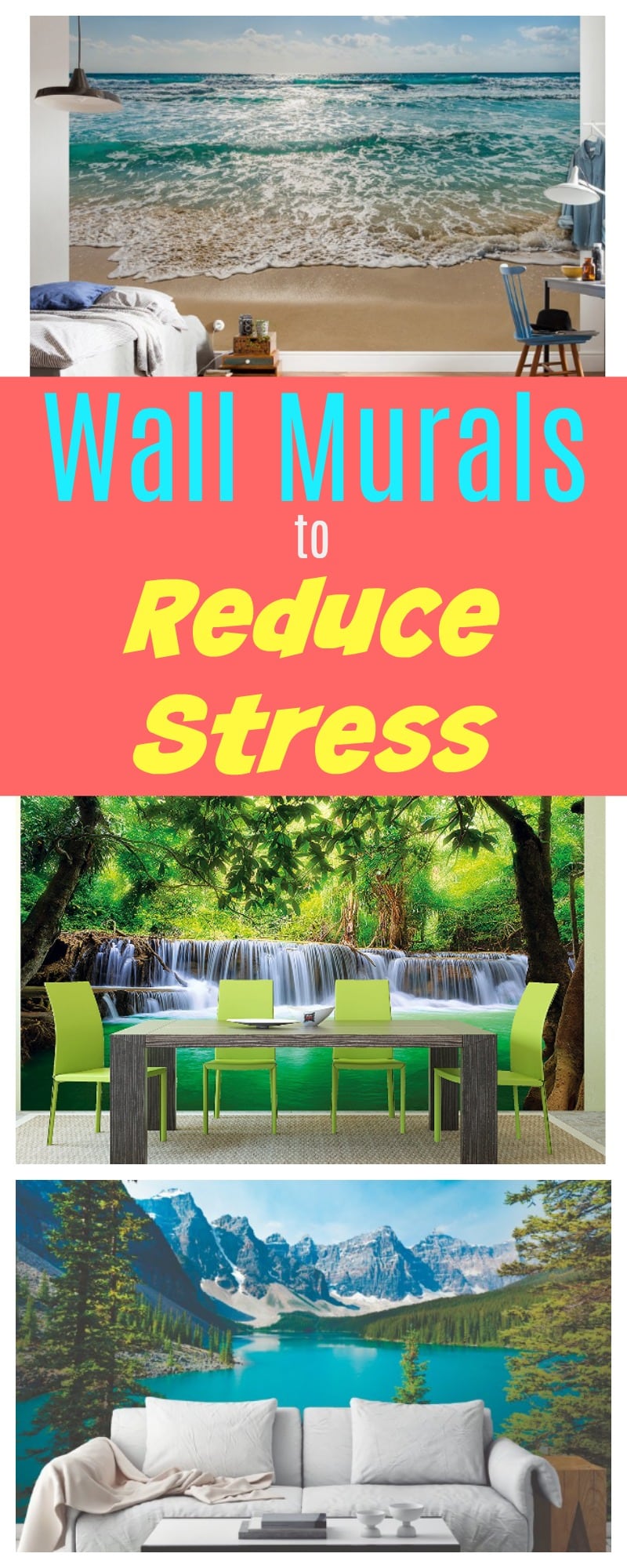 If it works for the men and women who are in charge of nuclear missile launches, it might work for your life's stressors, too.