This is a sponsored post, but all opinions are my own.
Shopping with a toddler is a test of patience, strong will and smart timing. Let's face it, shopping with kids in tow is only for the strong of heart. When it is time to do a Walmart run for all of life's basic necessities, you will want to bookmark these helpful tips for shopping with a toddler!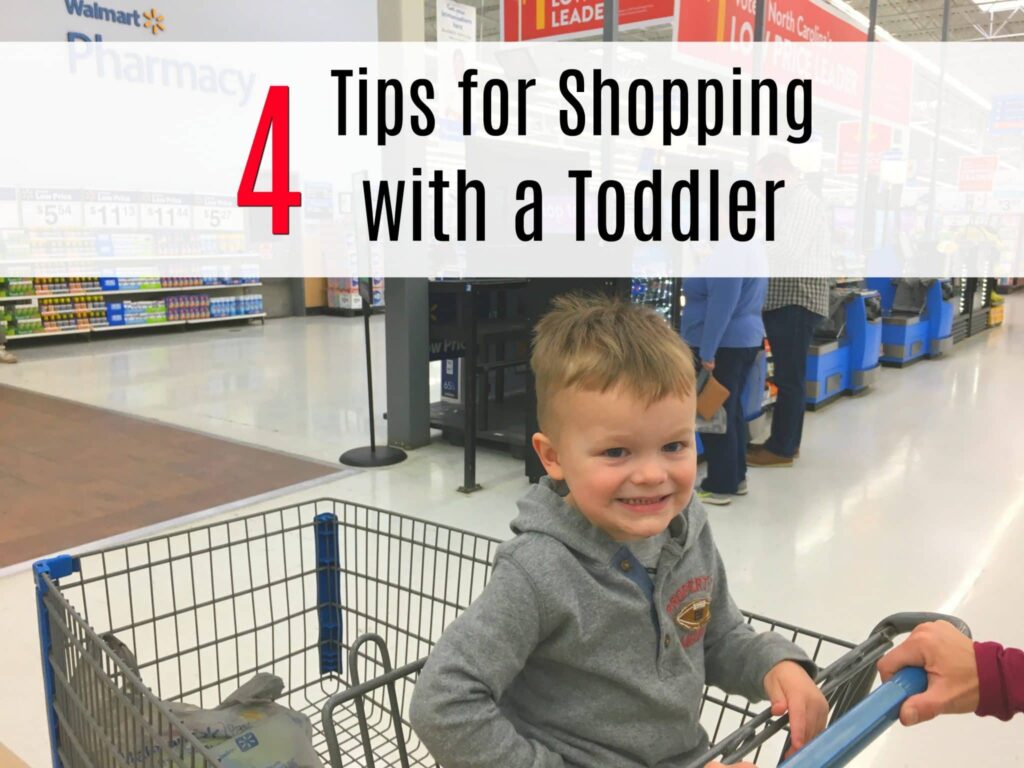 Shopping with a Toddler
My sister and I often meet up to go shopping. In fact, that is our favorite way to get together and stay in touch.
Yet my nephew just turned 3 years old. And he is totally everything that you expect a toddler to be.
Shopping with my sister and nephew in tow has become an art form. After many epic meltdowns, we have all learned some things.
The most important lessons are:
Timing is Everything
When it comes to shopping with kids, timing is everything.
Scheduling a shopping trip during nap time for a toddler is asking for failure.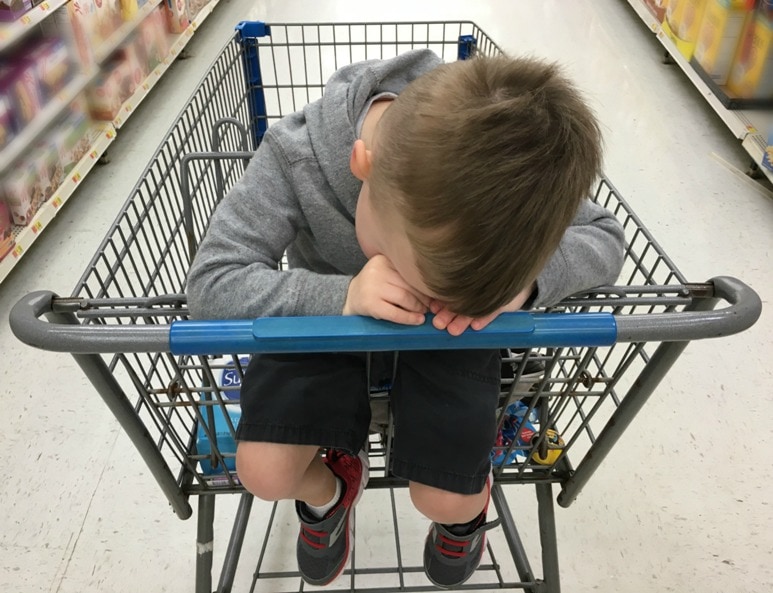 Trying to run errands after work or after an evening event might not be wise, either. If your child starts to get cranky and/or wired as the day goes on, it isn't going to be pleasant for either one of you to try to walk the aisles of your favorite store.
Imagine it like this: If you were a morning person, would you choose to go shopping at night? If you hated mornings, would you willingly schedule your most important phone calls or classes early in the day?
Forcing anyone to be on good behavior when it is not a good time for them is never going to result in a positive experience. Regardless of their age.
For us, shopping with Marc is much better just after he wakes up in mid-morning. The later in the day it gets, the more irritable he becomes when spending hours shopping. (Yes, we are often in Walmart for hours shopping!)
You know your toddler's temperament better than anyone. Aim to go shopping when they are calmer during the day.
Smart Snacks
Getting hangry is a real thing. Even for toddlers.
When Marc starts digging in one of our purses, we know he's hungry and needs a snack.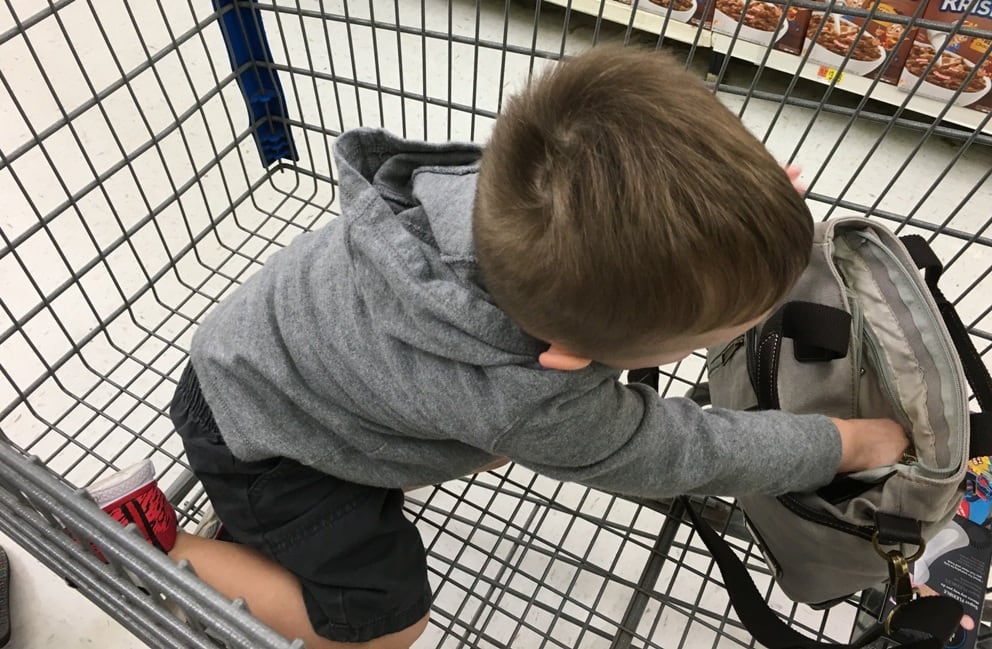 Being surrounded by aisles and aisles of food and temptation is hard for anyone during a Walmart shopping trip.
And we are both trying to shop smarter for our homes and choose more mindful products to stock the pantry.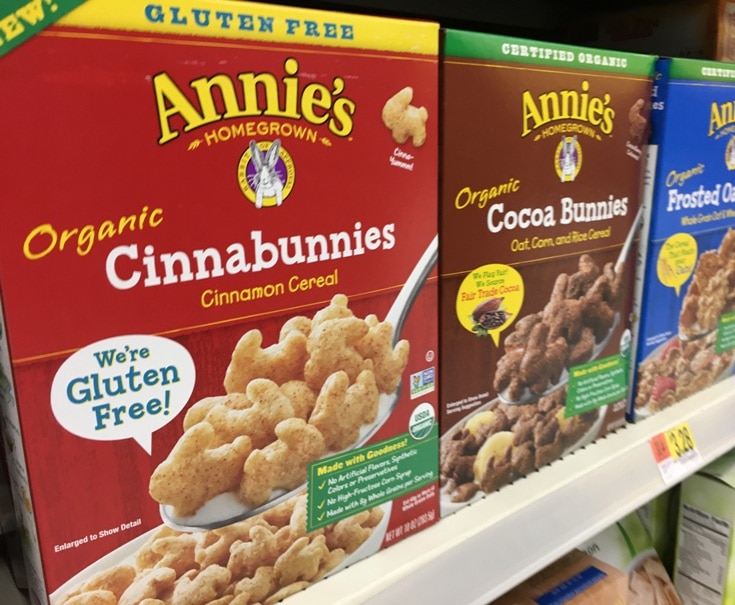 We both have got lots of Annie's and Cascadian Farm products in our pantry. We stock up at Walmart during our weekly run.
Since Annie's and Cascadian Farms are favorite foods for Marc and for us, we head towards the cereal aisle immediately before shopping. Adding a box of Annie's Organic Cinnabunnies Cereal or Annie's Cocoa Bunnies is a simple step in choosing foods we want to feed our family.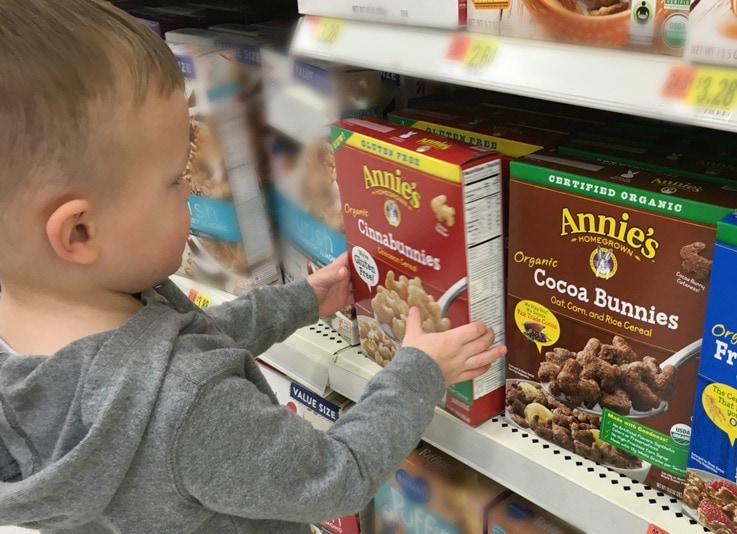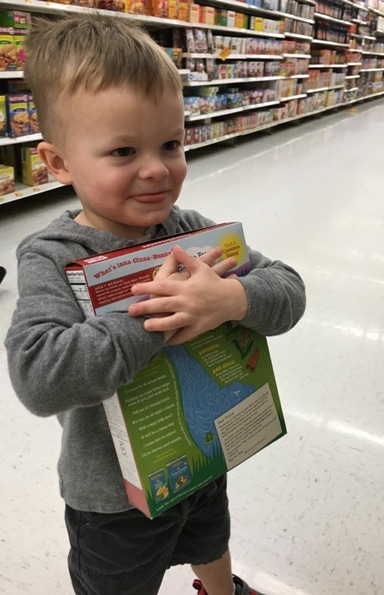 Bonus points for having a kid-friendly snack on hand, too! When Marc starts getting cranky, opening a box of Cinnabunnies or Cocoa Bunnies is a perfect snack for him. He loves digging in the box and pulling out yummy bunny-shaped snacks.
My sister brings the rest back home for breakfast and afternoon snacks.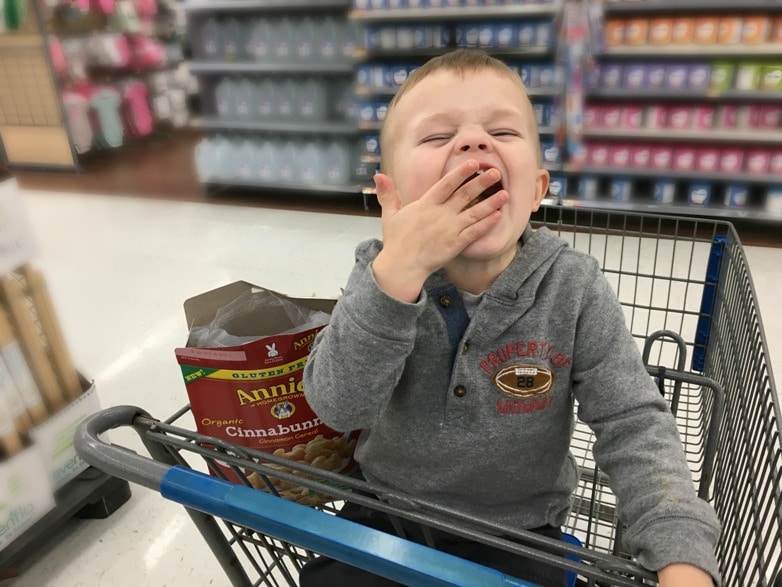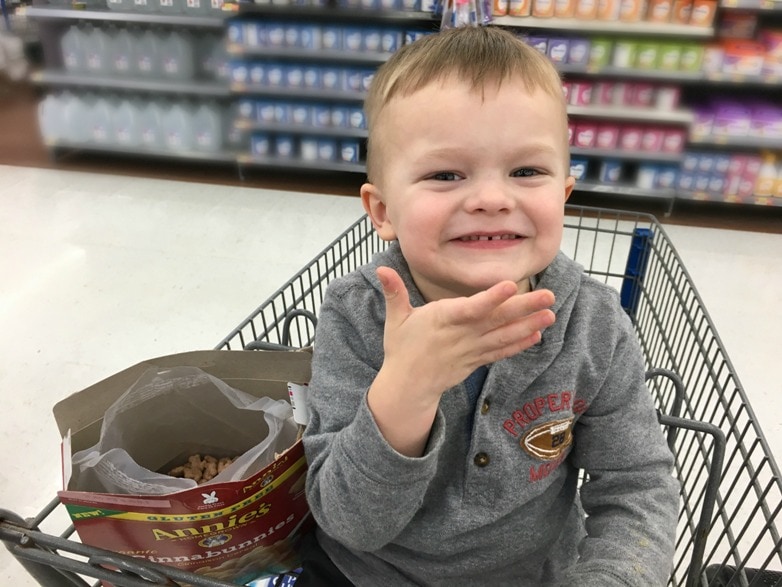 We love shopping without fear of him grabbing lots of food that we wouldn't want in our house. And it really makes him happier and easier to shop with because he is content eating delicious snacks.
Active Play Time Geared for Shopping Carts
Toddlers need constant stimulation. Something that is hard to give when you are trying to push a shopping cart, pick out items, talk and do price comparisons while shopping.
That is why toys that involve movement and creativity are great for keeping kids entertained.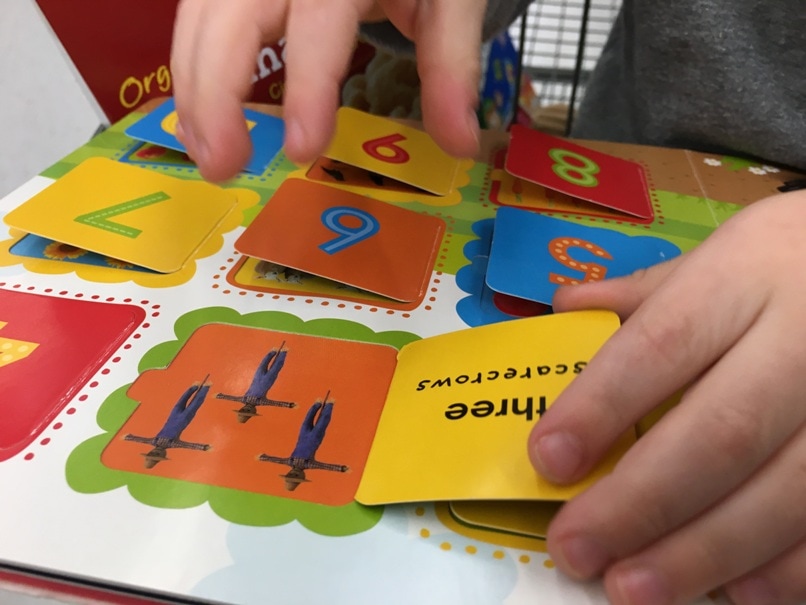 Pop-up books and books with tabs to pull and open seem to be a winner with toddlers. They are more active than traditional books. The extra activity can add precious minutes of individual playtime to give adults a chance to shop.
Marc also loves bringing his favorite toys. The only toys that are allowed to come into a store are ones that:
● Won't slide through the open holes of a shopping cart
● Don't have lots of little pieces to take off and fling out of the cart
● Can easily be cleaned when they inevitably land on the floor
Hand Sanitizer
It would be great to think that a toddler's hands would be as clean when they left a store as when they entered.
Everyone who has ever shopped with a toddler knows that will never happen.
Touching everything that they see is common. Even if you wipe off the shopping cart handrail with a provided sanitizing wipe, or use a seat cover to shield from germs, stuff is going to happen.
They will climb on the floor.
They will touch every shelf.
They will find the nastiest item that they can find to put in their hands and then put their hands in their mouth.
Guaranteed.
Pack a bottle of natural hand sanitizer for cleaning little hands without worry. It saves you having to run to the bathroom every 10 minutes to wash hands.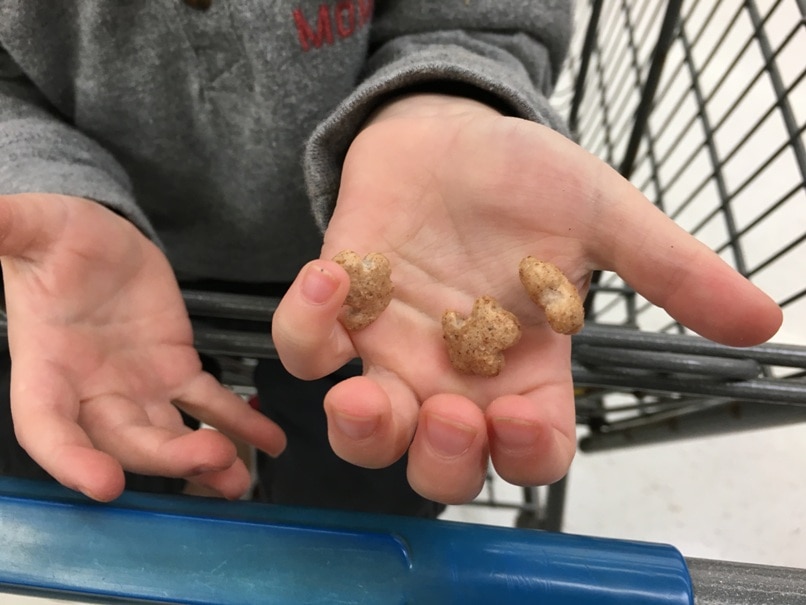 And it's especially important to clean a toddler's hands before they snack.
Tech Toys
Okay, after we have tried all of the other tricks for shopping with a toddler, sometimes there are days when he just won't behave.
Like, at all.
We all have those days.
And, yet, errands still have to be run.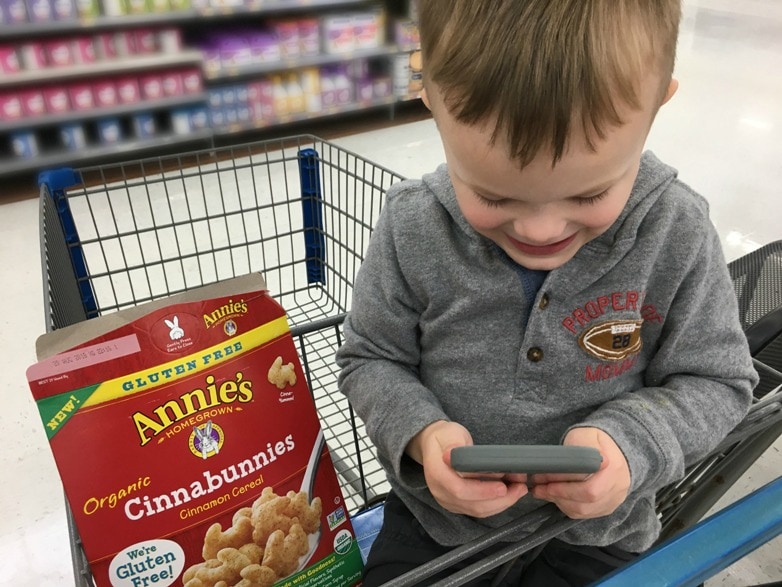 My sister tries to limit screen time with my nephew. But some of the rare exceptions are when we are shopping. Sometimes the iPad or one of our phones just have to come out with a favorite kid-friendly movie or game.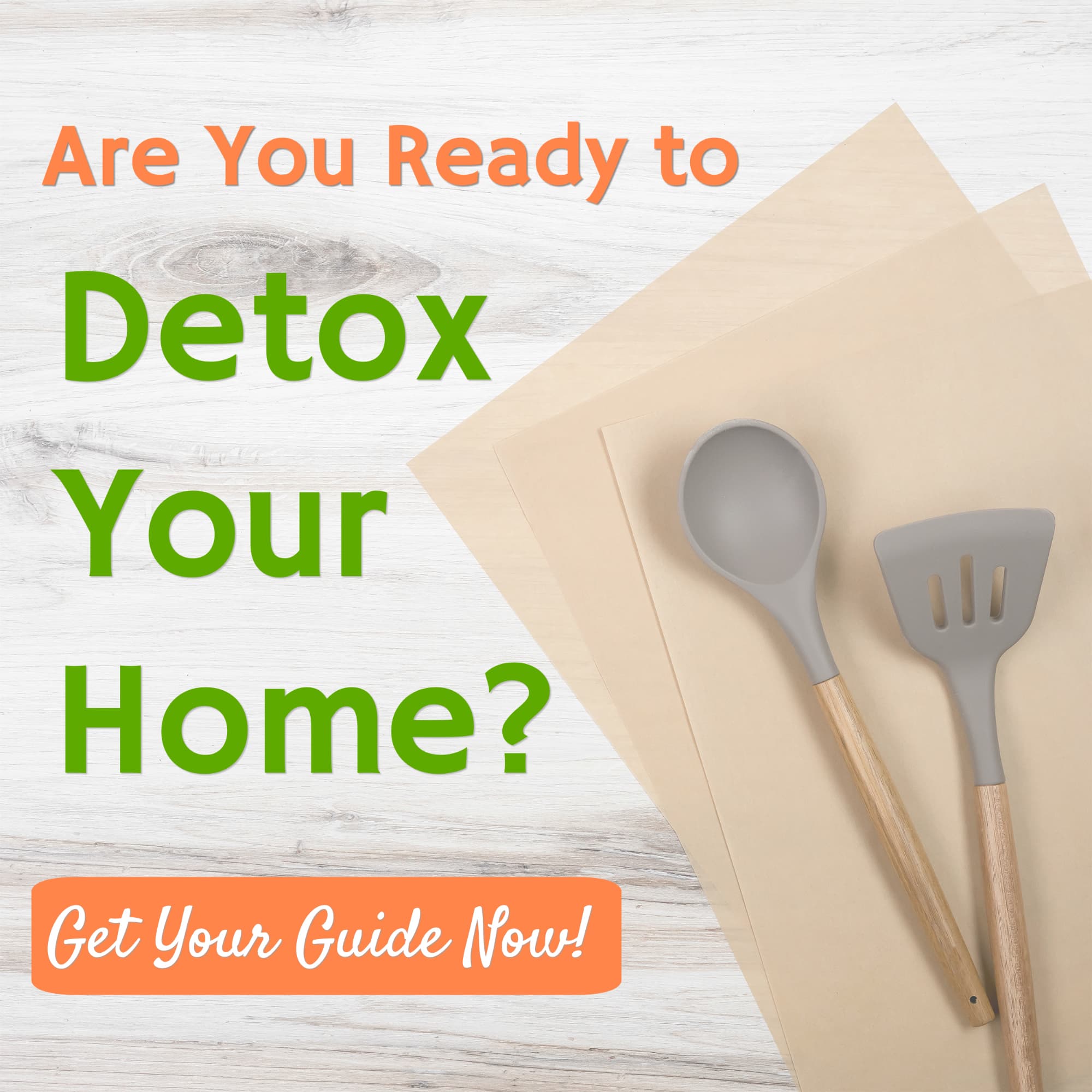 That is when a personal hotspot or unlimited data package come in handy. Don't rely solely on a store's public wifi. You don't want a meltdown because of a slow wifi connection.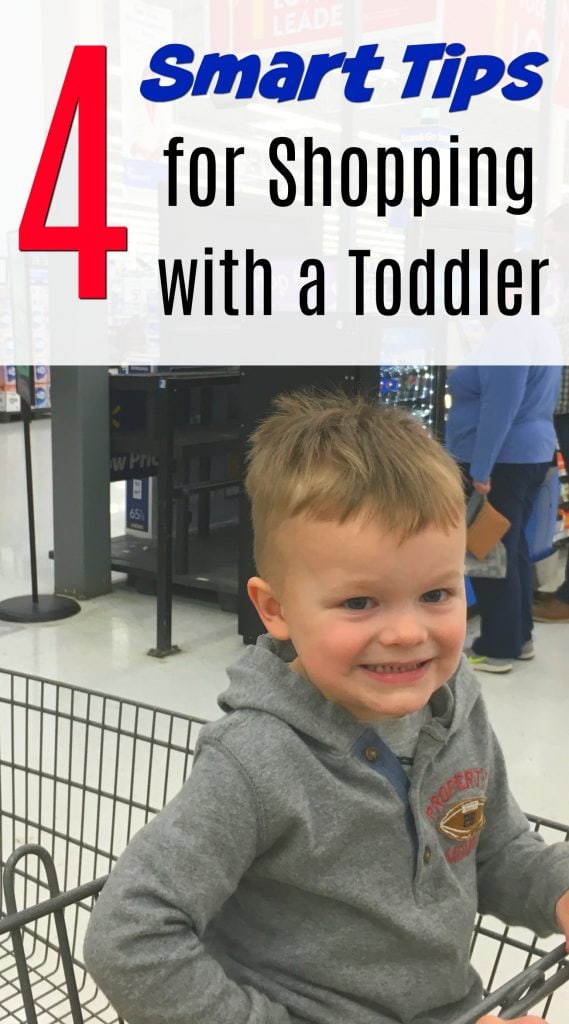 What are your favorite tips for shopping with a toddler?