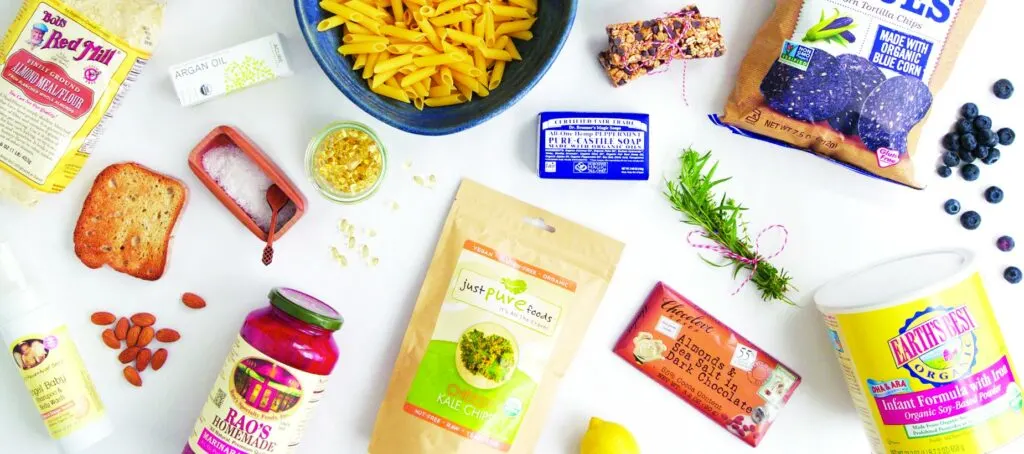 A new way to order natural and organic foods at a discount is now available to savvy shoppers. Wholesome Products for Wholesale Prices is the mission of Thrive Market, a socially conscious online retailer. Is it worth the cost of membership, though?
Thrive Market sells more than 400 brands and more than 2,500 products, from personal care to supplements, foods to home items. Thrive Market promises prices at 25-50% off retail prices.
But here's what makes Thrive Market different than Vitacost or Amazon, two online retailers I already use: There is a membership fee. And it's $59.95. There is a FREE 30-day trial, though, so you can decide for yourself whether the brands and prices work with your needs. Every time a new member joins Thrive Market, a free subscription is given to a low income family.
So I put Thrive Market to the test, comparing the prices of the products that I buy repeatedly on sale at Whole Foods or Publix, or through Vitacost. At this point I know a good deal on the foods that we use, so I was anxious to see what Thrive Market could offer – and whether that membership fee would be worth it.
Shipping is free on orders of $49 or more, so I really stocked up on some of our favorites. There are 90+ filters for the products that Thrive Market sells, from dye-free foods to phthalate-free or Non-GMO, so it's easy to search the website however you shop.
Here's a few of the items that I looked at. The prices listed first are from Thrive Market (you must register through Thrive Market first before you can see these prices). Prices for competing stores, from online retailers such as Vitacost, to grocery stores such as Whole Foods and Publix, are listed in parenthesis.
Price Comparisons for Thrive Market Versus Other Online Retailers and Grocery Stores (Dec. 2014)
Enjoy Life Mega Chunk Chocolate Chips: $3.95 (Vitacost $4.39 ($3.73 with sale); Whole Foods $4.99)
Cascadian Farm Chocolate Chip Granola Bars 6 pack – $3.95 (Vitacost $4.99; Target $2,99, Publix $3.99)
Kind Bars 12 pack – $15.95 (Vitacost $17.99)
Navitas Naturals Organic Shelled Hemp Seeds: $8.45 (Vitacost $9.79, Target $11.99)
Nutiva Organic Shelled Hemp Seed 8 oz.: $6.95 (Vitacost $6.99)
Nature's Path Love Crunch: $3.95 (Vitacost $5.29)
Nature's Path Organic Chewy Granola Bar, Dark Chocolate Chip: $3.95 (Vitacost $4.39, Whole Foods $4.69, Publix $4.49)
Nature's Path Frosted Maple Brown Sugar Toaster Pastries: $3.25 (Vitacost $3.99)
Seventh Generation Multisurface Disinfecting Wipes 70 count: $5.45 (Vitacost $5.19)
Source Naturals Wellness Formula 240 capsules: $22.95 (Vitacost $22.70)
Boiron Coldcalm 60 Tablets: $6.95 (Vitacost $6.99)
Source Naturals Wellness Fizz: $3.95 (Vitacost $4.20)
Earth Science Eye Make Up Remover: $4.95 (Vitacost $5.57)
Pacific Foods Organic Cream of Mushroom Condensed Soup: $2.25 (Vitacost $2.99, Whole Foods $2.99, Publix $2.69)
Annie's Bunny Grahams: $2.95 (Vitacost $3.99, Target $2.29, Publix $3.89)
Dandie's Marshmallows Vanilla: $3.45 (Vitacost $3.99)
Back to Nature Chocolate Chunk Cookies: $3.55 (Vitacost $4.19, Publix $3.29)
As you can see Thrive Market does come in at a lower price most of the time. Add in extra savings with your first purchase (using my affiliate link), and the prices really do come down.
But would I continue to order from Thrive Market? I don't know. I like placing online orders once every month or two and stock up on items we use every day. My intention was to buy a lot of Nature's Path granola bars, but I was limited to ordering only 5 boxes. Five boxes won't last long in my house. I'm also limited to the brands that are currently available on Thrive Market. It's a growing retailer and I expect more offerings to be added soon, but many of the things that I order online were not available through Thrive Market, making it hard to reach that $49 minimum.
I also don't mind shopping sales. For example, Back to Nature Chocolate Chunk Cookies are routinely on sale for $2.50 at Publix. Vitacost offers additional sales and discounts on their retail prices, with free shipping offers. These online retailers are also part of Ebates, so I get additional cash back on top of their sales. So, whether or not to buy a membership for Thrive Market comes down to when and how you shop, and what you buy.
My order was placed on a Monday before Christmas and shipped the same day. I didn't get it until the next Monday, but that is because of a major holiday in the delivery time frame.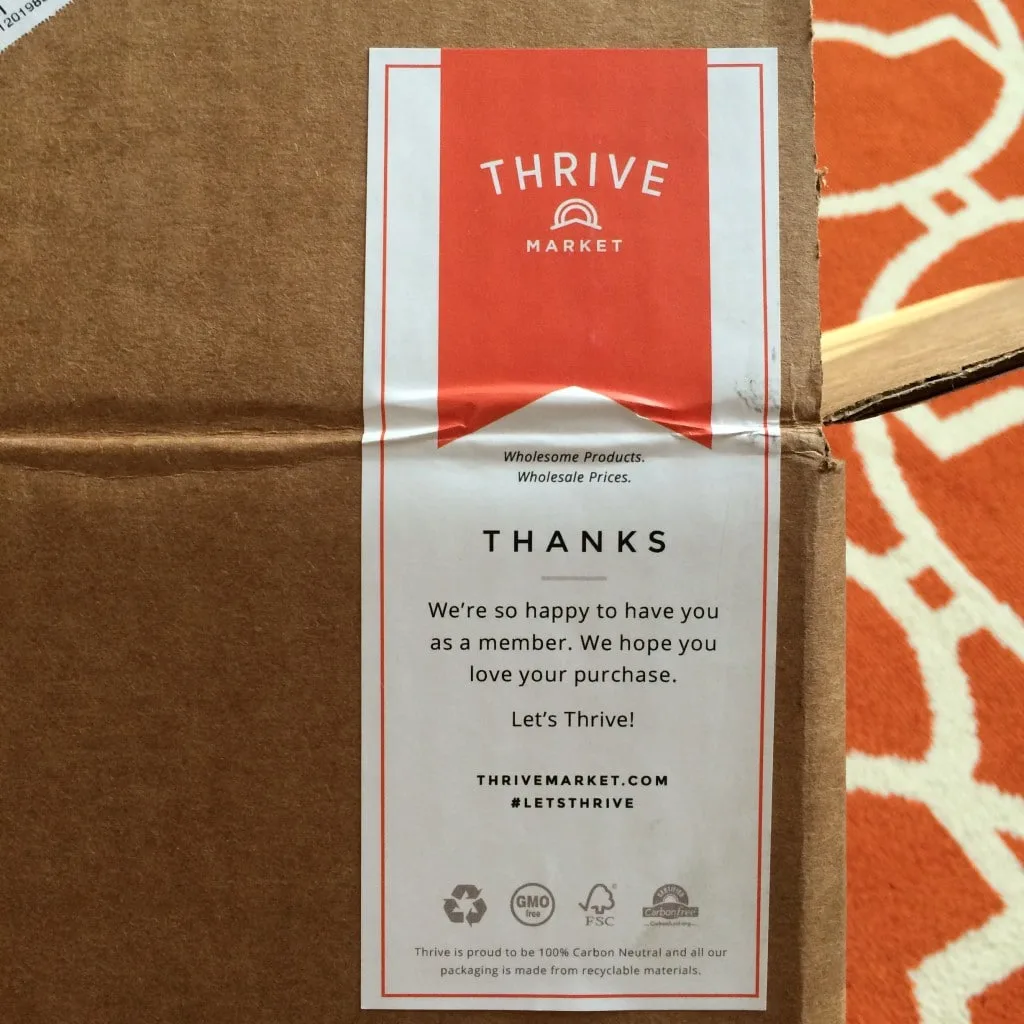 When my order came, I enjoyed seeing a sticker on the outside thanking me for joining Thrive Market.
When I opened up the box, everything was in order. Except for the fact that I was missing one box of granola bars that I had paid for. When I realized this, I went to the computer to send an email to request a refund. However, I found an email already in my inbox, with a refund for the missing box already put through. I don't know how Thrive Market realized it's mistake, but I have to give them credit for catching it and adjusting my bill immediately.
So what do you think? Are you ready to join Thrive Market?