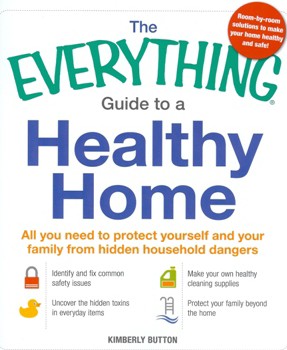 I am so excited to say that my new book, The Everything Guide to a Healthy Home, has been published by Adams Media / Simon & Schuster! It is now available online and in bookstores everywhere!
The Everything Guide to a Healthy Home is an easy to understand room-by-room makeover of how to remove potential toxins from every part of your home and your life. For instance:
Did you know that your hand soap could actually be causing some health problems?
Find out how the sun can help you banish your indoor allergies.
Learn the $2 trick to keep more than 100 potentially toxic indoor chemicals from accumulating in your home.
Get Rid of the Toxins!
The Everything Guide to a Healthy Home will quickly and easily show you where some of the most potentially toxic items are in your home. And it gives you the resources to make quick and affordable changes.
Do as much as you'd like or as little, but it all adds up!
With plenty of websites with product info throughout the book, you don't have to navigate bogus marketing claims and confusing store aisles to shop healthy for your family – it's all here!
I want to help you reduce some of the toxins in your life. So that no one in your family ever has to suffer from a medical condition that could have been prevented. I hope you agree, too, and pick up a copy of The Everything Guide to a Healthy Home.
Available at Amazon.com, Barnes and Noble, Simon and Schuster and ask at your favorite retailer!
Healthy Home Consultant
If you are looking for healthy home consultants, I can offer personalized guidance to creating a non-toxic home. As a Certified WELL AP I am a healthy home expert that can help you detox your home. I also have lived more than a decade with mysterious illnesses that couldn't be healed. That is, until I found – and removed – the hidden toxins in my home. I overcame the challenges and I can help you create a home for health and healing, too!
Visit my healthy home consulting page for more information on my services.
Or, if you'd like to invest in a detailed course that you can do on your own, check out my Ultimate Home Detox Guide and other resources in my Get Green Be Well Learning Academy.