Have you heard about Stay Well rooms? Chances are, you haven't. Yet they are amazing hotel rooms that are designed for wellness that you'll want to know about before your next travel.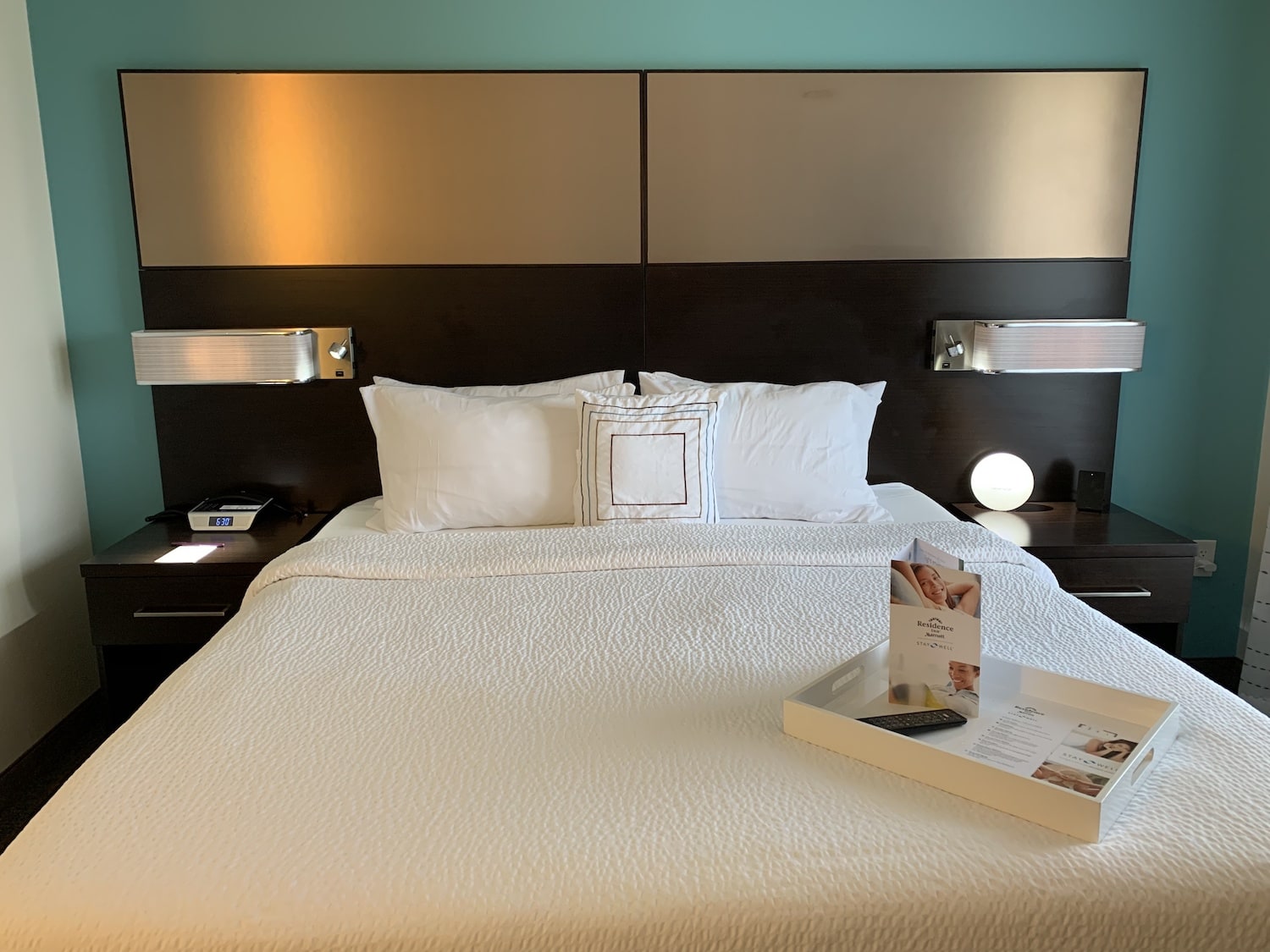 As a WELL AP, I am very familiar with Stay Well rooms. They are developed by Delos, a global wellness company that also designed and developed the WELL Building Standard.
But the average traveler probably has no idea that Stay Well rooms are an option at well-known hotel chains, including Marriott.
What Are Stay Well Rooms?
Designed for wellness while traveling, Stay Well Rooms support your health and minimize the impact that travel can have on your health.
Stay Well Rooms go beyond the traditional amenities in a standard hotel room. In a Stay Well room, you can expect:
Air Purification
Circadian lighting
Aromatherapy
Natural memory foam mattress
Shower filter to reduce chlorine
Night lighting
Dawn simulator
Energizing light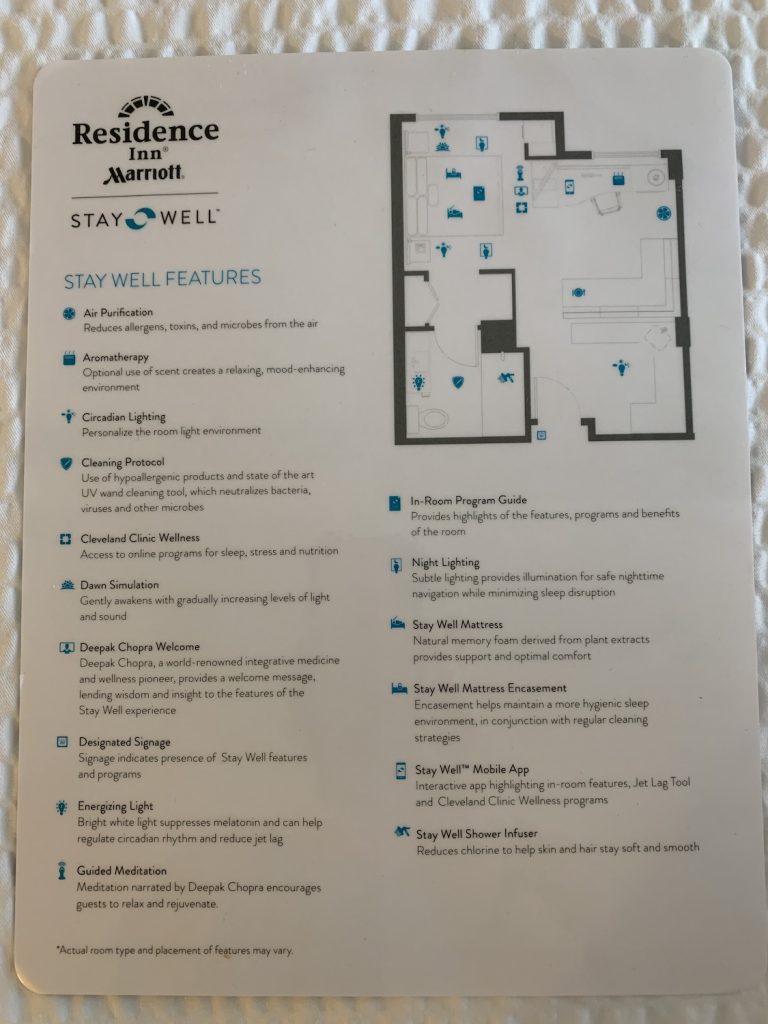 Stay Well rooms are a group of specialty rooms in a hotel. For instance, a hotel might have 10 floors of standard hotel rooms, with one floor of Stay Well rooms.
Stay Well Rooms Review: Residence Inn Orlando Lake Nona
During a media visit to the Lake Nona area of Orlando, Florida, I was offered a complimentary stay in the Residence Inn Orlando Lake Nona.
The Lake Nona area of Orlando is known as a wellness hub in Florida. The rapidly growing area, known as "Medical City," has some of the most advanced medical research and wellness technology in America.
So it makes sense that there would be two properties in Orlando with Stay Well rooms.
The Residence Inn and the Courtyard Orlando Lake Nona are two separate properties, but in one building. They are located within walking distance of many of the restaurants, shops and community areas of the Lake Nona community.
I didn't know what to expect when arriving at the Marriott properties in Lake Nona. I was kind of surprised to find that the Stay Well rooms were all located on a floor of their own.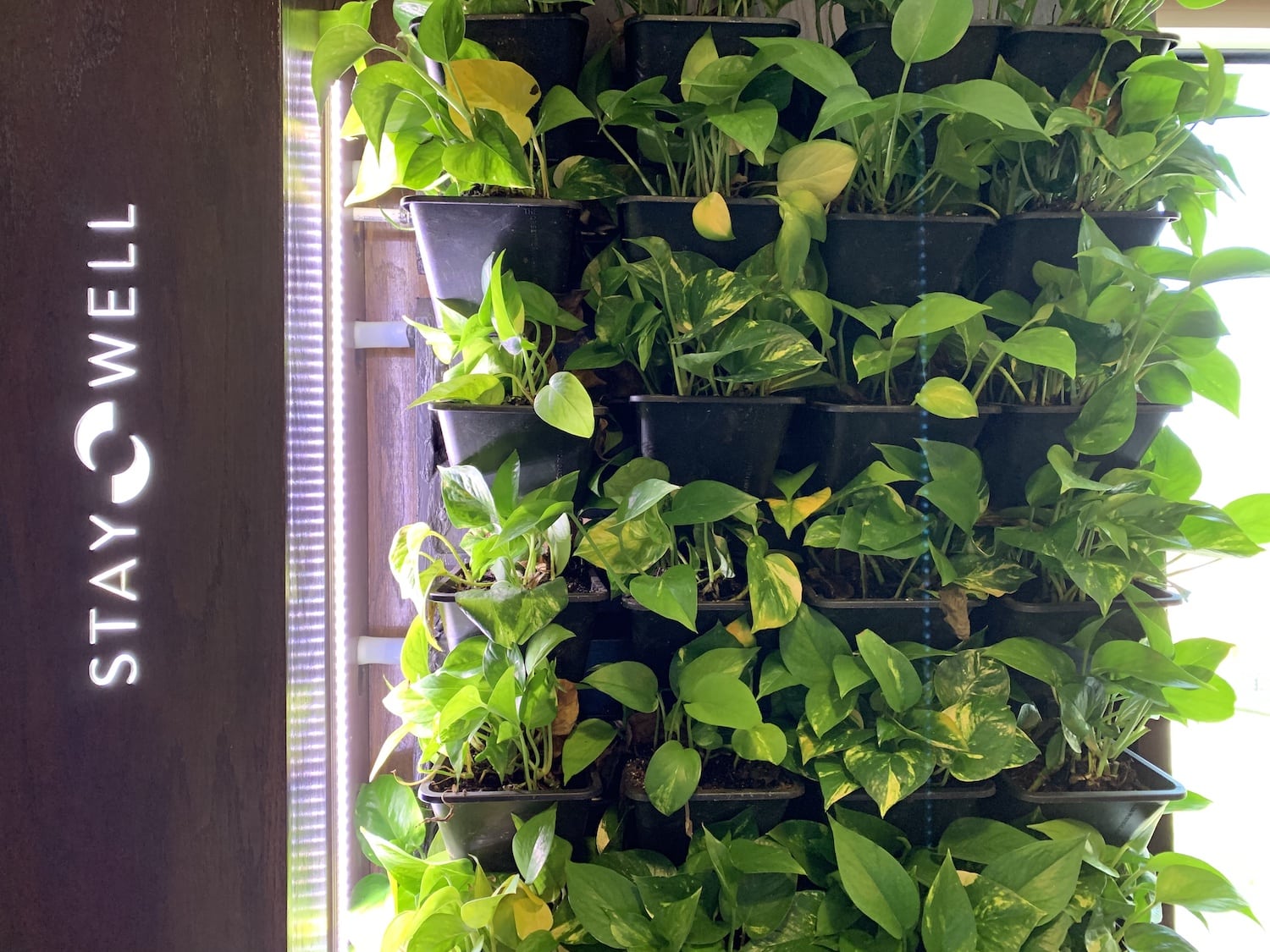 Stepping off of the elevator to the Stay Well Room floor, you instantly know that you have arrived someplace different. There was a green wall of air purifying plants (pothos) right near the elevator. Signage indicated that this was a Stay Well Rooms floor.
Sleeping in a Stay Well Room
One of the most exciting features that I wanted to try was the natural memory foam mattress in a Stay Well room. I knew that the natural memory foam mattress was an Essentia mattress. And if you are familiar with Essentia mattresses, you would recognize the tell-tale brown striped cover if you took the sheets off of the bed (as I did, just to confirm the brand).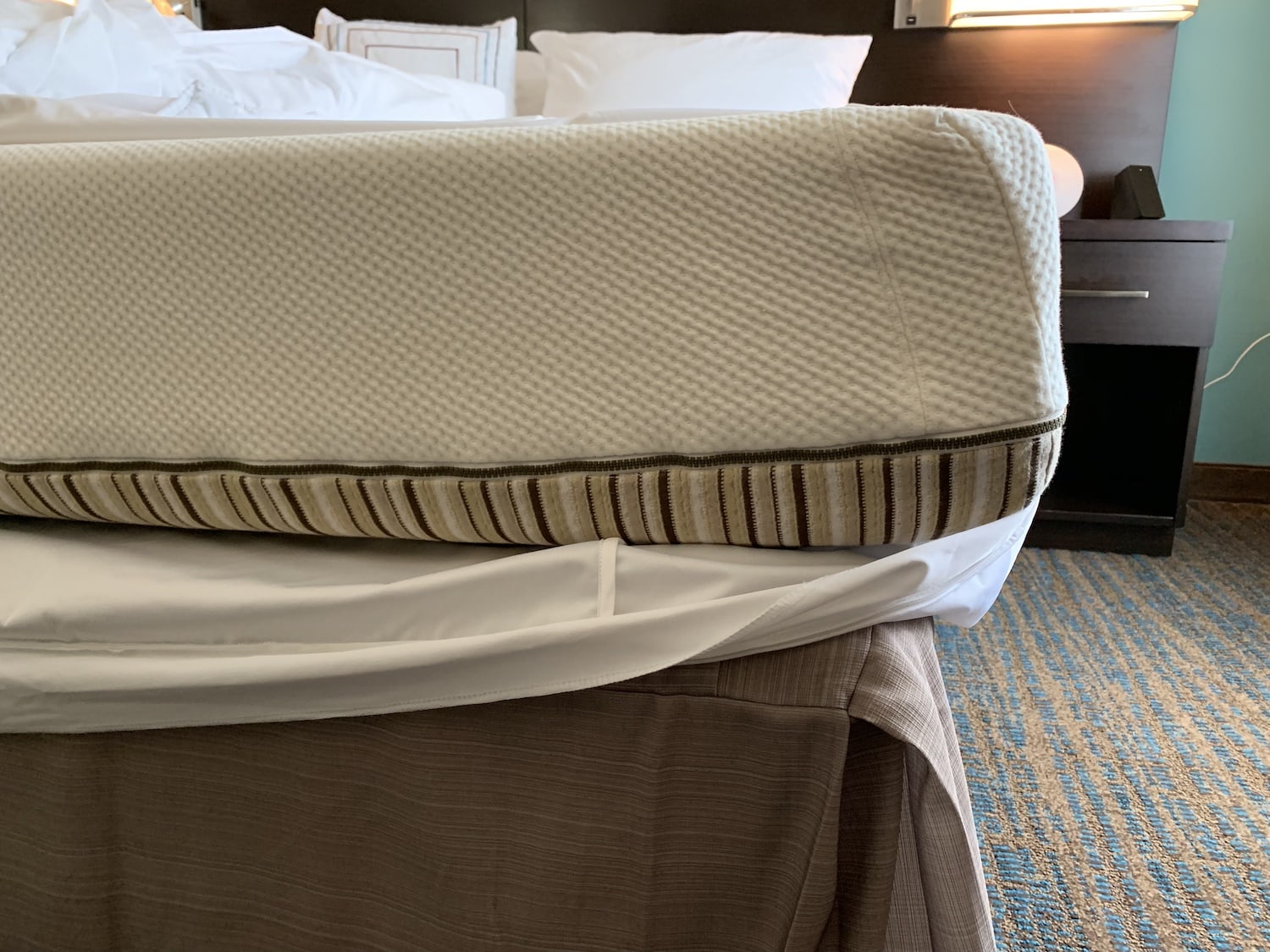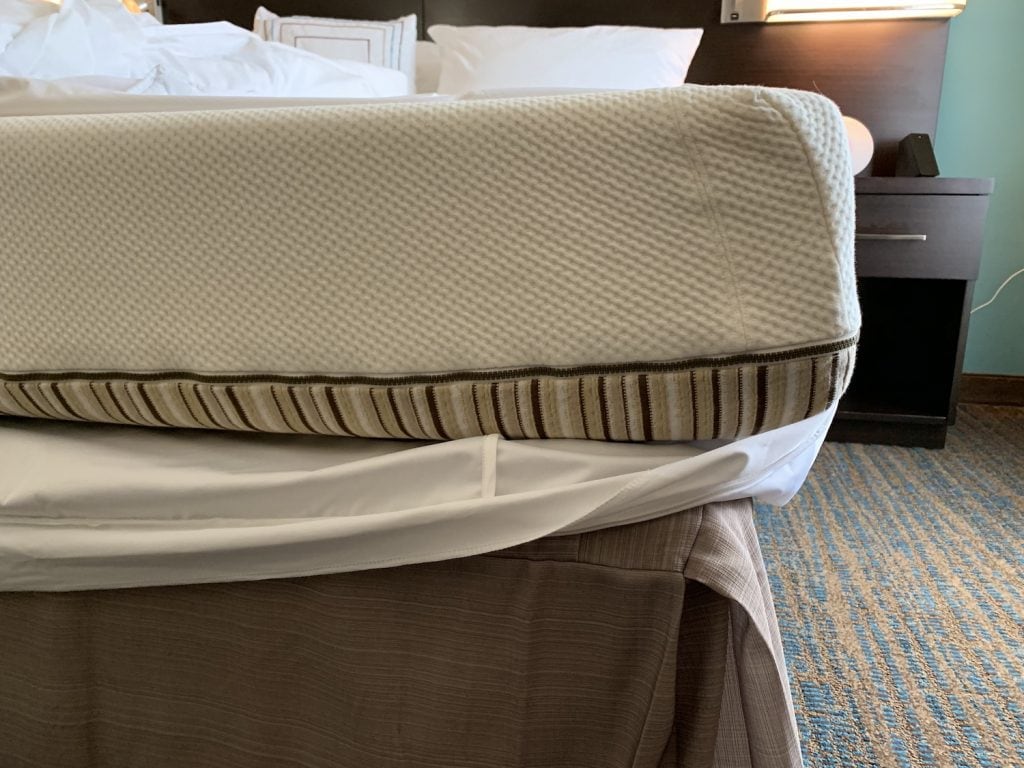 I had never tried an Essentia mattress, and I knew this would be a good opportunity to do so. The all natural memory foam bed is among the best non-toxic and natural bedding options.
After two nights on an Essentia mattress, I have to say that it's not my favorite mattress. It was pretty firm and it definitely sleeps hot. My husband thought so, too. But that doesn't mean that it won't be a great bed for you if you enjoy a firmer mattress.
However, I was a little disappointed that the pillows were down pillows, which a lot of people have allergy symptoms with. After a night of stuffiness, we requested foam pillows for the next night. I would have loved to seen natural pillows used in the Stay Well rooms in conjunction with a natural mattress.
Specialty Lighting in Stay Well Rooms
We were really excited to try out the circadian lighting, night lighting and energizing lighting in the Stay Well room.
As you can see in my video, there are four different light types to try while in the bedroom. There is also two different lights to use in the bathroom (one of those being an energizing light).
After playing around with the light levels, it was interesting to see how certain lights impacted your mood.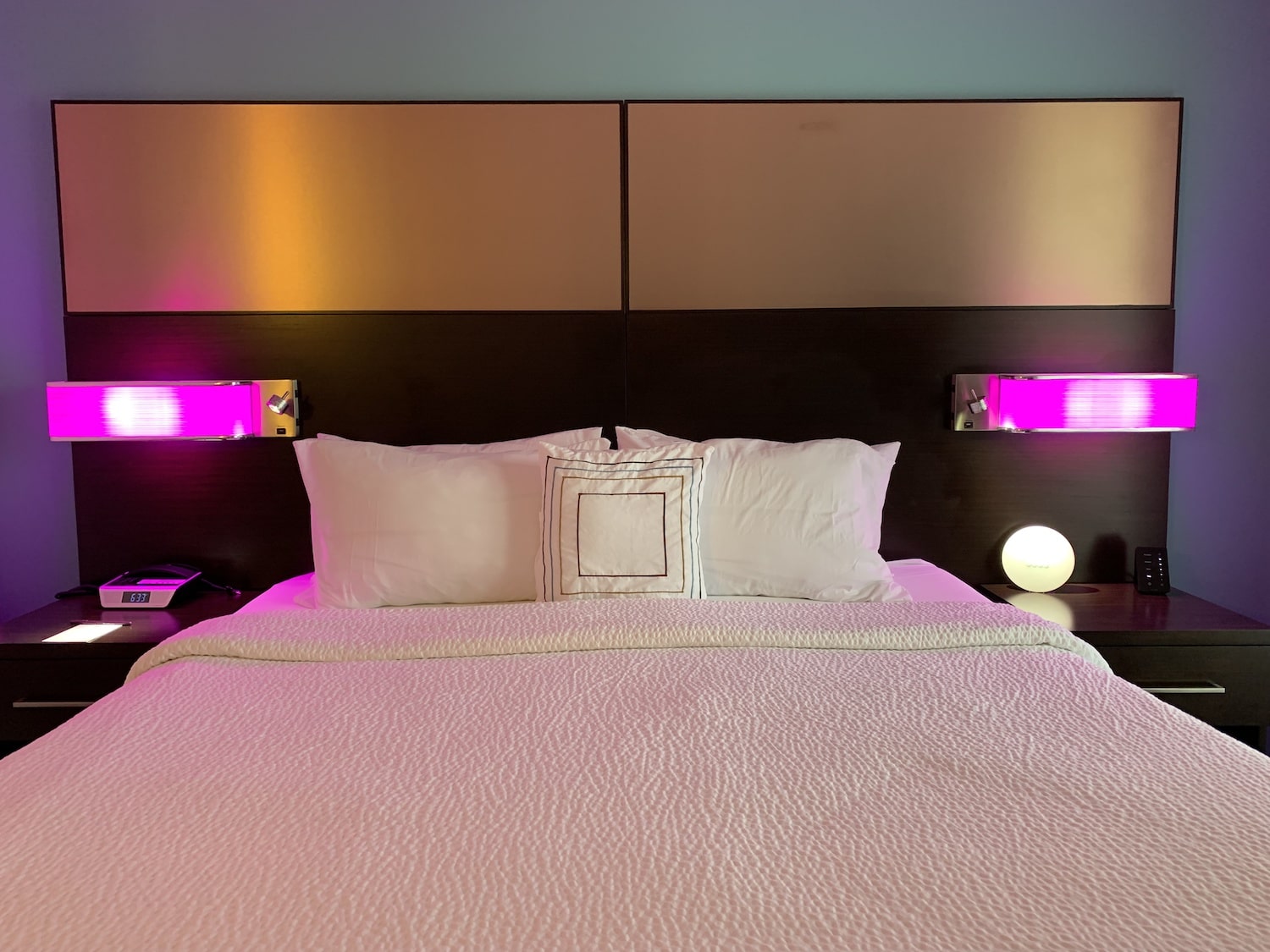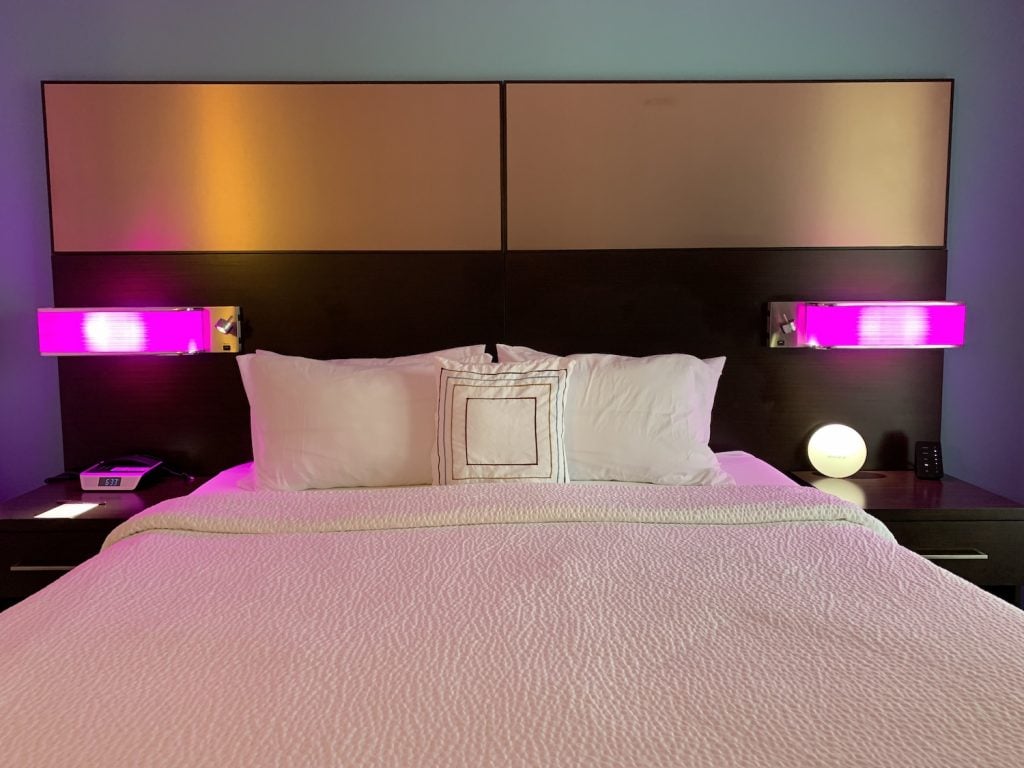 The playful pink tone lights definitely felt more fun and energizing. While the lights intended to use before bedtime definitely helped calm us down and get sleepy.
I think the lighting in the Stay Well rooms are among one of the best features.
A dawn simulator alarm clock radio is also available.
Air Purification in a Hotel Room
Having a strong air purifier in a hotel room is like a dream for many. The opportunity to purify the air from smoke, cleaning supplies, pets and other odors is great for anyone with allergies and chemical sensitivities.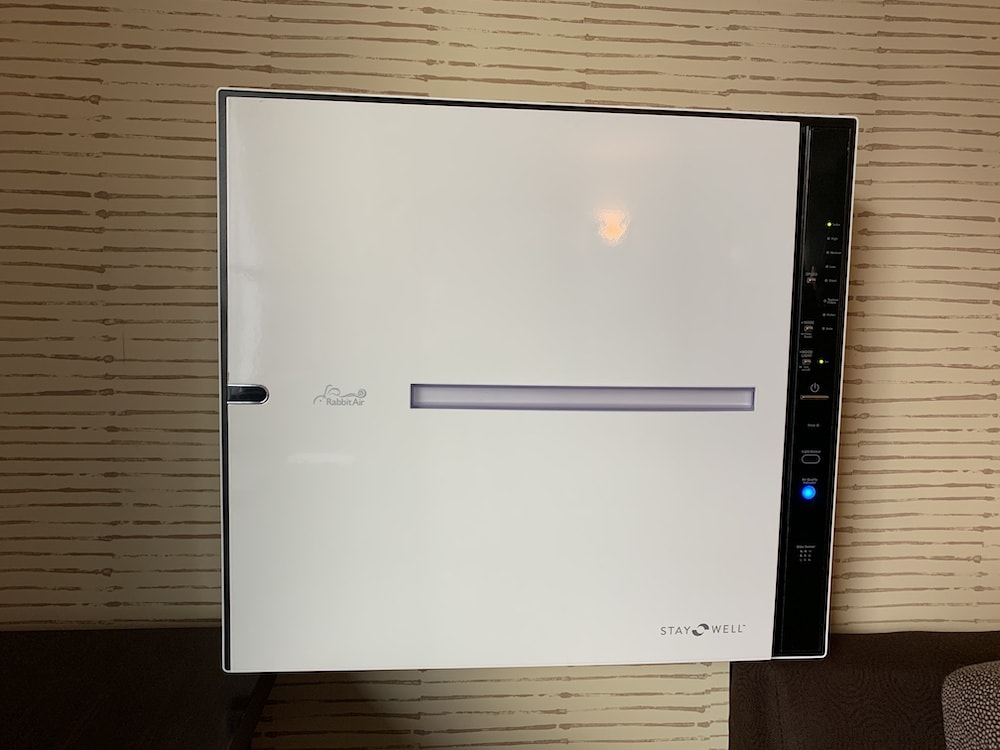 We found the the Rabbit Air purification system was very low noise and offered opportunities for customization.
Less Chlorine in the Shower
With the Stay Well shower filter, you'll have less chlorine in your bathing water. And that's always a good thing.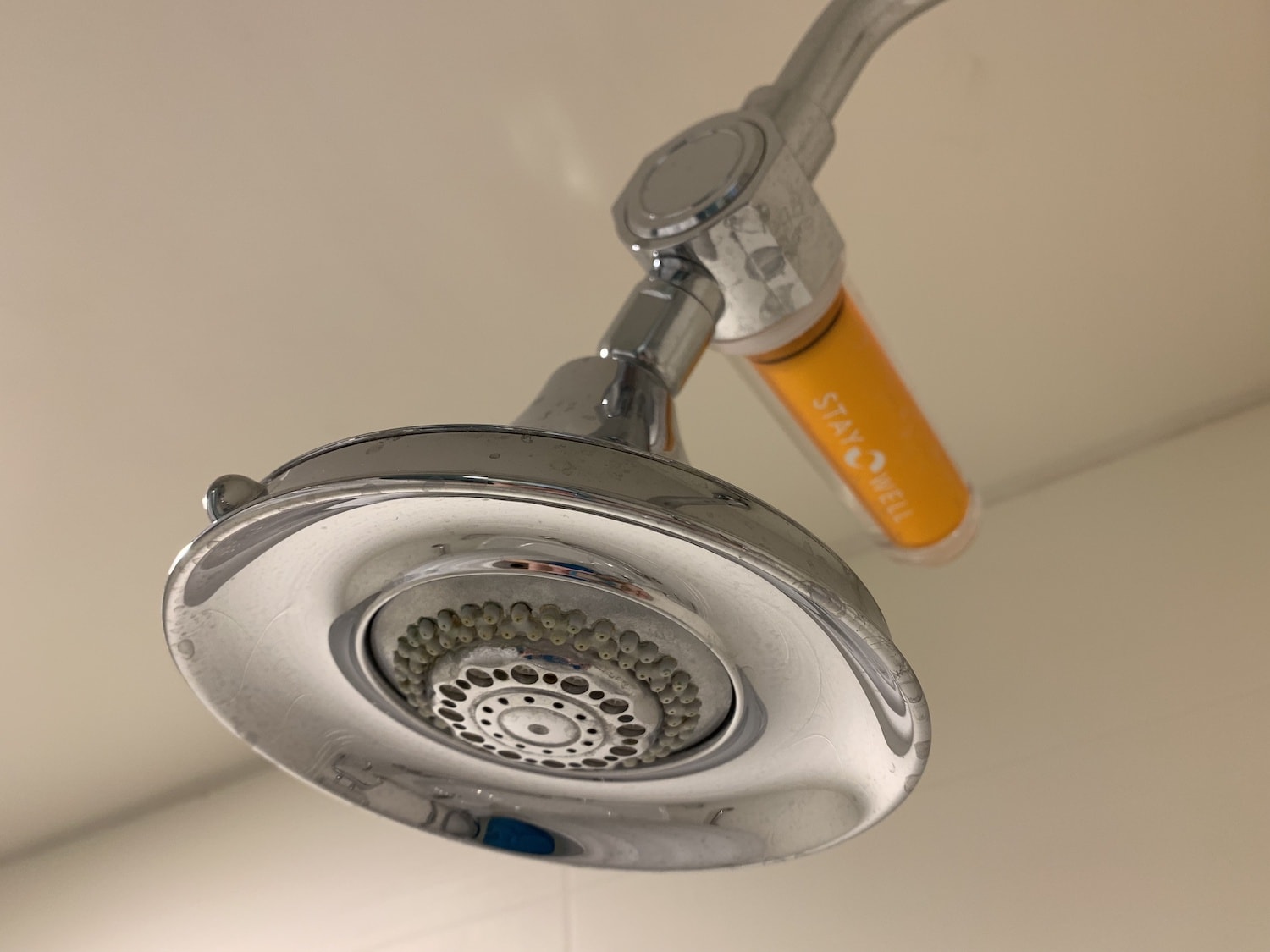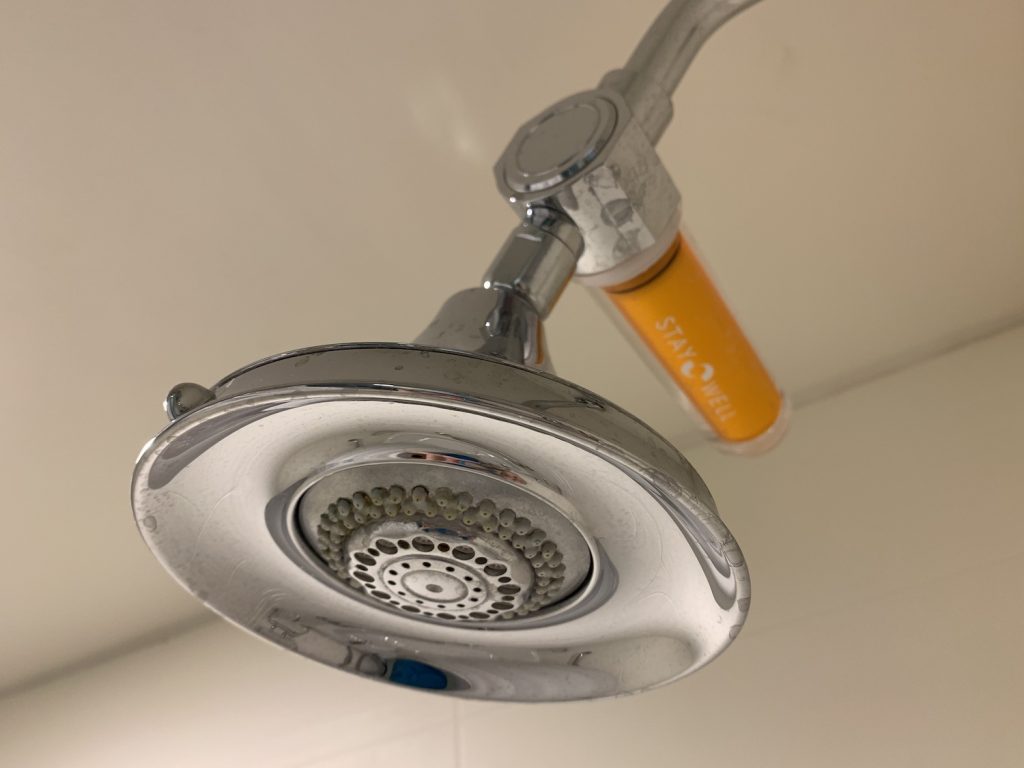 Where Are Hotels with Stay Well Rooms?
Chances are you haven't heard of Stay Well rooms yet because there aren't a lot of them. Stay Well rooms can be found in the following cities:
Orlando, Florida
Las Vegas, Nevada
Biloxi, Mississippi
Boca Raton, Florida
Florham Park, New Jersey
Pittsburgh, Pennsylvania
Deerfield Beach, Florida
Santa Monica, California
Boston, Massachusetts
Lancaster, Pennsylvania
Little Rock, Arkansas
Atlanta, Georgia
Charlotte, North Carolina
Richmond, Virginia
There are a total of 18 different resorts and hotels that offer Stay Well rooms in America.