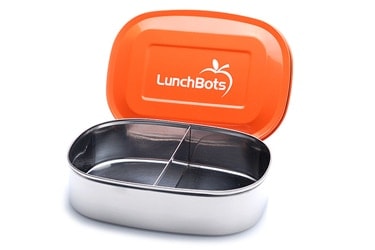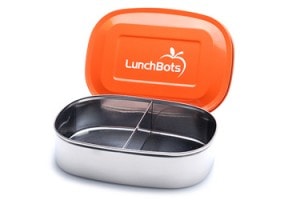 It's back to school time, and if you're planning on packing healthy lunches for your kids to take to school….or if you're planning on packing healthy lunches for you to take to work, then keep this in mind. You don't want to go to the trouble to pack a healthy lunch only to put it into a toxic container!
Plastic sandwich containers and plastic zip top bags are the standard for packing a sandwich or other goodies for lunch. But some are just plain not nice to your health.
Containers made of #7 plastic might contain BPA, which can leach out of the plastic and into your food. BPA is considered a hormone disruptor, so that's not good.
Plastic #3, made from PVC, has the same problem – leaching out chemicals that can mess with your body's hormonal systems. Again, not good.
While there are plastics that haven't been shown to leach chemicals, I like to play it safe. That's why I use stainless steel products, which don't leach any potentially hazardous materials. And a great one to try is LunchBots.
I've got the LunchBots Duo, which is made entirely of stainless steel – even the lid, which is somewhat of a rarity! It's easy to use, a great size and you can pack your lunch without worries about chemicals leaching into your foods.
LunchBots has got several sizes for all needs, from kids to adults, with great fun colorful lids that make you smile when you see the primary colors.
When packing a healthy lunch, make sure every part of the lunch is healthy! Stainless steel containers will prevent chemcial leaching, while also saving you money in the long run!
Get Green: Think of how many one time use plastic zip top bags are thrown into the trash every single day from kids and office workers packing their lunches. Yikes! And those things don't disintegrate. They'll be around for a long, long time.
Stainless steel products last for a long time – unlike plastic containers which have a limited shelf life. Stainless steel can be recycled, too, while many of the plastics used in food storage containers cannot.
Be Well: Stainless steel containers won't leach chemicals that are causing worry in the medical industry, like BPA or PVC.
Lead free.
Painted with a non-VOC paint, so you're not exposed to chemicals in the paint.