Thanks to Ninja® for providing an Intelli-Sense™ System with Auto-Spiralizer™ so I could show you these sneaky ways to eat fruits and vegetables!
I'm just like you. I KNOW that I need to add way more fruits and vegetables into my diet. Trust me – I don't get enough. Yet adding fruits and veggies seems so blah and unappealing. So I need some sneaky ways to eat fruits and vegetables. Thankfully there is the Ninja® Intelli-Sense™ System with Auto-Spiralizer™ which is helping me to incorporate way more produce into my meals than I ever thought I'd enjoy!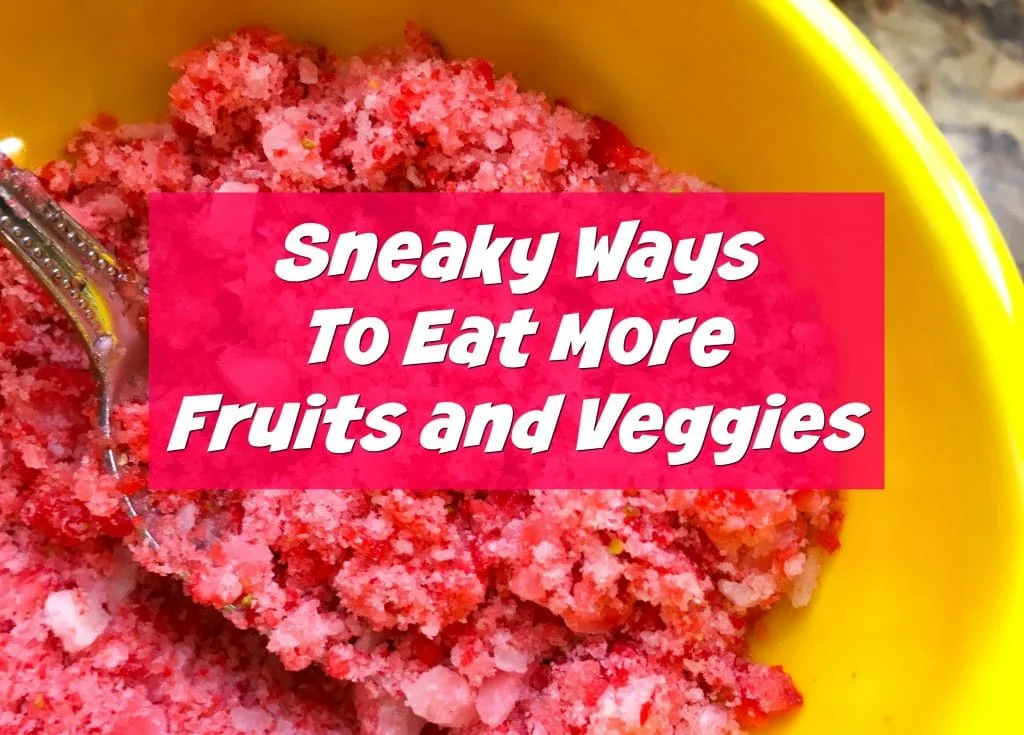 Sneaky Ways to Eat Fruits and Vegetables
I've been thinking about getting a veggie spiralizer for quite a while now. I've seen people doing really great things with vegetables – creating "noodles" from zucchini and squash. I've been intrigued.
But I didn't want to buy an entire appliance just for spiralizing vegetables. What if I didn't like it?
So I put it off. For a long time. Too long.
When I indulged in zucchini "noodles" for the first time at a raw food restaurant, though, I knew that I'd love to add these to our meals.

Still, I put off buying an appliance that does just one thing.
Then I was offered the opportunity to try out the Ninja Intelli-Sense System with Auto-Spiralizer. And, I'm hooked!
The Ninja Intelli-Sense System with Auto-Spiralizer lets me spiralize veggies, along with so much more!
SO. MUCH. MORE. (There are four appliances in one system – with 12 different features! Wow!)
How to Add More Vegetables into Your Diet
Adding veggies into your diet is so much easier when you can do it in fun and creative ways.
That's the truth whether you are feeding a kid or feeding your spouse.
Trust me.
Spiralizing vegetables is just the first sneaky way to eat more vegetables. When you can switch out veggies for pasta, you feel like your still eating the same comfort food. So you're not depriving yourself.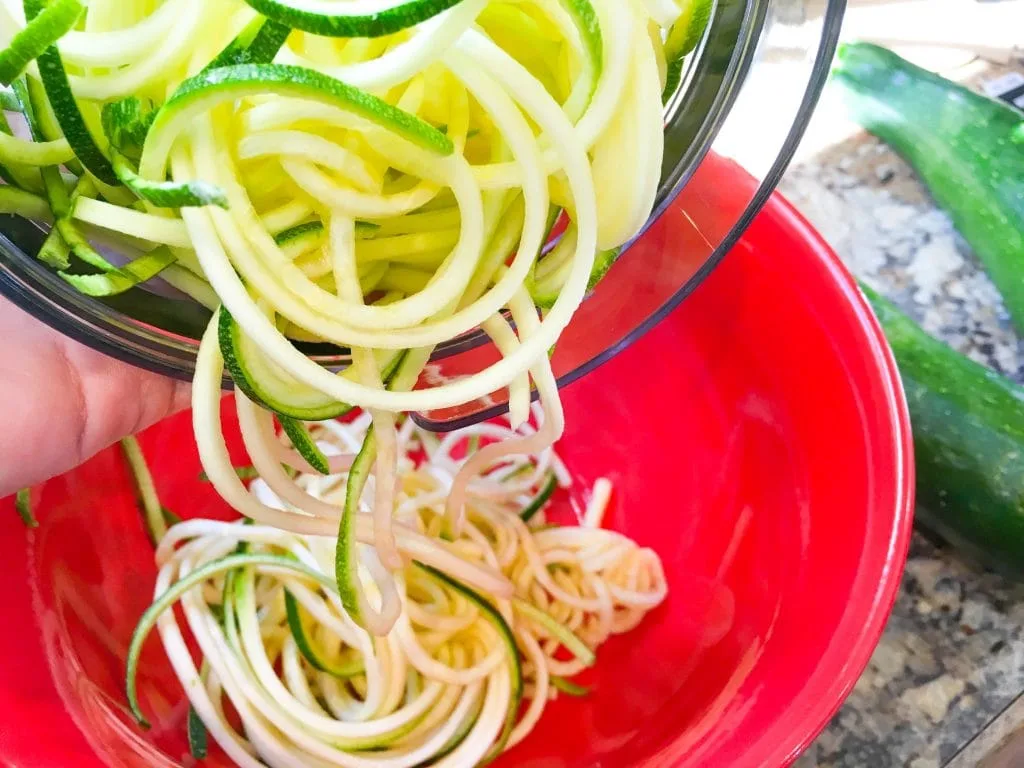 But you are adding several servings of vegetables to your diet. Score!
I used the auto-spiralizing feature on the Ninja Intelli-Sense System with Auto-Spiralizer to quickly and easily make zucchini noodles.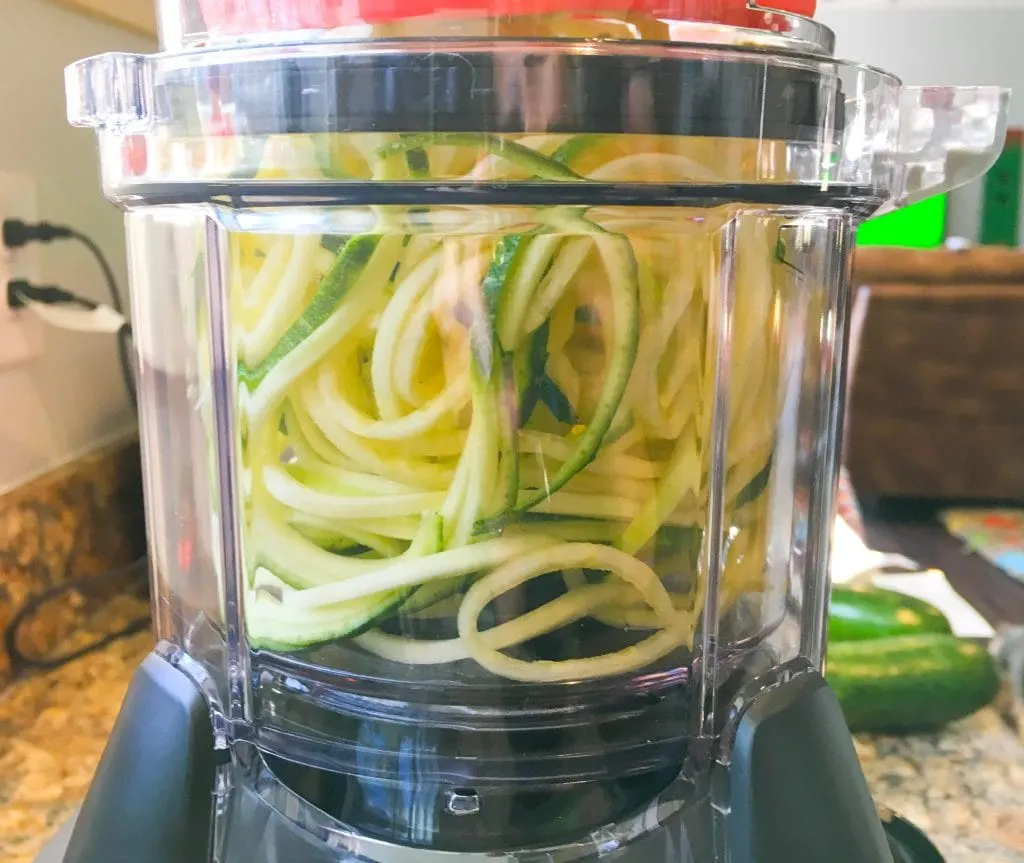 Honestly, it was so incredibly easy to make vegetables turn into fun noodle shapes. It took just seconds to turn an entire zucchini into a plate full of veggie pasta.

In fact, it's so fun, that my nephew was happy to get involved in the kitchen. (I made sure to put the blades away and unplug the appliance before he helped me take the spiral zucchini noodles out of the collection bowl.)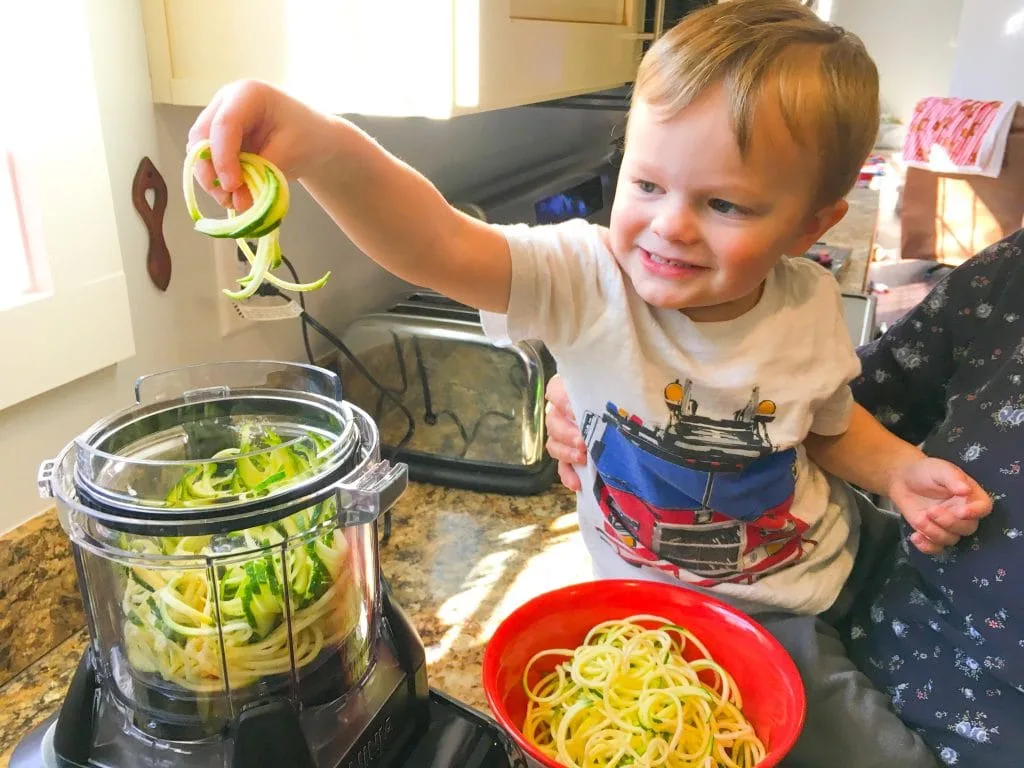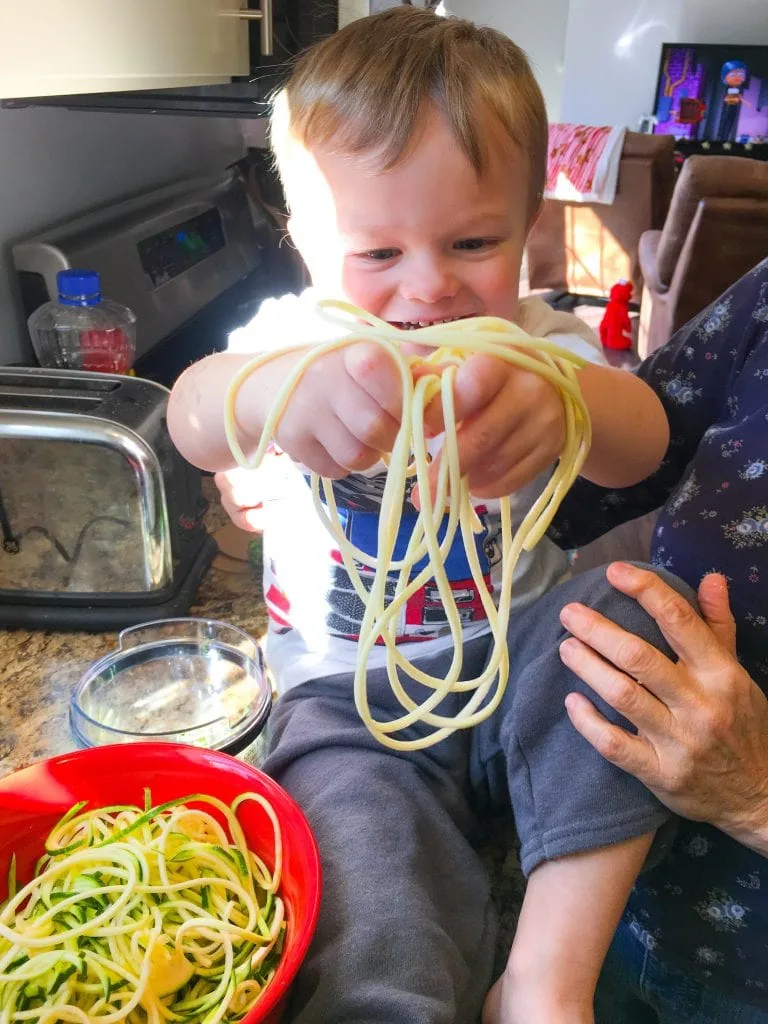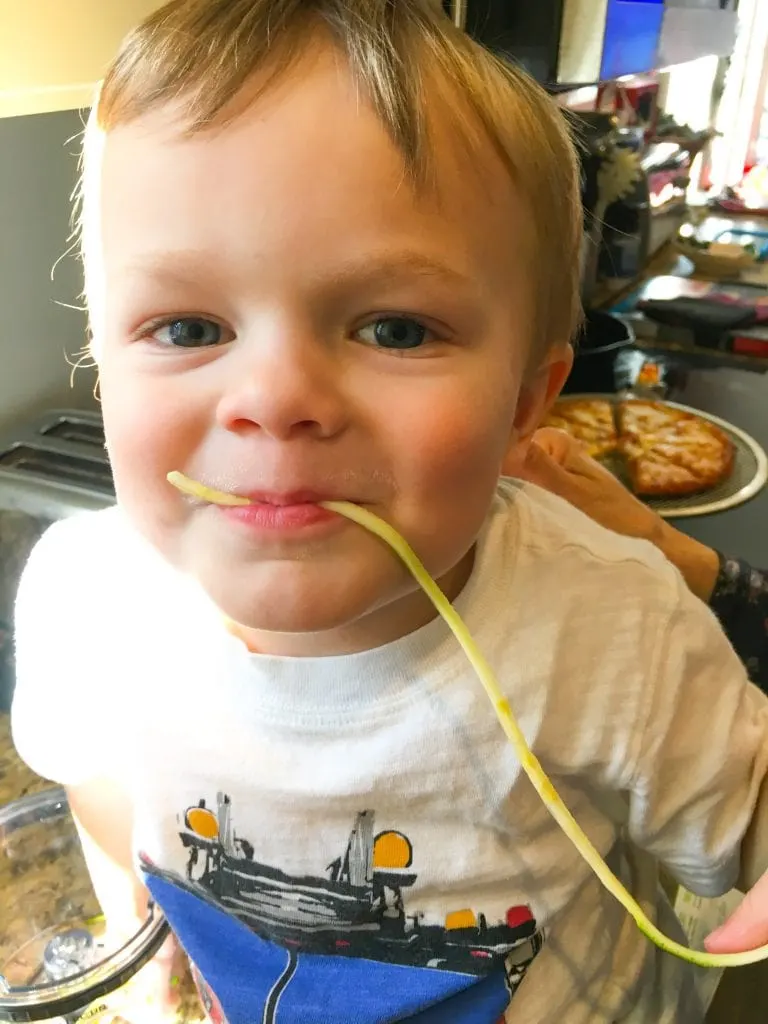 This is the PERFECT way to get kids happy about cooking and eating vegetables.
We sautéed the zucchini noodles with onions that I had put through the spiralizer, too.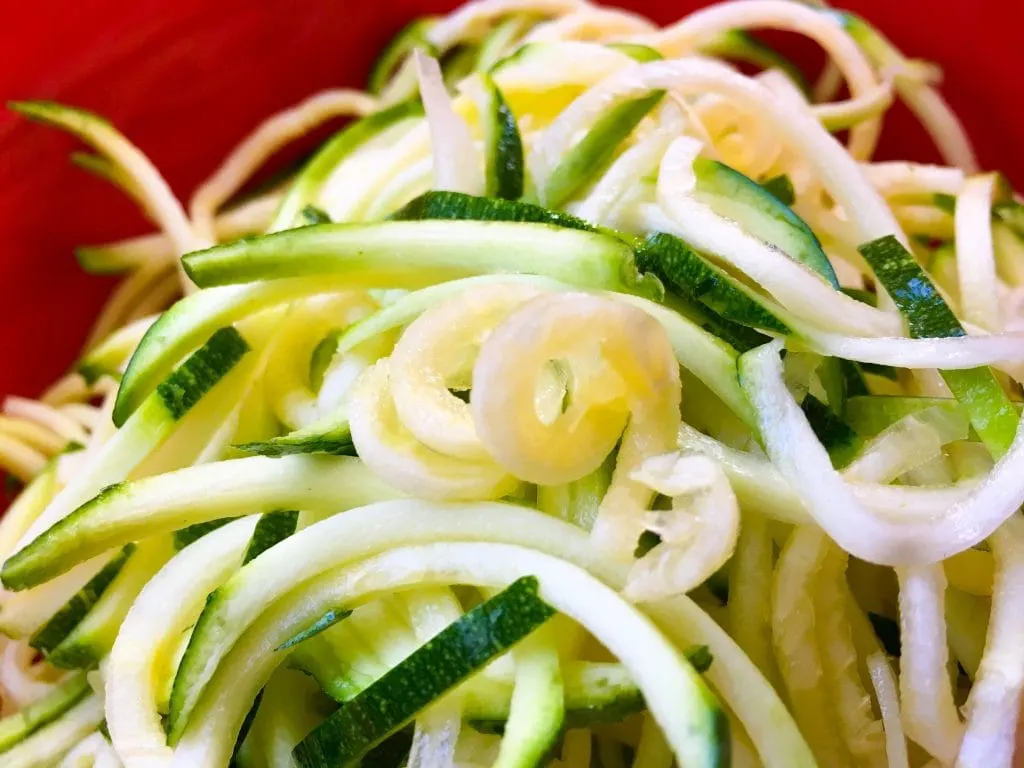 We used the spaghetti blade that is included in the Ninja Intelli-Sense System with Auto-Spiralizer. There is also a fettucine blade for even thicker noodles.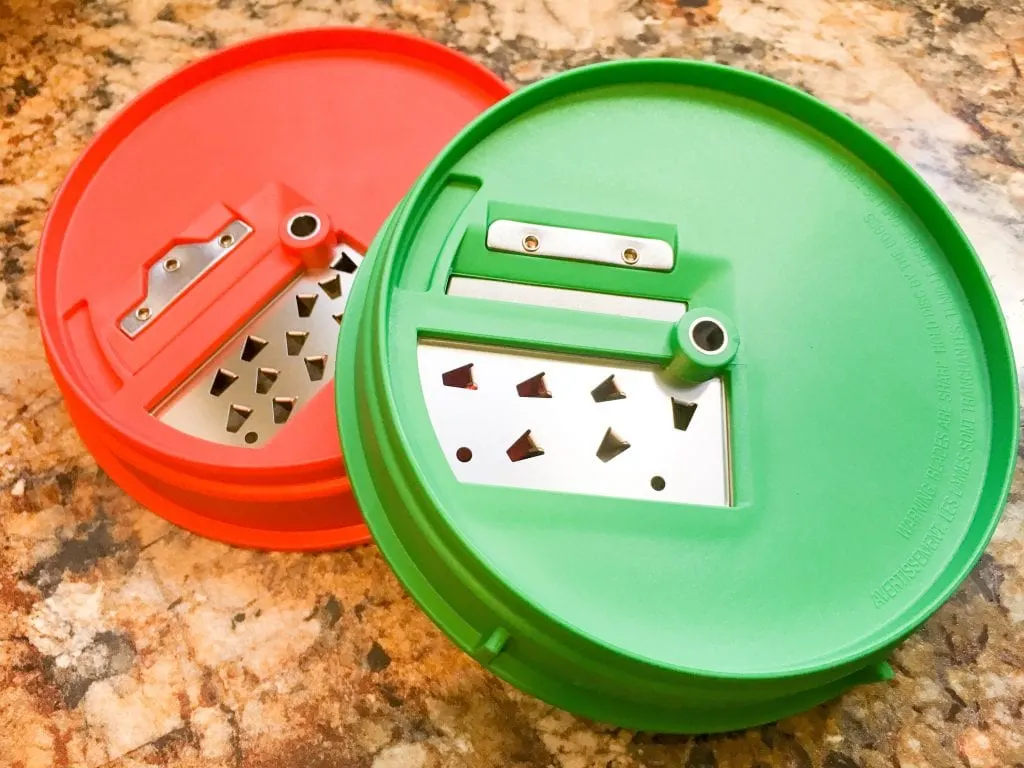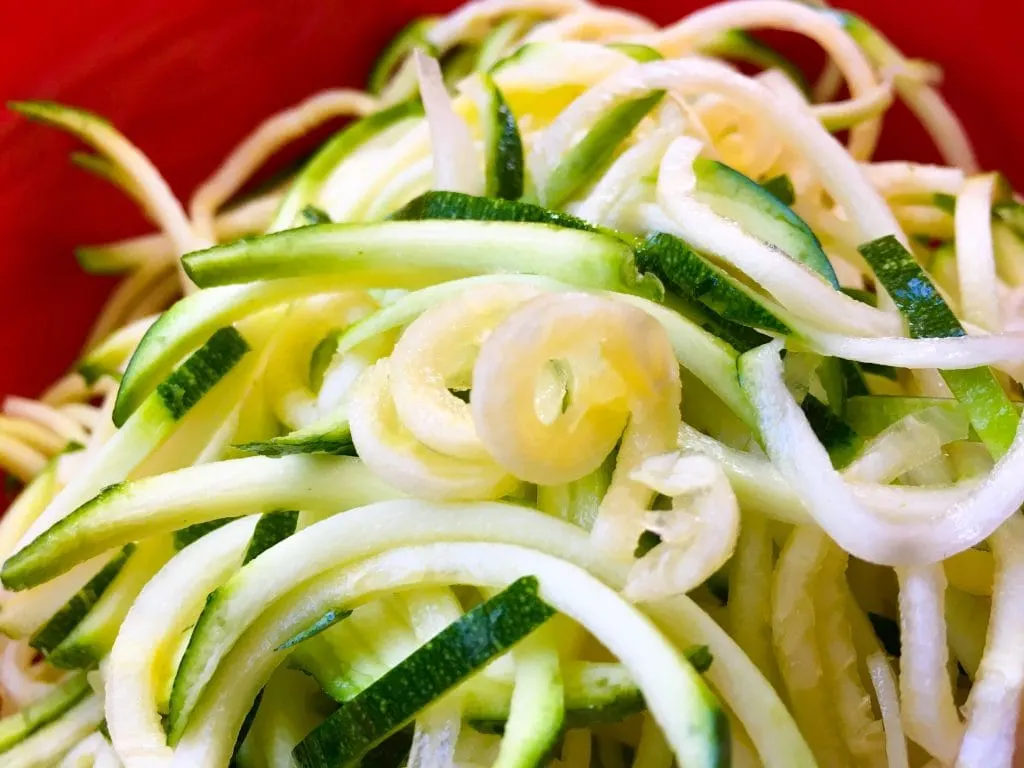 The sautéed noodles were so delicious that we ate them all up – the entire family! I simply sautéed in olive oil and topped with coconut aminos (similar in taste to soy sauce) and sesame seeds.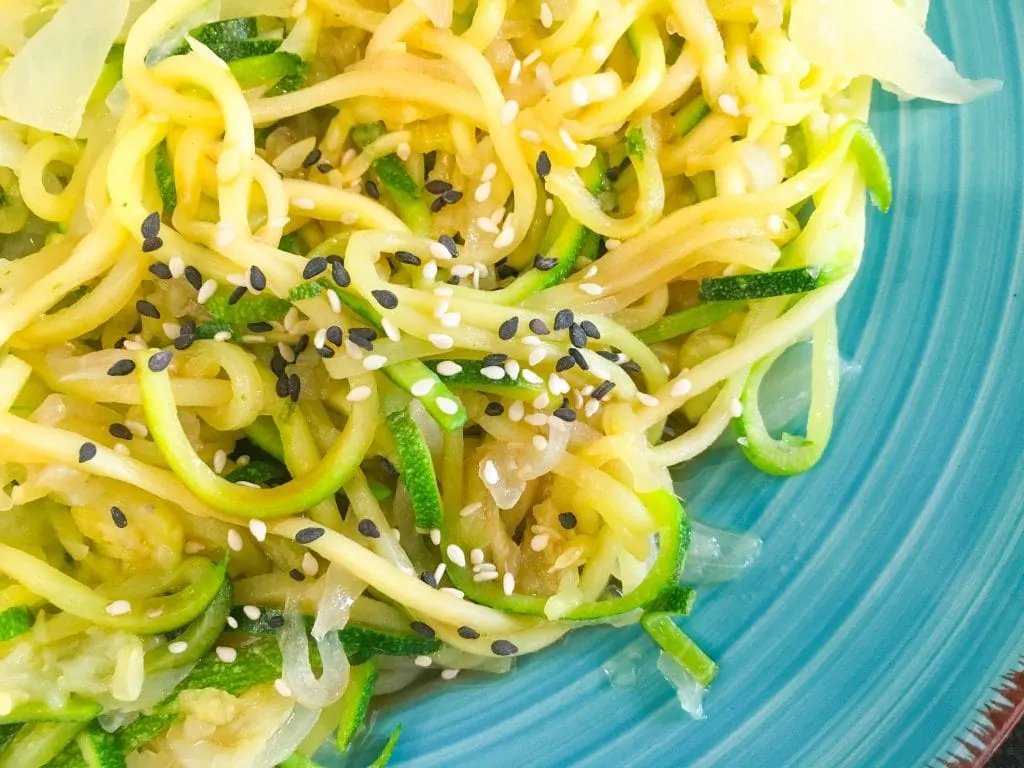 Spiralizing vegetables is the perfect way to jazz up soups and salads, too. Imagine chicken noodle soup with curly carrots or a garden salad topped with spiralized beets or squash or apples.
How to Add More Fruits into Your Diet
The beauty of the Ninja Intelli-Sense System with Auto-Spiralizer is that is has SO MANY more options.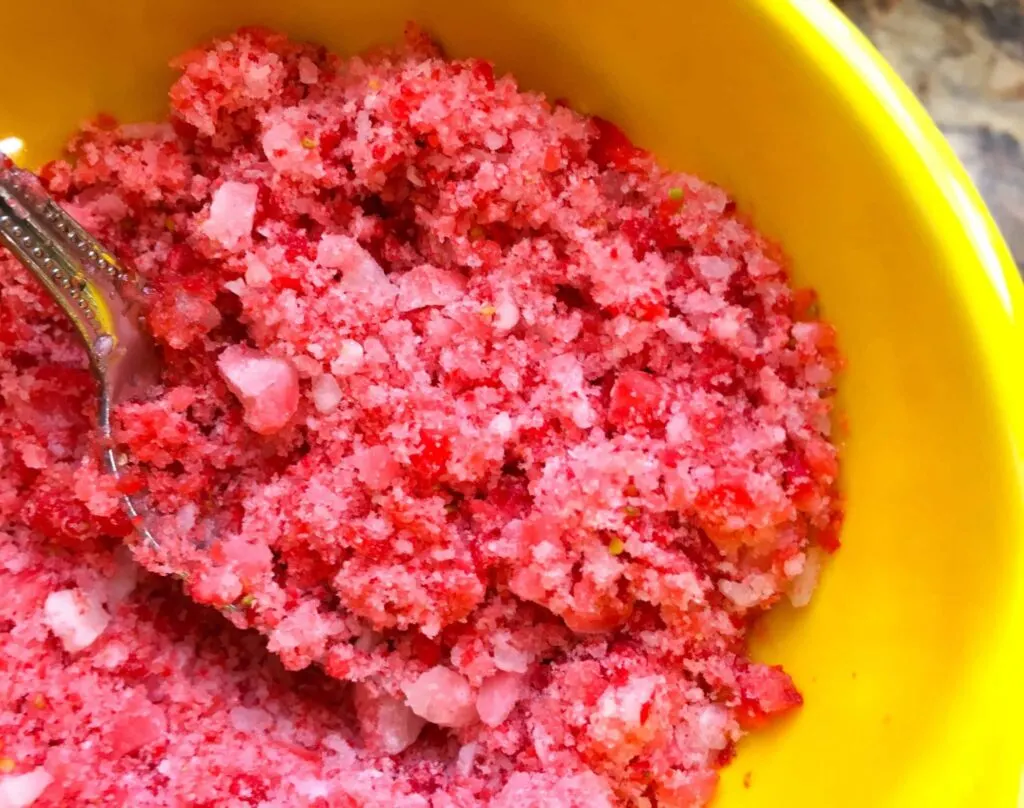 I love the Snow Cone feature. It can take anything and make it into a fluffy, icy treat. (It's an especially sneaky way to add more fruits for kids!)
So I used some frozen strawberries to make a healthy, cold treat in a matter of seconds.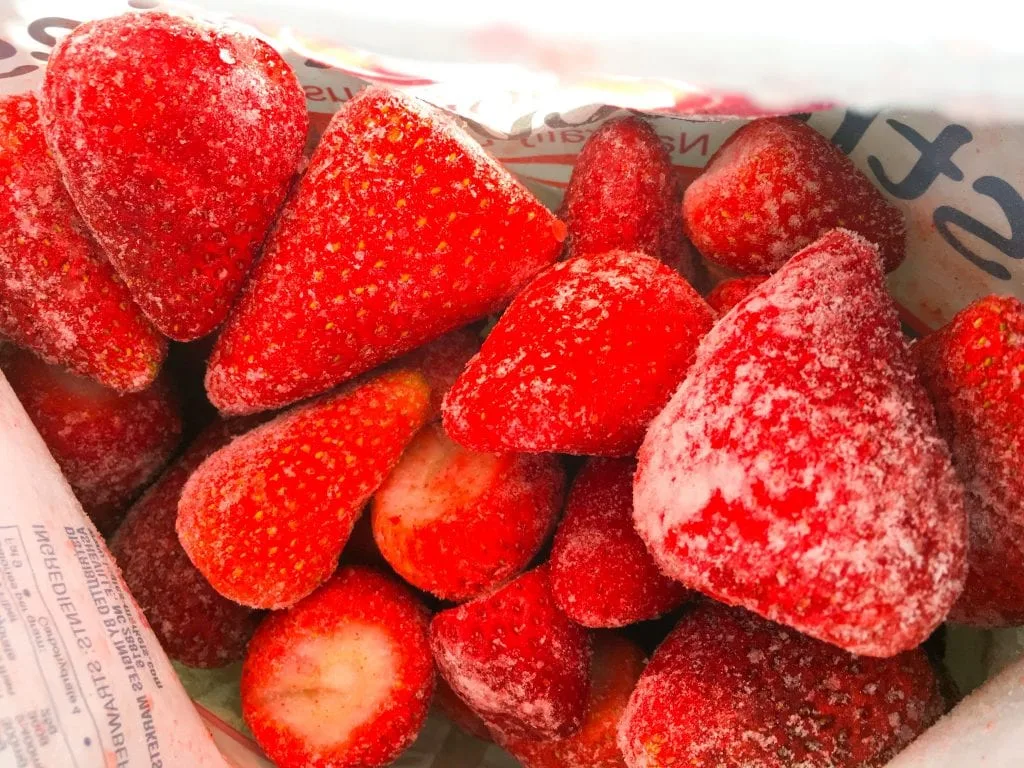 I'm serious. A MATTER OF SECONDS!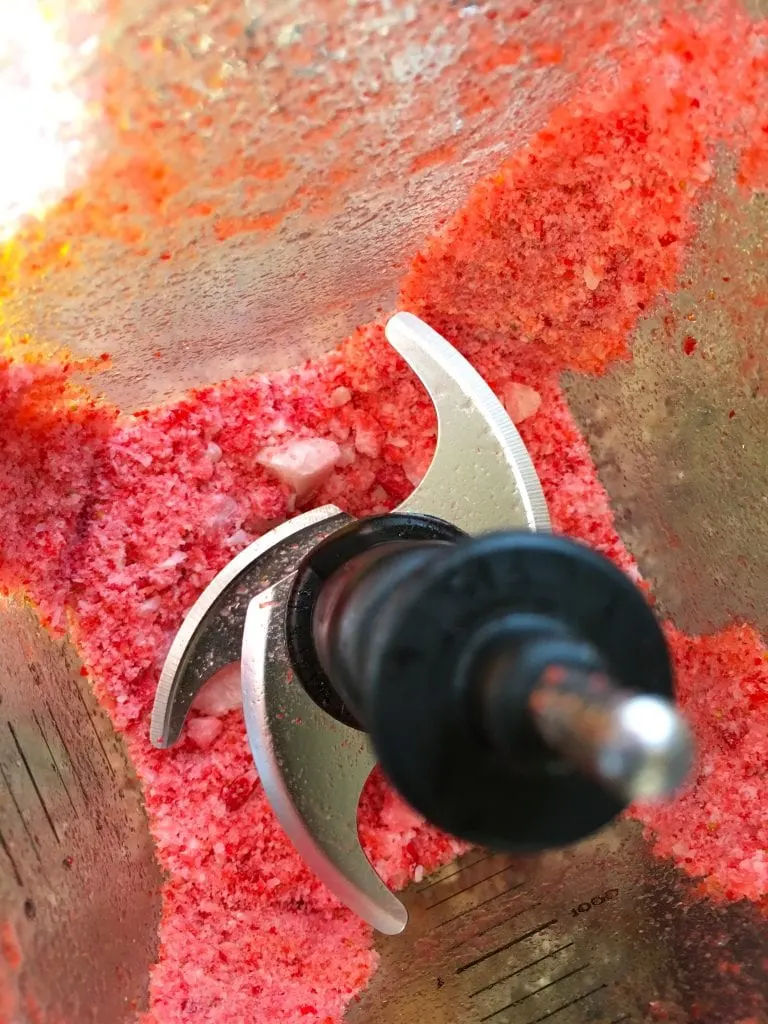 The beauty of being able to make your own foods quickly and easily is that you can customize to your own unique tastes. Here are some ideas of snow cone flavors using only real fruits (all you need is to buy a bag of frozen fruit!):
Pineapple (topped with some toasted coconut for a tropical treat)
Blueberries and strawberries
Mango and kiwi
Banana (add some vanilla extract for a twist)
No funky colored artificial flavor syrups with these snow cones! Nope. These are made just from the good stuff.
Smoothies and drinks are always a great way to add more fruit to your diet. It's so ridiculously easy to make a delicious fruit-based beverage at home.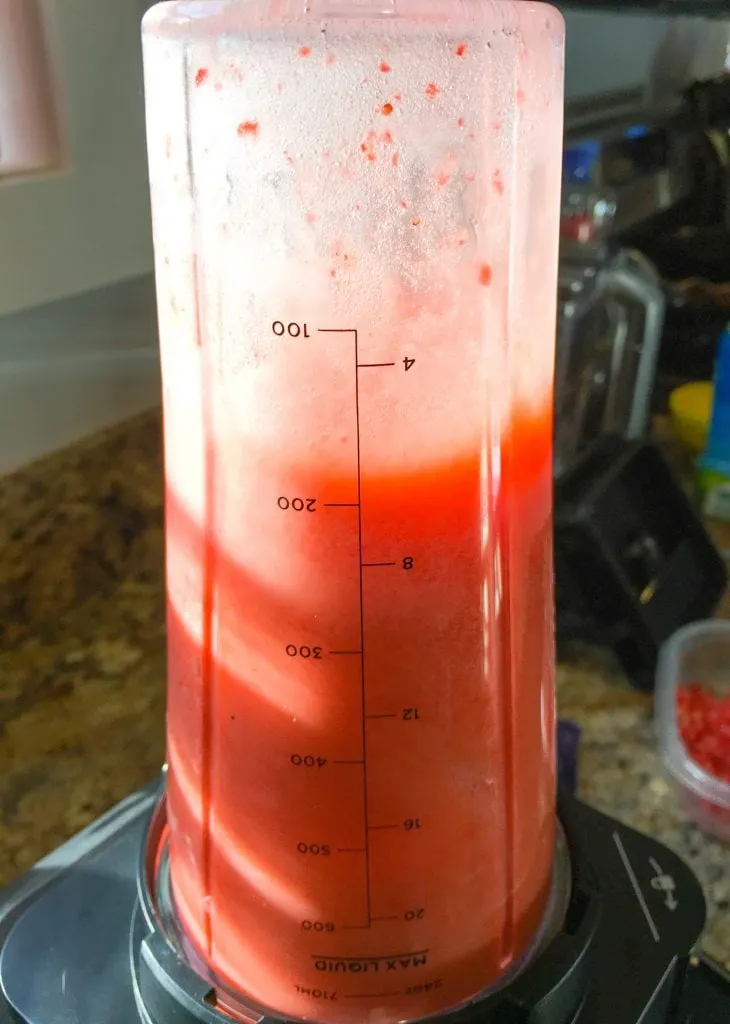 Ninja Intelli-Sense System with Auto-Spiralizer offers a variety of ways to create different types of drinks using fruits, vegetables and other ingredients that you choose.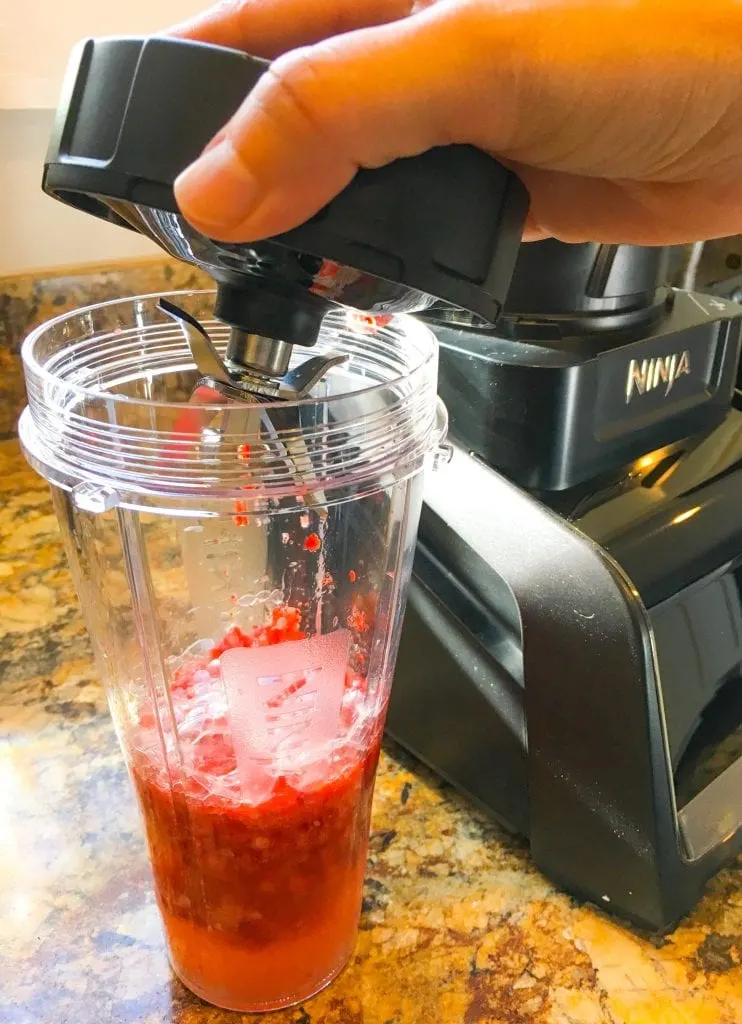 Depending on whether you want a blended beverage or a drink packed with pulp from produce, you can choose from the following options on the Ninja Intelli-Sense System with Auto-Spiralizer:
Smoothie
Frozen Drink
Refresher
Extract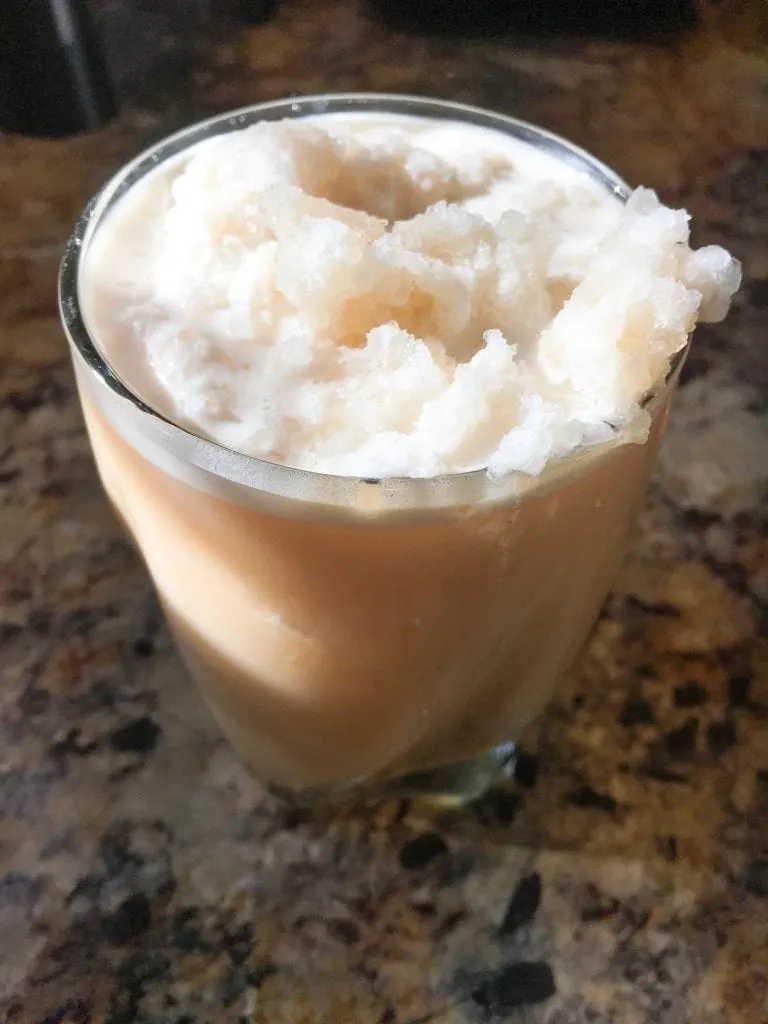 So Many Options with the Ninja Intelli-Sense System
It's not just fruits and veggies that are a perfect fit for the Ninja Intelli-Sense System with Auto-Spiralizer.
After all, you've got a lot of different needs in the kitchen. You need a system that can handle them all.
One of the options that I love best is having a food processor. I don't do a lot of baking, so I don't want an entire food processor sitting in the kitchen cabinet for just a couple uses each year.
It's great to have the Precision Processor Bowl so that I can use it as a food processor, but also so much more.
You can puree and chop with the food processor. Or create dips or blend dough. There are so many options!
And there's a dressing setting with the system – if you want to make your own salad dressings and marinades.
PLUS, there is an ice cream setting. So I don't need to own an ice cream maker, either!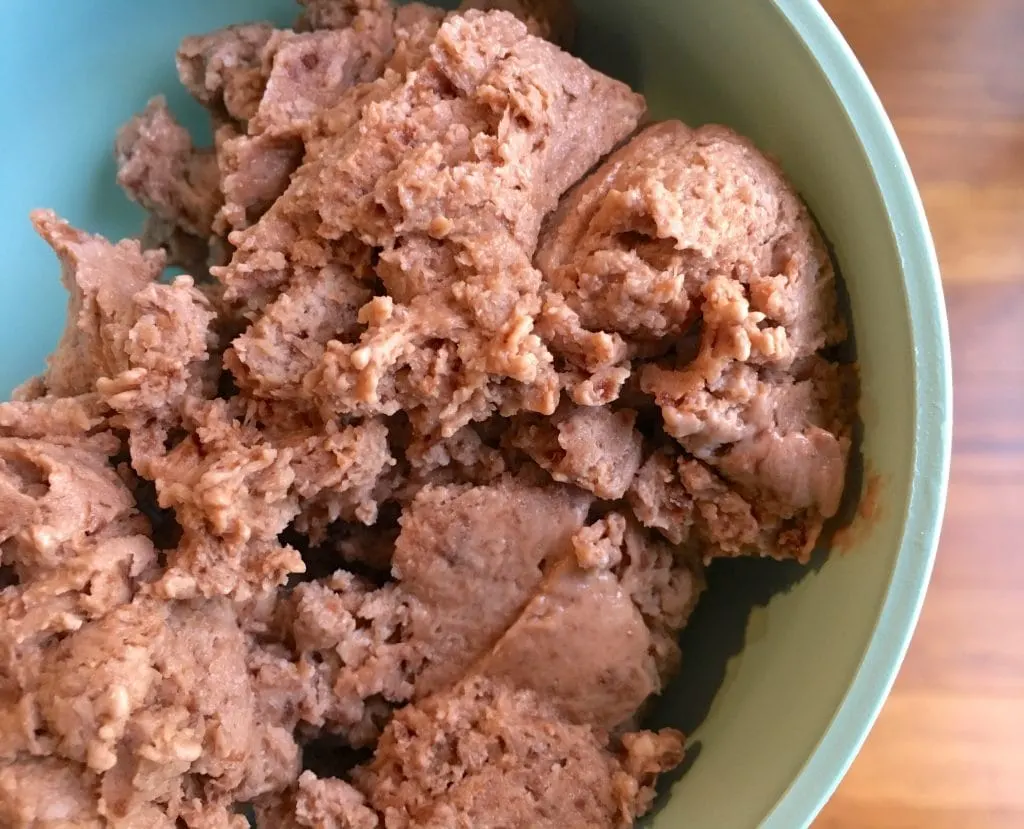 I looked up a recipe for the Ninja system which let you make homemade ice cream with just two ingredients. It was delicious! I combined a pack of pudding mix with 2 cups of milk, and froze the mixture in ice cube trays.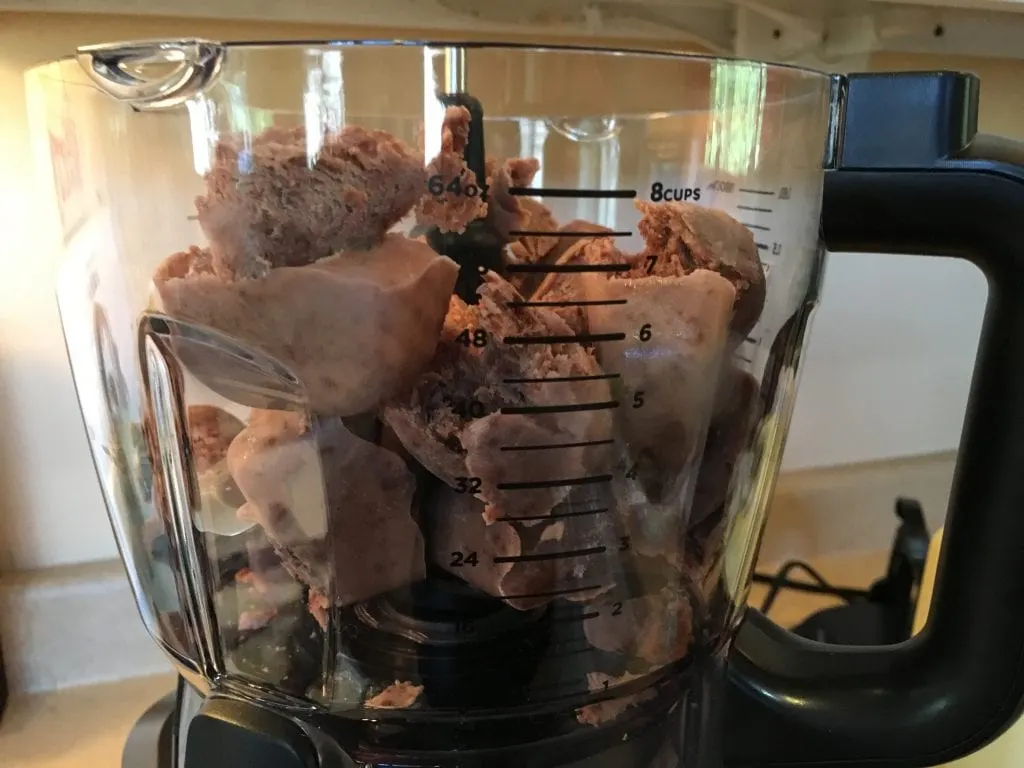 After freezing overnight, I popped the ice cubes in the processor with 1/2 cup more milk and blended. The result was thick and creamy ice cream with I could have customized with any added ingredients, such as fruit, candy, cookie bits, etc.
Four Appliances in One with Ninja
What I love is that all of these sneaky ways to eat fruits and vegetables are possible with one system.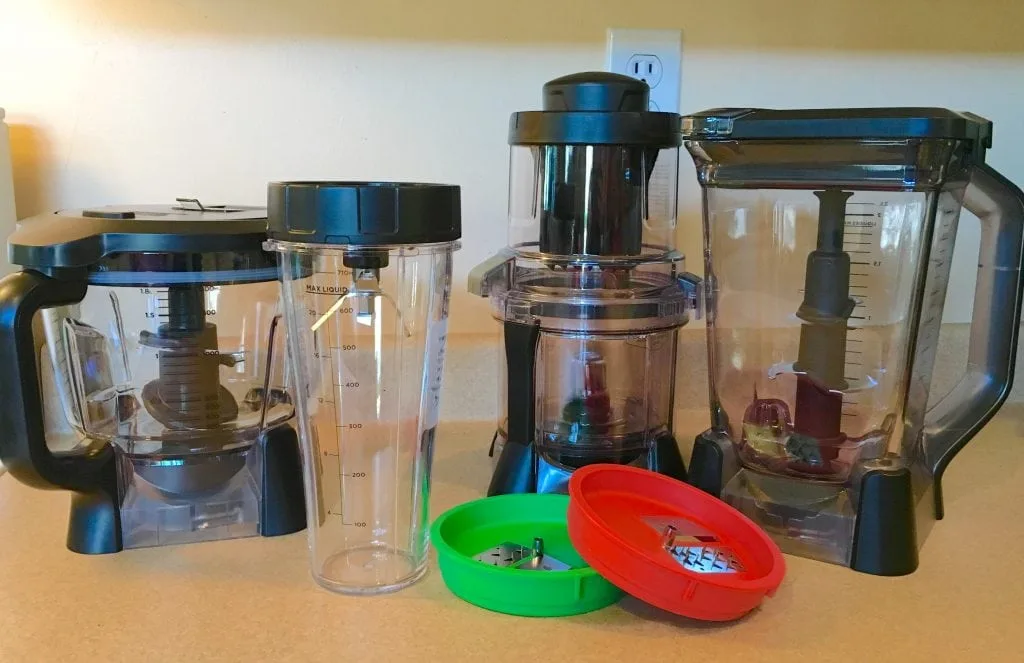 The Ninja® Intelli-Sense™ System with Auto-Spiralizer™ has one base with four appliance attachments.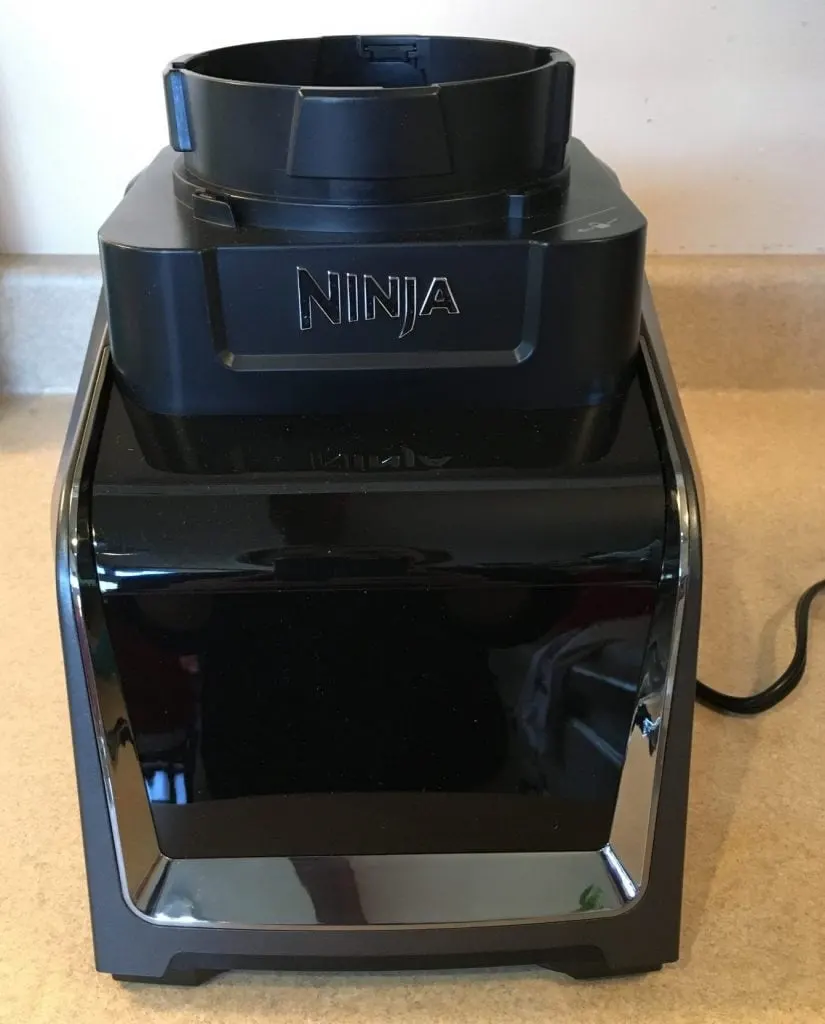 So you get all of the options of a multitude of different appliances with just one system, including:
72 oz. Total Crushing® Pitcher
24 oz. Single-Serve Blender Cup
64 oz. Precision Processor™ Bowl
Auto-Spiralizer
With Smart Vessel Recognition, all you need to do is put each vessel on the base, and the system will recognize the options for the vessel. The touchscreen will change with each vessel, showing the menu options for each appliance.

You can't choose a setting accidentally for an attachment if the system isn't programmed for it. It's genius.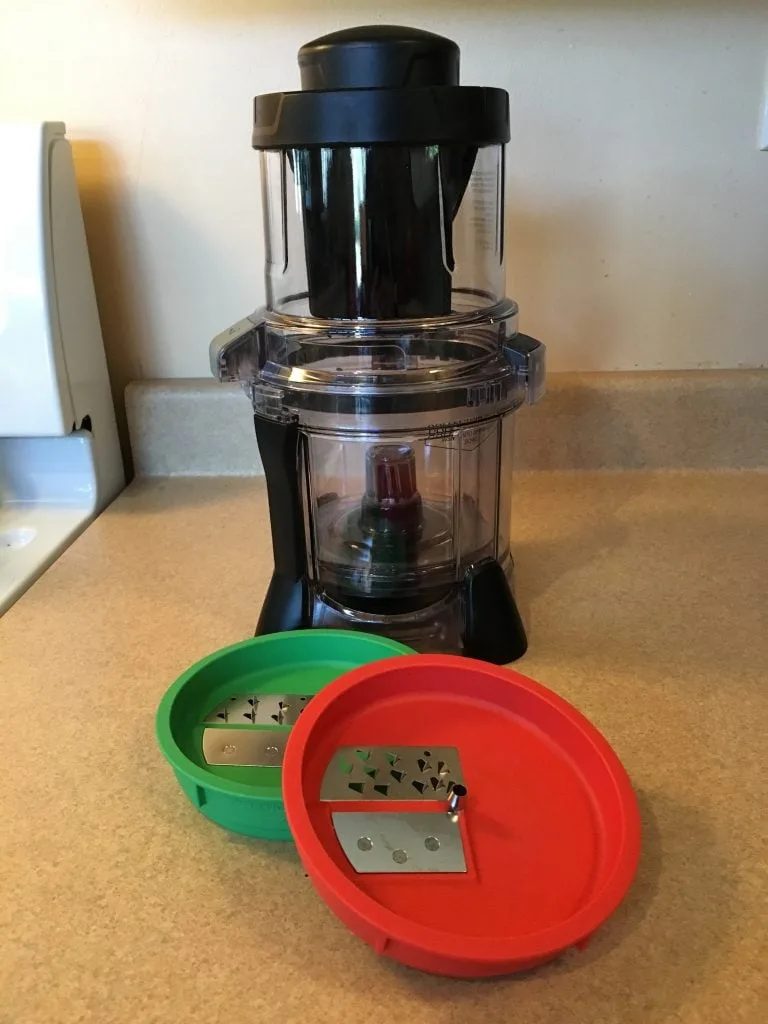 The Smart Vessel Recognition will automatically adjust speed, power, and torque for each attachment, too. It makes it so easy to use a variety of different appliances without having to read an owners manual.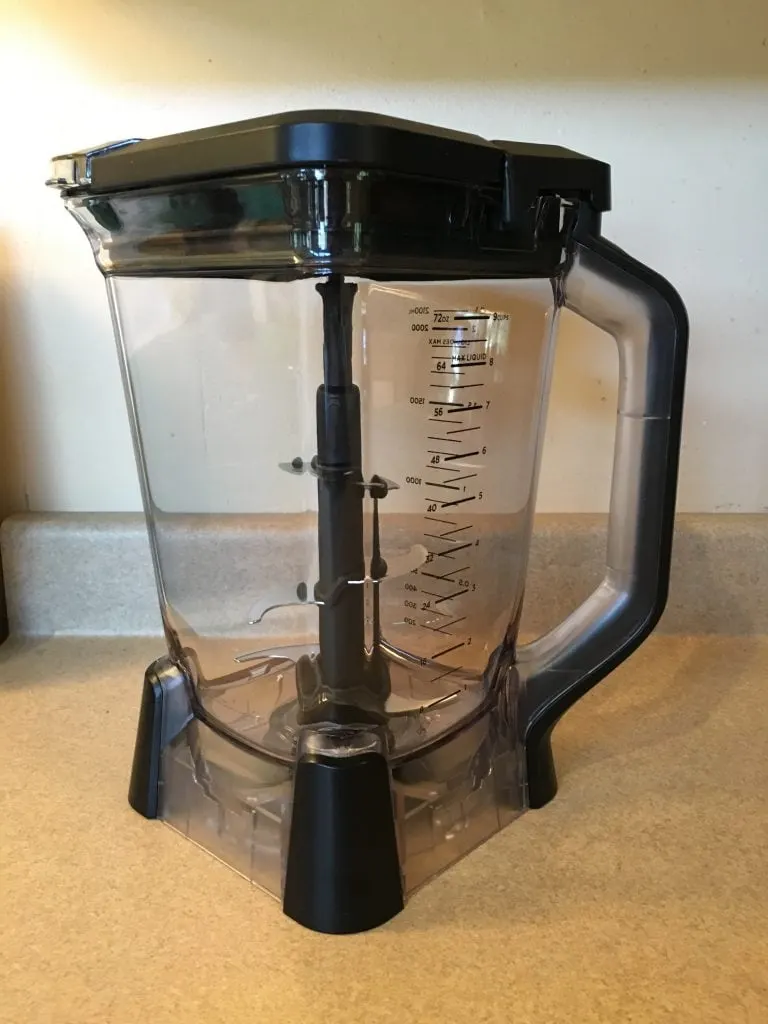 I don't think I could be as excited about all of the options is they weren't dishwasher safe. I was very relieved to find out that the parts and pieces can be put in the dishwasher. And they are BPA free.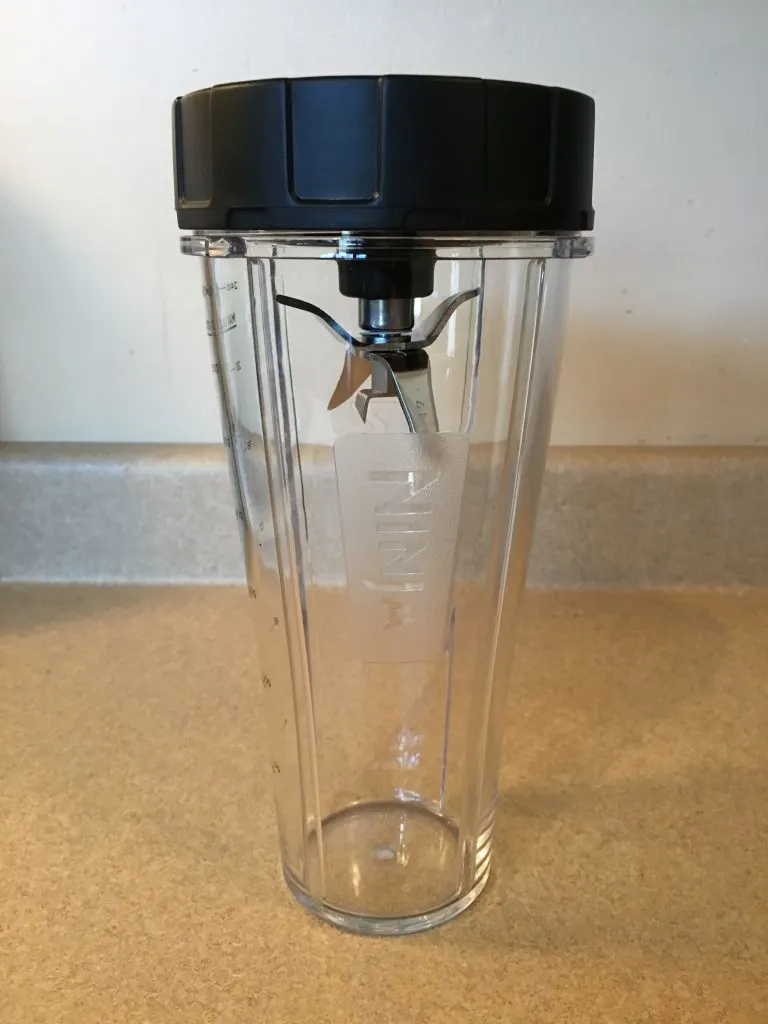 Even better were the safety features that I loved. My sister and I unpacked the box full of attachments on the dining room table. She had put the base down on the table. When I went to pick it up, I couldn't understand why I couldn't lift the base off of the table. I thought that maybe it had gotten stuck (and I ruined her dining table!).
What I realized is that there were suction cups that make the base stay in place – rather than accidentally move with movement of processing, blending or accidentally tipping it over. I needed to life up on the release buttons to get the base to move.
Also, the attachments have release buttons for the lids of the Total Crushing Pitcher and the Precision Processor Bowl. The lids aren't going to go flying off or accidentally get knocked off while prepping foods.
I really love that you can get four different appliances – with 12 different features total – with one purchase. (See some great recipe ideas for all of the attachments.) You can simplify your kitchen. Gain extra storage. And still find sneaky ways to eat fruits and vegetables in delicious new ways!
Want another sneaky way to add good-for-you foods into your meals? Here's why you should sneak quinoa in an omelette. It's delicious!