During the holidays (let's be honest – ANY time of the year), no one wants to battle the lines at a grocery store. No one. (Have you read my reasons why I hate Whole Foods. You should). Yet you don't want to settle for the crappy foods that are found at most other convenience stores.
That's why you head to CVS. Yes, you read that right – CVS!!!
Around two years ago, I raved on Facebook about the organic options that had just popped up for sale in my local CVS, and showed you the amazing deals that I scored. I've been shopping at the store ever since, and with a new emphasis on healthy foods and healthier living, CVS is really stepping up their game when it comes to healthy options for your whole family.
Nationwide, CVS is rolling out new concepts in stores with more signage pointing to gluten-free, Non-GMO Project Verified, and special diets. More fresh fruit and natural products are available front and center. The array of organic options is rapidly growing – and they all come with the 2% cash back bonus of CVS ExtraBucks, even if they're on sale!
This isn't green washing, folks. CVS really is making huge strides in offering healthy options, including their own line of Gold Emblem Abound products. Among the abound product line are plenty of USDA Certified Organic items. Guaranteed to be organic just like anything you'd buy in high end grocery stores.
Yet much cheaper. Oh, and without the lines.
When CVS gave me a challenge to find holiday foods at my local CVS store perfect for entertaining (they gave me a gift card to spend), I jumped at the chance. With the sales that I found, plus my ExtraBucks Rewards card, wow, did I ever score a lot of food! Here are some of my ideas to quickly grab healthy and organic options for holiday entertaining, without long lines or high price tags:
So, you just found out that you've got family visiting in town and you have nothing in the house to feed them. Breeze into CVS and pick up their Organic 8-Grain Wheat Crackers and the Organic Thick and Chunky Medium Salsa. I love the fact that the crackers are larger than traditional dip crackers, which makes for a more elegant presentation. Rather than a traditional cheese ball, I took some cream cheese that I had in the fridge, spread a little on each cracker, and topped with the organic salsa. Arrange the pre-made appetizers on a tray for easy snacking.
What about some festive drinks? Yes, you can even get organic beverages perfect for holiday entertaining at CVS, too. I picked up a bottle of Gold Emblem Abound Organic Cranberry Juice. The certified organic juice mixture is yummy enough on its own. Yet, I wanted to create a holiday cocktail for the adults.
Here's our recipe for the Cranberry Coolers that we made with items we already had on hand:
Cranberry Coolers
4 oz. Organic Cranberry Juice
10 drops (about 1/4 oz.) organic vanilla extract
1 1/2 oz. bourbon (gin also makes an excellent substitute)
Mix all together in a glass. Add crushed ice. Garnish with a fresh cranberry, if desired.
That's just a few of the grocery staples that I found at CVS during my shopping spree. We went shopping during a great sale (it seems that the CVS Gold Emblem Abound line is on sale quite often, so you can really get some great deals!), and were able to get quite a lot of products and didn't even have to wait in line! I also bought  some walnuts – a holiday cooking staple – which I added to some wild rice and carrot muffins that I was making. I'm going to use the rest to put in a candy dish in lieu of chocolates for a healthy treat.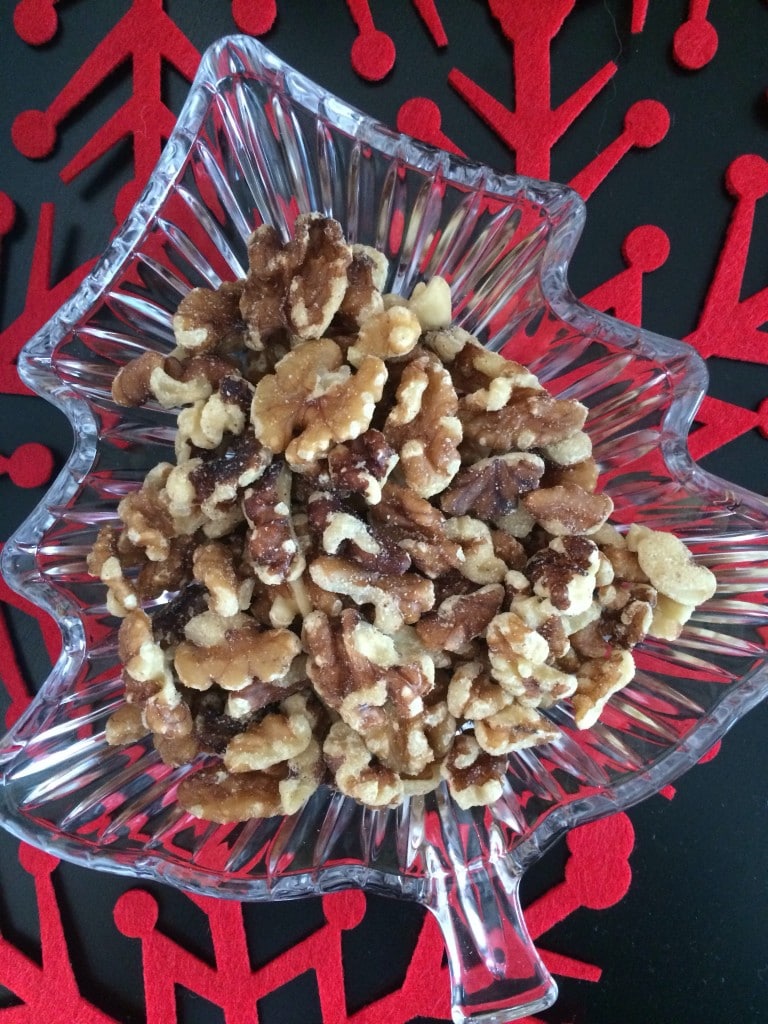 Also in my shopping cart was a box of Organic Macaroni and Cheese. I'm not sure if this is going to be a quick dinner one night or the ingredient for some Baked Macaroni and Cheese Balls to be used as a fancy hot appetizer.
With some granola bars and other snacks purchased in the food section of CVS, I left happy and excited about another great store making it easier and more affordable to living a healthy lifestyle.
___
Disclosure: Many thanks to CVS for providing a gift card for me to go grocery shopping without any lines. All opinions expressed are my own and I did not receive financial compensation for this blog post.