Most air purifiers are large, vertical units to clean the air. Which is why the Purivortex HEPA Air Purifier is unique. It is the world's first lie-flat air purifier, which can save space and offer you additional options not commonly found in other air filters.
We put this air purifier to the test in our home and are happy with the results. Here's what we found.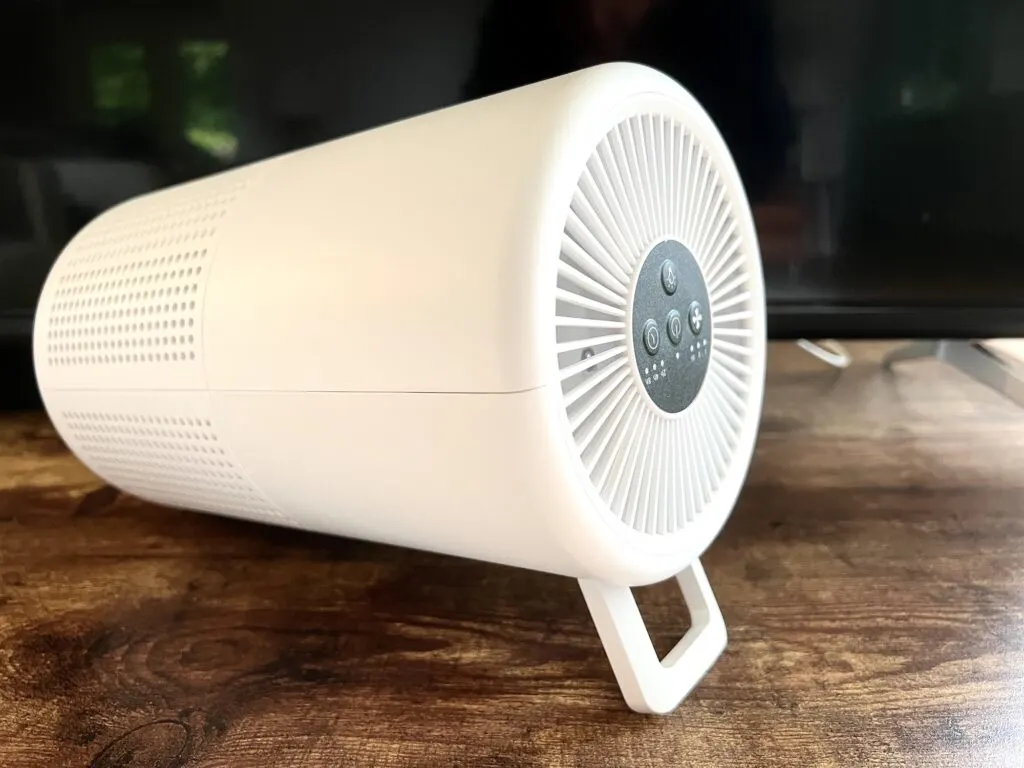 Purivortex HEPA Air Purifier Pro Features
The Purivortex 201B is a basic HEPA air purifier that is great for small rooms in your home. It is lightweight, portable and easily carried in between rooms.
Key features include:
3-Stage Filtration with a pre-filter, activated carbon filter and true HEPA filter
Removes 99.95% of dust, pollen, pet fur and smoke
Cleans air up to 160 square feet
3 Timer Settings
3 Fan Settings
Noise level starts around 20dB
2 Color Options: Black or White
2 Light Options: Yellow or Blue
Very light weight
Zero Ozone
Uses 6 Watts of Power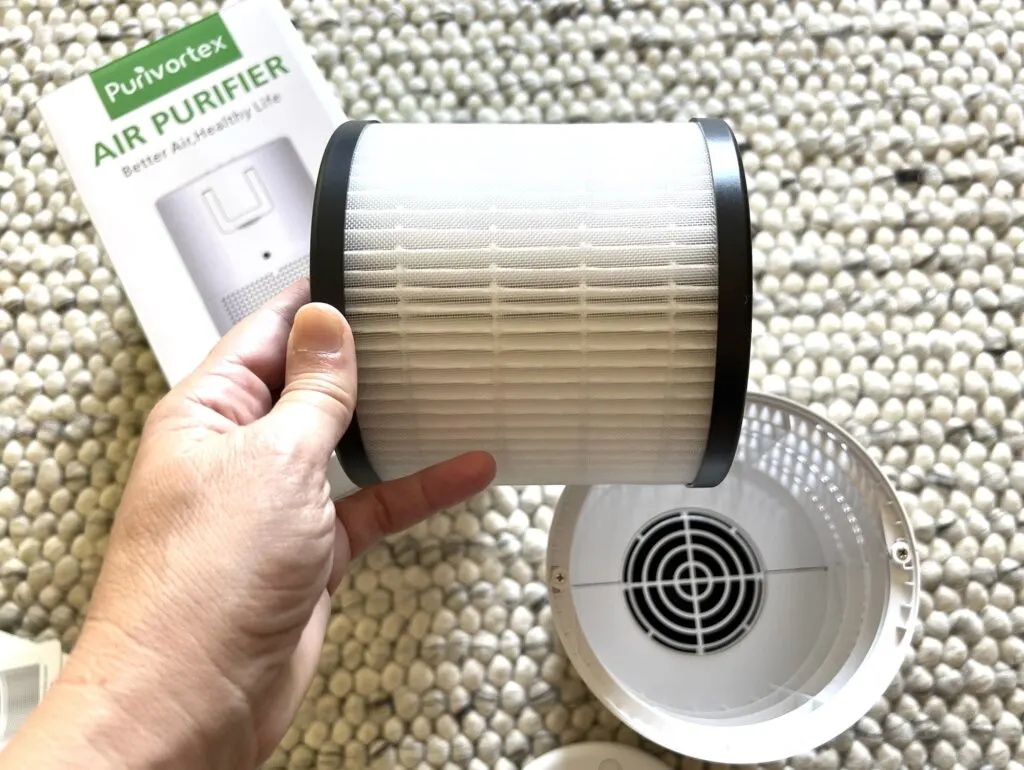 This portable air purifier can be found at Amazon and Walmart.com.
Purivortex HEPA Air Purifier Pro Review
I was sent a unit to review in my home.
After using it our house, I am happy with the air filter. In fact, I'm really liking the extra options that other air purifiers do not offer.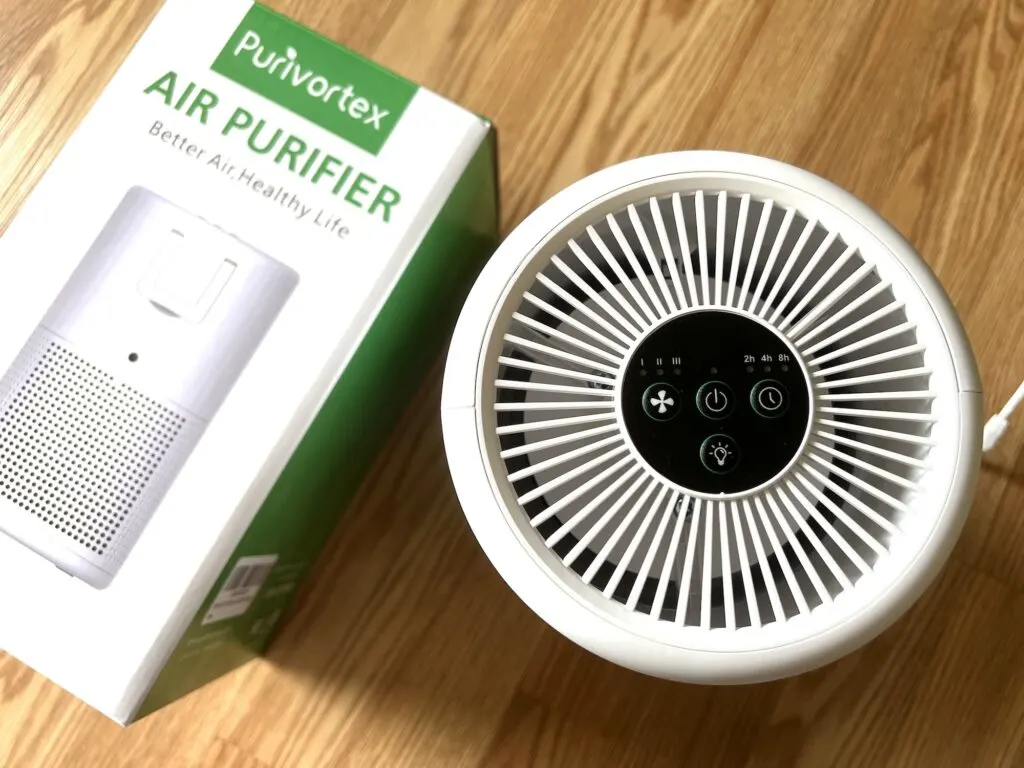 For instance, this unit can work as a gentle fan when it is in the lay flat position. You will feel air movement from the top of the air purifier if you angle it to be aiming toward you. Having the soft fan is nice when sleeping or when working in an office.
The lie-flat option is unique. Whether you use the flat lay out for space saving reasons or to enjoy the fan, it is nice to have the feature of using it in a vertical or horizontal position.
The light on the air purifier is unique, however I don't find it useful. It is pretty bright at night, so for adults you might not enjoy that much brightness in your room. However, for children that do not like the dark, the light would be great as a nightlight while purifying the air in the room while they are sleeping.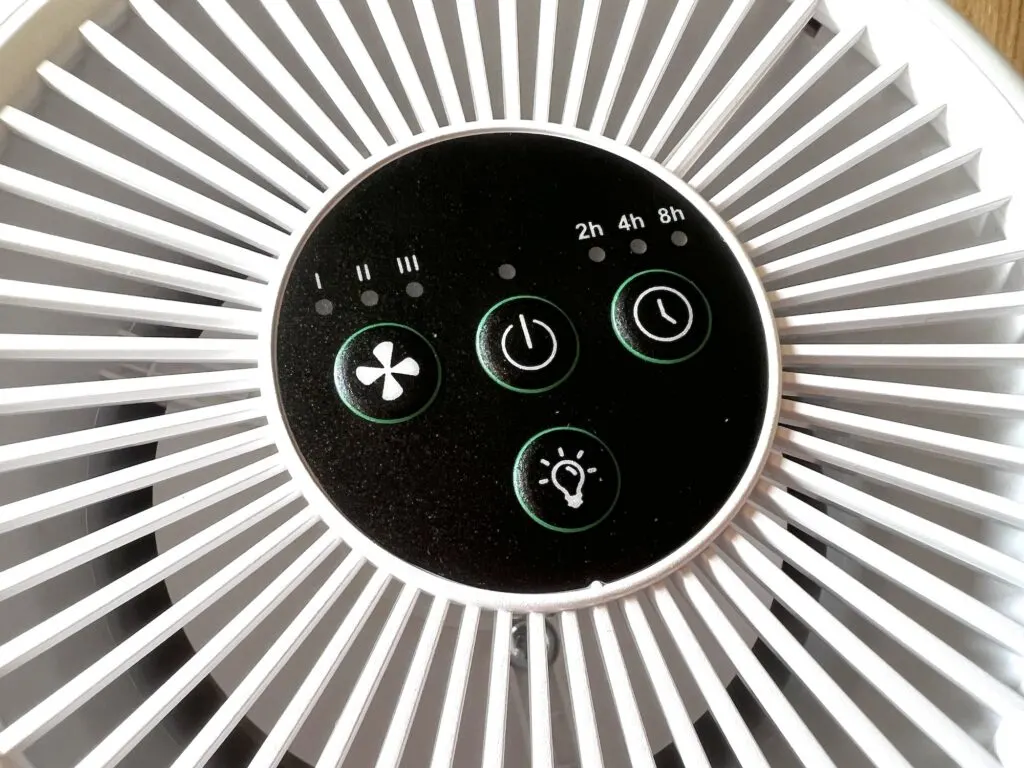 I am impressed by how lightweight that Purivortex is. I can easily move it around. Weighing in at just over two pounds, I could easily hold the unit with just one finger using the pop-out handle.
Many air filters can be loud. The Purivortex's lowest setting is just around 20dB of noise. I found it to be very low in noise and hardly hear that it is working.
We put the air purifier on the highest setting for white noise at night. It was just loud enough for a soft white noise while sleeping.
As an RVer and camper, I appreciate that this unit uses very little power and is lightweight and portable. It is perfect for plugging into the RV, even when we don't have power and are using the house battery or a generator. So we can have fresh air, a gentle breeze and even a light without much energy drain.
For a more detailed look at the Purivortex HEPA Air Purifier, watch my YouTube video review below:
The Purivortex HEPA Air Purifier is a great unit if you are looking for an affordable air filter that is small and portable with a space saving design.