This was my original announcement for publishing my first green living book, The Everything Guide to a Healthy Home. It is now available on Amazon and in Kindle. I wrote the book back in 2011 and it was published in 2012.
For my most recent and up-to-date project, check out my Ultimate Home Detox course. And my free course on the Best Houseplants to Detox Your Home.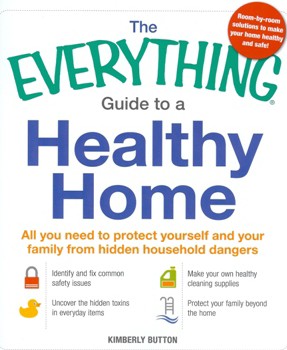 Publishing News for My New Book!
(Blog Post was Published August 15, 2011)
I am announcing wonderful news! I was chosen by a major book publisher to write a new book on how to create a healthier home, school and workplace for you and your entire family.
For the past month I have been writing non-stop every day in order to meet my deadline, which is almost here, but I can do it! With such a quick turn around, you can expect to see the book in bookstores early next year.
I look forward to sharing more about the upcoming book and all of the many ways that you can create a healthier, greener home and workplace, so stay tuned for more information!
It's a great time to sign up for the monthly newsletter (see box below to sign up) where I'll be sharing the majority of the news and events.
Thanks so much for your support – and for wanting to create a healthier home!
Kim
More Healthy Home Tips
Looking for some great tips right now on how to create a healthy home? Check out these tips guides:
What kind of vinegar to use for cleaning
How to deodorize your closet naturally
DIY Sage Spray for Cleansing Your Home
How to clean your toilet with vinegar