I think you probably know by now that I love getting outside. I'm not a hard-core outdoors adventurer by any means. But there is nothing like hiking a trail, getting out on the lake or sitting by a waterfall to refresh your soul in this crazy world. When I found The Nomadik, a subscription box for adventure gear and gadgets, I knew I had to try it out for a Nomadik review.
Nomadik sent me the November and December box to review. November's theme was Defend Against the Elements. December's theme was Weekend Trek.
And I loved them! I wish I had this stuff when we were RVing this year and going to the National Parks.
Nomadik Review
What is a Nomadik subscription box?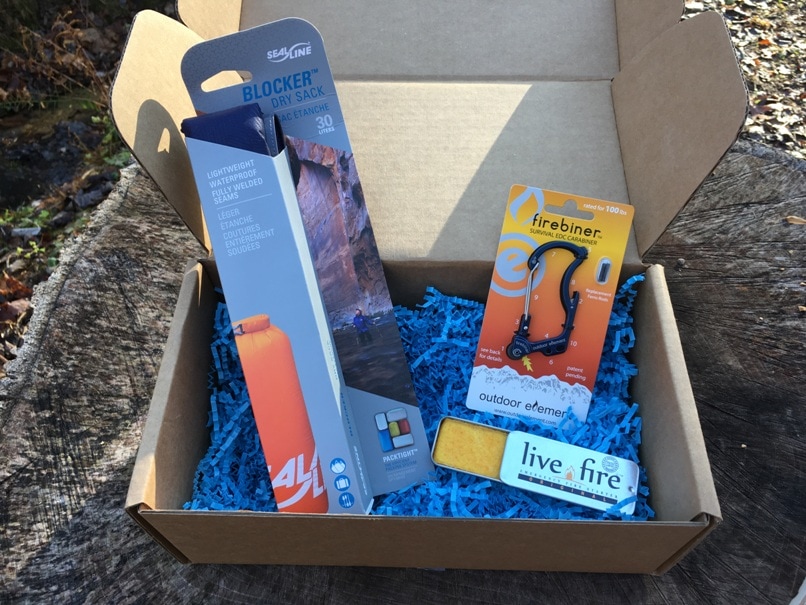 It's a monthly box curated with 3-5 products that are great for enjoying the outdoors.
Don't be concerned if you're a city slicker or don't get outside much. Or if your only chance to go hiking is on summer vacation.
I've found that the items sent in The Nomadik subscription boxes are perfect for outdoor adventure, yes, but they are also great for urban pursuits and survival preparedness (the October box was all about purifying water – which is definitely important for anyone's emergency kit).
I also think that the unusual products INSPIRE you to get outdoors more. These are gadgets that I wouldn't have ever dreamed about unless I found them shopping in an outdoors store (which doesn't happen that often).
The Nomadik subscription box will include high-end items from one or several of the following categories:
Gear (think portable power options, dry bags, or lighting)
Tools (think knives, multi-purpose tools, first aid products, or skin repair)
Fuel (think products you can consume – such as drinks and snacks – or drinkware)
Knowledge and Inspiration (you'll get outdoor hacks, camping tips and ideas included in the box)
You're getting up to $50 of products in each Nomadik subscription box. Yet you're paying much less!
What Is Inside Nomadik Subscription Box
The following are the two Nomadik Subscription boxes that I received.
November Nomadik Box
For November 2017, the theme of Defend Against the Elements included the following items:
Seal Line Blocker Dry Sack
Outdoor Element FireBiner
LiveFire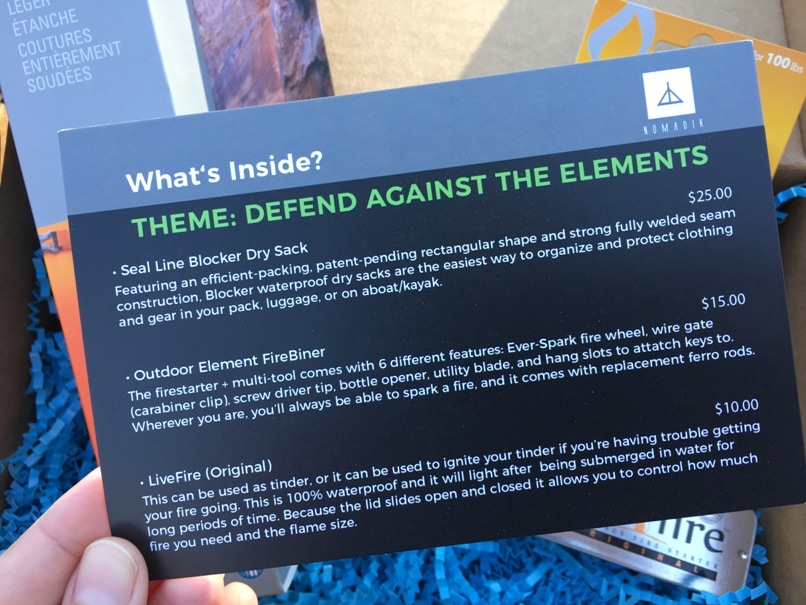 While I was familiar with dry sacks, I didn't know that the other two products even existed. This was a great way to discover them.
Seal Line Blocker Dry Sack
I love this dry sack because it is large and it has a multitude of uses!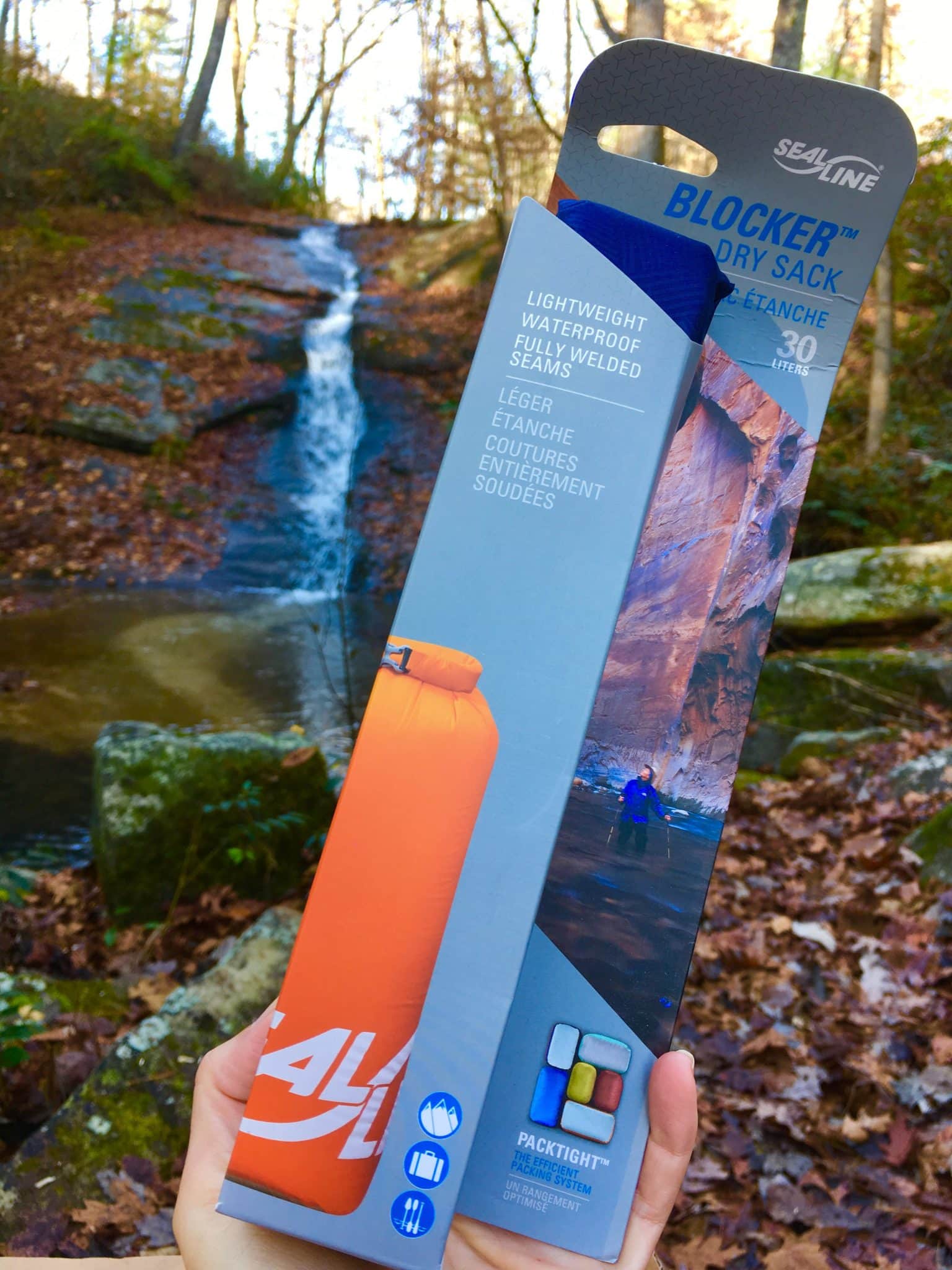 Yes, you can use it camping and kayaking and sleeping by a waterfall.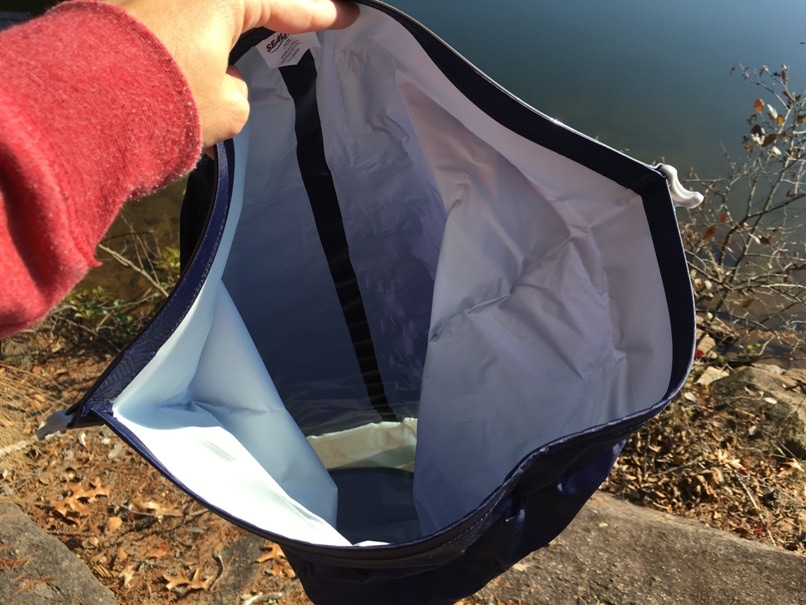 Did you know you can also use it on your family beach vacation to keep the electronics dry?
Or when you're out on a boat to protect your food and valuables if they go overboard?
It would be perfect for theme parks and water parks to keep your camera and phone dry on water rides.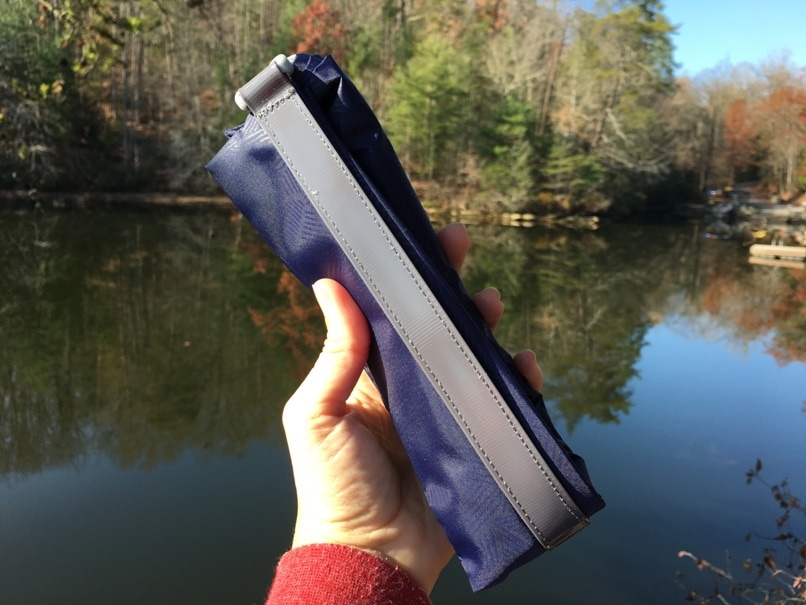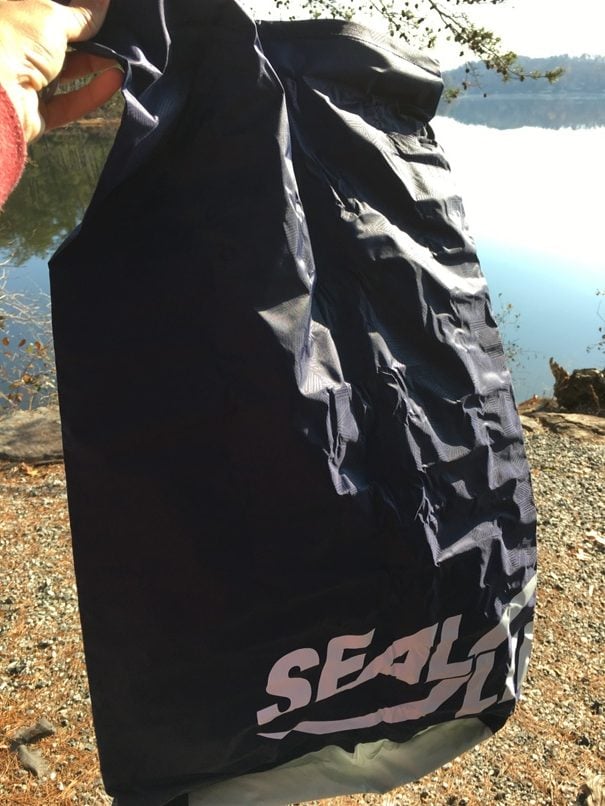 See, you might think that the products are only for hard core adventurers, but these outdoor products can fit into anyone's life.
Outdoor Element FireBiner
I was surprised to find a carabiner with tools hidden inside. I didn't know they existed.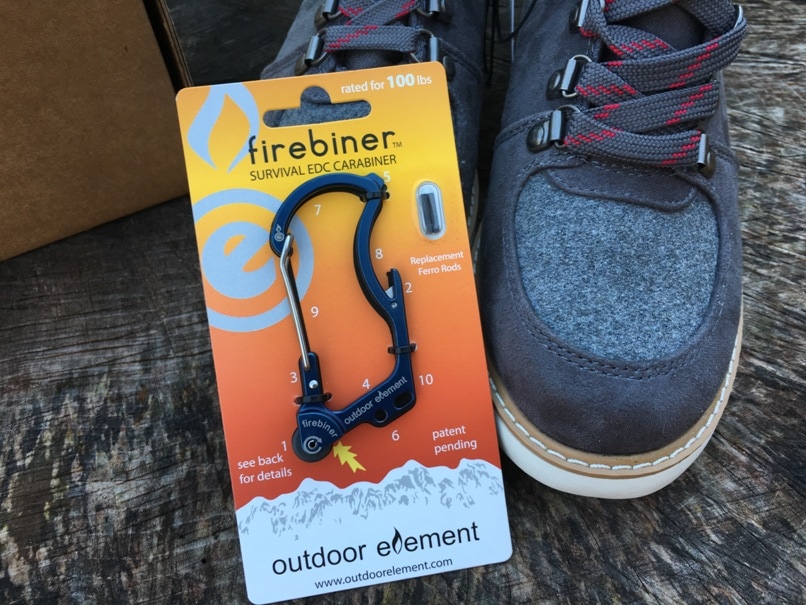 It's like a swiss army knife in a way, but this one actually holds weight (up to 100 lbs).
It's great to have in emergencies on the trail, with the ability to start a fire or use the mini blade for cutting.
Snap it onto a belt loop or backpack when you're hiking (no matter where or for how long) just in case.
LiveFire
When my husband and I were traveling to National Parks this year, we were amazed at how difficult it was to get a fire started sometimes.
Even with dry kindling, twigs, dry hardwood and a smart technique, there were many times when we couldn't get a simple fire pit fire to start.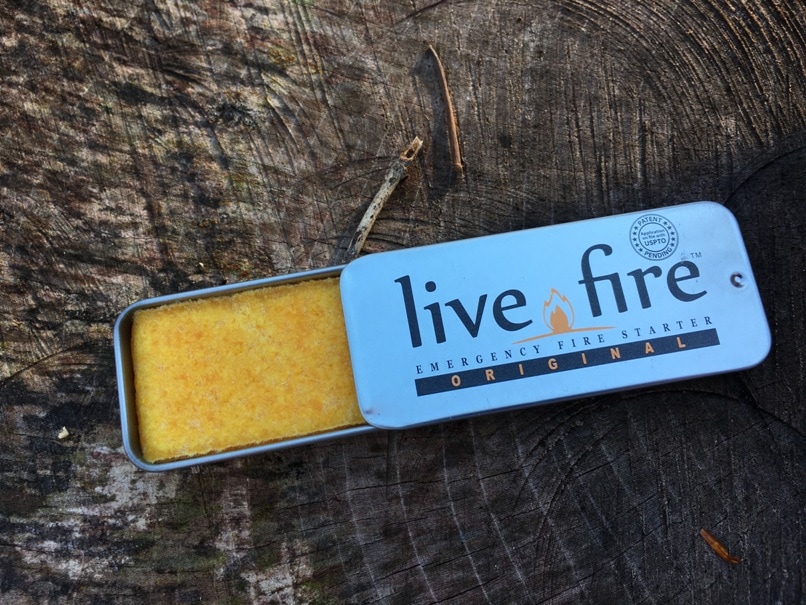 Which is concerning. Especially if you were relying on the fire in an emergency.
We were only trying to get a campfire for making s'mores. But sometimes you must rely on a campfire for heat or light to survive.
LiveFire is smart to have on hand either outdoors or in your emergency kit at home. It still lights after being submerged in water. Which means you can get heat and fire even if you're not living in perfect conditions.
December Nomadik Box
This holiday box had a bit extra value to it. With the theme of Weekend Trek, it was full of practical items that could be used in the outdoors and in the suburbs, too.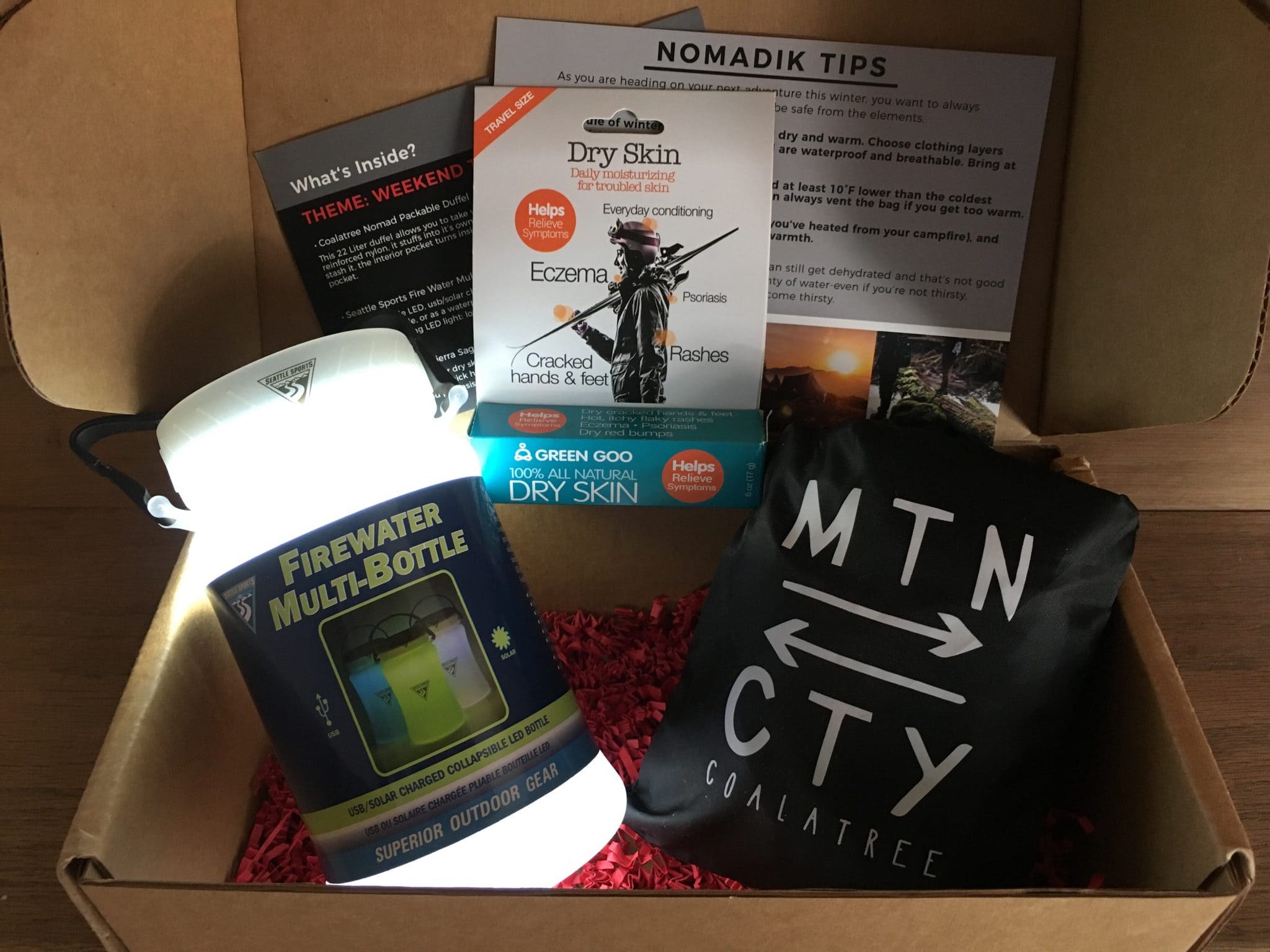 Coalatree Nomad Packable Duffel
Seattle Sports Fire Water Multi-Bottle
Green Goo by Sierra Sage Dry Skin Care Stick
Coalatree Nomad Packable Duffel
This is a great duffel bag that folds into its own pouch. Perfect for outdoor pursuits or going to the gym.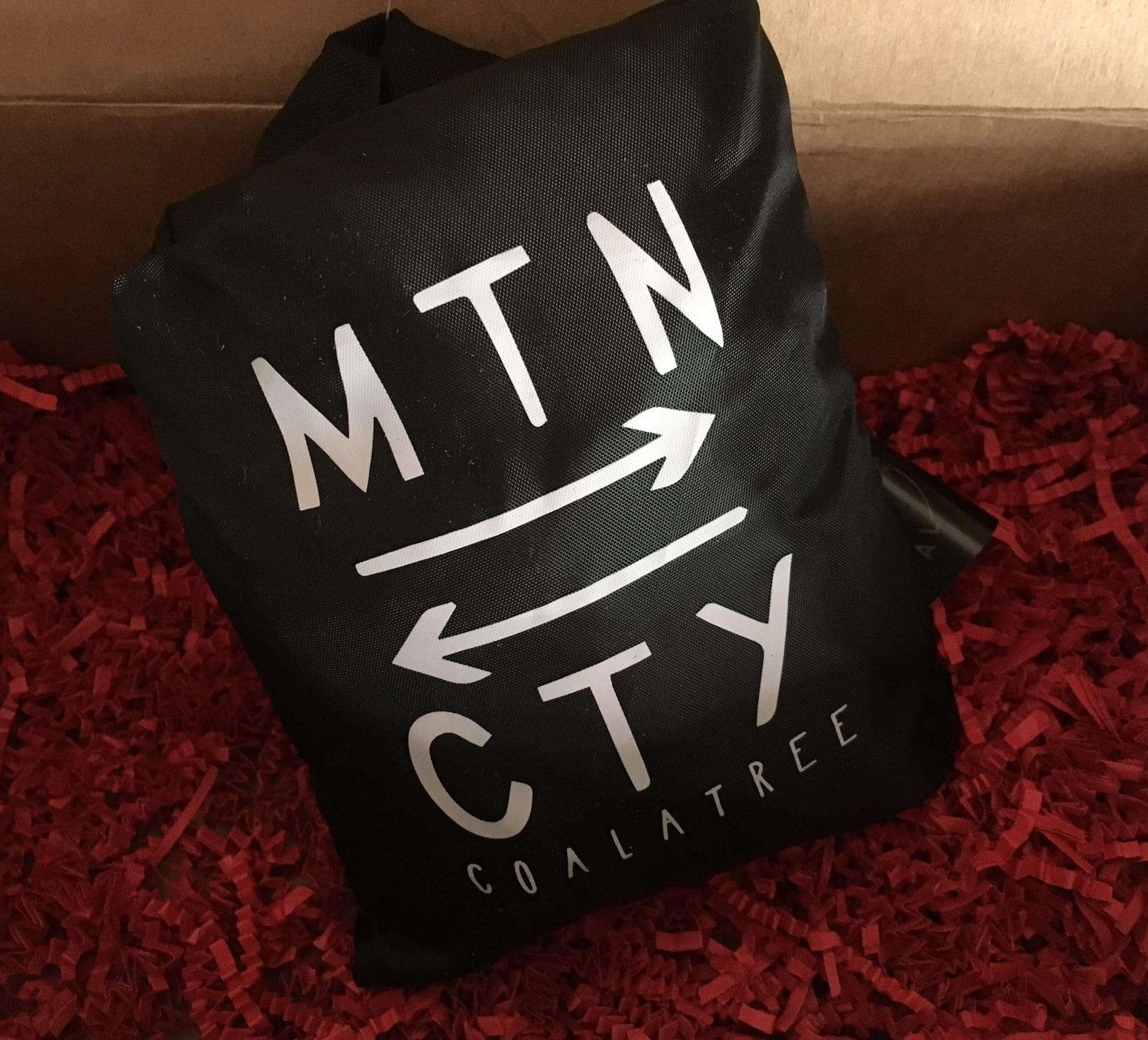 Seattle Sports Fire Water Multi-Bottle
My favorite item was this water bottle that has a solar-powered light on the cap. Not only can you bring water, but you've got an emergency lantern, too. And it's powered by the sun. Plus, it's super lightweight.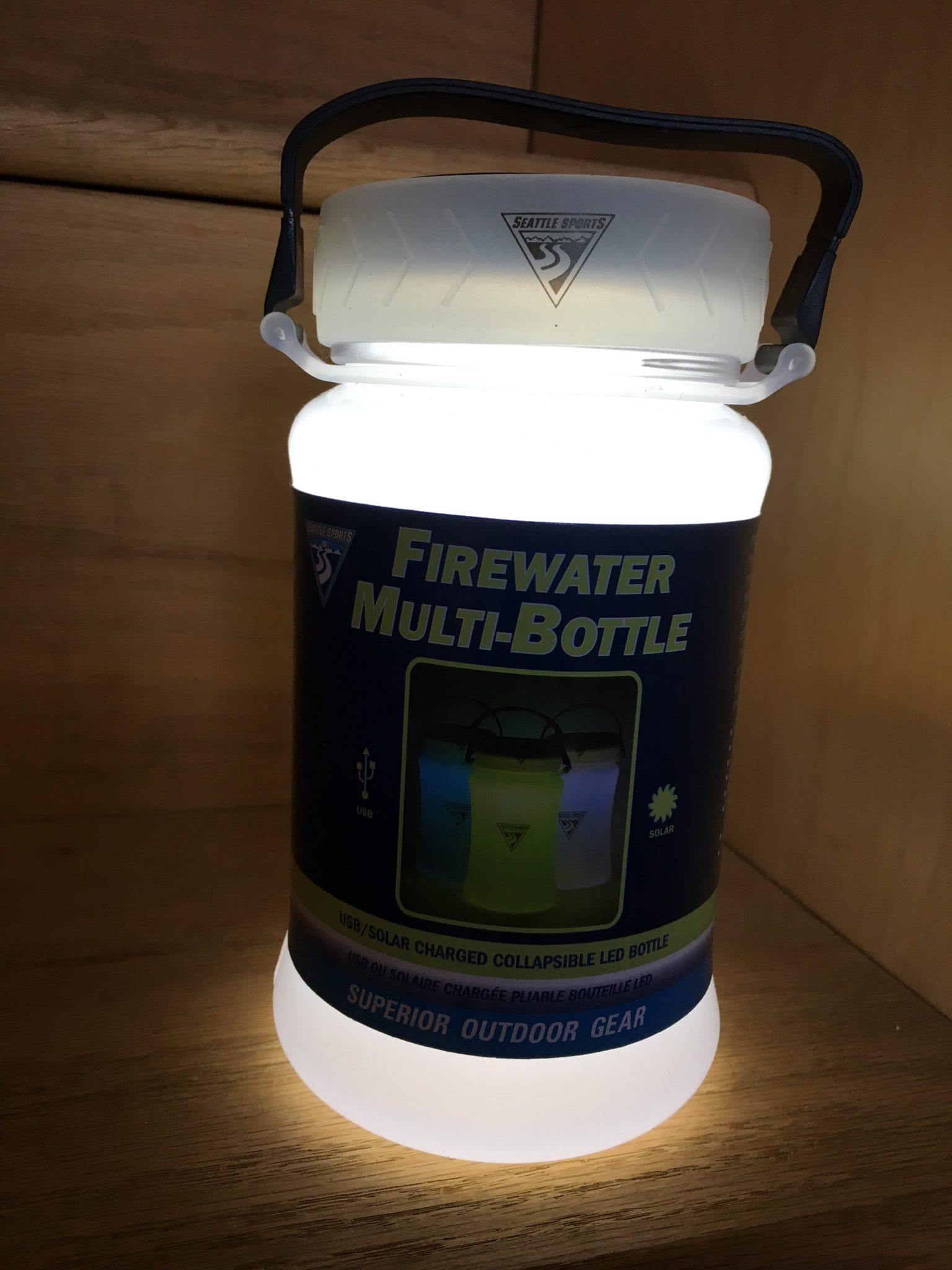 Brilliant.
Green Goo
Dry skin isn't just after being on the trail. This stick helps with skin conditions such as eczema or psoriasis, plus cracked hands and feet and bumps.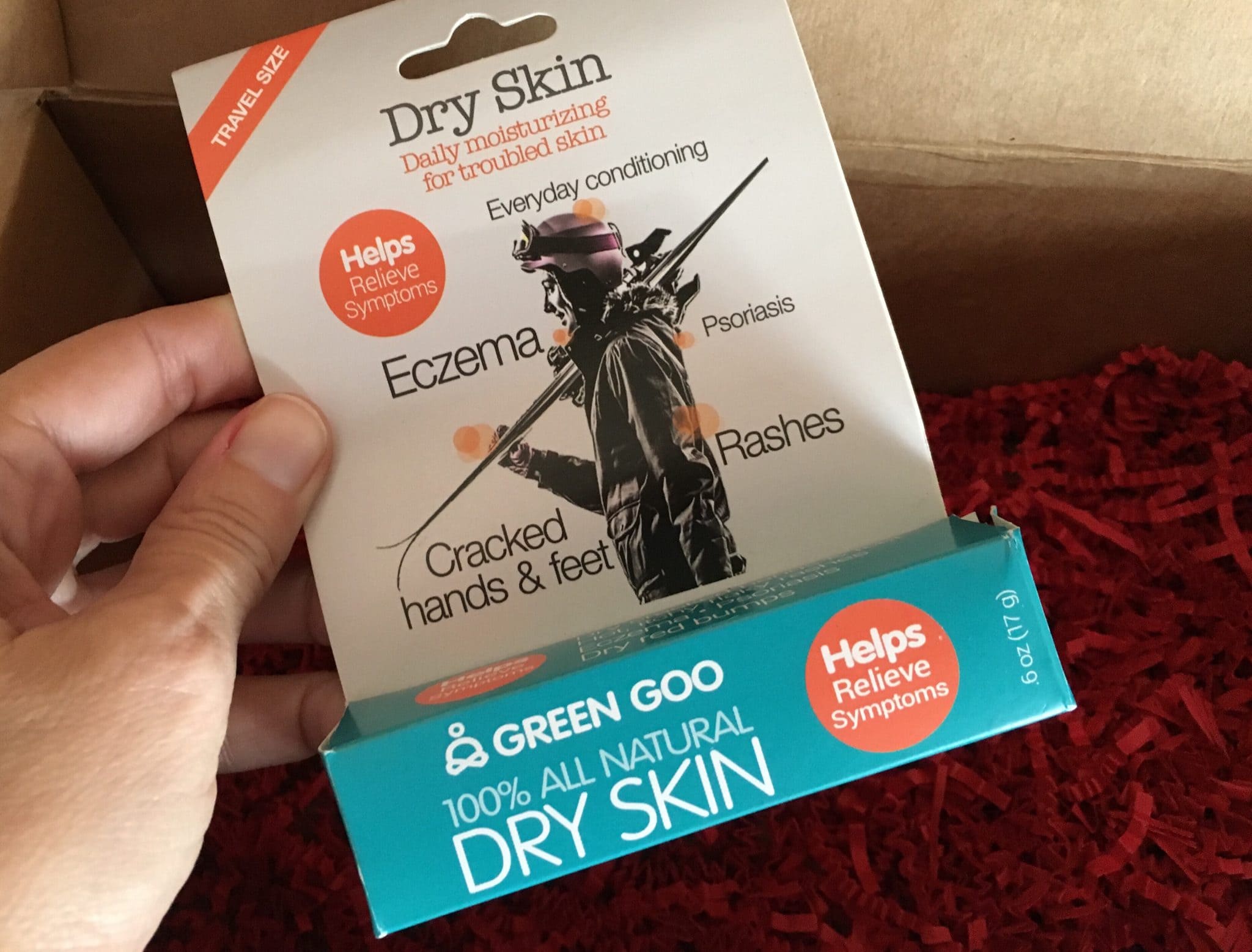 Nomadik Subscription Box Satisfaction Guarantee
Nomadik wants you to be happy with your Nomadik subscription box.
Like, really happy.
If you don't like an item in the box, you can exchange it for something else.
Don't want to continue to get boxes? Cancel at any time.
You'll get free shipping with a 12 month subscription!
Plus, the longer the subscription you sign up for, the less expensive each box will be.
A Nomadik subscription is the perfect gift for yourself or others, including:
Travelers
RVers
Campers
Survivalists
Preppers
Adventurers
Tweens and Teens
Weekend Warriors
Win a Nomadik Subscription Box