A DIY Recipe for homemade Chocolate Mint Lip Balm for natural lip care. It's so easy you can make it in the microwave with 5 ingredients!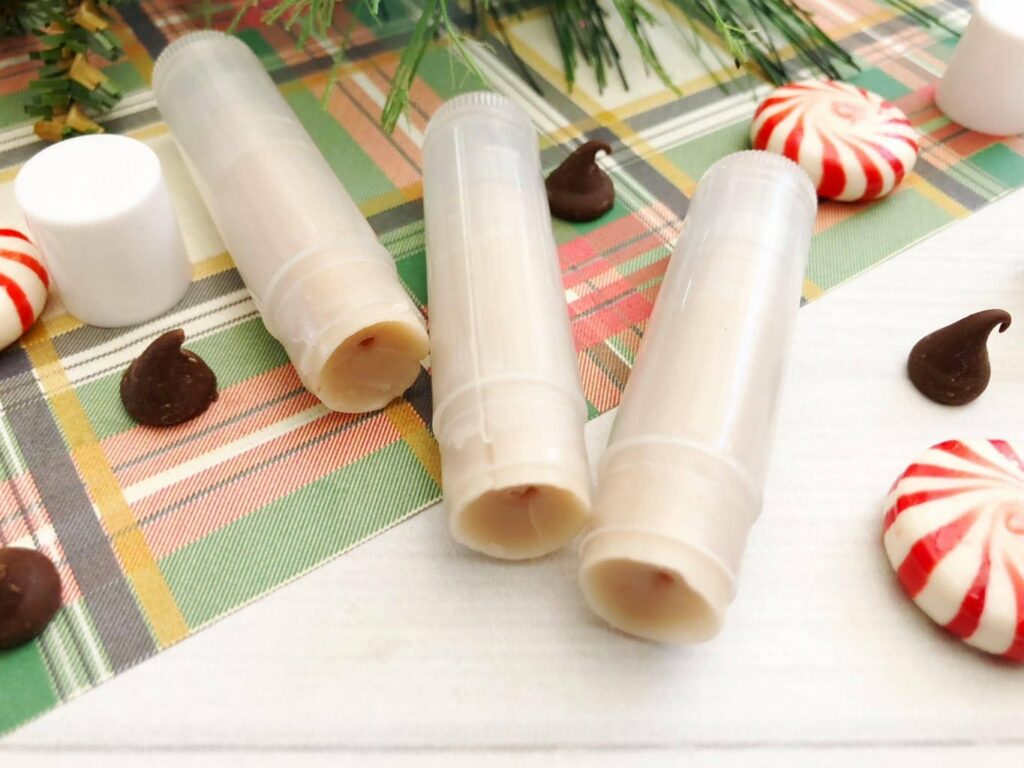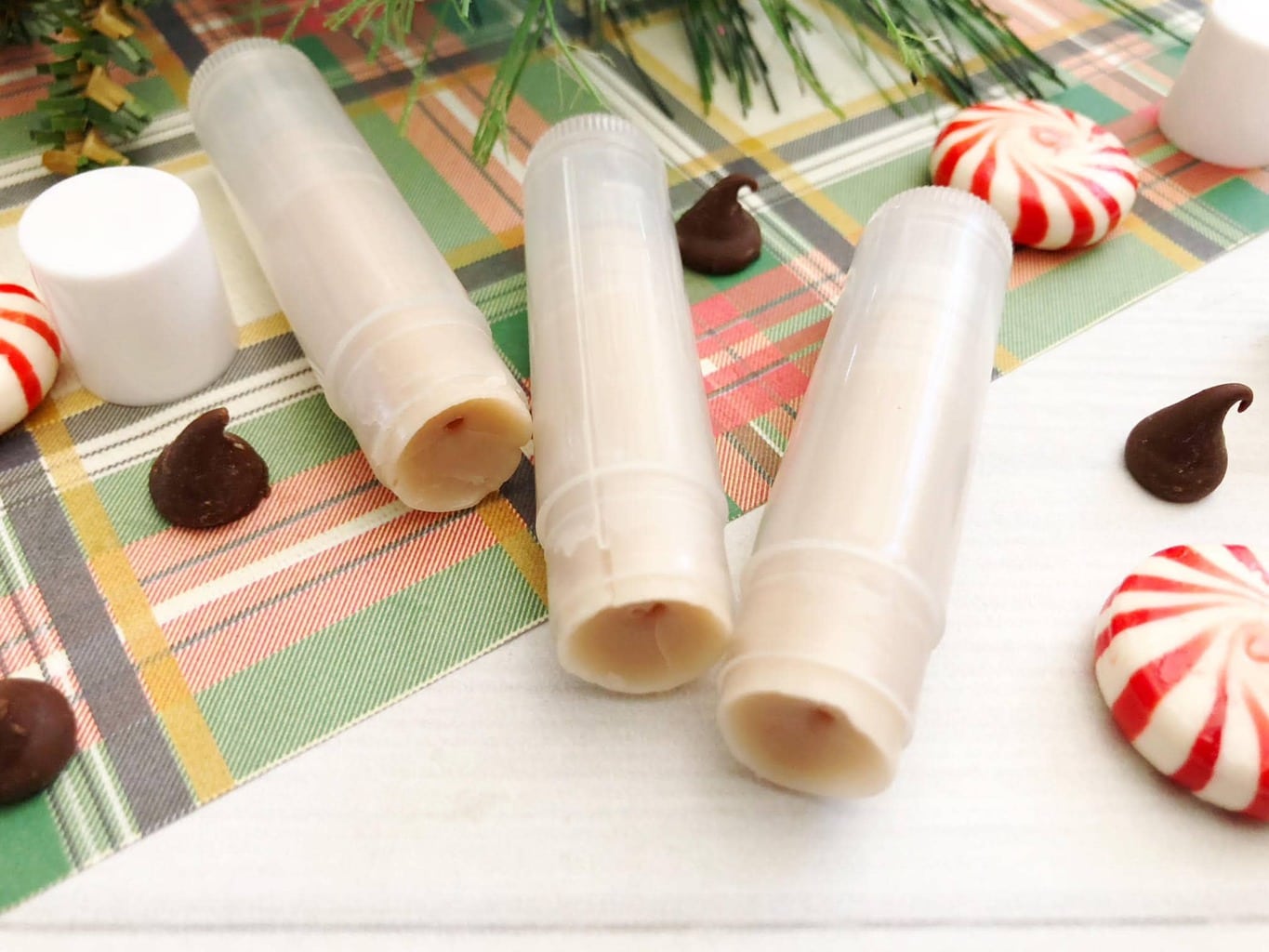 Are you a chapstick addict like me? I have lip balms everywhere. I would panic if I couldn't find a tube of the stuff in my purse. And natural lip balms can get expensive to buy all of the time.
So I was thrilled to find out that you can make homemade lip balm! I thought it would be a hard or confusing DIY project. But it turns out it is SUPER SIMPLE to do!
And it's definitely cheaper than buying tubes in stores or online.
One of the best things about this DIY lip balm recipe is that you can make lots of these lip care products for your friends and family. And they'll be impressed! Which is great at Christmas when the flavors of mint and cocoa together are perfect.
These natural lip balms are perfect stocking stuffers (check out 101 more inexpensive stocking stuffer ideas).
Natural Ingredients
This easy recipe uses beeswax and coconut oil, two deeply nourishing and moisturizing natural ingredients. (You might like my basic Beeswax Lip Balm recipe that can be customized with essential oils, or my DIY Beeswax Balm, too!)
And the cocoa butter is great for natural skin care, too!
Plus, there's even a chocolate chip hidden inside the lip balm tube. (This is the chocolate chip brand I've been using for years.)
What Types of Tubes to Use
You can customize the type of lip balm tube you use depending on your preference. Traditional lip balm tubes come in clear round tubes and oval shapes.
You can also find colored lip balm tubes that are opaque, too.
Or, pour the homemade lip balm into lip balm pots to apply with your finger or lip brush rather than in a twist-up tube.
Want to avoid plastic? These zero waste metal jars with screw-top lids are a great way to store lip balm.
I also LOVE these slide top lip balm tins. They are old-fashioned and remind me of being a teenager in high school when these were all the rage! (Am I dating myself and sounding stupid there? Ha ha! You'll just have to see them and see if you feel the same way!)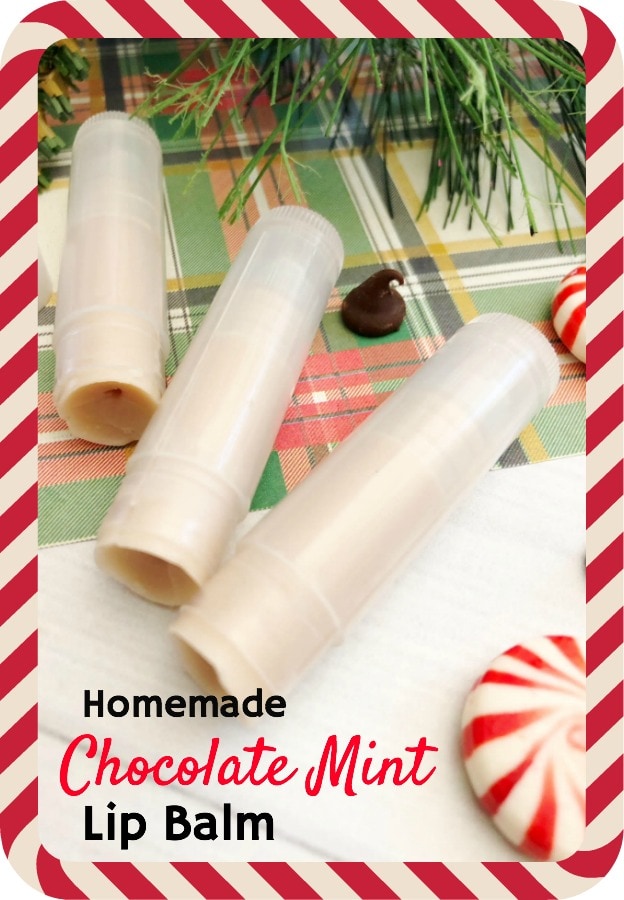 Here's more natural DIY bath and body items that make great gifts!: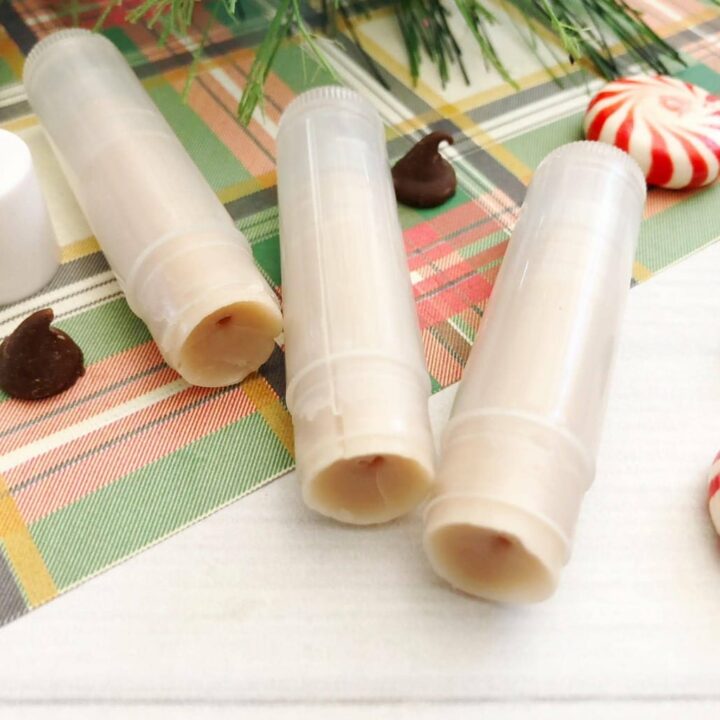 Natural Chocolate Mint Lip Balm
Additional Time:
15 minutes
Delicious and easy homemade chocolate mint lip balm recipe using beeswax, coconut oil and natural ingredients.
Materials
1 Tablespoon Beeswax Pellets
1 Tablespoon Organic Coconut Oil
1/4 teaspoon Cocoa Butter, grated
2 Drops Peppermint Essential Oil
1 Chocolate Chip
Tools
5 Lip Balm Tubes, empty and clean
Instructions
Combine beeswax, cocoa butter and coconut oil in a glass measuring cup.
Microwave the ingredients for 1-2 minutes in total. Microwave for 30 seconds at a time, stirring in between.
Mix in 1 chocolate chip and two drops of peppermint oil. Add more chocolate or peppermint oil if you would like.
Pour the liquid lip balm into your empty lip balm tubes. If you would like, add in a chocolate chip in each lip balm tube before pouring in lip balm mixture.
Let set for at least 15 minutes.
Recommended Products
As an Amazon Associate I earn from qualifying purchases. I earn from other affiliate programs, as well.