Our Merino Kids review proves that natural wool pajamas are a safe and natural choice for children's sleep.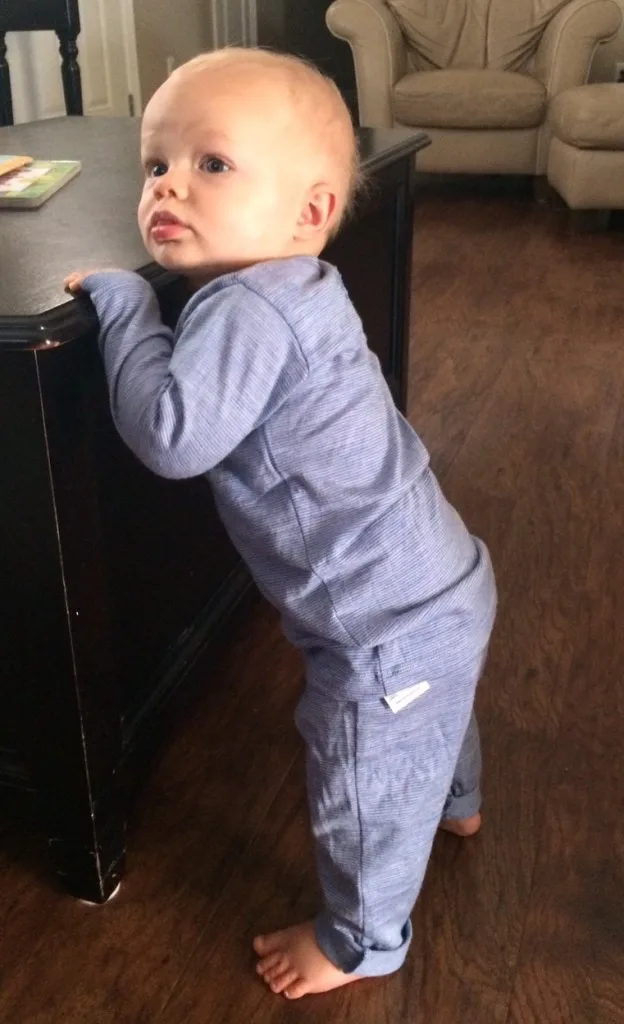 Worried about the chemicals that might be on your child's pajamas as they sleep all night? Conventional PJs usually have synthetic and chemical fire retardants in the fibers that are on your child's skin. Yuck!
Avoid the potentially toxic exposure and dress your child in Merino Kids sleepwear for more natural sleep.
Wool Pajamas for Kids
Merino Kids is a children's sleepwear line created by Amie Nilsson, who was in search of a more natural fabric choice for her children. She created a children's line created out of Merino, a natural wool fiber, which is ideal for preemies, newborns and toddlers.
Wait, wool? Isn't it hot?
No, wool is one of the best natural fibers that actually corresponds to a body's temperature. Wool naturally adjusts body's temperature when needed. When it's too warm, wool will help cool you off. When it's cold, wool fibers will keep you warm.
Related Post: Unbound Merino minimalist basics for adults.
Merino Kids Review
I recently was sent the Merino Kids Long Sleeve Pajama Baby Thermals in Banbury to review. I was definitely eager to give them a try.
My little boy is still small for the 12-24 month size, but that just means that he will be able to wear them for a longer time, which is great!
One thing my husband and I liked about the wool pajamas was the cross-over neck line. It seemed to be more comfortable for him. The Banbury color is wonderful. And the fabric is soft and light yet keeps him warm at night.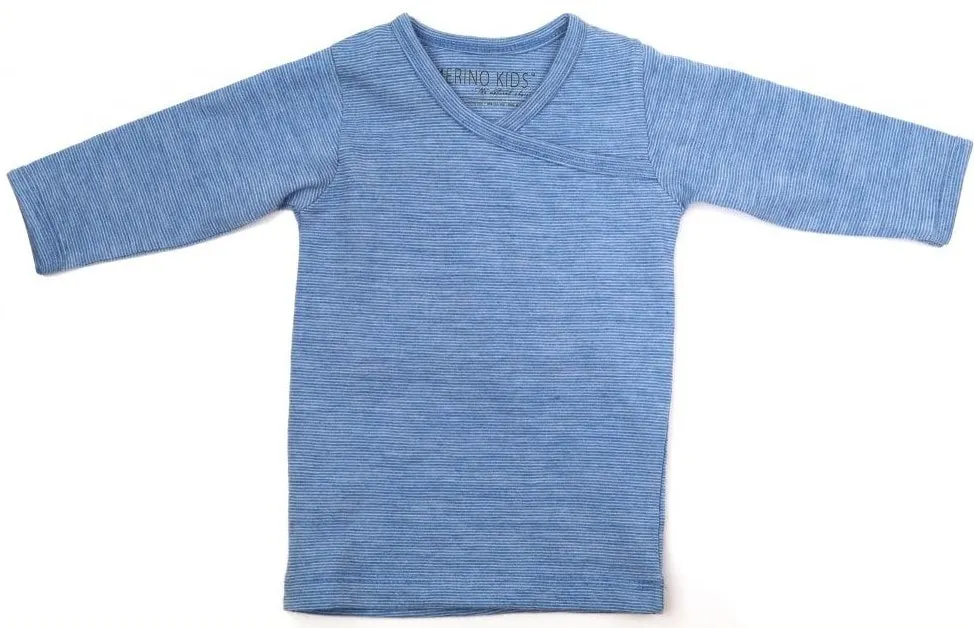 Merino Kids has several varied options for sleepwear including:
sleep gowns
sleeping bags
short and long sleeve body suits
baby wraps
Even the packaging is all natural being made out of 100% cotton organdy fabric and recycled cardboard tag.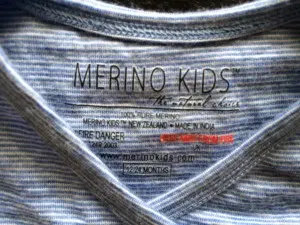 Merino Kids is so certain that you will love their products that they offer a 30 day return policy with no questions asked. I feel confident as well that you will not be disappointed if you give these products a try.
Natural Fire Retardants in Children's Pajamas
One thing you will notice on the inside of the sleepwear in red letters is the statement "Keep Away From Fire". While this may seem alarming, it is actually a positive result of no toxic fire retardants being added to the natural fabric.
Wool has naturally occurring fire retardants. According to Merino Kids, wool won't melt onto skin when exposed to fire, unlike man-made synthetic fibers which are coated in chemical fire retardants.
In fact, wool is a natural fire retardant in this natural mattress.
When washing your sleepwear, make sure that you air dry only to avoid the heat of the dryer.
All in all, this is a wonderful product that is safe and comfortable for children from newborn to toddlers.
I received a pair of Merino Kids wool pajamas in exchange for writing a review. All opinions are my own. As are the nights of safe sleep for my boy.