The best Labor Day Sales start a few days before the actual holiday, and some extend past Labor Day Monday, too.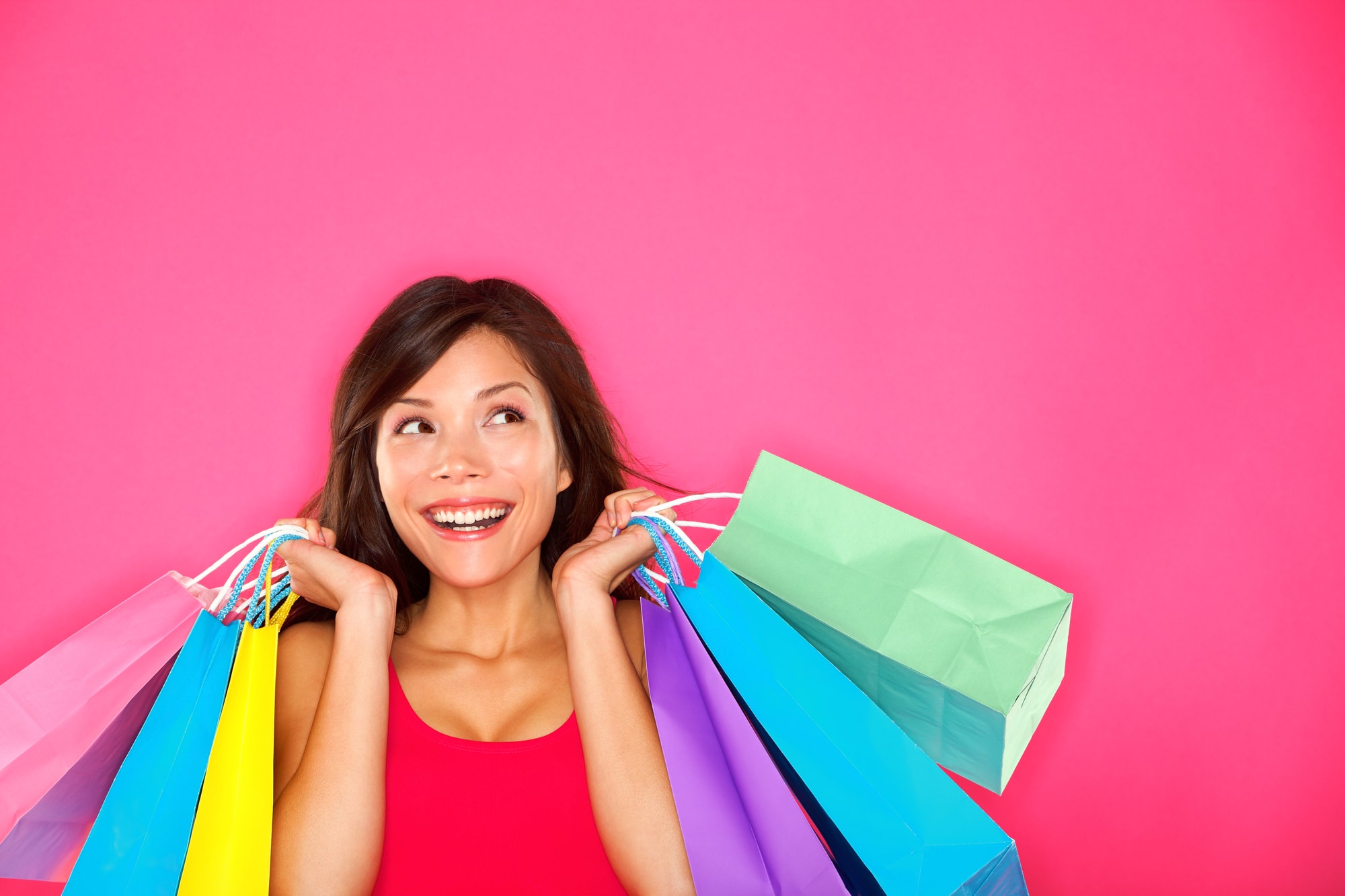 I have found that you can score some amazing deals on this major holiday! Especially when it comes to natural, non-toxic or organic products, such as mattresses, clothing, beauty items and more.
Labor Day Sales tend to be the last biggest sale time before Black Friday Sales start. So be sure to get these super deals without having to wait a super long time until the next big sale season!
I have listed the natural, non-toxic and organic options below in categories. The categories of Labor Day Sales, listed in order, are:
Labor Day Bonus Offers
Labor Day Mattress Sales
Labor Day Clothing Sales
Labor Day Beauty Sales
Labor Day Home Decor Sales
Labor Day Bonus Offers
Double your savings by using smart apps and websites to complete your purchase! That's right – you can score Labor Day deals PLUS extra cash back with these websites:
Ibotta
No matter what you're shopping for during Labor Day sales, you can score extra savings by using the Ibotta app.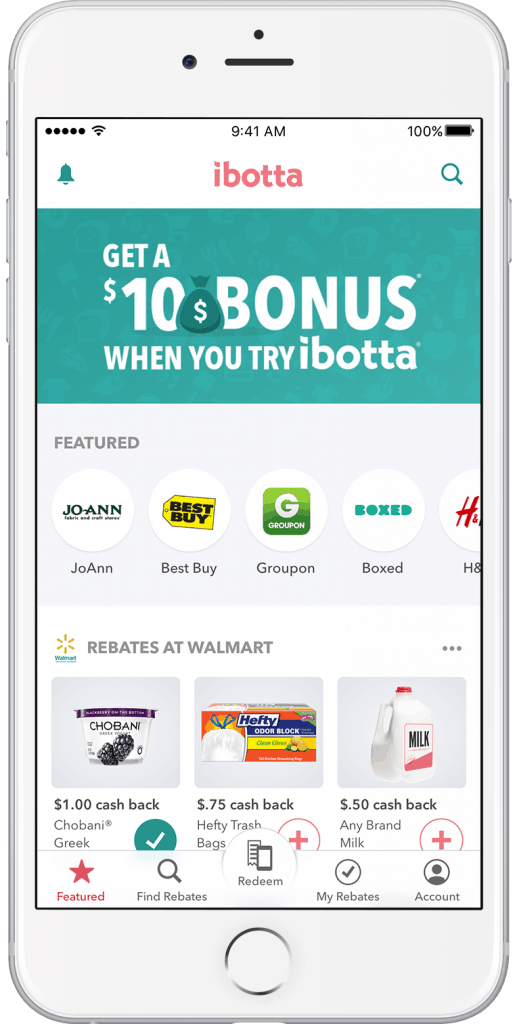 While you'll save a lot of money all year long, Ibotta's Labor Day deals are pretty special, too! They include:
FREE Perfect Bar
An extra $10.00 cash back when you redeem 4 offers by September 5, 2019
Extra $10.00 when you spend $200 in the Online Shopping Category
$2 cash back when you pay with Ibotta at AMC Theatres, Regal Cinemas or Topgolf
This app is perfect for saving extra money on food shopping, restaurants, online shopping, and more at major retailers that you know and love.
See my video on how to use Ibotta:
I've been using Ebates for over a decade. I've saved well over $1,325 with the simple website.
All you have to do is log in to Ebates first. Then pick from more than 2,500 stores online! Yes, it seems too good to be true. But I've been using them for years and it really does work.
Plus, there are some in-store cash back offers, too.
I just bought a ton of food and personal care products (see listing for Vitacost below) and saved $14 on top of the sales prices and coupon codes through Vitacost. That's an extra $14 put in my PayPal account (or via gift card) that I wouldn't have had otherwise.
PLUS, get an extra $10 cash back when you join with my referral link!
Labor Day Mattress Sales
Labor Day is one of the BEST times to buy a mattress, pillows, mattress toppers, bedding, etc.
This bedding company has a little something for everyone. They do have some organic mattress options.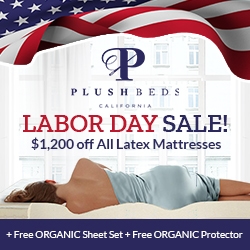 PLUSHBEDS is on my list as one of the few companies to offer a natural RV mattress. So now is the perfect time to look at what they offer.
The PLUSHBEDS Labor Day Sale is from August 23 – September 2, 2019):
Also, check out these Labor Day deals:
Use Code: GGBWORGANIC
FREE: Certified Organic Cotton Sheet Set + FREE Certified Organic Mattress Protector with every latex mattress purchase.
Use Code: PLUSH100
Receive an additional $100 off any bedroom mattress sale price in lieu of free bedding.
We're also offering 12 month 0% APR financing for 12 months and a $50 Amazon gift card
We've got a Latex for Less mattress topper. It's an incredible deal for an all natural bedding accessory.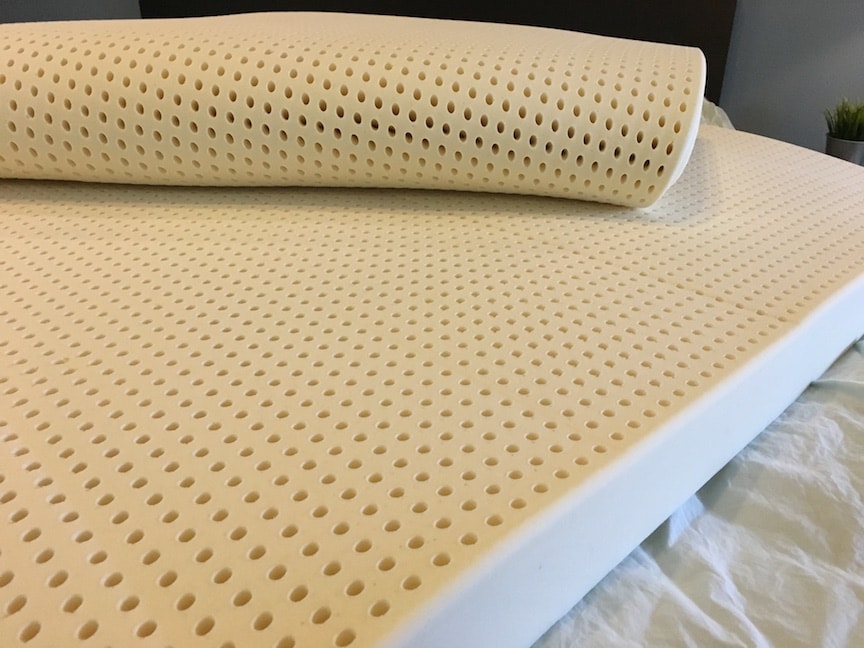 Latex for Less also has mattresses, too. And they are definitely an incredible value!
The Latex For Less mattress is made with 100% natural latex, organic cotton and pure natural wool. They are Certified by GOTS, Oeko-Tex Standard 100 and Eco-Institut. The Latex for Less mattress is reversible with 2 different firmnesses in 1 mattress!
The Latex for Less Labor Day Sale is August 23 – September 9, 2019.
Save $175 on all Latex For Less Mattresses with Coupon Code: LABOR2019
Here's video of my Latex for Less Mattress topper:
Savvy Rest
When Savvy Rest has a sale, it's a BIG DEAL! No, seriously, they have BIG DEALS!
Get 20% off everything on Savvy Rest through September 4 using Code LABOR19.
This includes mattresses, toppers, pillows and even furniture!
This bedding company is the world's only natural memory foam mattress. I've talked with the CEO of Essentia for a fascinating interview on why he started the company and the unique ways that they make a memory foam bed all natural with no compromises.
I've tried one of Essentia's memory foam pillows. I have also slept on an Essential bed in a Stay Well room. I have to say, their products aren't my favorite because they lean towards more firm. But some people really crave very firm bedding.
This Labor Day Sale which runs through September 9, 2019 is just about unheard of for Essentia! They are offering 25% off EVERYTHING! That includes:
mattresses
kids mattresses
crib mattress
pillows
pet beds
foundations
all accessories including organic sheets
This really is an amazing deal from Essentia! Don't let this sale go by without trying out their natural memory foam!
See one of the Essentia pillow in my video below, however, it is not my favorite Essentia product. But I love most of their other products!
This organic mattress was on my short list of beds to buy when I was researching getting a new bed.
It's a great value! The bed in a box will be shipped to your door. And Happsy is owned by parent company Naturepedic, who is known for their ultra non-toxic beds.
Happsy's Labor Day Sale is 2 Free pillow with a mattress purchase Using Code PILLOWS.
ECO TERRA Beds
Get $175 off every Eco Terra mattress from August 23 – September 9, 2019. Use Code LABORDAY
Labor Day Clothing Sales
Get organic and natural clothing separates at great prices!
PACT
I love our PACT clothing. I've gotten many pieces over the years, and we're still wearing all of them, including my hoodie, leggings, dress and even underwear!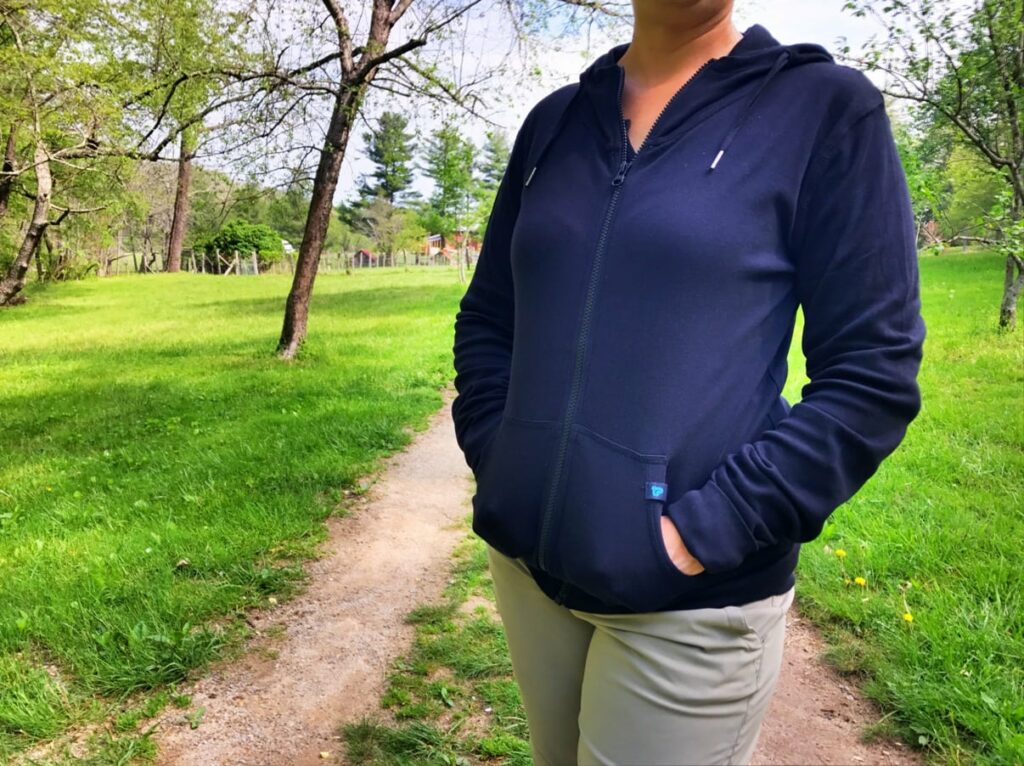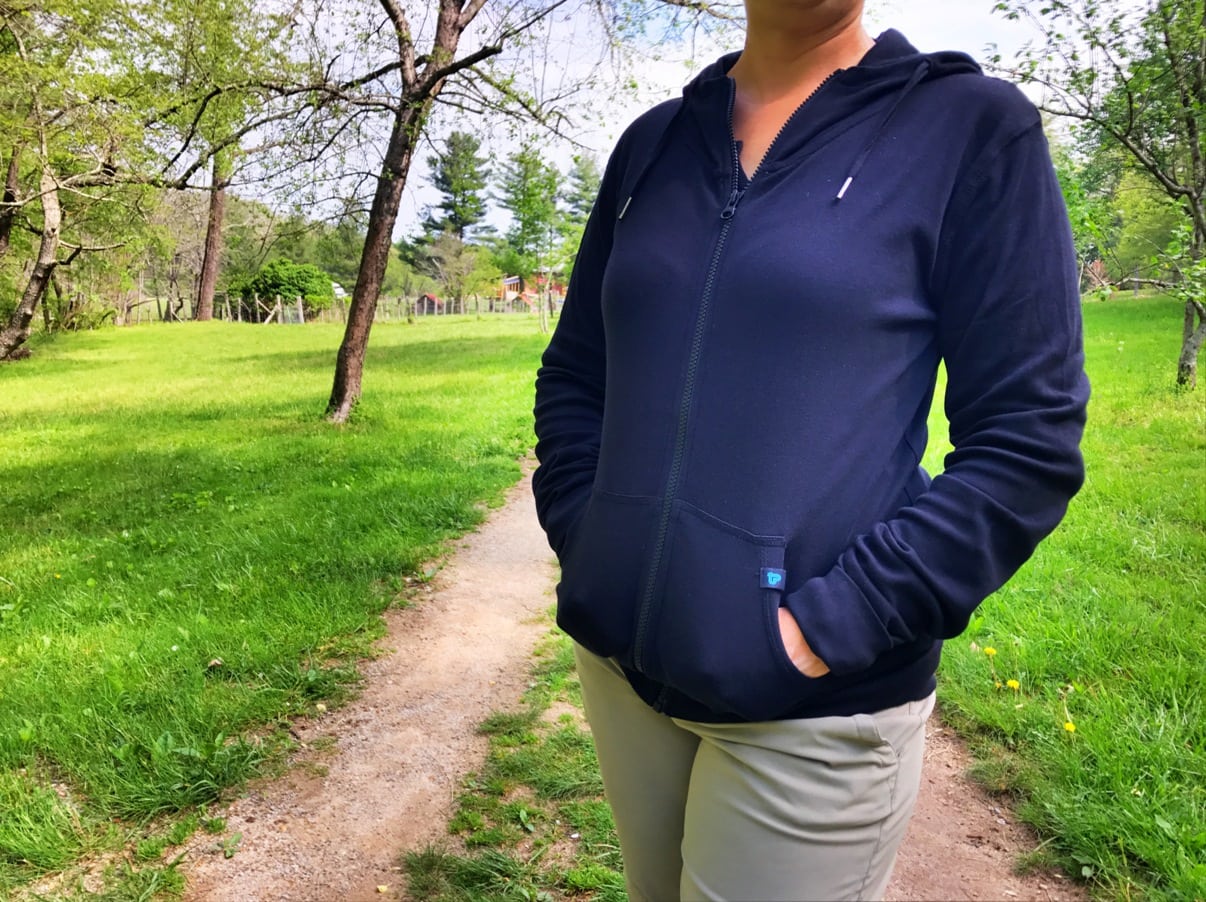 PACT's organic clothing is super affordable, and it gets even better with this Labor Day sale! Get:
10% off $25
20% off $75
30% off $150
+ Free Shipping!
Use code LABORDAYSAVEMORE
Synergy Organic Clothing
I have bought a few items from Synergy Organic Clothing and have been really happy with them!
Plus, their prices during a sale are really hard to beat! I've often gotten brand new organic clothing for less than $20.
Get 25% off your entire purchase when you use Code BYESUMMER25 Expires September 2, 2019 at Midnight PST.
Labor Day Beauty Sale
Farmacy
Farmacy is a new-to-me cosmetics brand that has super natural ingredients and is raved about on review sites. I've just tried their Honeymoon Glow.
For Labor Day weekend, get even more free gifts with a purchase (you'll get 2 free samples with a purchase normally, too).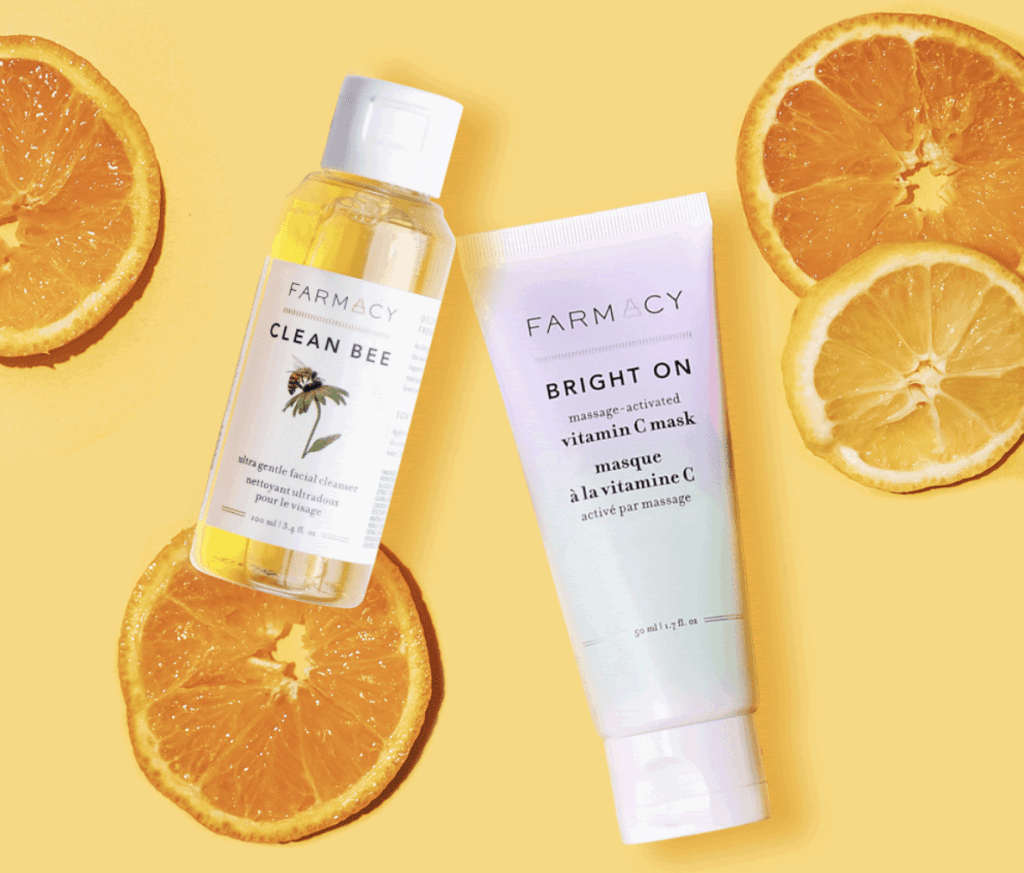 Spend $50 and get a FREE travel-size Clean Bee cleanser. Spend $80 and get the cleanser plus a FREE full-size Bright On vitamin C mask. Use code WEEKEND for the deals.
Gabriel Cosmetics
Get Free Shipping on Labor Day weekend through September 2, 2019 for Gabriel, Zuzu Luxe and Clean Kids Naturally products.
This cosmetic brand is who makes the lipsticks that I love, which are lead-free lipsticks.
Plus, they have a recycling program where you can get a free lipstick by returning 5 of their cosmetic containers that are used and/or finished.
Labor Day Home Sales
Home Depot Labor Day Sale
The Home Depot always has amazing Labor Day sales! And there's too much to list here!
From appliances to power tools to home decor, you can find it at The Home Depot.
Among my favorite Labor Day deals is the Shark DuoClean Powered Lift-Away Speed Vacuum for 48% off – a price of $179.99 now.
Stikwood
I loved talking with Stikwood at the International Building Show this year. And I'm really impressed with their non-toxic ways to freshen and renovate your home decor.
Everything on their site is 20% off. Use code RELAX2019 through September 2, 2019.
Wayfair (and More)
All of the companies listed below are home decor and furniture companies under one roof. Prices are good from August 26 – September 2, 2019.
Joss & Main
AllModern
Birch Lane
For the Etsy Annual Labor Day Sale, get 20% off select items on the website.
The deals are good through September 2, 2019.
**Another great Labor Day sale that doesn't fit other categories is The Nomadik sale. I've reviewed a couple of these adventure boxes and love them! This is a rare sale for 15% off sitewide. Valid through Monday, September 2, 2019.
Gift Guides
Not sure what to buy someone? Check out these gift guides: