Electronic toys have seemed to taken over the toy lists I've found, but I'm more interested in imaginative play for my child. So, I was excited to learn about a unique gift idea from Sharingland that will encourage the imaginations of young children and active play!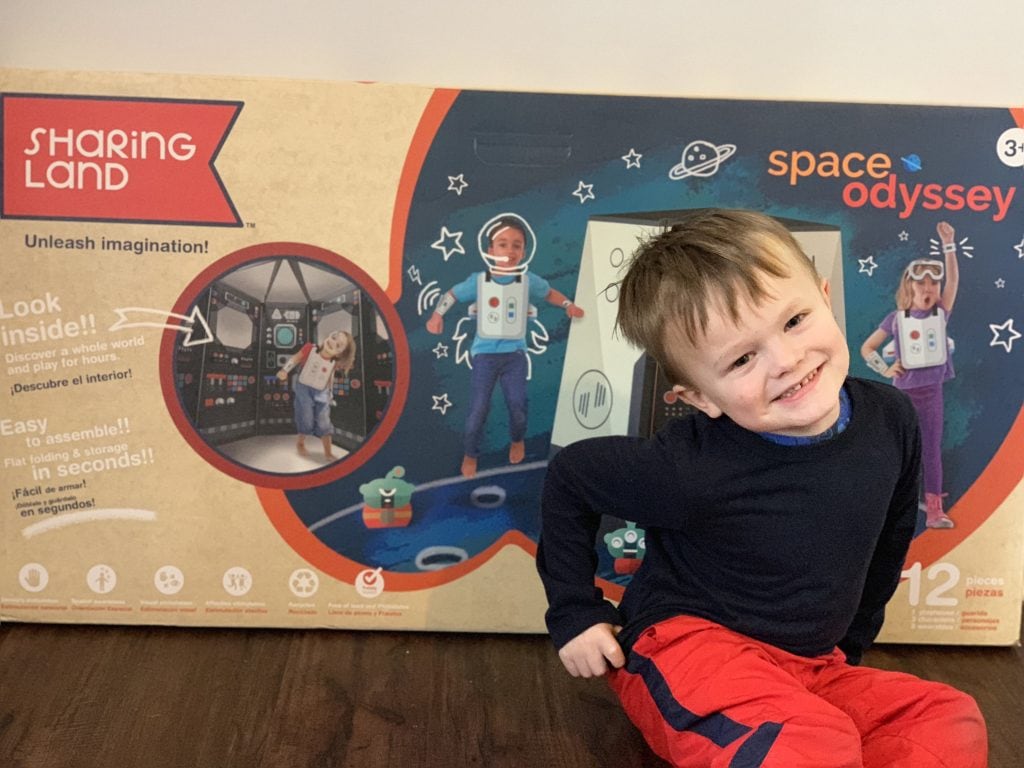 Sharingland Playhouse Kits
Sharingland Premium Playhouse Kits bring to life the worlds kids love to dream about. When my sister and I were kids, we used to love trying to make such things using a big cardboard box, some crayons, scissors and a lot of imagination. We would drive around town 'running errands', live in cozy homes, and even take off to the moon in our shuttle!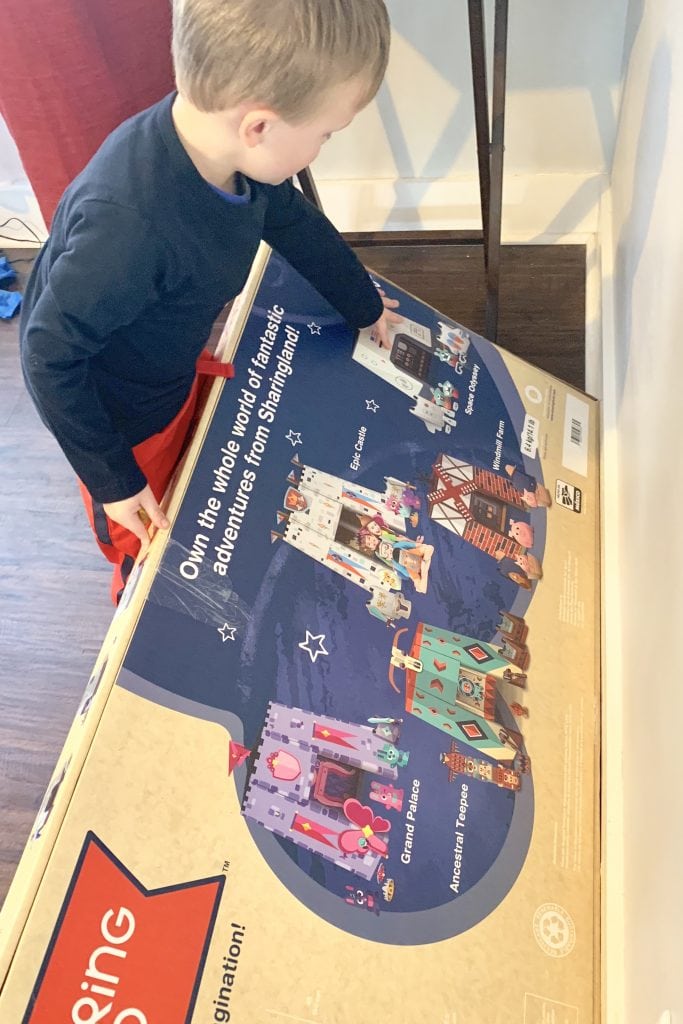 Choose between an Ancestral Teepee, Windmill Farm, Epic Castle, Space Odyssey, and a Grand Palace! Bring on the hours of fun imagination and play!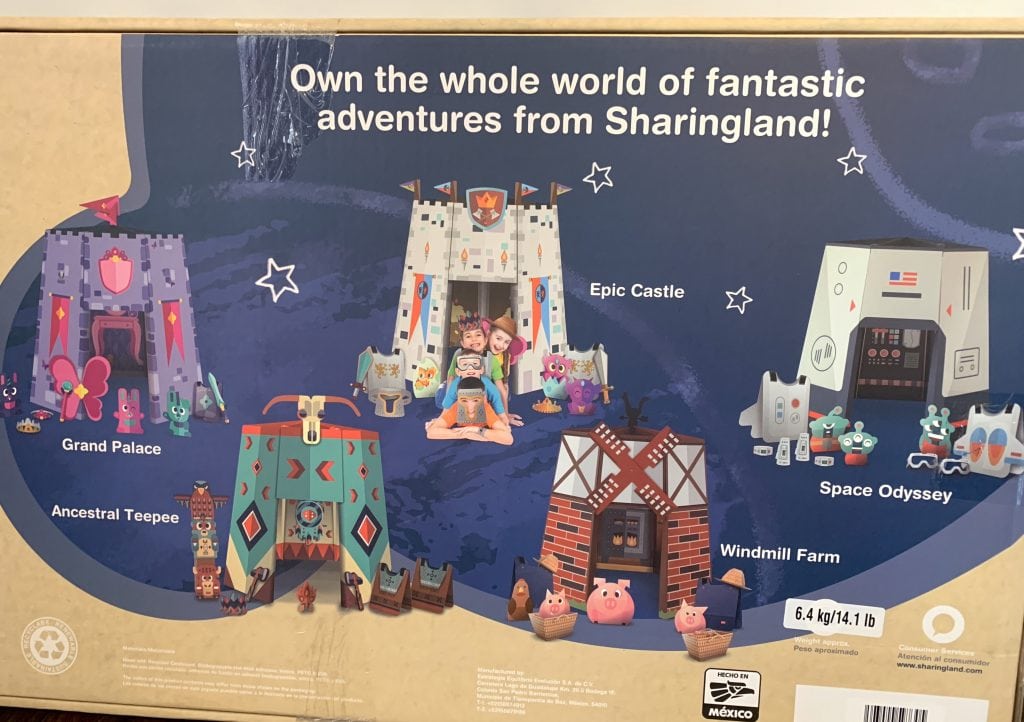 I know what you are probably thinking. Where in the world would I put something that big (measuring 45in x 45in) in my house?
I get it.
So did Sharingland; and that is why all playhouses are constructed to be able to fold down to fit in a closet or under a bed or behind a door. So, after play time, you can have your space back.
When you receive your set, you'll get a fun playhouse as well as play accessories that go along with each specific theme. Some examples include:
little piggies and a fun windmill on the farm
crowns and swords in the castle
fairy wings for a princess palace
jetpacks and fun martians with the spaceship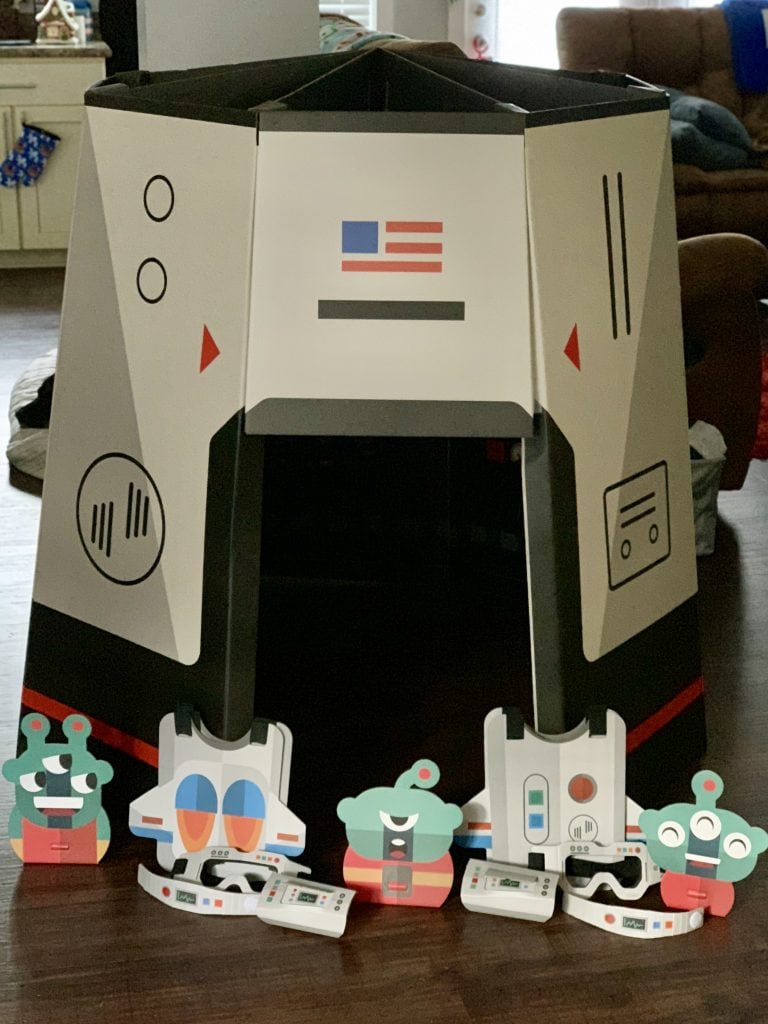 While my son would truly love playing with all the playhouses, we decided to try out the Space Odyssey Playhouse Kit since he has loved blasting off with rockets since an early age.
Putting Together Sharingland Playhouse Kit
He eagerly helped as we constructed his transport to space. He made quick friends with the martians who then had to hang out with him all day!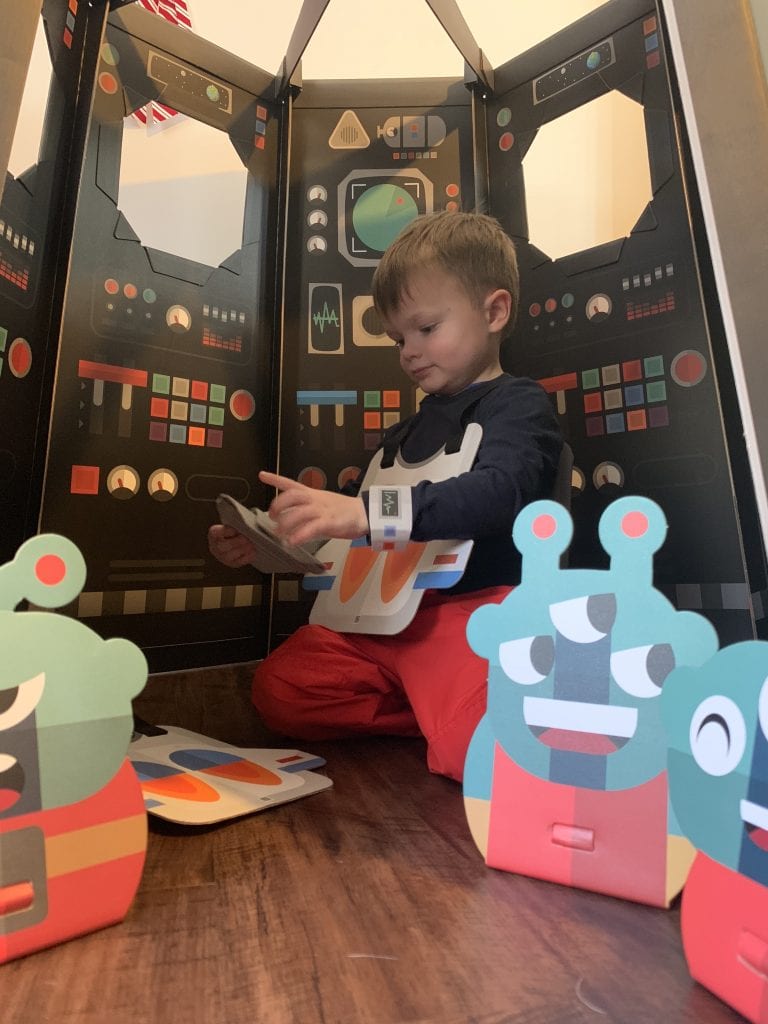 While inside, my son pushes the buttons and sets coordinates to go to Mars in search of new life. There is plenty of room inside for him and myself, and while we were inside playing, he looked up at the stars and told me we were blasting off to go up to the moon!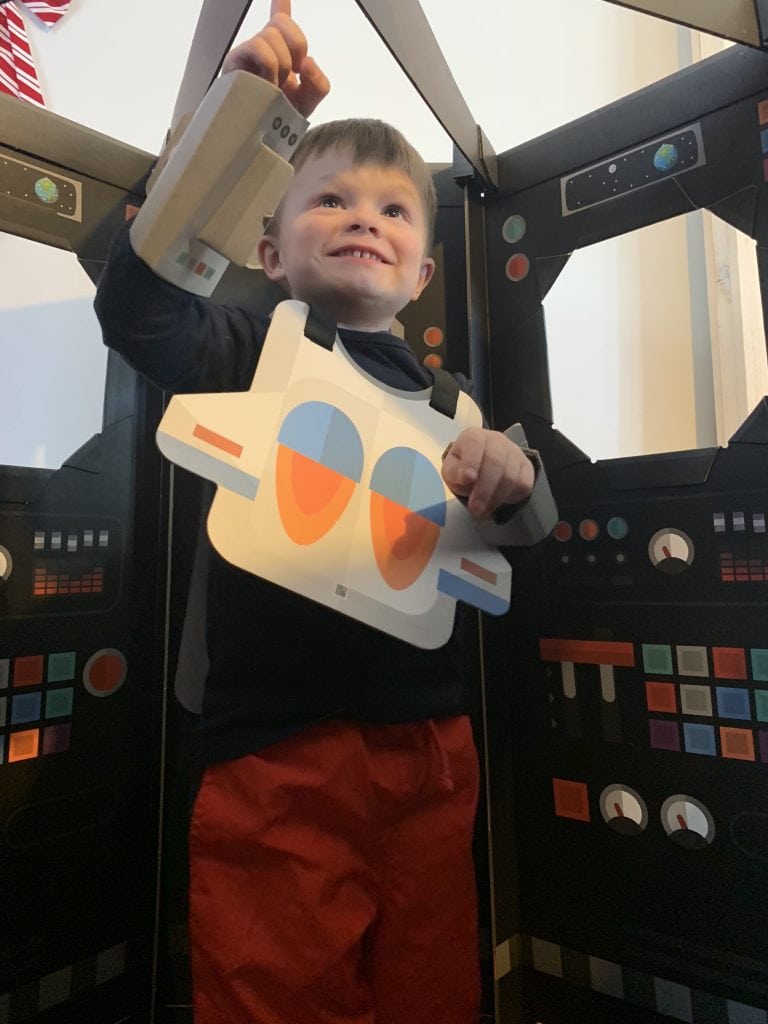 When it's time to rest, the playhouse can be taken apart and folded down. I was able to put the Space Odyssey kit together on my own.
I had a little difficulty at first because the cardboard was a stiff after being boxed. Definitely take time to follow the instructions and fold the seams in both directions so the circular shape isn't too hard to make.
I think I would easily be able to put it together repeatedly now, however do keep in mind that the playhouse is in more than one piece, so when it collapses you will have a few smaller pieces to keep track of in addition to the foldable wall structure.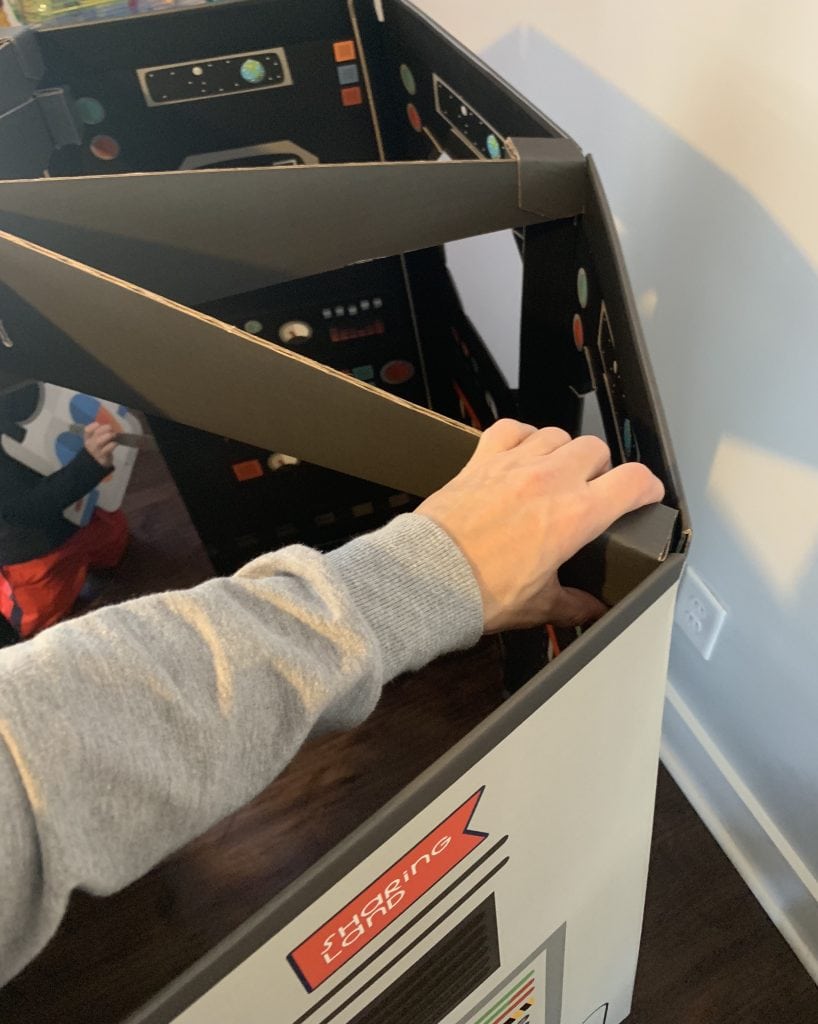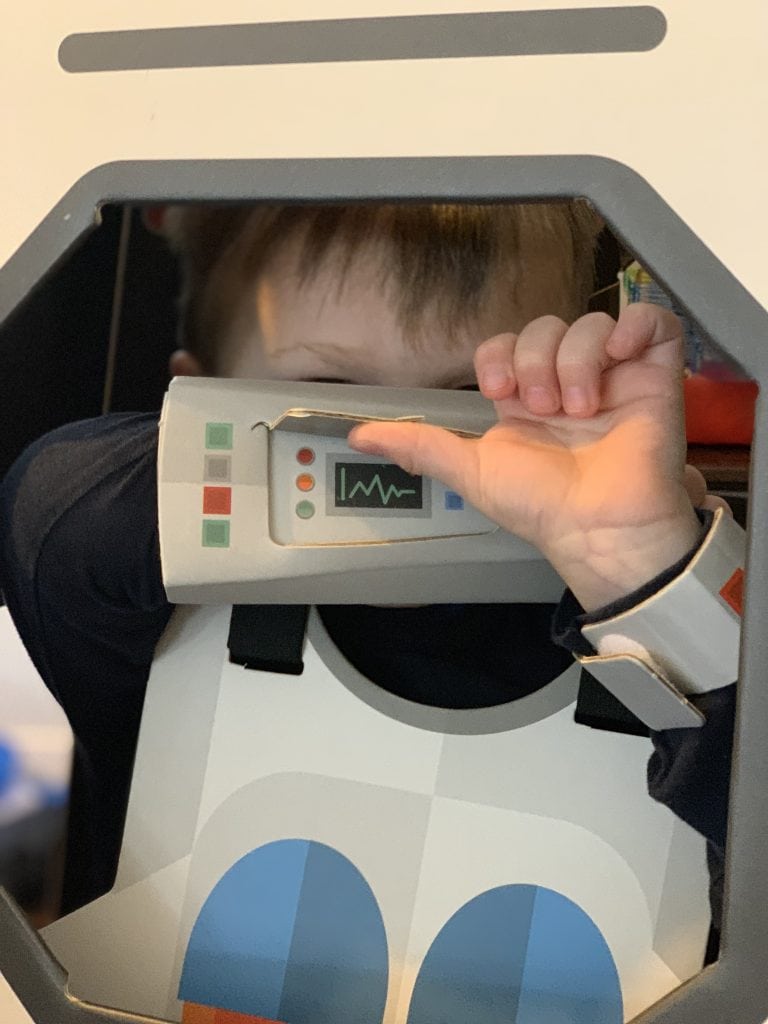 Aside from the fun to be had, what's also exciting is that each playhouse is made from 90% recycled materials and is 100% recyclable as well!
Don't think you will have to (or want to) recycle it anytime soon, though, like you might that large cardboard box. These playhouse kits are durable and toddler tough!
The cardboard is sturdy, the colors are vibrant and the artistic design is impressive.
This is the coolest box I have ever played with! When my husband saw it, he said it was a really great, well made structure – which is a great compliment!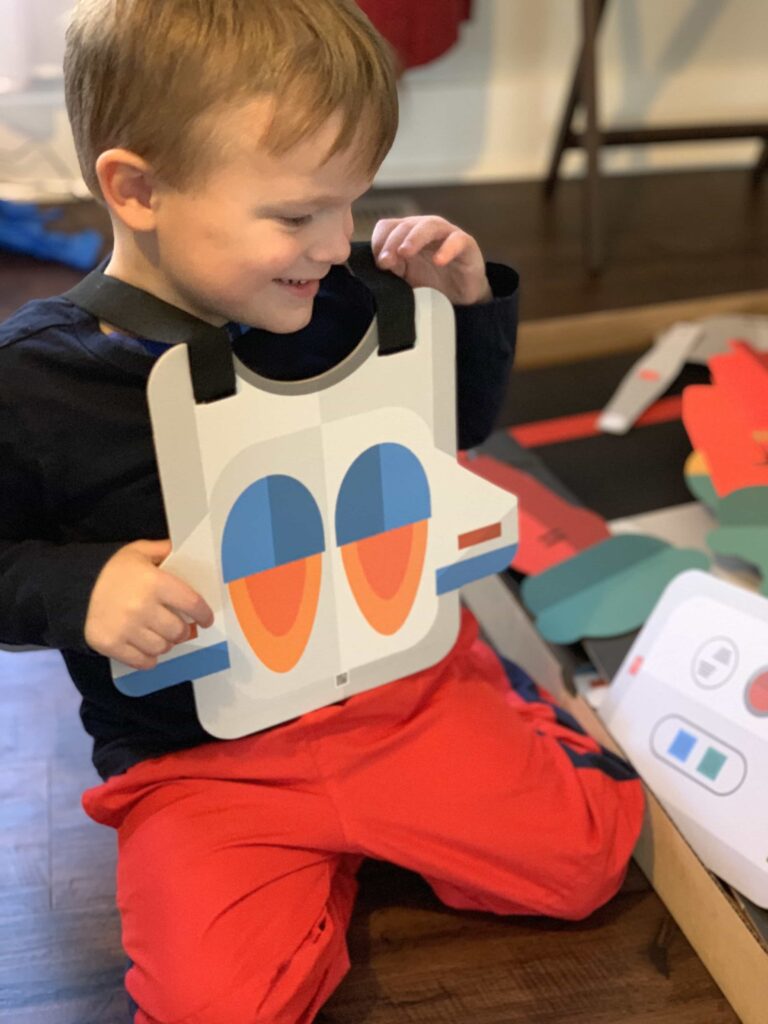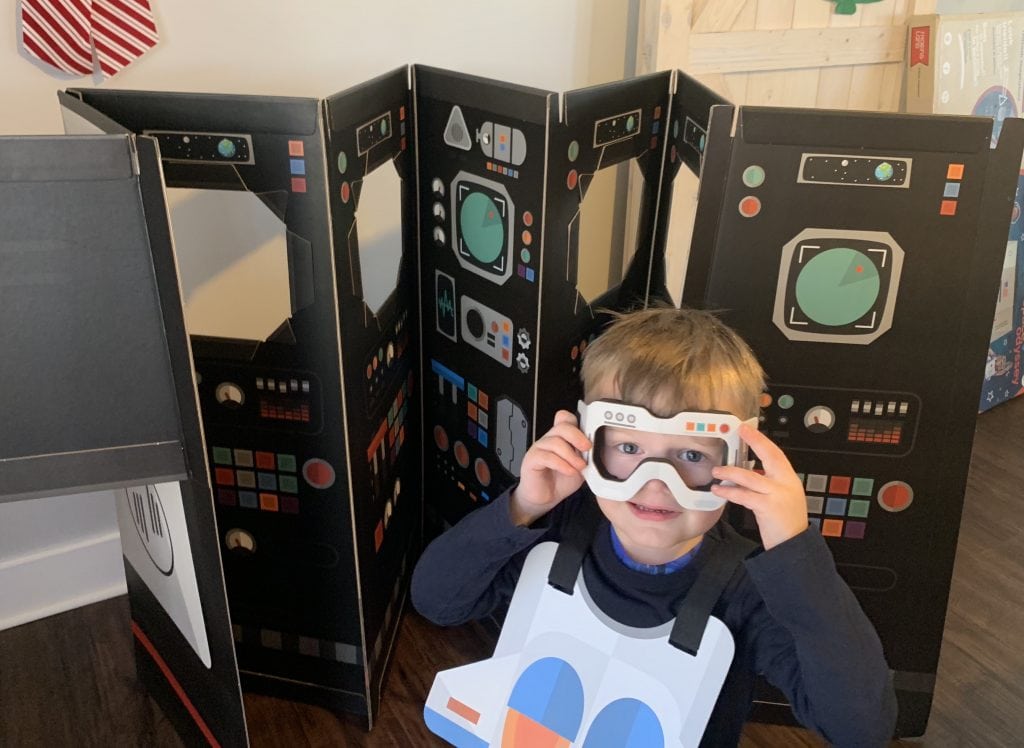 If you are looking for a gift this holiday season to foster imagination and creativity, make your child's dream come true and give Sharingland Playhouses. My son and I believe that you are sure to find a magical dream that your child will love!