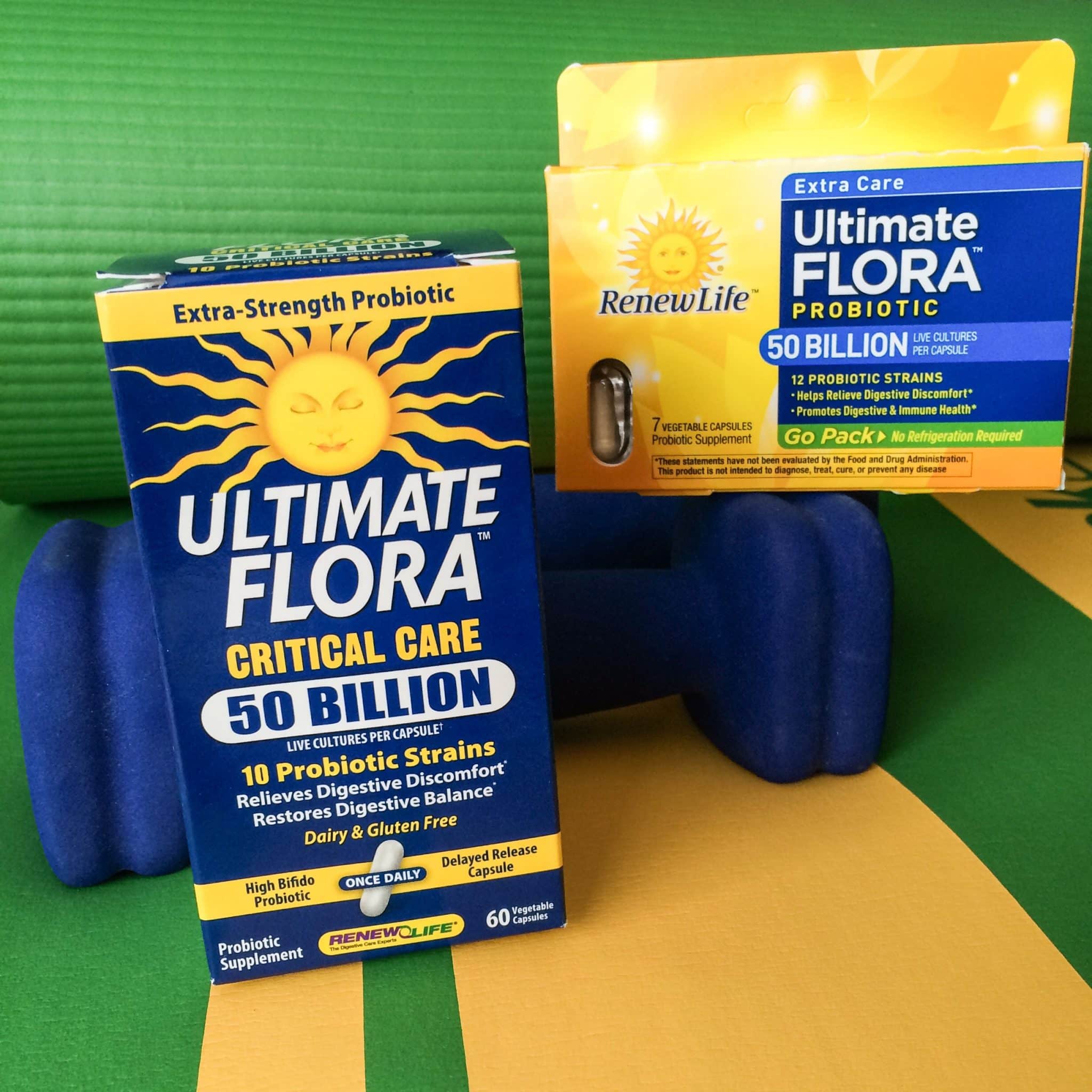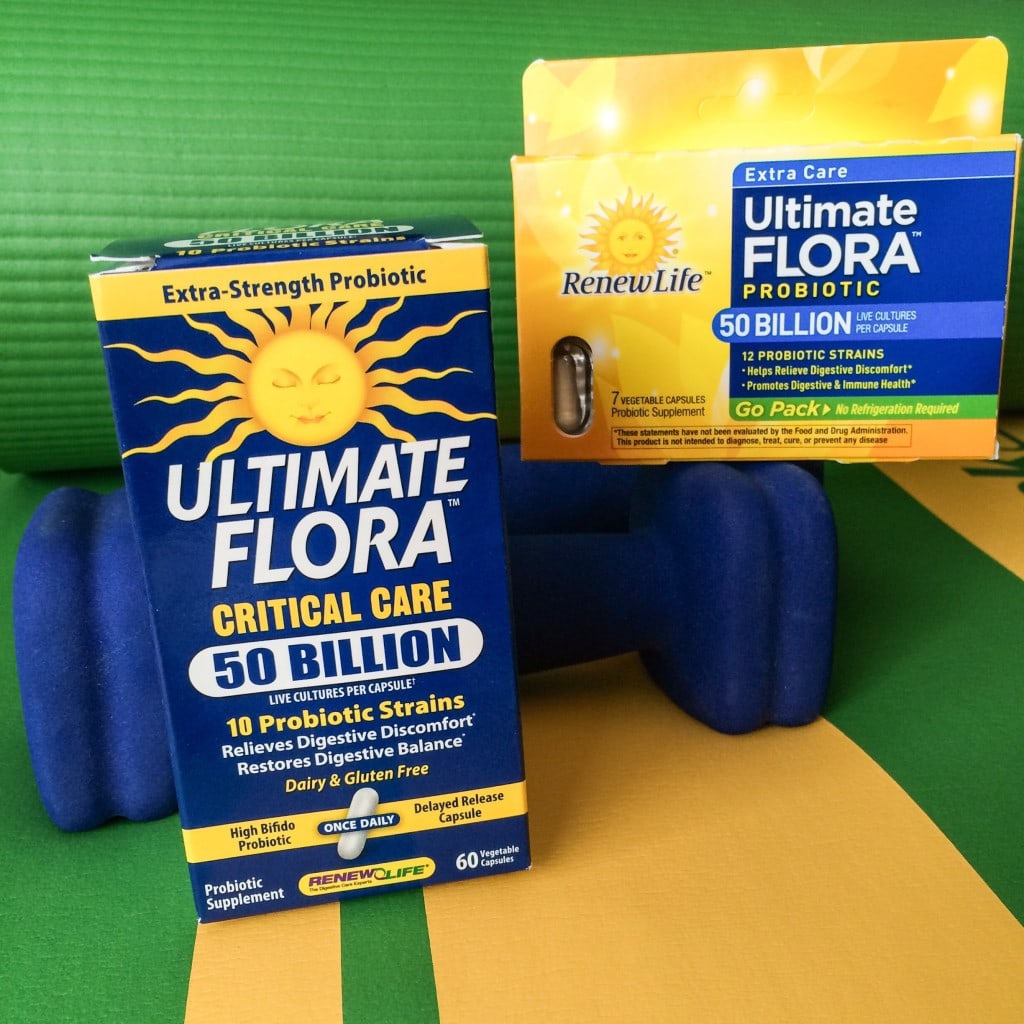 I've seen the health benefits of probiotics, no doubt. After years of taking them on and off (okay, mostly off because I forget….) I know that every time that I start up a probiotic routine, I'll experience positive results – like less fatigue, no more bloating, and less constipation. So when Renew Life offered to send me some samples of Ultimate Flora in celebration of the company's 10 year anniversary, I happily said yes. (Read more to see how you could win a one year supply!)
Lots of supplements, drinks and even foods nowadays have probiotics. That's good. For real health changing effects, though, you need a hefty dose of probiotics. In the tens of millions. And different strains of probiotics – not just one.
According to Ultimate Flora, you have roughly 10x more bacteria cells than human cells in your body. Yeah, wow! When these cells are killed off or compromised because of anti-bacterial products, antibiotic use, eating dairy or meat with antibiotics, stress or a whole host of other reasons, you need to regrow them fast. How can you do that with a product that contains only 1 billion live cultures?
Did you know there are LOTS of different types of probiotics, too? When people talk about probiotics, we tend to lump them into one category. However, there are many different strains, and each strain of probiotics could have a different effect. For instance, Bifidobacteria probiotics are more prevalent in the large intestine or colon, while Lactobacilli are most prevalent in the small intestine.
So, to recap, you need LOTS of probiotics and you need many different strains for the most potent effect.
I was thrilled when I received samples of Ultimate Flora Probiotic with 30 Billion Live Cultures Per Capsule containing 10 Probiotic Strains. Thirty billion might seem like a lot, but for me it was just the right dose. Dosages can go up to 90 billion depending on your needs. However, from personal experience I always strive for a minimum of 10 billion live cultures of varied strains in a supplement.
So, when I'm taking probiotics, how do they help? For me, I find immediate relief with bloating. I am already pretty good and avoiding foods that make me bloat and add on a couple pounds over night. Yet when I remember to take my probiotics regularly, I find that my stomach is much flatter since I'm not bloated as much. That makes me happy 🙂 In response, I usually drop a pound or two immediately, too. (Remind me why I don't stay on a regular probiotic routine more?!?)
I also have less digestive upset with probiotics, and dare I say I'm probably a bit more regular, too, when taking a decent dose of probiotics. I just attended a class on stress and adrenal fatigue at ShiftCon, taught by Ashley Koff, R.D. As part of the beneficial plan to soothe your adrenals and support them for stress, Koff highly recommend taking care of your digestive system, which included use of probiotics. So I really need to amp up my dosage to support myself in times of stress, it turns out.
My husband finds great improvements, too, so probiotics are not just for women. In addition to the benefits that I have, he sleeps even more soundly at night when taking a probiotic. Maybe it's stress relief, maybe it's lack of digestive difficulties when sleeping. Whatever it is, taking probiotics means a better night's sleep without the need of sleeping pills for him.
Ultimate Flora has probiotics with delayed release capsules so that more probiotics can get into your digestive tract, avoiding the stomach acids that could otherwise kill them.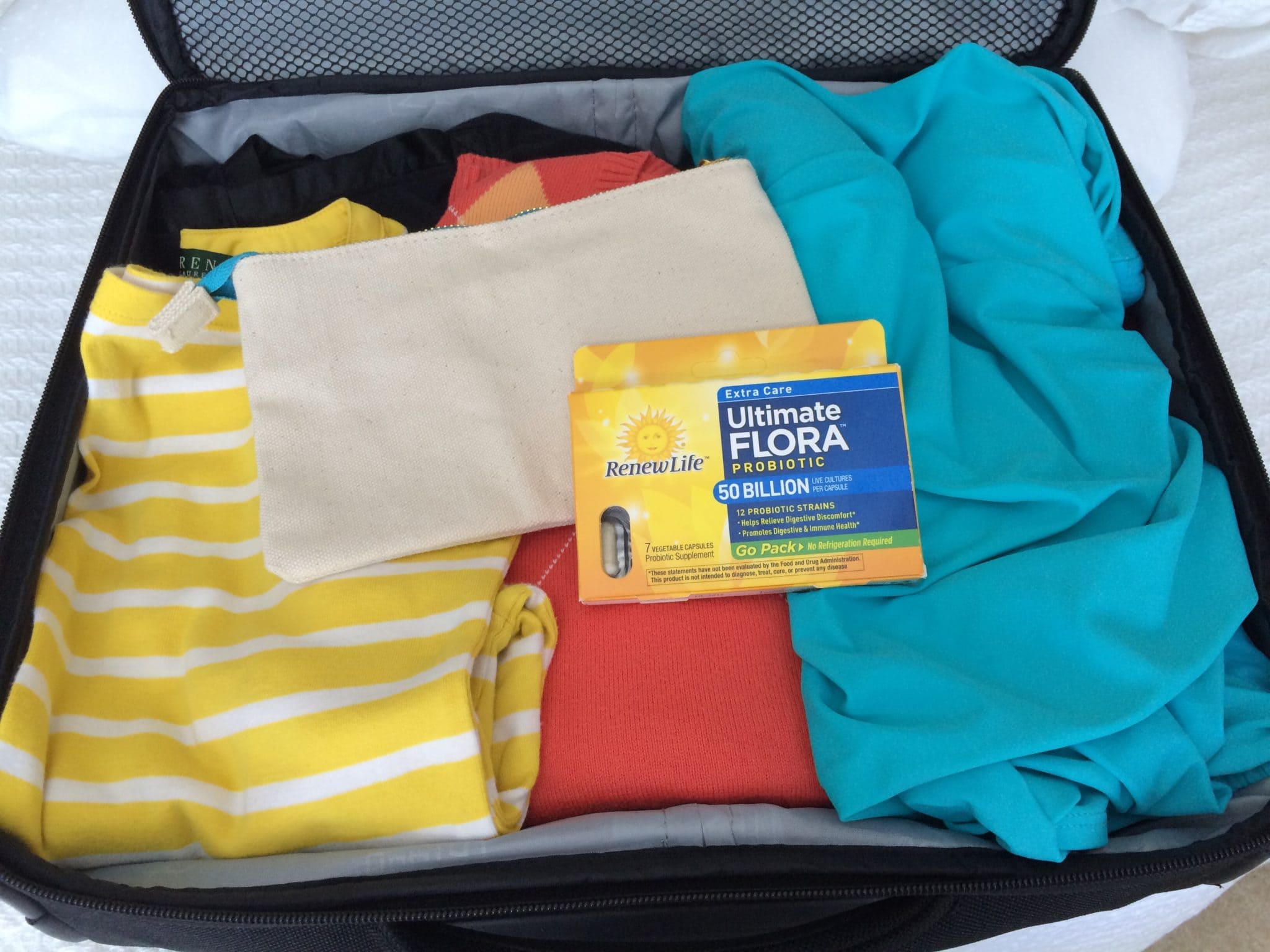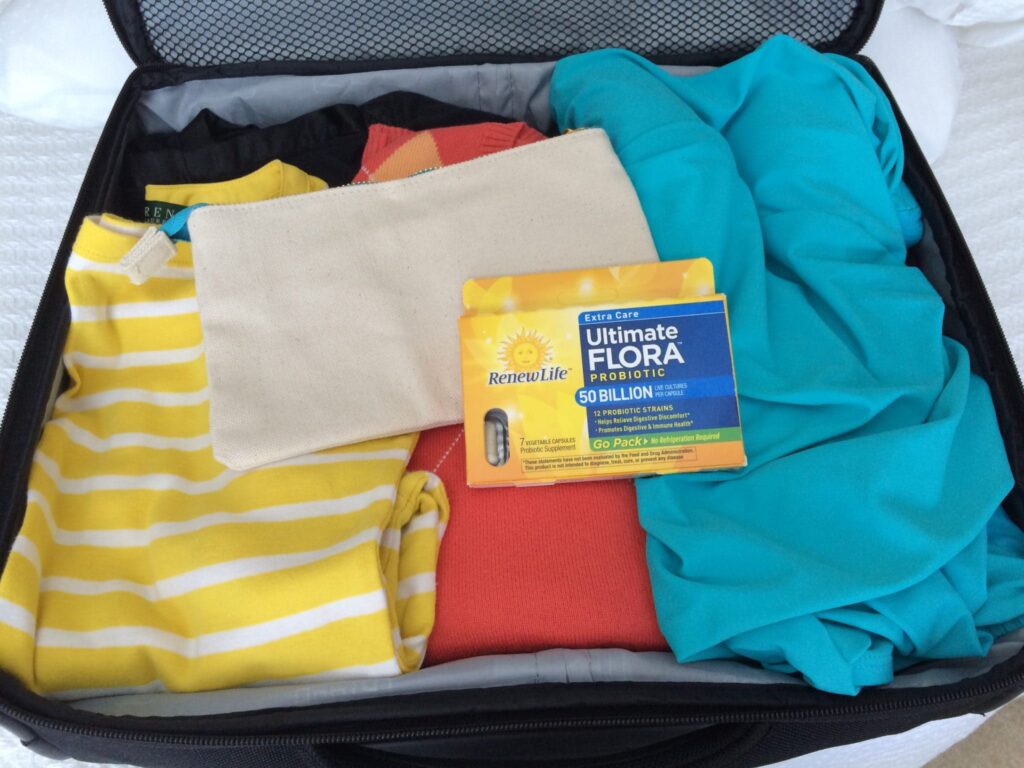 Also great is that Ultimate Flora has shelf-stable probiotic capsules in high dosages that don't need refrigeration. I'm used to having probiotic capsules that must be kept cold if they are in high doses – not easy while traveling. So the 50 Billion Go Packs are great for me while traveling, and could help with my immunity, too! 🙂
Ultimate Flora is now the #1 probiotic brand in health food stores and a leading probiotic brand in food, drug, and mass market retailers nationwide, according to the company. They are also manufactured in the U.S.A., which is important to me when taking supplements.
Ultimate Flora probiotics are free of dairy, soy, gluten and GMOs.
Win a One Year Supply of Ultimate Flora! Check out this monthly drawing!
I suggest that you try probiotics for 10 days. See the difference and how you feel. Don't worry if you experience a little gas or stomach upset in the first couple of days. This is normal, as your digestive track is adjusting to the beneficial bacteria that have been introduced. After a week and a half (really, it's not THAT long compared to waiting for other types of supplements to take effect) stop and consider if you feel better, healthier, more energized or if your clothes fit a little better. Let me know what you think and your experience.