I just discovered the wonders of shopping at Costco. And in my first full month of shopping at Costco, I saved more than $500!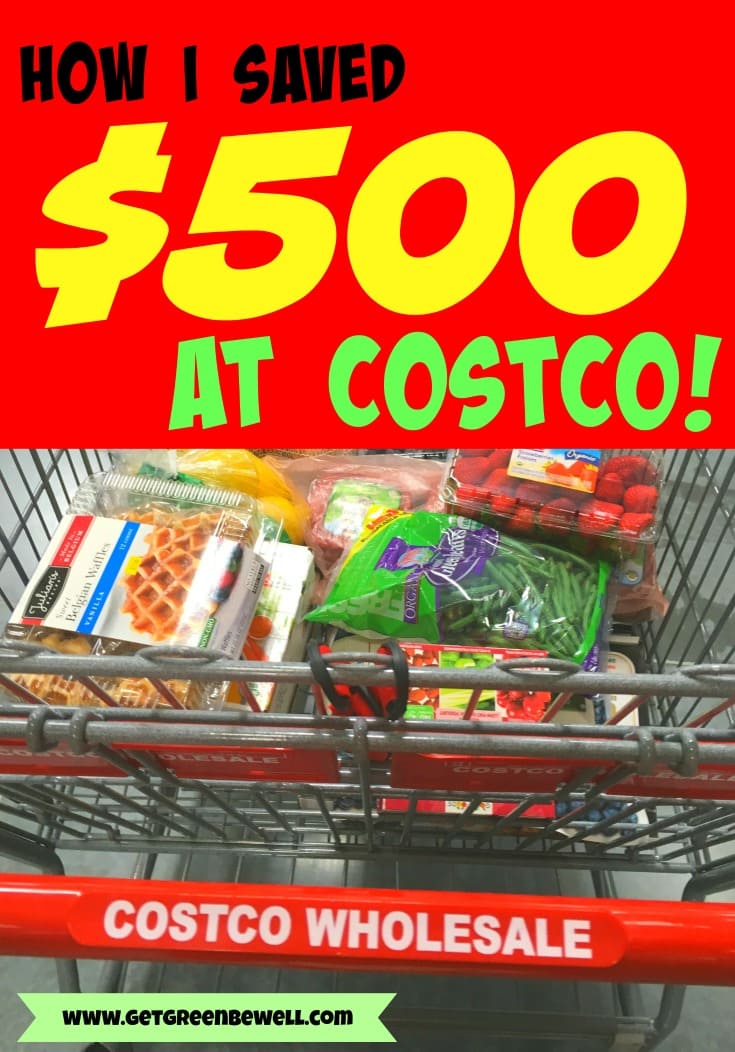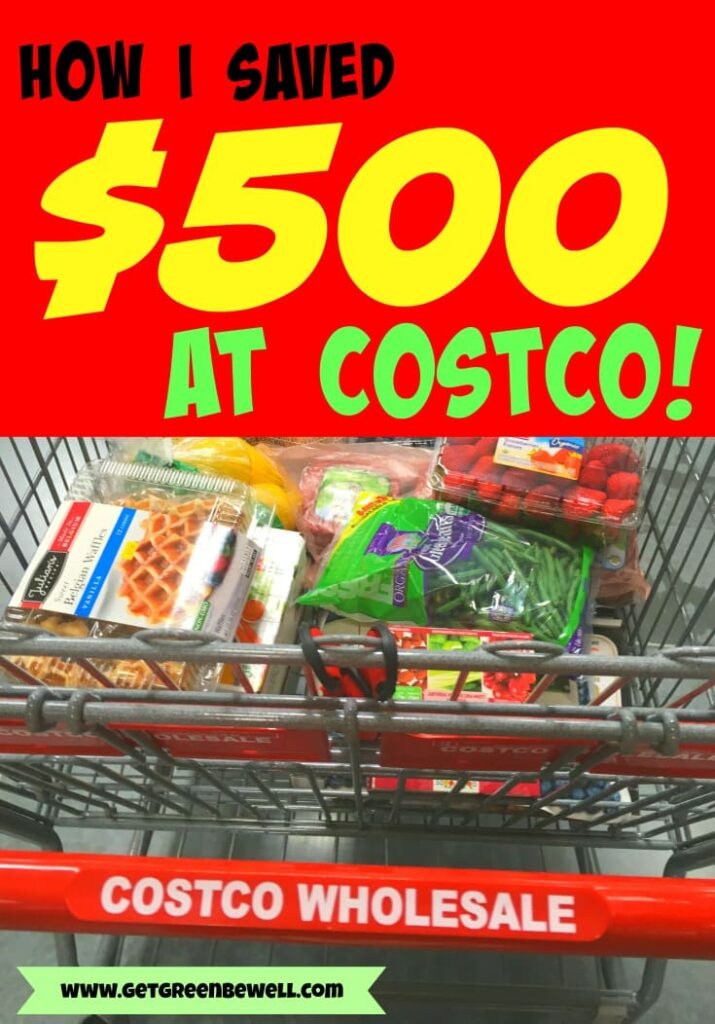 Costco opened in Orlando in early May. As I've shared, I didn't start shopping at Costco until late June. So July was my first full month taking advantage of all of the Costco deals. Check out my first Costco haul in June.
We're saving money for two really big things in our life (can't wait to share what they are with you soon!), so I'm really sticking to a budget more than ever and trying to lower our costs to pocket our savings.
Here's how I saved more than $500 this month at Costco on food, health items, office supplies and décor.
Contacts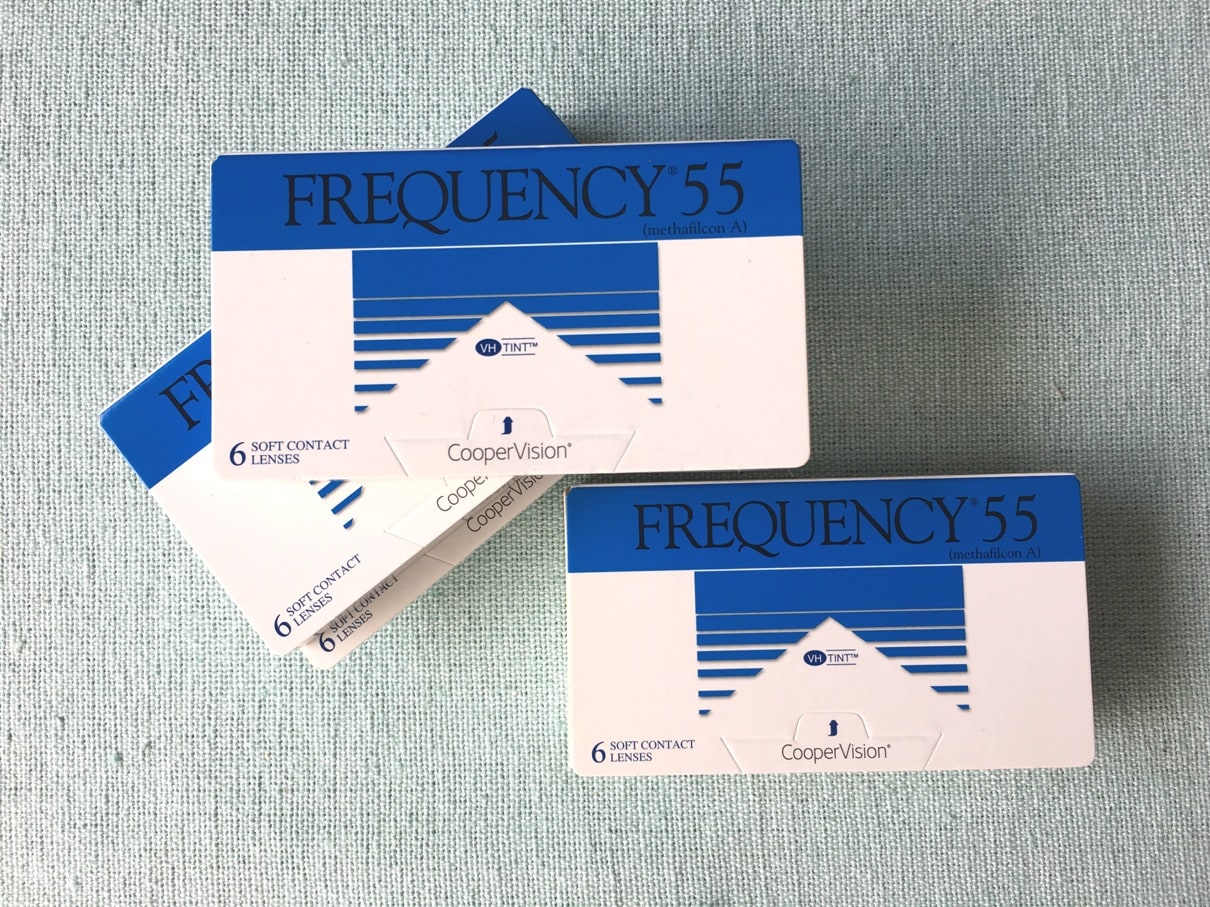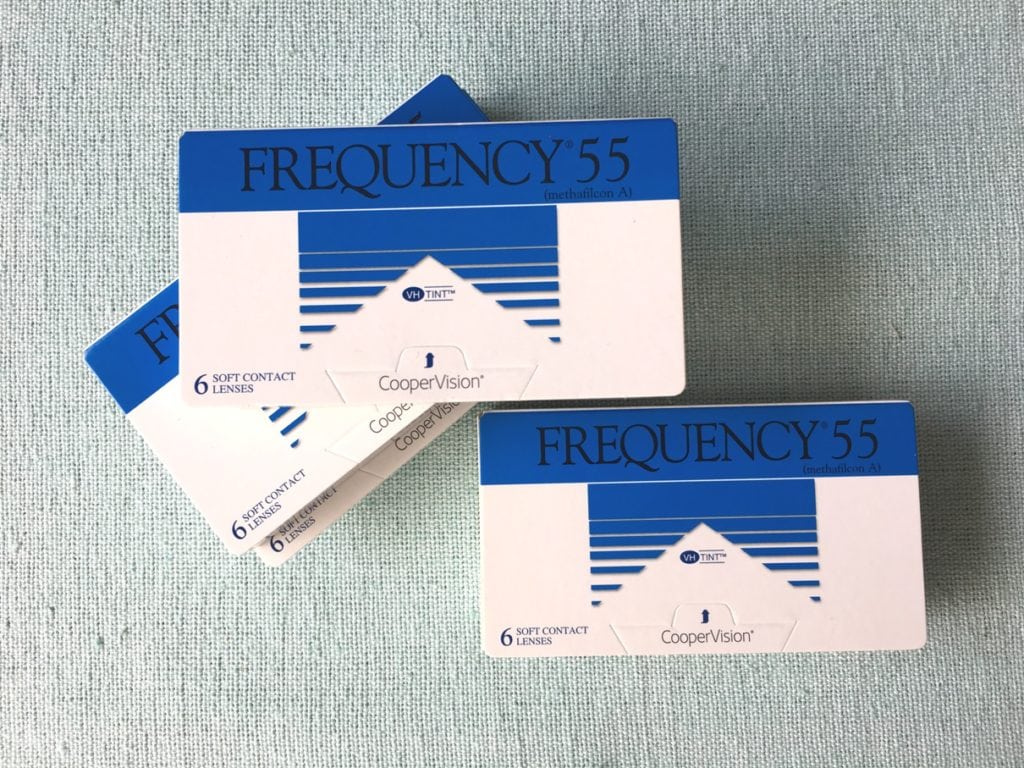 Walgreens.com sells Frequency 55 contacts for $36.99 a box. Cheaper than $48.99 on 1800Contacts.com or from the eye doctor.
Costco's price for the exact same Frequency 55 contact lenses is $19.98 a box.
I bought 6 boxes total (3 for each eye). I compared prices to Walgreens.com, where I was about to place my order.
Total Savings: $102.06
Ibuprofen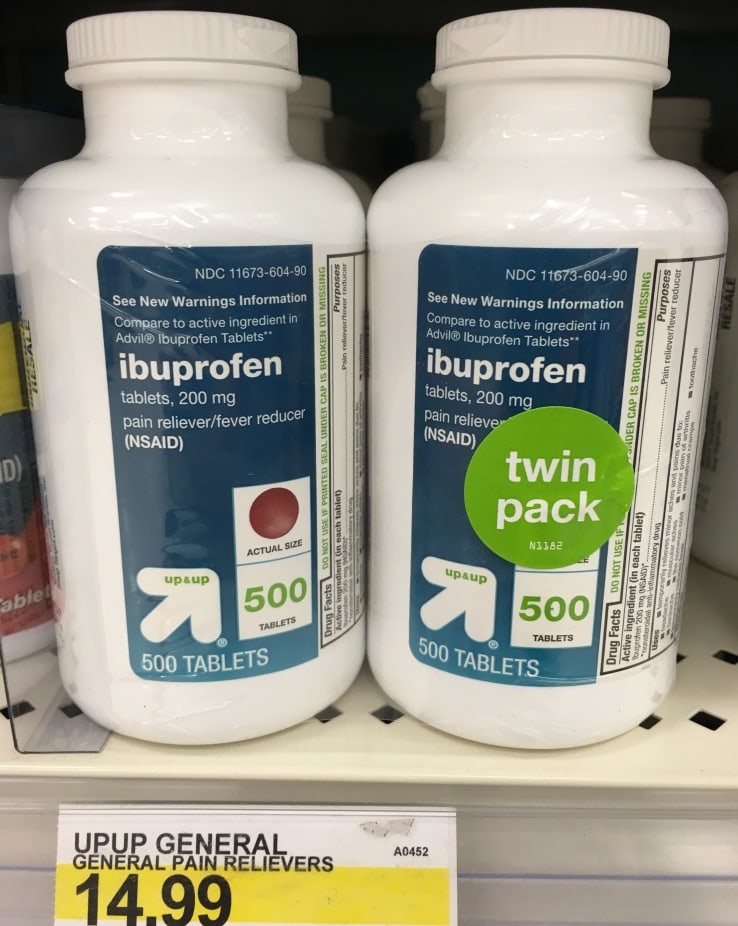 We don't use ibuprofen a whole lot, but when I've got a headache that nothing else will help, I'll take some. We have been buying 100 count bottles at Target as needed. They cost $5.29. To be fair, there is a multipack bundle of 1,000 at Target, but I never would have bought them that way. The cost is $14.99
Costco only sells packs of ibuprofen of 2 bottles, 500 each, for a total of 1,000 pills. The cost: $8.59
Total Savings: $44.31 (though the savings would have been $6.40 if I had bought the large pack)
Baileys Irish Cream
Okay, so I'm not always all organic. Baileys Irish Cream is (one) of my downfalls.
I didn't even know that Costco sold liquor until my first visit. Boy, was I surprised! So I went in to see the price of Baileys, and was shocked.
Baileys at Costco is $17.99. At my local liquor store, it's around $22.
So I went in to buy one bottle. However, they were having a special where if you bought three of specific items, you got $12 off. Duh! Yeah I'll buy three bottles!
So I spent 41.97 for three. Which brings the price to $13.99
Total Savings: $24.03
Printer Cartridge
We use an HP 02 printer cartridge, which is becoming harder to find. My Target no longer sells them. So on Amazon.com, I found a black ink cartridge for $19.99.
I was just about to order it, when I found out that Costco refills ink cartridges. It cost $9.49 and took 15 minutes while I was shopping.
Total Savings: $10.50
(However, I got the printer cartridge home and my HP printer would not accept it. Costco refunded my cost. So I didn't add this into my tally.)
Probiotics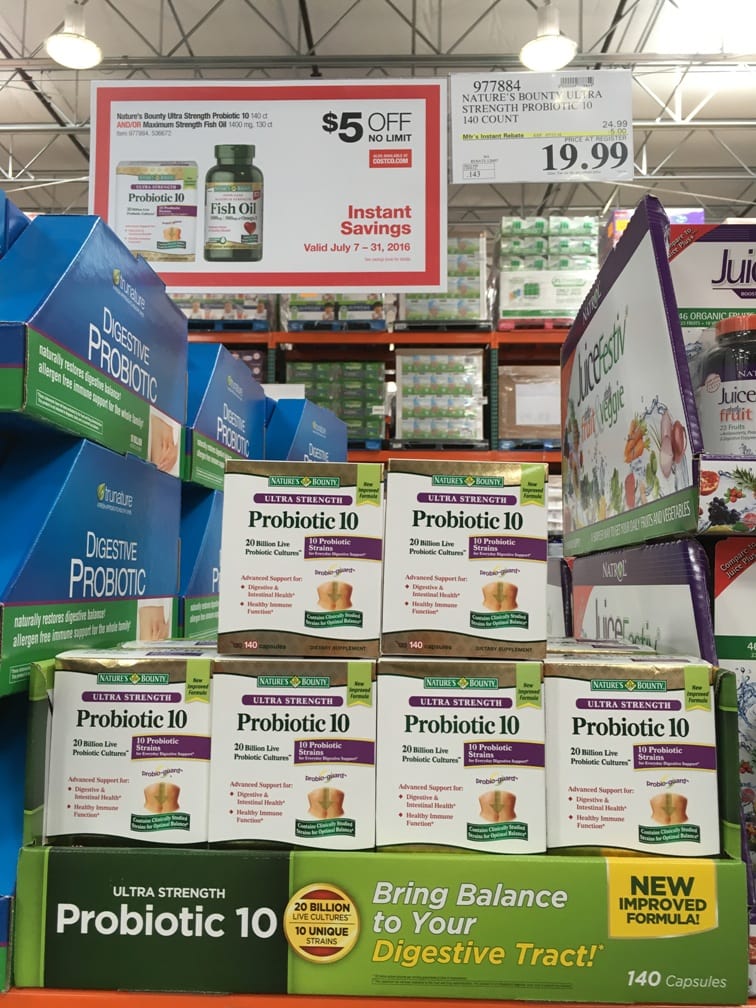 Yes, I like to buy the super fancy probiotics sold in health food stores. But I need to make some adjustments to my budget. I looked at all of the ingredients and probiotic strains of the varying types of probiotics at Costco. The Nature's Bounty brand was the most comparable to what we've been taking.
A 140 capsule box of probiotics (20 billion live cultures, 10 different strains) was $19.99, after a $5 instant rebate this month.
Renew Life 15 billion probiotic is $19.62 on Vitacost.com where I would have normally bought our probiotics. That's for 30 capsules. In total, 140 pills would cost $91.56.
Total Savings: $71.57
Gas
Costco sells gas, and yes you even need to scan your card for gas. I fill up when I'm there, but the savings aren't enough to make me do a special trip.
Total Savings: $1.00
Photo Processing
It's been two years since we moved into our home. Time to get some pictures on the wall.
We have a lengthy list, and I want some really big photo galleries to spruce up our huge, bare, tan walls. I've been putting it off because I knew it'd be expensive. Also, because I had no time to go through our online photo gallery to choose my favorites…….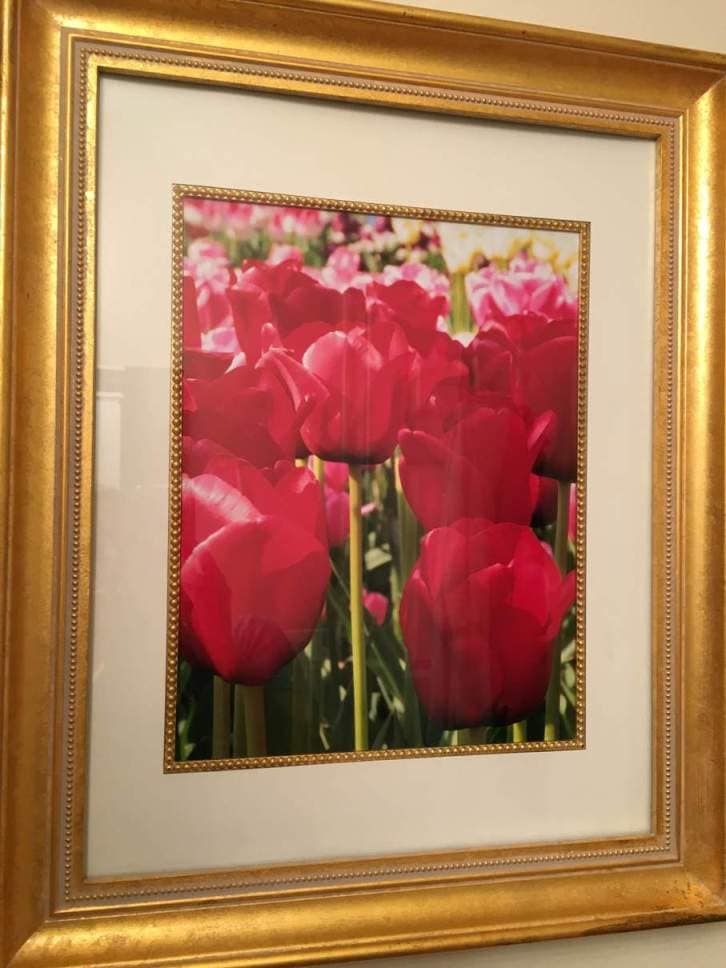 I would have bought my prints through Shutterfly, where I usually order large size prints because it's cheaper. Prices for Shutterfly online ordering are (4 X 6: $0.15; 5 X 7: $0.99; 8 X 10: $3.99; 11 X 14: $7.99; 12 X 12: $6.99; 16 X 20: $17.99). Keep in mind, these are prices before any promotions, but also without paying shipping fees. So I'm just comparing straight pricing.
See some of the photos that I printed in my Costco haul video (and subscribe to my channel for more haul videos!):
Costco pricing for online ordering – with pickup in the store (you can also have it shipped to your home. Some shipping is free. There is a very nominal charge for others.) is: (4 X 6: $0.17; 5 X 7: $0.59; 8 X 10: $1.79; 11 X 14: $3.99; 12 X 12: $3.99; 16 X 20: $6.99). And the quality is superb!
Total Savings: $77.10
Almonds
I want to try making almond milk at home. Which means I need a whole lot of almonds, and they're not cheap! I would have bought them online. Vitacost sells them for $8.99 for 16 oz. Costco is 3 lbs. for $12.79. So I'd need three bags of the brand I would have bought on Vitacost (use my affiliate link & save $10) for a comparable amount. (However, I would have saved about 4% using Ebates first.)
Total Savings: $14.18
Mucinex
Again, I don't take over the counter drugs hardly at all. Like once every two years. But sometimes there's something so nasty that you just can't shake it. I recently had chest congestion so bad, for so many weeks, that I had to resort to taking Mucinex. And it instantly started clearing up in a day or two. There's no reason to suffer, people, when you've tried all of the natural remedies first.
I don't like waiting until I'm sick and feeling like crap to then go find medicine. There's just some stuff I like to have on hand. So I bought this box – albeit pricey – just in case, 'cause I had a gut feeling.
A 48 count box of Mucinex at Costco was $27.49. A 28 count box at Target – same dosage – is $22.49.
Total Savings: $11.06
Nestle Chocolate Chips
We've been buying Enjoy Life chocolate chips from Vitacost. Let me be clear, I'd MUCH rather have this brand than anything else. However, living in Florida, we can't order chocolate chips online for about 9 months of the year. It's too hot. They melt.
Which means I need to buy my Enjoy Life chocolate chips (which we use as snacks, a few chocolate chips at a time is much more budget- and waistline-friendly) in stores. And at Publix, they are $5.19 a BAG! For 10 ounces.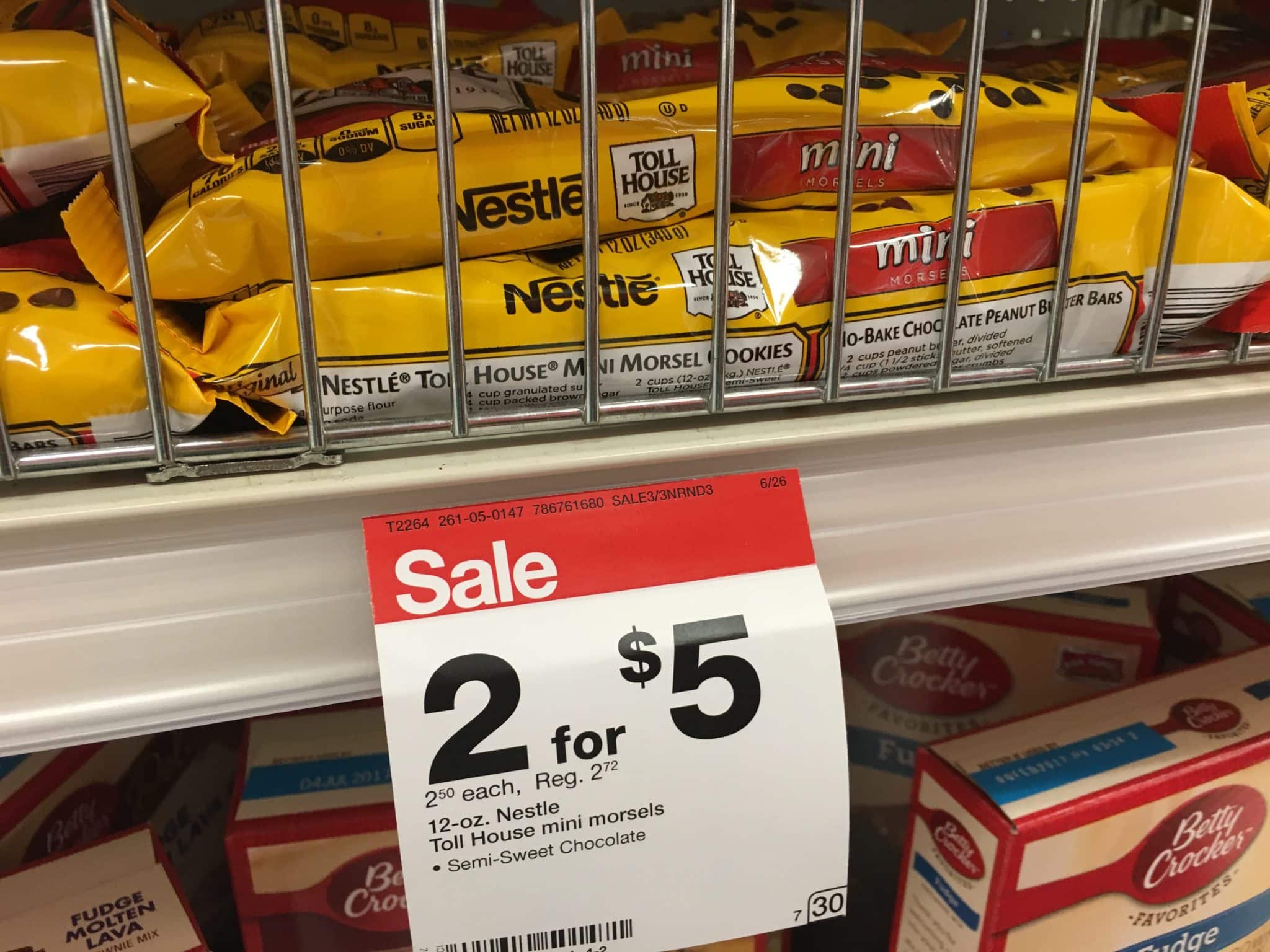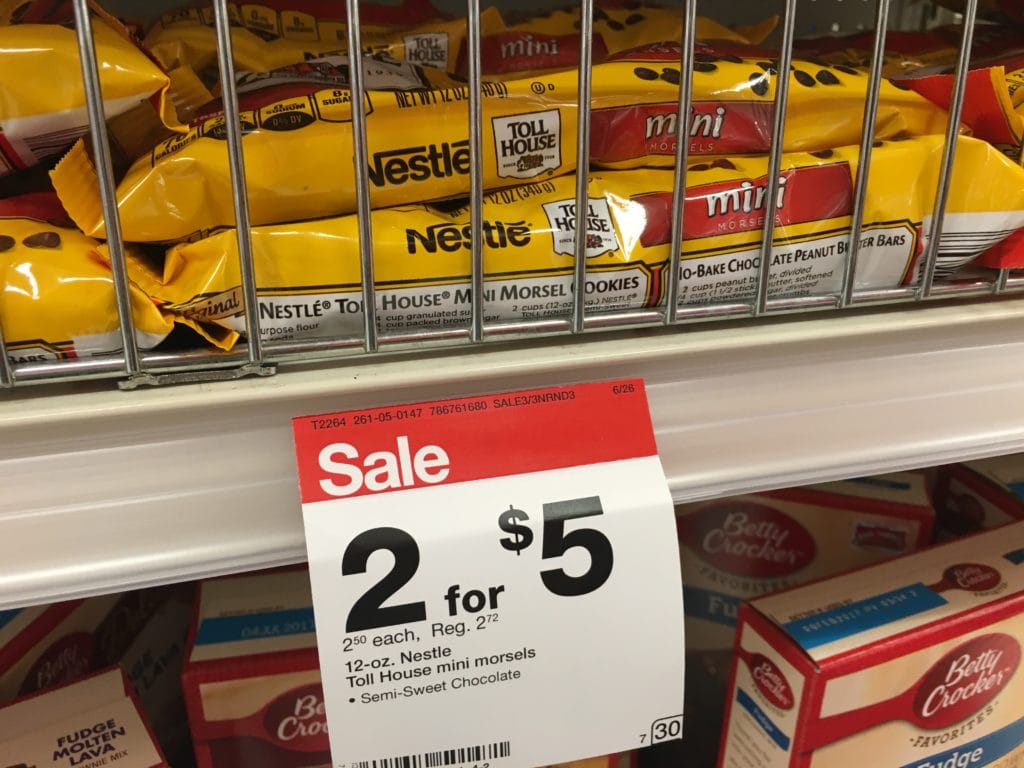 So we settled for Nestle, which honestly don't taste as good, but are more friendly on the budget right now. Costco has a 72 oz. bag that looks like it belongs in a bakery kitchen for $8.99. Seriously, this thing is massive!!!!!!! If we bought comparable amounts at Target, it would be $16.32 ($2.72 for 12 oz.)
Total Savings: $28.38 (Or $7.33 if I had bought the same amount of Nestle instead)
Organic Chicken
This is one of the few types of organic meats that Costco sells. That upsets me, but at least they sell organic chicken and organic ground beef. Coleman Organic Chicken Breasts at Costco are $5.99 a lb, and you have to buy about 4 lbs. at a time. My cost was $24.26 + $26.12 + 21.68 throughout the month. Publix sells Murray's chicken, but it's not certified organic. It's the closest comparison that I would have bought. It's $6.49 a pound.
Total Savings: $9.82
P.S. I went during a time when Costco was offering an additional $2 off a package for a few days in July. I added in these savings.
Calcium Supplements
I just won't swallow calcium pills. I've tried and tried. They just make me gag. So when I found VitaFusion gummies at Costco – and Calcium was one of the options – I was intrigued. Knowing the Costco Money Back Guarantee, I decided to try them to see how bad they would taste.
These things are so yummy, that I actually crave them. I wish I could eat more!
Granted, they're not the healthiest choices, probably. They do have some sugar. And they're not paired with magnesium. But I am actually taking calcium now, so that's a big win!
They sell VitaFusion at Target. A 100-count bottle is $11.19. At Costco, you must buy two bottles, but the total cost is $13.99. This sale would have saved me more money, but I would have bought them online anyway – with a price of $10.49 at Vitacost plus Ebates savings.)
Total Savings: $8.39 (kind of)
Sargento Balanced Breaks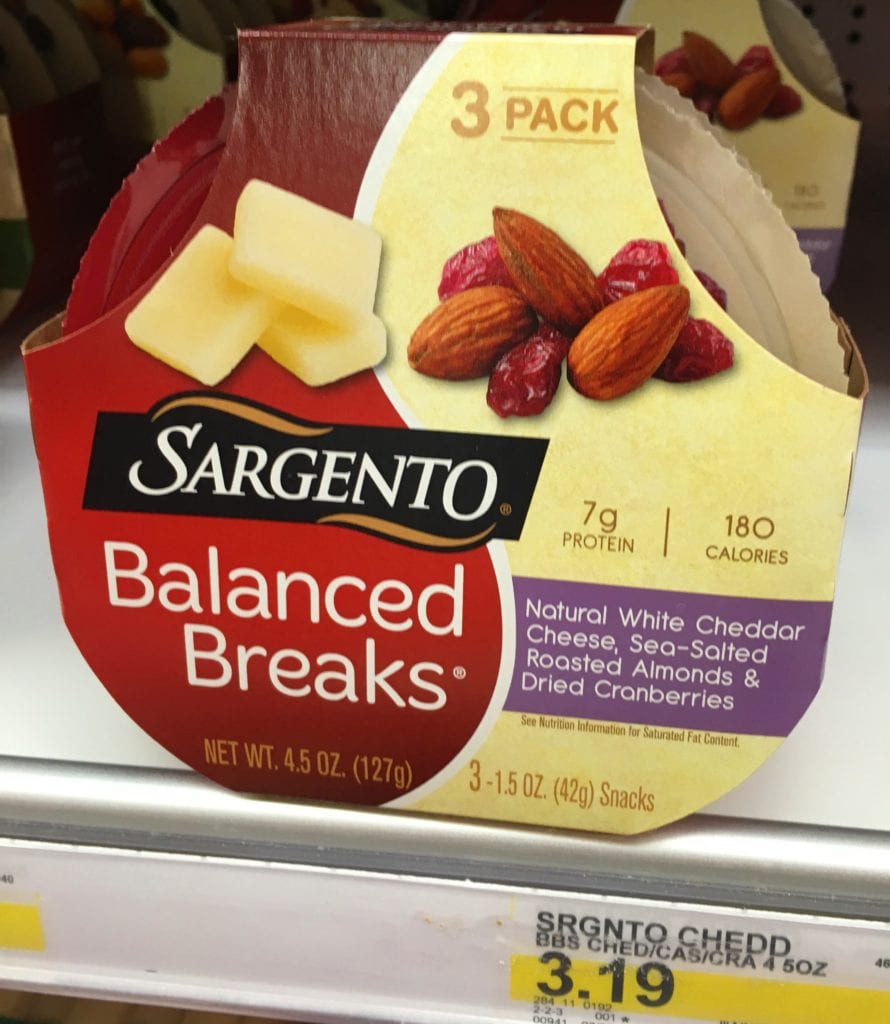 I first tried these at Grand Tetons National Park, when I was trying to find a healthy snack in the Jackson Lake Lodge gift shop. I really enjoyed them, and they're a lot healthier than a candy bar or other type of quick food. Their shelf life is for several months (refrigerated) and they help me out when I need something quick on the run and haven't prepared any snacks to bring.
At Target, you can get a 3 pack for $3.19. At Costco, a 12 pack (2 flavor combos) is $8.89. I've bought two 12-packs based on needing them for traveling.
Total Savings: $7.74
Vidalia Onions
A 10 lb. bag at Costco was $6.99. I had to buy them. You know why? Because Publix onions absolutely suck! They have for years. Publix has some of the worst onions in the world. They're always mushy and half rotten inside. I've returned them to customer service before. Now I just don't even bother buying them at all. Target is the same way.
At Publix, the Vidalia onions are $1.69 a pound.
Total Savings: $9.91
Rotisserie Chicken
A quick meal on the go, I wouldn't normally buy a pre-made rotisserie chicken, knowing that it's not organic and not sure what's on it. However, I've read the rave reviews about Costco's rotisserie chicken. I was not disappointed. I agree – it is absolutely one of the best rotisserie chickens I've EVER tasted! And it's $4.99.
A Publix rotisserie chicken is $7.39.
Total Savings: $2.40
Organic Blueberries
At Costco, 18 oz. cost $4.79. At Publix, about 12 oz. cost $4.99 for the organic variety.
Total Savings: $2.70
Earthbound Organic Farm Spring Mix
The 1 lb. box was $4.49 at Costco. Earthbound Farm products aren't sold in any of the supermarkets I frequently use. The Publix Greenwise Organic Spring Mix Blend was the closest product to match, costing $6.99.
Total Savings: $2.50
Watermelon
I needed watermelon juice to make these sour watermelon gummy candies (which are okay, not worth the price of ingredients). I wouldn't have tried them if I didn't find watermelon at a reasonable rate. At Costco, around Fourth of July time, it was $3.99 for a whole watermelon. At Publix, watermelons were more expensive. A comparable price comparison that I found was $5 for a watermelon half the size of the one that I got, but that was cut up in the produce section. Let's call it about $8 for a whole watermelon.
Total Savings: $4.01
Goat Cheese
Costco price for two logs of goat cheese, 10.5 oz. each, is $6.99. Publix tub of goat cheese is $2.99 for 4 oz.
Total Savings: $8.71
Wild Sockeye Salmon
My endocrinologist wants me to start eating more raw meats for my diet. So salmon, it is!
Two 8 oz. packs of wild sockeye salmon are $14.89 at Costco – and let me tell you the crowds hover around this item! It was hard to get in there to get a package and read the labels!
At Publix, a 4 oz. pack of wild sockeye salmon is $7.99.
Total Savings: $17.07
Copy Paper
Paper is super expensive, man! We don't do tons of copies, but we still go through a ream of paper from Target or Staples really quickly.
Costco had Xerox paper (an 800 pack!) for $5.29 after a coupon this month. We would have spent $3.99 for 400-count pack for Target brand.
Total Savings: $2.69
Sliced Organic Apples
These pre-sliced snacks are $6.99 at Costco for 32 oz. worth. At Publix, they are $3.99 for 12 oz.
Total Savings: $3.65
Let's be honest, though. I ended up wasting a lot of them because there were too many all at once.
Quinoa and Brown Rice
After tasting the Seeds of Change Quinoa and Brown Rice for the first time in one of my Taste Tests, I'm anxious to keep this yummy staple in the pantry for nights when we haven't prepared ahead. On Thrive Market (use my affiliate link & save 15%), it's $2.65 for a bag. At Costco, a six pack of bags cost $10.79.
If you've never put quinoa in an omelette, you'll want to try it as soon as possible!
Total Savings: $5.11
GRAND TOTAL SAVINGS: $458.39
BUT……. that's not all. I bought a lot of things for which I couldn't find comparisons (such as pre-made Juliana's waffles) or just bought things that I wouldn't have bought anyway.
For instance, I bought lesser cuts of meat at Costco after talking to their butcher, but would have continued to buy more expensive cuts at Publix based on selection quality.
And I lost track of some savings, such as on lemons, bottled water, etc. PLUS, I get 2% cash back with our Executive Membership.
So, let's add in another $50 to cover those savings…. for a grand total of:
$508.39
That's just for ONE month!!!!!! Kind of makes the $55 normal Costco year-long membership worth it, don't you think?
P.S. If you're not able to shop at Costco, here's how much money you can save shopping online at Thrive Market or Vitacost.