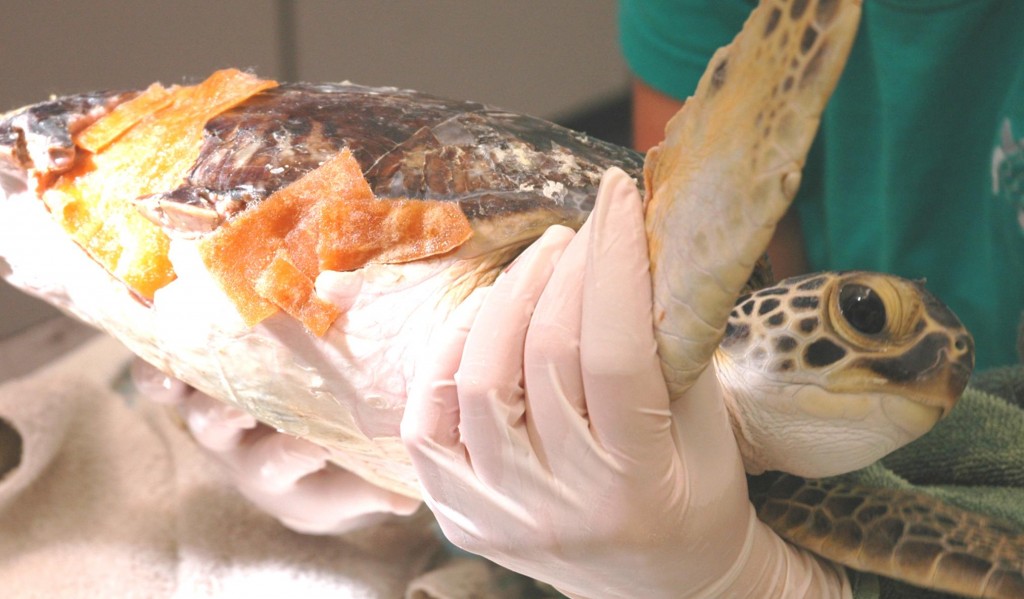 It is a tough world for wildlife of any shape or size right now. Though tiny honeybees have their own trials, it might also be surprising that massive sea turtles are facing species-threatening tribulations of their own, too. Thankfully – and surprisingly – each can help the other in their own survival at Georgia Sea Turtle Center.
Healing Turtles With Honey
At the Georgia Sea Turtle Center on Jekyll Island, Georgia, an innovative program has partnered local beekeepers with the state's only sea turtle rehabilitation center in an effort to save as many of the endangered marine animals as possible, while bringing attention to the curative powers of honey.
Sea turtles live in warm tropical waters, especially the waters off of the Atlantic coast in the southeastern United States. There are seven species of sea turtles, and six can be found in the U.S. Those six species are all considered endangered under the Endangered Species Act.
Though sea turtles spend their lives in the ocean, the females must make the long and perilous trip back to the beach to lay eggs. The mother's journey is just one of the hazards that is threatening the existence of sea turtles. Loss of nesting areas along the coast, where tourism is constantly gnawing away at natural beach habitats, is a major factor in the loss of sea turtles.
Many animals are also hit by boats or entangled in marine debris, either immediately killing the animal or resulting in emaciation over time.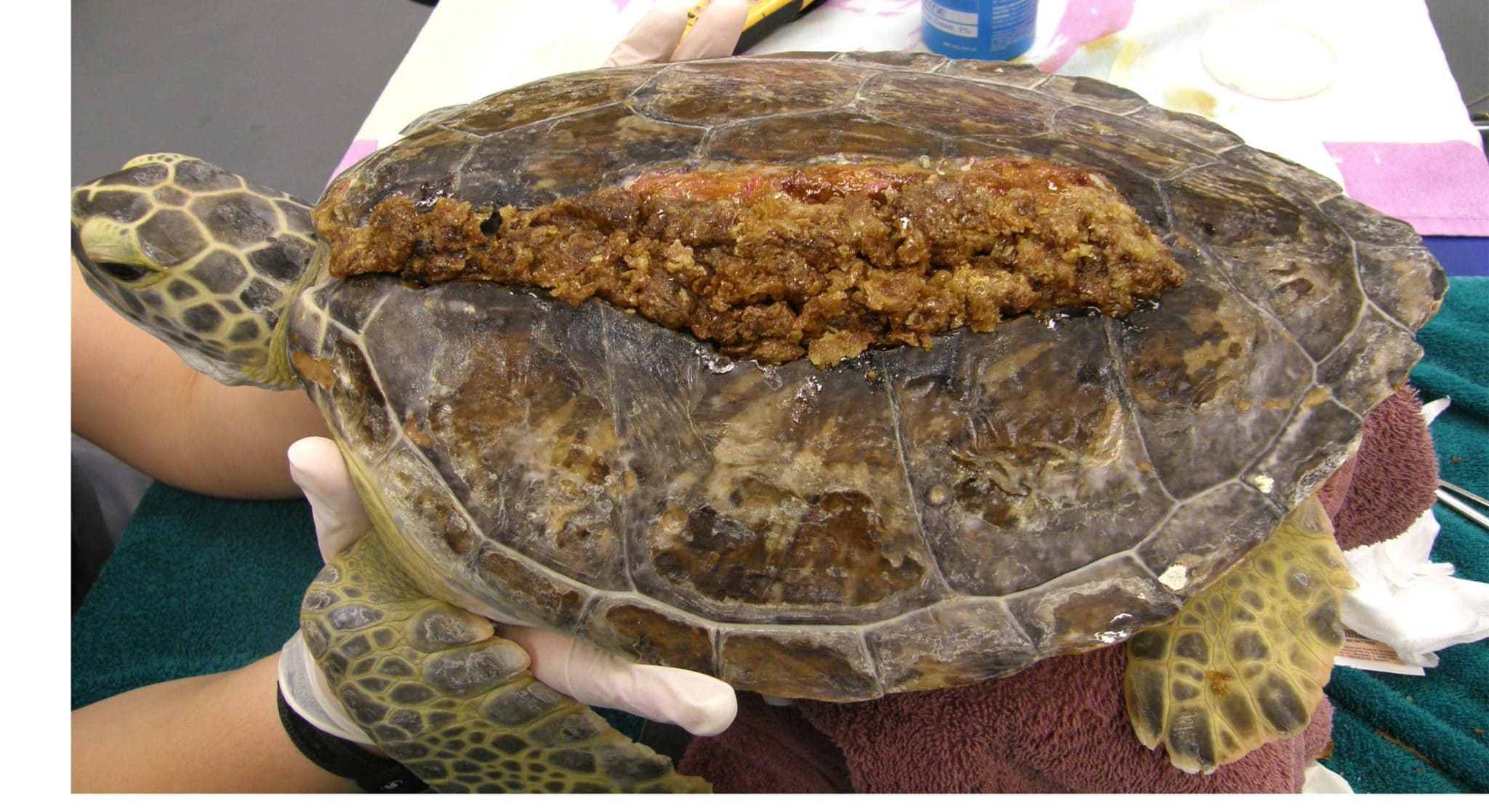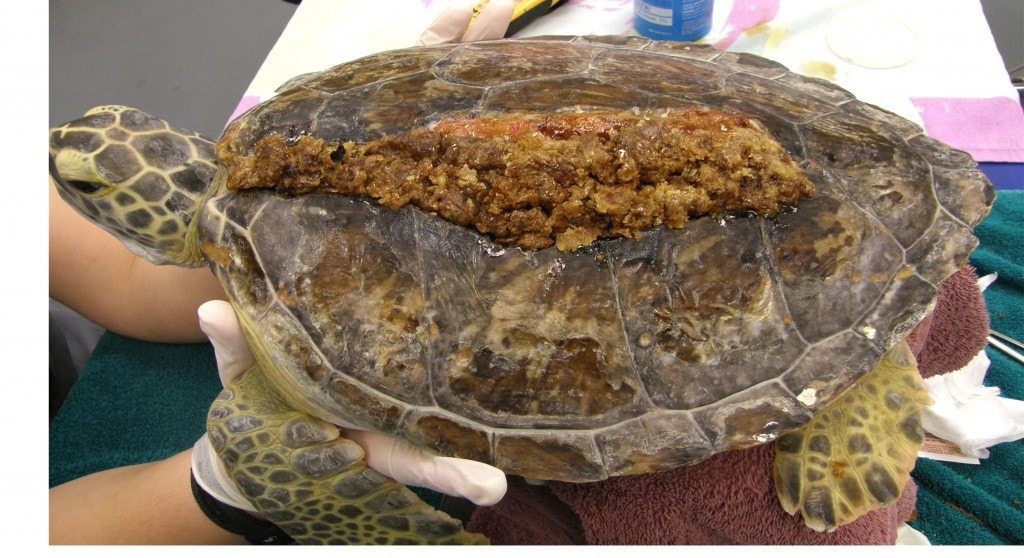 When sick or injured sea turtles wash ashore or are found in ocean waters, they are brought to a sea turtle rehabilitation center. At the Georgia Sea Turtle Center, part of their treatment just might include the use of honey.
Medicinal Honey to Heal Wounds in Turtles
Dr. Terry Norton, DVM is the Director of the Georgia Sea Turtle Center and has provided veterinary care to a variety of species for decades. He had used honey with some success on other animals, so when the Georgia Sea Turtle Center opened in 2007, Norton decided to try the use of honey with sea turtles, as well.
"There is a lot of literature on the benefits of honey in wound care," Dr. Norton said. "The three major effects are that it is acidic which aids in killing bacteria and fungi; it is hyperosmotic so it pulls debris out of the wounds; and the bee injects an enzyme into the honey that converts glucose to low levels of hydrogen peroxide. The enzyme is activated when the honey hits the tissue and the pH is elevated."
Other positive effects from the medicinal use of honey, according to Norton, is that honey can enhance the immune system of the sea turtles, has anti-inflammatory properties, has antioxidant capacities, and stimulates cell growth.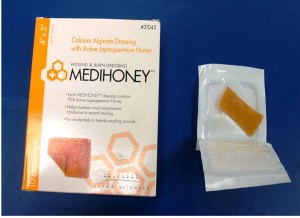 Of course, honey is not the only treatment used at the Georgia Sea Turtle Center, but it is popular. Norton uses MediHoney, which is a packaged sterile honey from the Manuka Tea Tree in New Zealand. Try it yourself at home with these MediHoney products.
MediHoney is well known for the treatment of severe burns and diabetic wounds that are not healing well.
For the turtles, Norton also turned to his neighbors for help. He found that the products coming from local Georgia beekeepers worked great at healing sea turtle injuries, too.
"We started working with local beekeepers to get honey that hasn't been irradiated, like you would find in grocery stores, because you want those enzymes," Norton said.
Savannah Bee Company Helps to Save Turtles (And Bees)
One of those many local honey producers is the Savannah Bee Company, headquartered in Savannah, Georgia. What started as a small home-based business with a passion for making great honey has become a much larger operation with four retail stores, two lines of honeys and a luxury beeswax-based body care line.
Ted Dennard, President of Savannah Bee Company, is passionate about helping others, especially after his formative time with the Peace Corps teaching beekeeping to farmers in Central America. With the Georgia Sea Turtle Center is his own backyard using honey to help the endangered sea turtles, Dennard wanted to help with his own honey.
"The Georgia Sea Turtle Center came to us for the honeycomb," Dennard said. "As soon as I found out that they were using honeycomb to treat sea turtles, I loved the idea of doing anything with them."
The Georgia Sea Turtle Center uses honeycomb to pack the wounds of sea turtles, especially boat strike injuries. Approximately 20 percent of sea turtles that come into the center for treatment have been struck by a boat, which creates quite a need for honeycomb.
Norton said honeycomb has been used successfully in several severe boat strike injuries, with the honeycomb usually being kept in place by a waterproof bandage. Honey is also used to treat the wounds and other medical maladies. For instance, sea turtles brought into the center suffering from low glucose levels are often given the honey orally.
The use of honey at the Georgia Sea Turtle Center is becoming more widely known, as the Center works on their public outreach programs and informs visitors of all aspects of sea turtle rehabilitation.
Interactive exhibits and daily presentations are available to visitors. They can meet the patients in the turtle hospital, see them being fed, and actually listen in as patients are being seen by the veterinary staff and hear what kind of treatments will be used – including the use of honey.
Honey For a Cause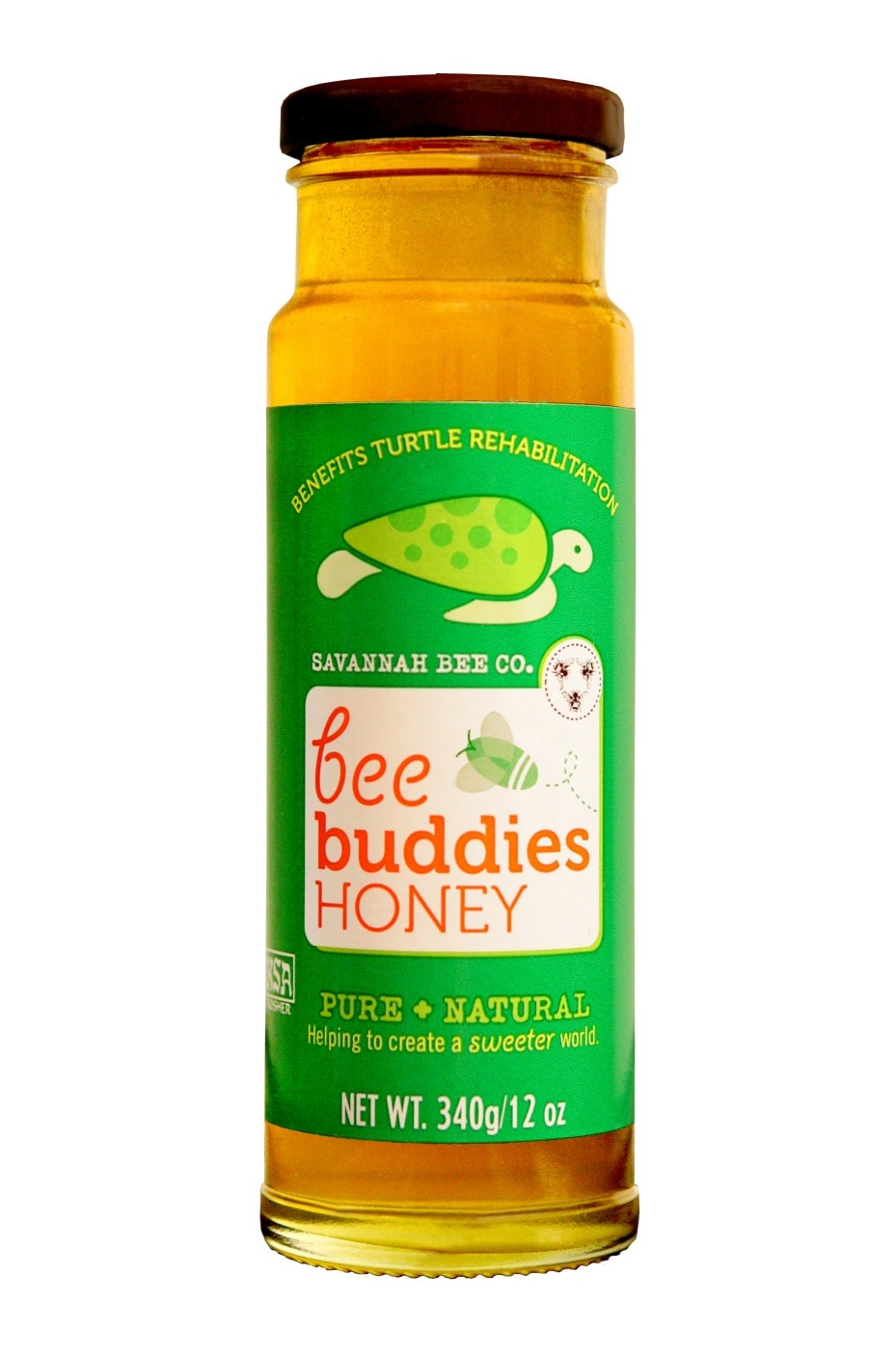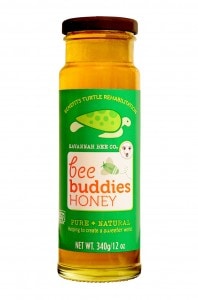 It is not just the honey and actual honeycomb itself that is necessary to treat the sea turtles, though. The process of trying to rehabilitate a steady stream of injured sea turtles is lengthy and costly, and funds are needed in order to allow the Georgia Sea Turtle Center to be able to survive. The Savannah Bee Company collaborated with the Georgia Sea Turtle Center in a continuing effort to raise awareness and funds.
"They [The Georgia Sea Turtle Center] were kind of using honey to market things, saying, 'Hey, we're using honey to heal these turtles' and then people wanted to buy honey," Dennard said. "They approached us about bottling some honey and then we decided to come up with something."
The Savannah Bee Company was used to partnering with organizations to raise funds by selling specialty honey. Their BeeCause Honey donates a portion of the proceeds to organizations that benefit human interaction with nature. So the company created their Bee Buddies Honey.
The local honey sports a bright green label with a sea turtle, clearly stating that the honey benefits sea turtle rehabilitation. Three dollars from every bottle is sent to the Georgia Sea Turtle Center. Bee Buddies Honey that is sold onsite at the Georgia Sea Turtle Center brings in even more money for the organization.
What surprises almost everyone, including Dennard himself, is the fact that tiny, flying bees are the only ones that can make what it takes to rescue and rehabilitate large, lumbering swimming turtles that weigh around 300 pounds as an adult.
"I think it is super special that we are crossing the boundary and the border from land bound insect to salt water animal," Dennard said. "I think it is so interesting and cool that honeybees are making something that is healing sea turtles. It's special and I love it. Whatever bees do is healing. They heal everything. They're good for the environment, they're good for the air and they support and maintain plant life. I could go on and on, but it is special."
Shop Savannah Bee Company to support conservation efforts for wildlife.
Want to get the kids involved in learning more about sea turtles? Print off this sea turtles conservation coloring page.