The best healthy subscription boxes come packed with fun, interesting new products to try without worrying about the ingredients.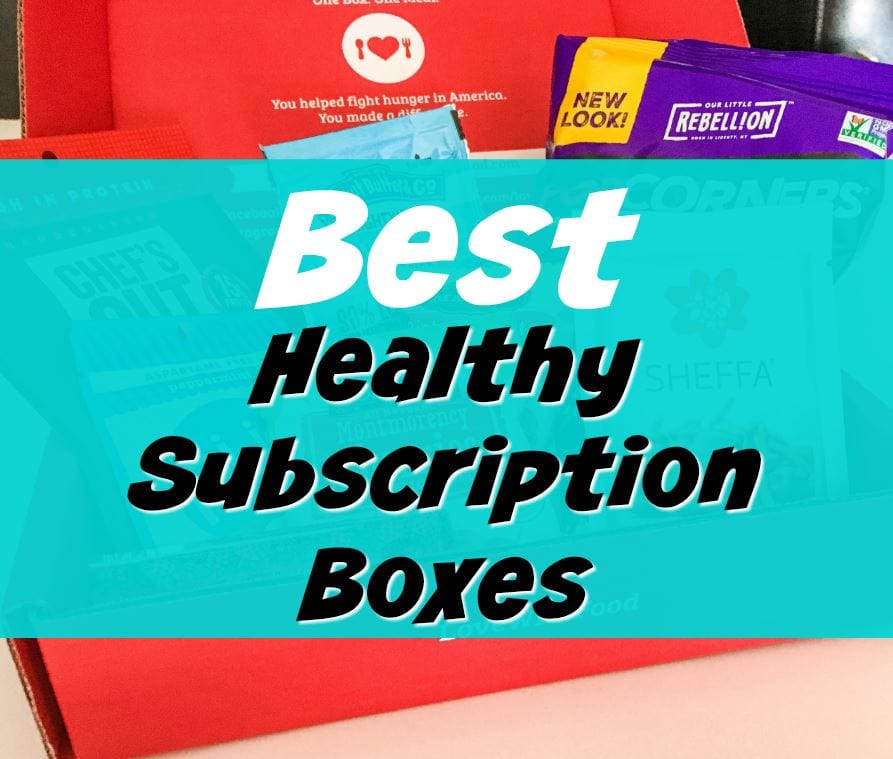 Healthy subscription boxes are perfect for gift giving. Think about it. Tell someone about the gift  on their birthday, Christmas, Mother's Day or another gift giving time. They're happy. Then they get happy surprises in the mail after the celebration, which makes them think of you with a smile and brightens their day again, too. It's a win-win.
Subscription boxes are a nice, easy way to discover new healthy products for yourself, too. Maybe you don't want to spend half the day looking at ingredient lists of foods, makeup, beauty products, etc. You just want someone to send you something good, you try it out and see if you like it, then you know.
Healthy subscription boxes are a fun way to add some more joy and excitement to your life with interesting surprises in your mail box. Who doesn't like getting some GOOD mail?!?
So here are my favorite healthy subscription boxes: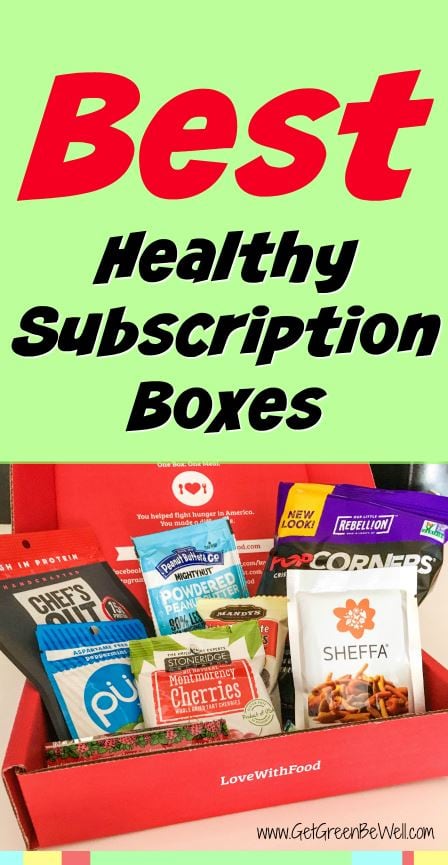 Love with Food
I had a great time opening up my first Love with Food tasting box. Check out my unboxing and what I got inside this subscription box:
Love with Food has different size boxes, so this one shown above is the smallest – a Tasting Box. It starts at $7.99 a month with free shipping.
What's awesome is Love with Food donates at least one meal to hungry children with every box purchased (larger boxes mean more donations).
There's an office box (perfect for business owners) and a gluten-free specific box, too.
Sun Basket
I absolutely love Sun Basket! This meal delivery service sends Non-GMO and organic meal kits to your home to enjoy at your leisure. I was expecting ho hum food, but this healthy subscription service really exceeded my expectations!
Get 3 Meals Free from Sun Basket! Fresh organic ingredients and easy recipes delivered, with Paleo, Gluten-free and Vegetarian options.
These are like gourmet meals, y'all. No simple baked chicken and rice here! The menu is always rotating, too, with lots of choices!
I really, honestly loved the ease and convenience of just opening up each brown paper bag stocked with pre-measured goodies and simply making a meal right then and there. No prior thinking of what to make for dinner that night. Just a yummy meal quickly cooked at home and served up for us.

This is the PERFECT healthy subscription box for anyone who is trying to eat a little better, trying to be more health conscious, or needs some extra time in their (or your) lives.
Urthbox
Filled with full size healthy snacks, including Non-GMO, organic and all natural snacks, UrthBox is perfect for anyone who wants healthy snacks delivered straight to their door – or office! That's right! Think outside the box and have a subscription sent to a work location for healthy snacking with the afternoon munchies hit.
Here are some recent healthy subscription boxes shared on social media:
Goodbeing
This healthy beauty subscription box delivers trial size products of non-toxic cosmetics. You'll also score wellness products and other non-toxic goods. So think healthy supplements, tea, makeup, hair care, body lotions, oils and more.
The brands that Goodbeing partners with are seriously some of the best and most respected in the business. You won't have to worry about what comes each month. And if you're gifting a subscription to someone who is really into health and wellness and non-toxic living (but you're not and you're unsure about how great this box is), this is a stand-out box to choose!
The above box is an example of what could be in a bonus box. These aren't the size of a normal subscription box, but are limited time bonus boxes with even more goodies and some full size products.
Bulu Box
This Bulu Box is focused on health, nutrition and weight loss. You can subscribe to a sampling box, or one specifically devoted to weight loss. It's the perfect gift to give someone for Christmas, as they're starting their New Years Resolutions in January. Prices start at $10 a box with free shipping.
A Bulu Box isn't focused as much on organic or non-toxic living, but some of the products contained in past boxes are actually impressive, including Smarty Pants, Manitoba Harvest and Natural Vitality.
CAUSEBOX
Okay, CAUSEBOX isn't all about healthy products, but their socially conscious mission is going to make anyone happy that care about doing good. Every quarter (3 months) you get a box filled with some seriously impressive gifts from companies with socially conscious missions. That means that most things you get in this subscription box are from companies that only use Fair Trade practices, donate money back to underprivileged families and women, help women create jobs, and other feel-good endeavors. Below are just a few of the items in ONE box recently:
You're getting full sized products that last a while. Like an apron, artwork, handbag, jewelry, and more. There is often food or makeup as part of the CAUSEBOX, and it's generally grown or produced in an ethical way, which usually means organic or at least all natural ingredients.


If someone was going to get me a subscription box, I'd be REALLY happy with this one! There's plenty of things that will last way past when the snacking is done.