Many hand soaps marketed as "antibacterial" were previously made with triclosan, a powerful bacteria-killing chemical. If you were looking for a soap to kill germs on your hands while washing, you might have been led to believe that you needed this ingredient.
You don't.
The FDA has ruled that over the counter antibacterial washes can no longer use Triclosan because, according to the FDA, "manufacturers did not demonstrate that the ingredients are both safe for long-term daily use and more effective than plain soap and water in preventing illness and the spread of certain infections."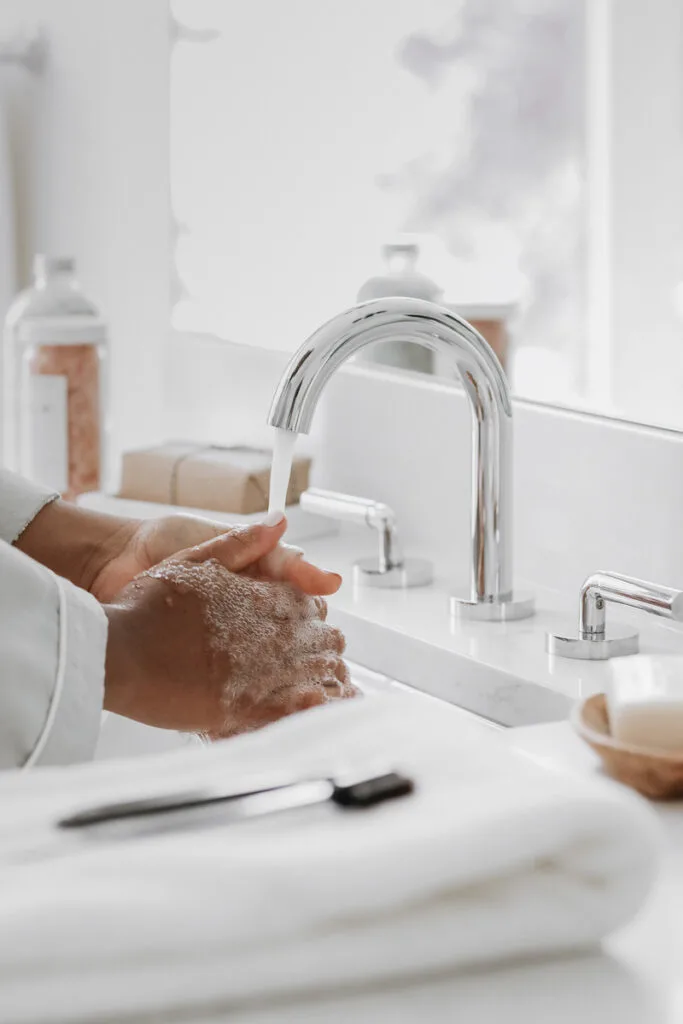 Janet Woodcock, M.D., director of the FDA's Center for Drug Evaluation and Research (CDER) stated, "In fact, some data suggests that antibacterial ingredients may do more harm than good over the long-term."
Add in the fact that Triclosan is registered as a pesticide with the EPA, and you can understand why the FDA banned it's use in over the counter soaps (but not hand sanitizers or health care settings soaps) in 2016.
The good news is that you don't need Triclosan or other antibacterial ingredients in soap to effectively kill germs. These are some of the best antibacterial soaps that use natural ingredients.
Foaming Soap without Triclosan
It is very easy to make your own foaming hand soap. But if you want to buy a ready-made bottle (I totally understand!), here are some of my favorite options.
Keep in mind that all foaming hand soaps need a special dispenser that will create the foam. The brands below will give you that type of bottle with your purchase.
Branch Basics
You might have heard about Branch Basics, one of the best and most effective green cleaning concentrates there is. Powered by plants and minerals, this one concentrate can do a LOT of things in your home. Including an excellent hand soap.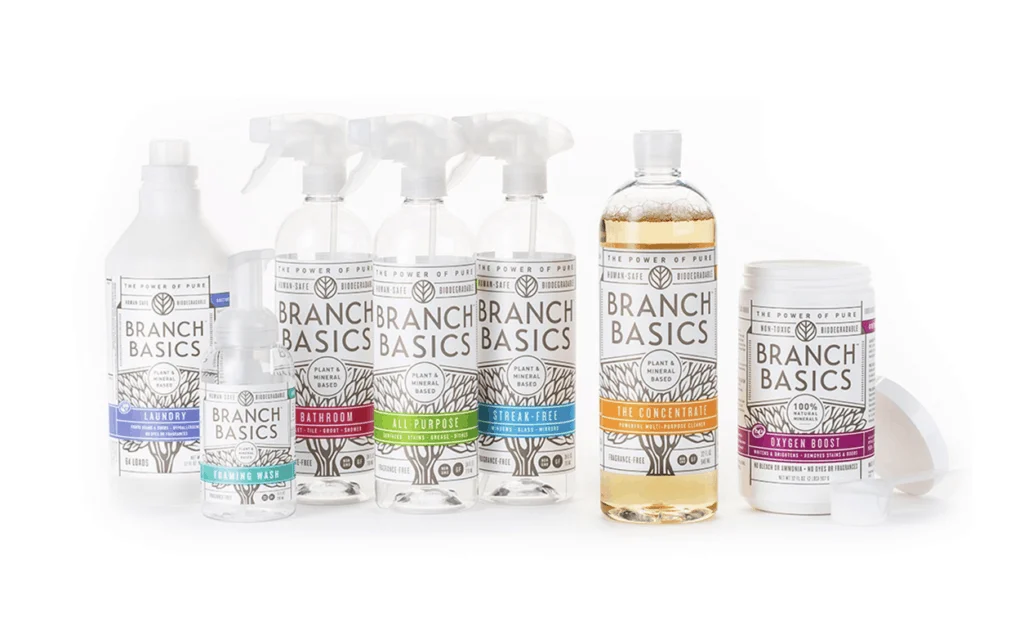 When you order a Branch Basics starter kit, you'll get a foaming hand soap dispenser. Just add a little bit of the concentrate with water and you'll instantly have a safe hand soap.
PLUS, you can use the concentrate as a laundry detergent, all purpose cleaner, window cleaner, dish detergent and more.
Get $10 off your first order with my referral link for Branch Basics.
Puracy
If you love soaps with fragrance, then choose Puracy Natural Foaming Hand Soap.
There are a variety of scents, such as Citrus and Sea Salt or Cucumber and Mint. What I like is that they sell a refill bag of foaming hand soap, too, so that you don't have to buy plastic bottles each time.
Beessential
Made in the USA by a beekeeper, Beessential All Natural Foaming Hand Soap is made in small batches with ingredients you will love.
Honey is an ingredient, along with coconut oil, hemp oil, olive oil and aloe.
Scents include Sweet Orange, Peppermint and Lavender, each created with essential oils and not artificial fragrance. A body wash is also available in more scents.
Refill bottles are available to add the soap to your existing foam soap dispenser and save money.
Eco Me
With lots of thick, sudsy foam, you will like the all natural anti-bacterial properties of Eco Me Natural Sudzing Liquid Foaming Hand Soap. The citrus berry scent gets rave reviews from users who say that it is one of the best hand soaps that they have used!
Liquid Soap without Triclosan
Avalon Organics
By far my favorite liquid hand soap (so far), I've been using Avalon Organics Glycerin Hand Soaps for over a decade.
My favorite scent is lemon. It's like and fresh. During the winter I switch to the Peppermint scent which I love, too.
This is one of the few hand soaps that don't dry my skin out. In fact, my hands feel softer after using it. My family loves this soap, too.
However, it does often gunk up a bit in the nozzle, which can cause soap to come flying out if you press down the dispenser too hard. But I like it so much that I keep buying it and just gently press down on the dispenser, rather than forcefully pressing it to avoid any messes.
Seventh Generation
I've been using Seventh Generation products for over a decade. And their products really work.
We've recently tried a few varieties of Seventh Generation liquid hand soap. I prefer the free and clean fragrance free soap.
However, the Hibiscus and Cardamom scent was very light and not overpowering at all.
Refill packs are available for Seventh Generation liquid soaps.
Tom's of Maine
Fight bacteria by creating more good bacteria on your skin with Tom's of Maine Prebiotic Moisturizing Liquid Hand Soap.
Available in a variety of scents (but not unscented), the soap contains a prebiotic nutrient that helps to feed the good bacteria already on your skin. The more good bacteria created will help to crowd out bad bacteria that you don't want.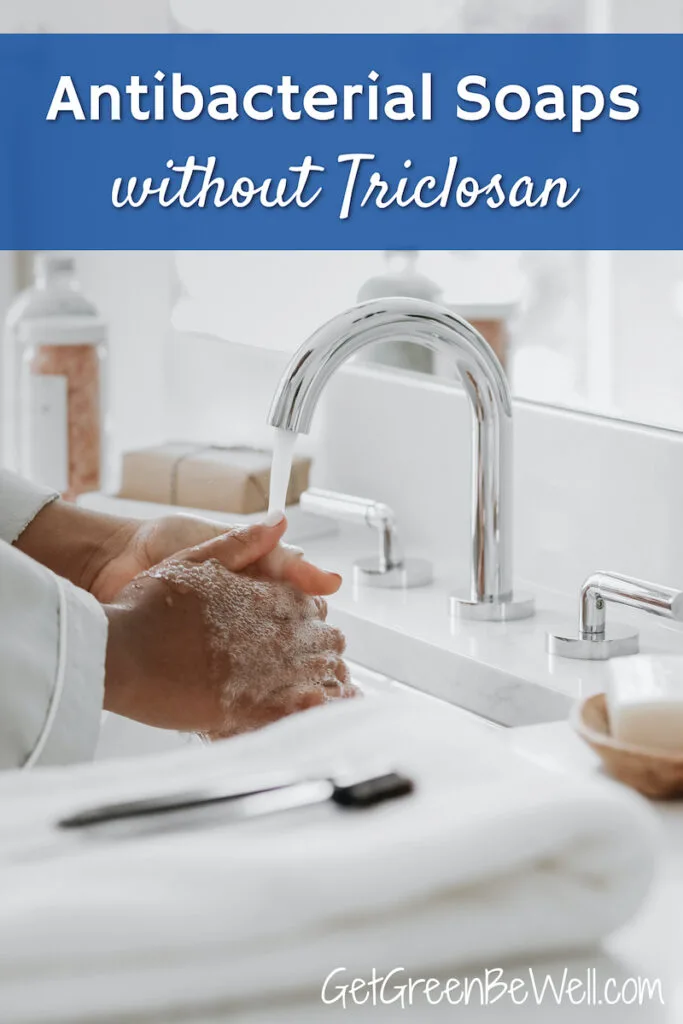 Body Wash Without Triclosan
Derma-nu Antifungal Antibacterial All Over Body Wash
Using an assortment of essential oils, Derma-nu body wash and soap works as an anti-fungal and antibacterial on a variety of conditions, such as:
Athlete's Foot
Jock Itch
Acne
Fungus
Tom's Of Maine
Just like their liquid hand soap, Tom's of Maine Prebiotic Body Wash helps to increase the good bacteria on your skin.
JASON
Infused with vitamins, Jason Natural Body Washes are luxurious and pamper the skin you are in.
You might also like to make your own soaps with natural ingredients to clean your hands. Check out my goat milk soap recipes, including my exfoliating cinnamon oatmeal soap.
Make Your Own Soap
It's easy to control the ingredients when you make your own soap. Be sure to check out all of my DIY soaps, including: