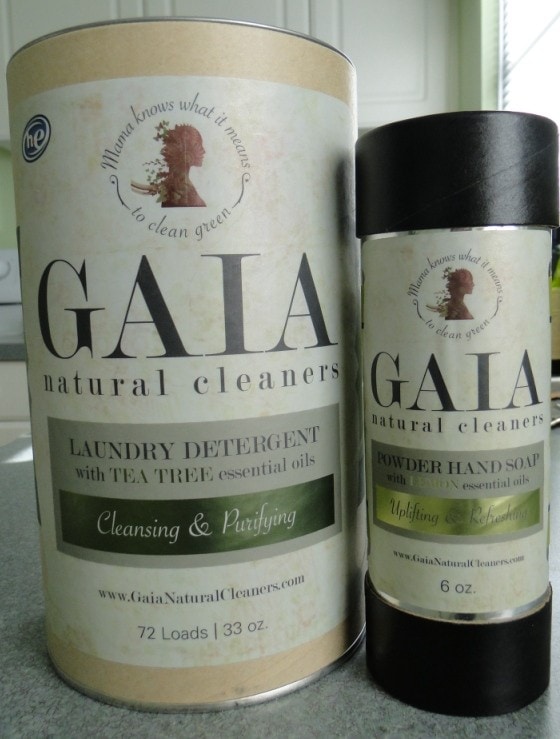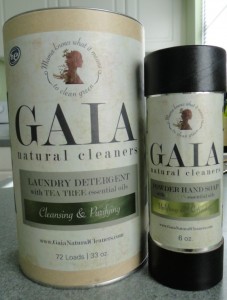 GAIA Natural Cleaners is made by a mom of three young children with a passion for health education and her biochemist husband. Those facts pretty much sold me on the natural cleaning products before I ever tried them. When I did put GAIA Natural Cleaners to use in my own home, I was convinced that they were great.
Here's why.
GAIA Natural Cleaners
GAIA Natural Cleaners uses basic, non-toxic, all natural ingredients. There are a lot of ingredients used in GAIA's cleaners that you could find in your own home, things like baking soda, vinegar, castile soap and essential oils. Sure, you could probably make these cleaners yourself, too. But you're not.
Because if you're reading this post, you're a lot like me. You desire simplicity in your product ingredients. You want them to be as safe and natural as possible. Yet you don't have time on your hands to do everything yourself, and you want to support small businesses created by entrepreneurs who are trying to change the world in a positive way.
Maybe you haven't had a lot of good luck with some natural cleaning products in the past. Trust me, I've been there and know all about it.
While you want to live healthy and do good in the world, you shouldn't have to suffer in the process and make more work for yourself. You don't have to with GAIA Natural Cleaners.
P.S. Since I've done my original review, the look and fragrances of GAIA Natural Cleaners has changed. That's why the products you buy today will be prettier and have a variety of different fragrances.
GAIA Powdered Hand Soap
Take for instance, castile hand soap. When I visited GAIA's website and saw Powder Hand Soap, I am not lying when I say I was overjoyed. I could NOT wait to try it out, and I was not disappointed.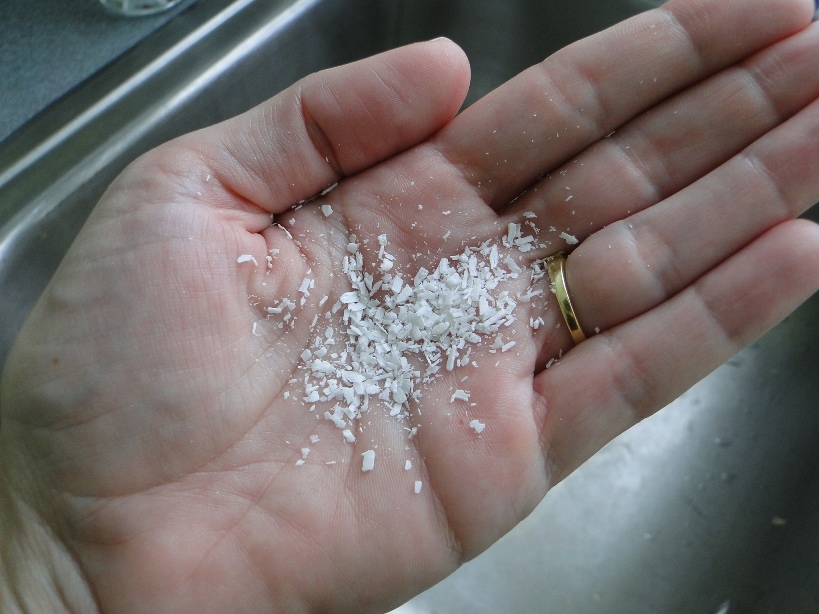 Here's the problem with most liquid castile soaps. They gunk up and clog liquid soap dispensers. It doesn't matter the shape or size of the soap dispenser, I've tried them all. My hand soaps always seem to clog up if we haven't used them in a day or so.
I've learned the hard way to gently depress the hand soap dispenser in case there is a clog in it, but my out-of-town family isn't familiar with the nuances of using natural hand soaps. I cannot tell you how many times a family member has shouted in surprise when the castile hand soap comes shooting out at maximum force because it was clogged. Then they've got streaks of liquid soap on their clothes. Then we need to clean up the soap spatter on the wall frames, the wall behind them, and the floor. We've even had to mop up a soap trail on the ceiling.
So a powdered hand soap seems ideal. The small bottle has a plastic rotating dispenser on top, (similar to a grated cheese container) that allows you to choose how much soap will come out. Just sprinkle a little in your hands, add some water and start lathering.
I tried the lemon essential oil variety – called "Uplifting and Refreshing" – and there was a great lemon smell that wasn't too strong.
GAIA Laundry Detergent
I also tried the Tea Tree Laundry Detergent – labeled as "Cleansing and Purifying." It's a large cardboard cylindrical container full of powdered detergent. (Now it comes in a metal box with an easy clasp lid. Also, the scents are now Lemongrass and Cedar Wood or Lime and Lavender.)
I used it several times on loads of sheets and towels. Simply scoop a tablespoon into the water. The one thing you want to keep in mind, though, is that many natural detergents do not suds up. That's because there are no artificial sudsing agents. So don't be discouraged if you add the soap to the water and it just disappears.
My laundry came out clean. While I noticed a faint smell of tea tree oil in the product, I did not notice any lingering smell on the laundry.
I had a little difficulty trying to get the top off of the container, since it's a simple metal top that fits inside the top of the cylinder, much like a mailing tube. However, the package is being redesigned to be easier to open in the future. In the meantime, I would highly suggest putting the product in another container to use and keeping a tablespoon inside the container, too.
There are many other GAIA Natural Cleaners products, too, including:
Castile Dish Soap
All-Purpose Cleaner
Glass Cleaner
Spot Remover
Based in Indiana, you can find the products in Indiana natural health stores and soon in the biggies such as Whole Foods and Earth Fare. Of course, you can always order online, too, at www.gaianaturalcleaners.com.