Charleston, South Carolina has a charm that just can't be explained. The truly Southern city has a down-home feel and there's just something …..something……. that makes you fall in love with Charleston and start to dream about moving there. Which is why I suddenly started drooling over the front doors of Charleston.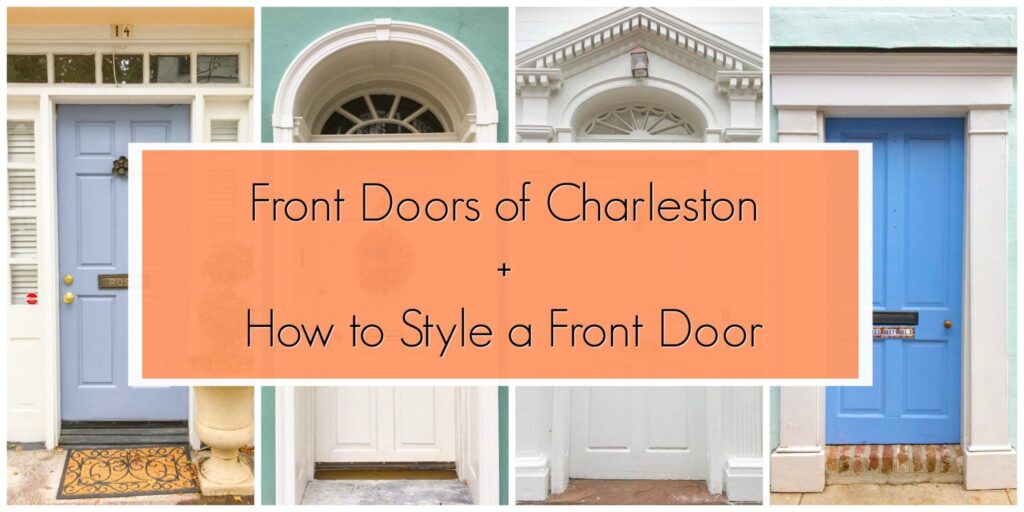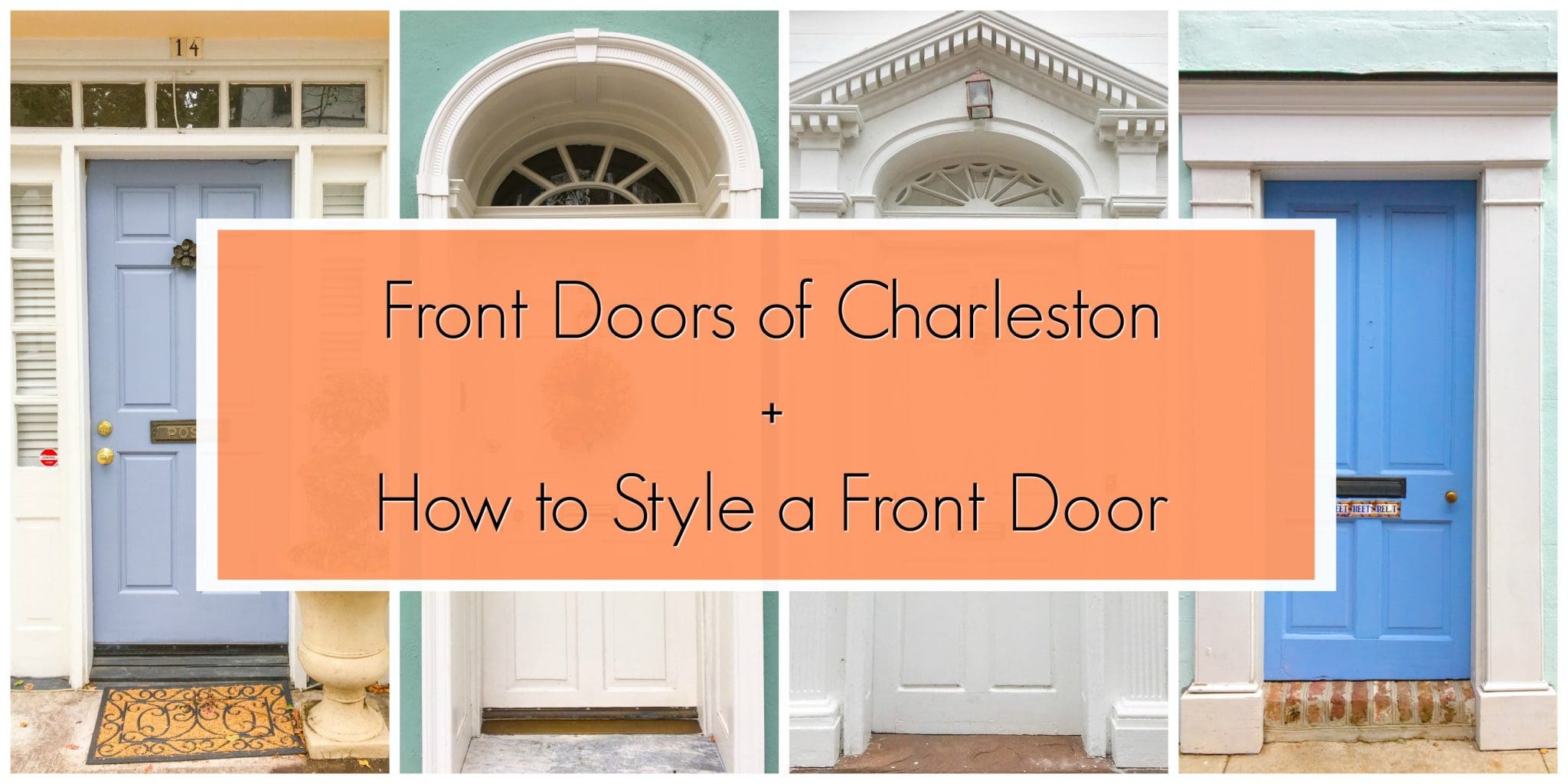 During a delightful stay at the Grand Bohemian Charleston, I was thrilled with the location of the plush, art-filled hotel. I could literally walk outside the door and be in the heart of all of the action in Charleston.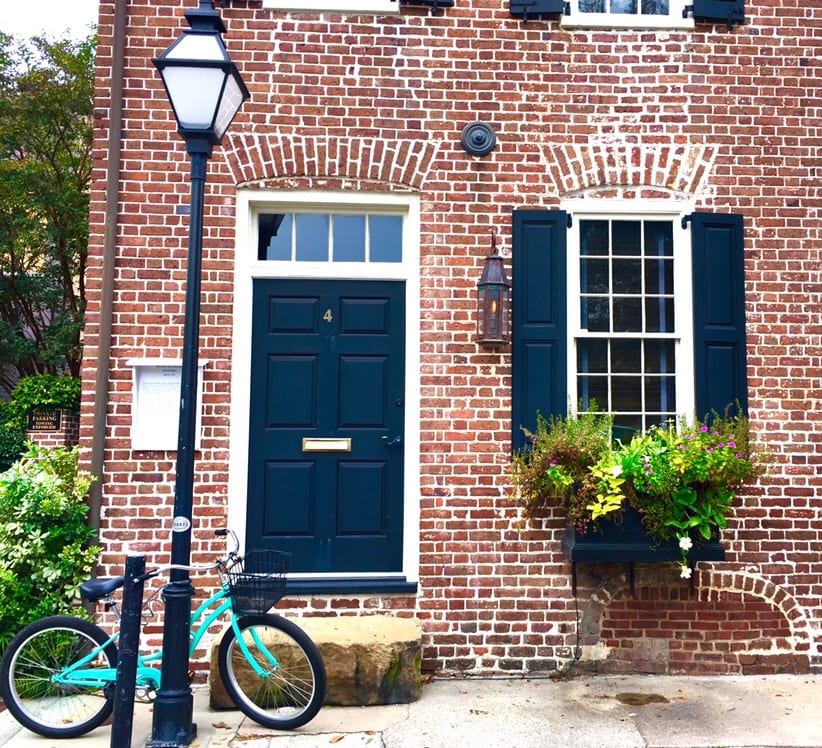 So when I woke up at the crack of dawn (seriously, the sun was just coming up) for no good reason, I knew it was a sign to go explore the city before it woke up. I've learned in all of my years of travel that when I wake up super early, it's God telling me to go out and see a destination in a whole new way.
So, I did.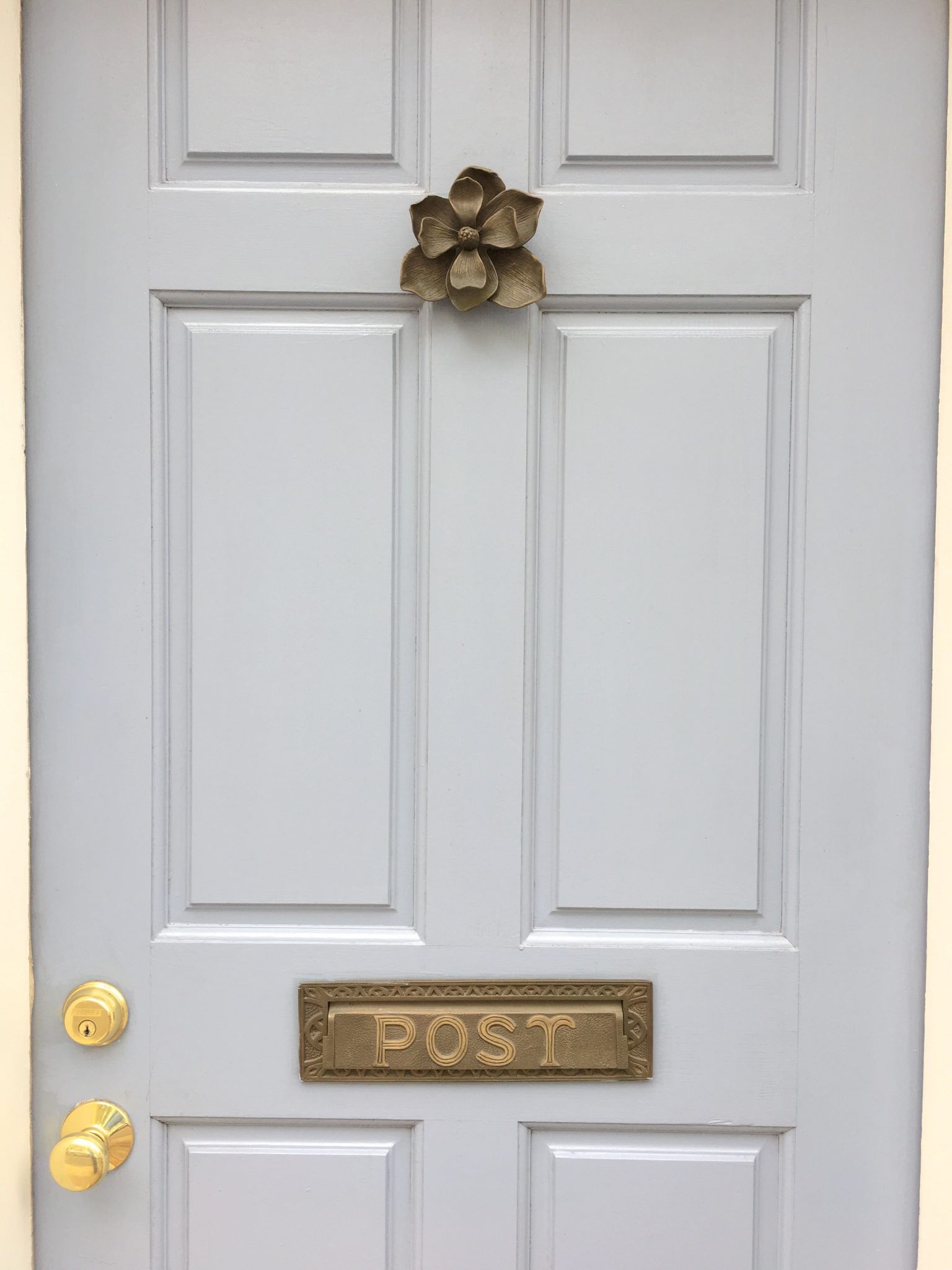 And, like always, I saw a side of the city that few visitors take the time to see. And it was refreshing. So often when I travel, it's all about rushing and battling the crowds. It's these hidden moments in a city before the tourists descend that refresh my soul and make me fall in love with a destination.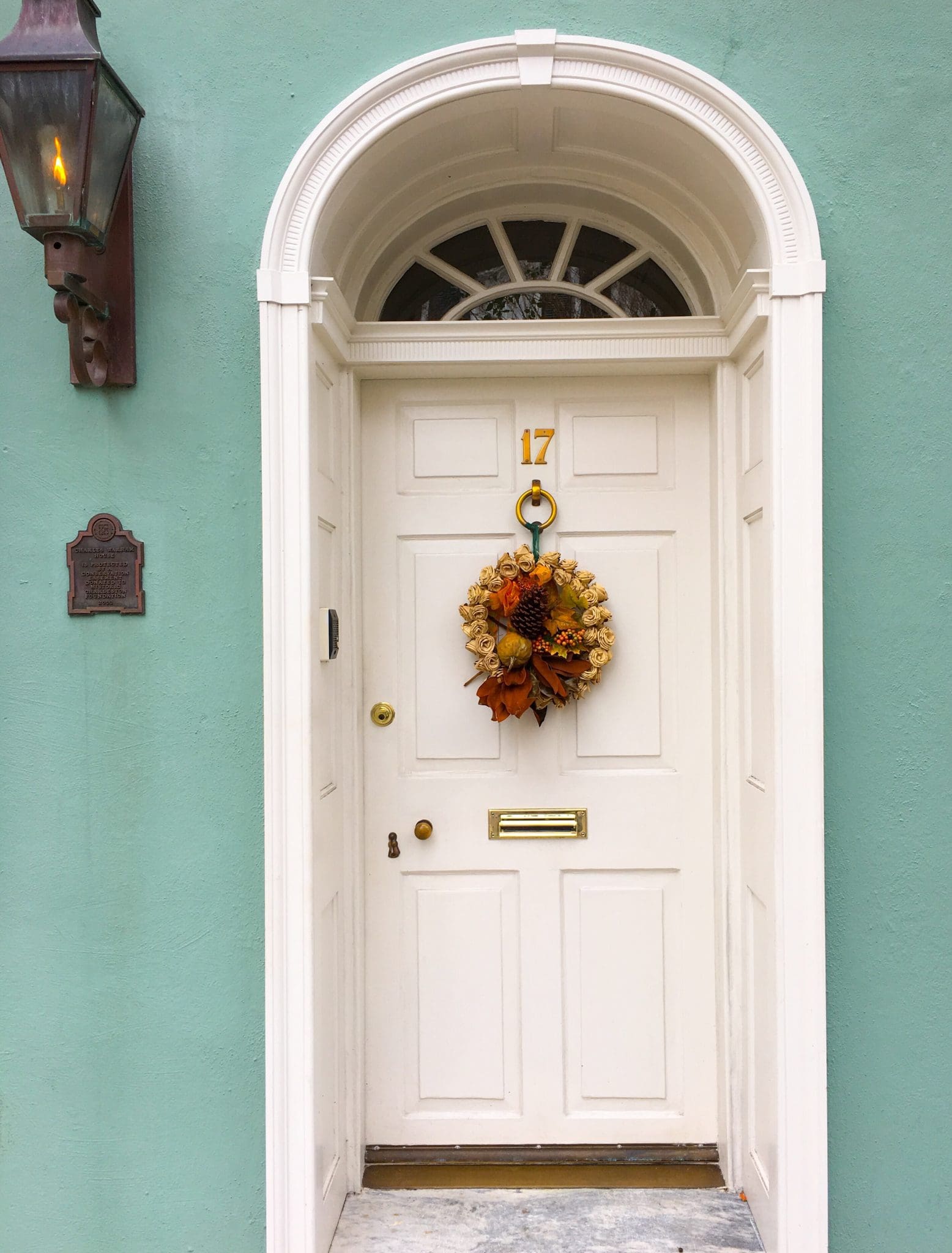 As I walked the easy stroll from the Grand Bohemian Charleston to the Battery area on the waterfront, there were no cars out. The streets were quiet. Shopowners were sweeping their stoops in preparation for the busy day. The wind off of the water swirled through the tight streets of downtown. I could actually hear the fountains tinkling in the hidden courtyards of historic homes.
It was magical.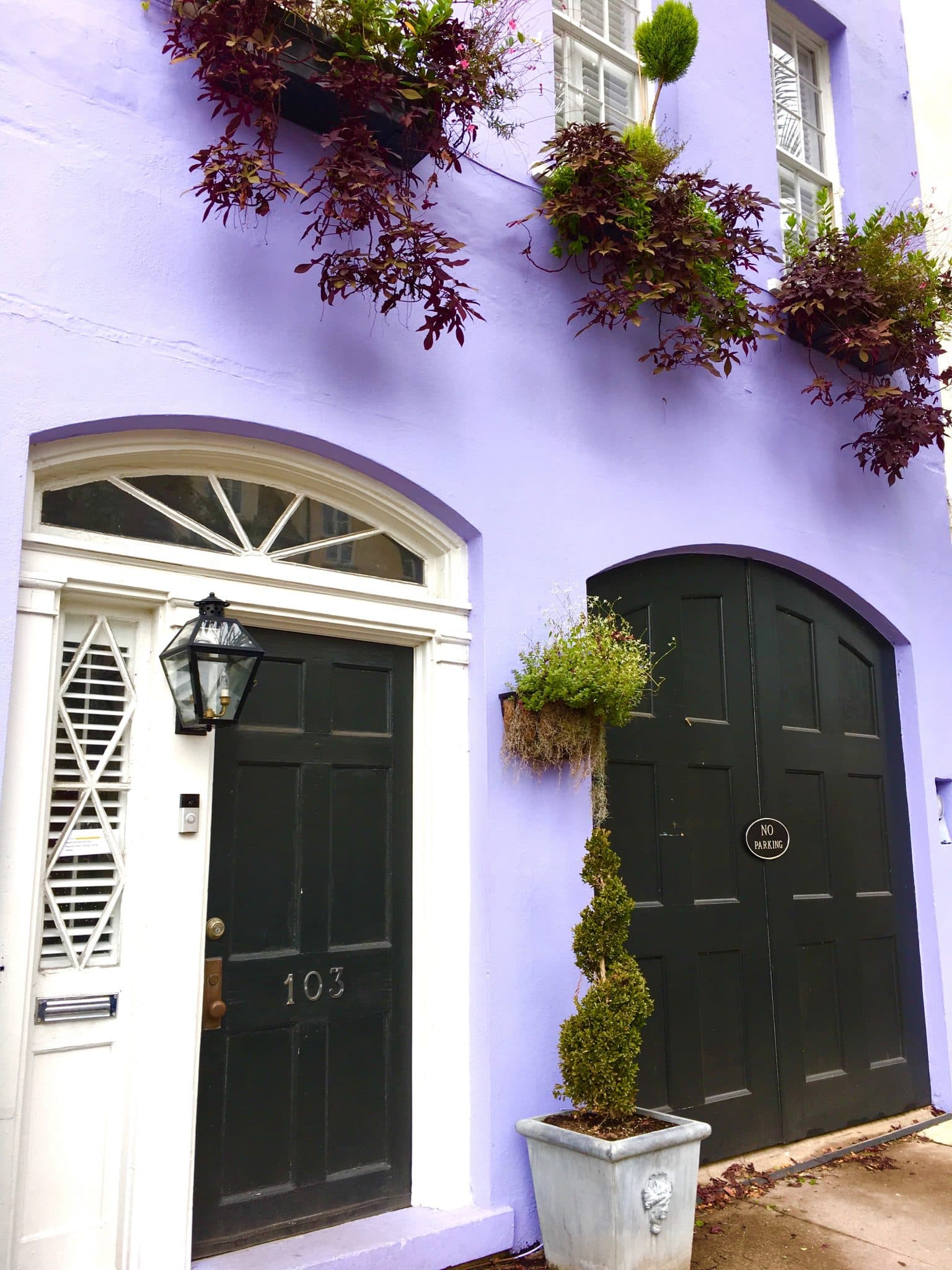 At some point, I veered off of Meeting Street as I got close to Ashley River. And I wandered.
And wandered. And wandered.
Front Doors of Charleston
The tiny lanes and ancient streets beckoned me to come explore. And as I did, I was charmed by the simple, yet beautiful front doors of Charleston.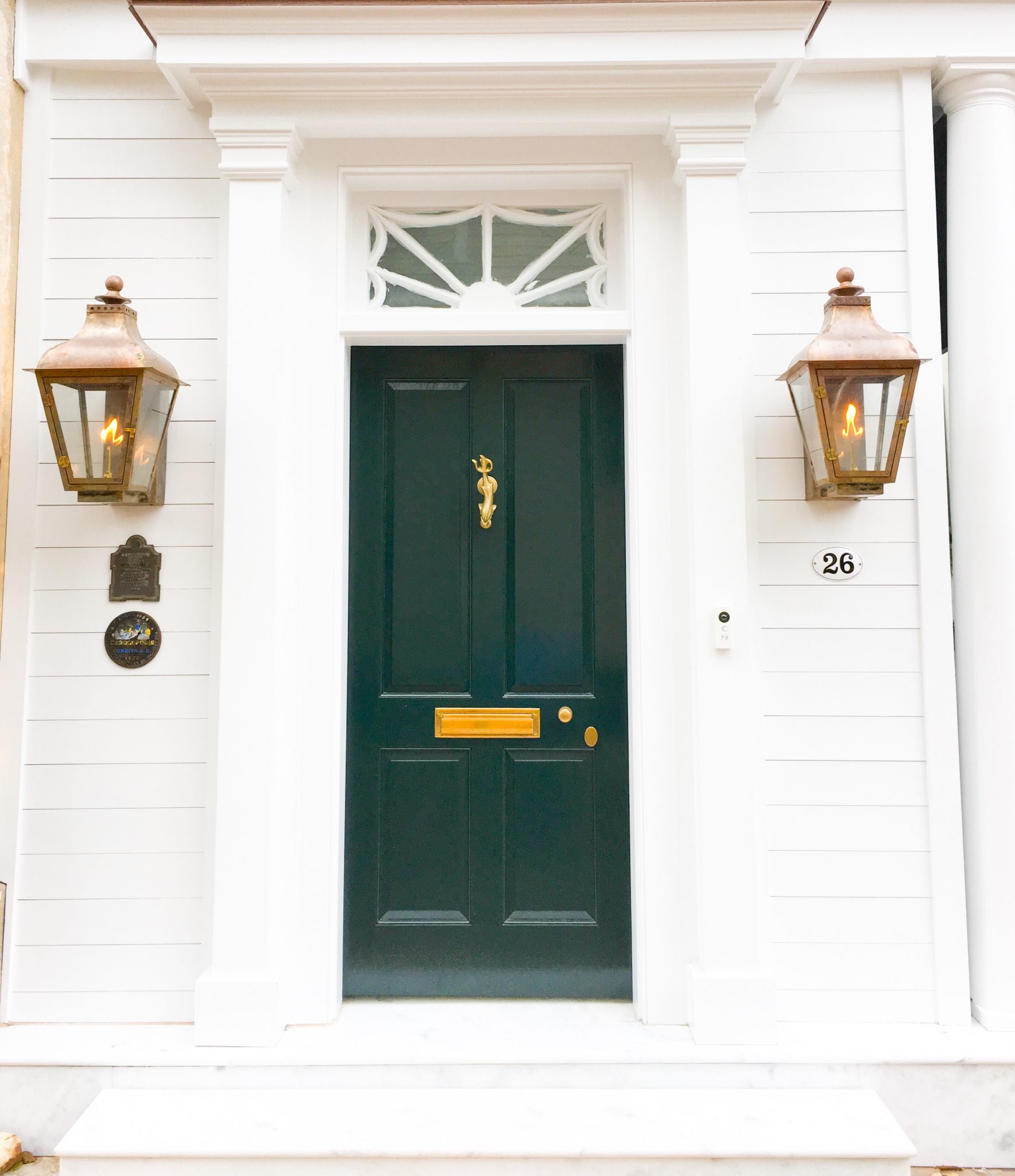 So I started taking pictures. Lots and lots of pictures.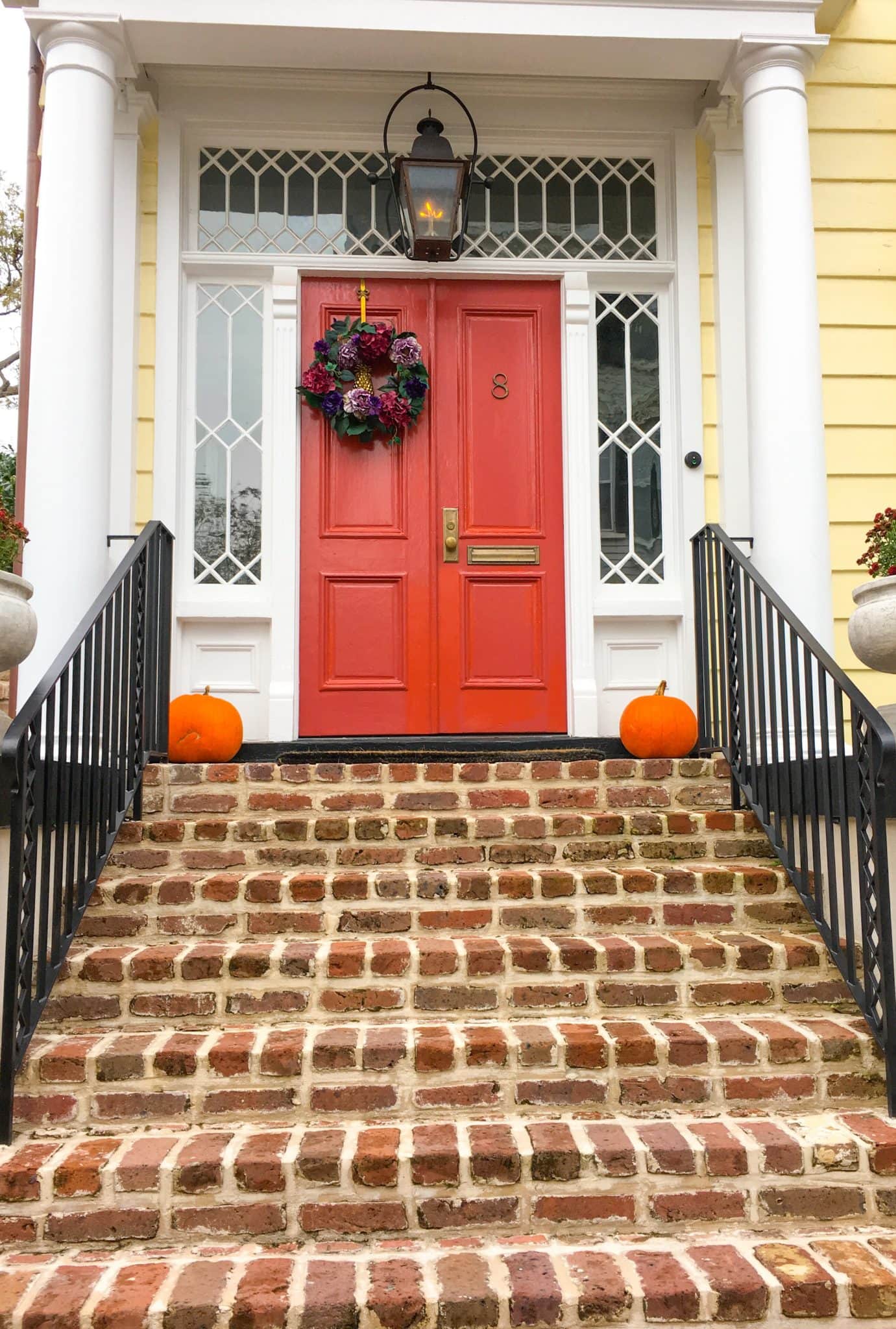 So many pictures that I returned to the Grand Bohemian Charleston with just 2% battery left. But it was worth it.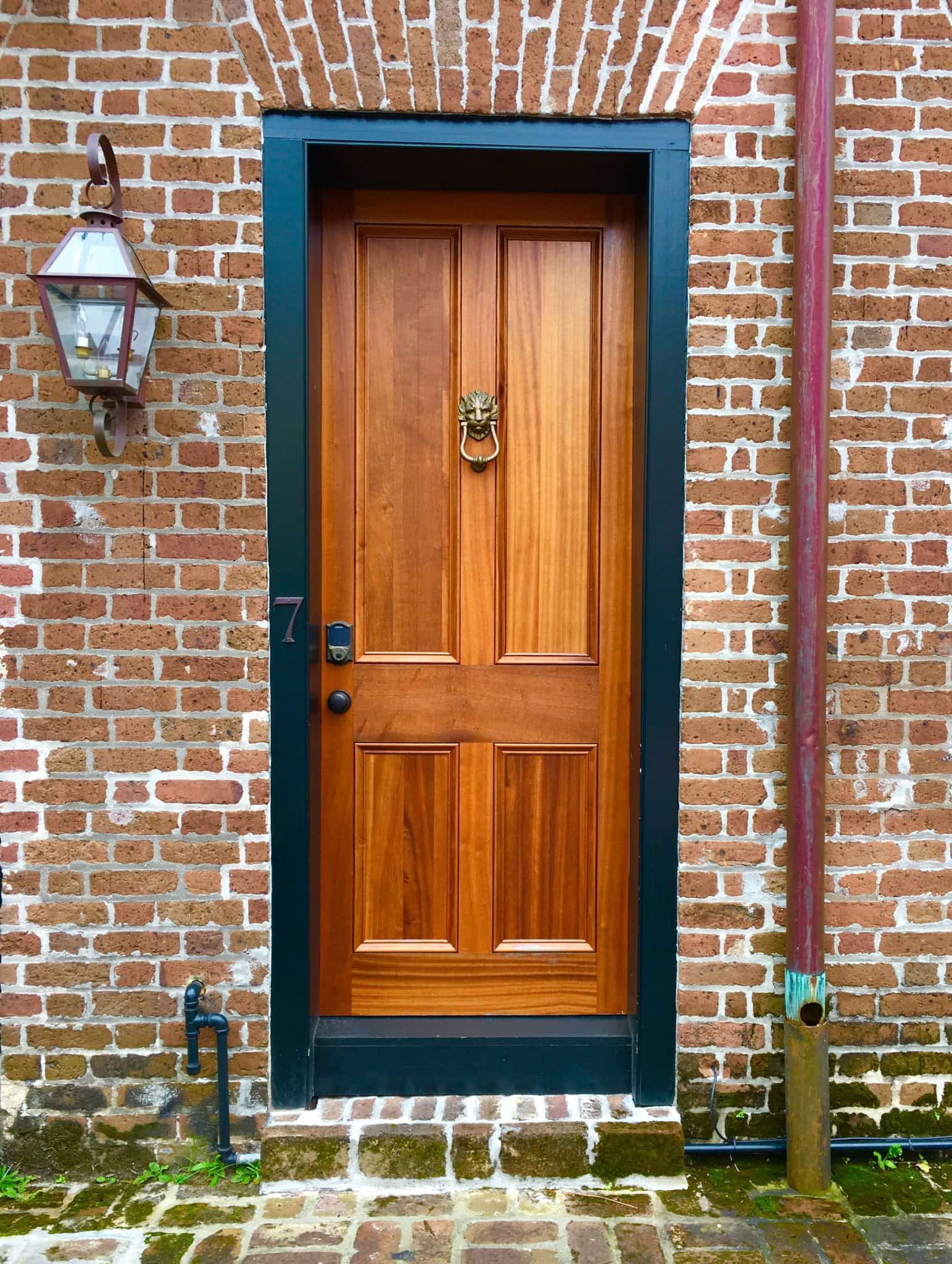 If you have a chance to wander through the residential streets of Charleston, do it!!! These residents have style. And it's all displayed in the front doors of Charleston.
Simple, elegant, traditional style that lasts through generations.
How to Style a Front Door
While admiring the front doors of Charleston, I soon realized that there was a distinct pattern to creating a stunning front door that made visitors (and tourists) stop in their tracks and stare.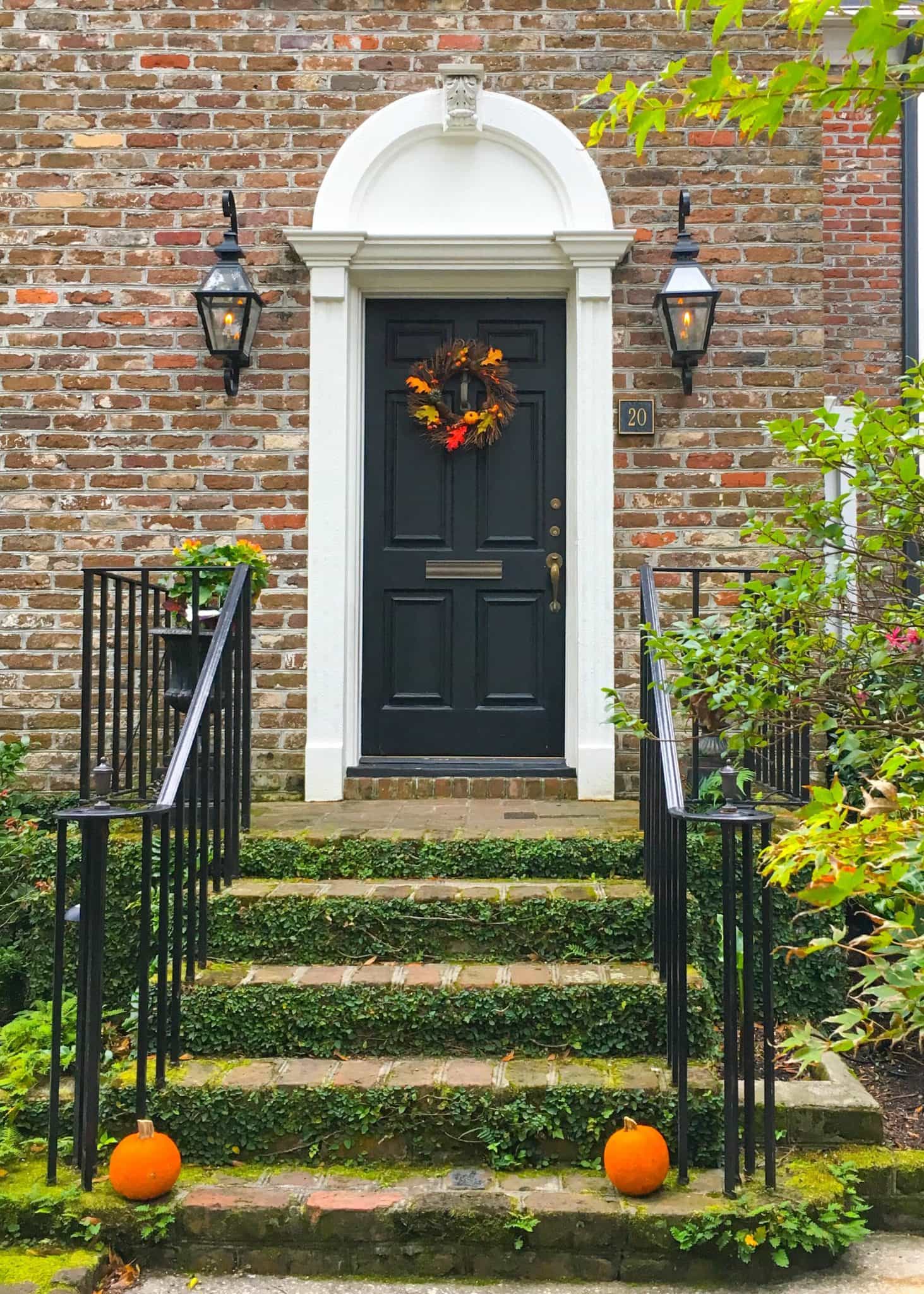 The most beautiful front doors of Charleston aren't hidden behind large porches, imposing fences, or cluttered with a lot of decorations.
No, it's the opposite.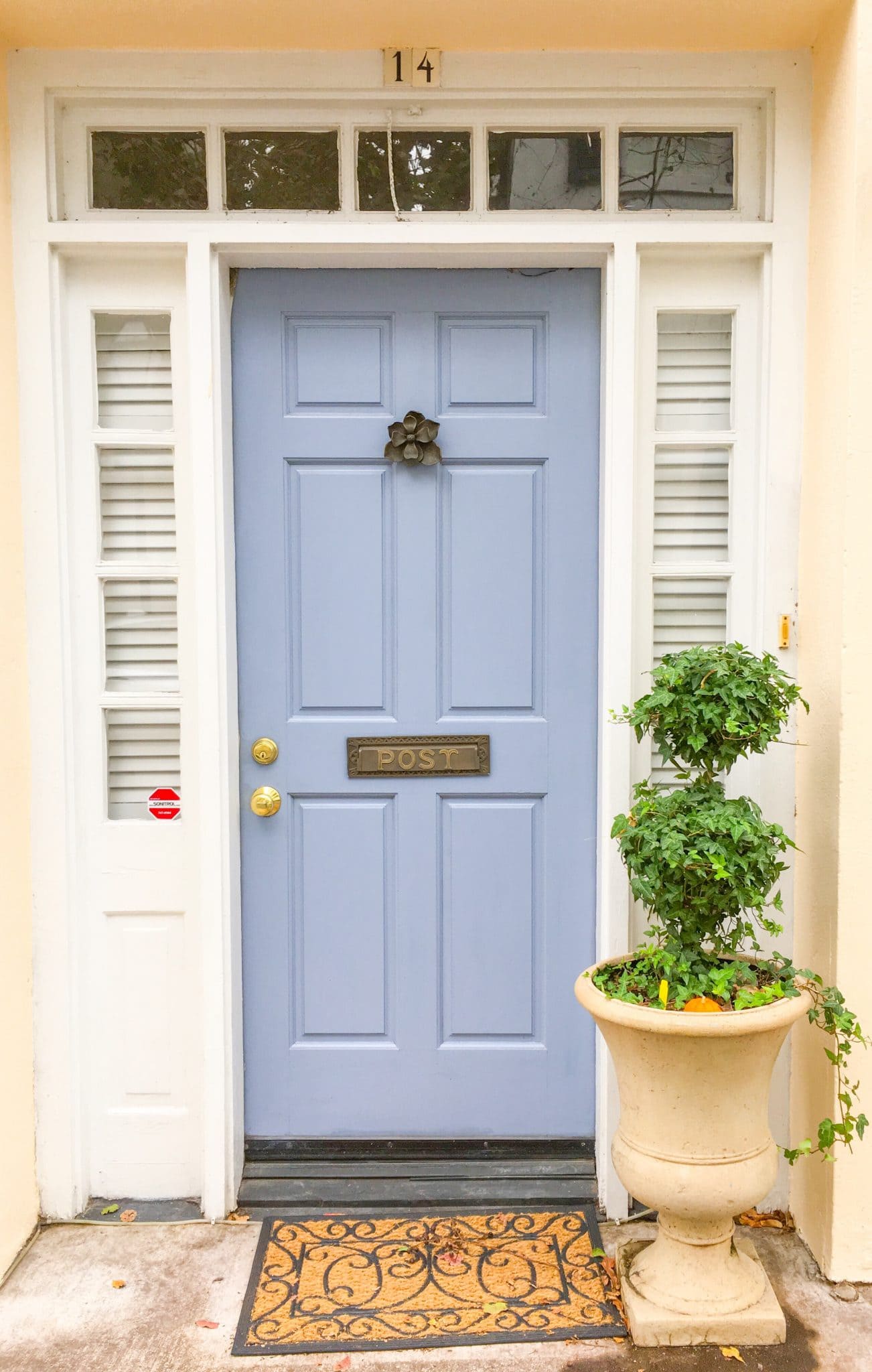 The front doors of Charleston that make you stop and stare are unassuming, simple and well taken care of. They picked a few key items and focused on those.
A front door and entryway that you love is definitely a part of having a home that makes you smile. When you walk through the door every single day, you should be surrounded by the colors, textures, and style that makes your heart happy. You might not think that it matters, but it does.
A brief few seconds of seeing something that makes your heart happy rather than something that makes your stomach knot because you hate it can do a lot to your mental wellbeing.


Front Doors of Charleston Style Tips
Color So many front doors of Charleston, South Carolina are bright and colorful. They remind me of the stylish doors of narrow townhomes in London, where the only way to express your personality is through the color of your front door. Pick a color that makes you smile inside. Of course, it's nice if the color complements the color of your home, too!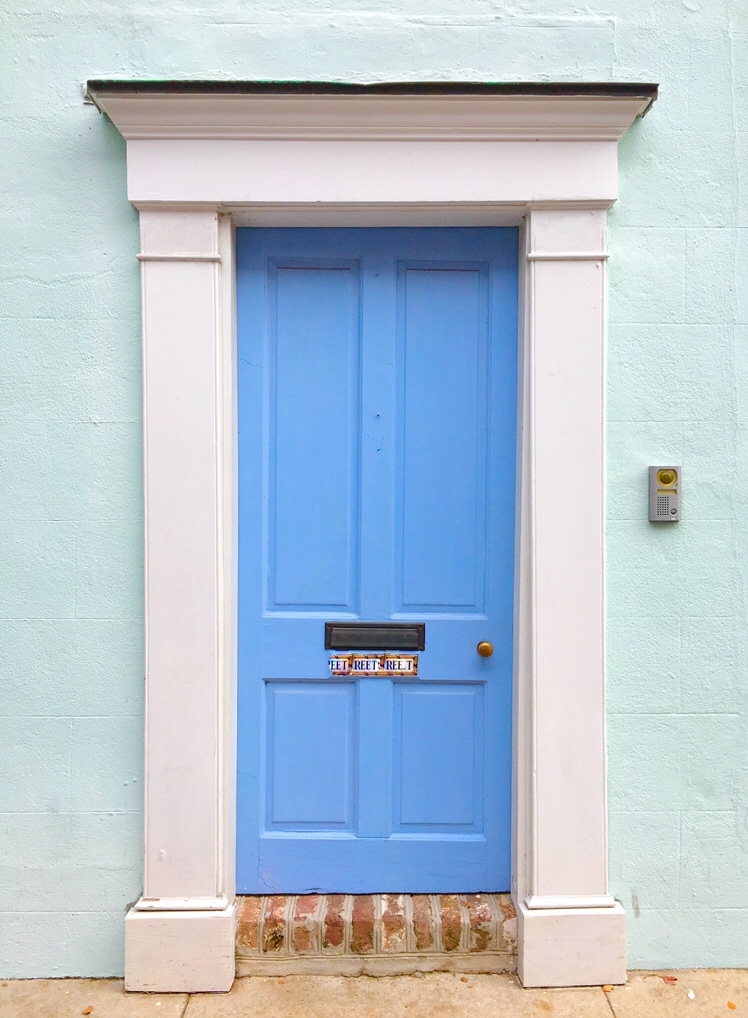 Black and white are treated as a color on Charleston front doors. Is black and white a color palette that we normally think of? No. But when painted in a high gloss, and when the black or white blends into the overall color scheme, the front doors really pop just like a brightly colored one does.
Related Posts:
Symmetry is Everything Stop and stare at the front doors in Charleston for a while and you'll start to see that symmetry is a big key to their beauty. Perhaps it's lighting fixtures on either side of the door. Or pots on either side of the entryway.
You don't always have to have pairs for symmetry, though. Just visually balance the look of the front door. For instance, if you have a railing on one side, perhaps put a potted plant on the other side. If your light, handrail, large bush, etc. are all on one side when looking at the front door, then the symmetry is off. Add or readjust things when and how you can.
Lighting Big, bold lighting accents are common with the most gorgeous front doors. These entryways don't have a single, industrial-looking light bulb above the door that casts a cold harsh glow.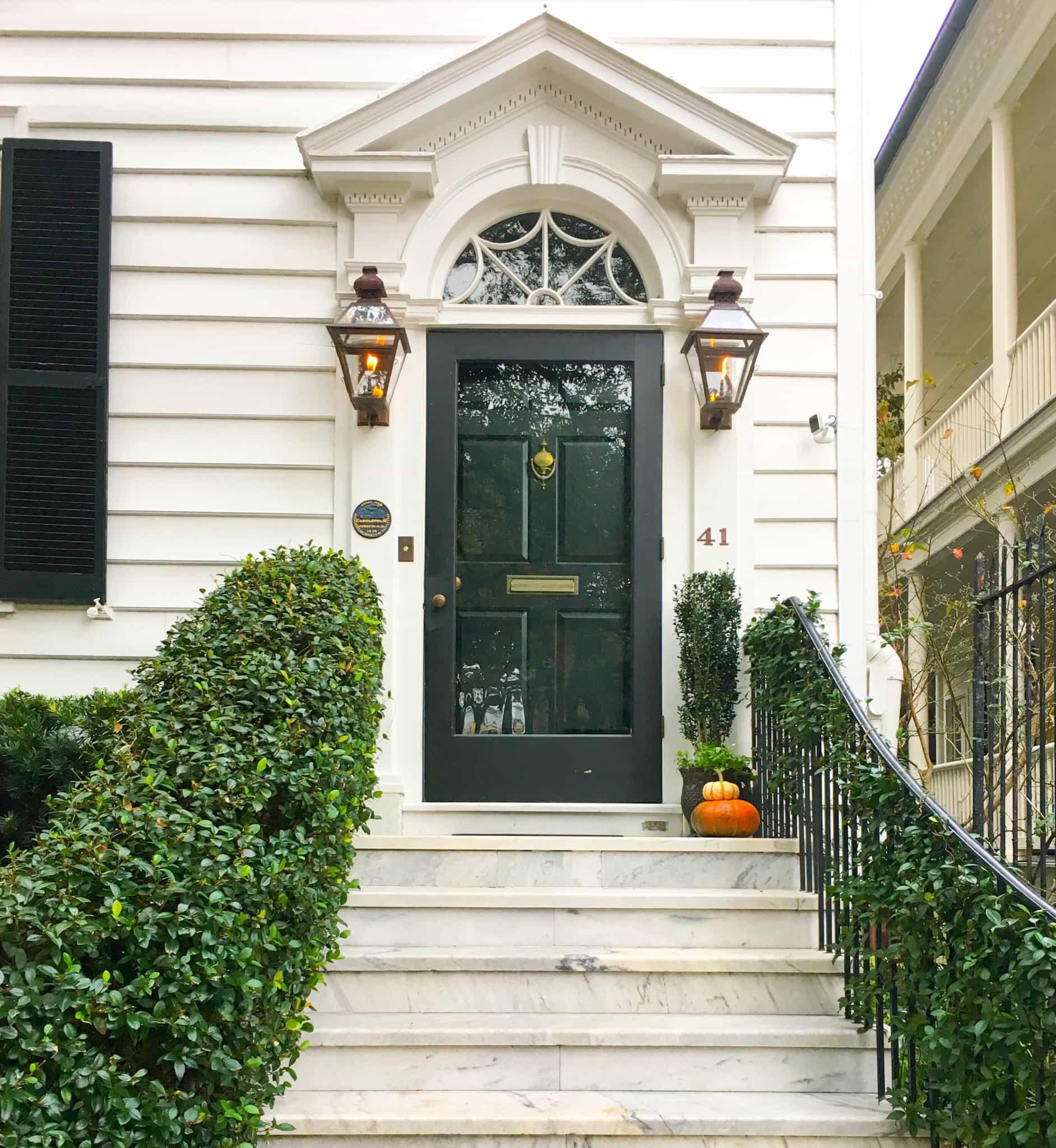 Instead, these front doors of Charleston have decorative lighting fixtures that not only make a statement, but also add a warm glow to the entryway.
Some have just one light fixture, others have a matching set. Whatever you do, choose a proper light fixture that fits your home's style.
All About the Wreaths I visited Charleston in early November, just before Thanksgiving. So many of the homes were decorated for the season.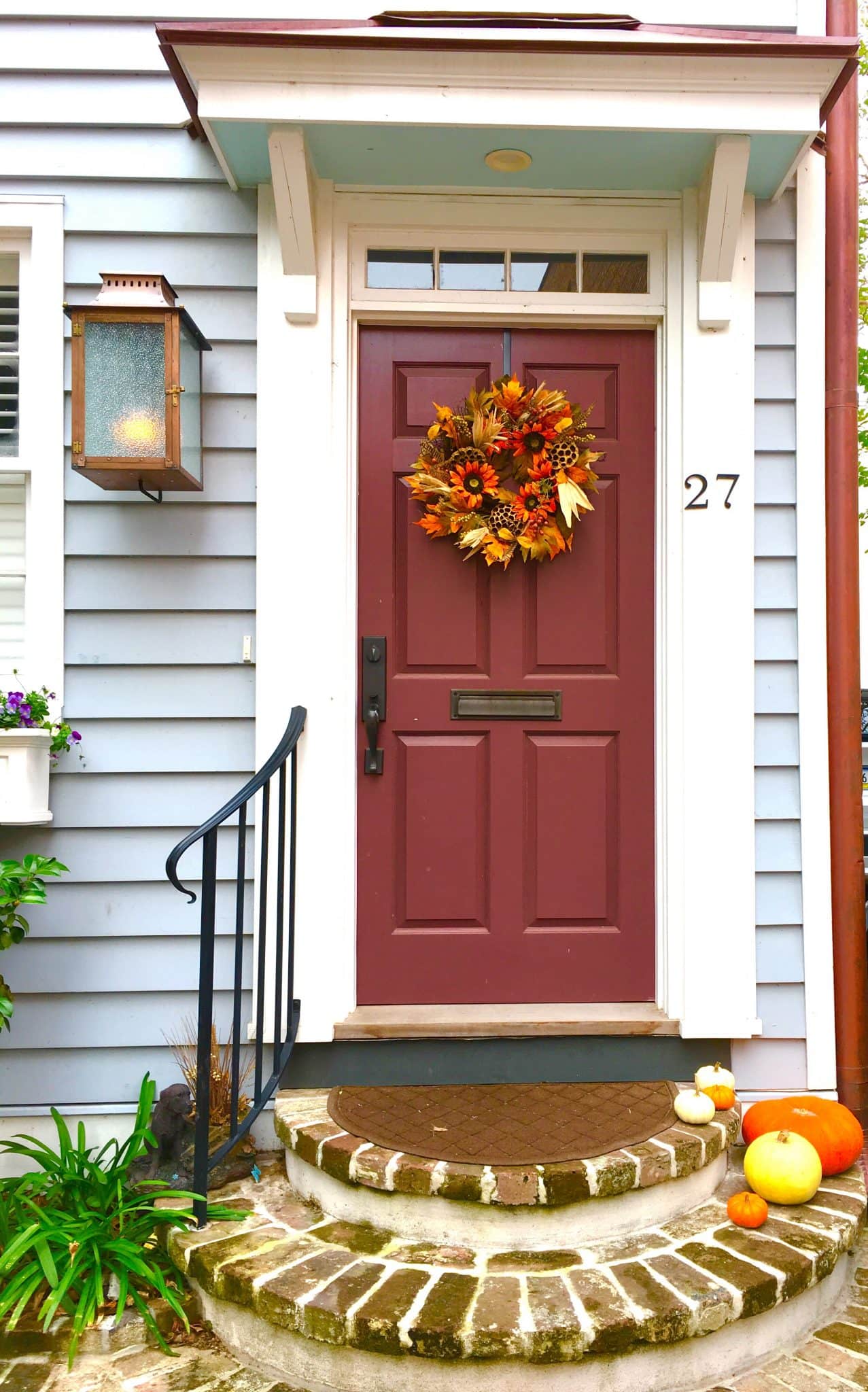 Wreaths are a big part of decorating a front door. They are quick, easy, and require no power tools. It's one of the quickest ways to dress up a front door – and make that decoration seasonal.
Whether you have a dedicated hook on your front door for a rotating array of wreaths, or you choose an over-the-door wreath hanger that can be put on in seconds and easily removed whenever you want, hanging a wreath is about the easiest thing you can do to jazz up your front door and add your personality.
Door Hardware Even with a simple door and a simple color, you can create a unique entryway with the type of door hardware that you choose.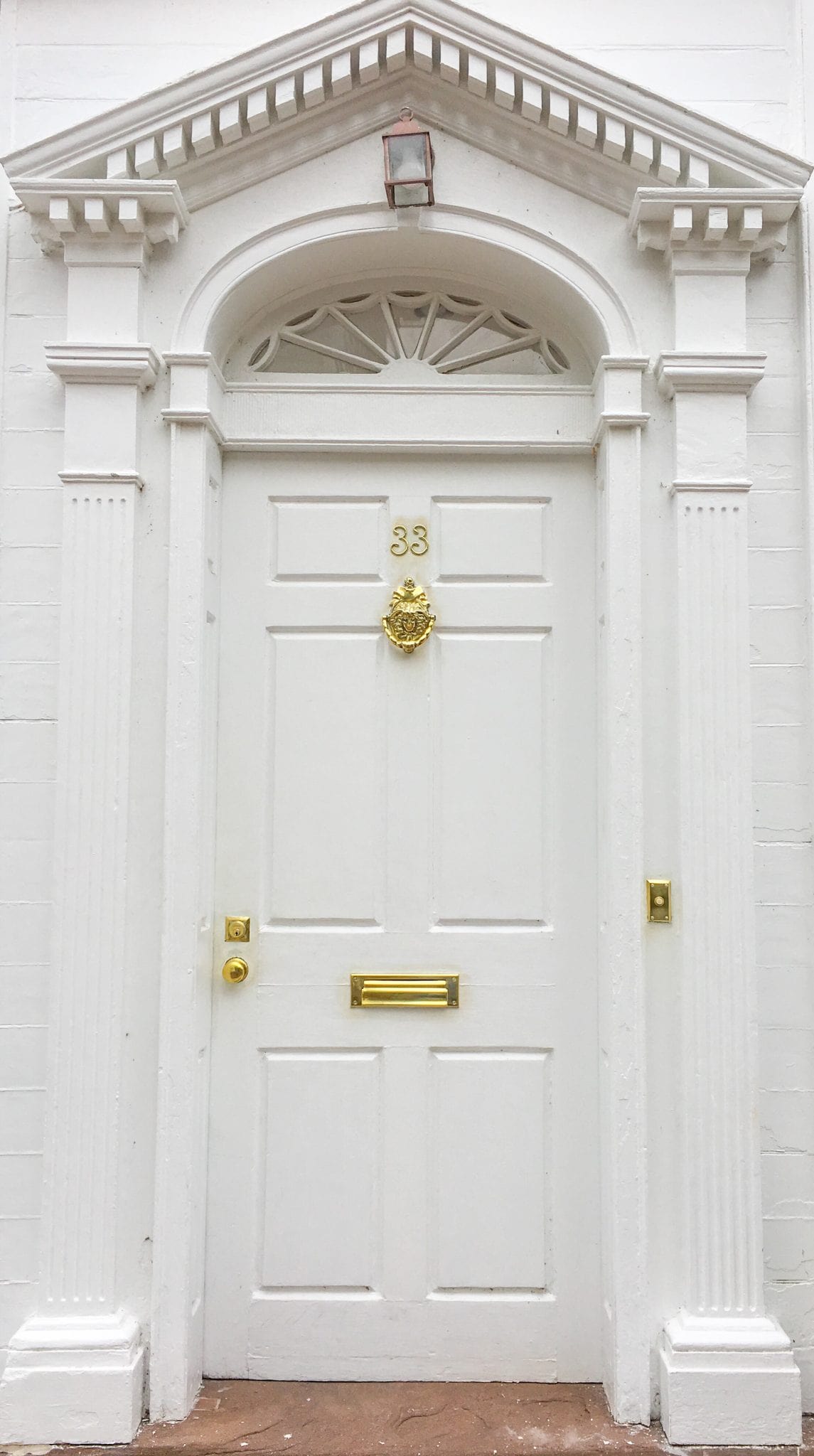 It's all about the door handle, door knocker, door number and mail delivery slot.
You can have a plain Jane door and really make it pop just with colorful or stylish door hardware.
So don't worry about picking colors or painting if it's not something that speaks to you. Just started dreaming about door hardware that's anything beyond builder's grade door hardware.
Simple is Better Notice that even with holiday decorations, these Charleston front doors are simple. One potted plant. A few pumpkins. A nice door mat.
There's nothing extravagant here. Nothing so over the top that you can't do it, too, with just one Target run.
Taken Care Of These homes are hundreds of years old. Yet the front doors are well-maintained and obviously well taken care of. There's not a lot going on, but what they do have is clean, not dingy and not weathered. There's not dirt splashed all over the front door. The one plant isn't half dead. The paint isn't chipping or flaking off.
Your front door makes a first impression, whether you want it to or not. From the postman to your future in-laws, everyone that comes to your home makes a snap decision about you as soon as they see what the place looks like where you live. It's human nature. So make yourself shine.