This post is sponsored by Babbleboxx.com on behalf of Alexia
I know I'm not alone on this. I can't be the only person who wants a nutritious and tasty meal after a long day at work. Yet I don't want to spend much time fixing it, and I'm also looking for simple-to-prepare starch alternatives. Can I get a raise of hands as to who else has this dream?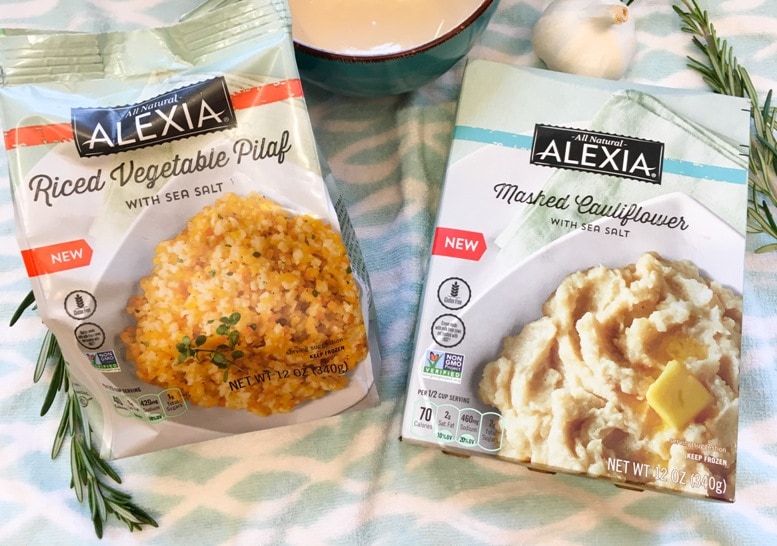 I just discovered Alexia's premium side dishes, and I'm a little overjoyed. I can quickly fix simple ingredients that are extraordinary. Seriously. I'm so tired of just boring frozen vegetables served alongside my meat. Now I've got premium vegetables prepared in delicious ways that are frozen so I can use them whenever is convenient for me. (I've got two GREAT IDEAS below!)
Weeknight Meals for A Crazy Schedule
I can't even imagine what it would be like to have dinner on the table every night. Or to eat at the same time every night.
In my life, I never know from one day to the next whether I'm even eating at home.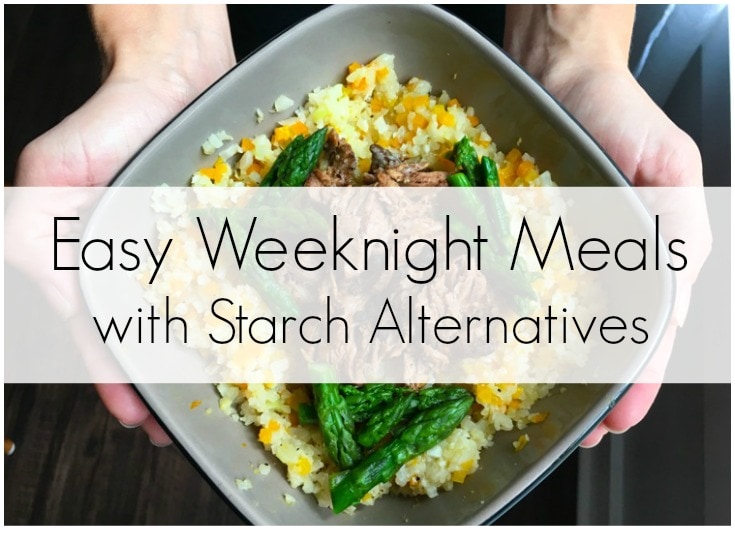 With press events and travel all of the time, sometimes I'm not home for days at a time. Which makes grocery shopping – especially shopping for perishables like vegetables – very hard. So when I am finally home, I'm busy catching up on work and might not feel like grocery shopping.
Yet I still want lots of veggies in my meals. However, I'm SO tired of throwing out vegetables because they have gone bad in my refrigerator waiting for me to have time to prepare them. (And I'm tired of wasting the money on the produce which ends up in the trash.)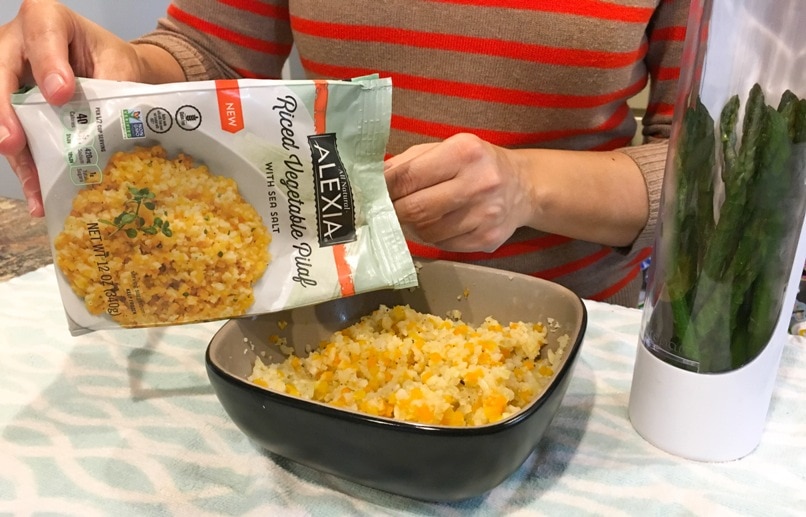 That's why I love finding great foods that are nutritious that I can easily store in my freezer for those last-minute meals that can be prepared easily and quickly. Frozen foods allow me to eat meals at home, which saves me money.
Easy Weeknight Meal Hacks
Quick and easy weeknight meals are only quick and easy with a little bit of preparation. That's the simple truth.
So here are some weeknight meal hacks that you need to know.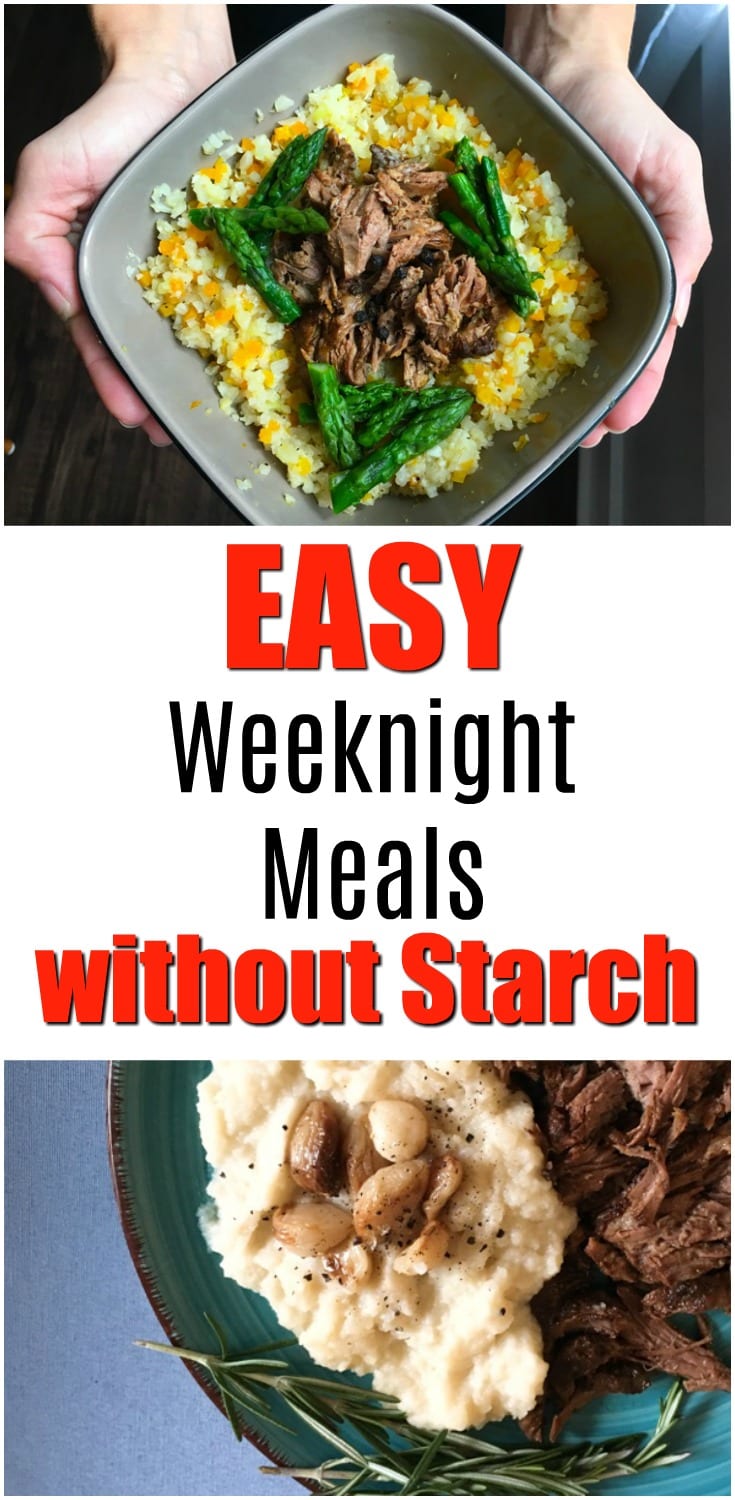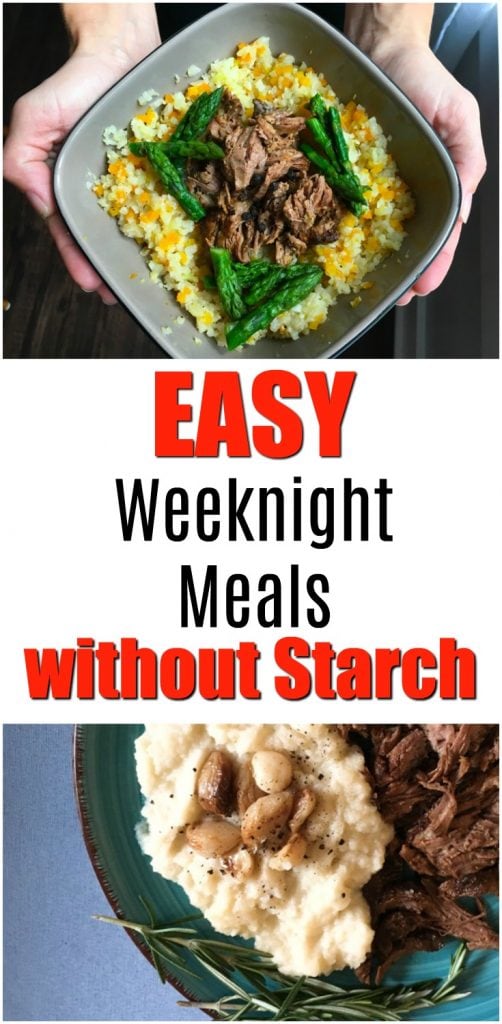 Pick a simple protein. And cook a lot of it. There's no need to cook a protein every night. Especially when you can cook in bulk and then customize it with every meal. Try something simple, like a roast (here's a foolproof recipe) and you'll be able to use it in a variety of ways.
Choose a protein that's easy to fix. If you're so busy during the week that you don't have time to cook, chances are you don't have much time on the weekends, either. (Or you just want to relax. Go figure!) So prepare something that is hands-off, like meat that can cook all day in a slow cooker, or a protein that can simmer in a pot for several hours on the stove.
The freezer is your friend. Freezing food allows you to keep it for an extended time without losing the freshness or nutrition. That's why cooking meat ahead of time is smart. Cook a big portion, then create smaller serving sizes. Keep a couple in the refrigerator for meals in the next 2-3 days. Freeze the rest.
Label EVERYTHING! You might think that you'll remember what's in that aluminum foil packet that you placed in the freezer. Chances are, though, you'll soon forget. Then you'll have mystery meat and end up throwing it out. I use a permanent marker to write the type of food and the date that it was frozen on the outside of the package.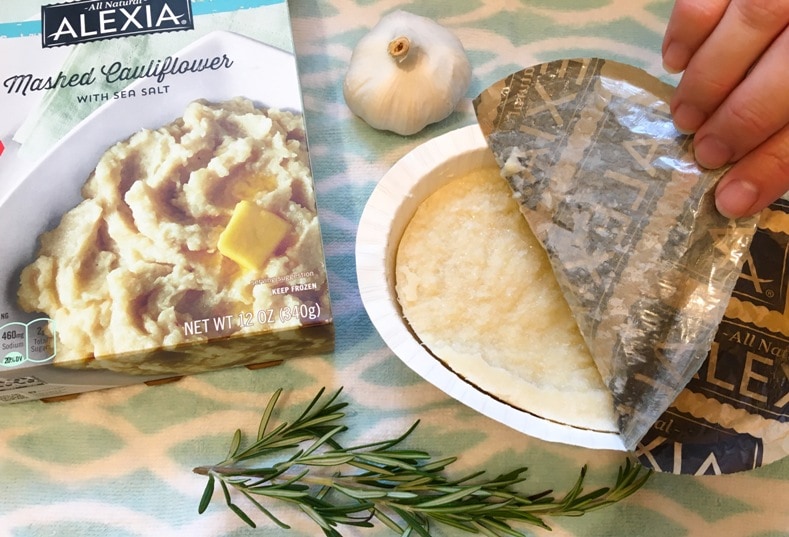 Stock Up on Frozen Favorites I cannot stress this enough. Having a frozen pantry of vegetable sides saves time. It saves your sanity. And you'll feel good knowing you're still getting lots of vegetables with your meal.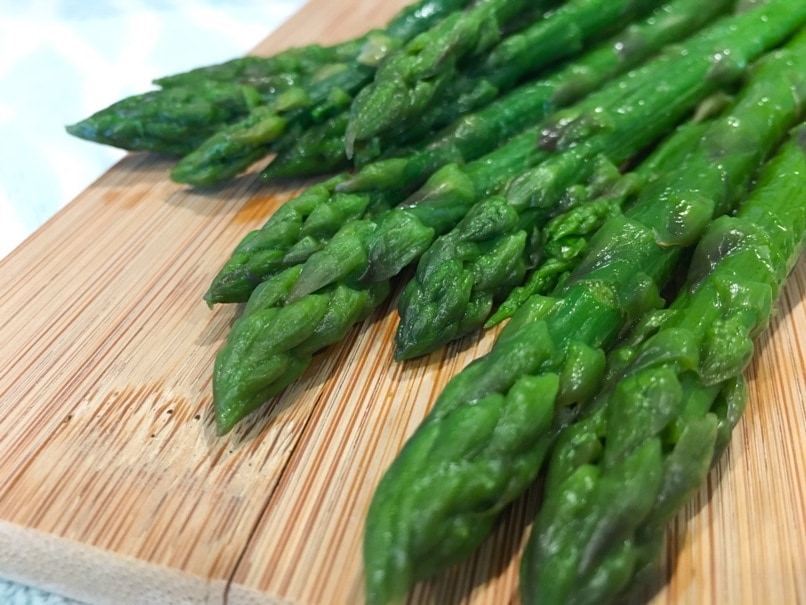 Use an Herb Saver I like the convenience of frozen foods, but it's nice to add some fresh herbs to the meal for a finishing touch. Herbs (and asparagus) can last up to three times longer with this ingenious herb saver.
One Meat Served Two Ways
I used the same protein and paired it with Alexia's super premium quality vegetable sides for two completely different meals. Both took just minutes to prepare (10 minutes or less) and were completely delicious. I love that these side dishes are a new starch replacement. Think risotto and pilaf only without all of the starch from potatoes or rice.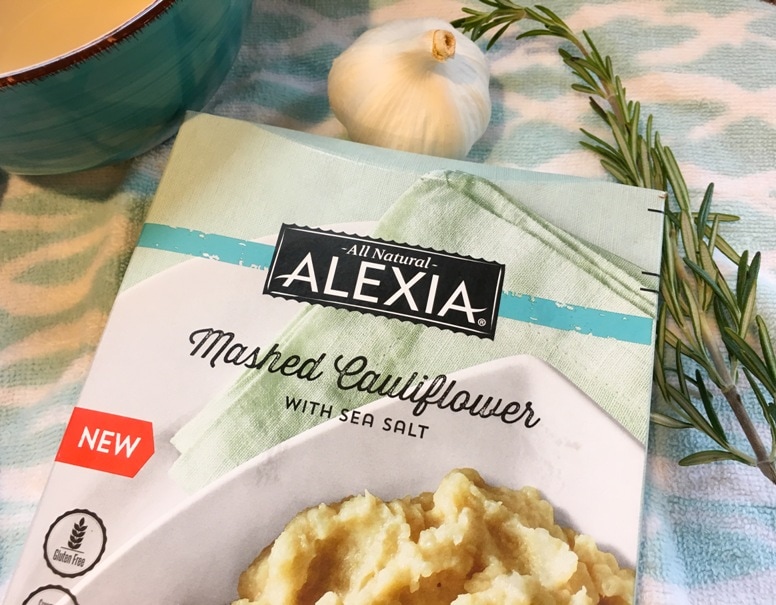 Know what else I love? The ingredients are Non-GMO Project Verified, gluten-free and dairy ingredients are organic.
I tried two of Alexia's complete sidedishes that are now available in grocery stores. I've loved Alexia foods for almost a decade now, so I was really excited to see their new line of vegetable sidedishes. Among the many choices, I tried:
Riced Vegetable Pilaf with Sea Salt Cauliflower, sweet butternut squash, rich ground black pepper, sea salt
Mashed Cauliflower with Sea Salt Simmered and mashed cauliflower, sea salt, rich cream, touch of butter
I'm anxious to try Alexia's other varieties, too, including Cauliflower Risotto and Butternut Squash Risotto. They're all ready to cook out of the bag and don't require any additional ingredients.
Mashed Cauliflower with Roasted Garlic and Rib Roast
For this quick, comforting meal, I paired a portion of rib roast with the delicious Mashed Cauliflower with Sea Salt frozen side dish.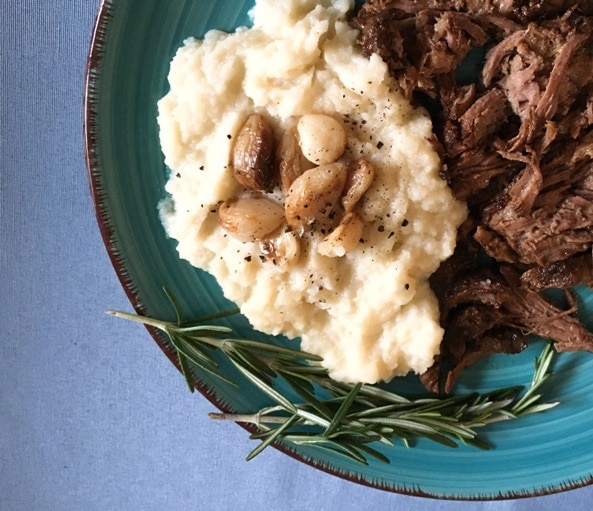 I was surprised at how much I loved the Mashed Cauliflower vegetable side. I usually am not a big fan of cauliflower, and it's hard to compete with the taste of mashed potatoes, right? Yet somehow this Mashed Cauliflower side is rich, creamy and totally satisfying!
It was so good that my 3 year old nephew was sneaking a taste as I prepared the meal!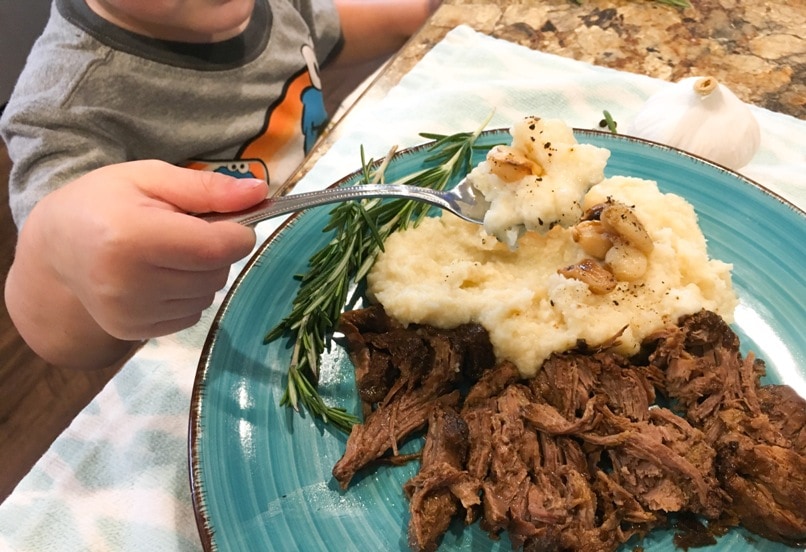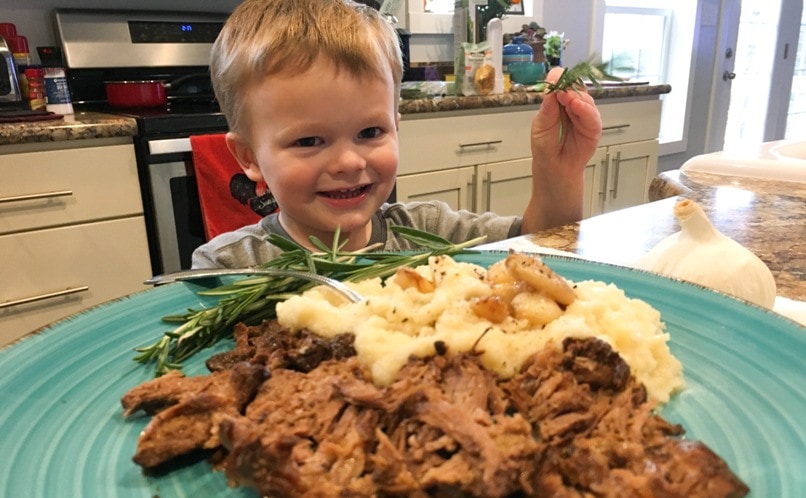 I added fresh cracked pepper and roasted garlic on top of the Mashed Cauliflower because I love roasted garlic. You can purchase roasted garlic on a salad bar (usually with the olives or antipasto section) or roast it yourself.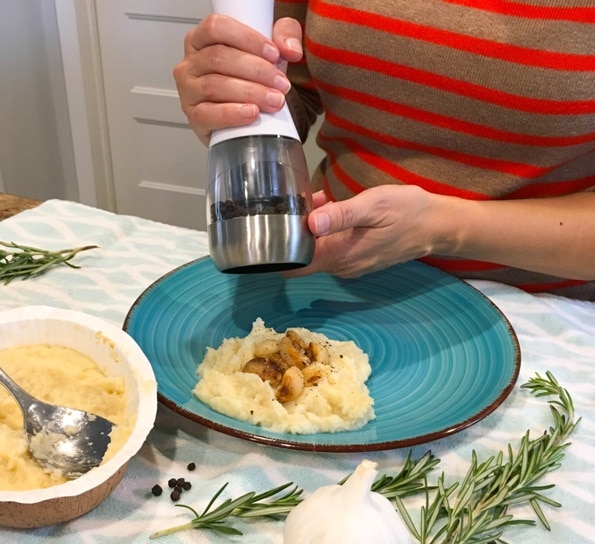 I roast garlic myself because it's SO easy and makes the house smell so good while it's cooking. I also keep it in a covered bowl in the refrigerator for up to a week because it lasts. *See instructions for roasting garlic below.
Riced Vegetable Pilaf Bowl
I love throwing all kinds of stuff together in a bowl and calling it a fancy meal. You feel so accomplished, yet it's one of the easiest ways to cook, too!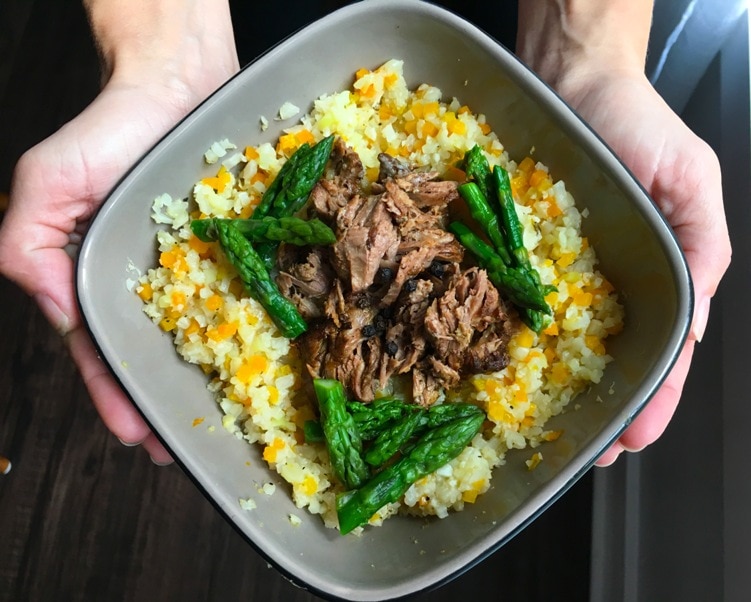 To make a great "bowl," though, you've got to have a great base. Alexia's Riced Vegetable Pilaf is a perfect solution. The mix of cauliflower and squash has just enough crunch for great texture. And the colorful dish makes for a great presentation.
I loaded up my bowl with another portion of rib roast that I had frozen, plus some fresh asparagus. I had stored it in the herb saver that makes fresh produce last longer than normal (check out food saver containers for other produce, too, to have some fresh additions on hand).
*Roasted Garlic Recipe
Place one head of garlic (with skin on) on a piece of large aluminum foil. Pour olive oil over the garlic head, coating the entire head. (Roughly 1-2 Tbsp.) Gather foil up around the head of garlic. Cook at 425 degrees for 25 minutes.